Cool Camping Gadgets For Any Outdoor Adventure 2022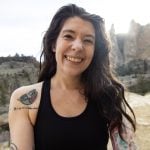 This product guide was written by Tuesday Kirby Kahl
Last Updated
June 15, 2022
Tuesday Kirby Kahl
Tuesday Kirby Kahl is a contributor at Gear Hungry. Her fierce love for the outdoors fuels everything she does. Her professional pursuits include writing, creating art, and photography. These professional passions allow her the time to live life outside as a rock climber, skier, runner, backpacker, paddle boarder, swimmer, and explorer. When Kirby is indoors, she enjoys tea, whisky, old films, cooking, and baking. Her product testing and feedback have shaped the design of everything from climbing shoes to candles.
GearHungry may earn a small commission from affiliate links in this article.
Learn more
Whether you're into backcountry camping or comfy glamping, there are certain camping tools and gadgets that can make your time in the great outdoors better. Apart from the obvious items that can make your trip safer and more comfortable, like a weatherproof tent, quality sleeping bags, long-lasting LED lighting, etc., we've found a few other miscellaneous gadgets that you may not have even known existed.
As someone who spends a lot of time outdoors, I've had the pleasure of trying various cool camping gadgets over the years, including most of the products reviewed below. Some of these tools and gear I use in my own campervan, others I stumbled upon by happenstance, and some were excellent ideas from van lifer friends and camper blogs.
Without further ado, let's dive into this guide featuring unique camping gear you're going to want on your next camping trip. While these products are numbered, keep in mind that there is no top pick here. All these products can add some comfort to your camping adventure, and it's up to you to determine what makes the most sense for you.
Coolest Camping Gadgets
Cool Camping Gadgets Buying Guide
Why Trust Us
When it comes to gear, we're hungry for it. Our team is a crew of outdoor enthusiasts who know gear and are all about finding the best outdoor gadgets. This guide is mostly a collection of my favorite must-have camping accessories, tools and electronic gadgets that make life more comfortable when you're outside. Most of these items live full-time in my camper van and have seen lots of use all over Oregon, Washington and California.
Who This Is For
This guide is for the campers who are interested in introducing some cool camping gear to the mix and making life outside a little easier. You CAN rough it, but that doesn't mean you have to. Many of the camping accessories listed here will make camping easier and often take the place of single-use products, meaning they are better for the earth too and help preserve the great outdoors.
How We Picked
When building out my camper van, I put in a lot of research into what I wanted to have in it and what would make long road trips comfortable. I don't live in the van full time, but often spend a weekend, a week or even a month at a time traveling and these are the products that get the most love from me and the most oohs and ahhs from my friends and fellow van owners. Now, I'm passing these gems on to you and hoping you find your next favorite camping accessories in this guide.
How We Tested
From the slopes of Mt Hood, the tributaries of the Columbia River and all over the Columbia River Gorge, the high desert of central Oregon, the views of the north and central cascades all the way to the eastern sierra, these latest camping gadgets have been everywhere. Camping trips, climbing trips, ski trips, paddle trips and more. All this cool camping gear was put through the wringer in a huge variety of terrain, and anything that isn't durable or hasn't stood up to the use and abuse that comes with the great outdoors didn't make the cut. Each tested piece of gear on this list has gone through anywhere from weeks to years of testing all over the country and has been on trips with all kinds of purposes.
Sign Up Now
GET THE VERY BEST OF GEARHUNGRY STRAIGHT TO YOUR INBOX