Best Gun Cleaning Kits for 2022: Safe & Sound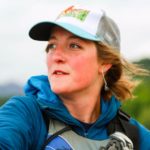 This product guide was written by Josette Deschambeault
Last Updated
May 13, 2022
Josette Deschambeault
Josette is a professional outdoor guide who lives and works in Southeast Alaska, Colorado, and Maine. When she's not rafting, hiking, skiing, or camping with her dog, she writes and edits for multiple outdoor and lifestyle publications.
GearHungry may earn a small commission from affiliate links in this article.
Learn more
One of the most important aspects of gun ownership — besides safety, safety, safety — is taking care of your weapon. Every time you fire your gun, all manner of residue is left inside the barrel, including lead, carbon, and copper. A dirty gun is a dangerous gun, especially when left unattended for years on end. Always have a good gun cleaning kit on hand.
However, thousands of gun cleaning products are out there — from specialized rifle and handgun kits to universal cleaning options with a dizzying amount of accessories. How do you know which are the best gun cleaning supplies for you? We've gathered some of the most popular universal cleaning kits on the market to cover your entire rifle, shotgun, and pistol collection so you can spend more time on the range and less time searching.
The Best Gun Cleaning Kit
GLORYFIRE Universal Gun Cleaning Kit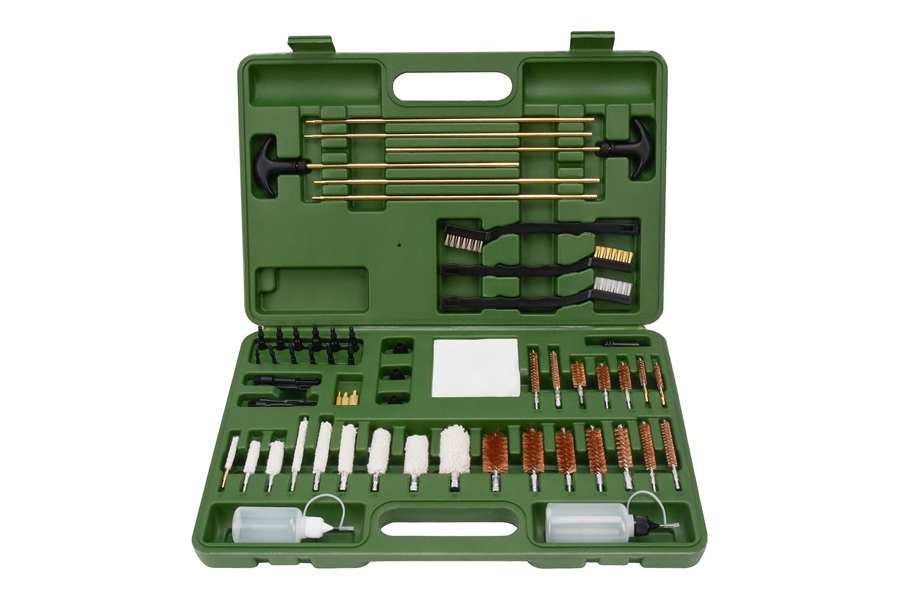 The best gun cleaning kit budget option with all the features to clean your entire gun collections? Sign us up. The GLORYFIRE Universal Gun Cleaning Kit includes a hunter-green hard plastic organizing and travel case, much like a socket wrench would come in, that will keep your pieces clean and tidy. This universal cleaning kit includes cleaning pieces for the most common caliber guns, including shotguns, rifles, and pistols. Choose from several solid and durable brass rods, 14 brushes, nine mops, 12 spear-pointed brushes, a black powder jag, four slotted patch loops, three utility brushes, three muzzle guards, three accessory adapters, 50 cleaning patches, and four polishing clothes in this killer kit.
Fits a range of rifles, shotguns, pistols, and muzzle loaders
50 cleaning patches
Hard nylon plastic organizing case
Handled brass rods
No guide to how to use each piece
Allen Ultimate Gun Cleaning Kit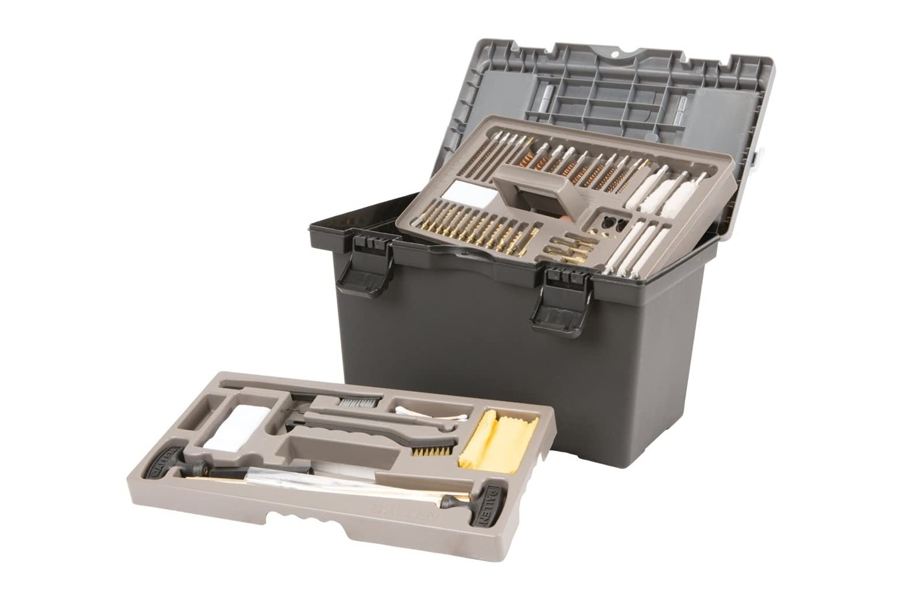 Allen is a 65-piece universal gun cleaning kit with a large, high-quality tool-box style carrying case. This is the professional level of gun cleaning kits with three levels of cleaning tools.
If there's a brush, jag, slotted tip, swab, patch, or anything else you need to make sure your firearm is always in optimal condition, you'll find it here. It includes components for your standard rifle and pistol calibers, as well as your 12 gauge, 20 gauge, and .410 bore shotguns. If you're looking to break out the big guns—so to speak—this is right up your alley.
65 pieces
Great for pistols, rifles and shotguns.
Brass jags, brass slotted tips, muzzle guards, pick, brushes, and more.
100% cotton patches
Doesn't include solvent and lube
BOOSTEADY Universal Handgun Cleaning Kit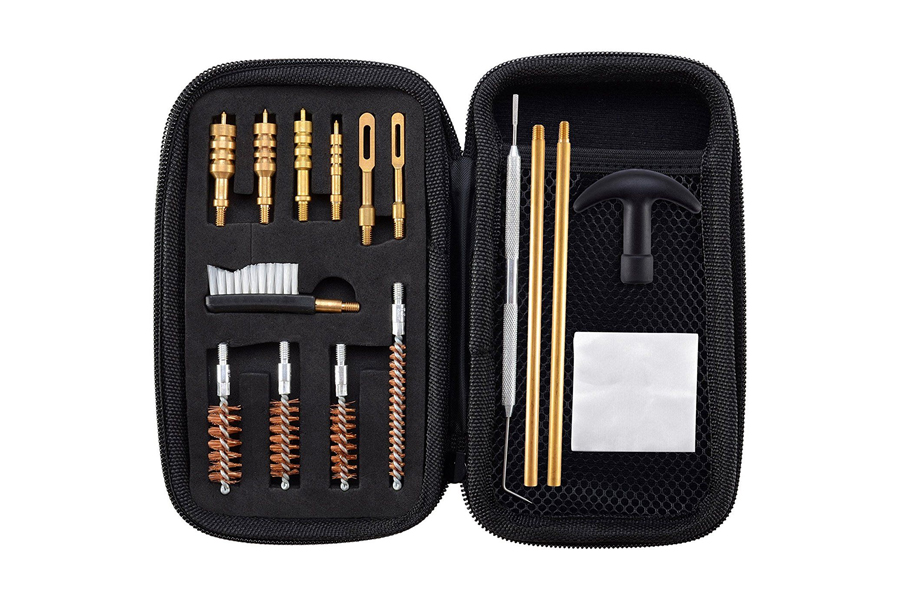 This Universal Gun Cleaning Kit from Boosteady is one of the best selling cleaning kits on Amazon. The fact that it's so cheap may have a lot to do with it. But don't think this affordable kit isn't worth looking at, just because it's cheap; it sports more than 4,700 ratings and over 800 reviews that prove its worth.
We were surprised at how comprehensive this cleaning kit is—Boosteady includes phosphor bronze bore brushes, brass jags, two sizes of bronze slotted tips, a nylon brush, a metal gun cleaning pick, and 100 cleaning patches. The only thing missing is a cleaning solution, but you could pair this with Hoppe's No. 9 Elite Gun Cleaning Kit and have everything you could ever need.
Amazing value for this many gun cleaning tools
You get plenty of cleaning patches
Amazing reviews on Amazon
Doesn't include cleaning solution
iunio Universal Handgun Cleaning Kit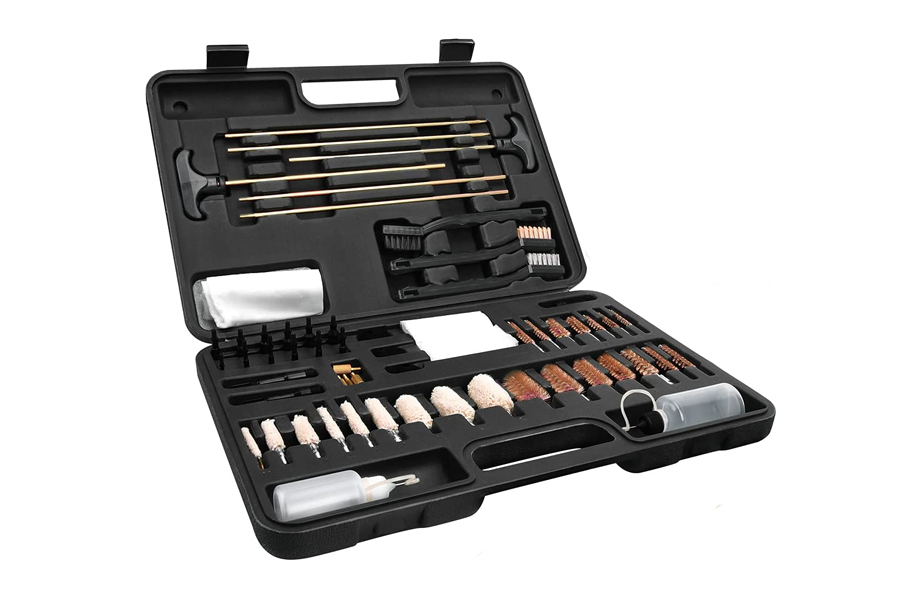 If you are looking for a great mid-range gun cleaning kit with universal accessories, this product brings you just that. Designed to clean rifles, shotguns, and handguns alike, this is a top-rated gun cleaning kit that allows you to clean your entire collection. Use one of the 14 bronze brushes, one of the 100 cleaning patches, and one of the six solid brass rods to make sure your barrel is squeaky clean. We appreciate this kit because iunio uses high-quality brass to save your guns from damage, while the accessories all remain durable and effective. The portable case keeps your tools organized and on-hand whenever you need them. Of course, be sure to also own a quality gun safe for your home.
Clean any handgun, shotgun, or rifle
Includes cleaning mat
High-quality materials to prevent damage to gun
Organized case with snap closure
No solvent or lubricant included
Otis Elite Gun Cleaning Kit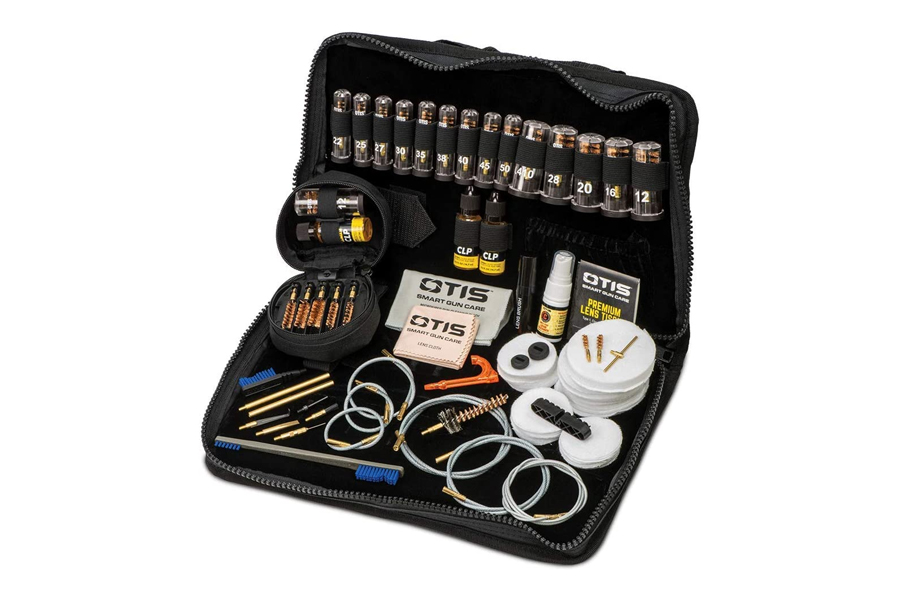 For the millions of firearm enthusiasts who own more than one gun, the Otis Elite Cleaning Kit system might be the best gun cleaning kit. This system can be used on pistols and rifles from .17 to .50 caliber, as well as all of the common shotgun gauges. This kit also works like a charm on inline muzzleloaders. This is a professional-grade cleaning kit that includes virtually everything you'll need to keep your firearms spotless, from front sight to recoil pad. Of course, one of these best biometric gun safes on the market is also a must-have for every responsible gun owner.
A professional grade system for the everyday gun owner
Bore and chamber brushes are high quality bronze
The kit contains more than 3 dozen cleaning components
Two 5 oz tubes of Otis Ultra-Bore solvent included
Durable carrying case
One of the more expensive cleaning kits on our list but well worth it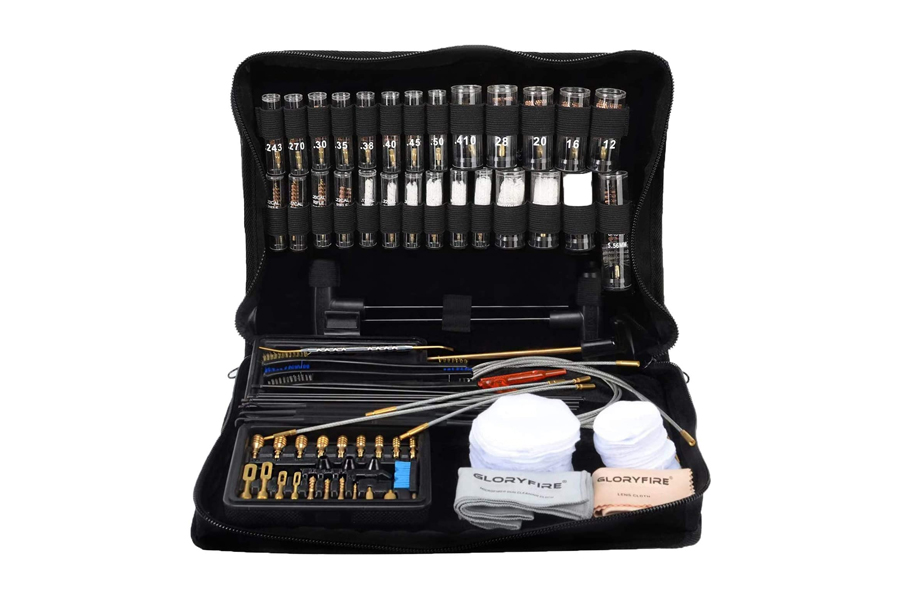 Welcome to the mother of all universal gun cleaning kits. The Gloryfire Gun Cleaning Kit includes multiple picks, double-ended brushes, cotton swabs, brass jags, and bronze brushes. It even includes lens cloths and lens brushes to keep your sights accurate. The microfiber polishing cloth will wipe away any traces of fingerprints or oils from your hands. There's even an adapter piece to allow you to connect other caliber pieces from other brands onto the Gloryfire rods. If that's not thoughtful, we don't know what is.
Reinforced rods
Includes rope gun snake
High-quality brass brushes
Aircraft grade cables
Star chamber cleaner for revolver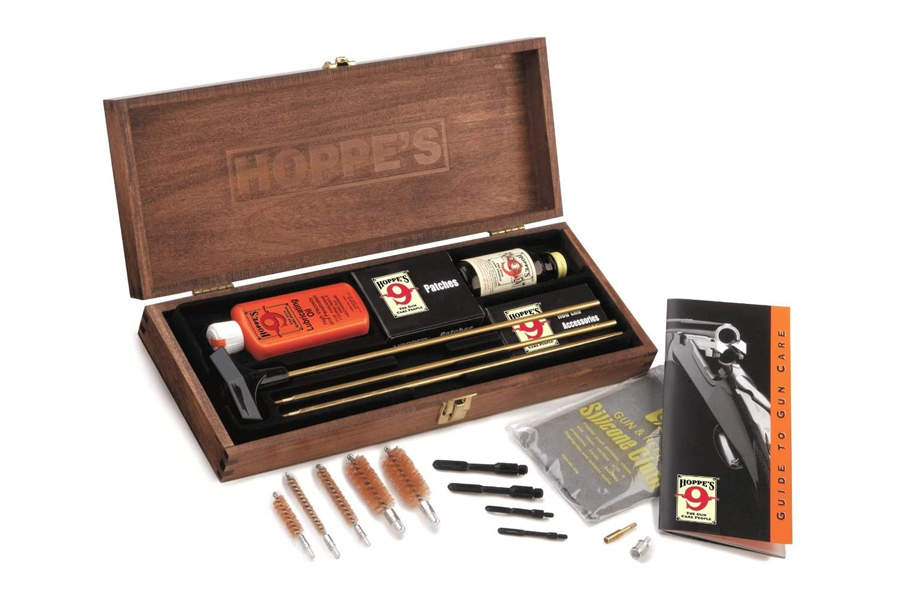 The Hoppe's No. 9 Deluxe is a fully fleshed out deluxe universal kit for those who own multiple firearms and want to clean them all. This all-purpose gun cleaning kit includes generous amounts of Hoppe's #9 cleaning solvent along with the company's outstanding lubricating oil. You will also receive a high-quality brass rod with an array of bore brushes to get every last particle out. The ball bearing swivel in the cleaning rod is a welcome feature. Don't forget to choose one of these reliable gun belts from our list, too.
Some of the best cleaning products on the market
25-40 square cleaning patches included
Reasonably good value for the amount of liquid.
Lifetime warranty provided by Hoppe's
On the pricier side, but well worth it
Otis Technology Cleaning Kit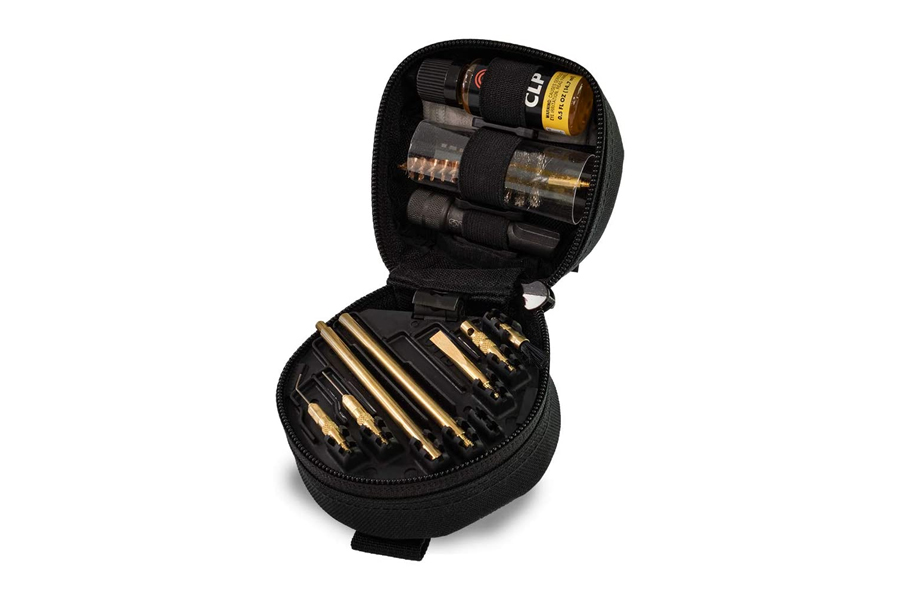 This oddball of a round gun cleaning kit will knock your socks off with its cleaning options. Otis Technology Cleaning Kit is not only equipped with bronze bore brushes, locking lug scrapers, a pin punch, and memory-flex cables; it also includes an obstruction remover, brass scapers, brass picks, and a B.O.N.E. cleaning tool that takes care of bolts and firing pins. Plus, Otis includes a bottle of lubricant, which is rare for a cleaning kit. This zippered case keeps everything neat and tidy and is easy to pack on the go. A microfiber gun cloth keeps the exterior looking sleek and shiny, so you can shine at the range this weekend.
Cleans .223 caliber and 5.56 mm rifles
Obstruction remover
Pin punch
Brass scraper and picks
Al-purpose brush and rod handles
Bolt and firing pin cleaner
Includes lubricant
Memory flex cables
Only meant for .223 cal/5.56mm rifles
Shooter's Choice Pick-Your-Caliber Cleaning Kit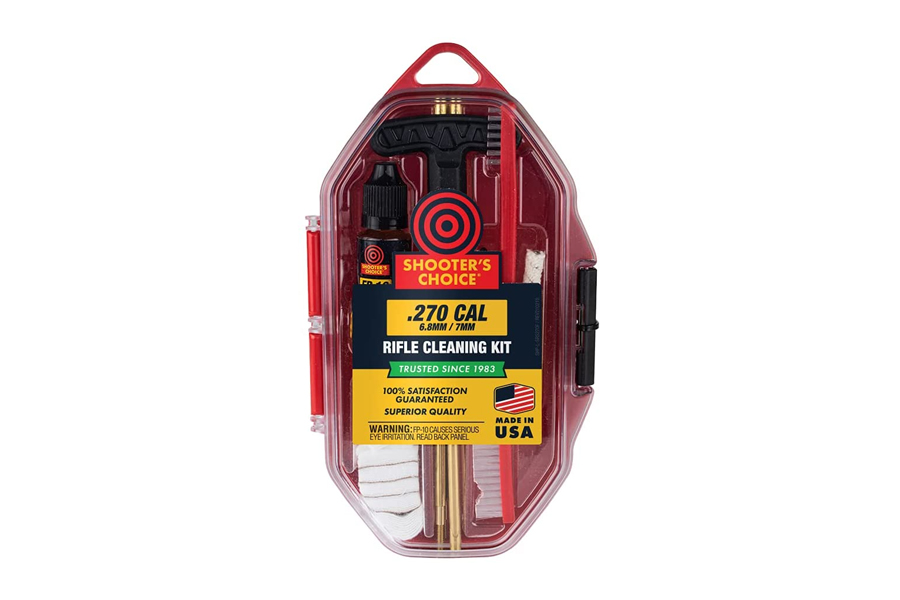 If you have recently added a new caliber to your gun collection, this is a great option for you. Shooter's Choice Pick-Your-Caliber Cleaning Kits allow you to add the correct caliber for your latest acquisition. Each kit includes sectional brass rods and a swivel handle rod for easier cleaning, bronze phosphor bore brushes, a cotton bore mop, a brass component adapter, cleaning patches, a nylon all-purpose cleaning brush, a brass pierce point jag, and a .5 ounce bottle of Shooter's Choice FP-10 Elite lubricant. It's all contained in a hard plastic case you can easily place in your home safe to stay secure and organized.
Compact
Budget price
Multiple calibers and millimeter options
Each kit is limited in caliber it can clean
Wydan Pistol Cleaning Kit
This is a pistol cleaning kit with everything you need to keep your handgun clean and trouble-free. The Wydan Pistol Cleaning Kit is the ideal gift idea for the handgun enthusiast, competition shooter, or personal security professional on your gift list. Wydan includes enough cleaning pieces to tackle all of your .22, .357, .30, .38, .40, .44, and .45 caliber handguns, as well as your 9mm pistols. The compact, zippered case will help you keep things tidy even if you're traveling. We appreciate the curved grip handle that attaches to the ramrods for a better grip to clean it right.
Compatible with .22 .357 .30 .38 .40 .44 .45 caliber and 9mm
Compact, lightweight, zippered nylon carrying case
The two-piece rod extends to 10 inches
Rods sections indicate the size
Rod has a swiveling tip to accommodate rifling
Owners of rifles and shotguns need not apply
Why You Should Trust Us
The author has been in a hunting and shooting family from birth. We're no stranger to the smell of a gun range or the crisp air from atop a stand. If there's anything that our WWII veteran grandfathers taught us, it was how to clean and care for your gun. From .38 revolvers to .225 rifles, there are tricks to cleaning the nooks and crannies of every firearm — and it's the author's mission to stress safety and good gunmanship to every firearm enthusiast.
Who This Is For
The recreational shooters and hunters who are looking for the best and most cost-effective kits to clean their rifles, shotguns, and pistols.
How We Picked
We chose from a range of budget-friendly options, as well as the tried-and-true kits with lots to spare. These kits include a variety of pieces, especially the universal kits, to clean every piece in your gun cabinet. Don't see your favorite item? Look closer — we bet it's hidden in the laundry list of included pieces in one of our favorite kits.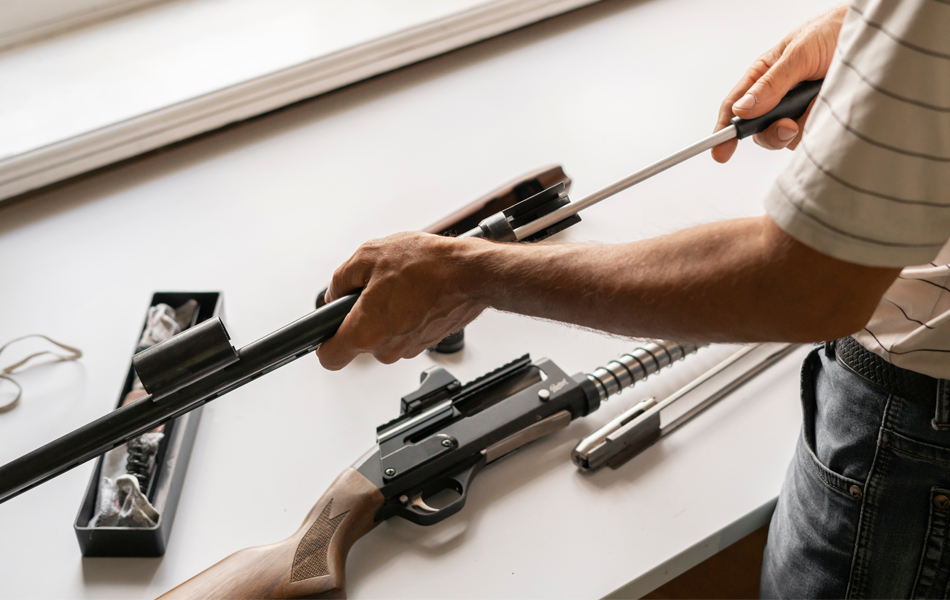 Features To Look For In Gun Cleaning Kits
You typically want all of the following items in any type of comprehensive gun cleaning kit:
Cloth Patches – These might be the items you use most often.
Cleaning Rods – Cleaning rods come in different sizes to accommodate different caliber weapons and should always be made of a material that's softer than the gun barrel itself. Scratching or damaging the rifling in your barrel is the last thing you want to do. We recommend stainless steel or aluminum.
Rod End Accessories – This is an attachment on the end of the rod that holds the cleaning patch or brush in place while you run it through the barrel.
If you're using a patch, the end accessory will use a slotted patch holder. Be cognizant of how small or tight the slotted patch holder is — it will keep your cloth patch in place, sure, but how difficult will it be to slide that patch into its holding spot?
If you're using a bore brush, there should also be accessories to hold all of the brush sizes.
Cleaning jags will hold a cloth patch and give you a 360-degree clean with their bores.
Brushes – Brushes attach to the rod and are what you use to remove residue, dirt, and corrosion from inside the gun barrel. They should be stiff, but not so hard they could damage the barrel. Bronze is a preferred brush material.
Generally, you're not going to use these anywhere near as often as you will a cloth patch. Using the bore brushes too often will wear out the inside of your barrel, whereas a cloth patch is soft enough to use every day.
Toothbrush – A gun toothbrush does for your gun parts what your normal toothbrush does for your teeth; it gets into the nooks and crannies and gets the nasty stuff out. Some of your more advanced kits will come with a brush, while discount kits may not.
Picks and Swabs – These allow you to really get into the tight spaces and carve out the gunk. Many better gun cleaning kits have a bronze pick. Cheaper kits have a plastic pick or no pick at all.
In a pinch, you can use Q-tips; they won't have the same power as a pick, but they're cheap and sure come in handy.
Solvent – Cleaning the barrel effectively means cutting through the various materials that have accumulated during the course of firing the weapon, like lead, copper, or powder that can foul up your gun. To clean effectively, this requires a good solvent, and any deluxe gun cleaning kit should come with one.
Lubricant – Once the gun is thoroughly cleaned, you'll want to coat most of the component parts with a bit of lubricant. Lubricating the components prevents corrosion and helps grease the wheels, if you will. You may have to purchase this separately, but it's worth the investment.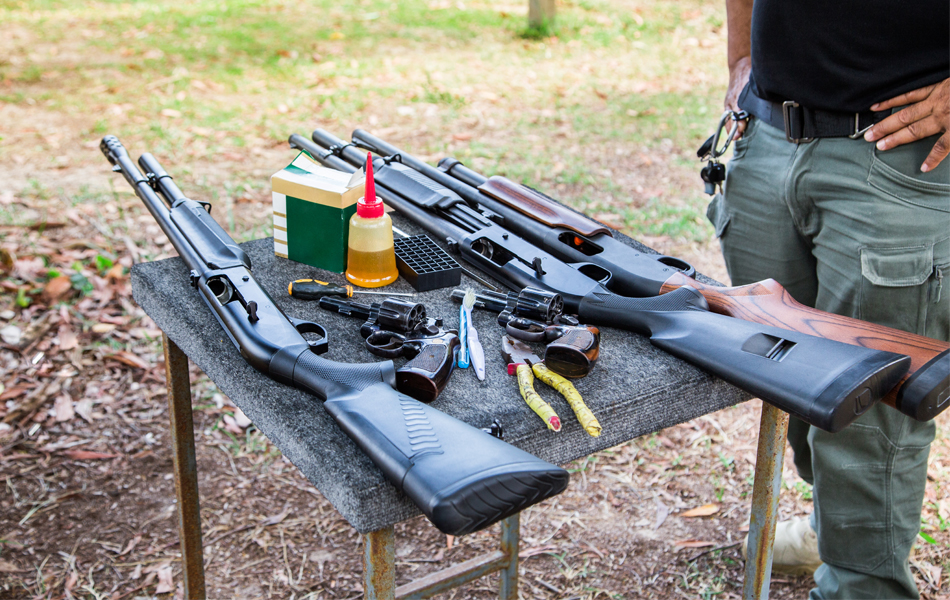 Gun Cleaning Kit FAQ
Q: What is the top-rated gun cleaning kit?
A: That is a question that can only be answered based on what types of guns you need to clean. Brand name companies like Winchester make great cleaning kits, but you can find the same products in a cheaper kit, too. Look for the gun cleaning kit with the highest quality components and the precise sizes you'll need for your collection of guns.
Q: How does a gun cleaning kit work?
A: In general terms, gun cleaning involves the following steps. The components found in a gun cleaning kit will ensure a thorough cleaning:
Always ensure that the gun is not loaded!
Set up your cleaning station in a well-ventilated area. The more open windows, the better. The solvent is strong!
Remove the bolt in a rifle or open the action of a pistol or shotgun. Follow the manufacturer's guidelines to do so.
Run a cloth patch that's soaked in solvent down the barrel. Let stand for 1-2 minutes.
Once the solvent has soaked in, run the rod and bore brush up and down the barrel several more times.
Run a clean cloth patch through the barrel until no more residue comes off.
Lubricate the barrel, bolt, and other surfaces with a bit of lubricating oil on a fresh cloth patch. (Or spray the lubricant over key parts of your gun, and wipe it off with a clean cloth.)
Q: Does one gun cleaning kit work for all guns?
A: Some do, some don't. Anytime you see "universal" attached to a gun cleaning kit, it should provide the gun cleaning tools you need to clean all of your guns, provided that it's not a specialized make or model.
Q: Should you clean your gun every time you shoot?
A: Not necessarily. If you're a clean freak or shoot infrequently (once a month or less), then yes, clean your gun every time! We're serious about the infrequent shooting, though — even a little corrosion can damage your gun if left unattended for several months. However, if you're a frequent shooter (once or twice a week, minimum), then you shouldn't need to clean your gun every time; just wipe it down with a clean rag to keep your hand's oils off of the exterior. Set aside time once a month to give your guns a thorough going-over, and you'll be good to go.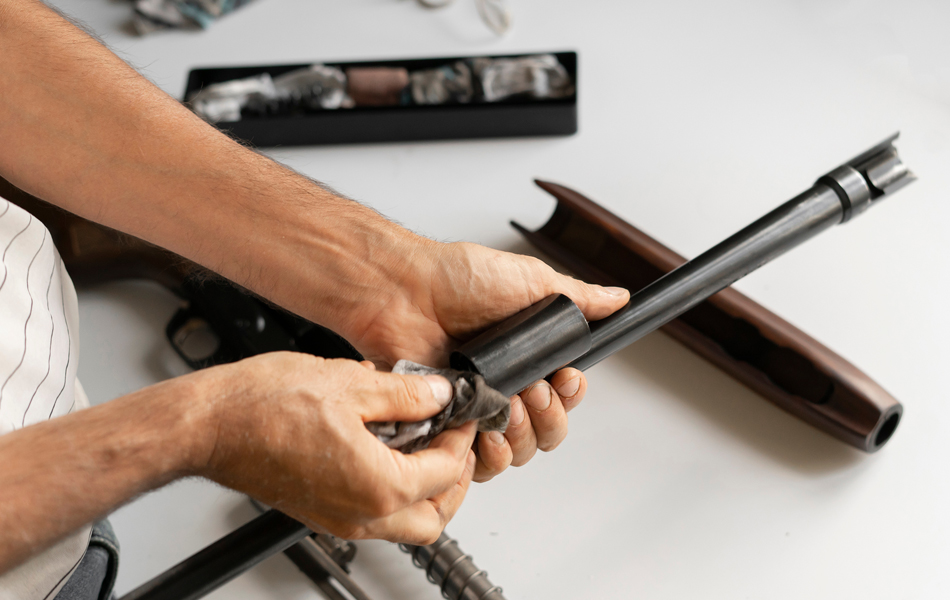 Q: What happens if you don't clean your gun?
A: Without proper cleaning, your gun will corrode over time, which may result in a failure to fire. Rust may oxidize your gun's steel components, locking the firing pieces in place or damaging the bores inside the barrel.
Q: Do you need to clean a brand new gun?
A: No. Brand new guns have only been shot once and are constructed of all new materials. If you want to wipe off the oil from your hands or run a clean cloth patch on the barrel, go for it. However, it's not necessary prior to shooting.
Q: How often should you clean your gun?
A: If you are an infrequent shooter (once a month or less), then you should clean your gun every time. Even a little corrosion can damage your gun if left unattended for extended periods of time. However, if you're a frequent shooter (say you hit the range once or twice a week or are planning to go out every weekend of hunting season), then you shouldn't need to clean your gun every time; just wipe it down with a clean rag to keep your hand's oils off of the exterior. Set aside time once a month or at the end of hunting season to give your guns a thorough going-over, and you'll be good to go. If you're shooting in competitions or in grimy conditions, clean your gun more often.
Sources:
5 Items You'll Find in a Basic Gun Cleaning Kit - Green Mountain Guns
Sign Up Now
GET THE VERY BEST OF GEARHUNGRY STRAIGHT TO YOUR INBOX