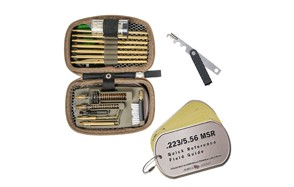 Real Avid Pro Pack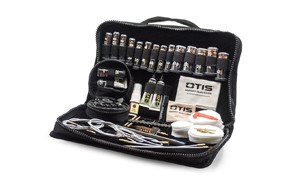 Otis Elite Cleaning System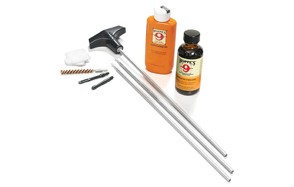 New Hoppe's 9 Rifle Cleaning Kit
One of the most important aspects of gun ownership is proper cleaning. That's because every time you fire the gun all manner of residue is left inside the barrel including lead, carbon and copper. In this guide and review we're going to take a look at the top gun cleaning kits on the market today. Keep in mind that the opinions expressed here represent the consensus of our product review panel.
Our Top Picks For The Best Gun Cleaning Kits
Otis Elite Gun Cleaning Kit
See More Reviews

For the millions of gun owners who own more than one firearm there's the Otis Elite Cleaning System. The system can be used on pistols and rifles from .17 to .50 caliber as well as all common shotgun gauges. The system also works like a charm on inline muzzleloaders.
This is a professional grade cleaning kit that includes virtually everything you'll need to keep your firearm spotless from front sight to recoil pad. The kit is designed to work with a wide variety of firearms from handguns to rifles and shotguns.
Specification:
Brand

Otis

Model

FG-1000

Weight

4 pounds
A professional grade system for the everyday gun owner.
Bore and chamber brushes are high quality bronze.
The kit contains more than 3 dozen cleaning components.
Two 5 oz tubes of Otis Ultra-Bore solvent included.
Durable carrying case.
One of the more expensive cleaning kits on our list but well worth it.
Real Avid Pro Pack Gun Cleaning Kit
See More Reviews

The Real Avid Pro Pack provides three essential products in one: the gun cleaning kit, the scraper and the field guide. You'll have everything you need to thoroughly clean your gun in any conditions.
The Real Avid Pro Pack is one of the most compact gun cleaning kits out there but that doesn't mean it's short on features. The RAPP includes a .223/5.56 MSR scraper, a solid brass pick, bronze brushes, bore illuminator, cleaning pads and much more all in a heavy duty nylon case.
Specification:
Brand

Real Avid

Model

AVAR15PP

Weight

1.08 pounds
The scraper works magic on the bolt, firing pin, bolt carrier pin and cam pin.
The field guide is always there in case you need a quick refresher. It's oil and solvent resistant so it won't rot.
High quality brass rod has 7 sections and extends to 33 inches.
Customer service not all it should be.
Hoppe's BoreSnake Rifle Gun Cleaning Kit
See More Reviews

The BoreSnake Rifle cleaning kit from Hoppes is there for you whenever you need it with the company's renowned #9 solvent, lubricating oil and weatherguard cloths. Of course you also get the BoreSnake itself and pulling tool and it's all wrapped up in a convenient soft sided carrying case.
There's nothing fancy about Hoppe's BoreSnake Rifle Soft-Sided Rifle Cleaning Kit. It's a convenient kit intended for rifle owners with enough essentials to ensure your firearm is always at the ready when that 12-point buck wanders into your sights.
Specification:
Brand

Hoppe's

Weight

25 pounds
Everything you need to clean your rifle on the go.
Ultra-compact case fits neatly into the pocket of your hunting pants.
BoreSnake scours debris from your barrel quickly and effectively.
Can't beat the attractive price point for this kit.
Handgun owners will want to look at other kits.
Hoppe's No. 9 Cleaning Kit
See More Reviews

The second Hoppe's item on our list this gun cleaning kit is intended for use with .38, .357 and 9mm handguns.
This is another bare bones gun cleaning kit that performs as advertised which means it provides enough materials to effectively remove fouling agents from the barrel and the high quality lubricating oil will leave everything working smoothly. For the price you really can't beat it.
Specification:
Brand

Hoppe's

Model

PCO38

Weight

1.1 pounds
Includes 2 oz bottle of the company's reliable cleaning solvent.
40 square cleaning patches included.
Heavy duty plastic carrying case with snap closures.
Number 9 cleaning solvent is the perfect solution for lead, powder, rust and metal fouling.
Lubricating oil is long lasting and uber effective.
Rifle owners need not apply for this gun cleaning kit.
New Hoppe's 9 Rifle Cleaning Kit
See More Reviews

Yet another entry on our list from Hoppes this .22 to .255 gun cleaning kits comes with the basic tools you'll need to keep your small bore rifle or pistol clean.
Where other similarly priced discount kits only provide the ability to clean either a handgun or a rifle the Hoppe's small bore gun cleaning kit gives you the ability to clean both. It's not fancy. It's for keeping your gun clean and provides you the basic gun cleaning tools to do just that.
Gun cleaning kit contains lubricating oil, aluminum rod and patches, cleaning solvent and brush.
34" effective length when fully deployed.
Removes corrosion, metal fouling, firing residue and misc grime.
Ultra-attractive price point.
The clamshell carrying case is nothing to write home about.
See More Reviews

The Ohuhu 28 piece Gun Cleaning Kit provides an array of accessories for cleaning your handgun, rifle and shotgun.
The kit comes with 28 accessories so you're able to get in and clean most any common barrel size and type. Everything is of reasonable quality and plenty durable and the carrying case keeps it all well-organized. Great overall value.
If you own more than one firearm you should seriously consider this gun cleaning kit.
Sleek, durable aluminum carrying case keeps everything organized and safe.
Kit includes 10 different size brushes so you're well covered.
6 total rods. 3 each for rifles and shotguns.
About the price of a T-shirt.
See More Reviews

Another Hoppe's entry this one is a more fully fleshed out deluxe universal kit for those who own more than one firearm.
This is an excellent all-purpose gun cleaning kit. It includes generous amounts of Hoppe's #9 solvent along with the company's outstanding lubricating oil and a high quality brass rod with an array of brushes. The ball bearing swivel in the cleaning rod is a welcome feature.
Specification:
Brand

Hoppe's

Model

BUOX

Weight

2 pounds
Everything you'll need to keep your pistol, rifle or shotgun clean.
Helpful "Guide to Gun Care" included for the novice gun owner.
Includes the company's #9 solvent.
Ball bearing swivel on the rod to conform to the barrel's rifling.
High quality wood carrying case.
Not truly a "universal" gun cleaning kit but pretty close.
DAC Winchester Super Deluxe
See More Reviews

An affordable, well-rounded gun cleaning kit for the firearms enthusiast who cares about his or her weapons.
An excellent universal starter gun cleaning kit except for the somewhat head-scratching decision to omit the cleaning solvent and lubricating oil. Beyond that everything is well made and the carrying case is an organizational dream.
Specification:
Brand

DAC

Model

363127

Weight

3.7 pounds
A wide array of hardy brushes in nylon, steel and bronze.
High quality nylon carrying case keeps everything in its place.
2 rods to accommodate different caliber weapons.
50 patches of 3 different sizes.
A variety of slot tubes for said patches.
Solvents and lubricating oil not included.
Allen Ultimate Gun Cleaning Kit
See More Reviews

65 piece professional grade universal gun cleaning kit with large, high quality tool-box style carrying case.
If there's a brush, jag, slotted tip, swab, patch or anything else you need to make sure your firearm is always in optimal condition you'll find it here. It's still without question a "Best Of" gun cleaning kit for the novice or pro.
Specification:
Brand

Allen Company

Model

70540

Weight

1 pounds
Just about everything you need to clean just about every type of common firearm.
Great gun cleaning kit for pistols, rifles and shotguns.
A full array of cleaning accessories including brass jags, brass slotted tips, muzzle guards, pick, brushes and much more.
100% cotton patches.
You'll need to buy your own solvent and lube.
See More Reviews

Another valuable gun cleaning kit on our list is the Real Avid Gun Boss gun cleaning kit.
An excellent compact gun cleaning kit in one of the most attractive small carrying cases you'll find. The kit has all the hardware you'll need to get in and remove even the most stubborn residue. A great deal for about the price of a large pizza.
Specification:
Brand

Real Avid

Model

AVGCK310-P

Weight

0.16 ounces
Extremely compact kit that's more comprehensive than you imagine.
Cleaning rod has swiveling tip to accommodate rifling and ensure barrel gets as clean as possible.
50 cleaning patches included of 2 different sizes.
Thoughtfully designed compact carrying case keeps everything accessible.
You'll need to supply your own fluids.
Wydan Pistol Gun Cleaning Kit
See More Reviews

Gun cleaning kit with everything you need to keep your handgun clean and trouble free.
The Wydan Pistol Gun Cleaning kit is the ideal gift idea for the handgun enthusiast, peace officer or personal security professional on your gift list. Everything you need to keep your pistol large or small clean and clear is included. An excellent all-purpose kit at a really attractive price.
Specification:
Brand

Wydan

Weight

8 ounces
Compatible with both small and large caliber handguns
Compact, lightweight, zippered nylon carrying case
Two piece rod extends to 10 inches
Rods sections indicate size.
Rod has swiveling tip to accommodate rifling.
Owners of rifles and shotguns need not apply
See More Reviews

A universal cleaning kit with a vast array of accessories for every type of pistol, rifles and shotgun.
With maybe the best looking, most useful carrying case of them all the Gloryfire gun cleaning kit is a powerhouse of versatility that will let you keep all of your firearms looking great and performing at their best. 3 different brass rods accommodate all common barrels.
Specification:
Brand

GLORYFIRE

Weight

2.78 lbs
3 solid brass rods to accommodate a variety of barrel widths.
An array of muzzle guards, patch loops, cleaning patches and more.
Perfect for all common handguns, rifles and shotguns.
Ultra-durable carrying case.
Attractive price point for such a comprehensive gun cleaning kit.
No solvent or oil included.
Buyers Questions
Q: What is the Top Rated Gun Cleaning Kit?
A: Check out first two examples at the beginning of this review guide to see the gun cleaning kits we believe stand out above the rest. If you're looking for a great deal check out the last two kits on our list.
Speaking in general terms gun cleaning involves the following steps:
Remove the bolt in a rifle or open the action of a pistol or shotgun.
Swab the bore using a brush that's soaked in solvent. Let stand for 10-15 minutes.
Once the solvent has soaked in run the rod/brush down the barrel several more times.
Run patches soaked in solvent down the barrel. Pull them out the muzzle end and repeat.
Lubricate the barrel, bolt and other surfaces with a bit of lubricating oil.
Q: How Does a Gun Cleaning Kit Work?
A: The gun cleaning kit doesn't actually work at all. What it does is supply you with the materials you need to effectively clean your pistol, rifle or shotgun.
Q: Does One Gun Cleaning Kit Work For All Guns?
A: Some do, some don't. Anytime you see "universal" attached to a gun cleaning kit it should provide the gun cleaning tools you need to clean your gun: provided it's not some exotic make or model.
Things To Consider When Buying A Gun Cleaning Kit
You typically want all of the following items in any type of comprehensive gun cleaning kit;
Cleaning Rods – Cleaning rods come in different sizes to accommodate different caliber weapons and should always be made of material that's softer than the gun barrel itself.
Jags – Sometimes called "loops" this is nothing more than an attachment on the end of the rod that holds the cleaning patch in place while you run it through the barrel.
Brushes – Brushes attach to the rod and are what you use to remove residue, dirt and whatever from inside the gun barrel. They should be stiff but not so hard they could damage the barrel. Bronze is a preferred brush material.
Toothbrush – A gun toothbrush does for your gun parts what your normal toothbrush does for your teeth; it gets into the nooks and crannies and gets the nasty stuff out. The better kits will come with a brush. Some discount ones will not.
Picks and Swabs – These allow you to really get into the tight spaces and carve out the gunk. Many better gun cleaning kits have a bronze pick. Cheaper kits have a plastic pick or no pick.
Solvent – Cleaning the barrel effectively means cutting through the various materials that have accumulated during the course of firing the weapon. This requires a good solvent and any deluxe gun cleaning kit should come with solvent.
Lubricant – Once the gun has been thoroughly cleaned you'll want to coat most of the component parts with a bit of lubricant. This prevents corrosion and enables the various actions. Typically a compact gun cleaning set won't come with lubricant.

Conclusion
We hope this gun cleaning information has been helpful and don't forget to stop back regularly for more product review guides.