Lock Down: The Best Barbell Collars of 2022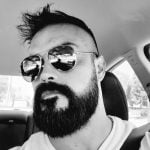 This product guide was written by Billy Brown
Last Updated
March 30, 2021
Billy Brown
Billy Brown has a problem sitting still. His constant search for the next challenge has him doing everything from running ultramarathons and climbing 14er's to gaining 40 pounds to compete in powerlifting, breaking several state records and growing a killer beard in the process. With over a decade of writing under his belt, his work, covering action sports, gear, and beer, can be found in a variety of publications. He lives with his wife and their two cats in Sacramento, California.
GearHungry may earn a small commission from affiliate links in this article.
Learn more
In every gym that I have owned or been a coach at, we've classified barbell collars as safety equipment that is required in any barbell-lifting movement. Barbell collars slide over the ends of a weight bar and lock on to secure the weight plates and prevent them from sliding off the bar during movement. If the weight slips off one side of a barbell entirely, the weight on the other side can cause the barbell to swing off of you. At best, it's loud and humiliating. At worst, it can cause serious injury. Even if the weights don't fall completely off, having plates slide around on the bar ends creates an imbalance that can ruin your lift or cause injury.
A great barbell clamp is an essential part of any lifter's workout quiver. They come in different shapes and sizes, from simple spring collars to more elaborate ABS plastic clamping systems. We looked around for the best collars we could find, then picked up a few ourselves to test out varying styles and assess each collar's true effectiveness.
Below you'll find the collars that made the cut, a little expert guidance on terms, proper usage, and features to look out for when buying a set. Take a look at what we uncovered, and let us know on our social channels if we missed any of your favorite collars.
The Best Barbell Collar Review
Iron Lab Olympic Barbell Collar
These burly clamps use an exceptionally durable compressed, hardened nylon instead of the steel skeleton that you see in similar collar builds. Like most gear, it's the little things that really make this collar stand out. The otherwise black collar sports a bright red release tab which makes popping the collar off a snap. This was especially useful in CrossFit workouts, which required adding and taking off weights in a short time period. It's also a good way to differentiate your clamps from other people's if you're bringing them to a commercial gym.
We were worried at first about the tightness of the rubber grip pads, but they clamped down with no issue. And once they were on, they stayed on. The clamp locks stayed put even during 300-pound cleans and 500+ pound deadlifts. Also, Iron Lab includes a lifetime warranty, so once you buy a pair, you're set for life. Read the in-depth review here.
Key Features:
Designed for 2-inch Olympic bars
Available in 5 colors
Color-contrasted release tab     
Specification:
Brand

Iron Lab

Weight

7.2 ounces
QUECAOCF Spring Barbell Collars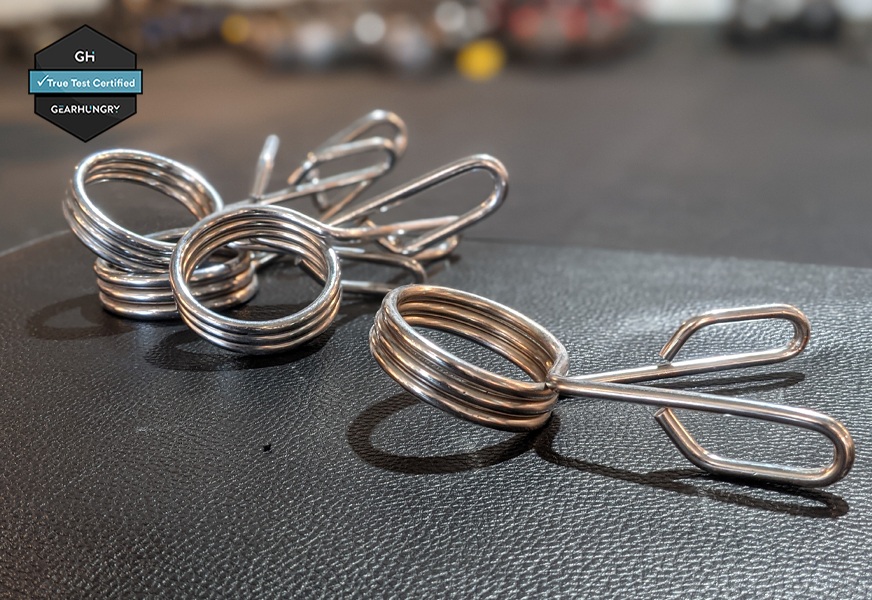 Building out a home gym? Then you're likely going to need several pairs of barbell collars, and these 2-inch Olympic spring-action collar clamps from QUECAOCF are a great purchase. 
I've used almost identical clips for years and have yet to see one slip off the bar, break, or loosen, despite some profoundly serious abuse. Read my in-depth review here. 
While less flashy than other clips on this list, these steel clips are durable, tough, and will lock securely onto any Oly bar. The clips are designed to be used easily with one hand, and they hang tough to the bar, even when dropping the weights from overhead.
The 2-inch collars will fit any Olympic bar, and they come in packs of four for less than 20 dollars. If you're looking for a great set of clamps that will do the job without breaking the bank, these are the clips for you.
Key Features:
Designed for 2-inch Olympic barbells
Durable
Great for one-handed use
Comes in 4-pack (2 pairs)
Specification:
Brand

QUECAOCF

Weight

0.39 oz per collar
Greententljs Olympic Lockjaw Barbell Collar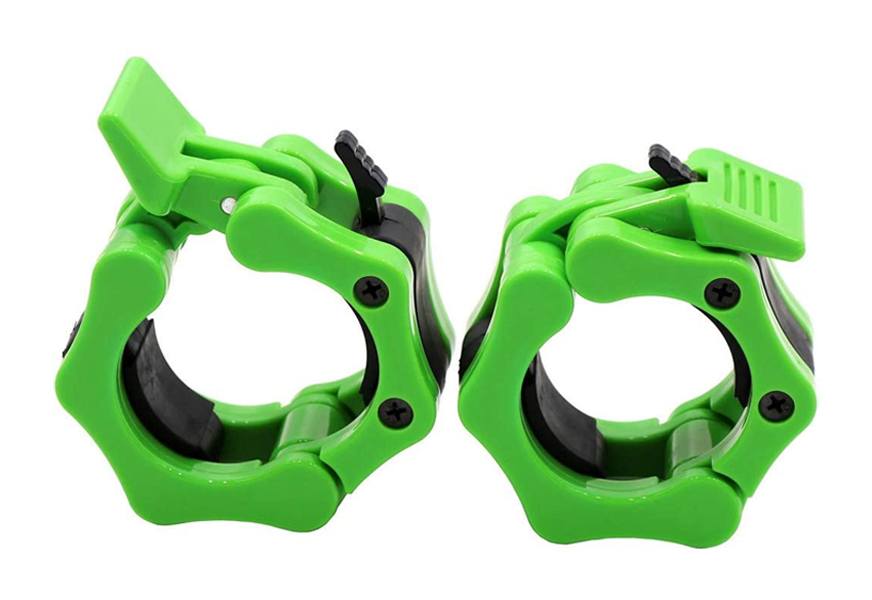 One of the best barbell collar sets we've seen, the Olympic Barbell Lockjaw Collars from Greententljs offers a lot of security for a solid price. The collar's solid grip is bolstered by a steel skeleton and high-density rubber grips. The ABS exterior is prone to scuffing and scratching, but that does not affect the collar's function. Plus, many lifters prefer the worn-in aesthetic.
The quick-release tab is great for rapid weight changes, but the tab on each colorway is black, so if you want a contrasting tab, you'll need to buy a set in a brighter color. We've also seen reports of the screws loosening up over time, but with a little maintenance, this collar will survive years of heavy use. It can make a thoughtful fitness gift, as well.
Key Features:
Designed for 2-inch Olympic bars
Available in a range of colors
Steel skeleton
Black release tab
Specification:
Brand

Greententljs

Weight

11.82 ounces
Clout Fitness Quick Release Barbell Collar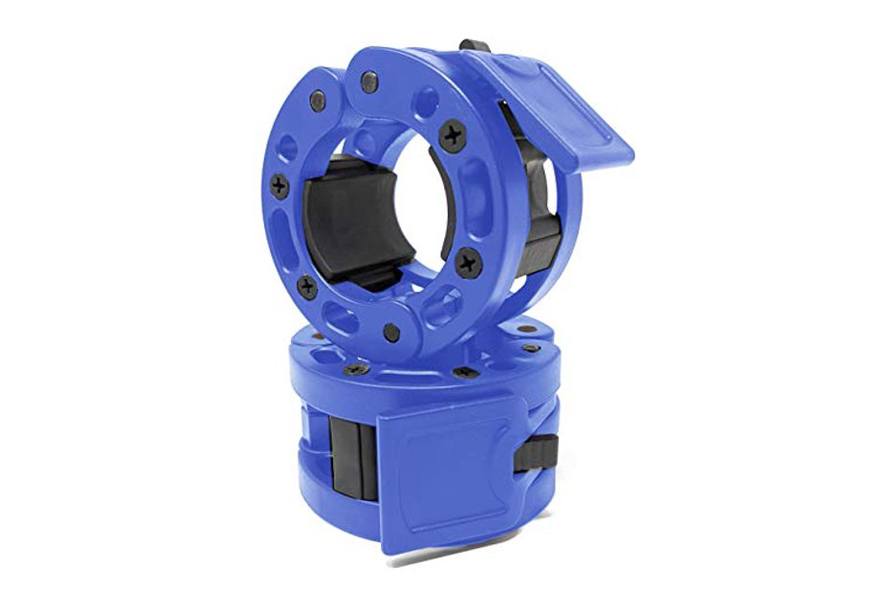 CrossFit is the realm of burly Olympic bars and bumper weights that can survive drops from varying heights, from waist height to overhead. If you spend most of your fitness time in a CrossFit box, this Quick Release Barbell Collar from Clout Fitness is the one for you.
These lightweight collars are designed to survive drops, so they'll stay put, no matter how hard you drop your 600-pound deadlift. The rubber interior pads prevent sliding, and the oversized lever and quick-release button let you swap the weights quickly during a WOD. Also, the stainless-steel pins in the hinges are extremely durable, which means these clips will be with you for years of gains. Don't forget to check out our guide to the top Olympic weight benches for more cool equipment.
Key Features:
Designed for 2-inch Olympic bars
Available in 15 colors
Stainless steel pins
Release tab
Specification:
Brand

Clout Fitness

Weight

11.29 ounces
Lock-Jaw OLY 2 Olympic Barbell Collar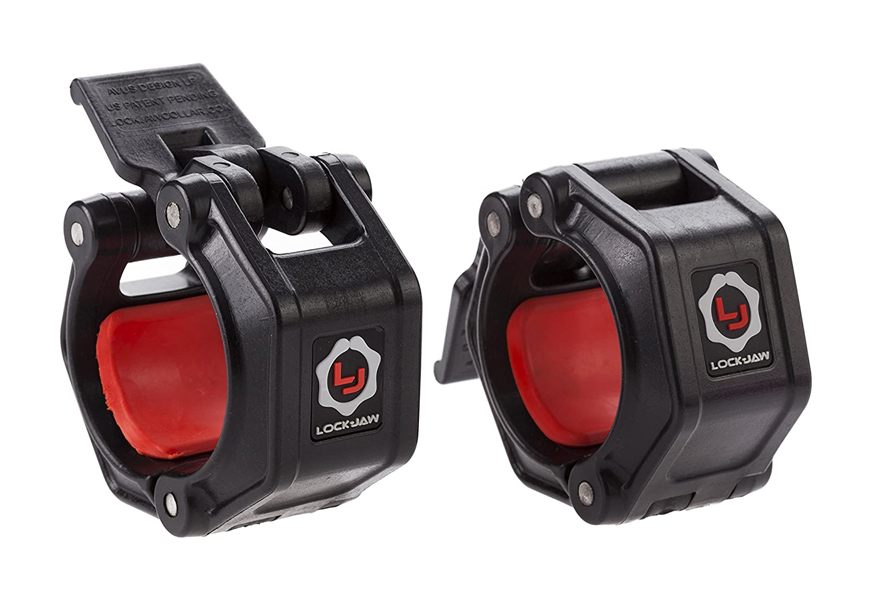 If you frequently throw stacks of 45-pound plates on your barbell, these hefty collars from appropriately named Lock-Jaw sport twice the strength of their previous iteration. This is thanks in part to the large rubber grip pads, which bolster the collar's grip strength. The wide, flat levers lock down securely and easily flip up so you can pile on the weight with no problem. This combines with the extra-strong grip to make this a great collar for powerlifting and Olympic training.
But the lack of a release lock raises concerns for multiple-rep movements. During high-rep workouts with decent weight, the constant banging of the weights against the ground can cause collars like these to pop open and leave the weights free to slide. If you focus mainly on low-rep strength movements, these collars are a great choice. If you tend to go with higher reps, check out some other options on this list, and browse our list of the best-selling Smith machines, too.
Key Features:
Designed for 2-inch Olympic bars
Available in black, blue, and red
Large rubber gripping surface
Wide securing tab
Specification:
Brand

Lock-Jaw Barbell Collars

Weight

8.8 ounces
Dark Iron Fitness Barbell Collar Clamps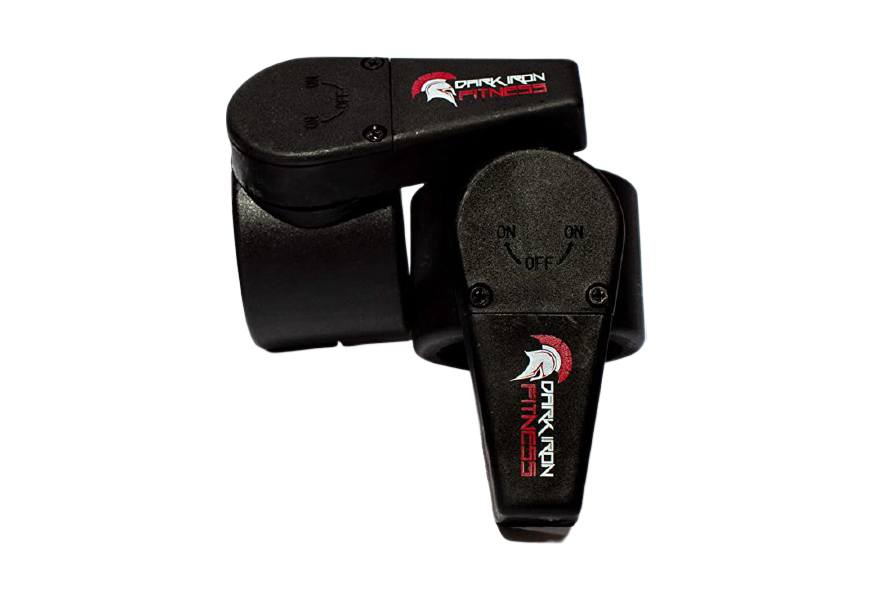 Instead of the press-down clamps that you'll see on many other barbell collars, the Barbell Collar Clamps from Dark Iron Fitness uses a longer lever that turns 90 degrees to lock the collar clamps onto your barbell. The process is simple and quick, and the longer lever means you don't have to apply as much pressure to secure the clamp. It's also easier to clock these down with one hand.
The lightweight, high-impact polyester means it can survive drops and bumps, as well as getting thrown across the room after a missed lift. NOTE: These clamps are specifically designed for 2-inch barbell collars, so if you have a slightly smaller or larger bar, you may not get an optimal fit. We've seen reviews from users with 1.8- and 1.9-inch barbell collars who reported slippage. Be sure also to check out our selection of the most popular curl bars everyone is raving about.
Key Features:
Designed for 2-inch Olympic bars
Easy lever locking system
Large rubber gripping surface
Easy one-handed operation
Specification:
Brand

Dark Iron Fitness

Weight

13.62 ounces
POPMIK 1-Inch Barbell Clamp Set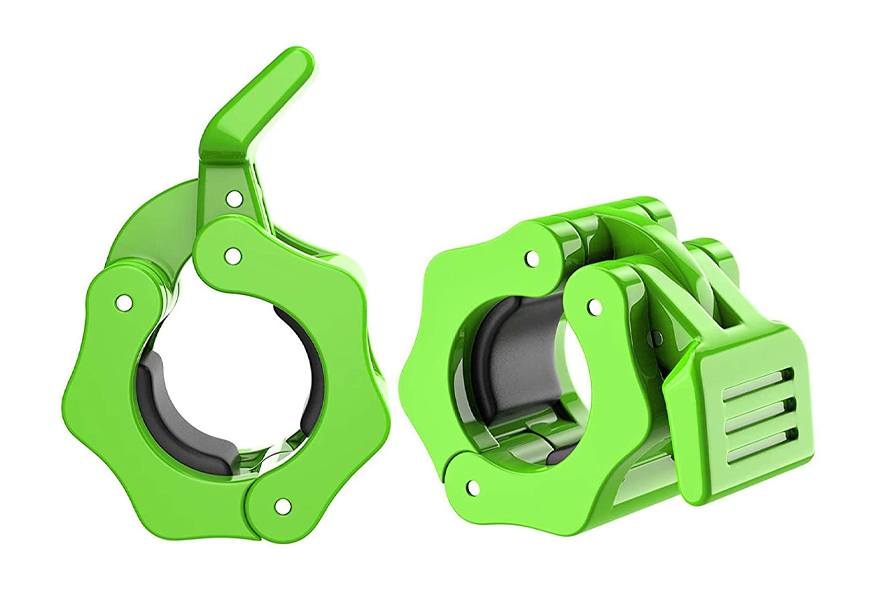 While most collar clamps on this list are built for 2-inch Olympic barbells, this set of standard barbell collars from POPMIK is designed for standard bars with 1-inch sleeves. The one-click lock design makes it simple to secure the clamps with one hand, and the rubber pads on the interior provide a killer grip onto the barbell. Also, the high-strength nylon body is durable, which means it can handle drops and the occasional plate falling over on it.
Most of the 1-inch clamps we've seen for standard barbells are of the screw-tight or spring clip variety, so it's great to see a heavy-duty option built for folks who use barbells with 1-inch collars. As a bonus, POPMIK offers a warranty, where if users aren't satisfied, they'll either replace the clips or offer a refund. If you are really up for a challenge, here is our list of the farmer's walk handles to get right now. 
Key Features:
Designed for 1-inch standard barbells
Available in 5 colors
Quick-release, spring-powered latch
Lifetime warranty
Specification:
Brand

POPMIK

Weight

4 ounces
CAP Barbell Spring Clip Collars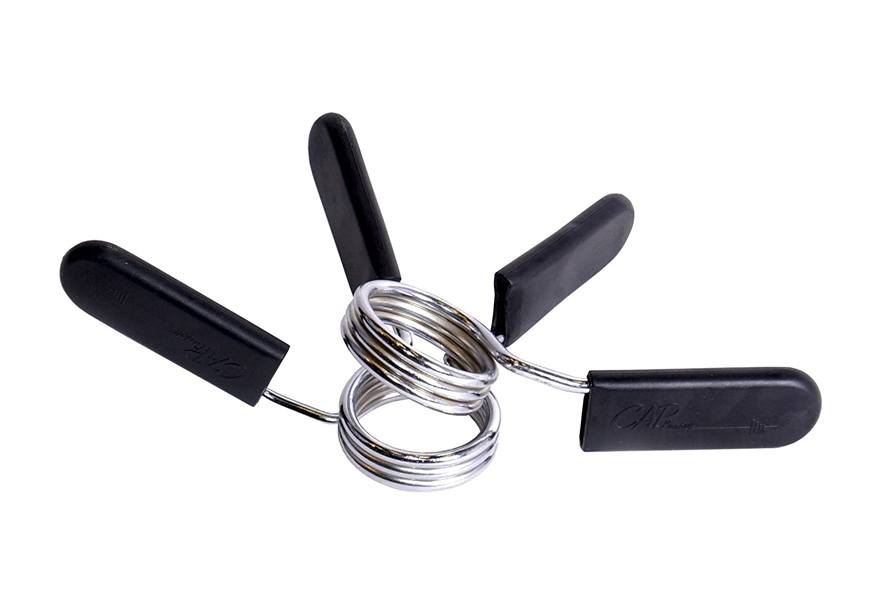 If you're looking at a super-fast, extremely simple barbell collar clamp, the humble spring clip is the way to go. And these Barbell Spring Clip Collars from CAP Barbell are the best of the bunch. These clips are designed for 2-inch barbell sleeves and offer plenty of functionality. Although the simple design makes most spring clips seem the same, these CAP clips sport handles on the levers that allow for better grip and more comfort when you use them.
The stainless-steel make adds durability to the spring, and the chrome plating keeps them bright and shiny until you start dropping weights on them. While these will accumulate battle scars over time, fewer working pieces mean fewer things can go wrong, and these springs can last a lifetime if you take care of them. Don't also forget to browse our selection of the best adjustable dumbbells on the market.
Key Features:
Designed for 2-inch Olympic barbells
Comfortable handles
Great for one-handed use
Inexpensive
Specification:
Brand

CAP Barbell

Weight

18.25 ounces
How We Tested and Why You Can Trust Us
To give you an in-depth look at each piece of equipment in this list, we researched the best products online, recalled the gear we've used in the past year or more, and called in equipment to test and evaluate new and interesting pieces. We rounded out our research and first-person impressions with user reviews online to gather a more rounded look.
Who This is For
This article is for people looking to find the best barbell collar clamps to bring to the gym or to use at home. We looked for clips for both Standard and Olympic barbells with a bias towards the more prevalent Olympic barbell.
How We Picked
We chose collar clamps that would be useful for a wide range of athletes from beginners to experts considering features such as durability, ease of use, and price. We categorized them according to what priorities readers may be looking for in a barbell collar clamp.
Features to Look For in Barbell Collars
Material - Barbell collars need to be made of durable materials to handle the pressure of hundreds of pounds dropping from varying heights without allowing the weight plates to slip.
You'll find ABS plastic, nylon, and steel or a blend of the three to create a high-strength collar. Be on the lookout for high-density rubber, which provides friction in many clamps and won't wear down quickly.
Look for stainless or aircraft-grade (316L) when looking at metal materials.
Shape - Most clamp-style collars will be hexagonal in shape to help strengthen the clip, but you will also find plenty of round ones as well. Much of this will come down to personal style preference.
Spring clips are always rounded to provide maximum bar contact and create a spring that provides tension and traction.
Size - Barbell collars come in varying sizes to fit different barbells. The most common barbells are standard, with 1-inch bar ends, and Olympic, with 2-inch bar ends. Make sure that the collar you are considering has a size that will fit your barbell.
If you tend to max out your barbell with plates, look for a clamp that comes in a smaller width (this is another advantage to the minimalist spring clips). This saves bar space for weight plates.
Capacity - Also, if you tend to lift with a lot of weight, it's worth checking the user reviews to see if there are any notes about how much weight the clamp can handle. Most clips can handle hundreds of pounds, but if there are any that can handle less, the user reviews should let you know.
Overall Construction - When searching for clamps, look at the hinges' materials and check for any internal reinforcements. Stainless steel pins are ideal in the hinges because they add a measure of reliability.
Most clamps are built with ABS plastic or nylon, which can crack under enough pressure, although this is rare. If this is a concern for you, look for a clamp with a reinforced steel interior.
Ease of Use - The strongest clamp in the world is no good if it's a pain in the butt to use.
With clamps, look for wide or longer locking levers, making it easier to lock the clamp onto the bar.
For spring clips, look for larger handles that make putting them on and taking them off easier and more comfortable.
Value - Unless you're looking for a pro-grade clamp, you can find excellent collar clamps and especially clips for under $30. These collars can provide you with all the security you'll need for barbell workouts. That said, durability is a factor since a cheap clamp isn't so cheap if you have to buy it repeatedly.
Durability - Obviously, barbell collars are required to secure a lot of weight under various conditions day in and day out. The more you lift, the more work the collars have to do. Manufacturers generally build collars with this in mind, but occasionally, subpar collars will hit the market.
Do some research when shopping and read the user reviews and check out lists like this to find sturdy, dependable collars that will last for the long haul.
Warranty - In the chaos that can be the gym, there are plenty of dangers lurking that can ruin a barbell collar clamp. Dropping weights on them, having a bar land awkwardly, and the occasional factory defect can ruin your investment. Many manufacturers offer a warranty that will offer a replacement or refund if you aren't happy with your collar or if something happens. Take a look online to see if the collar you're considering comes with any replacement or refund offers.
Speed of Assembly - Speed of assembly, aka how fast you can put on and take off your clamps, is a huge factor for CrossFit athletes. Since they often have to change weights in the middle of a time-constrained workout, removing the clamps, change plates, and reapply the clamps is a huge factor in which clamps are the best.
Look for clamps that properly fit your barbell and ones with wide handles and levers, which allow you to apply the proper force without expending too much effort and time.
Locking Mechanism - For spring barbell clips, this is fairly simple. The coiled steel provides the tension, so all you need to do is to make sure that the clip actually fits your barbell.
With clamps, the level is generally locked via a lever, so the most secure ones are locking barbell collars. They sport a locking mechanism that requires a button to release. These are ideal for people who want the most security possible in a barbell collar clamp.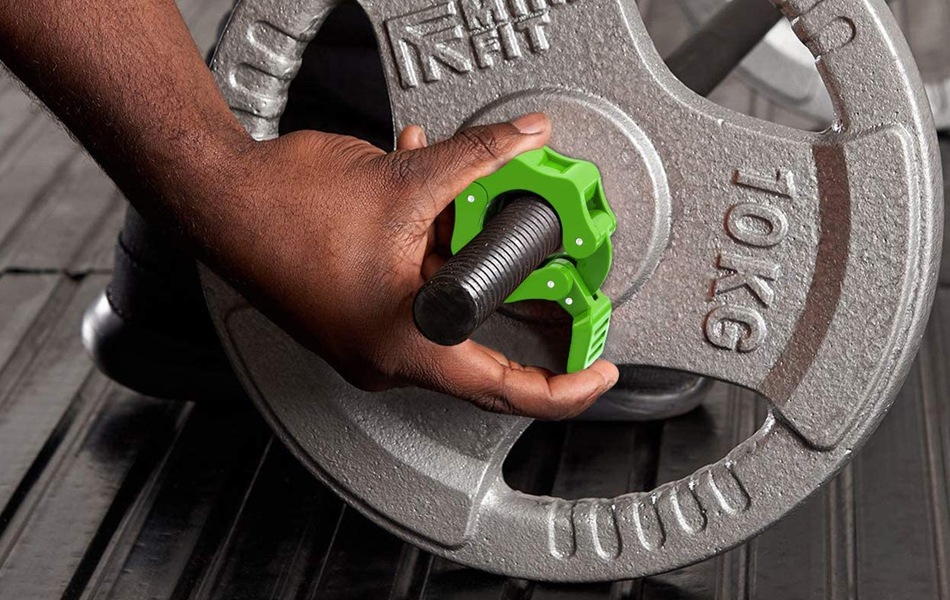 Types of Barbell Collars
Spring Clamps - Spring weight clamps are easy to spot: two pressure-activated prongs ease tension on a central spring, which allows you to slide it over the end of a barbell. When you let go of the prongs, the spring contracts, creating tension on the barbell to keep it there.
One of the most common and inexpensive clamps available, these are prevalent in commercial gyms.
Lockjaw Clamps - A common clamp for lifters who want an upgrade from the spring clamps that gyms usually use. Made of hard ABS plastic material occasionally reinforced with a metal skeleton, these clamps are generally easier to put on and take off.
They're also extremely durable.
Screw Clamps - Less common lately, these clamps slide over the barbell collar and feature a screw running perpendicular to the clamp. When the clamp is in the right spot, the user twists the screw down until it's pressed firmly against the barbell, locking the clamp in place.
These clamps have fallen out of favor at most public gyms because they are more time-consuming and can mark up the barbells.
Olympic Bar Clamps vs. Standard Bar Clamps - One huge difference between barbell clamps is whether they fit a 2-inch Olympic-sized bar or a 1-inch standard bar. Clamps are only made to fit one of these sizes, so if you buy the wrong size for your bar, it won't work. A collar's bar compatibility is listed online, so make sure you are purchasing the right one.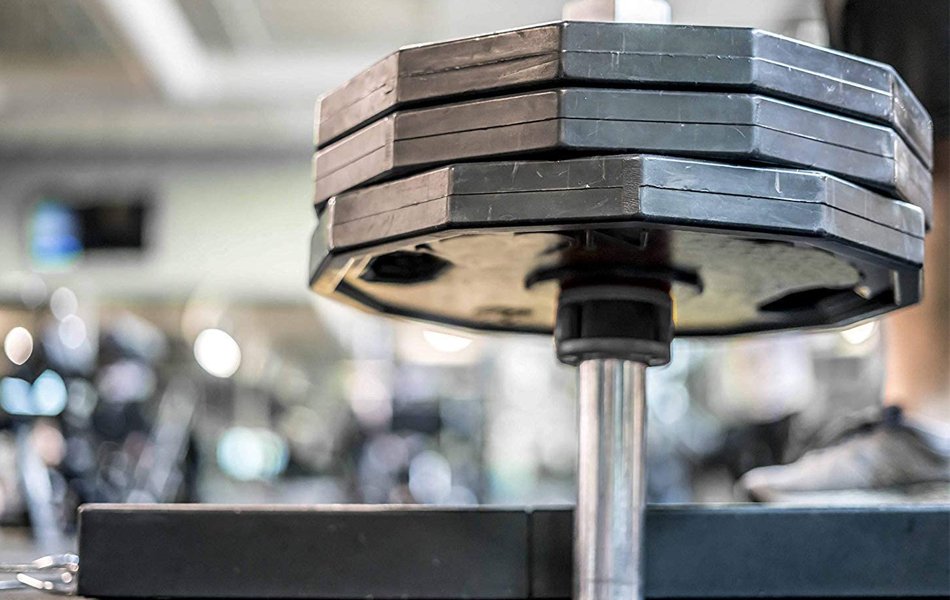 Barbell Collar FAQ
Q: What is a barbell collar?
A: A barbell collar, also known as a barbell collar clamp, is a piece of equipment that attaches to the ends of your barbell to secure the weight plates in place. Barbell collars are intended to prevent the weight plates from sliding around on the bar, which can create an imbalance of weight, or sliding completely off, which often results in total loss of control of the barbell.
This is an essential piece of safety equipment and should be used at all times with some rare exceptions. One such exception is bench pressing without a spotter (which we don't recommend). If the weight is too heavy and you can't lift it off your chest, your only course of action may be to tilt the bar to one side to slide the weight off, then push the bar off to the other side. Again, this is not preferable to use a spotter, but a good option if you're pinned alone in your garage.
Q: Which type of barbell collar should I buy?
A: There are plenty of viable options on the market, the majority of which will do the job effectively. If you're looking for the most affordable clamp available, spring lips tend to run on the cheaper side. If you're looking for ease of application, lockjaw clamps would be a good option as well. It really depends on your personal preference and needs.
The biggest concern is whether your clamp will fit the barbell you intend to use it with, so make sure that you know whether you use a standard or Olympic barbell and purchase the right size clamps for it.
Q: How much do collars weigh?
A: Collar clamps are designed to add as little weight to the bar as possible. Most weight just under a pound. This is in part to make sure you can get an accurate measure of how much you lifted by adding the plates and barbell without having to add the clamp weight to the sum.
Q: Is lifting without collars dangerous?
A: For the most part, you can lift safely without collars. If you lift under control with a weight that you can handle and maintain proper form, the weights shouldn't go anywhere. But if you want to push your strength limits and/or work with speed, the chances that your weight pates may move around or fall off will greatly increase.
Think of a set of barbell collars as a seat belt for your barbell. You hope you never need it, but you'll be glad it's there when you do.
Q: Do barbell collars mitigate my workout results?
A: On the contrary, barbell collars allow you to focus more on your lifts and less on whether your plates are sliding around. Barbell collars also help to prevent injuries that can result from the weights becoming imbalanced or from falling off the bar.
 Sources:
Sign Up Now
GET THE VERY BEST OF GEARHUNGRY STRAIGHT TO YOUR INBOX