Best Boxing Gloves of 2022: Sting Like a Bee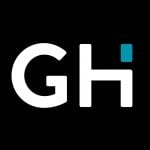 This product guide was written by GearHungry Staff
Last Updated
February 25, 2021
GearHungry Staff
GearHungry Staff posts are a compilation of work by various members of our editorial team. We update old articles regularly to provide you the most current information. You can learn more about our staff
here
.
GearHungry may earn a small commission from affiliate links in this article.
Learn more
The question of the best boxing gloves is one of the oldest in sports. Boxing is a hallowed international tradition that goes back thousands of years. It forged legendary figures like Jack Johnson, Jack Dempsey, and Mohammad Ali, who inspired generations with their power, speed, and ring intelligence.
More than that, boxing is accessible to anyone. Whether you want to create your own legend or stay in shape after a long day of work, throwing hands is a great way to do it. The first thing you'll need is some good boxing gloves. We looked for the best boxing gloves on the market and considered pairs from revered boxing glove brands and up-and-comers alike. And then we put in countless rounds of bag work to bring you this guide to the top boxing gloves around.
The Best Boxing Glove
Sanabul Essential Gel Boxing Gloves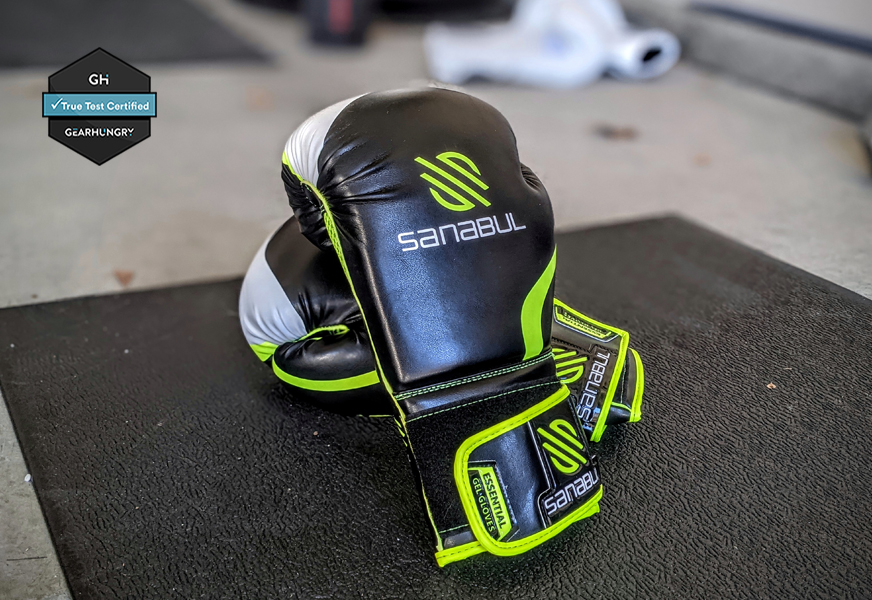 If comfort is what you're after, the Gel Essential Glove from Sanabul is a great option. The gel-infused padding gives the glove an amazing amount of cushioning without minimizing impact. My shoulders were burning during long training sessions with a heavy bag, but my hands felt great.
These were easily the cushiest boxing gloves I tested, but with that gel-infused padding, that was no surprise. What did surprise me was the impact it still provided, despite the softness of the glove. Each bag strike rewarded me with a satisfying "thwap," and right hooks had the 80-pound bag jumping on its chains. 
The hook and loop closure makes it easy to put the gloves on solo. The wrist coverage extends halfway to the elbow, providing some welcome padding during sparring. The only issue we've seen with these gloves are reports of durability issues after a few months of work, but at the low price point, they work great as entry-level gloves. Read the in-depth review here.
Key Features:
Engineered leather
Gel foam
Attached thumb sleeve
Reinforced wrist
Longitudinal arch design
Specification:
Brand

Sanabul

Model

50040

Weight

1.15 pounds
Soft padding
Plenty of wrist coverage
Price
Venum Elite Boxing Gloves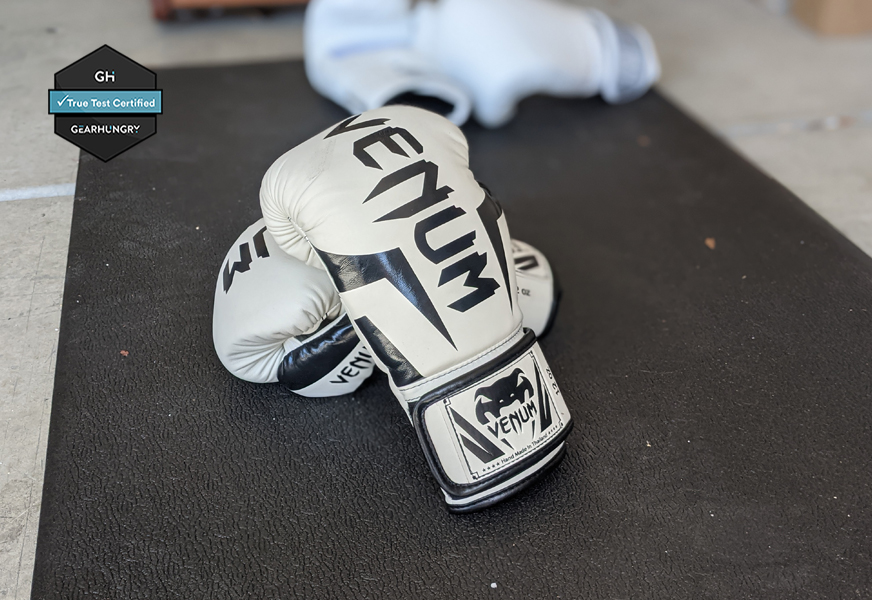 The Elite Boxing Gloves from Venum have a higher price point than other gloves on this list, but you definitely get what you pay for in this case. These synthetic-leather gloves are handmade in Thailand with reinforced stitching for added durability.  During heavy bag or speed bag training, the triple-density foam pad transferred punch power without creating additional shock up my arms. The padded palm protects the hand when parrying and adds to the snug fit and feel. The wide range of colorways allows boxers to personalize their kit and help differentiate your gear from others.
The website lists a mesh palm for ventilation, but the gloves actually sport perforated synthetic leather in the palm and thumb. These holes provide some ventilation, but not as much as the full mesh palms of other gloves on this list. However, the durability and cushioning give this pair excellent value. The gloves still look new after weeks of testing, and online reviews report that the gloves stay pristine through years of constant use, from the seams to the paint. In fact, the Elite is one of the top-rated boxing gloves that we've seen online, with a great and well-deserved reputation. Read the in-depth review here.
Key Features:
Synthetic leather
Triple-density foam
Locked-down thumb sleeve
Reinforced wrist
Long cuff
Perforated synthetic leather ventilation
Specification:
Brand

Venum

Weight

1.15 pounds
Durability
Style
Palm pad
Minimal ventilation
Price
Hayabusa T3 Boxing Gloves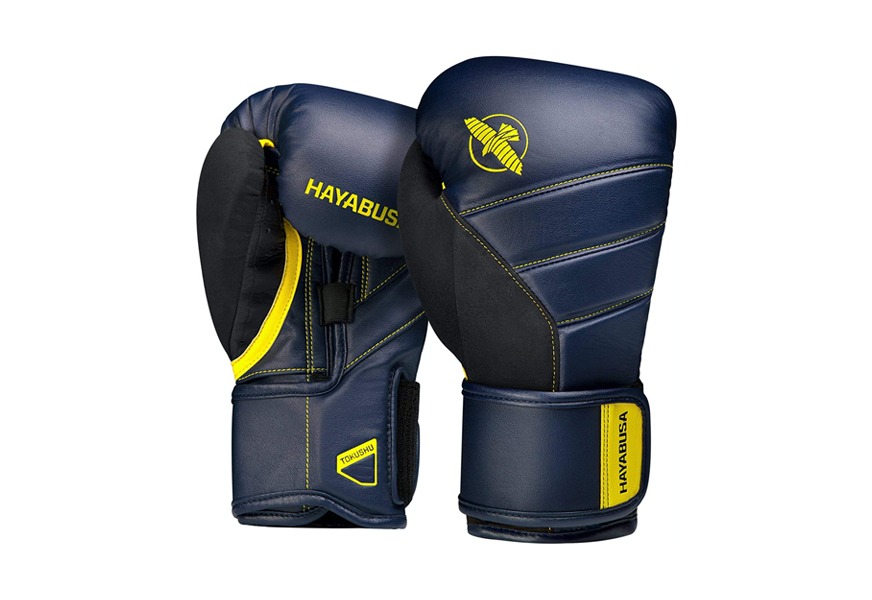 If wrist support is a priority for you, take a good, hard look at Hayabusa's T3 Boxing Gloves. The company's proprietary Dual-X interlocking wrist straps provide a firm, comfortable, and custom-feeling fit. This combines with splinted support that keeps your wrists aligned and multi-layered foam to keep your knuckles safe.
The engineered Vylar leather is exceptionally durable, and the soft interior feels comfortable and is designed to regulate internal temperature. What's more, a microfiber thumb allows you to wipe away sweat during intense workouts. It's not something you'd use in competition, but it's a welcome detail during training.
What's more, these gloves come with a 90-day satisfaction guarantee. This allows you to try the gloves out for 3 months, and if they don't pass muster, you can return them and get your money back with no questions asked. While it's not a priority, it's worth mentioning: these gloves look cool as hell. The design is a mix of classic and futuristic, and the black/carbon fiber/gold gloves are fire. If you also need a pair for your kid, check out our list of the best kid's boxing gloves on the market.
Key Features:
Engineered leather
Splinted support
Microfiber sweat wipe
Dual-x interlocking straps
Specification:
Brand

Hayabusa

Model

HAYT3KBH-90000-10

Weight

1.23 pounds
Comfortable
Supportive
Durable
Excellent attention to detail
Everlast Pro Style Training Boxing Gloves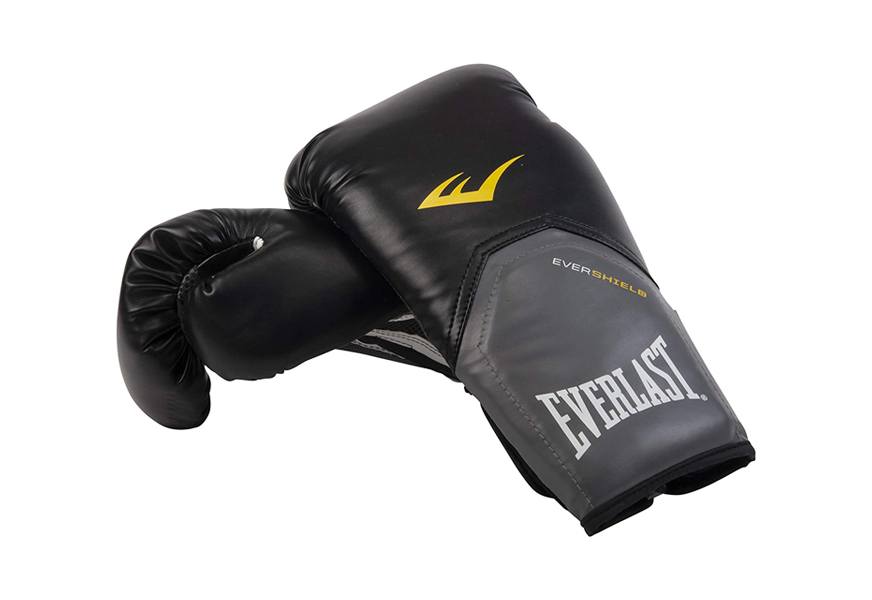 Founded in 1910, Everlast has long been synonymous with boxing. Anyone the least bit familiar with the sport knows the brand, and its fame is well-earned. The Pro Style Training Gloves from Everlast blends the classic look and quality that the company is known for with some useful upgrades, making it one of the best budget boxing gloves we've seen.
Designed with heavy bag use in mind, the ThumbLok tech attaches the end of the thumb to the main gloves, minimizing thumb injury if your punches start to get sloppy during long workouts. The elastic hook and loop strap replaces the traditional lace-up closure, making it easier to lock your gloves onto your hands if you're training solo. The open mesh palm helps keep your hands cool, and an antimicrobial treatment keeps the stink to a minimum. These details are handy, but our favorite feature of these gloves is their longevity. You can expect years of use out of this pair, which is an indication of the build and quality you'd expect from a company that's been in the business for over a century. If you love kickbox too, check out these quality kickboxing gloves that won't let you down, for sure.
Key Features:
Synthetic leather
Thumblok technology
Reinforced wrist
Closed cell foam padding
Antimicrobial treatment
Natural contour shape
Specification:
Brand

Everlast

Model

1200013

Weight

1.06 ounces
Outstanding durability
Highly breathable palm
Closed-cell padding isn't as cushy as other brands
Venum Challenger 2.0 Boxing Gloves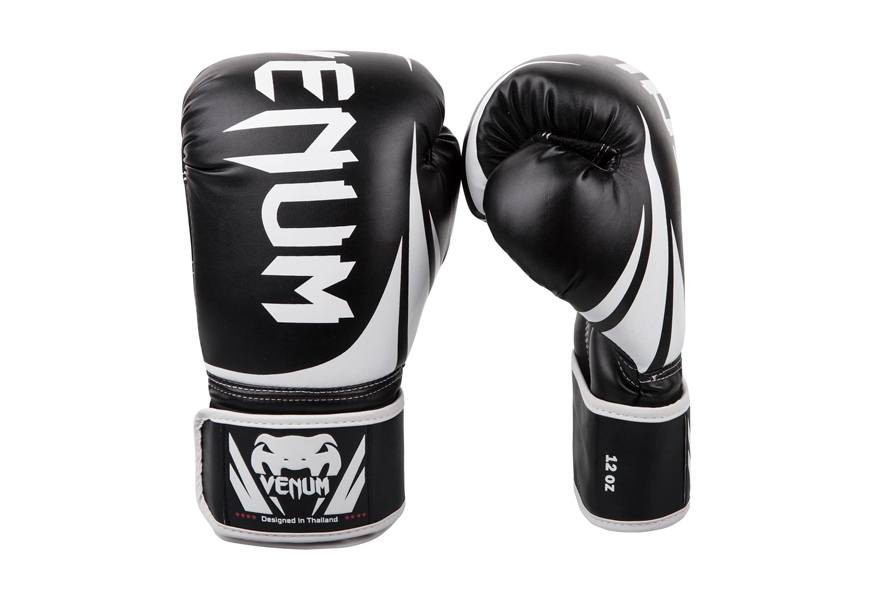 Designed specifically for bag work and training, Venum's Challenger 2.0 Gloves are perfect for the beginner boxer or someone training for fitness. The triple-density foam that Venum is known for protects tender hands that are new to punching bag training, and the low price point is ideal for someone who wants to try boxing-style workouts for the first time.
The hook and loop closure lets you get the gloves on and off with ease, and the mesh venting in the palm keeps hands from getting sweaty during workouts. The attached thumb prevents sprains and breaks, which is great for newbies who are still dialing-in their form. In addition, the multiple colorways allow you to work out in whatever style you choose.
Key Features:
Synthetic leather
Locked-down thumb sleeve
Mesh palm for ventilation
Triple-density foam
Specification:
Brand

Venum

Model

EU-VENUM-0661-10oz

Weight

10.56 ounces
Price
Easy on and off
Mesh ventilation
Not built for sparring
Testers reported weak interior seams
Cleto Reyes Extra Padding Hook and Loop Boxing Gloves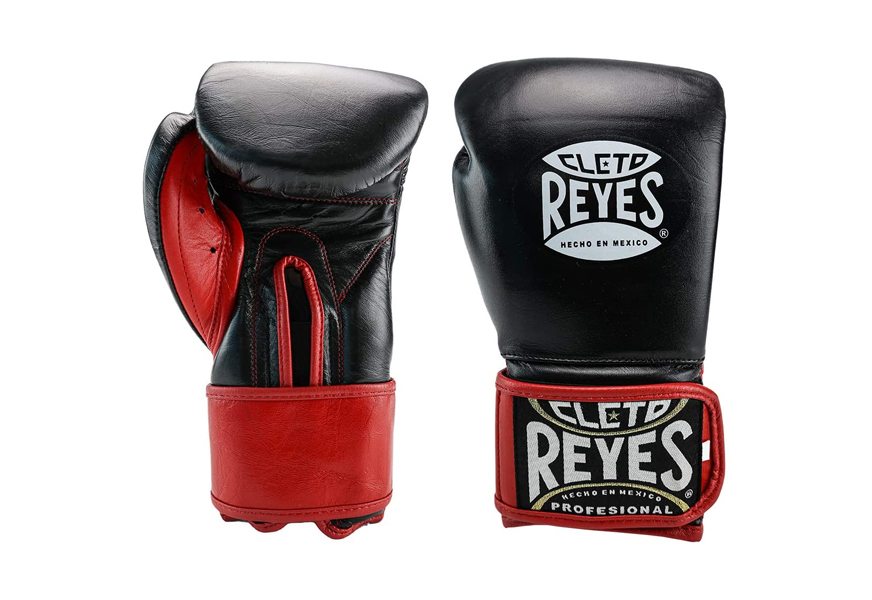 As the name suggests, the Extra Padding training gloves from Cleto Reyes sport an extra half-inch of padding over the knuckles to keep them safe through every punch. The padding keeps your hands protected and comfortable enough to endure a long workout, but it also adds weight. The lowest weight available for these gloves is 14 ounces, so those longer workouts will burn a bit more than they would in a lighter pair.
The company's founder, Cleto Reyes Castro, started working in a saddlery at the age of 12, and his experiences working with leather are happily apparent in these gloves. With a goatskin leather outer and water-repellant lining, these top boxer gloves are handmade for excellent durability and the quality that landed Cleto Reyes in Boxing's Hall of Fame. Make sure to also choose a perfect pair of boxing shoes from our list.
Key Features:
Goat leather
Locked-down thumb sleeve
Open palm for ventilation
Water-resistant interior
Specification:
Brand

CLETO REYES

Model

RETG1 BLACK12OZ

Weight

2 pounds
Durability
Extra cushioning
Premium leather
Several color options
Long break-in period
Weight
Price
Twins Special Velcro Boxing Gloves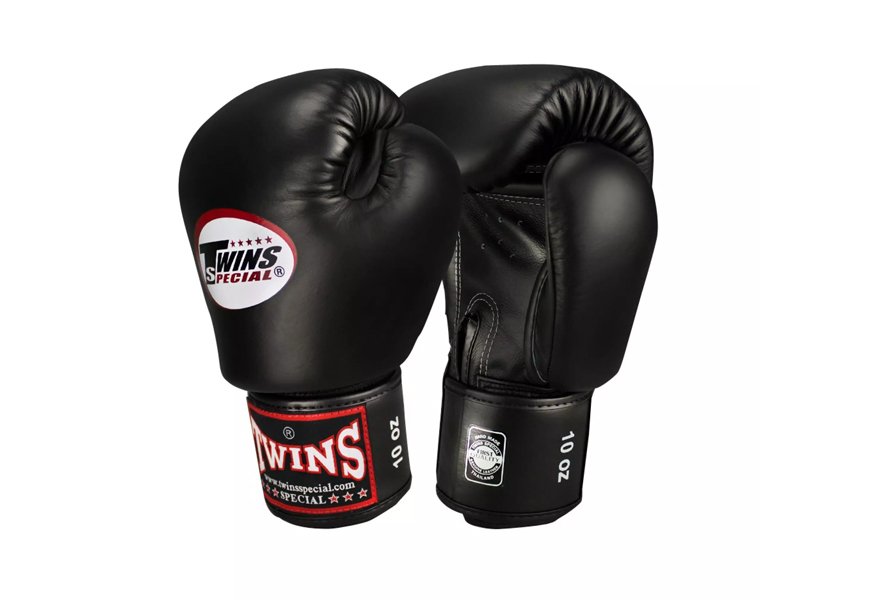 True to their name, the Special Boxing Gloves from Twins are no ordinary boxing gloves. Priced just a bit higher than entry-level gloves, the Specials offer solid wrist support, a comfortable interior, and breathable construction to help keep your hands dry while you work.
Handcrafted in Thailand, the Specials offer a leather exterior with durable construction. The high-quality multilayer foam cushions bag impact — ideal for both bag work and sparring. It comes in various weights, from 8 ounces to 18 ounces, so you can dial-in your heft. The only real ding that we've found is that some reviewers reported that every pair carries a chemical smell that lasts a week or two except for the black option. But if you're looking for a versatile, supportive, top-rated boxing glove with a supportive wrist wrap, the Specials are a great option.
Key Features:
Leather exterior
Supportive wrist wrap
Multiple weights available
Specification:
Brand

Twins Special

Model

BGVL-3

Weight

1.54 pounds
Breathability
Durability
Versatility
Odd smell with colored gloves
How We Chose & Who This Guide is For
We chose the boxing gloves featured here for their variety. We looked for gloves for every boxer, from beginners and fitness boxers to competitors and everyone in between. We chose gloves in a range of price points and varying features to find options that would appeal to as many people as possible.
How We Tested & Why You Can Trust Us
To provide you with a comprehensive insight into each pair of boxing gloves on our list, we had testers with boxing and training-specific backgrounds sample the gloves. We also combined our testers' user experiences with online research to round out our own impressions with those of other users.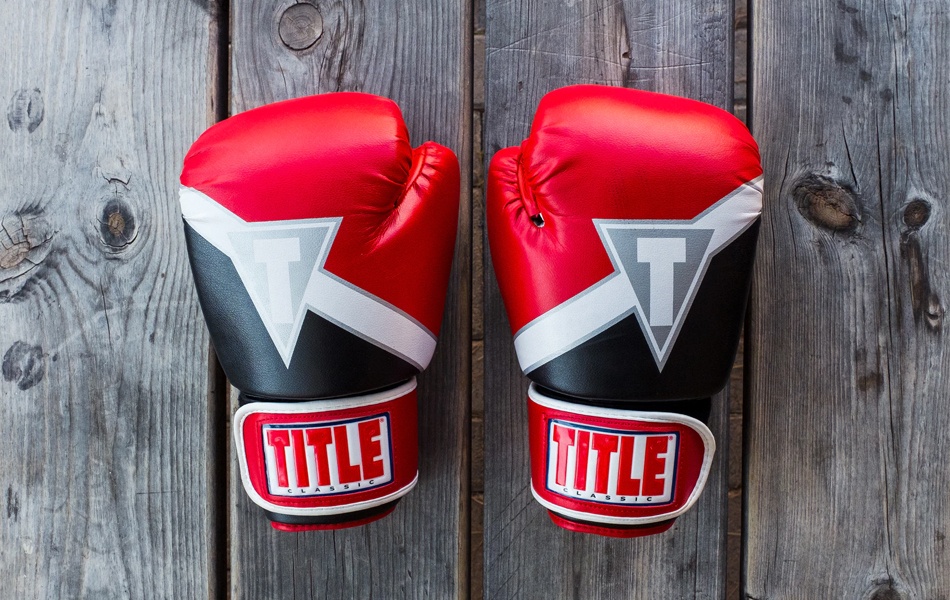 Features to Look For in Boxing Gloves
Since many brands produce handcrafted boxing gloves, it's a good idea to do your homework so that you can pick out a suitable pair. Here are some basic but crucial features to consider as you zero-in on the right pair for you.
Fit - The perfect fit is determined by two things: size and weight. You want gloves that fit perfectly on the hands, securely latched onto the wrist. Small gloves squeeze the fingers too much and, oversized gloves easily fall off and don't provide support. Weight is generally determined by how you are going to use them. 8 to 12-ounce gloves are generally for competition, while 14 to 16-ounce gloves are geared more towards training.
Material – The three main outer materials you'll find are leather, synthetic, or engineered leather, which is usually a blend of the two. Leather is the classic; when done right, these gloves stay supple and will last years. Synthetics and engineered leather are known more for their durability. However, these two don't generally break-in as well as actual leather.
Closure Type - The closure system determines how tightly and securely the gloves are fitted on the wrists. This will prevent them from slipping off easily during a fight and ensure convenient and comfortable wear. Lacing is the best way to ensure a perfect and supportive fit but requires someone else to lace them for you. If you're not training with a coach or partner, hook and loop closures are the way to go.
Types of Boxing Gloves
Bag Gloves - Bag gloves are also known as training gloves. Bag gloves are best for beginners, amateur boxers, or people who are in them for fitness rather than for competition. Extra-padded to provide enough cushioning, these gloves are designed primarily for bag work and dialing-in technique. 
Sparring Gloves - Sparring gloves generally come in two different weights: 16 and 18 ounces. The extra padding is designed to keep your partner safe, but an added perk is that it will make your competition gloves feel lighter when you fight.
Competition Gloves - These gloves are made for actual fighting in a boxing ring. They typically weigh from 8 to 12 ounces depending on the specific rules of that fight. Fighting gloves come as either lace-up gloves or straps, but laces are ideal for a more secure, dialed-in fit.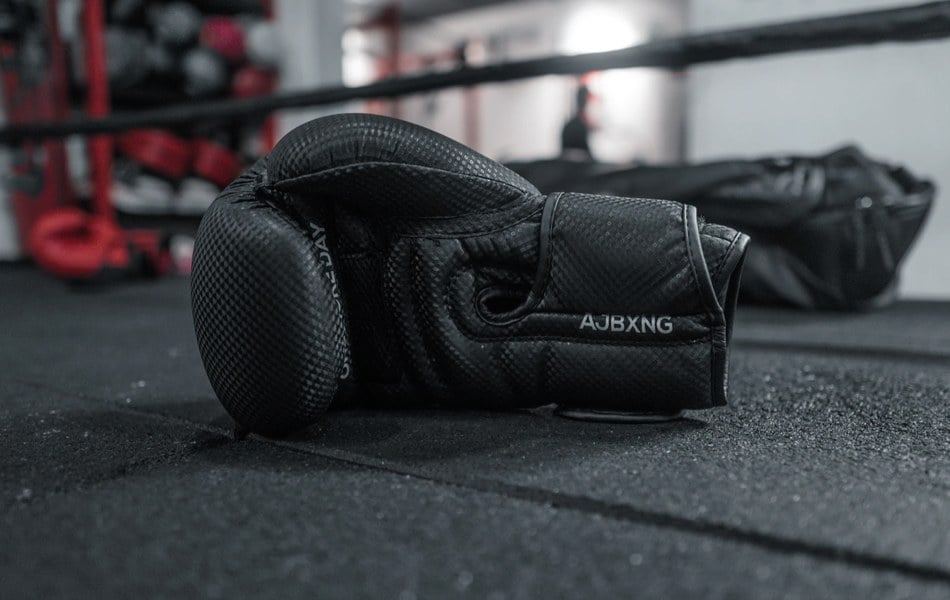 Boxing Glove FAQ
Q: How are boxing gloves supposed to fit?
A: Boxing gloves should be tight and secure without crossing over into feeling restrictive. If your gloves are too tight, your hands will be cramped, and it may make it difficult to make a solid fist. If they are too loose, the gloves will lack support and will move around the hand.
If you buy gloves online, make sure that the seller has a good return/exchange policy. This way, if the gloves that arrive aren't a proper fit, you can exchange them for a different size.
Q: What is the best weight for boxing gloves?
A: It depends on how you intend to use them.
The best boxing gloves for training are usually in the 14 to the 16-ounce range, as the added cushioning will protect your hands during training sessions. Heavier gloves also prepare you for competing with lighter gloves. Using heavy gloves in training makes competition gloves feel lighter by comparison come fight night.
Lighter models — in the 8 to 12-ounce range — make for the best sparring gloves and competition gloves. The lower amount of cushioning provides a more effective power transfer when striking your opponent and won't fatigue your arms to the same degree as heavier alternatives.
Q: Do you need boxing gloves for a punching bag?
A: Boxing gloves are the bare minimum needed to use a punching bag. Not only do they protect your hands and, to a lesser extent, your wrists, but they also save you from skinning your knuckles when training with a bag. Ideally, you'll pair the gloves with wraps to enhance the wrist and hand protection.
Q: Do boxing gloves make a difference?
A: Boxing gloves absolutely make a difference. Not only do they protect your hands during training, but also reduce fatigue so that you can train longer.
Also, different types of gloves can make a difference as well. Different types of padding and securing methods greatly alter your boxing experience. For instance, softer padding is more comfortable but can dampen your potential to impact an opponent. As such, softly padded gloves may be more ideal for training. Lacing creates a more secure fit than hook and loop closures, but with laces, you'll have to depend on someone else to secure your gloves for you.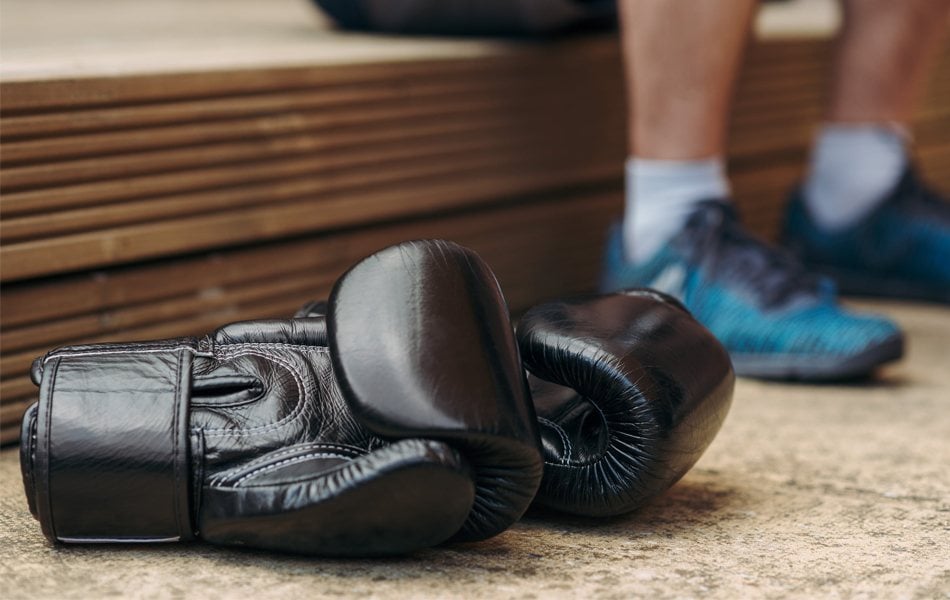 Q: Do heavier gloves hurt more?
A: Yes and no. Since heavier gloves are *ahem* heavier, the effort of keeping your gloves up and punching repeatedly will wear your arms and shoulders out faster than lighter gloves. This may hurt more during training, but it will make competition gloves feel lighter and faster in the ring.
If you aren't planning on competing, heavier gloves are still a good idea. The added padding makes heavier gloves more effective at keeping your hands safe and comfortable during training sessions.
To sum up: they add pain from arm fatigue, but the less the odds of injury fatigue, so the benefits far outweigh the costs.
Q: Should I get 12 oz or 14 oz boxing gloves?
A: For bag-only training, a 14-ounce or 16-ounce glove is a great choice. Heavier gloves are more protective and reduce fatigue during longer workouts. They also help protect your hands from punching heavy bags, which have less give than the average person (depending on your opponent).
For training that includes sparring, a 12-ounce glove may be ideal. There will be less padding, but still enough to keep your hands safe without sacrificing as much hand speed. Also, the 12-ounce gloves will still be a bit heavier than many competition gloves, depending on the rules for that specific fight.
Q: How do you clean boxing gloves?
A: The first step is to get them out of your bag as soon as you get home. The limited air supply in a closed gym bag allows bacteria to grow and produce terrible odors.
If your gloves are particularly sweaty, wipe the interior out with a towel to remove the excess moisture. Then disinfect the interior by wiping it down with a half vinegar/half water solution (apple cider vinegar or white vinegar work well).
Avoid harsh chemical cleaners like Windex or bleach, as they can damage the gloves (and your skin).
Finally, spray the exterior with the same vinegar solution and water, and wipe it down to remove any dirt, body fluids, and excess solution.
For leather gloves, follow up cleaning by applying a leather conditioner to the exterior. Apply the conditioner, then work it into the leather, removing any excess after you're done. There is a wide selection of leather conditioners on the market, so it shouldn't be too hard to find one that fits your budget.
When you're finished, lay the gloves somewhere away from direct sunlight to dry. To help airflow and absorb any excess moisture, you can stuff each glove's interior with newspaper. Just check the newspaper periodically; if it soaks through, replace it with dry newspaper.
Pro Tip: wipe the interior with a dryer sheet and leave the sheet inside the glove until your next session to keep them smelling fresh. 
Sources:
Noom vs. Weight Watchers: Which Is Better for You? – Live Strong
Sign Up Now
GET THE VERY BEST OF GEARHUNGRY STRAIGHT TO YOUR INBOX