Best Stretch Denim Jeans for Men: Flexy Fashion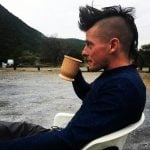 This product guide was written by Sam Anderson
Last Updated
March 8, 2021
Sam Anderson
Sam Anderson has followed a passion for well-told stories and nature's beauty from university classrooms to mountain adventures. After earning a bachelor's degree in literature, he leaned into a life fueled by road tripping, rock climbing, coffee and beer, and renegade camping. He has worked as a chainsaw operator, house carpenter, and window cleaner, at one point running his own window cleaning business. He has finally settled with his girlfriend and small zoo in the western American desert, trading his tool belt for a keyboard.
GearHungry may earn a small commission from affiliate links in this article.
Learn more
Finding the right men's jeans can be hard. Blue jean style is ubiquitous, but it's easy to get lost in the weeds with unsatisfactory materials, outdated looks, sizes, and shapes that don't work for your body.
The result? You either look like an aging, out-of-touch relic wearing shapeless pants that were never stylish or some clearly self-conscious guy in the bar who's trying too hard to fit into jeans that are too skinny. And either way, you're chafing.
Men's fashion and lifestyles alike continue to evolve.
I hunted down the best stretch denim jeans for men, seeking to solve fashion/functional woes. I'm right there with you — no longer do I keep stacks of identical carpenter jeans in my armoire, nor do I squeeze myself into the skinniest pants I can find in a tragic effort to look hip.
Stretch denim jeans for men are here to stay; use this guide to help you pick the right pair for your lifestyle, fashion sense, and budget.
The Best Stretch Denim Jeans for Men
Levi's 511 Slim-Fit Stretch Denim Jeans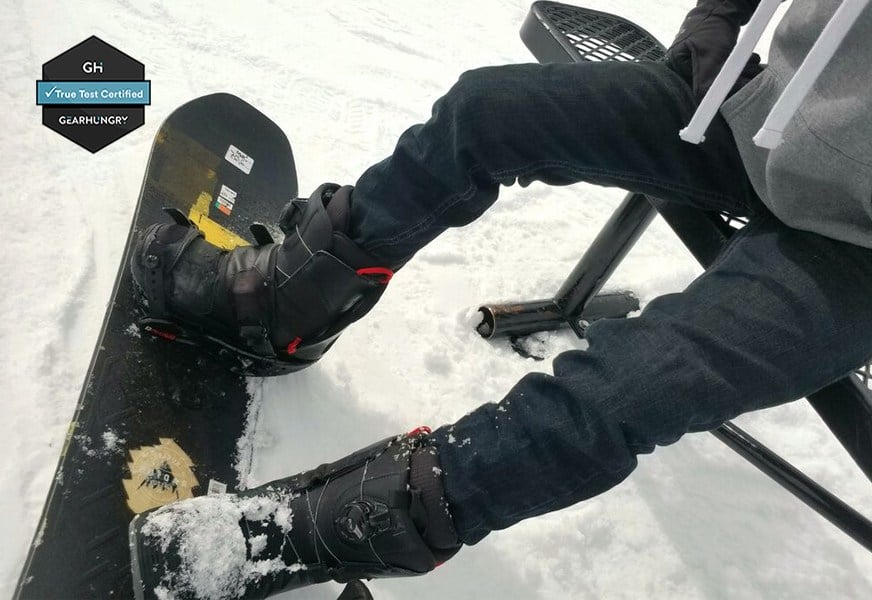 When it comes to denim jeans, Levi's is a genuine article. Literally — company founder Levi Strauss and his tailor patented the style in 1873. The "original riveted" work pants have become a worldwide icon over the last 150 years, and Levi's still enjoys a perch near the top of the jeans food chain. 
I'm inherently skeptical of incumbents, so men's Levi's stretch denim jeans were right in my crosshairs. I wanted to know if the company kept up with the competition and whether its traditionally-anchored product would stand in our environment of evolving needs and fashion.
Levi's 511 Slim-Fit Stretch Denim Jeans For Men (more or less) pass the relevancy test. Right away, the indigo wash and bronze stitching of my "Clean Darks" attracted me. When I pulled them on, one word came distinctly to mind: rigid. Levi's 99:1 cotton-to-elastane ratio delivers exactly what it promises: a pair of men's jeans with stretch denim that wear traditionally, designed to conform to your shape over time.
So I tried to make them conform. Make no mistake: Levi's 511's will not be comfortable on day one. For me, the feeling lasted into day two, then week two, then week four, and so on. This didn't strike me as a bad thing necessarily, because I knew the pants were made to last. Their impressive construction testified to their durability — stout hems, no loose stitches, a solid zipper. Eventually, I realized I needed to take drastic break-in measures, so I wore them for a day of snowboarding.
Though employees at my chosen Lake Tahoe-area ski resort more or less openly laughed at me, the stress-test did the trick. After 11 or 12 rides, a handful of high-speed wipeouts, and a wash, the jeans felt considerably less restrictive (even though they still looked sharp).
It's hard to beat the proven brand name and classic style of Levi's. Choose 511's for a traditional feel in bulletproof stretch jeans. Read the in-depth review here.
Key Features:
99% cotton, 1 % elastane
Available in 40+ colors and washes
Classic Levi Strauss & Co. label and button
Imported
Fits true to size
Solid construction
Reliable fit
Trusted brand
Long break-in period
Tight, flat front pocket
Boulder Denim 2.0 Men's Slim Fit Stretch Denim Jeans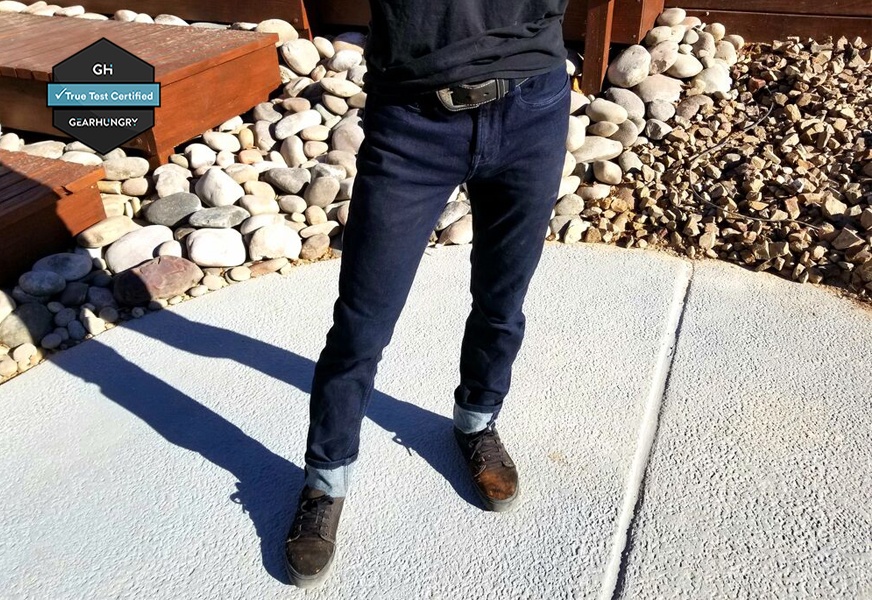 Boulder Denim 2.0 Men's Slim Fit Jeans are the softest stretch jeans for men I have ever experienced. At the same time, they're some of the toughest. The material mind-blowingly stretched and felt soft against the skin. As well, Boulder Denim features accommodating pockets and forgiving seams.
I wore Boulder Denim jeans on Epinephrine, a 2,000-foot rock climb outside Las Vegas, Nevada. The stretch denim pants had already passed my personal litmus test of "is it comfortable to drive in them?" (Anybody who has worn uncomfortable jeans knows it can be excruciating). I wanted to know if they would perform over the long haul.
The answer: absolutely. Epinephrine is known for its abrasive quality: climbers have to fight and scramble up wide cracks, often using their entire bodies (read: butts and knees) for progress. I struggled happily up the climb, enjoying an unrestricted range of motion, and my Boulder Denims emerged on the summit without a scuff.
Interestingly, Boulder Denim 2.0's fabric also has a slightly insulative quality (the high-polyester-content material seems distinctly tightly-woven) which helped keep the wind out and my body heat in.
The Boulder Denim ran big. I highly recommend sizing down one full size. I wear about a 28×28, and in a perfect world, I'd probably wear about a 27×27 in Boulder Denim. Still, my 28x32s hugged my body enough to feel completely reasonable.
The company's co-founders are rooted in outdoor sports (check out the website's "Our Story" tab), and its product reflects the needs of that lifestyle. I recommend Boulder Denim to anyone with an active lifestyle or who needs an all-purpose stretch jean.
For more casual options, check out our list of the best chinos on the market.
Key Features:
83% cotton, 15% polyester, 2% elastane
Available in slim fit (4 colors) or athletic fit (7 colors)
Lifetime warranty on construction elements
Grassroots company
Fits large compared to others
Specification:
Brand

Boulder Denim

Model

2.0 Men's Slim Fit Jeans
Extreme stretch and comfort
Two "fit" options accommodate various body shapes
Great pockets
Wrangler Authentics Comfort Flex Stretch Denim Jeans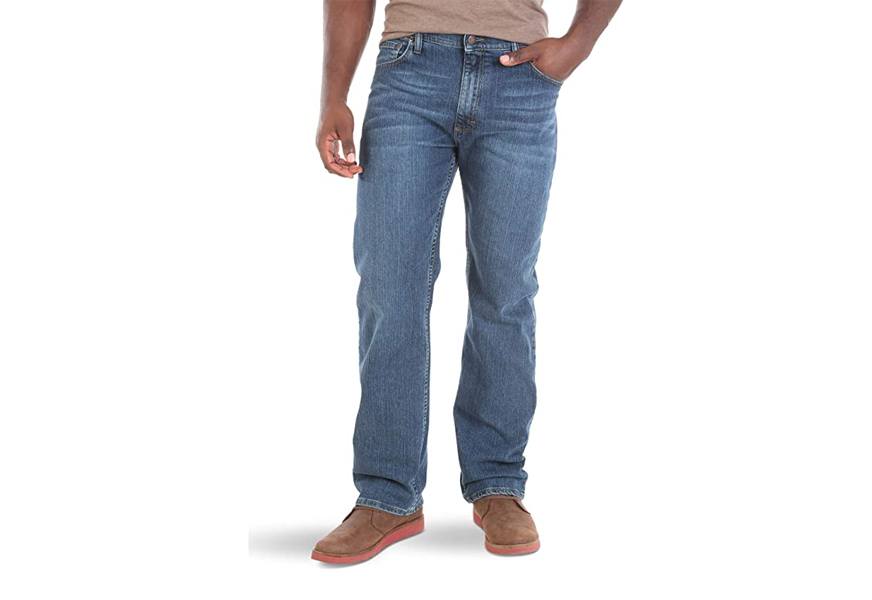 In the United States, Wrangler is as synonymous with denim jeans as its counterpart Levi's. Started in 1947 by a laid-off overall maker, the brand immediately found a secure footing in American cowboy culture.
Fast forward 70 years, and the brand has widened considerably — it now makes hiking pants, flame-resistant workwear, and denim dresses and jumpsuits for women. Wrangler Authentics is the brand's bid at extreme affordability and comfort (indeed, a descriptive blurb on the company's website, titled "Making Comfort A Priority," uses the word "comfort" seven times in five sentences).
The Wrangler Authentics Stretch Denim Jeans for men is no-frills, regular fit stretch denim jeans. Wrangler's push for comfort seems generally borne out among online reviewers, who appreciate the waistband and material stretch. However, concerns over durability and quality are also consistent.
But that's generally true of many deep bargain items from established manufacturers. Wrangler imports the Authentics line and leaves out some of its signature brand touches, like the stitched "W" on the back pockets. (Notably, Wrangler does have a line of jeans that's 100% made in the United States, the "Rooted" line.)
Wrangler Authentics Relaxed Fit Comfort Flex Jeans look like a good pickup for anyone in the market for a cheap, easy-use pair of everyday stretch jeans.
Key Features:
98% cotton, 2% spandex
Available in 10 colors and washes
Regular fit
Imported
Specification:
Brand

Wrangler Authentics

Model

Comfort Flex
Comfortable wear and good stretch
Iconic brand
Reported quality control issues
Questionable durability
Nudie Jeans Lean Deans Stretch Denim Jeans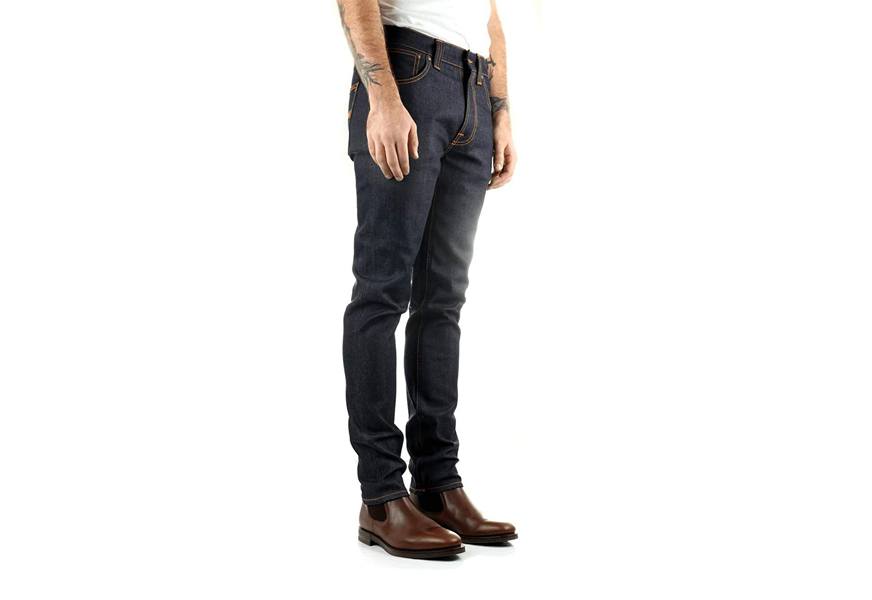 Nudie Jeans is for real. The Swedish jean maker works hard to position itself as the jean company of the future, from its commitment to organic cotton to its philosophical marketing approach. ("Your lifestyle and all you've done during the past months will make a mark on your jeans. They will tell your story," the website says.)
A pair also costs quite a bit. So, are the jeans worth it? From what I can tell, yes. Reviews of fit and construction are off the charts.
Whatever Nudie is doing with its organic cotton, it's apparently doing it right — Nudie seems to last.
Anything built to last should also reflect the enduring style, which Nudie covers. Lean Deans, for instance, feature a slim (but not tight) fit and will shape your body over time.
Speaking of denim concepts like shaping and wear, this is a brand for denim nerds: if you're into denim science and things like shuttle looms and closed selvage, Nudie is for you.
In summary, Nudie appears to leverage tradition and sustainability to construct solid garments (not simply to increase its price points). The company regularly wins awards for resource circularity, which means that it keeps materials in production at a high quality for as long as possible. This sustainability is why, for instance, it offers free repairs forever to customers — no questions asked.
For a more modern look, check out our list of the top distressed jeans for men.
Key Features:
98% cotton, 2% elastane
Available in 24 colors and washes
Organic cotton
Sustainable production
Repair service available
Specification:
Brand

Nudie Jeans

Model

Lean Deans
Quality materials
Solid customer reputation
Ethical company standards
GINGTTO Skinny Stretch Denim Jeans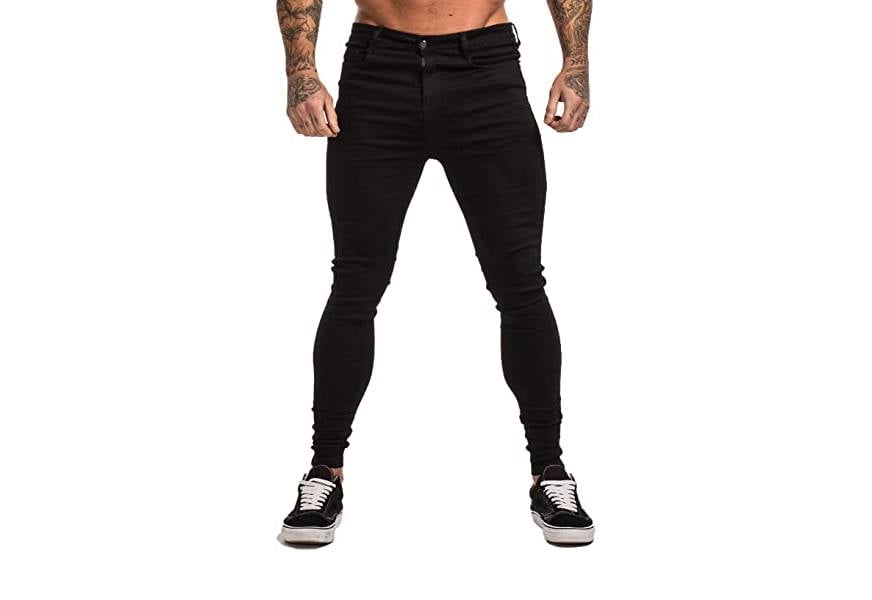 GINGTTO Skinny Stretch Denim Jeans for men look like the perfect solution: finally, a super-skinny stretch jean for men that elasticizes to fit all body types. It even comes in various colors and distress levels (some understated, some outrageous) and is unironically modeled by a shirtless bodybuilder. 
GINGTTO is funny, and I'm not sure if it's intentional. The written marketing ranges from intelligible to gibberish, and the photography can exhibit a surrealist meme flair (check out "you can wear on LEG DAY" or "CASUAL SUIT SHORTS").
I don't quite know what to think about GINGTTO. The company has no website, and its Amazon store offers no information beyond marketing materials and pricing. However, it has traction — its relatively massive review pool is generally positive, and many men complaining of chronic skinny jean fit issues feel good about their GINGTTOs.
Like with any mystery brand, manufacturing quality seems inconsistent, and order confusion can happen, though reported issues are rare.
Maybe it's time the world went GINGTTO — I'm thinking about it myself, but I gotta hit the weight room first. 
Key Features:
Cotton/spandex
Available in 14 colors and washes
Aggressive skinny fit
Available in distressed/destroyed
Specification:
Brand

GINGTTO

Model

Skinny Stretch
Extreme stretch accommodates all body types
Affordable
Manufacturing consistency issues reported
American Eagle Men's Airflex+ Jeans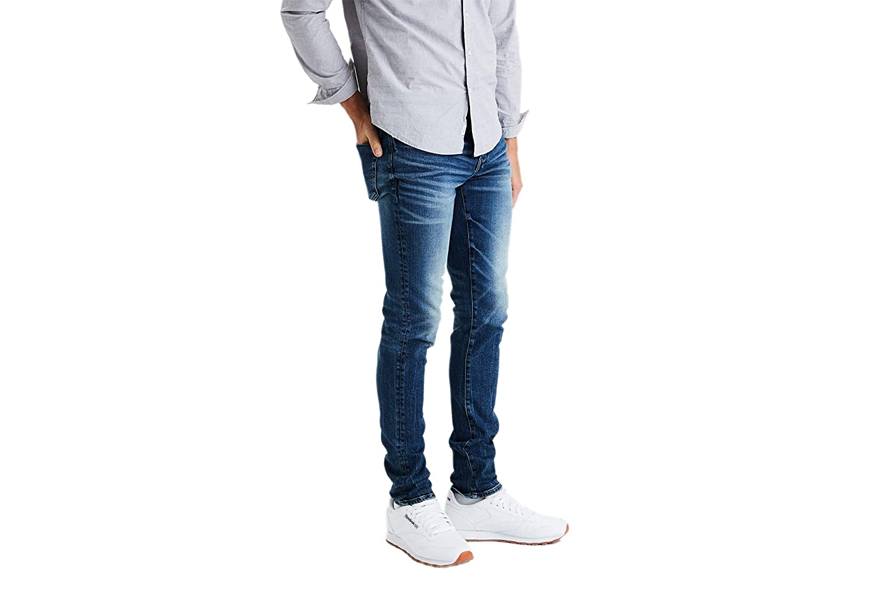 American Eagle Airflex+ Jeans are AE's flagship entry in the men's stretch jean market. The clothing maker has maintained a degree of trendiness since the '90s with a wide array of products, from cologne to swimsuits to cheap decor. 
So, can it make men's jeans? Apparently, yes, very stretchy ones. Its Airflex+ material impresses some, and occasional deep sales are enticing (the relaxed fit straight leg version price is reduced on AE's website as of this writing).
Still, American Eagle is not a proven competitor in men's denim, and the brand doesn't appear to be making moves toward relevancy in the category. But the Airflex+ line promises something for everybody with its wide range of fit styles, colors, and distressed/destroyed options. A well-established brand usually won't churn out a totally mediocre product.
I'd recommend finding the style that suits you and fishing for a good deal and a nice pair of jeans to pair with a casual denim jacket. 
Key Features:
96% cotton, 3% polyester, 1% elastane
Available in 15 colors and washes
Wide range of fit styles available
Imported
Specification:
Brand

American Eagle

Model

Men's Airflex+
Izod Men's Comfort Stretch Denim Jeans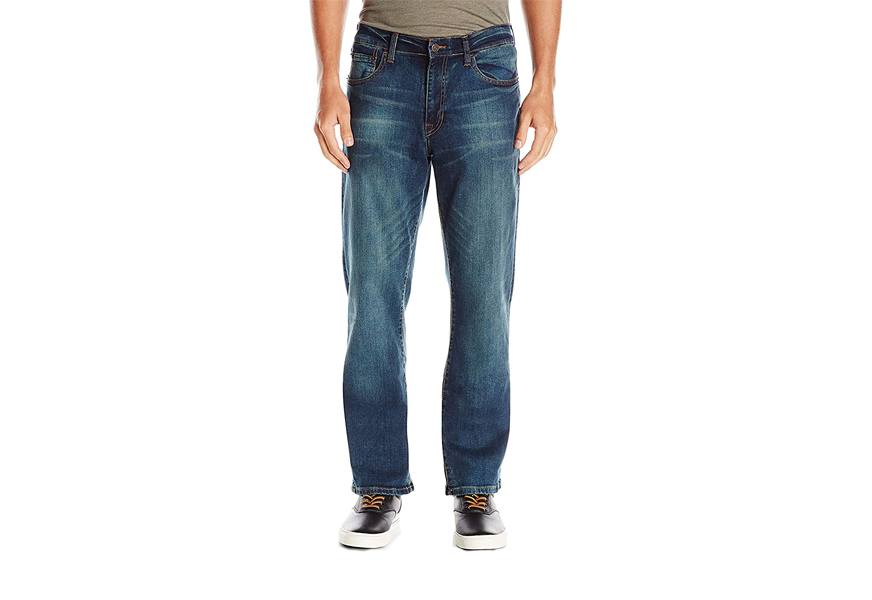 When I think of the Izod brand, I think of a place where denim jeans are generally frowned upon, if not altogether banned: the golf course. A brief google search reveals that the company was born across the pond from the land of blue jeans in London — albeit started by an American on vacation.
So what can we make of Izod's entry into the men's stretch denim jean market? First of all, people who like them seem to really like them. Positive reviews tend to be surprisingly verbose and generally highlight affordability (these jeans may go on sale quite often — one reviewer ordered three pairs after noticing the price) and comfort.
Izod's jeans reportedly stretch quite well but, like many highly stretchy jeans on the lower end of the price spectrum, they can wear out quickly.
If you're looking for a comfortable pair of jeans to wear around the neighborhood, out to eat, or even out to the golf course, check out Izod's Comfort Stretch Denim Jeans.
We all need more casual clothes in our closets; browse our selection of the best-selling walking pants for men.
Key Features:
98% cotton, 2% spandex
Available in 10 colors and washes
Simple design
Specification:
Brand

Izod

Model

Comfort Stretch
Time-tested brand
Comfortable, looser fit
Expensive depending on size and color preference
Can be sensitive to wear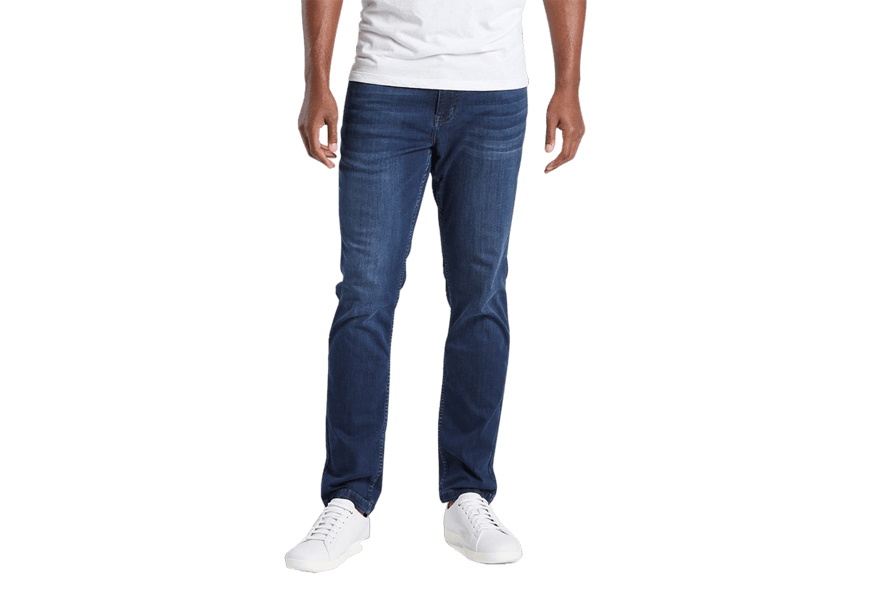 Mugsy Jeans is a homerun. The Chicago-born jean maker started in 2015 with blue, black, and selvage options, anchoring itself on comfortable stretch jeans for men in classic style with a constructed crotch for men (more room where you need it).
Check out Mugsy's funny, self-aware promo from 2016 to learn the basics of how Mugsy accomplishes a pair of jeans "more comfortable than riding a unicorn bareback through the milky way."
But the company is also serious about comfort and function. It recently added young Chicago Cubs star Ian Happ to its endorsement roster, who joined because his own values line up with the brand.
Mugsy offers enough color and wash options to fit your preferences without an overload of choice. But, you'll have to visit the company website or the Chicago storefront to score a pair.
With free shipping and returns, Mugsy looks like a great pickup for a man's man looking to anchor his stretch jean collection with a pair of American-made jeans.
Key Features:
Cotton, rayon, spandex
Available in 17 colors and washes
Roomy crotch
Made in the USA
Stretchy and comfortable
Roomy crotch for men
Made in America
Only available through Mugsy website
Lee Performance Series Extreme Motion Jeans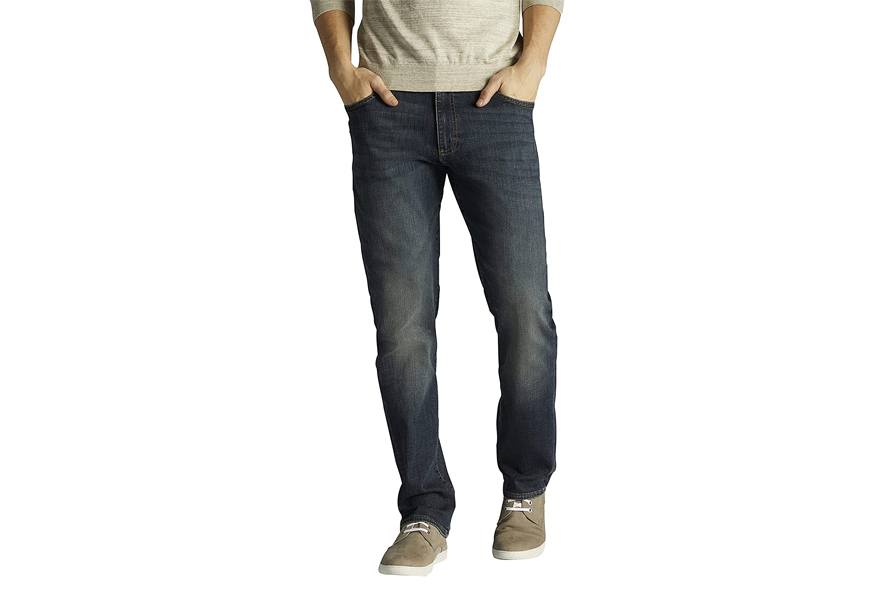 Classic jean maker Lee weighs in on the men's stretch denim market with its Performance Series Extreme Motion Jeans. It's a familiar specimen: affordable jeans designed for all-day comfort with basic styling.
The Extreme Motion line's claim to specificity is its Extreme Flex waistband, which "adapts to your body for extreme comfort." As well, its 81/18/1 material is "exclusive," made from "four-way stretch fiber blends" to maximize the range of motion.
But before you get carried away in Lee's marketing verbiage, remember that this is a bargain-priced, imported jean from an established maker. That means construction and sizing consistency can be problems — Extreme Motion jeans can be built virtually anywhere in the world by anybody, yielding mixed results. Some reviewers find the jeans startlingly friable, and others report multiple shipping cycles to get their size right.
Still, in low-budget stretch jeans, Lee Performance Series Extreme Motion jeans stand out for their wearability and price point.
For a casual everyday look, pair them with a nice trucker jacket from our list.
Key Features:
81% cotton, 18% polyester, 1% spandex
Available in 14 colors and washes
Extreme flex waistband
Specification:
Brand

Lee

Model

Extreme Motion
Soft, comfortable wear
Affordable
Quality concerns
Unreliable sizing
Levi's 569 Loose Straight Fit Jeans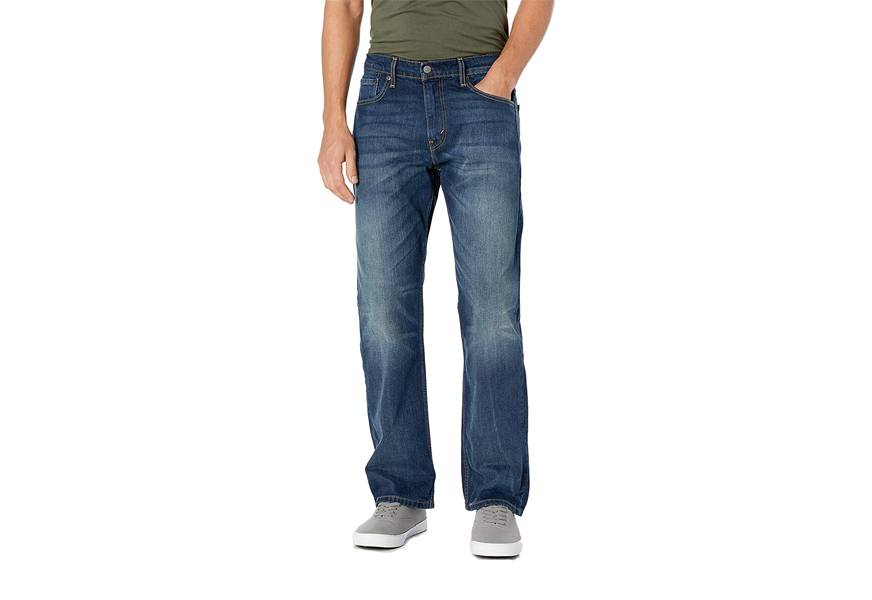 The 569 is Levi's Loose Straight Fit Jeans. A bit of a rare bird these days (when was the last time you saw anyone wearing loose jeans?), the 569 still has its niche with men who want a jean with extra room in the seat and thighs.
Levi's 569 promises roominess, not bagginess. Its "modern, laid-back fit" is catered to satisfy those who aren't on board with the skinny-jean aesthetic. These jeans are a decent deal on an alternative fit style from the brand that started it all.
Of course, a small segment of reviewers cites quality issues. Sizing consistency seems to be a concern, and some wearers report surprising seat rippage. Imported jeans are what they are — building jeans on the cheap anywhere and everywhere is bound to generate a range of outcomes.
Pick up Levi's 569 loose straight fit jeans if you like a little extra room in your denim and you want jeans from the brand that invented them.
Key Features:
99% cotton, 1% elastane
Available in 23 colors and washes
Roomy fit
Specification:
Brand

Levi's

Model

00569-0242

Weight

1 Pound
Roomy but not baggy
Wide range of color and wash choices
How I Chose Entries for This Test
Denim jeans for men exist on a broad spectrum of pricing and style, so it was my priority to display that with these product choices. I field-tested choice models with opposing styles/history and featured a wide range of entries from elsewhere in the industry by pairing common sense with research.
Lowest price point? $14. Highest? $250.
You get the idea.
Why You Should Trust This Guide
I've always had trouble finding clothes that fit. I was a small kid, and now I'm a small adult (5'6", 125 pounds), so clothes generally aren't made for me. At the age of 8, I played for my first baseball team, and ever since putting on that size "L" jersey (I vividly remember it hanging past my knees), I have hated wearing clothes that don't fit or aren't functional. It's impractical at best, humiliating at worst.
That being said, I'm all about jeans. Finding the right pair is magical: they're cheap, durable, and suitable for a wide range of occasions. I rock climb, skateboard, work, drive, travel, visit restaurants, watch TV, walk my dog, cook, and occasionally play golf (poorly) in jeans. During testing for this guide, I even snowboarded in a pair.
So whatever size you are, I respect your need for clothing that fits and works for you.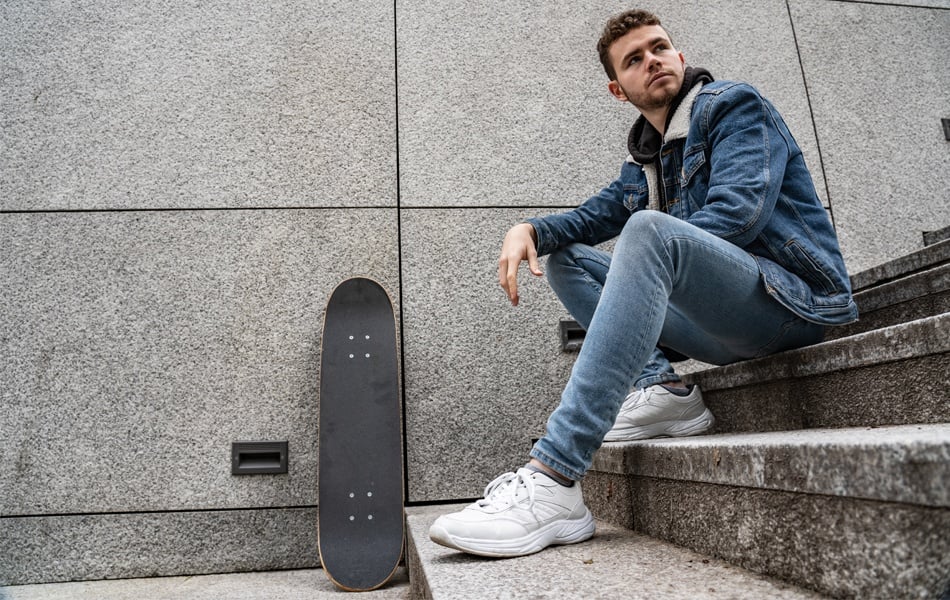 How I Tested Each Entry
To me, exposure to stress is the most important component of a stretch denim jeans test. To the clear disgust of many ski resort employees, I wore a pair of Levi's 511's for a full day of snowboarding (11 total lift rides). Then I subjected Boulder Denim jeans to Epinephrine, a notoriously abrasive 2,000-foot rock climb outside Las Vegas, Nevada.
From there, I wore the jeans regularly in casual, everyday scenarios. I tested for five criteria: 1. comfort/feel, 2. stretch (measured by a range of motion), 3. durability, 4. fit and sizing, and 5. utility (pockets, etc.).
Features to Look for in Stretch Denim Jeans for Men
Fabric profile is the first thing to look for in men's stretch denim jeans. Generally, all stretch jeans are constructed from cotton textiles woven with low percentages of synthetics like rayon, polyester, or elastane.
The higher the cotton content, the more traditional the jeans will feel.
Adding more synthetic materials to jean textiles makes them stretchier and softer to the touch. This can produce a trade-off in the pants' lifespan: if you wear highly synthetic jeans that fit you tightly, the elastic can stretch permanently, making the jeans appear wrinkled.
Intuitively, the fabric also thins as it stretches, meaning very stretchy fabric can be less abrasion-resistant than thicker, stiffer material.
The most important factor in choosing a pair of men's stretch jeans is the feel. If you feel good about them, you'll wear them. That counts for a lot — whether you're wearing a $25 pair or a $125 pair, wearing your jeans over and over again will drive home their value.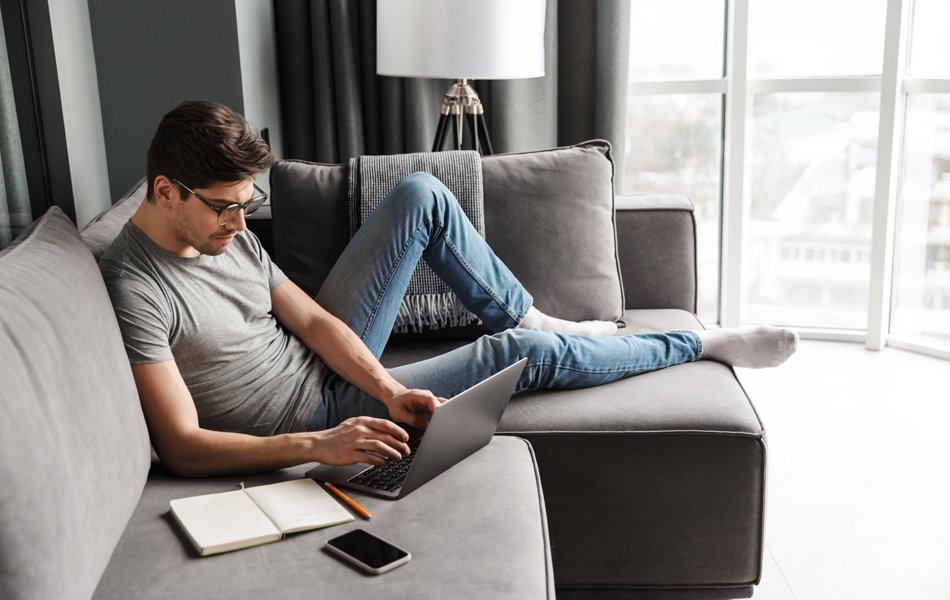 Stretch Denim Jeans for Men FAQ
Q: What are stretch denim jeans?
A: Denim is a cotton-based fabric, often dyed with indigo. Many stretch denim jeans are made from textiles, including cotton and the stretchy synthetic fiber elastane (branded as Spandex). Some include polyester or rayon for added stretch.
While all denim jeans will stretch over time, some are designed to stretch right off the shelf.
Q: Will 100% cotton jeans stretch?
A: Yes and no. Often, jeans with higher cotton content are built for durability, and the material will conform to your body over time.
So, technically, yes, 100% cotton jeans will stretch. However, any jeans made from fabric with more synthetic fibers will stretch more easily.
Q: Should I buy stretch denim jeans a size smaller?
A: It absolutely depends on the brand. Stretch denim jeans are built worldwide by a massive array of jean makers, meaning sizing can be tough to standardize.
Most brands offer a recommendation for fitting or a sizing chart — follow that.
As a last resort, follow the rule that the more stretchy the fabric, the more you can size the jean down.
Q: Does Levi's make stretch jeans?
A: Technically, yes. Levi's jeans are not the stretchiest I've ever worn. Though Levi's makes a few styles with "flex" fabric, its 99/1 fabric profile is the same across the entire brand. Levi's is classic jeans designed to shape their wearer over time.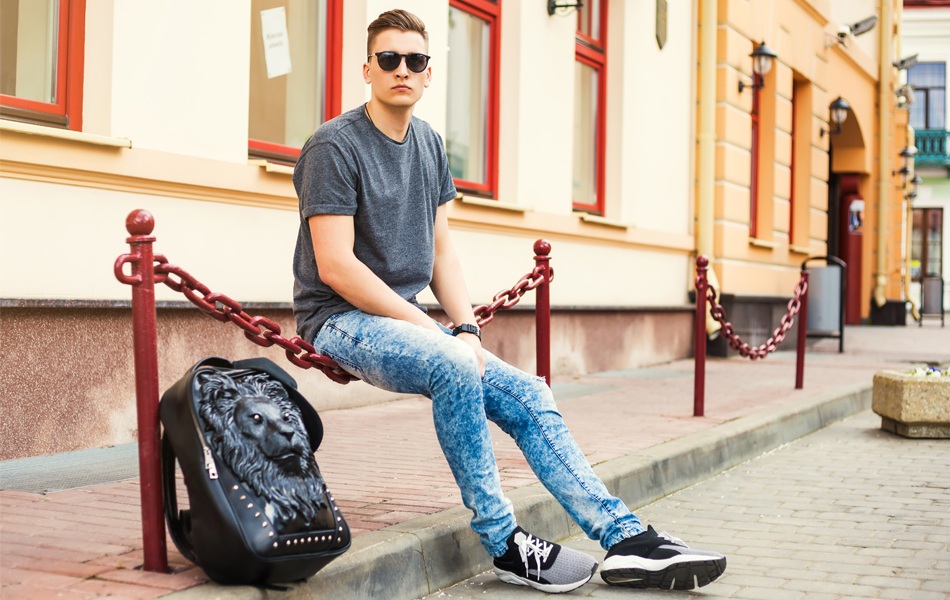 Q: Do stretch denim jeans get looser after washing?
A: Eventually, yes. However, they can even shrink after the first wash. It all depends on the fabric profile. The more cotton (denim) in your jeans, the less you should wash them. Fibers like polyester and rayon hold up better to repeated washing.
Trade knowledge suggests three principles: wash your jeans sparingly, hang-dry them when possible, and wash only with cold water. Check out Levi's recommendations (see the link listed under "Sources") for how to make your jeans last. 
Q: How much does denim stretch?
A: The short answer: about 3% to 5%.
The long answer: it's really complicated (nerd out on the cool article from ScienceDirect listed below under "Sources").
Because "denim" exists as a broad spectrum, giving an exact number in this context would be misleading. Some jeans will stretch several centimeters from the thigh when pulled; others won't budge.
Q: Does stretch denim fade?
A: Absolutely; all dyed fabric fades. Synthetic fibers generally hold color longer than natural ones; the more polyester and elastane in your jeans, the longer their color will hold up in the wash.
Sources:
Sign Up Now
GET THE VERY BEST OF GEARHUNGRY STRAIGHT TO YOUR INBOX