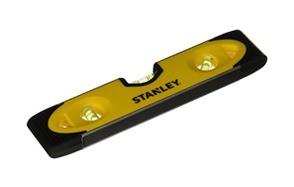 Stanley 43-511 Magnetic Shock Resistant Spirit Level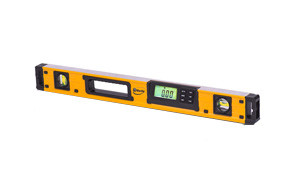 Shefio 24-Inch Professional Digital Magnetic Level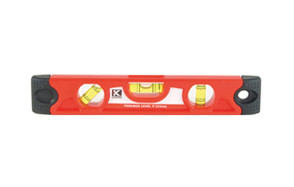 Kapro 227-08 Toolbox Spirit Level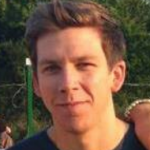 Hanging your new smart TV on the wall may seem like an easy task, but things can easily get awry unless you have the best spirit level. Having a reliable tool is, indeed, crucial if you want to achieve flawless results in multiple household projects. It comes in handy when you're hanging decorative objects, cabinets, shelves, as well as when mounting tiles.
Like with anything else, the market spoils you with choices when it comes to picking a spirit level. The only thing is that unless you're an expert, it's hard to tell the difference between a worthy and a useless one. Luckily, we've done the hard work for you. So, if you're in the market looking for the best leveling tool, check out our top picks below.
The Best Spirit Level
Spirit Level Buying Guide
How We Chose Our Selection Of Spirit Levels
Deciding which products to test is often exhausting, majorly due to the high volume of options on the market. It's near impossible to try every choice that there is, so we always narrow down our search by considering general opinions and product ratings as well as the product's value for money.

All spirit levels on our list are praised for their excellent features and durability. We considered the following when choosing them:
Reviews – User reviews are our go-to source for deciding which products are worth trying. Things were no different when it came to picking our spirit levels. We read and weighted in dozens of reviews and consumer opinions before deciding which levels were worth of our attention and which we'd better skip.
Price – Once we narrowed down our list to the best spirit levels based on their reviews, we trimmed it some more by throwing in the price factor. It's hard to decide what is a fair price for a spirit level. A DIYer might do just fine with a cheap option, whereas a contractor may need a more performing but also more expensive tool. To make sure you can find the right level in the list above, we only included those levels that bring true value for money and that are fairly accessible to anyone.
Features To Look For In Spirit Levels
Now that you know how we chose, you might wonder how to narrow down your search from ten to just the best spirit level for you. When it comes to precision tools, subjective factors such as color and shape are irrelevant. Instead, you should weigh in the following criteria.
Bubbles – Undeniably the most important part of a spirit level is the bubble. It shows you when the level's achieved, helping you hang your objects accurately or build a house that looks good. Almost all tools come with a horizontal vial that allows you to reach a level on horizontal planes. If you want more than that, know that the best tools come with three vials that also let you make vertical and angle measurements.

Accuracy – Nothing is more annoying than using a bubble level accurately only to see that your objects don't align the right way. Checking accuracy is fairly simple though. Place the tool on a hard surfaceand note where the bubble ends up. Flip the level end over end and read the measurement again. If the level is accurate, the bubble must fall in the same place. If it doesn't, just bin the bad level and go get another.
Magnetic Strips – Whether you want to mount metal shelves or racks, or if you are involved in steel constructions, a level with magnetic strips will allow you to work hands-free when leveling metal objects. These strips also let you store the level on a metal panel in your workshop, helping you save space in the toolbox.
Lights–A nice perk to have on a bubble level is lights. There are only a few brands that use them, but getting a tool with LEDs is a real lifesaver if you have to work in tight or poorly illuminated spaces. These lights are usually positioned around the vial and light it up with the touch of a button so that you won't have to struggle reading it.
Besides lighted vials, you may also make good use of a laser function that projects a beam of light on your surface, letting you work without holding the tool.
Size – Getting a level of the right size is also crucial if you want to achieve perfection. Spirit levels come in an array of sizes, from as little as 9 inches to 48 inches or more. If you're a DIYer who needs the tool mostly for hanging wall art and cabinets, perhaps a 24-inch level is the best.
At this size, the tool is small enough to fit in tighter spaces yet long enough to help you speed up your project.
If you want to level pipes or tubes and need a tool to fit in really tight corners, a 9-inch level could be a more appropriate choice. For big jobs, on the other hand, such as floor installation or construction works, we recommend getting the longest level you can handle.

Types Of Spirit Levels
Knowing how to choose the best level spirit for you is a good start, but before making the final decision, you must also determine whether you want a traditional or digital tool.
Bubble/Spirit – The traditional bubble level is the simplest type you can find. If calibrated well and used correctly, it's as accurate as you need it to be for any project. The only thing is that if you're not a contractor, using it correctly can be difficult. If figuring it out on horizontal surfaces is somehow easy, knowing when it's exactly level or plumb can be tricky especially when you're working vertically or need to mount something at a precise incline.
Digital – There is a common misconception that digital levels are much more accurate than the traditional ones. We're sorry to spoil this for you, but they aren't. The main difference between the two is the ease of use. Digital levels may make your task less of a hassle if you're new to handling this type of tool. Measurements are clearly displayed on a screen, and the tool can even save your last measurements in memory so that you can check accuracy.
Digital levels are particularly handy for vertical and angle measurements. It can show you angles or slopes as a percentage, fraction, or decimal and emits an audible signal when you're approaching a level so that you can keep on measuring without even watching the display.
Many digital levels also incorporate additional features, such as lighted vials or laser guides. And even if traditional contractors may be reticent in using these, trust us when we tell you thatall these perks can be a real lifesaver for a DIYer.