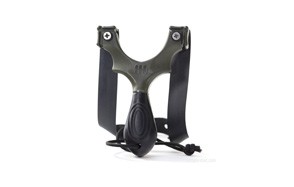 The Scout Hunting Slingshot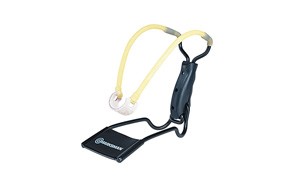 Beeman Marksman Laserhawk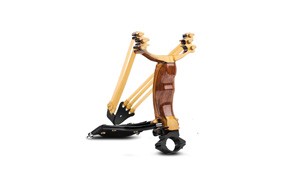 Stainless Steel Outdoor Hunting Slingshot
Slingshots aren't just children's toys. In fact, their torrid history led to the innovation of short-range projectile weaponry. It was less conspicuous than a bow, and packed enough power to disorient or harm your enemies. A slingshot can be a powerful tool when you're out and about in the center of the wilderness. Defending yourself doesn't mean you have to go hand-to-paw with a wolf or bear; stand from a distance, and revitalize the lost art of using a slingshot for survival. While it's not going to kill one of these beasts, it could stave them off at very best while you regroup. Find the best slingshot to buy for your needs, and keep yourself safe while out on the trail.
Our Top Picks Of The Best Slingshots For Survival
1. The Scout Hunting Slingshot
See More Reviews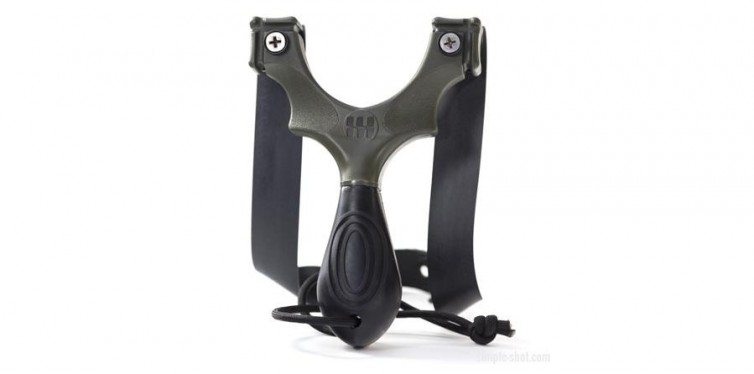 You want American made products that you can feel good about. SimpleShot Shooting Sports brings you 100% American made—not just American assembled, and it doesn't cost an arm and a leg. No matter what type of shooter you are or what style you're looking for, there's an appeal for everyone. Powerful polycarbonate gives you a sturdy build, which can shoot any elastic available on the market today. You get a full owner's manual with this model, which gives you tips and tricks, as well as how to hold your slingshot for the perfect projectile range.
If arrows are more your thing, adapters are available to adjust the slingshot to your specific needs. Instead of lugging around an enormous composite bow with far too many checks and balances to maintain, you can pack light, and pack smart.
Specification:
Brand

SimpleShot

Weight

8 ounces
2. Stainless Steel Outdoor Hunting Slingshot
See More Reviews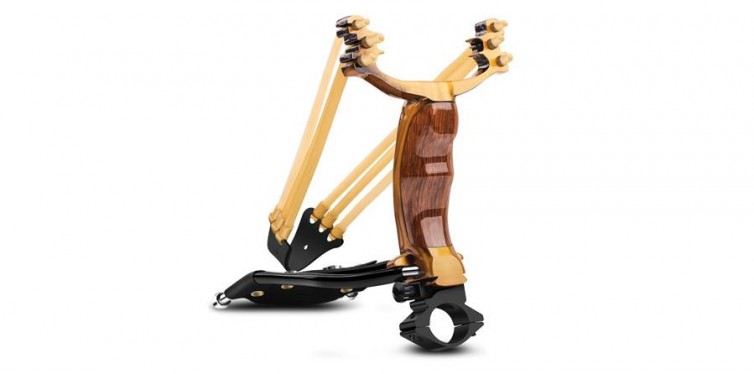 Here's where the power comes in, all with a low price point to appear any budget. High velocity gives you the power to hunt small game, such as rabbits, and this comes with 90 extra pellets. Triple bands on each side give you a harder time to pull back, but allow you greater power and less wear and tear on your slingshot. It looks like it crawled out of the Old West, so you can go full John Wayne with no problem.
While this model is mostly seen as a boutique collectible, the power it boats, especially for slingshot competitions, is nothing to scoff at. The good folks at Vlcooly really crafted something special here. The entire piece weighs under a pound, making it a great fit on your wrist no matter what you're looking for.
Specification:
Brand

vlcooly

Weight

1.7 pounds
See More Reviews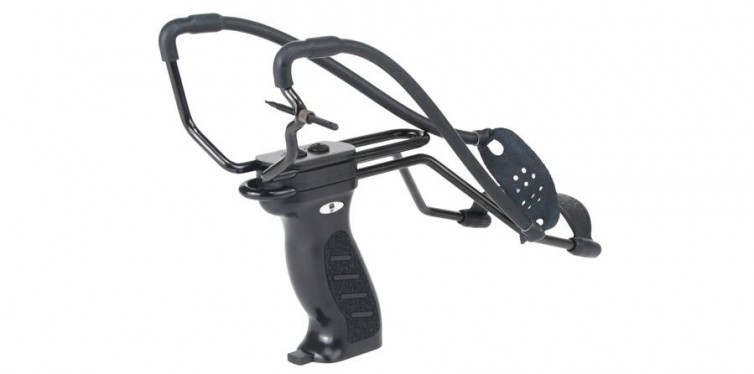 AfterMath brings us their signature slingshot with an integrated wrist brace, and 30-day manufacturer's warranty. The best of their models, the Aftermath Kavia Elite brings you immense power, while remaining comfortably on your wrist. All-inclusive is an attached leather pouch for additional pellets, not to mention the 88-pellet magazine that's included in the handle. Just like a 9mm, you're going to have your clip constantly refilling so you're ready for the next shot.
Aftermath comes with bragging rights—shoot targets at a crazy far distance, and once you master the range and power of the Aftermath, you'll be able to impress all of your friends. Mount and utilize this slingshot for recreation on a chopped-down log and practice on beer cans resting on tree branches—it's loads of fun.
Specification:
Brand

AfterMath

Model

611171754

Weight

1.25 pounds
4. Beeman Marksman Laserhawk
See More Reviews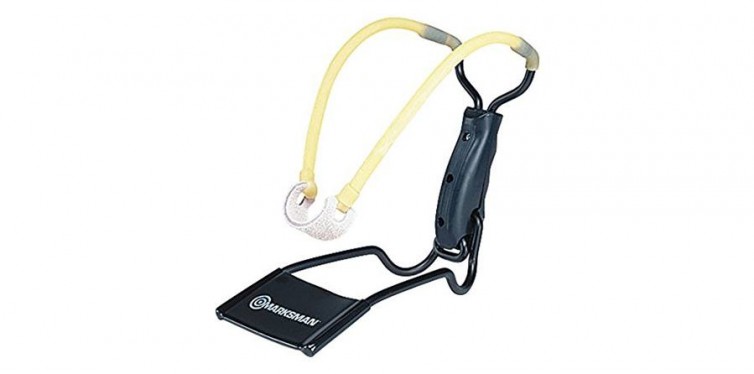 It may not be the prettiest on our list, but it is the least expensive. Sacrificing a tiny bit of power for paying under ten bucks is beyond worth it. If you're just getting into slingshots, here's the perfect introductory model for you. It rests easy on your wrist, comes with an easily replaceable band, and shoots ¼" and 3/8" steel pellets.
The tempered steel arm support will keep your aim straight and minimal kickback when the pellet goes flying. The grip has inlays for your finger, so you can get a feel for how the slingshot is going to fire, and how the pellets are going to travel. If you plan on moving up to larger models to hunt small game or just to have fun with out in the wilderness, this is the perfect test slingshot to bang up and wear down.
Specification:
Brand

Marksman

Model

3040

Weight

11.2 ounces
5. Outdoorlife Adjustable Stainless Hunting Slingshot
See More Reviews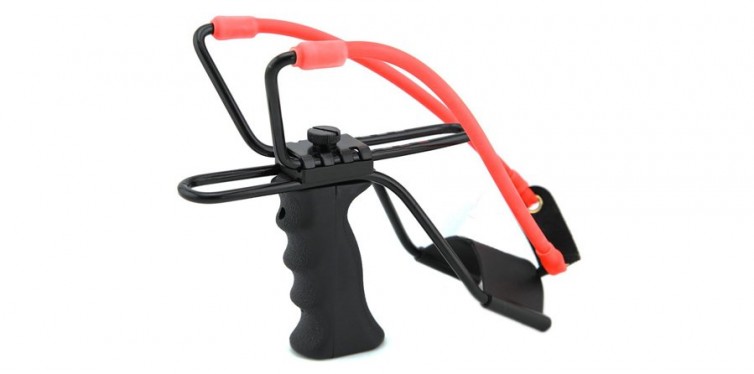 As the second least expensive model on our list, Outdoorlife brings us a simplistic hand catapult, with a minimalist design. The price can't be beat, and neither can the ergonomic grip. Outdoorlife offers a 100% moneyback guarantee if you're not pleased with their product, though with a no-slip grip and adjustable solid steel frame, there's really nothing to be disappointed about.
With a brand new innovative power band recently introduced, they're constantly improving every model they have, including the inexpensive models. They pay attention to their customers and their requests, and strive to bring them solutions at the lowest possible cost,. Without sacrificing on quality.
Specification:
Brand

Outdoorlife

Weight

1.2 pounds
6. MoreFarther Tactical Slingshot
See More Reviews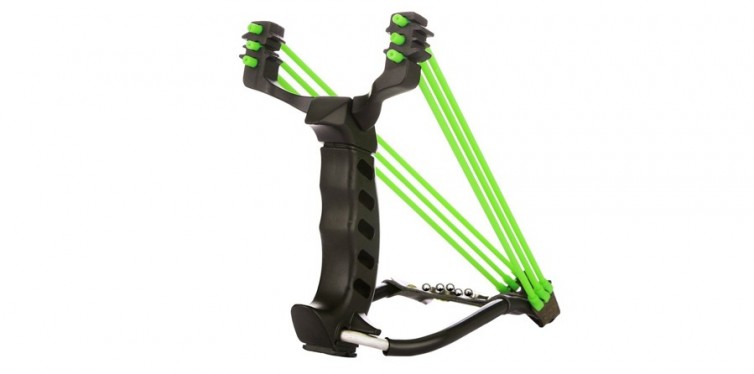 Triple bands on each side—triple the power. Without your pullback threatening to inaccurately propel your projectiles through the air, much like what you get with single band models, you'll be able to hit the mark every time, (provided your aim is good enough). The wrist rest folds down for storage, while providing ample support to the rest of your slingshot.
The ergonomic grip allows your fingers to rest easy, helping you line up the perfect shot no matter what. The MoreFarther is great fun for target practice on cans or bottles out on the campsite, and one of the best introductory slingshots on the market today.
Specification:
Brand

MoreFarther

Weight

2.2 pounds
Slingshots are intended for safe recreational use. Gearhungry does not condone slingshots as a weapon, and you should confer with your local laws before hunting game or using a slingshot whatsoever.