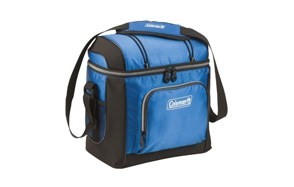 Coleman 16-Can Soft Cooler with Hard Liner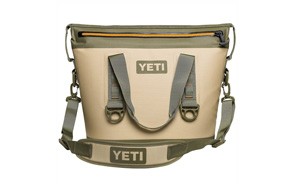 YETI Hopper TWO Portable Cooler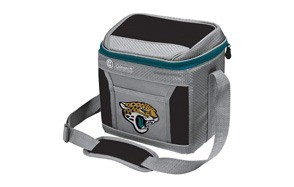 NFL Soft-Sided Insulated Cooler Bag
Easy to store, practical, and versatile, soft sided coolers are one of those household essentials that are really handy to have around. From picnics in the park to long hikes where keeping your lunch cool is normally an uphill battle, a soft sided cooler is a fantastically diverse product that makes carrying food and drink a breeze, as opposed to other options such as backpack coolers.
With so many soft sided coolers on the market, it can be very difficult to find the right one to suit your needs. To give you an insight into the best soft sided coolers around, we have put together a helpful list of the top 10 soft sided coolers for every occasion! Don't forget to check out our essential guide to the best soft sided coolers on the market in 2018.
The Best Soft Sided Coolers In 2018
YETI Hopper TWO Portable Soft Sided Cooler
See More Reviews

Packed full of features to make sure that your food and drinks are looked after and kept cool, the YETI Hopper TWO Portable Cooler is a premier option amongst the best soft sided coolers available. As the name of the product suggests, the YETI Hopper TWO is a great portable cooler, coming in multiple sizes to make sure that no matter what kind of adventure you're on, you always have a cooler to fit your needs.
One of the most interesting features of the YETI Hopper TWO is the Dryhide shell which is crafted using fabric with a high-density that is designed to resist mildew, damage from UV rays, and punctures. The waterproof cooler is insulated with rubber closed-cell foam, features a highly durable HydroLok Zipper, and comes with a Hitchpoint grid, so it can be attached with ease to most things.
If you need a strong cooler that can withstand even the roughest of adventures, the YETI Hopper TWO Portable Cooler is one of your best bets.
Key Features:
Constructed from FDA-approved materials
Tapered body
Waterproof
Leak-proof
HydroLok Zipper
Coldcell Insulation
Dryhide Shell
UV ray protected
Mildew resistant
Puncture-proof
Hitchpoint Grid
Bottle opener included
Specification:
Brand

YETI

Model

YHOP20

Weight

8.7 pounds
Coleman 16-Can Soft Sided Cooler with Hard Liner
See More Reviews

Designed by Coleman, the 16-Can Soft Cooler with Hard Liner is a versatile soft sided cooler with adjustable straps, making it a top choice for a portable every-day cooler. The cooler comes in multiple different sizes, with the 16-can size being the optimum size for days out; with handy additional side storage for snacks and gear in a similar way to golf coolers.
One of the most affordable soft sided coolers on our list, this easy to transport cooler isn't without some top-notch features. The cooler is incredibly flexible with a removable hard liner, is leak-proof thanks to the strong zipping mechanism, and has antimicrobial properties that adhere to the FDA requirements. For a simple but practical cooler that is resistant to mold and mildew, the Coleman 16-Can Soft Cooler is a wonderful choice.
Key Features:
Mildew resistant
Mold resistant
Meets FDA Requirements
PEVA liner
Easy to clean
16-can capacity
Flexible
Leak-proof
Adjustable straps for shoulders
Removable liner
Antimicrobial properties
Specification:
Brand

Coleman

Model

3000001313

Weight

1.12 ounces
Pelican Elite Soft Sided Cooler
See More Reviews

If you want a truly hard-wearing cooler that is designed to stay secure and leak-proof through even the roughest of outdoor activities, the Pelican Elite Soft Cooler is one of the best options on the market. This highly secure cooler is equipped with an outer layer of double-coated TPU fabric, making it one of the strongest soft sided coolers around.
The durable features keep coming with this cooler; there's a duel-lock buckle, solid side handles for easy carrying, and exceptional closed-cell foam insulation. The cooler is duel-fastened with buckles and a heavy-duty zipper, with an additional external pocket for gear that you need quick access to. There are multiple sizes available, from 12-can to 48-can, which makes the Pelican Elite Soft Cooler a fitting choice for all manner of activities.
Key Features:
FDA approved liner
Lightweight
Closed-cell foam insulation
Outer TPU fabric layer (double-coated)
Duel-lock buckle
Leak-proof
External pocket
Easy-carry design
Multiple sizes
Specification:
Brand

Pelican

Model

SOFT-SC12-BLK

Weight

4 pounds
AO Coolers Canvas Soft Cooler with High-Density Insulation, 12-Can to 48-Can
See More Reviews

In need of a cooler for hot and cold food? The Canvas Soft Cooler from AO Coolers is a versatile option for everything from outdoor activities, to transporting food items, and water-sports. You can keep meat fresh for hours before cooking on a camping stove or outdoor barbecue. The cooler is available in multiple colors and sizes, from the compact 12-can capacity cooler to the 48-can capacity cooler that will more than accommodate supplies for any style of adventure.
The main compartment is designed with a leak-proof liner using TPU fabric, while the external side pocket is ideal for dry items and any gear you may need while out and about. This cooler perfectly combines a lightweight design with advanced features, like the ability to hold ice for up to a period of 24-hours.
Key Features:
Shoulder strap (removable)
Lightweight
Multiple sizes
External pocket
Extensive insulation
Usable for hot or cold food
Sweat-proof
Closed-cell foam insulation
24-hour ice holding
Leak-proof TPU lining
Specification:
Brand

AO Coolers

Model

AO36CH

Weight

3 pounds
Polar Bear Coolers Nylon Series Soft Cooler – Tote and Backpack Sizes
See More Reviews

The Nylon Series Soft Cooler from Polar Bear Coolers is one of the most standout additions to our list. The ability to custom-brand this cooler makes it a very exciting and unique addition to soft sided coolers. Of course, there is a lot more to the Polar Bear Coolers Nylon Series Soft Cooler than customization.
Nylon has been used to both construct the exterior and interior of this charming cooler; giving it incredible durability and resistance to scratches and rips. Able to easily withstand every-day wear and tear, it is an ideal choice for outdoor activities, coming in multiple sizes with the additional choose of a backpack-style. It is sweat-proof, leak-proof, and easily condensed thanks to the soft design and open-cell foam insulation.
Need a cooler that meets the requirements of almost every occasion? This is an excellent choice!
Key Features:
Exterior made from 1000D nylon
Holds ice for 24-hours
Interior made from TPU double-coated nylon
Unbreakable zippers
Shoulder pad (adjustable)
Easy to store
Customizable
Multiple Sizes
Open-cell foam insulation
FDA approved
Leak-proof
Sweat-proof
Specification:
Brand

Polar Bear Coolers

Model

PB 240

Weight

3 pounds
Coleman 30 Can Removable Liner Cooler
See More Reviews

Featuring a simplistic but highly effective design, the 30-can capacity cooler from Coleman is a very practical choice for a handy cooler to pick up and go with ease. The multi-compartment design, with two mesh side compartments, zipper pocket, and main compartment, makes this charming cooler a perfect product for carrying many different types of item at once.
The lining makes the cooler highly flexible, whilst the adjustable strap ensures that it's incredibly easy to carry. Like many of the top soft sided coolers, it is resistant to mildew and mold, and is fully leak-proof for a peace of mind when transporting. There are few better coolers that work so effectively yet keep things so simple.
Key Features:
30-can capacity
Flexible lining
Mold resistant
Mesh pockets
Lid bungees
Heat-welded seams
Plastic liner (removable)
External pocket
Mildew resistant
Leak-proof
Easy carry straps (adjustable)
Antimicrobial properties
Specification:
Brand

Coleman

Model

3000002168

Weight

2.61 pounds
Arctic Zone Titan 30 Can Insulated Sport Tote, White
See More Reviews

A cooler doesn't have to compromise style for effectiveness, something that the Titan cooler from Arctic Zone proves with ease. The sleek white and black design of the Titan cooler gives it a highly attractive appeal, easily proving to be an excellent accessory, no matter what its being used for.
The design certainly sets this cooler apart, but there are plenty of excellent features to back it up. A Therma-Flect interior gives this cooler excellent insulation capabilities, especially alongside the additional Deepfreeze insulation. It has antimicrobial protection, is leak-proof, and is water resistant. To top it off, the cooler comes equipped with a cold block base with three layers, is very easy to clean, and is one of the most affordable coolers around!
Key Features:
Leak-proof
Antimicrobial protection
Easy to clean
Cold block base
30-can capacity
Water resistant
Deepfreeze insulation
Therma-Flect interior
Carrying straps
Side straps
External pocket
Specification:
Brand

Arctic Zone

Model

5213090005

Weight

1.6 pounds
See More Reviews

Stylish, versatile, and efficient, the Crew Cooler II from eBags was originally constructed for pilots and flight attendants, so as you can imagine, it's incredibly practical. The design is very similar in nature to a travel bag, with multiple compartments on the exterior and a uniquely designed interior with a replaceable PEVA liner.
Easy transportation is assured with the eBags Crew Cooler II, whether you opt for the shoulder strap design or the practical side handles. From the six-sided interior insulation to the strong twist poly construction, the eBags Crew Cooler II is an outstanding cooler for a diverse range of uses.
Key Features:
Made from 840D twisted poly
Dry compartment
Mesh pocket
Cold compartment
Six-side insulation
Welded PEVA liner (replaceable)
PVC-free
Easy access pullers
Choice of shoulder strap or handles
Easy stacking
Specification:
Brand

eBags

Model

M204851

Weight

2.05 pounds
NFL Soft-Sided Insulated Cooler Bag
See More Reviews

If you're a fan of NFL, then the NFL Soft-Sided Insulated Cooler Bag from Coleman is surely going to be a winning choice. The cooler is compact, with a 9-can capacity that makes it a fantastic choice for storing your drinks before the big game. No matter which team you support, there is going to be a matching cooler in this collection to fit your needs!
Despite its small size, the NFL Soft-Sided Insulated Cooler Bag boasts cold technology that will keep your drinks cool for 24 hours. With the addition of the antimicrobial liner, made from foil, you're never going to have to worry about having a cold drink at hand with this simple but incredibly effective cooler bag.
Key Features:
Padded shoulder strap
9-can capacity
Branded NFL team logo
Zipper
24-hour cold technology
Foil antimicrobial liner
Durable design
Interior pocket
Specification:
Brand

Coleman

Model

LP0328

Weight

12.3 ounces
Mountainsmith The Sixer- Soft Sided Cooler
See More Reviews

While there are plenty of larger coolers on the market, sometimes just a small cooler is all that's required. The Sixer Cooler from Mountainsmith is one of the best small coolers on the market. The 6-can capacity is ideally suited to small expeditions or for chilled evening drinks when you really don't want to have to carry an all-day cooler around.
The very compact design doesn't mean that this cooler is lacking features though! The cooler comes with a waterproof seam, barrel zipper, and handy bottle cap. Thanks to the strong Baby RipStop Poly construction, the contents of this cooler are not only going to stay cool, but perfectly secure as well.
Key Features:
6-can capacity
PEVA lining
Waterproof seam
Barrel zipper
Made from 150D Baby RipStop Poly
Included bottle opener
Front pocket
Shoulder strap
Specification:
Brand

Mountainsmith

Model

14-75090-59

Weight

12 ounces