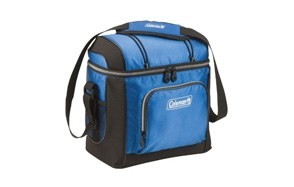 Coleman 16-Can Soft Cooler with Hard Liner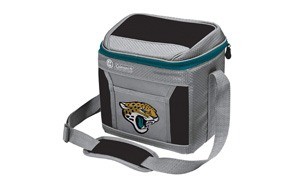 NFL Soft-Sided Insulated Cooler Bag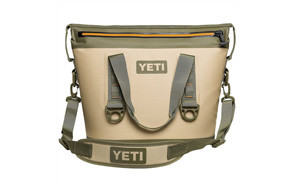 YETI Hopper TWO Portable Cooler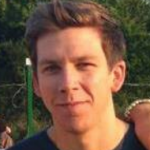 Easy to store, practical, and versatile, soft-sided coolers are one of those household essentials that are really handy to have around. From picnics in the park to long hikes where keeping your lunch cool is normally an uphill battle, a soft-sided cooler is a fantastically diverse product that makes carrying food and drink a breeze, as opposed to other options such as backpack coolers.
With so many soft-sided coolers on the market, it can be very difficult to find the right one to suit your needs. To give you an insight into the best soft-sided coolers around, we have put together a helpful list of the top 10 soft sided coolers for every occasion!
The Best Soft-Sided Cooler
oft Sided Cooler Buying Guid
Soft Sided vs Hard-Sided
Whether you're heading to the beach for a day, heading to the state park for a weekend of camping, heading out on your boat for some fishing or going to the park with your honey for a picnic it's important to be able to take everything you want and need to make the experience as pleasant and memorable as possible. This is why coolers have become so popular. In the days of yore, people were only able to take non-perishable items along with them on their agreeable excursions, hence "A loaf of bread, a jug of wine and thou." Today, due to the invention of the portable cooling chest, we can still have our loaf of bread and jug of wine but we can also take along nice cold brewskis, chicken to barbeque, tuna salad sandwiches and more.
The big question now is whether to use a soft-sided or hard-sided cooler to transport perishables to the site of your merriment. The issue has become increasingly blurred because, in recent years, soft-sided coolers have advanced by leaps and bounds and today they are giving traditional hard-sided chests a run for their money in virtually every department except size. As such, deciding whether you're going to need a soft sided or hard-sided cooler today often comes down to answering the question "How do you intend to use it?" For example, if you just want something to keep a few things cool for a few hours while you picnic in the park there's no need to have a big, heavy, hard-sided cooler. On the other hand, if you're meeting your tribe at the seashore to celebrate the 4th of July chances are you're going to want one of those big heavy hard sided coolers to accommodate all the beers, sodas, water, meats, sandwiches and other perishables. Below we'll take a look at the most common things to consider when choosing between a soft-sided and hard-sided cooler.

Weight
One of the things that attracts so many people to the soft-sided cooler is how much lighter it is than the standard hard-sided cooler. The difference is often so pronounced that, even if they're heading out to a major get together that might typically call for a big hard-sided chest folks will try and get away with over-stuffing their softie, just so they don't have to lug the big plastic cooler around all day. But even though hard sided coolers will almost always weigh more than their soft-sided counterparts most of the weight associated with a cooler comes from what you put inside it. The weight itself might, and perhaps should, play some part in determining which one is right for you, if you stuff that Yeti Hopper to the gills it's still going to be plenty heavy.
Bottom line: the weight of the cooler itself is definitely a consideration if you only plan on taking a few items with you. But if you plan on taking 18 drinks, various barbeque items and more then you're going to be weighed down no matter which type of cooler you bring.
Less Storage Space
As we have already alluded to the soft cooler is not going to be able to accommodate as much as some of the bigger hard-sided coolers. That's just one of the facts of life. So you really need to take some time and think about how many items you are likely to take along on a given excursion before deciding on a soft or hard sided cooler. If you're a lone wolf who likes to go to the beach by yourself on hot summer afternoons accompanied by a few cold drinks and a sandwich or two then there's no need for a big, heavy hard-sided cooler. If, however, you never venture out without the family or a gaggle of friends you'll have to decide if you need the larger volume of the big hard cooler.
It could be that your group members all tend to bring their own refreshments and such to your various get-togethers. In which case the soft-sided should suit you just fine. Or it could be that you are the one who is often tasked with bringing the perishables while others bring the chairs, music, walk-in tent and such. In that case, you're probably going to want to bring a large hard-sided cooler. The other aspect of space that needs to be considered is how much space the cooler itself takes up. Soft coolers have a distinct advantage here in that even the largest are typically nowhere near as big as a standard hard sided one.
Easier To Carry/Transport
One of the few unpleasant aspects of outdoor activities is that the activity itself is often a long march from where you park. Meeting friends at the beach on the 4th of July often means lugging the cooler half a mile or more from the car to the actual get together spot. By the time you arrive your back is howling and your arms are jelly. There's no debate in this case. The soft-sided cooler is the hands-down portability winner. Just toss it over your shoulder and get on with it. Some soft coolers can be carried backpack style which makes things even easier. If you're concerned that your backpack cooler won't accommodate enough items for your group then bring two. That way you can split the load between two people and no one has to sacrifice their back on the altar of recreation. Some people will say "Why not just get a hard-sided cooler with wheels?" While that may seem like a nifty solution to the portability problem have you ever tried rolling a fully loaded hard cooler across long stretches of powder soft, red-hot beach sand?

Versatility
While hard sided coolers have their place one thing they are definitely not noted for is their versatility. They're a big hard box that keeps things cold and that's about the size of it. It is you that must plan to accommodate them. Because they are not designed to accommodate anything about you other than you need to have a cold one at your disposal in unusual places. Sure, some have wheels but as we just saw there are limits to how useful wheels can actually be. Once you hit the beach with the big box you're on your own.
Soft-sided on the other hand are all about versatility and accommodate you. Need something that's not going to take up a lot of space in your car? They have you covered. Need something that's easy to carry around? No problem, they've got your back. In fact you have a variety of options for carrying soft coolers, including:
The shoulder bag - This is the most popular style of soft sided cooler. And it's easy to see why. You just fling it over your shoulder and get a move on. This type of shoulder bag cooler also tends to fold down to almost nothing when you're not using it so you don't have to come up with a special place to store it.
The backpack - The backpack style is gaining in popularity because it distributes the weight evenly between your shoulders and back and therefore allows you to carry a bit more than you'll want to carry with a shoulder bag cooler. If there's a drawback to this type of cooler it's putting it on and taking it off when it's full.
The lunch box - These have been popular with students, office workers and even tradesmen and women for years because, as their name suggests, they provide you many more lunch options than the standard brown bag. The lunch box cooler is also perfect for that lone wolf type we mentioned earlier who likes to hit the beach alone or go to the park on the weekend with a good book, a couple of cool drinks and a snack or two.
So the difference in the two types comes down to the hard sided being a specialist who won't do anything that's not in his job description and the soft sided being a multitasker that will do whatever you ask of it.
Pockets
People being people they don't always bring things with them that have clearly defined ways of being transported. Either that or they bring so many things that their backpack, fanny pack and other transportation methods are overwhelmed. Because soft-sided coolers are all about versatility and accommodation, however, there are plenty that have taken this matter into consideration and provide storage pockets that can be used to hold pretty much whatever you need them to hold. Some of these storage pockets are located inside the cooler for things that need to stay cold and some are located on the outside of the cooler to hold things like sunscreen, sunglasses, snacks, your favorite book and more. Some of these bonus pockets are zippered to hold your mobile phone, keys, and other valuables while others are mesh pockets that will hold a variety of knick-knacks that don't otherwise have a place to stay. These additional pockets are another big reason people prefer the soft-sided cooler to the hard-sided cooler.
No Sweating
It's bad enough when you're sweating on a hot summer day but when the cooler does it too things can really get uncomfortable. Hard coolers are prone to sweating and that's bad news for other things that must coexist with them in the trunk or the back seat. Soft coolers, on the other hand, are constructed in a way and with materials that discourage sweating. As such, they won't leave a big sweat mark on your clothes after you put them down and they won't leave your trunk or back seat smelling musty.
Soft-Sided Cooler FAQs
Q: Do Soft Coolers Absorb Odor?
A: Soft-sided coolers are less likely to retain offensive odors than hard sided coolers. They're also less likely to play host to bacteria and mold that could produce their own foul and/or musty smells than hard sided coolers. This is due in large part to the different materials the soft cooler is made of compared to the hard-sided cooler. But while it is less common for a soft-sided cooler to end up smelling bad it can and sometimes does happen. To get rid of any offensive odors you'll need to know the right way to clean your soft sided cooler. Which we'll go over next.

Q: How To Clean A Soft Sided Cooler?
A: While they have their drawbacks the hard-sided cooler also has a few advantages over the soft sided cooler. One is that it will accommodate so many more items and another is that cleaning the hard-sided cooler (which needs to be done after every use) is a relative breeze. Just open the top, aim your garden hose and let the water fly. With the soft-sided cooler you won't typically need to clean it after every use but you should clean it periodically just to be sure it's not entertaining any bacteria or potentially problematic molds.
There's a right way and a wrong way to clean the soft cooler and simply opening it and hitting it with the garden hose certainly qualifies as the wrong way. Below we'll go over the steps normally involved in cleaning your soft sided cooler.
Remove and food, food particles, dirt or other debris from inside the cooler. Then take a damp cloth and wipe the entire inside making sure not to miss anything.
After thoroughly wiping out the interior and letting it dry inspect it carefully for stubborn stains, mold or any other unpleasant sights. If you see any mix a bit of baking soda with some warm water and, using a clean cloth, wash out the inside again only this time with the baking soda solution. The cloth doesn't need to be sopping wet, just damp. You don't want to leave lots of baking soda residue behind.
Once you've removed any nasty stuff using the baking soda solution mix some dishwashing detergent with water and wash out the inside again using a clean sponge. Make sure to get everything. Once you're certain the inside is nice and clean let it air dry completely before putting it away.
Q: What's the Best Way to Pack a Soft Sided Cooler?
A: When packing make sure you keep things that don't need to be refrigerated separate. If you put your onions in the cooler with your other items everything, including your cooler, is going to wind up with a nice onion scent before the day is over. That said here are a few more tips about packing.
Precool everything before it goes into the soft cooler - That is, make sure that everything that goes into the cooler is coming straight out of the refrigerator. They are not designed to cool things down, just to keep them cool
Keep the cooler out of the direct sunlight - This is sometimes easier said than done but it's important if you want the cooler to do its job as effectively as possible
Use cold packs to keep the interior cool rather than ice cubes - All standard ice cubes are going to do is melt and create a mobile bath for your perishable items. Cold packs will eventually warm up but they won't make a mess when they do. And keeping your cooler free of dirty melted ice will also help prevent the growth of bacteria
Q: How Long Will a Soft Sided Cooler Last?
A: We mentioned above that the hard-sided cooler has a few advantages over its soft-sided cousin. One of them not yet mentioned is the fact that you'll probably be able to leave your hard-sided cooler to the kids when it's finally time to go to that big campground in the sky. The same cannot necessarily be said for the soft-sided cooler. A hard-sided cooler is able to last so long because its design is typically so simple. A rigid insulated box with a lid. That's more or less it. There are very many more variables involved and the more moving parts, the more things that can go wrong and/or wear out. All the lifting, twisting, folding, sagging and stuffing into the recesses of the trunk or closet that the soft-sided cooler endures takes a toll. The material begins to wear, zippers break, seams begin to come apart and the shoulder straps eventually become hard to bear. Even so, if you take care of best soft-sided coolers they should last for many years before needing to be replaced. Just don't expect that you'll be able to include them in your will.