Best Cold Brew Coffee of 2022: Bring on the DIY Buzz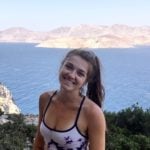 This product guide was written by Chloe Matthews
Last Updated
March 2, 2021
Chloe Matthews
Based in Austin, Texas, and bred in the Midwest, Chloe joins our team with a background in Health and Human Physiology, team management, and a wealth of customer service knowledge. After years of personal writing and journaling, her enthusiasm for the outdoors, travel, and continued learning has brought her to a professional journalism career. Chloe is an avid rock climber, currently enjoying the Texas limestone bluffs, and a passionate, lifelong runner. When she's not seeking sunshine outdoors, you can find her reading history books, volunteering at running events, or working on her latest automotive project.
GearHungry may earn a small commission from affiliate links in this article.
Learn more
You've heard the words "nitro cold brew coffee" or "cold brew coffee concentrate" around your local coffee shop. Maybe you've been wondering what the fuss is all about. Or maybe you've committed to saving your pennies by making more coffee at home this year. If you don't want to sacrifice café quality, now is the time to DIY cold brew at home. We've put together this selection of some of today's best cold brew coffee that you can make at home or grab on-the-go from your own fridge.
If you want to beat the heat here in Austin, Texas, cold brew is a way of life. It's a survival tool that I quickly learned to use to get through the summers here. I fell for the smooth, enticing draft pour of nitro cold brew. And I promptly found work that would get me closer to it, both with a local coffee roaster and as a barista at a local coffee shop. These experiences allowed me to learn the ins and outs of the industry as well as the craft.
It was delightful to research, taste, and test some of the cold brew coffees featured here today. So, grab your glass and join me as we talk shop about the best cold brew coffees.
The Best Cold Brew Coffee
Bizzy Organic Cold Brew Coffee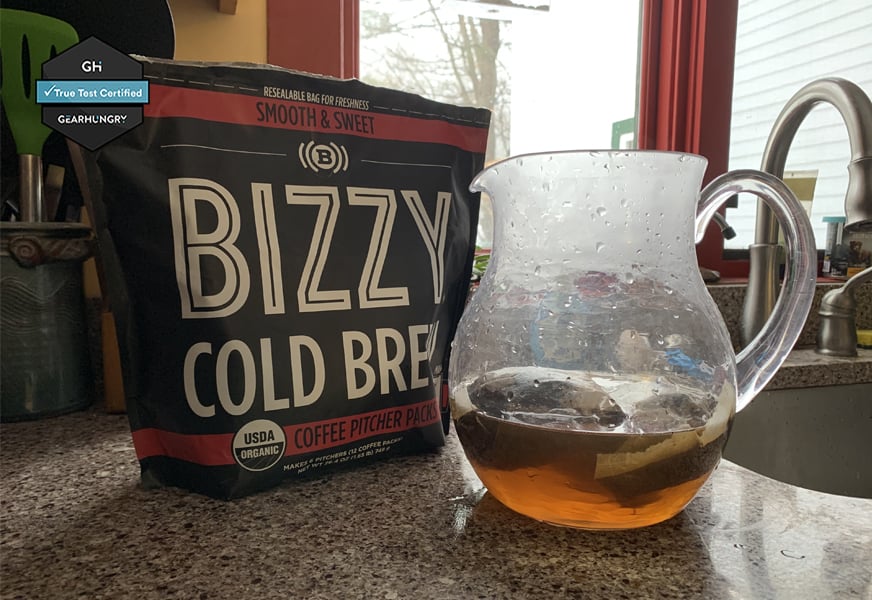 For a hassle-free, no cleanup, coming in-clutch, delicious cold brew coffee, we've chosen the Bizzy Organic Cold Brew Coffee Pitcher Packs. The Arabica beans are medium roasted for a sweet, nutty flavor profile. Bizzy's beans are USDA Organic certified and ethically sourced from Guatemala, Peru, and Nicaragua.
Bizzy coarse grinds the beans, then packages them into 12 individual brewing packs per bag. Each batch of cold brew calls for two pitcher packs for every 4 cups of water. For a potent cold brew concentrate, allow the packs steep for 14 to 20 hours. You either can cut the concentrate directly by pouring water into the pitcher or as you refill your coffee mug each morning. Our in-house tester got the chance to try out the Bizzy Coffee Pitcher Packs for herself and was happy to report on the coffee's smooth and sweet flavor. Lucky her! Read her in-depth review here.
Key Features:
Medium roast Arabica
Sweet, nutty flavor
USDA Organic
Ethically sourced from Central America
Individual coffee pitcher packs
12 pitcher packs per bag
Great value
SToK Not Too Sweet Cold Brew Coffee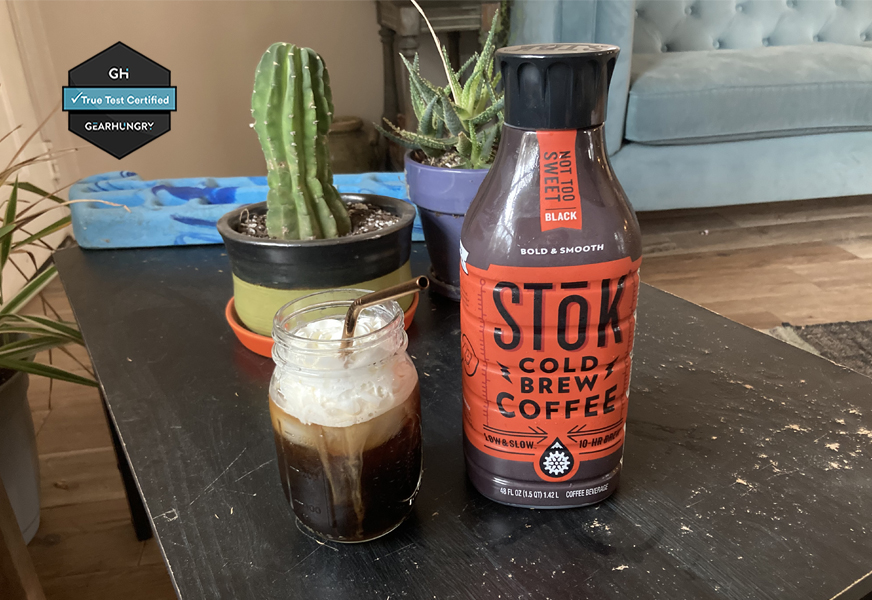 The only time I've had SToK Not Too Sweet Cold Brew Coffee, I remember I had two glasses. It is too delicious for my own good; safe to say, I spent the rest of the day and a good portion of the evening extremely aware and awake. But after chugging the first glass with ice and whipped cream, I couldn't say no to another. The whipped cream slowly dissipates throughout the cold brew, adding a velvety finish to the slightly sweet, bold flavor.
To create Not Too Sweet, SToK steeps the Arabica coffee beans for 10 hours, giving the brew a smooth flavor, absent the bitterness that accompanies hot brewing methods. SToK does add cane sugar, but not enough to throw off the balanced profile.
Key Features:
Bold but smooth flavor
Touch of cane sugar
12 bottles per case
13.7 oz per bottle
Ready to drink
High Brew Cold Brew Coffee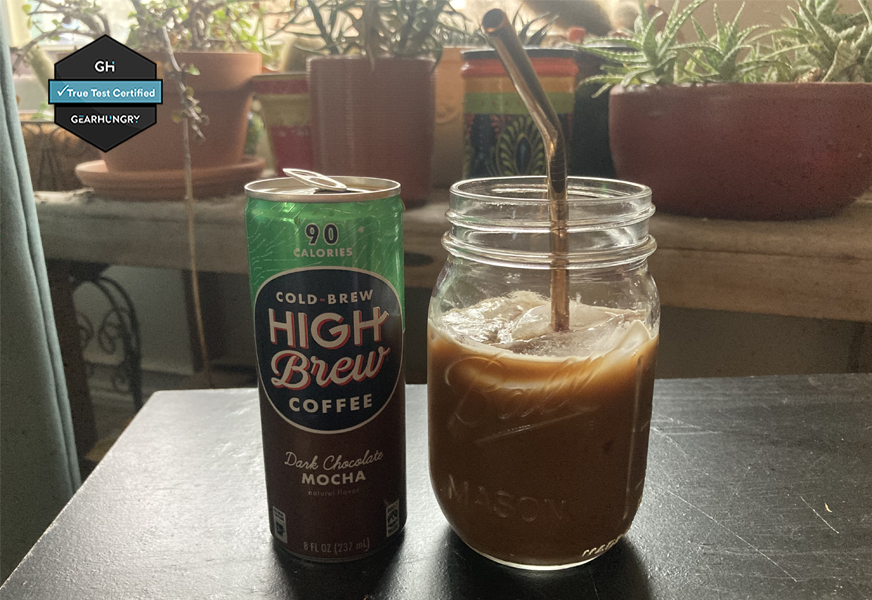 Every Monday morning, I drag my ass out of bed at 4 a.m. and head to the local climbing gym for my weekly shift — in trade, I get a membership; easy enough. Brewing coffee or doing anything other than reaching into the fridge for an instant coffee is out of the question that early. And usually, I'm going for a High Brew Cold Brew Coffee.
Of course, I'm biased, based in Austin, Texas, where High Brew originated and dominates corner stores. But I can't help but marvel at the direct trade partnership High Brew has with a Colombian co-op. The co-op comprises 3,600 farmers, with female farmers counting for a third of that number.  The High Brew Dark Chocolate Mocha Cold Brew Coffee is a bold, savory treat. Although, at 8 ounces per can, the pleasure is gone too soon. The beans are fair-trade, 100% Colombian Arabica with added sugars and milk for a smooth finish.
Key Features:
100% Colombian Arabica
Rich, savory mocha flavor
12 cans per case
8 oz per can
Includes milk and sugar
Ready to drink
Stone Street Cold Brew Coffee Reserve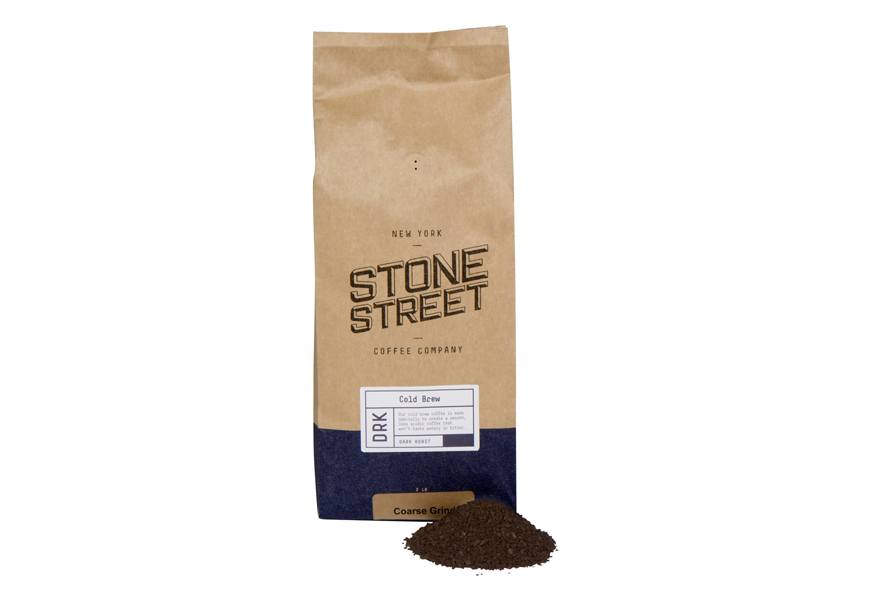 Specialty coffee roaster Stone Street Coffee Company, from Brooklyn, New York, caught our attention with its Cold Brew Reserve Coffee. The small-batch roasting operation is deeply knowledgeable about various developing regions and takes pride in cultivating intimate partnerships with its coffee farmers. And Stone Street produces some damn good coffee.
The darkly roasted 100% Columbian Supremo beans offer a smooth, rounded glass of cold brew. Like most cold brews, the Cold Brew Reserve is less acidic than your cozy Sunday morning brew. For a lasting aroma and flavor profile, Stone Street uses Natural Kraft bags fitted with one-way degassing valves. The coarsely ground beans come in 1-pound, 2-pound, or 5-pound bags. And on a cold morning, the Cold Brew Reserve can substitute your usual French press beans in a pinch. Ideal for any coffee lover out there.
Key Features:
Dark roast 100% Colombian Supremo
Small batch
Coarse ground
1 lb., 2 lb., or 5 lb. bags
French press and steeper compatible
Starbucks Cold Brew Coffee Pitcher Packs – Signature Black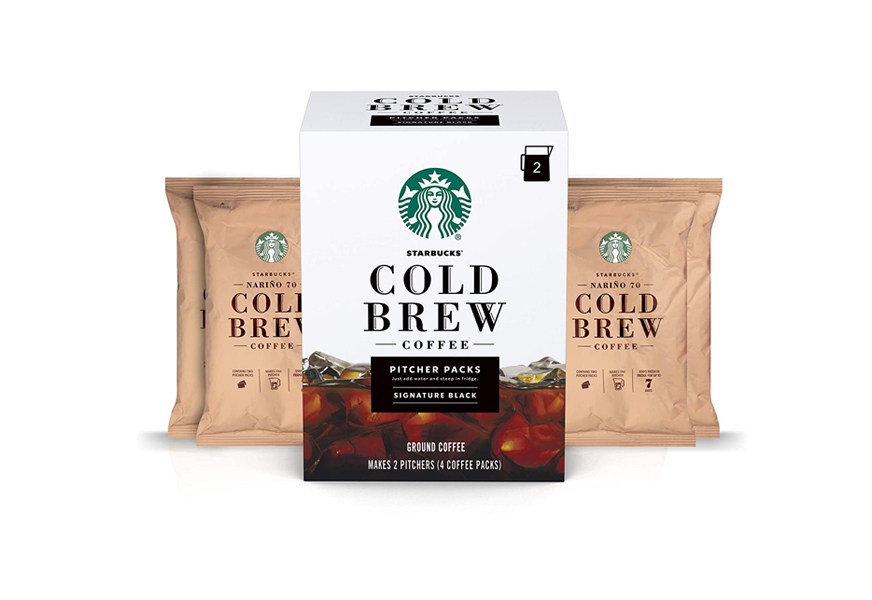 You can't get away from the infamous coffee giant, Starbucks. You might adamantly support local coffeehouses and small-batch roasters, but for those cruel early morning flights when you need coffee, Starbucks will be there — with everything. And that includes cold brew that you can make at home. Just have the foresight to make it the day before your flight.
The Starbucks Cold Brew Coffee Signature Black Pitcher Packs won't let you down. The subtle chocolate taste will have you sitting down in your window seat with a content smile on your face. Cold steeping two pitcher packs in for 20 to 24 hours will provide you with 7 days' worth of Starbucks cold brew. To get more bang for your buck, pick up three boxes containing four cold brew pitcher packs each. For more tasty options like this, check out our selection of the best decaf coffee.
Key Features:
Medium roast
Subtle chocolate flavor
3-box packages
4 pitcher packs per box
Grady's Cold Brew Coffee Pour & Store Kit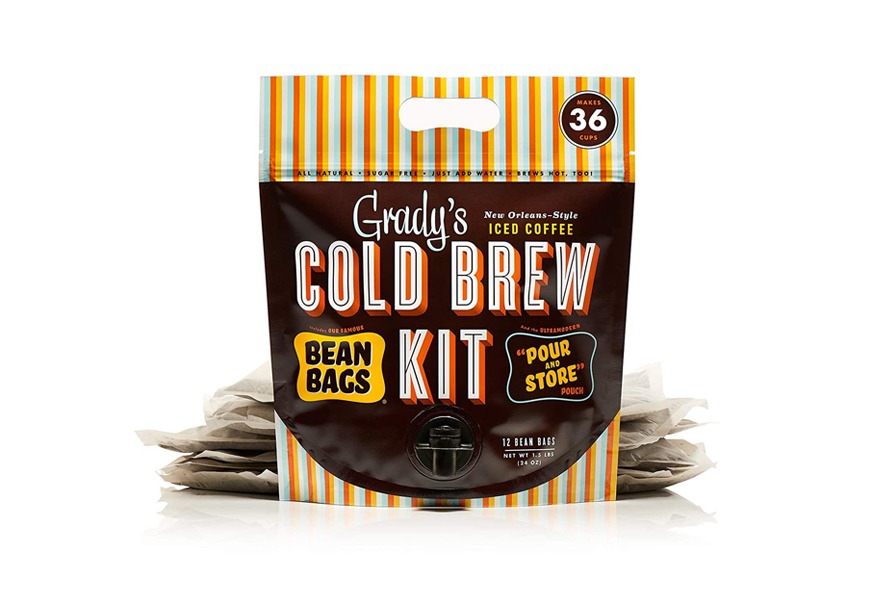 The Grady's Cold Brew Coffee Pour and Store Kit screams convenience for camping trips or bachelorette parties, although it would do great in a busy household. The kit includes twelve 2-ounce pouches in its store-and-pour bag.  Each 2-ounce pouch yields 3 ounces of cold brew concentrate when combined with water. And 3 ounces of concentrate provides 36 ounces of cold brew when cut with water or milk. That's definitely enough to fuel the party.
Grady's is a New Orleans-style cold brew; in addition to medium roast coffee grounds, there is chicory and other spices. Amazon reviewers didn't comment on the spiciness, but the brew's delicious, sweet flavor received plenty of praise.
Key Features:
Medium roast New Orleans-style
Chicory and lightly spiced flavor
12 pouches per bag
36 oz of cold brew per pouch
Prepared concentrate is good for 2 weeks
Starbucks Cold Brew Coffee – Black Unsweetened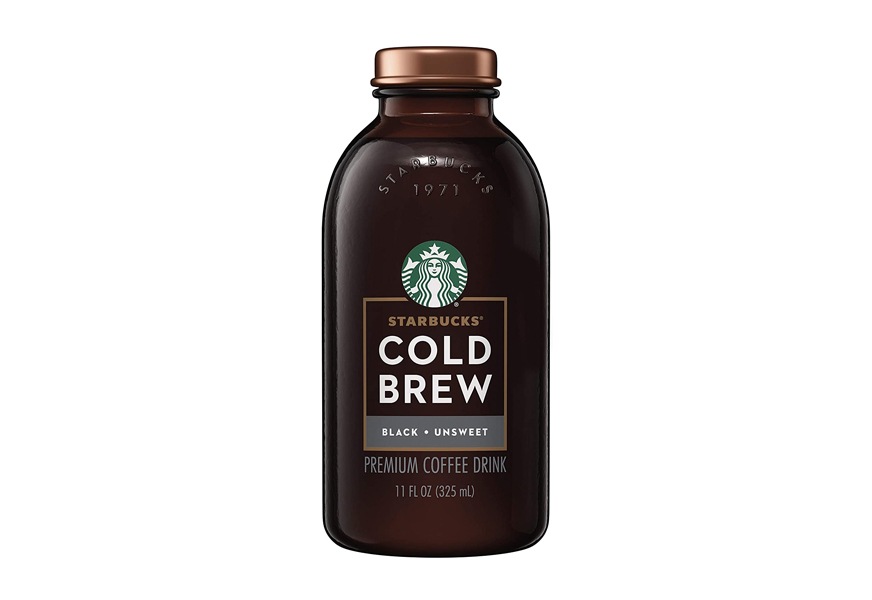 Old habits die hard, and third-wave coffee purveyors have made a dent, but not big enough to sway masses away from Starbucks. Coffee-on-the-go has made Starbucks a household name worldwide, but it's not always possible to jump in your car and drive to your nearest Starbucks. For those who like Starbuck's cold brew, you can now grab multi-packs of this Black Unsweetened Cold Brew Coffee and have your fix before getting out of your pajamas.
This particular cold brew comes in ready-to-drink 11-ounce glass bottles and boasts that unmistakable Starbucks quality. The company blends and cold steeps the custom blend of beans cold to deliver a robust flavor that is smoother and less bitter than regular coffee. This great cold brew coffee is perfect for enjoying at home, at work, or when you're on the go; an essential pantry item that you'll never want to run out of. If you would like to receive your coffee at your door each month, check out our guide to the best coffee subscription services and pick your favorite.
Key Features:
Strong black coffee flavor
Unsweetened
6 bottles per pack
11 oz per bottle
Ready to drink
Java House Cold Brew Coffee Concentrate Single Serve Liquid Pods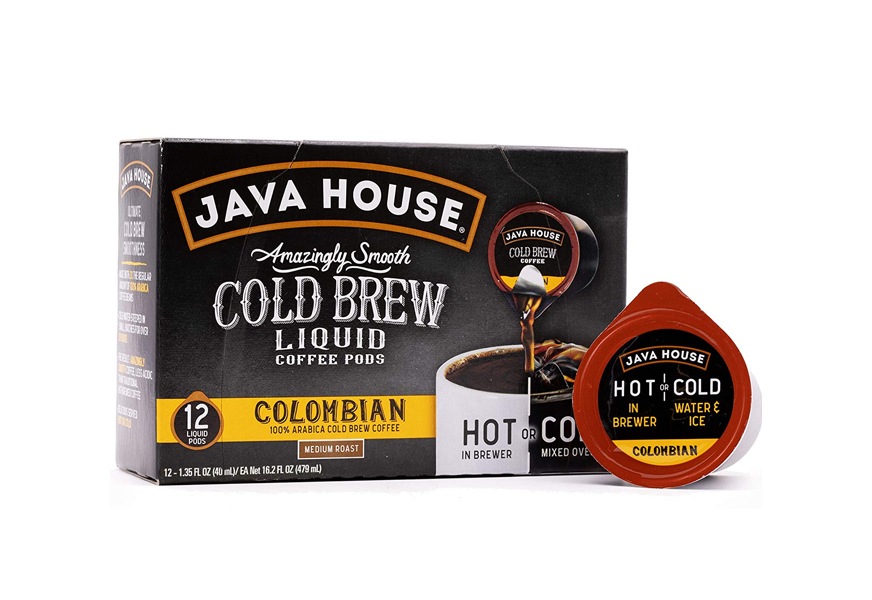 Coffee in hotels doesn't always impress. The Java House Cold Brew Concentrate Single Serve Liquid Pods offer salvation to the early mornings waking up in a hotel. The single-serve pods look like creamer pods that would accompany the small coffee pot or coffee machine in your hotel room, but they're filled with Java House cold brew concentrate. The concentrate is pre-packaged in single servings, ready with the addition of hot or iced water.
The 100% Arabica beans are of Colombian origin and offer a balanced flavor profile with chocolate and caramel notes. It's quite genius. And the pods have TSA-approval for safe passage through airport security. Coffee in your hands, all you need is water.
Key Features:
100% Colombian Arabica beans
Concentrate
Portable, single-serve pods
TSA-approved for travel
Keurig compatible
Wandering Bear Extra Strong Organic Coarse Ground Coffee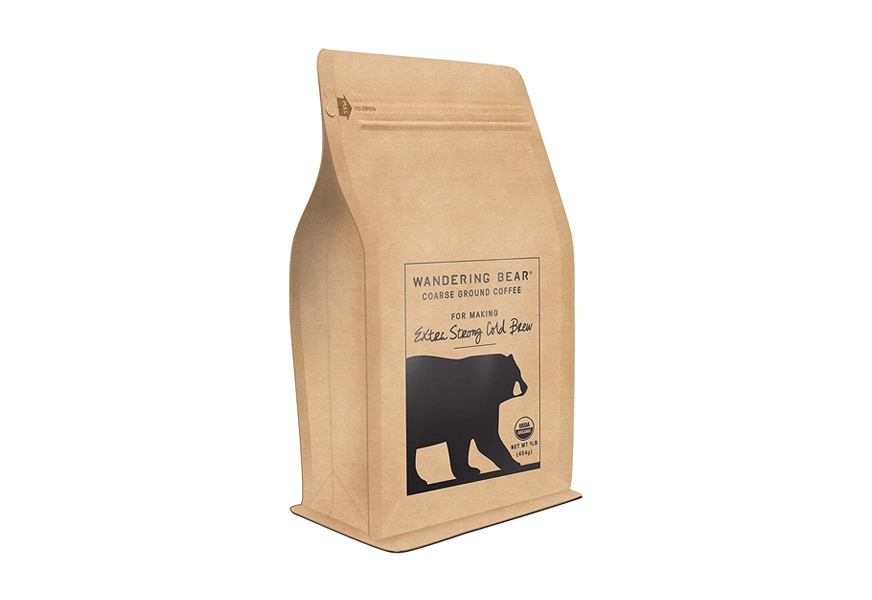 Seattle may stand held in high regard in the coffee industry, but it seems Brooklyn is bustling with notable coffee roasters. The Wandering Bear Extra Strong Organic Coarse Ground Coffee is a great value for trying something different. The 1-pound bag produces 20 glasses, but the number of ounces per glass is unclear, and the cold brew is dilutable with your favorite creamer, ice, or water.
A full-bodied chocolate flavor originates from the darkly roasted 100% organic Arabica beans. Wandering Bear recommends a French press for its cold brew selection and mentions it's also great hot! The resealable one-way valve bag keeps the grounds fresh if you want to save them for a chilly morning. You may also want to browse our list of the top cold brew coffee makers in the market. 
Key Features:
Dark roast 100% Arabica beans
Full-bodied chocolate flavor
1-pound bag
~20 servings per bag
French press compatible
Inspired Coffee Co. French Vanilla Cold Brew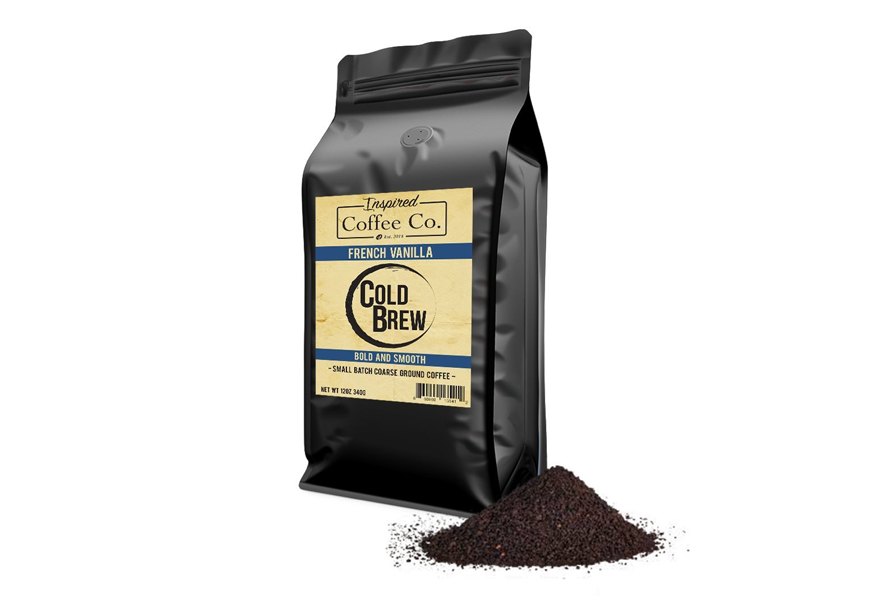 For a one-stop-shop cold brew that doesn't need any sweetener or creamer, check out the Inspired Coffee Co French Vanilla Cold Brew. The French vanilla flavor is natural and has traces of nuttiness.
One cup of the 100% Colombian Arabica Supremo steeped in 3 cups of water for 12 to 24 hours produces a potent, smooth cold brew concentrate. I would imagine this joins the ranks with the SToK cold brew in being delicious topped with whipped cream. The married duo behind Inspired Coffee Co believes a glass of delicious cold brew is necessary for the day ahead. A 12-ounce resealable bag with a degassing valve keeps the grounds fresh for the next batch. Here are some of the top-rated unroasted coffee beans you may be interested in. Check them out.
Key Features:
100% Colombian Arabica Supremo
Lightly nutty French vanilla flavor
Small batch
12-oz resealable bag with degassing valve
Stack Street Organic Cold Brew Coffee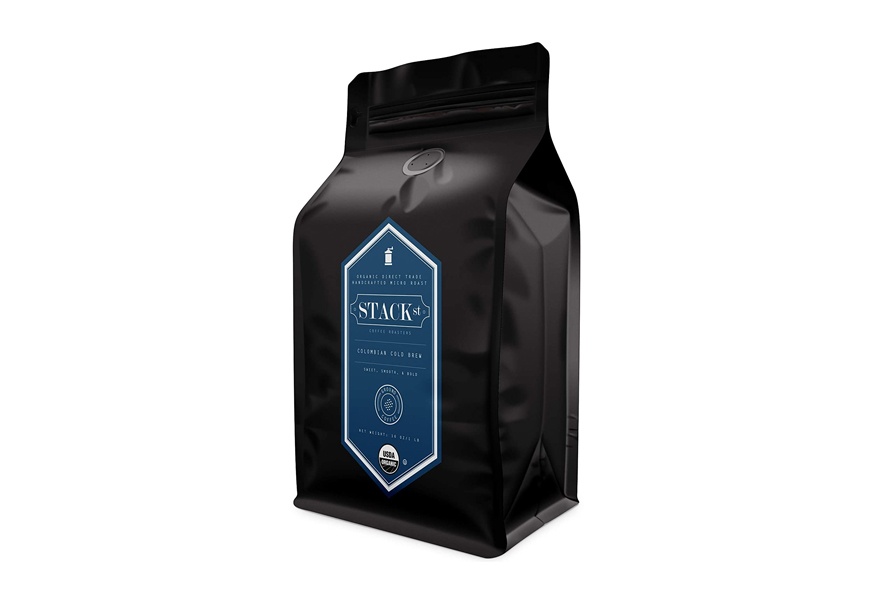 While keeping true to the values of sourcing direct trade, USDA Organic beans, Stack Street manages to keep its price low and flavor bold. The Stack Street Organic Cold Brew Coffee is a single-origin 100% Arabica Colombian coffee. Darkly roasted beans give way to a well-balanced, velvety glass of cold brew concentrate after steeped in the fridge overnight or 16 to 18 hours.
The coarsely ground beans come in a 1-pound, three-layer PE and aluminum foil bag with one-way degassing values to maintain the bold aroma and flavor. The value of the Stack Street Organic Cold Brew Coffee should not go without a look. To enjoy your coffee in a hustle-free way, be sure to pick your favorite K cup coffee pods from our list, as well.
Key Features:
100% Colombian Arabica
Low acidity, slightly sweet
USDA Organic
Direct-trade, single-origin
1-pound bag with degassing valve
Kirkland Signature Colombian Cold Brew
Bringing down the curtain is the Kirkland Signature Cold Brew. Kirkland Signature gets mixed reviews, but its products have a steadfast customer base, and the cold brew is reliably consistent.
The Kirkland Signature Colombian Cold Brew Coffee is ready to drink out of the can unless you'd like to add cream or sugar. Each case comes with twelve 11-ounce cans — perfect for mornings on-the-go or for pouring into a glass to enjoy while working from home.
Key Features:
Colombian
12 cans per case
11 oz per can
No added sugar or dairy
Ready to drink
Great value
Why Trust Us
I spent time working for a local, small-batch roaster in Austin, Texas, in 2018 that produced Nitro Cold Brew and cold brew concentrate. Working for a coffee industry middleman gave me a glimpse into the entire supply chain, and I came to fully respect all that producing a covetable cup of morning coffee entails.
My time with the roasting company passed quickly as I learned about different regions, washing processes, beans, and brewing methods. Meeting farmers who grow the beans, having lunch with the roasters, bagging the coffee myself, speaking with coffeehouse managers, and simply watching others close their eyes to savor the flavor — those experiences don't leave you.
And our Gear Hungry team keeps the coffee flowing, whether we're writing or getting ready to embark on the day's adventures.
Who This Is For
Coffee connoisseurs to cold brew noobs. Cold brew has brought many new consumers into the market with its approachable flavor and smooth mouthfeel. With both faithful coffee drinkers looking to venture outside of their comfort zone and newcomers in mind, our best cold brew coffee choices hit all along the spectrum.
How We Picked
In choosing the cold brews featured in this guide, we put into consideration the different forms of cold brew available. We also wanted to represent different roast levels and bean types and thought it important to recognize both small-batch roasters and heavy-hitter coffee brands.
How We Tested
A Gear Hungry team member specifically tested the Bizzy Coffee Pitcher packs against itself; Josette tested the brewing parameters while adjusting the ratios in two other pitchers to find the best testing ratio.
But being the faithful cold brew servant I am, I've sampled a few of the other selections in this list firsthand — namely, SToK's Not Too Sweet and High Brew's Dark Chocolate Mocha.
Features to Look for in Cold Brew Coffee
Overwhelmed in the coffee aisle? The choices within a single-aisle or pages of coffee bags on Amazon can seem overwhelming and endless.
To narrow your selection down for cold brew coffee, specify the features you're looking for: grind, ingredients, brew type, added sugar, and price point.
Grind - Always use coarsely ground beans when making a cold brew! If the bag says "auto-drip" or "pour-over", the grind will not be coarse enough.
Coffee bags labeled as "French press grind" will work to make cold brew and vice versa; they share the same coarse grind.
Types - By "types", I mean the form that the coffee is in, which dictates the brewing methods used to yield cold brew.
Pitcher packs consist of coffee grounds that pre-packaged in a filter pouch. All you need to do is steep the pouches for the allotted amount of time and then fish them out like you would a teabag. Be careful, though. Sometimes the pouches rip when pulling them out, so use a wooden or slotted spoon to gently scoop each filter pouch out of the pitcher.
Loose grounds that come packaged in resealable bags are usually brewed using a French press or cold brew coffee maker.
Typically, single-serve pods, bottles, and cans are the least cost-effective, but don't require the time and planning it takes to steep your own DIY brew overnight.
Ingredients - Some cans or bottles of cold brew may have added ingredients.
Ideally, the can contains just cold brew concentrate and water, but in many cases, you'll find coffee extracts, pectin for added thickness and mouthfeel, potassium phosphates for preservation, and natural flavors.
Added Sugar Content - Bottled and canned cold brew usually contain sugars added to provide consumers with a ready-to-drink caffeine kick right away. Packaged grounds and pitcher packs do not typically contain any added sugars, but often feature spices or flavoring.
Price - A great reason to make cold brew at home, other than playing with your own brew parameters, is saving money. But it's mute if you're spending just as much on a canned cold brew at home because you need two a day. Typically, you'll get the most bang from your buck buying a pre-ground bag of coffee and making your own concentrate at home, keeping it in the fridge for the week, and diluting with creamer or water. But it's a personal preference and relates to your habits at home.
Why You Need to Try Cold Brew Coffee
Coffee has a reputation. Or should I say had? Coffee was once bitter, burnt, strong but flavorful, and known for its unpleasant leftover taste. I think it's this reputation that steers some away from coffee.
But the rise of third-wave coffee roasters broadened the consumer base in the early 2000s with their focus on small-batch, fair-trade, flavorful beans. Ten years later, cold brew has continued in the same way.
Absence of bitterness, extended shelf, and smooth, subtly sweet flavor profile cold brew has caught the attention of those once unfamiliar with coffee. Add that it's convenient: a batch made on Sunday will last the entire week and improve any quick morning routine.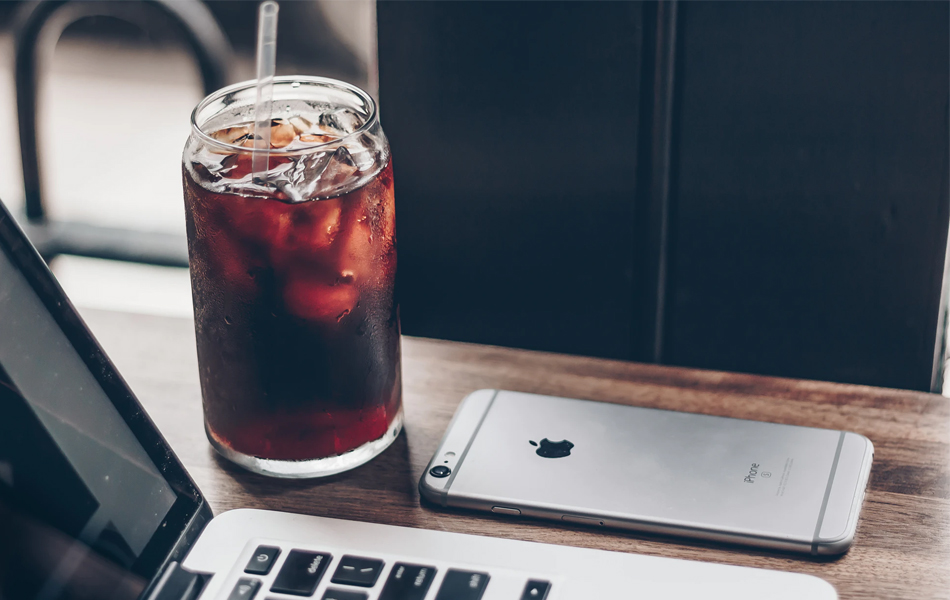 Cold Brew Coffee FAQ
Q: What is so special about cold brew coffee?
A: It's the new style. The new "thing." Although the coffee industry is a few years into the fast-paced, versatile trend, cold brew coffee is still booming.
I'm inclined to think it's partly due to the approachable flavor profile. The cold brewing method eliminates the acidic flavor that accompanies hot coffee and turns many folks away from the historic beverage. Also, enjoying a coffee in the warmer summer months without feeling like you're sweating from the inside out is a plus.
Q: Is cold brew stronger than regular coffee?
A: Cold brew uses a higher ratio of coffee to water than hot coffee — 4:1 or 6:1 versus the 15:1 to 17:1. At the end of the brewing process, yes, cold brew will be more caffeinated per ounce. But with that 4:1 ratio, you'll brew a concentrate that you'll want to dilute significantly with water, milk, or creamer, otherwise, you risk buzzing the bee all day and then crashing.
Q: How do you make cold brew coffee at home?
A: The whole process is a breeze, no matter which brew method you chose. Making cold brew coffee involves steeping the grounds in the fridge for up to 16 hours.
There are plenty of cold brew coffee makers on the market, but at home, a mason jar and cheesecloth work just as well.
You can also use a French press: add coarsely ground coffee, add water, stir, and then place in the fridge. Or a decanter and a reusable filter. Or a pitcher and a coffee pod. Once the steeping period is over, remove the pouch or strain grounds, and store in the fridge for up to 2 weeks.
The cold brew coffee ratio I live by is a 4:1 ratio. That's 4 cups of water to 1 cup of coffee grounds steeped for 12 hours. But making cold brew at home gives you the freedom to experiment with different ratios, brew times, or even diluting the cold brew with ice or creamer if it's too strong.
Q: Does cold brew keep you awake?
A: In my experience, yes. But that's not true across the board. I tend to stop drinking caffeine by 11 a.m., or else I won't get to sleep until after midnight.
Caffeine metabolizes differently from person to person, and that's no different whether hot or cold coffee. Some folks can have a cup of coffee after dessert and sleep soundly.
Q: Do you need special coffee for cold brew?
A: No. Contrary to most beliefs, you can use any kind of coffee bean to make cold brew — or any kind of brew, for that matter.
What discerns the beans in different brew methods is the grind. Proper cold brew uses coarsely ground beans. Steeping beans that are too finely ground results in either coffee sludge, gritty coffee, or both.
Q: Do you steep cold brew in the fridge?
A: Cold brew typically steeps in the fridge for up to 24 hours or overnight, but some cold brew coffee recipes advise steeping on the counter
Sources:
Frequently Asked Questions – HighBrewCoffee
Sign Up Now
GET THE VERY BEST OF GEARHUNGRY STRAIGHT TO YOUR INBOX