Best Pocket & Folding Knives in 2022: Rugged-Ready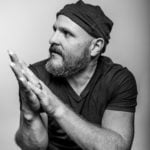 This product guide was written by Andrew Marshall
Last Updated
January 14, 2021
Andrew Marshall
Andrew Marshall is a writer, painter, photographer, and filmmaker. He primarily writes about the outdoors, though like most writers he's interested in just about everything. Andrew is a long-distance athlete with a passion for running and walking up and down mountains. Born and raised in the southeast, he now lives high in the Sierra Nevada with his wife and a freakishly large orange cat.
GearHungry may earn a small commission from affiliate links in this article.
Learn more
A  knife is one of the most useful items we can think of — and the best pocket and folding knives will last you a lifetime and beyond.
But how to choose the top pocket knives from amongst all the contenders the internet has to offer? We've got you covered. This Buyer's Guide will walk you through the features and designs shared by most of the top folding knives and provide you with a well-rounded selection from which to choose. And if you can't find what you are looking for here, at least this guide helped you get an idea of what you need.
So let's dig in. Your grandpappy will be proud!
The Best Pocket & Folding Knife
Smith & Wesson Extreme Ops Pocket & Folding Knife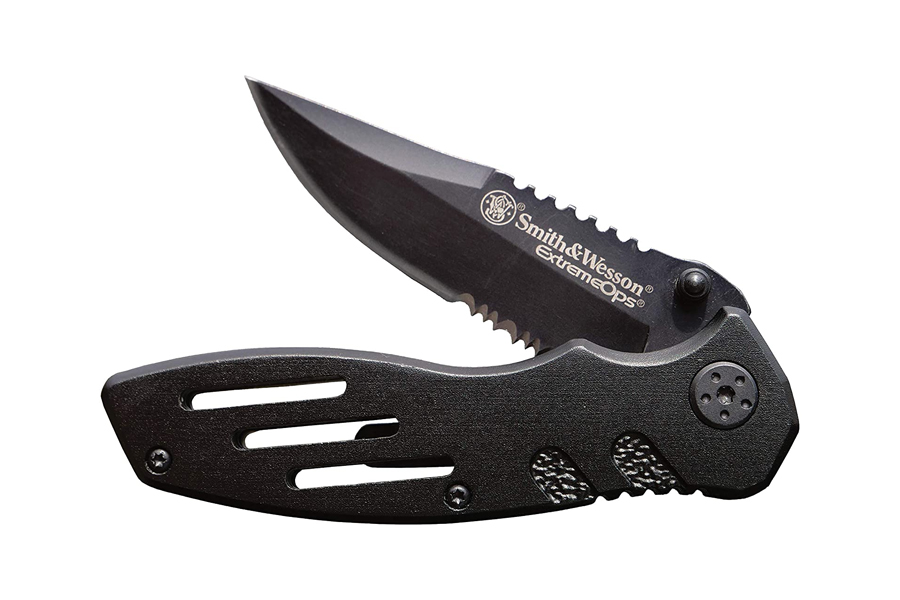 You've probably heard of Smith & Wesson — the venerable firearms manufacturer has been around for over 150 years. If you didn't know they also make affordable, high-quality pocket knives, well — now you do!
We love the classic black styling on this thing. The clip-point blade is made of black oxide high-carbon stainless steel for a sharp edge that doesn't reflect light. The black aluminum handle is sturdy but light and features ergonomic shaping for comfortable use. Cutouts in the handle further lighten the overall weight, bringing the entire knife into the 3.5 oz range — not bad for a knife with a 3.1-inch blade and an overall length of 7.1 inches. The blade is serrated at the bottom third. A pocket clip, liner lock, and ambidextrous thumb knobs round out the feature set and make deployment a snap.
For more quality blades like this, check out our selection of the best keychain knives.
Key Features:
All-black styling
Clip-point blade and liner lock
Aluminum and steel construction
Specification:
Brand

Smith & Wesson

Model

SWA24S

Weight

2.4 ounces
RoverTac Multitool Pocket & Folding Knife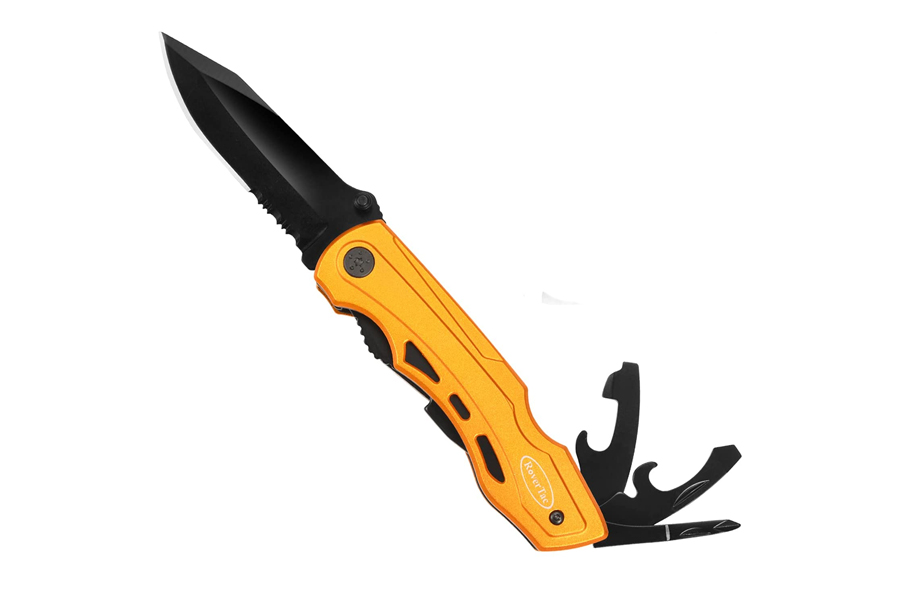 The pocket knife tool on a lot of multi-tools is often an afterthought–hard to get at, small, and often without a locking feature. But makers of top pocket knives know that a sturdy, well-thought-out blade is a must. RoverTac brings the A-game with this unique take on a multi-tool. They use a design that puts the knife blade first but still includes all the handy utility you want in a multi-tool — including can opener, bottle opener, wire cutter, pliers, Philips screwdriver, slotted screwdriver, Torx bit, and more! And like most multi-tools, it even ships with a ballistic nylon pouch for easy belt storage.
RoverTac Multitool Pocket & Folding Knife blade is stainless steel and features a clip-point design and serration on the lower third near the handle. A locking mechanism keeps the blade in place, which is a good thing considering to what uses you'll likely put this folding knife. On top of all that, we are big fans of the gold/yellow handle. This author has lost several neutral-colored pocket knives in the dim light of the woods, so having such a bright handle is a real win from a usefulness perspective–and it shows that these designers are considering the needs of users in the field.
Key Features:
A pocket knife with a multi-tool utility
The bright gold handle makes it easy to see in dim light
Black semi-serrated stainless steel clip point blade
Specification:
Brand

RoverTac

Weight

12 ounces
Grand Way Military Style Pocket & Folding Knife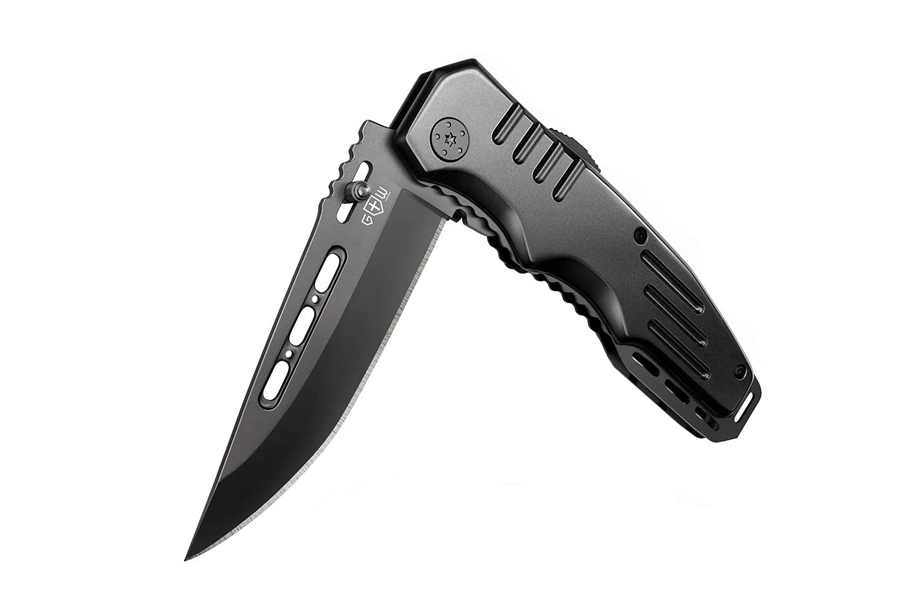 A 3.42-inch, non-serrated drop-point blade is one of the most useful items you can include in your EDC kit. And if that knife is spring-assisted — even better! Grand Way provides just such a knife here, and the result is an EDC pocket knife that will handle everything you throw at it. Thumb studs and a liner lock add to the usefulness, as does the fact that if the spring wears out, you can still open and close this EDC knife just as you would a non-assisted model.
The black blade is made of 440 C stainless steel — a very common option for knives because it is durable, corrosion-resistant,  inexpensive, and easy to sharpen. If you are looking for a good all-around option that provides plenty of utility and durability, Grand Way Military Style Pocket & Folding Knife is a good choice. It even comes with an ebook full of survival skills and lifehacks.
Key Features:
3.42-inch, non-serrated drop-point blade
Spring assist opening
Included ebook full of survival tips
Specification:
Brand

Grand Way

Weight

4.8 ounces
Columbia River Knife & Tool Compact Pocket & Folding Knife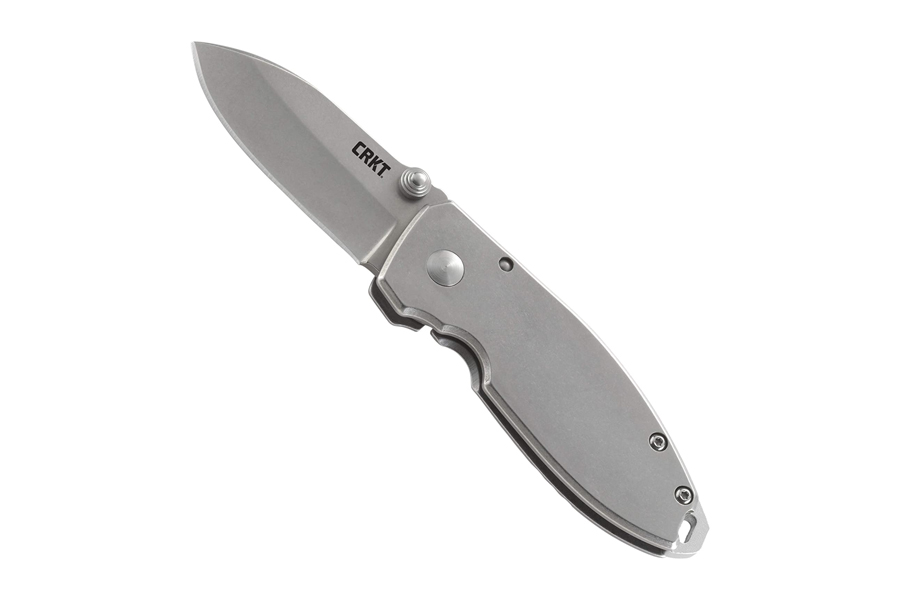 If you like a clean, minimal look in your belongings, check out this top-rated pocket knife. There isn't much to talk about with this option from Columbia River Knife and Tool, which is the whole point — this knife is made to be unobtrusive until you need it. Columbia River Knife & Tool Compact Pocket & Folding Knife was designed in Bend, Oregon, a famous outdoor destination.
Friction grooves on the bottom of the drop-point blade assist with grip, while a thumb stud and low-profile pocket clip provide utility. We love the stonewash finish–not only is it clean and classic, but it resists corrosion as well. The non-serrated blade is good for all kinds of tasks, and the entire package comes in at just 3.5 ounces. There's also a lanyard hole for attaching this knife to a fob, keychain, or anything else you want to string it to. The blade length is 2.15 inches — about an inch shorter than many of the so-called tactical knives you occasionally see. And if you don't like the silver finish, check out the black version.
Key Features:
Non-serrated 2.15-inch drop-point blade
Lanyard hole, thumb stud, and friction grooves
Designed in Bend, Oregon
Specification:
Brand

Columbia River Knife & Tool

Weight

3.5 ounces
Leatherman Free K2 Pocket & Folding Knife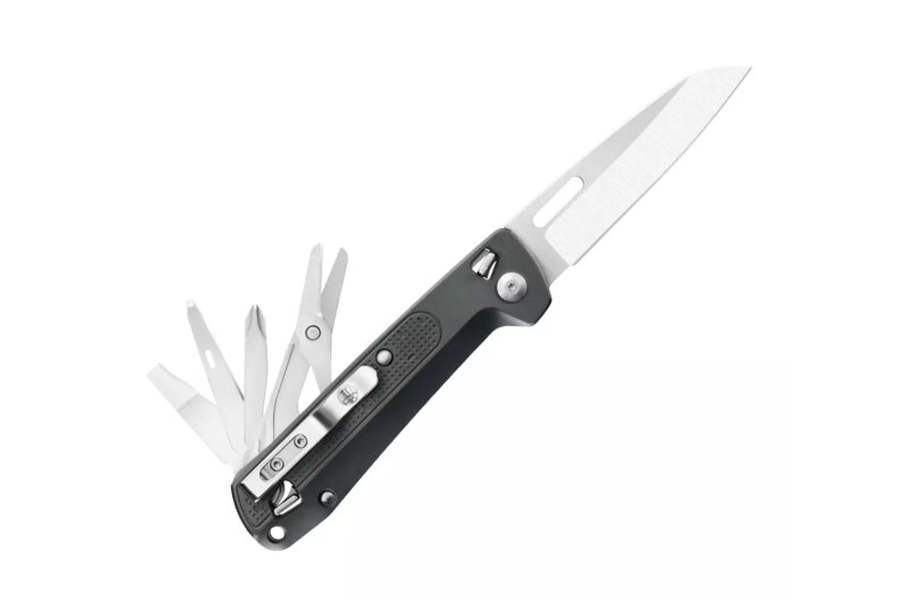 If there's a more iconic multi-tool brand than Leatherman, we invite you to fill us in. In the meantime, we'll be over here drooling over the Leatherman Free K2 — another entry into the knife/multi-tool crossover category. It might be one of the more expensive items on our list, but this top pocket knife is top for a reason. The non-serrated blade features magnetic locking and a smooth, good-looking 3.3-inch drop-point blade design. That's a good-sized blade for a folding knife, and an upshot is a tool that weighs nearly five ounces and measures 4.5 inches when closed.
Included in Leatherman Free K2 Pocket & Folding Knife are a pry tool, package opener, awl, bottle opener, Phillips screwdriver, medium screwdriver, and extra-small screwdriver. A removable pocket-clip and one-handed access to all the tools make this pocket knife especially useful. Bonus points: this Leatherman tool was made in Portland, Oregon, and has a 25-year warranty.
Key Features:
3.3-inch drop-point non-serrated blade
Seven additional tools
25-year warranty, made in the USA
Specification:
Brand

Leatherman

Model

832656

Weight

4.9 ounces
Benchmade Mini Griptilian Pocket & Folding Knife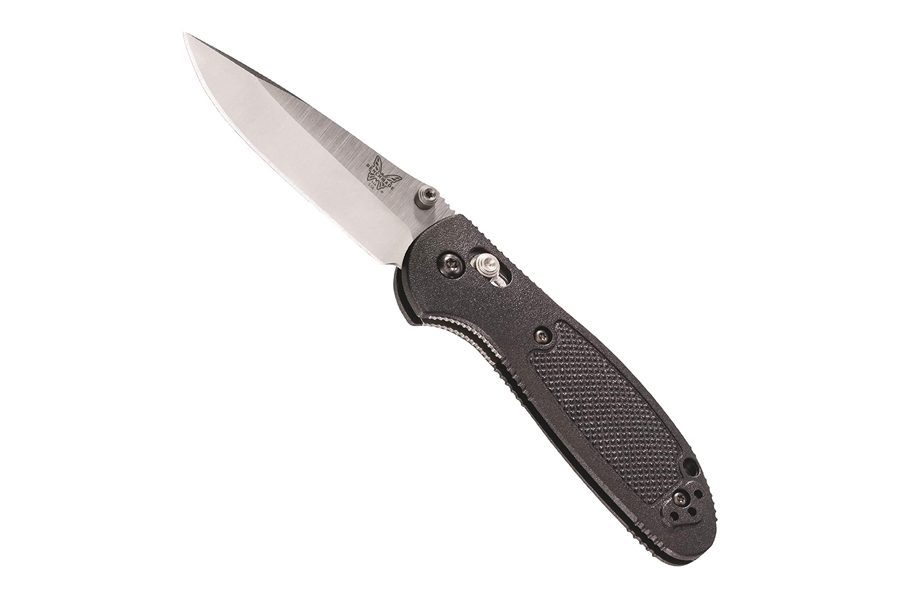 Benchmade is practically a household name among serious knife aficionados. It's no wonder — they make all their blades in America and focus on functional, stylish designs. On top of that, every Benchmade pocket knife features a limited lifetime warranty and lifetime knife sharpening service. Nice!
Take this Benchmade Mini Griptilian Pocket & Folding Knife. It has a plain edge and a satin finish, with a black nylon handle and a 2.9-inch drop-point blade. Simple. Useful. Hard to beat. The blade is made from 154CM steel for edge retention, and the textured handle is easy to grip even when things get slippery. The axis locking mechanism and thumb knob make opening and closing a breeze, and we always like a lanyard hole because it opens up your carrying options.
Key Features:
2.9-inch drop-point non-serrated blade
Made in the USA
Features Benchmade's limited lifetime warranty and lifetime knife sharpening service
Specification:
Brand

Benchmade

Weight

0.3 pounds
Kershaw Chive Pocket & Folding Knife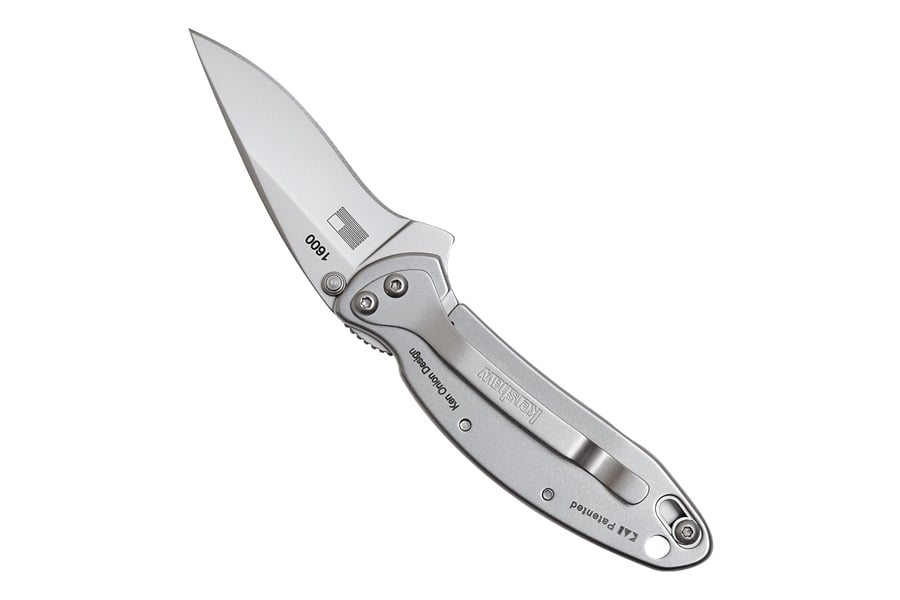 A good pocket knife needs to be rugged, dependable, and easy to use. The Kershaw Chive Pocket & Folding Knife doesn't disappoint. Kershaw has been making knives since 1974 and put all of that expertise to use in this deceptively simple drop-bladed, all stainless-steel example.
The 1.9-inch blade is made of 420HC steel and features a stone-washed finish. The handle is also stainless steel as well and has all of the durability you'd expect from that material. Kershaw's SpeedSafe assisted opening, a frame lock, and a Tip-lock slider round out the features. That isn't much, but you don't need much, do you — you just need a knife that does the job and looks good doing it.
Our guide to the top gentleman's knives offers more handy blades like this, so take a moment to check them out. 
Key Features:
Stainless steel blade and handle
Bead-blasted finish and 1.9-inch drop-blade design
SpeedSafe opening, frame lock, and tip-lock slider
Specification:
Brand

Kershaw

Weight

0.11 pounds
Opinel No.08 Pocket & Folding Knife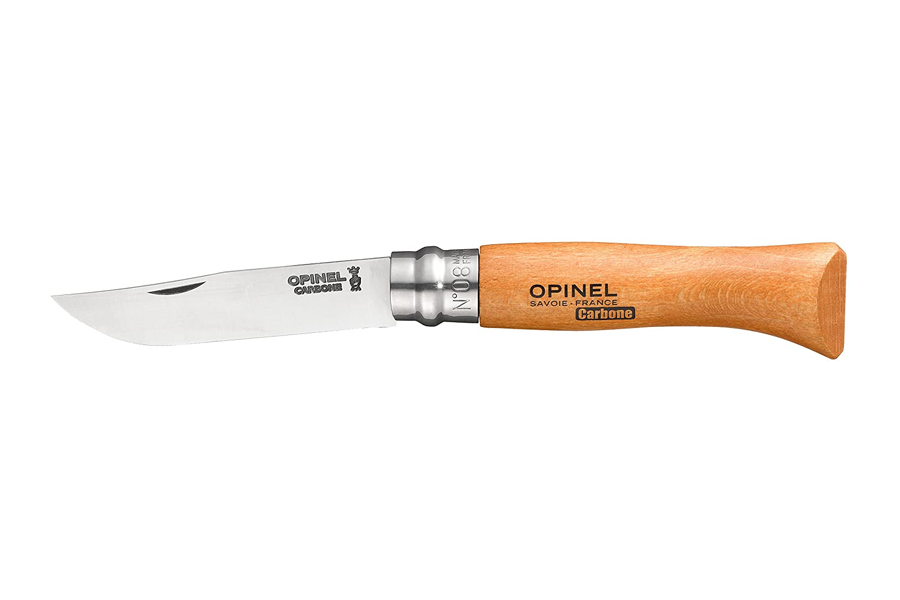 The Opinel No. 08 Pocket & Folding Knife is one of the more unique options on our list, and for that reason alone is worth a serious look. Opinel is a French company that has been making pocketknives since the 1890s, and the No.08 carries that tradition forward with a beechwood handle, classic drop-point design, and a sliding locking mechanism.
The knife is 4.25 inches when closed, 7.5 inches when fully extended, and features a 3.25-inch blade. That's the perfect size for the outdoorsman with a sense of style. Ignore the tacky faux-military options elsewhere in our list, and embrace understated and earthy elegance.
Outdoor adventures will love some of these cool camping knives from our list, as well.
Key Features:
Essentially an unchanged design since 1890
Sliding safety ring locking mechanism
Beechwood handle and carbon steel 3.25-inch blade
Specification:
Brand

Opinel

Model

2540089

Weight

1.6 ounces
Spyderco Para 3 Pocket & Folding Knife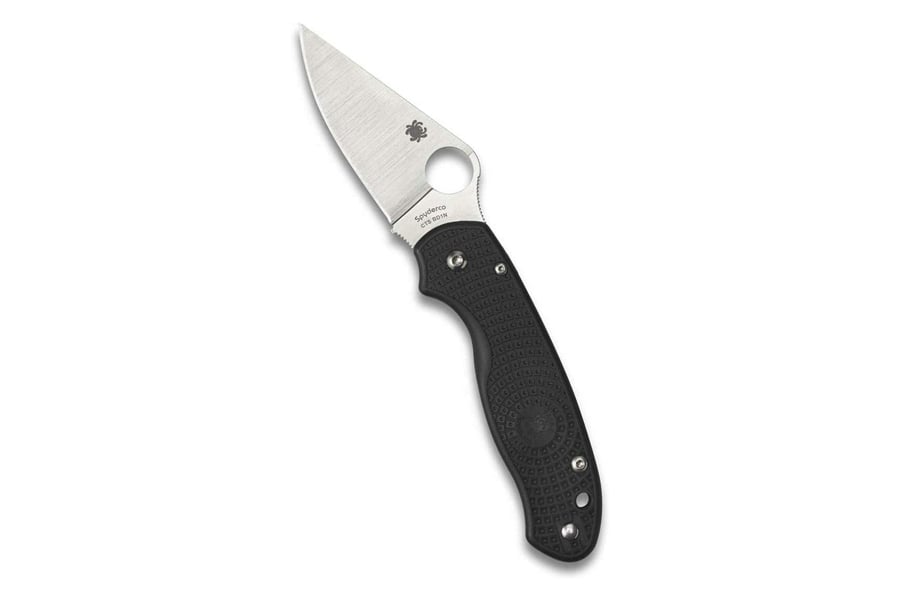 Spyderco is another famous knife brand, represented here by the Para 3. Spyderco knives are known for their signature shape and the round hole near the base of the blade, and the Para 3 has these features of course. But it also features a blade made from CTS BD1N, nitrogen-enriched high-carbon steel for a superior blend of edge retention and durability.
The 2.9 inch-blade nestles comfortably into the fiberglass-reinforced nylon handle, and the whole thing has a low profile for comfortable pocket wear. A compression lock on the handle's spine keeps things open during use, but also allows you to close the blade one-handed–something liner locks just can't say. Spyderco Para 3 Pocket & Folding Knife is pricy, we know. But Spiderco's reputation is well deserved. If you are looking for a knife that won't let you down and is small enough to carry everywhere, look no further.
Key Features:
Signature Spyderco blade design
2.9-inch blade
Fiberglass-reinforced nylon handle with compression lock
Specification:
Brand

Spyderco

Model

C223PBK

Weight

2.6 ounces
Albatros Multi-Tool Pocket & Folding Knife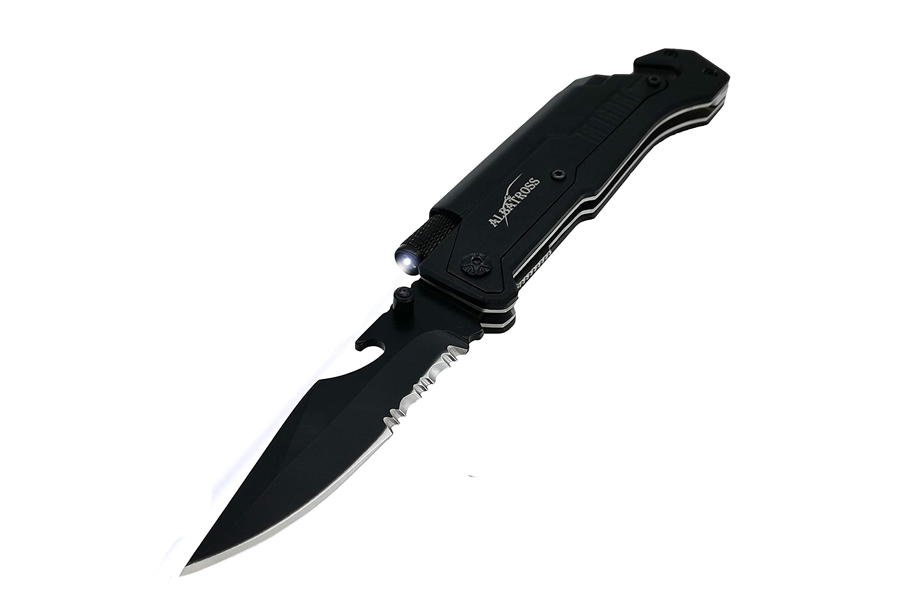 This option from Albatros goes beyond multi-tool into the realm of survival knife! Not many multi-tools have a magnesium firestarter and a waterproof LED flashlight, but this one does! It also has a hammer tail for bashing out windows if you get caught in your car, as well as a seatbelt cutter to assist in quick vehicle escape. You also get a bottle opener, pocket clip, carrying case, and a range of colors to choose from.
The blade itself is 3.5 inches long, with a combo smooth and serrated design for maximum versatility. Albatros Multi-Tool Pocket & Folding Knife is a great survival gift, and it's inexpensive to boot!
Key Features:
Survival tool features including magnesium fire starter and waterproof LED flashlight
Car escape tools
3.5-inch steel blade
Specification:
Brand

Albatros

Weight

5.29 ounces
Pocket & Folding Knife Buying Guide
Why You Can Trust Us
I've been carrying around pocketknives my whole life, and as an expert in the outdoor industry, I certainly have some opinions on them.
Who This Guide Is For
This roundup is by no means comprehensive, and it tends to run on the cheaper side of things. If you are on a budget, this guide is for you.
How We Picked
We created a list of folding and pocket knives from reputable makers and with laudably high ratings on Amazon. We then applied various criteria to that list. This allowed us to whittle our selection down to items that met a high threshold in customer review count and consistently received the highest ratings from verified buyers.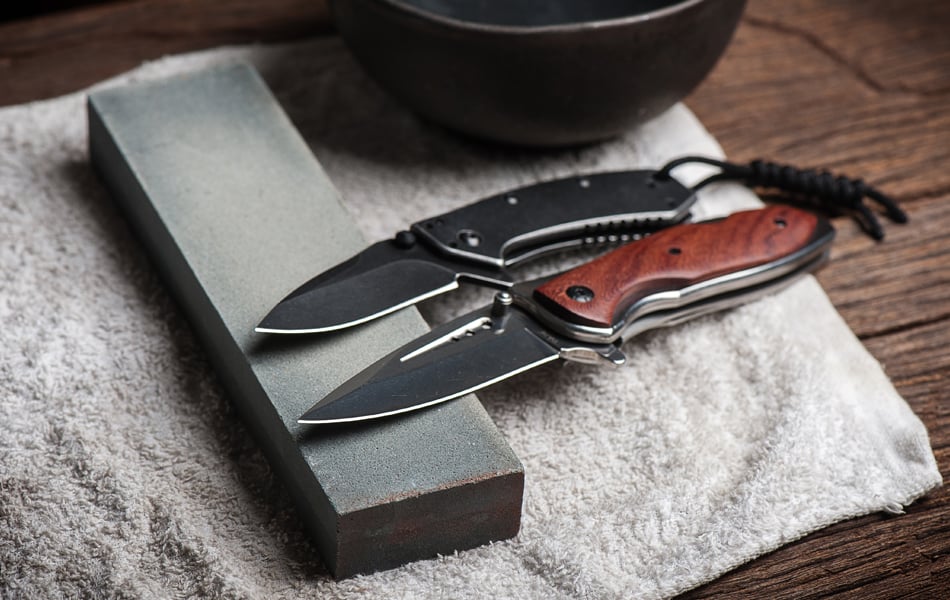 Features To Look For In Pocket & Folding Knives
Fixed or Folding Blade - You clicked on a Buyer's Guide for folding knives, so we assume you are here for a reason. But just in case you were wondering, there is a difference in use cases and features between fixed and folding blade knives.
Folding blades are convenient and easy to store in a pocket but often aren't as sturdy as fixed blade knives by dint of their foldable design. Anything that can fold can break! You certainly don't want to use a foldable knife for some of the more hardcore camp chores you see bushcrafters using fixed blade knives for.
Blade Type - Nine of the ten pocket and folding knives in our guide are drop point blades. This type of blade is durable and multi-functional and holds it's edge well.
Clip-point blades are, for lack of a better word, a little more pointy and are better at penetration. You often see clip-point blades on hunting knives and other specialized tools. Clip-point blades are a bit more susceptible to tip breakage than drop-point blades are.
Size - The size of the knife you buy should correlate with your projected use case and personal preference. Some people like large-bladed knives or need large-bladed knives to accomplish the tasks they do on a daily basis. For the rest of us, a pocket knife with a blade three inches or under will probably suffice! Remember that the larger your knife is, the less comfortable it will be inside your pocket. Larger pocket and folding knives tend to come with clips so you can wear them on the outside of your jeans.
Ergonomics - Some of the more tactical knives in our Buyer's Guide feature ergonomically molded handles to facilitate better grip. Chances are you'll never be using your pocket knife to, say, skin a rabbit, but on the off chance that it's raining outside and you need to open a box, an ergonomic grip can be of some use.
Materials - Pocket and folding knife handle come in a variety of materials, but reinforced nylon, resin, stainless steel, and wood are the most common. All of these materials have pros and cons–for instance, steel is very durable but not as easy to grip as resin or wood.
Blade materials vary from manufacture to manufacturer, but almost all are some kind of steel. A softer steel is incredibly sharp but loses its edge quickly, whereas harder steel isn't quite as razor-sharp but holds a better edge. Make sure and buy a knife made of materials that match your needs!
Blade Locks - Blade locks are one of the most important features of a folding or pocket knife. Blade locks keep your fingers nice and safe and come in a variety of styles, with liner locks being the most common. A liner lock is a piece of metal that displaces when opening the knife and keeps the blade from closing. To close the knife, simply push the metal back into place and close the blade.
More sophisticated locks sometimes feature springs, pressure mechanisms, or magnets.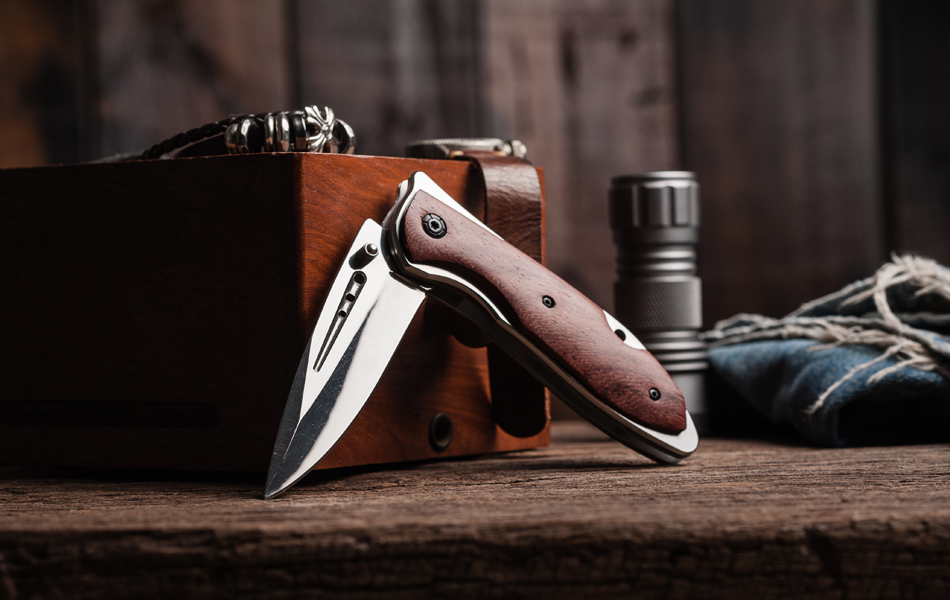 Pocket & Folding Knife FAQ
Q: Is it illegal to carry a pocket knife?
A: This is a broad question and largely depends on your country, state, and individual location. The best thing to do is research your state and county regulations to see what types of knives (and what sizes) are legal.
That said, it's almost always illegal to carry a pocket knife in federal, state, and county buildings, as well as in schools or at concert venues and in other public locations where large crowds and alcohol mingle. And, of course, it's illegal to carry a pocket knife on an airplane.
Again, research is your friend here. Don't risk having your tool thrown away because you were ignorant of the laws.
Q: Is a pocket knife considered a concealed weapon?
A: See above. The general answer is no — if you can fit a pocket knife inside your pocket, it's generally not considered a concealed weapon. But there are certain instances where a knife will be taken from you if you try to enter the building, no matter how large or small it is. Do research, read signs, and always know the laws of the places you are headed.
Q: Why should I carry a pocket folding knife?
A: There are lots of reasons to carry a pocket knife! There are few pleasures more visceral than being the guy who has the right tool for the job, and things always need opening. There was a time when every man in America carried a knife in his pocket, so adopting the practice puts you in good company. Like the Boy Scouts say, always be prepared!
Sources
State Knife Laws – American Knife & Tool Institute
Sign Up Now
GET THE VERY BEST OF GEARHUNGRY STRAIGHT TO YOUR INBOX