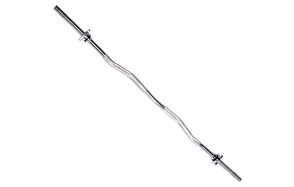 CAP Barbell Standard EZ Curl Bar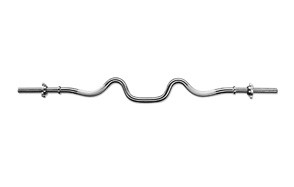 Marcy Triceps and Biceps Combo Curl Bar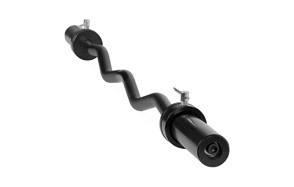 CAP Barbell Olympic EZ Curl Bar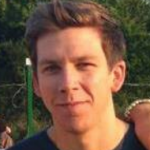 Investing in the best curl bars for your home gym is a superb way to maximize your workout potential and target muscle groups that are more difficult to focus on with a regular barbell. Unlike traditional bars, the ergonomic design is more comfortable on the hands and with the always-welcomes knurled grip, they are also secure and safe to use, even for beginners.
Often referred to as EZ curl bars, we can't think of anybody who wouldn't benefit from introducing this gym equipment into your workout. Whether you want to build your biceps, tone your triceps, or smash squat sessions, along with plenty of other possibilities to explore the curl bar is one of the best ways to hit your fitness goals.
The Best Curl Bar
Curl Bar Buying Guide & FAQ
How We Chose Our Selection Of Curl Bars
We want to make sure we only pick the best products available, but this isn't as easy as just choosing anything we find. To guarantee we bring you the right options for all needs, budgets, and experience levels we use our tried and tested selection method.
Brand  - Brands are your first point of contact when purchasing anything and they give you a great idea of how good something is immediately. We don't like picking any brand though, so we always ensure we've selected excellent brands with a great reputation which coincides with reliable products.
Price - As the years have progressed, home gym equipment has become more affordable and therefore more accessible for those who don't want to go to the gym every day after work. This is great news by itself, but it also means that anyone regardless of their budget can find the perfect option to suit their financial allowances. We believe everybody should have the chance to get in shape, and our price selection reflects that.
Reviews - Reviews are the best way for unsure potential customers to decide which product is the right one for them, and they are a superb resource for us when we make our selection. Through these reviews, we're able to identify the good and the bad and focus on what are the most important aspects to look out for.

Features To Look For In Curl Bars
Before deciding which curl bar is the perfect addition to your home gym, check out these essential features to consider to ensure you're getting the right one for your needs.
Capacity - The maximum weight capacity is always an important thing to think about, but you don't need to go for the largest capacity just because you can. Instead, think about your current strength and consider how heavy you want to build up to, at least at first. If you get to a point where you can lift the maximum weight too easily, only then should you look at buying a tougher curl bar.
Olympic vs. Standard - Choosing between OIympic or Standard sizes depends on the size of your existing curl bar weight you may already own. If you've previously only used the 1" standard weights, then look for a bar with 1" sleeves. If you have an abundance of 2" Olympic weights, then an Olympic bar is the best bet. Choosing the wrong size means you will have to go through the hassle of returning it or need to invest in a host of new weight sizes.
Knurling - A knurled grip is the pattern on the handles of your curl bar which make it easier to hold and prevent it slipping from your hands, especially when tackling heavier weights than you've ever tried before. This knurling is essential for ensuring safety and helps offers further support when doing your exercises. Bars with knurling all the way across may also be something to think about, as this gives you more variety of hand positions.
Angles - While the angles on curl bars are mostly the same, there is a slight variation between different brands. Better wrist comfort is one of the main reasons to buy a curl bar over a straight barbell, but depending on your needs, you may not need angles that are too pronounced. Knowing this, it might be worth checking out the curl bars at your local gym (if possible) to get an idea of which angles suit you.
Finish - Curl bars are all constructed using a solid steel bar, and this gives them the strength to handle a lot of weight. However, the steel only does half the job. The finish, whether it's chrome or matte black, protect the bar from corrosion and chipping, especially if you accidentally drop the bar as you aim for your personal best lift.
Curl Bar FAQ
Q: What are curl bars?
A: Curl bars are solid steel weight bars measuring about 4 feet long with either Olympic or Standard sleeves to accommodate different weights. Immediately, those unfamiliar with curl bars will notice they do not look the same as other weight bars you are used to seeing at the gym.
Unlike regular bars, which are straight from end to end, curl bars have a W shape in between the sleeves and collars. This alternate design makes it more comfortable on your hands and wrists which allows you to focus better on the workout.
Q: Is a curl bar better than dumbbells?
A: Both curl bars and dumbbells have their benefits, but is one really better than the other? Here is a quick guide to the differences between the two.
Benefits of Curl Bars
Ergonomic
Great for working with heavier weights
Allows even workout for both arms
More stability
Benefits of Dumbbells
More hand position options
Wider exercise variety
Ideal for targeting weaker muscles on different arms
Easier to store
These points show that you can't say that one is better than the other. Instead, it depends on what workout you are aiming for. If you want to perform chest flies, a curl bar is not suitable. However, bicep curls or even a tricep extension will be more effective with a curl bar. Other exercises such as squats or deadlifts, among similar lower body exercises can be done with either curl bars or dumbbells.
Q: How long is a curl bar?
A: We always love it when industries have some consistency in their equipment, and curl bars are one of those things where you (mostly) don't need to worry about which size is the right one for you. Curl bars both Olympic and Standard are 47 inches long most of the time. Although, you may come across some which are 52 inches long, but this is rare.
Sources:
Best Exercise You Can Do With A Curl Bar - Garage Gym Builder
The Weight of an Olympic Easy Curl Bar - Livestrong
Difference Between a Curl Bar and a Dumbbell - Sports Rec