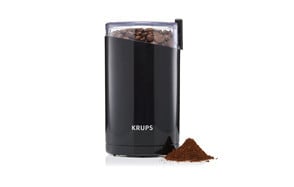 Krups Electric Coffee And Spice Grinder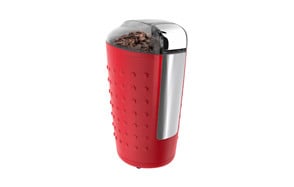 Vremi Blade Small Coffee Grinder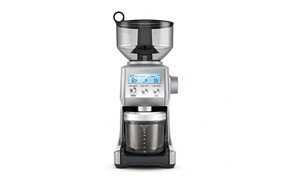 Breville Smart Grinder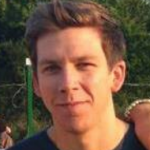 We're coffee enthusiasts—aren't we all? Everybody loves a great cup of coffee, but seldom do we want to go the extra mile and do everything in our power to make that happen. That's why the single-serve coffee industry will always be booming; the cost of convenience. If you're looking to get perfect coffee without ever having to leave the house, you've come to the right place. It all starts with the grinds, so let's walk through the best coffee grinders available to you on the market today.
The Best Coffee Grinder
Coffee Grinder Buyer's Guide
If you're a coffee enthusiast, then this is simply something you have to have in your kitchen. There's no second-guessing it—you want fresh-ground coffee, and you want it to be absolutely perfect. There are a few different features that make grinders tick. We've asked ourselves all the same questions that you'll need to know when hunting down your next kitchen coffee grinder.

Q: Does Price Play Into Quality?
A: Some of the most durable coffee grinders out there are the inexpensive models. You don't have to dish out a whole lot of money on your grinder to get a good one. The biggest thing you want to pay attention to is the grinding feature itself: how are your coffee beans ground? If you love coffee, then you already know that grind size and coarseness play into the flavor of your coffee (and the strength), and depending on which grinding method your new coffee grinder uses, you'll get a different experience.
Q: How Often Should Coffee Grinders Be Cleaned?
A: If you've never watched oil and water attempt to mix, then you've never seen the process of coffee being brewed. Coffee is naturally oily, some might even say greasy. Coffee beans leave a distinct slick oil on your fingertips if you were to knead a coffee bean. Any plastic components of your grinder (plastic is also an oil) can get very greasy, very quickly. You'll want to clean out your grinder once a week, or at least after every third use if it's not a daily ritual for you.
I Want A Grinder Specifically For Espresso
Your grinder isn't prejudice. Espresso beans and coffee beans are virtually the same things, especially when they go through a grinder. You'll just have to pay attention to the coarseness of the grinds to ensure that they'll actually make a great espresso. You want a superfine or powdery consistency. Coffee beans, espresso beans—it's all the same to your grinder.
Q: How Long Do You Grind Coffee Beans?
A: To answer it simply, between eight to ten seconds. Any longer and you're making espresso grinds. Espresso grinds are usually ground for twelve to fifteen seconds, or longer. When you're grinding for espresso, you're going for a medium to fine, powdery type of grind. This is going to allow pressurized, hot water (which is in your espresso machine) to better flow through the grinds, and give you a finer coffee flavor.
Q: Do Your Grind Sizes Work Differently on Different Coffee Machines?
A: There are a thousand different ways to brew your cup of coffee. If you're using a French press, you want coarse coffee. This is what's going to give it that Earthy, rugged flavor. As you progress from ultra coarse to super fine, you're going from French press to standard drip coffee maker (think any Mr. Coffee or Hamilton Beach coffee pot maker), right on down the line to espresso. The finer the grind, the high-caliber your machine should be. A simple rule of thumb.
Q: Blade or Conical Shaped Burrs?
A: This directly affects your coffee coarseness (which we will get into in a minute). Conical burrs are more machine-like and will give a uniformity to your coffee grinds. This is going to allow you to control your grind quality and size, while a blade burr is basically a big propeller in a tunnel. It chops up what comes through it, but if it comes through at different speeds, you're looking at an inconsistent chop to your coffee beans.
Q: What Is The Difference Between Steel And Ceramic Burrs?
A: There's far less of a difference than you may think. Whether you're using a steel or ceramic burr, you're going to get a similar taste within a fraction of a difference. Steel burrs leave your grinds smaller—not small enough to leak through your filter (if you're using a reusable filter that is), but it makes your grinds finer. Ceramic burs give you a more textured feel to your grinds. Now, why does this matter?
Our writer here managed coffee shops for five years. There was something of a quality assurance test on grinds, where you would use the perfect sample of grinds and compare them to how your machines were performing. The perfect coarseness of the grinds ensured that you got a full-bodied flavor without it tasting watery. If the grinds are too fine, you get a slightly thinner taste (weird way to explain it, but we've all received a single-serve cup of coffee that tastes watery). If you're up-to-date on your equipment, you won't have to worry about this. It also depends on taste preference. Generally, espresso uses finer, powdery grinds, while coffee will use coarser grinds.

Q: Can You Grind Spices In A Coffee Grinder?
A: You absolutely can, but you should be wary of a few things. If you want to grind up cinnamon sticks or perhaps dried, fresh herbs, you're going to flavor your grinder, which can be a pain when it comes time to actually grind coffee beans in the future. It can flavor your coffee, and while a little hint of cinnamon never hurt anyone, (it's actually quite good in a latte), getting the taste of basil or thyme may not be the best taste.
If you're hell-bent on using this as an all-purpose grinder anyway, here's what you should do after each and every use. This also applies to when you use it for coffee, because, in reverse, nobody wants coffee-flavored herbs.
Remove All Parts – Sounds simple, right? You want to pay close attention to your model, and how the blade goes back on. If you put this on backwards, or it's not balanced properly, you can turn on the grinder in the future, and the whole thing can discombobulate itself in an instant. If you didn't break the thing, you'll have to disassemble it and start from scratch. If it helps, take photos at each stage and reverse engineer yourself back to a clean, rebuilt model when you're done.
White Distilled Vinegar Soak – Nothing flavors worse than vinegar, right? White distilled vinegar is the top choice of those looking to clean and sanitize their homes, primarily in the kitchen, and who are also looking to avoid the use of harmful or harsh chemicals. When you're holding the steel blade to your grinder, the last thing you want to do is expose it to chemicals that can cause rust, or worse—bleed into your coffee or spices, which essentially poisons you ever so slightly. Soak the parts in white distilled vinegar (the non-electric ones), and you'll have them clean in no time.
Reassembly – As stated before, take some photographs to ensure that you're putting this back together properly. You can use your coffee grinder to grind spices. If it's against the manufacturer's policy in the handbook that you'll receive with your grinder, (and they will be against it), it could void the warranty. We're saying that you can, not that you should. Reassemble properly, and be sure to clear your grinder after every use if you're going to make it an all-purpose.