Break the Tension With the Best Breaker Bars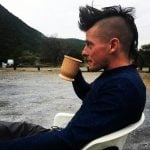 This product guide was written by Sam Anderson
Last Updated
May 24, 2021
Sam Anderson
Sam Anderson has followed a passion for well-told stories and nature's beauty from university classrooms to mountain adventures. After earning a bachelor's degree in literature, he leaned into a life fueled by road tripping, rock climbing, coffee and beer, and renegade camping. He has worked as a chainsaw operator, house carpenter, and window cleaner, at one point running his own window cleaning business. He has finally settled with his girlfriend and small zoo in the western American desert, trading his tool belt for a keyboard.
GearHungry may earn a small commission from affiliate links in this article.
Learn more
A breaker bar is an extremely simple tool: a steel rod with a square socket drive on a rotating head. That's it. The only thing it's supposed to do is loosen (or, more rarely, tighten) nuts and bolts. Though humble, a good breaker bar is necessary to any mechanic or tinkerer's tool kit.
The way to find the best breaker bar is to assess the situation: how much extra leverage do you need? What size is the fastener you need to loosen? How much work area do you have and what is that area shaped like? All these considerations can help you decide on the best breaker bar for you.
Our product guide includes years of testing experience, including one tool tested for over three decades (no kidding), and examines various breaker bars across different build styles to help you unstick the most stubborn stuck screws.
The Best Breaker Bar Review
Neiko 15-Inch 3/8-Inch Drive Breaker Bar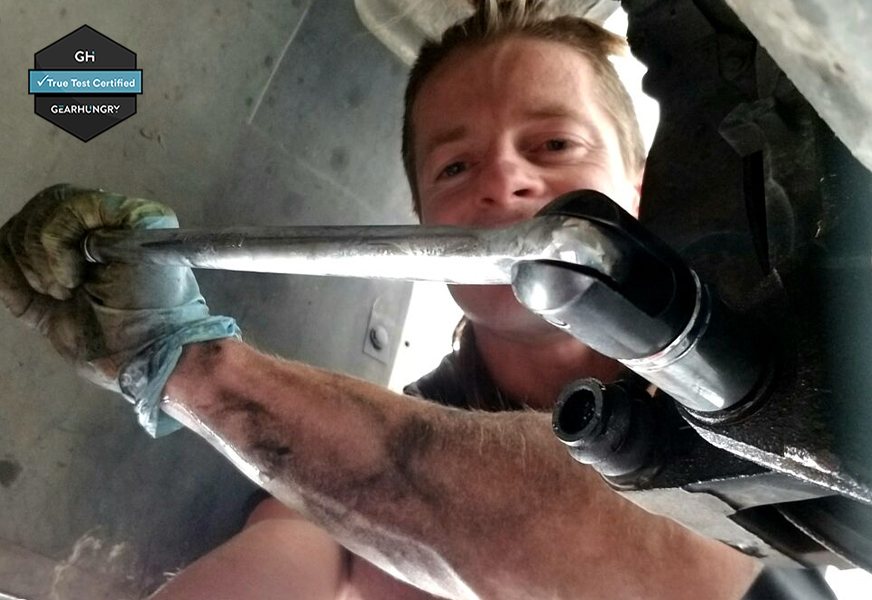 Neiko's 15-inch Cr-V breaker bar features a Cr-Mo head that rotates just past 180-degree. Its 15-inch length was perfect for me — long enough to deliver high leverage but short enough to fit in my tool bag without sticking up like a flagpole. During my review, the Neiko was effective for a highly abrasive truck brake replacement. At its unbeatable price range, I had a hard time arguing against it.
The Neiko's Cr-Mo head is attached to the bar with a spring-loaded joint. In practice, this gave it a bit of play on the short axis, which was helpful for getting a turn started. Instead of instantly putting my entire weight into the bar, the spring helped the head flex slightly when I started pushing, which allowed me to lean into it more smoothly. You can adjust the spring's tension with the Phillips head lynch pin. 
Testing went well; I was tasked to replace brake pads and rotors on my truck. I have no idea how old the existing hardware was; I bought the truck 60,000 miles ago and this was my first brake job. A ton of highway miles and more-than-nominal off-road time had fused the caliper bolts, which felt massively tighter than their 129 ft-lb. specified torque.
With help from aerosol penetrant and a heat gun, I eventually worked each bolt loose with the Neiko. I was happy with its length, which nearly maxed out my wheel well but still allowed me room to work and delivered much-needed torque. I found myself bracing various body parts against the wheel well, scrambling for leverage, but the Neiko breaker bar helped me pull off the job successfully.
Every breaker bar has the same weak point, and I sense the Neiko bar might be easier to break with its spring and threaded fastener at the knuckle. Time will tell. I plan on it being a valuable piece of my tool kit but evaluating whether I should put it on heavier-duty projects as they come along. For now, the Neiko 15-inch, ⅜-inch drive breaker bar is the best breaker bar for the money. Read the in-depth review here. 
Key Features:
Cr-V handle
Cr-Mo head
15" long
Spring-loaded lynch pin
Specification:
Brand

Neiko

Model

00338A

Weight

1.26 pounds

Material

Cr-V, Cr-Mo

Length(s)

12", 15"

Drive(s)

⅜"

Head Rotation

180-degree+
Spring pin helps head flex, introducing gradual pressure
Not too small, not too big
Spring and threaded fastener could make weak point weaker
Craftsman 15-Inch Breaker Bar with 1/2-Inch Drive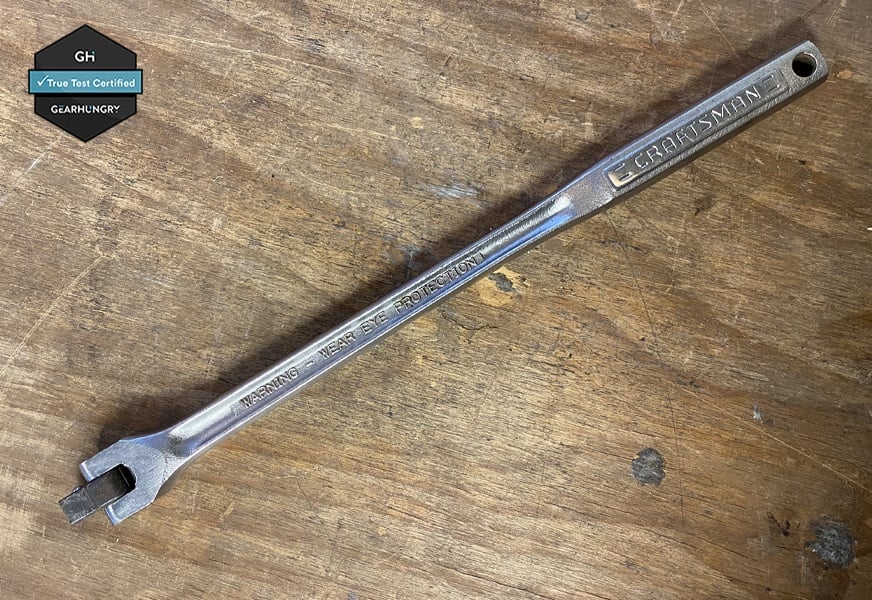 Reviews contributed by other staff writers are usually edited and collated for clarity. But I think you'll see why I elected not to make any changes to this one. Gear Hungry Editor in Chief Seiji Ishii says:
"When I went to my shop to take a picture of this Craftsman ½-inch drive 15-inch breaker bar, I realized that this is one of my oldest functioning tools. I may have gotten it in the '80s in high school! Back then, I need the extra leverage to break sprocket and axle bolts free on an 80-cc two-stroke off-road motorcycle that I was rebuilding.
"The next big step in mechanical adventures was my first car, a Pontiac behemoth with a 350 cubic inch short block that had seen better days. And I needed the breaker bar to bust bolts free with my 140-pound frame.
"More than a dozen cars and countless motorcycles later, the Craftsman breaker bar is still with me, supplying the needed brute force to spin the most stubborn bolts and nuts. This tool is at least 20 years old, and it shows no signs of stopping. No corrosion, no rust, the pivoting head still moves freely, and sockets stay attached. I cannot give a tool a better review than to say I predict I will pass this tool down to my daughter, and hopefully she lets me borrow it."
…That was pretty good, right? Over 3 decades turning nuts and bolts during a lifetime of vehicle abuse (if you met the guy, you would know), seasoned with a little nostalgia and bound to be passed on to the next generation like the family jewels themselves. Maybe the greatest part about a Craftsman tool? The legendary warranty. If his daughter, now 7 years old, ever breaks this rugged artifact, they're certain to send her a brand new one — no questions asked.  
Key Features:
15" length
Textured handle
½" drive
Lifetime warranty
Specification:
Brand

Craftsman

Model

CMMT44201

Weight

1.68 pounds

Material

Chrome-finished steel

Length(s)

10", 15", 18"

Drive(s)

⅜" (10"), ½" (15", 18")

Head Rotation

180-degree
30+ years of successful use by our tester
Incredible warranty support
Will inevitably make any other tool seem inferior
TEKTON 3/4-Inch Drive x 40-Inch Breaker Bar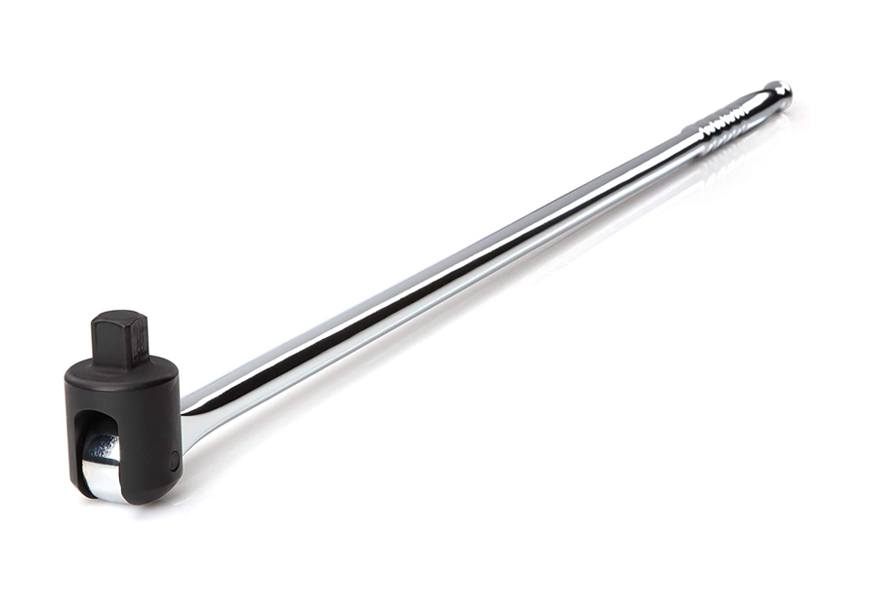 Tecton delivers the goods for the most rugged jobs and most stubborn bolts and nuts. If you work on big rigs, lifted pickups, rally trucks, and the like — or perhaps dune buggies, monster trucks, or submarines — this is the breaker bar for you. At 40 inches long, with a ¾-inch drive, you can stand well clear of whatever you're trying to loosen and heave ho.
A 230-degree pivoting head lets you yard on the tool at a wide variety of angles. The head is also spring-loaded to help you lean into your very long push or pull smoothly. The Cr-V steel handle can be wiped clean easily. A ¾-inch drive is the biggest in the business — as burly as it gets.
The bar comes in various sizes, and it looks like most reports of breakage entail the ⅜" drive. The square drive is susceptible to shearing off where it attaches to the head. We mention the following several times throughout this guide: always err on the side of using a bigger bar and drive size than you think you need. Some people think you can use a ⅜" drive breaker bar for anything, and it's just not true.
For the most tightly lagged, fused, rusted, corroded, heat-expanded, or just plain stubborn fasteners, use Tekton's affordable 40-inch, ¾-inch drive breaker bar. For more essential quality tools, check out our list of the best torque wrenches on the market.
Key Features:
40" length
Spring-loaded head
Various large sizes available
Specification:
Brand

TEKTON

Model

SBH00340

Weight

8.46 pounds

Material

Corrosion-resistant steel (bar), heat-treated steel (head)

Length(s)

18", 24", 40"

Drive(s)

⅜" (18", 24"), ½" (24"), ¾" (40")

Head rotation

230-degree
Range of long breaker bars available
Robust ¾" drive
Some breakage reported in smaller ⅜" drive size
GearWrench 17-Inch 1/2-Inch Drive 120XP Flex Head Breaker Bar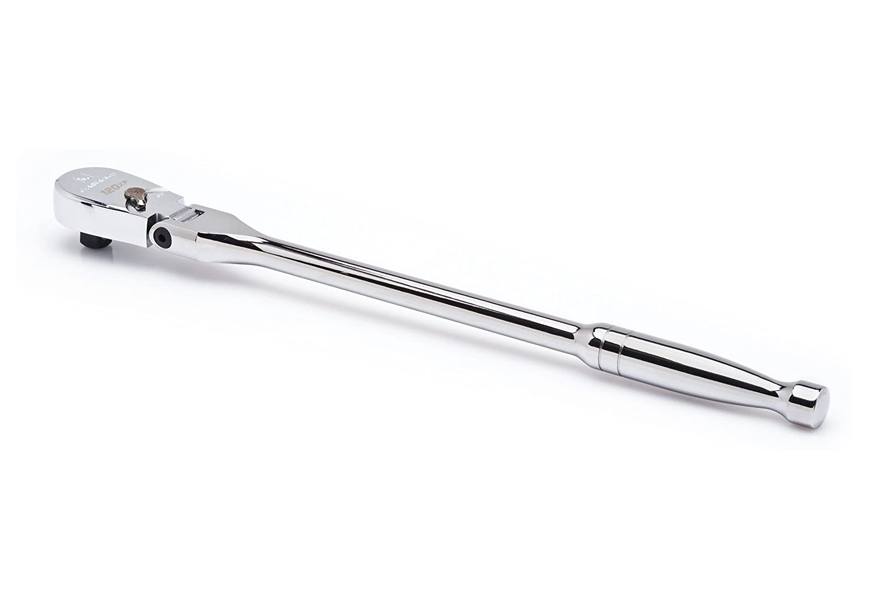 GearWrench deals the best long-handled ratchet we can find, its 17-inch 120XP ½-inch drive ratchet. The teardrop-shaped head contains 60 ratchet teeth with double-stacked pawls for more total positions and strength. The head flexes on its own pivot to provide easier access to any fastener.
As a general rule, any ratchet has more weak points than a traditional breaker bar. GearWrench addresses this problem with the 120XP's double-stacked pawls, which both shorten the swing arc and add strength to the 60-tooth gear. The wrench's swing arc is a minuscule 3-degree, which becomes especially important at the end of the 17-inch handle. The pawls engage the gear alternately, reducing the incidence of shear.
The head flexes on the handle, though it's unclear how much. Either way, the feature adds user comfort and utility. A burly ½-inch drive finishes the tool. The GearWrench ratchet enjoys sparkling online reviews. It is a definite must-have for your tool box.
Key Features:
60-tooth ratchet with 120 positions
3-degree swing arc
17" length
Specification:
Brand

GearWrench

Model

81306P

Weight

2.44 pounds

Material

Full polish chrome

Length

17"

Drive

½"

Head Rotation

Not Listed
Ingenious double-stack pawl design increases strength, decreases swing arc
Ratchet lets you always work at the ideal angle
Ratcheting heads have more weak points than traditional breaker bar heads
GearDrive 3-Piece Breaker Bar Set
Home users who might not use breaker bars often or don't usually use them in high-leverage/high-consequence scenarios should consider GearDrive's 3-piece breaker bar set. The set offers versatility at a very low price point, with a ¼-inch drive 6-inch bar, ⅜-inch 10-inch bar, and ½-inch 15-inch bar. Heads flex 180 degrees.
There's not a lot to say about these imported Cr-V fork-style breaker bars. Their main utility seems to be that at least one of them will be compatible with whatever size sockets you happen to have. And at their bargain pricing, few users find the gall to complain.
I would never recommend a toolset like this to a professional who relies on them for their income and reputation; but for the casual user who just needs to lag down a bolt or replace their lawnmower blade once in a while, the set should do the job. Don't forget to also check out our selection of the top wrench sets everyone is buying at the moment.
Key Features:
3 bars included
All common socket drive sizes represented
Specification:
Brand

GEARDRIVE

Weight

2.91 pounds

Material

Cr-V

Lengths

6", 10", 15"

Drives

¼", ⅜", ½"

Head Rotation

180-degree
Only recommended for home/light-duty use
Why Trust Us
Breaker bars are tools of the trade for mechanics and fix-it folks, and a lot of our staff fits that description in one way or another. With vast experience in motorcycle racing and cross-country car travel, we've used breaker bars consistently for quite a while. I've found that the hardest part of DIY vehicle maintenance can be loosening stuck bolts; a good breaker bar can put you well on your way to success.
Who This is For
Simply put: if you perform mechanical maintenance on any engine or vehicle, from a truck to a boat to a lawnmower, a breaker bar can help you. I've tried to evaluate breaker bars from a variety of perspectives, with attention to professionals as well as self-taught enthusiasts.
How We Picked
Breaker bars are pretty self-explanatory, so I simply included durable entries from trusted brands.
How We Tested
One tester has been using breaker bars since well before I was born in his motocross career. I'm not a motorcycle guy, but my breaker bar test included brake pad and rotor replacement on my truck.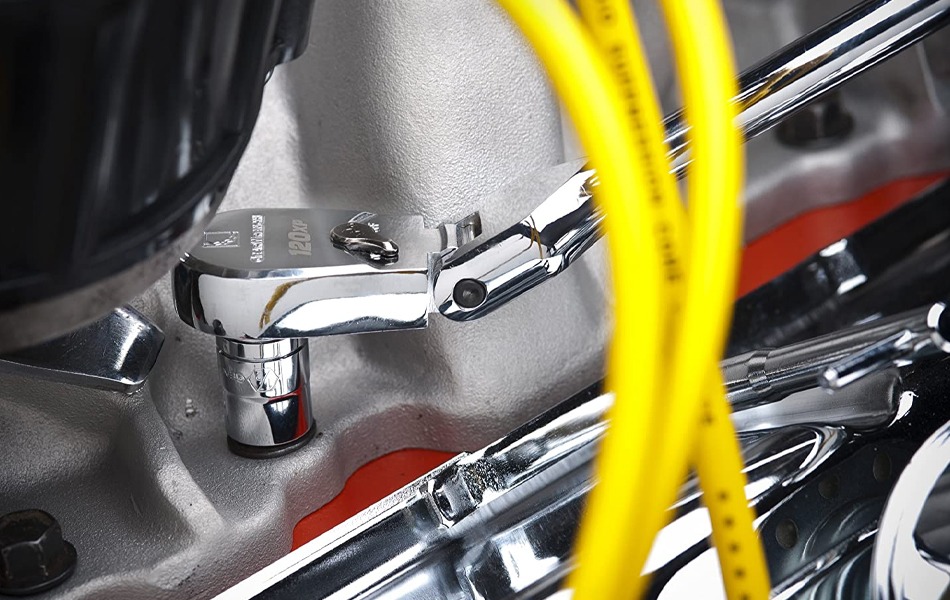 Features to Look for in Breaker Bars
Size – The longest breaker bars top out at around 40 inches. The low end is 10 to 12 inches. The longer the lever, the more torque you can put on the fastener. Of course, it's only useful if you have enough room to use the bar. If you're going to bust out a 40-inch breaker bar, you'll obviously need a lot of clearance.
Quality – Most breaker bar handles are made of chrome vanadium steel, which is a hardened alloy that resists oxidation and corrosion. But the weak point of any breaker bar is the joint where the square drive meets the head of the bar.
Nine times out of 10, it will break long before the handle does. To combat this, some of the strongest breaker bars (like the tested Neiko breaker bar) use chrome molybdenum for the head, which is heat-treated and resists percussive impact.
Ease of Use – That all depends on the job at hand. There are three considerations: torque, open space, and angle. It's hard as hell to use a 12-inch breaker bar to loosen lug nuts, but it's equally hard to loosen anything with a 30-inch breaker bar if you only have 20 inches of space. You might also need your breaker bar's head to rotate a full 180-degree or even past that.
Finally, choose the appropriate drive size for the job. It doesn't take a rocket scientist to understand that a ¼-inch drive breaks easier than a ¾-inch drive. Use heavy duty breaker bars for heavy duty jobs.
Price – Considering how critical they can be to success, breaker bars are pretty cheap — in the $15 to $100 range. For folks who repeatedly loosen stubborn or stuck fasteners, breaker bars are well worth the money. Say you have to remove your car's lug nuts. If you can't get them loose yourself, what's the alternative? Call AAA? Sometimes you can use a cheater pipe on whatever wrench you have, but that rarely works in tight or awkward spaces.
Drive Size – The width of the square drive that accepts sockets; either ¼-inch, ⅜-inch, ½-inch, or ¾-inch (1-inch drives are available but rare). You'll usually only find a ¾-inch drive on a very big breaker bar — the kind that would usually be used with impact sockets, to loosen extremely stuck fasteners. ¼-inch breaker bars are for smaller sockets with light-duty uses.
Drive Rotation – Most breaker bars rotate 180 degrees at the head, allowing the user to get the ideal angle for torque. Some rotate up to 270 degrees (or past 90 in both directions), which can be very helpful for the most awkward spaces.
Length – (Also see "Size" section above.) Short breaker bars are around 12 inches long. Long breaker bars can be up to 40 inches.
Weight – To me, a breaker bar should be heavy. It's a tool specifically built for hi-torque cranking. If it feels too light in my hand, I get suspicious. Most Cr-V breaker bars I've used feel proportionately weighted to their length. Cr-Mo breaker bars will feel even heavier.
Material — Chrome vanadium steel is the industry standard for breaker bar handles, and chrome molybdenum for heads is becoming more and more popular.
Cr-V is moderately hardened and resists corrosion and oxidation. Cr-Mo is heat-treated for percussion and shatter resistance, which is why it's the best material for impact sockets.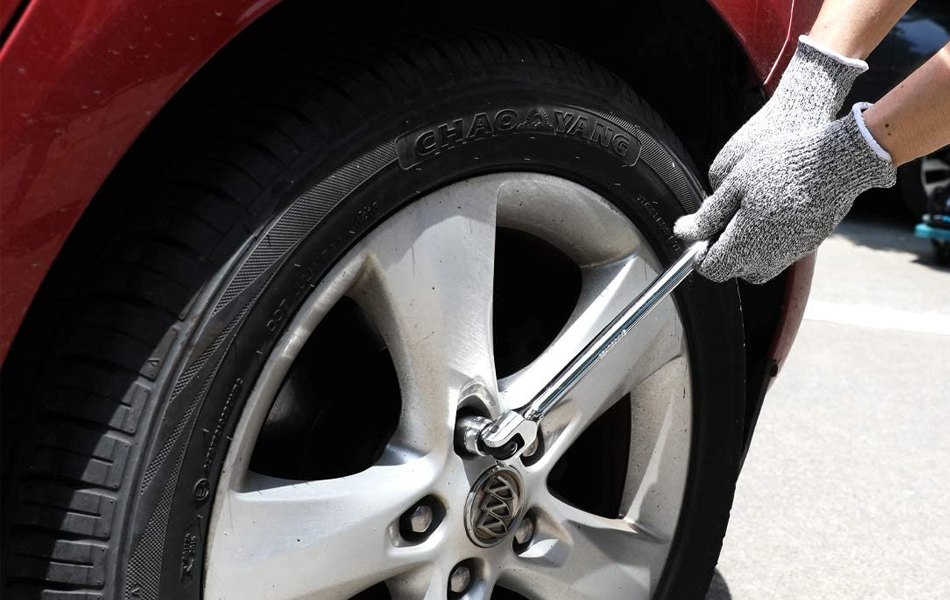 Breaker Bar FAQ
Q: What is a breaker bar?
A: A big damn steel rod for loosening stubborn fasteners. Breaker bars work by giving the user increased leverage, resulting in higher torque at the bar's head. Breaker bars have a rotating head with a square drive to accept sockets.
Q: What makes a good breaker bar?
A: Its appropriateness for the job at hand. I'd encourage you to look at the fastener you need to loosen. What angle does the bar need to be at, and how far can it extend in that direction? Next, think about the fastener itself.
My general rule is that my breaker bar's drive shouldn't be smaller than the fastener I'm trying to loosen: If I have a bolt with a ⅜-inch shaft, I need at least a ⅜-inch drive breaker bar.
Q: How much torque can a breaker bar handle?
A: There are a lot of factors at play in this question. In-house at Gear Hungry, none of us have ever broken a ½-inch drive breaker bar. However, it's more possible to break a ⅜-inch drive, and one tester has sheared one-off at the knuckle. Many manufacturers list a bar's torque rating online.
As a very general rule, err on the side of caution and use plenty of bar for the job at hand.
Q: How long should a breaker bar be?
A: I like to use as big a bar as I can. We've found a 15-inch bar is a good standby if you're only going to have one; big enough to handle lug nuts or rougher work, but short enough to fit in tighter spaces.
Q: Do breaker bars work?
A: They work great! I most often use breaker bars for lug nuts. It is possible to break them from over-torquing. As advised above, apply the general rule of using more tool than you think you need to avoid breaking your bar.
Q: Is there more than one size of breaker bar?
A: Breaker bars are sized in length from around 10 inches to around 40 inches. Drive sizes include ¼, ⅜, ½, and ¾ inches. One-inch drives are available but rare.
Q: Can I use a breaker bar in place of a ratchet?
A: Breaker bars with ratchet ability do exist. This can be useful for a fastener you cannot physically reach; most of the time, I break the initial tension with a breaker bar, then put a regular-sized ratchet on it to remove it.
Q: What size breaker bar do I need?
A: 2 general rules: 1) When in doubt, use a bigger bar than you think you need. 2) Don't use a bar with a smaller drive size than the fastener you're working on.
Most manufacturers list suggested torques for specific bars online. However, consider that you usually don't know the torque on a given fastener because of stress, heat, expansion, shear force etc. that it's been subjected to since it was put in (if in doubt, you could try a torque wrench to get an idea).
Generally, beefier is better. That same rule applies to drive sizes: if I have a fastener with a ⅜-inch shaft, I try to use a breaker bar with a ⅜-inch drive or bigger.
Sources:
Williams Breaker Bar Disappointment - Garage Journal
Sign Up Now
GET THE VERY BEST OF GEARHUNGRY STRAIGHT TO YOUR INBOX