Best Tea Makers: For That Perfect Cup, Every Time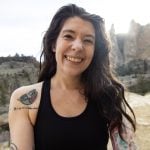 This product guide was written by Tuesday Kirby Kahl
Last Updated
March 10, 2021
Tuesday Kirby Kahl
Tuesday Kirby Kahl is a contributor at Gear Hungry. Her fierce love for the outdoors fuels everything she does. Her professional pursuits include writing, creating art, and photography. These professional passions allow her the time to live life outside as a rock climber, skier, runner, backpacker, paddle boarder, swimmer, and explorer. When Kirby is indoors, she enjoys tea, whisky, old films, cooking, and baking. Her product testing and feedback have shaped the design of everything from climbing shoes to candles.
GearHungry may earn a small commission from affiliate links in this article.
Learn more
Finding the best tea maker…where to begin?
Tea has been a favorite drink of peasants, emperors, and common folk alike for centuries. You'll find tea on nearly every continent. It can be commonplace like southern sweet tea or extremely rare and reserved for special ceremonies. A cup of tea is a cup of history. (Boston Tea Party, anyone?)
The ways we brew tea have changed with the expansion of global exchange and the rise of technology. In modern times, we have no shortage of tea makers, teapots, and the like.
This buying guide is a deep dive into the vast sea of tea makers and features a curated selection of some of the market's best options.
Whether you're a southern sweet tea drinker or a loose-leaf aficionado, we have something for you. Pinkies up, y'all! Let's take a look at the best tea makers.
The Best Tea Maker
Aicook Electric Kettle Tea Maker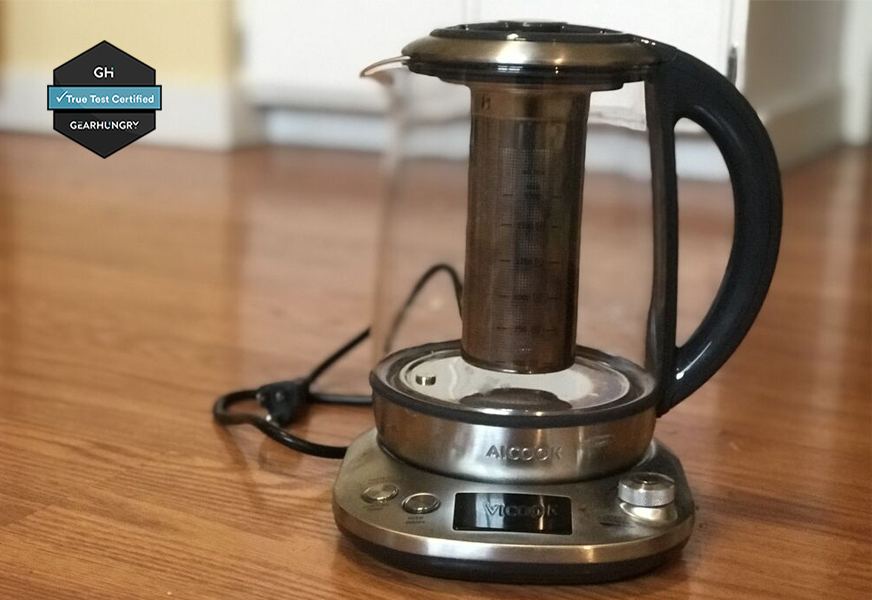 Simplicity and ease of use are two of my favorite elements of the Aicook Electric Kettle. This product was easy to nestle into my morning routine and quickly became a daily habit. Before owning this tea maker, I would boil my water in a kettle on a stove and use a tea infuser or tea bag. Now that the Aicook Electric Kettle is in my life, it has a permanent place on my counter for my morning cup of tea. 
To use this 1.7-liter tea brewing machine, add your tea leaves or bags into the infuser which attaches to the lid, then add your desired amount of water, select your tea type, and hit the start button. I love to drink tea throughout the morning, and this top tea brewer has a two-hour warming setting which allowed me to come back for cup after cup as I churned out words. What is a writer without a cup of tea anyway? Read the in-depth review here.
Key Features:
1.7-liter capacity
Borosilicate glass construction
Stainless-steel base
LCD screen
Eight settings
2-hour warming feature
Mr. Coffee TM75 Iced Tea Maker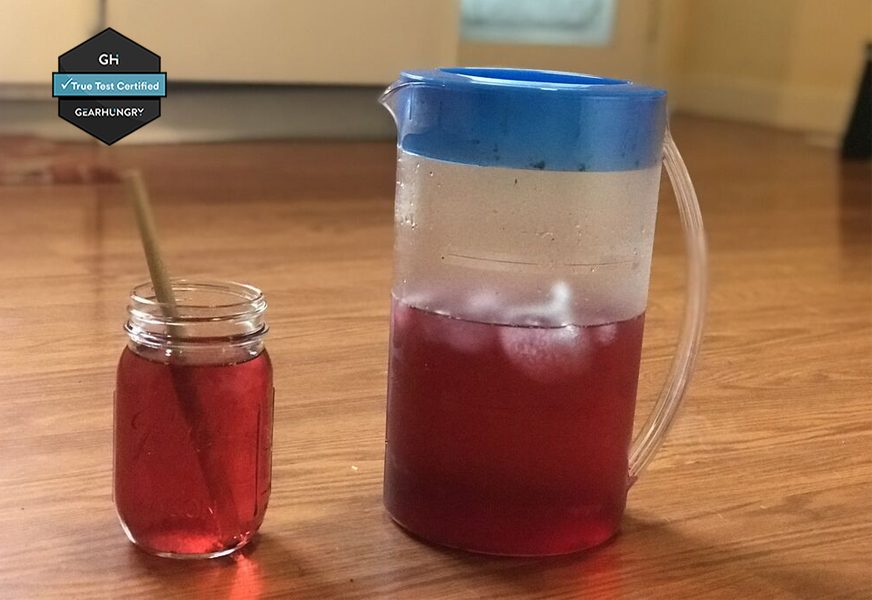 While my very southern Mimi (grandma) might smack me for brewing iced tea with a machine, I tested the Mr. Coffee TM75 Iced Tea Maker anyways — just for you, dear reader. This iced tea maker brews quickly and more easily than the process I learned as a child, which was akin to gospel. The large pitcher readily serves a family full of thirsty youngins on a hot summer afternoon. And the machine brews quickly so that another batch will be ready lickety-split, just in time for supper. 
The Mr. Coffee TM75 comes with a tea pitcher, and a quick swap of the lid makes for easy serving and storage. The auto-shut-off feature ensures safety, and the slim profile doesn't take up much room on a busy countertop. If iced tea drinking wasn't as heavily engrained in you as good old southern manners, this device also brews exceptional iced coffee — perfect when the summer sun is too hot for a steaming cup of joe. While this device would be scoffed at by my Mississippi-born and Texas-raised Mimi, I rather like it. Read the in-depth review here.
Key Features:
2-quart pitcher capacity
Quick brew time
Pitcher included
Specification:
Brand

Mr. Coffee

Model

TM1RB
Ninja Hot and Cold Brewed System with Thermal Carafe Tea Maker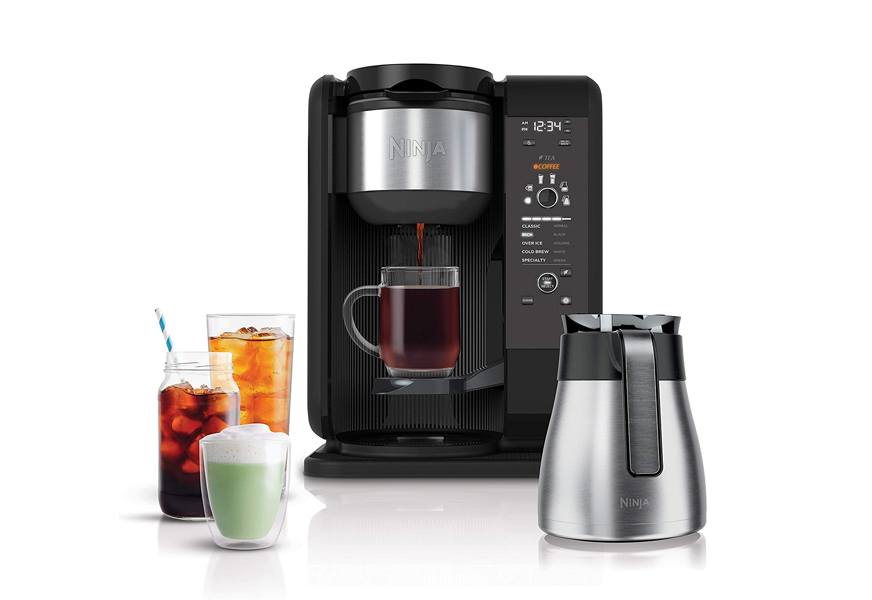 The Ninja Hot and Cold Brewed System offers endless tea and coffee drinks from oolong to cappuccinos for those who want it all. If you are concerned about that coffee aftertaste interfering with your brewed tea, don't worry. The Ninja system has separate coffee and tea baskets to keep the taste of your drink pure. This product can brew coffee, loose-leaf or bagged tea, and specialty drinks, giving you a myriad of options for your morning drink. 
Five different brew modes offer classic, rich, over ice, cold brew, and specialty in six brew sizes in addition to a fold-away milk frother. Each brew mode provides additional features as well, so you can become your own barista. While this product costs a pretty penny, a quick scroll through customer reviews confirms it's well worth the money. The box includes the machine, two filters, a scoop, and a thermal carafe for easy serving. 
Key Features:
60-ounce thermal carafe
Five brew modes
Six brew sizes
Fold-away milk frother
Separate tea and coffee filter baskets
Breville BTM800XL Tea Maker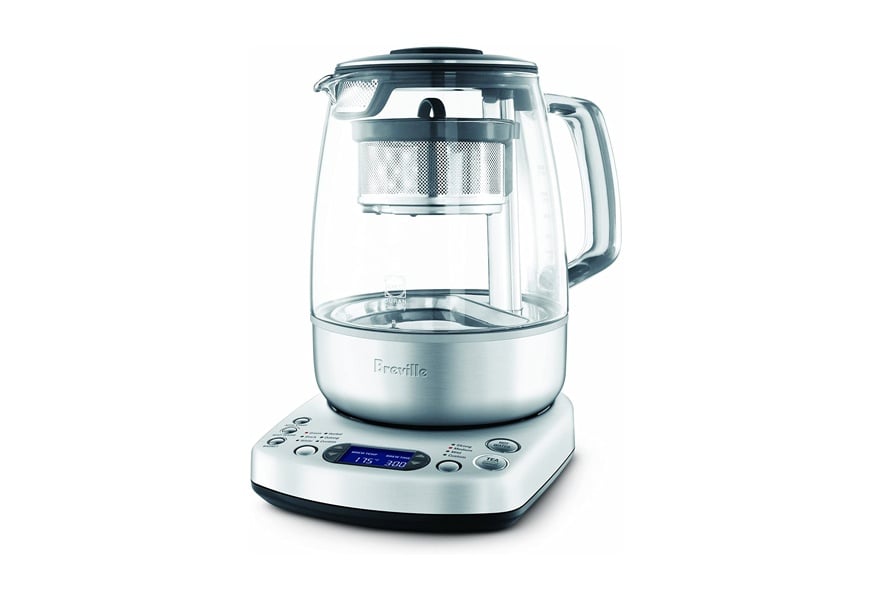 Some products on our list excel in multiple areas, where others specialize. The Breville BTM800XL Tea Maker is an automatic tea maker that brings you the perfect brew every time. Precise temperature settings, an auto-lowering and raising infuser basket, and warming settings create a symphony of technology that brings out the most subtle flavors in your favorite teas for an exquisite drinking experience. 
To get your tea started, add your water and tea to the device, select the type of tea and strength, and hit the start button. In no time, you'll have a perfect brew packed with flavor to start your morning off right. The Breville BTM800XL has an LCD, six tea settings, four strength settings, and a 60-minute warming option for those mornings where you need a second cup. The 1-liter pitcher has more than enough capacity to serve the household, regardless of size.
Key Features:
1-liter pitcher
LCD display
Stainless-steel base
6 tea settings
4 strength settings
Specification:
Brand

Breville

Model

BTM800XL
Hiware 1000 ml Glass Teapot Tea Maker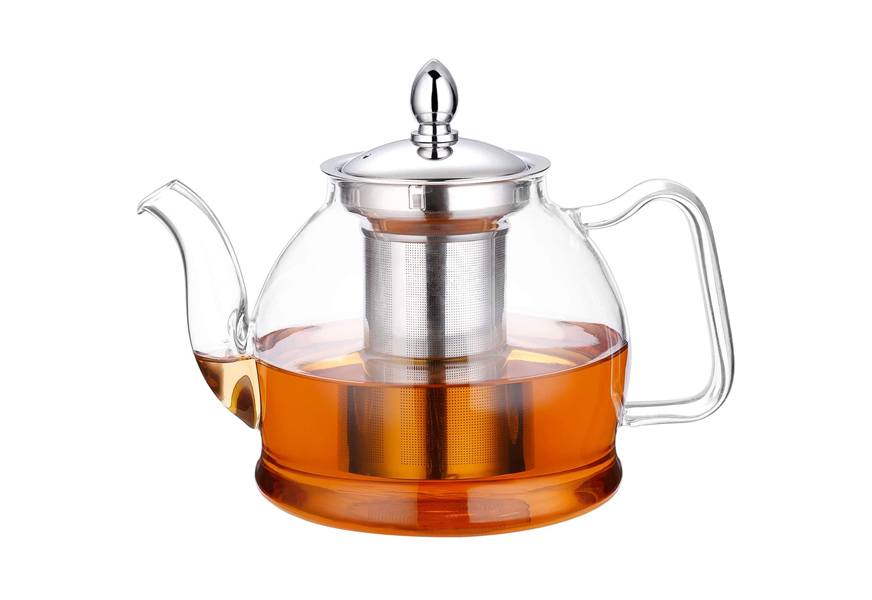 Our next tea maker machine combines function, simplicity, and style. The Hiware 1000-ml Glass Teapot is a clear, stovetop-safe teapot with a removable infuser for blooming, loose-leaf, and bagged teas. The 1000-ml (1 liter) capacity makes this product perfect for single or smaller households.
Most glass teapots on the market are not safe for use on the stovetop or in the microwave, but the borosilicate glass construction of this teapot is safe for use with medium heat.  One of the things we love about this teapot is the fact that it is clear. If you enjoy the spectacle of blooming teas, this teapot is ideal for you. As far as style and design go, this teapot takes the cake. When not in use, this device will look beautiful resting on your stove or countertop. 
Key Features:
1-liter capacity
Borosilicate glass construction
Built-in infuser
Great for blooming teas
Specification:
Brand

Hiware

Model

Hiware-33-GT
Ovalware Airtight Cold Brew Iced Coffee Maker and Tea Infuser
While the name of this product says 'cold brew,' don't be fooled — it brews hot drinks, too. The Ovalware Airtight Cold Brew Iced Coffee Maker and Tea Infuser is an iced tea infuser with borosilicate glass and stainless-steel construction that allows for easy cold brew or hot brewing like a teapot. 
The sleek space-saving design of this coffee and tea maker makes for easy storage post-brewing. The unique build is reminiscent of chemistry class beakers, making your cold brew experiments that much more fun. For easy overnight cold brew coffee and tea, this Ovalware model is an excellent choice. 
Key Features:
1-liter capacity
Space-saving design
Hot or cold brew options
Brentwood KT-2150BK Iced Tea and Coffee Maker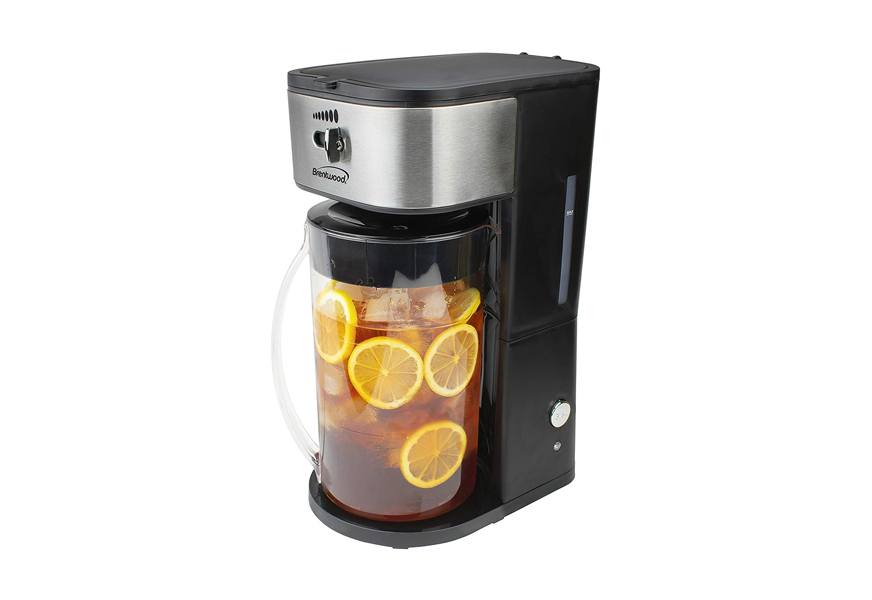 For large pitchers of iced tea and an easy-to-use cold-beverage device, look no further than the Brentwood KT-2150BK Iced Tea and Coffee Maker. This device makes brewing iced tea an absolute breeze. It takes up a bit more space than the other iced tea makers on our list, but it also serves more folks, a must-have for large families! Eight servings of tea are ready in a flash with this cool kitchen gadget. 
Features we love about this product include the reusable filter basket, which is eco-friendly, the strength selector dial, and the auto-shutoff feature. Precision is not a feature we associate with iced tea infusers, but the Brentwood model gets close with the strength selector. 
Key Features:
64-ounce capacity
Strength selector dial
Auto-shutoff feature
Pitcher included
Specification:
Brand

Brentwood

Model

KT-2150BK
Adagio Teas ingenuiTEA Bottom-Dispensing Teapot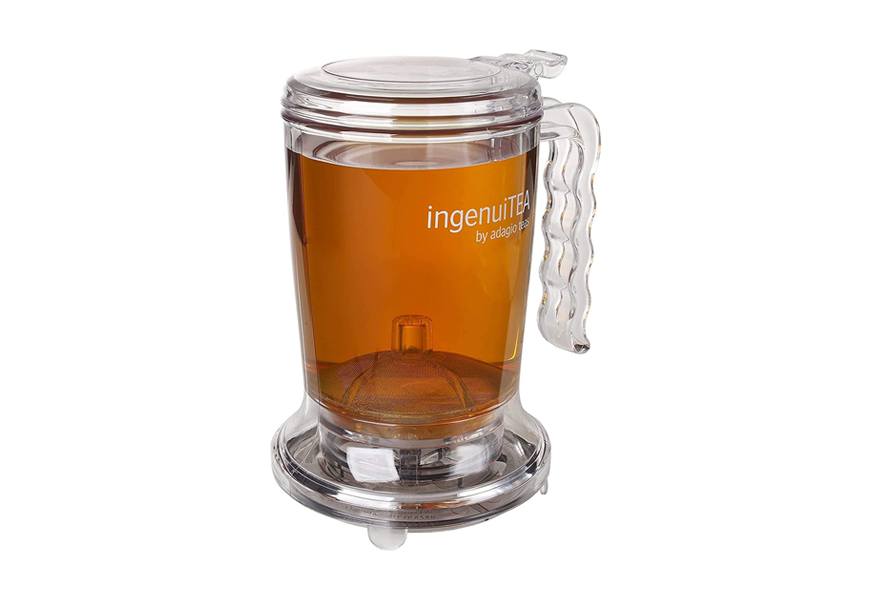 A favorite loose leaf tea maker is the Adagio Teas ingenuiTEA Bottom-Dispensing Teapot. This device is excellent for single-serve tea or two smaller cups. To brew, add boiling water and your tea leaves and allow the device to steep. Once the steep time is completed, place the teapot on top of your mug, and let the tea pass through the ultra-fine filter.
This teapot's overall simplicity is its selling point — it's budget-friendly, portable, and easy to store. You can easily take this teapot to work, school, or anywhere you go. The BPA-free plastic is heat-resistant but should not go directly on the stove. For more must-have kitchen devices, check out our list of the best coffee percolators on the market.
Key Features:
16-ounce capacity
BPA-free plastic
Bottom-dispensing
Specification:
Brand

Adagio

Model

ingenuiTea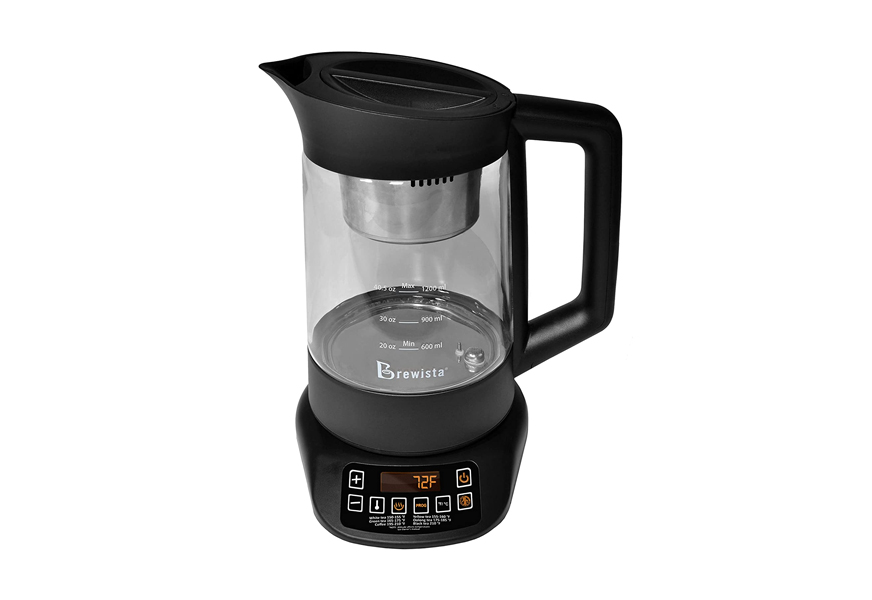 Humans have brewed tea with hot water and tea leaves for centuries. Only in modern times has innovative technology changed the way we brew for the better. The Brewista Electric Kettle is an innovative tea-making machine for loose leaf and bagged teas. 
The Brewista hot tea maker has a sleek, matte black finish on both the base and kettle. It's not just the form that impresses us; this device's functionality stands out, as well. Once heated to the appropriate temperature, the water is funneled into the handle and dispersed over your tea leaves through a showerhead-like feature. This configuration makes for an even brew that won't over-steep or get bitter. Additionally, there are two separate filters in the lid, one for loose leaf and one for bagged teas.
Discover more amazing appliances for your kitchen in our guide to the top smart kettles to buy right now. 
Key Features:
1.2-liter capacity
Two removable filters
Innovative, even-steeping technology
Matte black finish
Specification:
Brand

Brewista

Model

BATK12S01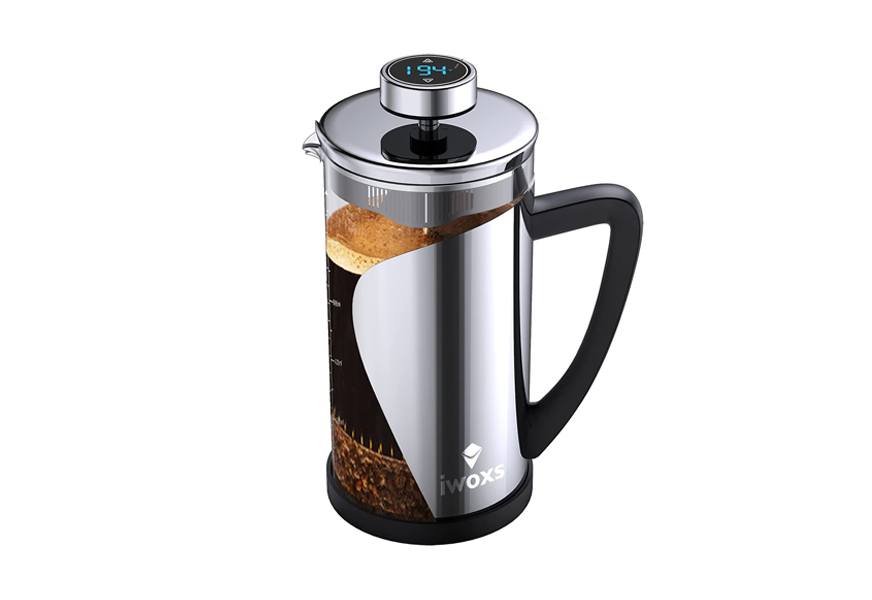 We all know about the French press as a coffee machine, but have you considered it for tea? The iwoxs French Press makes our list as a budget-friendly option and a portable tea maker that is extremely easy to use. Just like a French press, you'll add tea leaves, allow your tea time to brew, and then press down to separate the tea leaves.
While this process lacks the precision available in more sophisticated devices on our list, you can't beat the simplicity and price point.  Additionally, if you want to use your French Press for both coffee and tea, you can. Just be sure to give this product a thorough cleaning between uses so the flavors don't seep into one another. Our favorite feature of this device is the countdown and temperature display monitor on the lid. This technology takes the guesswork out of making your brew. 
Key Features:
1-liter capacity
Temperature and countdown display
Borosilicate glass and stainless-steel
Great for coffee and tea
Specification:
Brand

iwoxs

Model

French Press
Why Trust This Guide
Daily tea drinkers, I'm one of you. Southern sweet tea drinkers, I grew up with you. Loose-leaf aficionados, we're birds of a feather.
I'm a daily tea drinker, a kombucha brewer, a loose-leaf lover, and that friend who never lets anyone leave her home without serving them a cup of tea. Tea is my lifeblood and a daily ritual. I've spent years indulging in over-priced loose-leaf teas and sampling hundreds, if not thousands of teas and ways to brew them. 
Who This Guide is For
This guide is for anyone who enjoys tea and wants more ways to enjoy it.
If you love iced tea and want a simple way to brew, we have you covered. Interested in concocting fancy tea experiments? We've got you, too. Are you looking for a precise kettle for delicate teas? We've got that also.
We tried to include everything; from fancy, high-end brewing machines down to simple teapots for every kind of tea drinker. 
How We Picked
Our curated selection of tea makers came together with several key factors in mind: we wanted to have a variety in price point, use, and purpose.
This guide should have several options for households large and small, budgets of all kinds, and tea drinkers of all varieties.
Our team at Gear Hungry looked at the scope of products available, read hundreds of reviews, and tested a few products ourselves to ensure our selection would hit the mark and serve a diverse range of tea enthusiasts. 
How I Tested Products
Well, the best way to test tea makers is to make lots and lots of tea!
I personally tested out a few of the tea makers in this lineup. I switched over from my usual routine of heating a kettle on a stove to trying out new products and methods for my morning cup. I brewed every tea type from black to oolong to green and even brewed a few things like chai lattes. Hot tea, iced tea, tea for kombucha, it's all been brewed to ensure that I deliver comprehensive information so you can make an informed purchase.
I even enlisted roommates, friends, and partners for what might have been an annoying number of taste tests to gather outside opinions. The result is this guide to the best tea makers.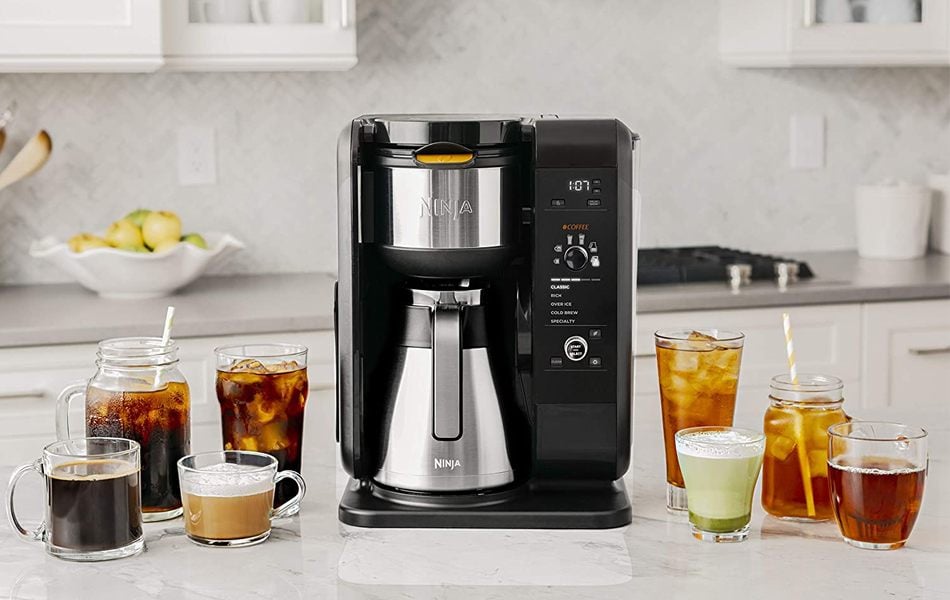 Features to Look for in Tea Makers
Price – We all know that money talks. Your budget will likely determine what kind of tea maker you can afford. Whether you have $20 or $300 to drop on a new tea maker, there is a quality option for you. Tea is to be enjoyed by all, regardless of budget. 
Preset Programs – Many electric tea makers have various preset programs. These programs vary from heating water to a particular temperature that's ideal for various tea types to preparing preprogrammed recipes.
Presets simplify the brewing process. And if you want to be able to roll out of bed, hit a button, and have your favorite drink ready to go, then a device with presets will be an excellent option for you.  
Size – When considering a tea maker's size, you will want to first think about storage. It would help if you considered how much counter or cabinet space you have to accommodate your tea maker. If you are low on space in an already busy or smaller kitchen, a smaller tea maker may be in the cards for you.
Secondly, the size of a teamaker often correlates to the amount of tea it serves. If you are a single-person household, you will likely err for a maker on the smaller side. If you have multiple tea drinkers in your home and counter space to spare, a tea maker requiring some real estate will more likely suit your needs.  
Capacity – When looking for capacity in a teamaker, you should consider how many people your teamaker needs to serve. If you are a one-person household, a smaller teamaker will serve you well. However, larger families with multiple tea drinkers should opt for something larger. 
Ease of Cleaning – No one wants to spend endless amounts of time cleaning, especially if you usually brew your tea in the morning before work. Easy cleaning may not appear to be a first-priority feature, but once you have your device, you'll be overjoyed that you considered it ahead of time.
A device that is easy to take apart and wash makes a world of difference in your morning routine and will likely lead to you using your tea maker more. 
Multiple Functions – Multi-functional products will be crucial for those who enjoy a variety of tea drinks. Some products on our list are simple, have singular functions, and are easy to use. Other models have a wide range of capabilities for those who want variety in their tea options or for households with tea-enthusiast of differing tastes. 
Material – The material of a tea maker usually stems from its purpose and use. Most products on our list incorporate borosilicate glass which is heat-resistant and stainless steel. However, BPA-free plastic also makes an appearance from time to time.
Regardless of the material,  it must be heat-resistant and durable for safe and extensive use. 
Tea Types – What kind of tea do you drink most often? Are you a loose-leaf tea drinker, or do you prefer teabags? Hot or iced?
You'll want to consider products and capabilities according to the types and styles of tea you prefer. There should be a little something for everyone on our list, whether you are an oolong aficionado, a loose-leaf lover, or a green tea machine. 
Automatic Shut-Off – If you purchase an electric or electronic tea maker, it will likely have an automatic shut-off feature. This feature is critical for safety and, in our opinion, is a must-have for any powered brewing device. 
Types of Tea Makers
Electric Tea Makers - Electric tea makers brew tea quickly by heating water using electricity to precise temperatures. These tea makers work independently of a stove or other appliance.
Many electric kettles allow you to brew water to a specific and perfect temperature for your selected tea type. For the best flavor, the water you steep with should not be quite boiling. Boiling water can scorch tea leaves and leave you with bitter, weaker flavors, especially with white and green teas. Electric kettles fix this issue by allowing you to brew to the perfect temperature for any tea.  
Teapot - A teapot is arguably the most traditional way to brew your tea and has been around for centuries. Some teapots are durable enough to heat on the stove, whereas others may shatter if placed over direct heat.
This easy pour method looks excellent on the table, is classic but lacks the precision available in other options. 
Tea Infuser Mugs and Bottles - Tea infuser mugs and bottles often lack precision but make up for this in portability, ease of use, and storability. These products are great for those on-the-go who always have somewhere to be and want their tea with them!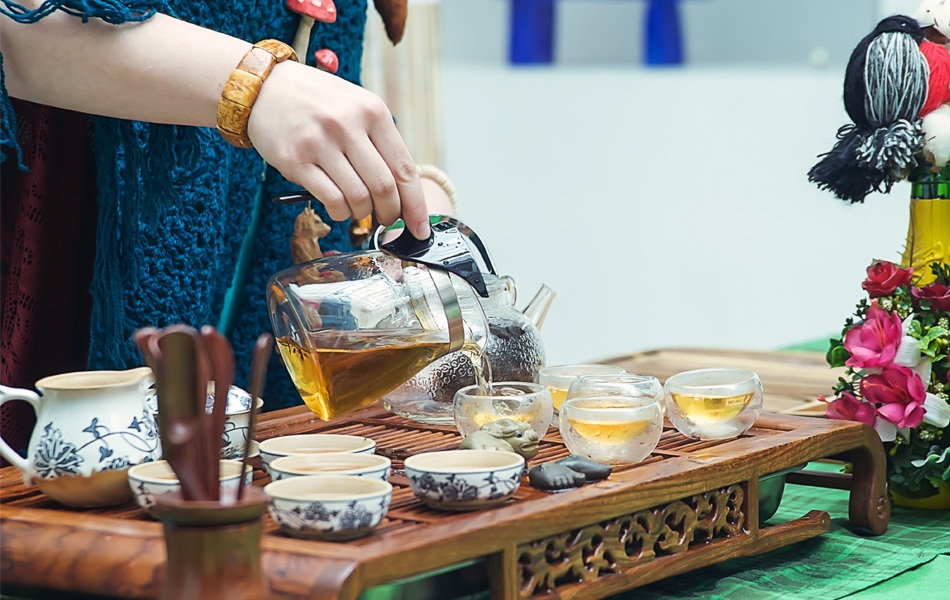 Tea Maker FAQ
Q: How does a tea maker work?
A: Each tea maker in our list functions a little differently. However, a tea maker's primary purpose is to brew tea, which involves water and tea leaves. Some devices on our list act as electric kettles, which heat water, while others use creative brewing methods to produce unique products.  
Q: Steel vs. plastic tea maker?
A: In general, a steel tea maker is likely to last you longer than a plastic one. However, this depends on how your tea maker works.
Some devices act solely to hold your hot water and tea leaves and are not to be heated up directly.
Other tea makers should have steel, borosilicate, or tempered plastic construction to conduct heat when heating your water properly. In general, the material of your tea maker will pair with its primary purpose. 
Q: How do you clean a tea maker?
A: Cleaning a tea maker depends on the model. We suggest you refer to the manufacturer's care recommendations when cleaning your device. Some models may have dishwasher-safe parts, and others may be hand-wash only.
When cleaning, be sure to separate all parts of the product for cleaning as little tea leaves and debris can make their way into all sorts of nooks and crannies. 
Q: What measurement of tea should I use in a tea maker?
A: When brewing loose-leaf tea, you will want approximately 2 teaspoons of tea leaves per 1 cup of tea. You can adjust this amount based on how strong you want your cup to be.
When brewing multiple cups of tea, multiply this number times the amount of tea you want to brew.
For stronger teas, add more tea leaves. For weaker teas, lessen the amount of tea used. 
Q: How many tea bags do you use in a tea maker?
A: The number of tea bags to use when brewing tea depends on how much you plan to brew. A good rule of thumb is one teabag for each serving or per 1 cup of tea.
Not all tea makers use teabags; others may use pods or loose tea leaves. 
Can you make tea in a coffee maker?
In theory, yes, you can make tea in a coffee maker. However, I don't recommend it. If your coffee maker has been in use, there will be coffee residue throughout the device. This residue will add a coffee taste to your tea when brewing, which will detract from your tea's flavor.
Many coffee makers also overheat the water, which can burn delicate tea leaves. 
Q: Can you brew tea in cold water?
A: Yes, you can brew tea in cold water. However, cold brewing tea takes much longer and usually does not open the leaves enough to give the tea a strong flavor.
For the best flavor in your iced tea, I recommend brewing a small batch of tea instead and letting it over-steep, then adding cold water. 
Q: How do you know when tea is done?
A: Every tea has different steeping times. Some tea makers may alert you when your tea is ready. For others, you may need to set a timer or watch the clock.
My personal rule is to go by taste. As you drink more tea, you will learn what you like and how long your favorite drinks need to steep. I prefer my tea slightly over-steeped and don't mind the slight bitterness this brings.
Others seek a light flavor, and under steeped may be the perfect match. 
Sources:
The History of Tea - UK Tea & Infusions Association
How to Steep Tea - WikiHow
Sign Up Now
GET THE VERY BEST OF GEARHUNGRY STRAIGHT TO YOUR INBOX