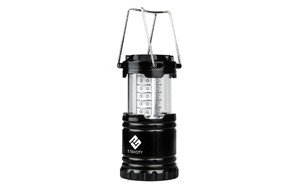 Etekcity 2 Pack Portable Outdoor LED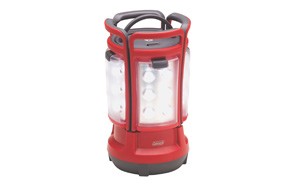 Coleman Quad LED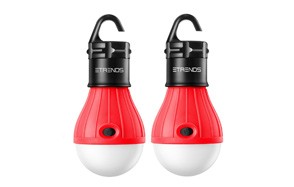 E-TRENDS Portable LED
Because most of us live in cities we've lost track of just how dark it can get at night. But if you've ever spent any time camping in the great outdoors you know. At 3am in the woods it gets so dark you literally can't see your hand in front of your face. Because of this the camping lantern you take with you on your outdoor adventures is crucial to a happy outcome. It ensures people aren't tripping over the tent, that a quick visit to the outhouse doesn't result in someone getting lost and that meals after sunset don't end with food on the ground that could attract wildlife.
It can be frustrating shopping for a camping lantern online because you aren't able to try them out before you buy one. So we've done the research for you and below are the results: our choices for the 12 best camping lanterns on the market today.
Best Camping Lanterns (Our Top Picks)
Buyers Guide
There are all types of things to consider when buying a camping lantern. Here are some of the most common.
General Considerations
Gas or battery – There are those who swear by gas powered camping lanterns and others who gladly gave theirs to their brother in law when LED lanterns came along. The case against gas powered is that the camping lanterns can be cumbersome and you're carrying volatile gas in your backpack. The case against batteries is that they're batteries.
Type of batteries required – Flashlight batteries are more expensive and heavy than AA or AAA batteries which is something to consider if you're hiking a long way.
Brightness – If you want the outdoor lantern to illuminate your entire campground you're going to want a propane camping lantern or one of the more powerful (600 lumens and up) LED lamps.
Light duration – How long the camping lantern will operate on a full charge, full tank of fuel or new set of batteries is crucial. Obviously the longer the better.
Size – Generally the larger the camping lantern the less appropriate it will be on long treks.

Types of Camping Lanterns
Battery powered – The battery operated lantern has been around a while but has become increasingly popular following the advent of affordable LED technology. Today they're the fastest growing segment of the outdoor lantern market.
Fuel powered camping lanterns – There are a number of different types of fuel powered camping lanterns including:
Propane – Propane powered camping lanterns enjoyed widespread popularity in the past and are still very popular mainly because you have more precise control over the amount of light and they shine like the sun if that's what you want.
Butane – Butane powered lanterns are not huge sellers because they don't always perform well in cold weather. They do have the advantage of lighter fuel canisters than propane and they're typically self-igniting.
Kerosene – Kerosene lanterns are old-school at its best. Typically made of metal with a heavy glass lens they can weigh quite a bit. On the other hand you have a lot of control and they're very dependable.
Wind ups – Wind up lanterns use a crank system to charge a battery that powers what are typically LED lights. They're great because they never run out of power.
Solar – The solar powered rechargeable lantern is a favorite of environmentalists seeking a more sustainable way. The only drawback is the obvious one: cloudy days.
We hope you found the above camping lantern reviews helpful in determining which is the best camping lantern for you. Be sure to stop by on a regular basis for informative product reviews from the experts at GearHungry.