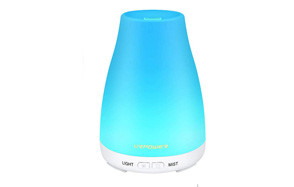 URPOWER Essential Oil Diffuser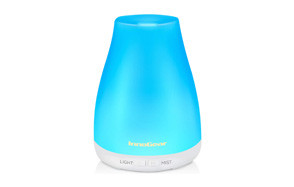 InnoGear Cool Mist Humidifier and Essential Oil Diffuser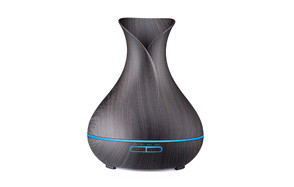 Urpower Wood Grain Essential Oil Diffuser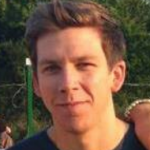 An oil diffuser is the best way to enjoy aroma therapy and flood your home with unbelievable scents, turning your space into a serene experience. Essential oils have been insanely popular over the last decade, primarily when you look at the health benefits. Since they're so concentrated, diffusing them into the air is the number one way to enjoy them without overdoing it. We've chosen the twelve best essential oil diffuser models on the market, so you can experience the health and wellness benefits, without all the hassle that goes with.
The Best Essential Oil Diffuser
Essential Oil Diffuser Buying Guide and FAQ
How We Chose Our Selection of Oil Diffusers
Quality - From the physical build to the total water capacity, runtime to brand specifics and in between, we looked at the overall quality and durability. With any essential oil diffuser, you're stuck with certain components that all brands use. It's about choosing the best of the best within those specs.
Reviews - You can't blindly purchase and test something without getting a rounded expectation of how it should operate from the community. Online reviews act as a preliminary round before testing, so we can better rule-out the low-quality brands that we shouldn't even bother with.
Price - The good thing about essential oil diffusers, even air purifier models, is that they're very cost-effective with long lifespans. You're not looking to spend an insane amount of money, making the purchase process much easier.

Features to Look for in Oil Diffusers
Design - Design dictates function with these. Whether you're going for an aroma diffuser or simply trying to give a calming atmosphere to your space, the design determines how this will run, disperse, and ultimately affect your space.
Size - These aren't heavy duty machines that take up a lot of space. You should always opt for one that can sit on the counter, a table in the living room, or an end table. No matter where you plan on putting these, you don't want them taking up a lot of space. They accent the home; they don't draw primary attention.
Color - These come in either bright colors or darker wood matte finishes. Some of these include LED lighting, giving you, on average, seven different colors that change with the mood of the room.
Features - Some key features to look out for are LED lighting, auto shut-off features, timers, and anything else that's going to enhance and optimize your space.
Water Capacity - You're diffusing the essential oil with water; the capacity on this matters a great deal. While it's not a metric of how effective your unit is at dispersing that water, it's better to have a bigger tank, and less time in between filling it.
Operating Time - Total runtime is a big one. Some of these will have timers that you can set, but if you're looking to get in a tight six to eight hours of sleep, you'll want this running the entire time. On average, you can get from six to thirteen hours from your standard unit.
Material - You'll be looking primarily at ABS plastic and some wood matte finishes on some of these models. Due to their inexpensive and malleable nature, they work just fine for the intended function.
Durability - A few bumps, scrapes, and just generally how long it lasts: these are notoriously thin-skinned and partially fragile items, so you're not going to see a wide range in durability.

Tips When Using an Oil Diffuser
It isn't enough to just set it down and let it rip, so we've compiled this brief collection of some rules of thumb when using your aroma diffuser.
First, try to place it in the center of the room. A coffee table, the island in the kitchen (as long as it's not next to your stove), and so on. You want it dispersed through the entire room, especially if it has an added humidity function.
Second, you'll have to experiment with different essential oils. They each have differing effects, benefits, and last for varying amounts of time. Find what works for you, and don't be afraid to ask to get a whiff of certain samples prior to buying in-store.
Lastly, you're different from everyone else, even those who use the same diffuser and essential oils. Start with a few drops before you intend to use it for an eight-hour stretch.
Essential Oil Diffuser FAQs
Q: What is an Essential Oil Diffuser?
A: Using cool mist through distilled water, diffusers help to gently add essential oils and humidity to the air we breathe every single day. They're used for aromatherapy, add a pleasant scent to the air, and host a variety of major health benefits. If you suffer from skin irritation, mild to moderate joint pain, and in some cases even frequent headaches, changing your atmosphere with an essential oil diffuser can be a complete game changer.
Q: What Are the Benefits of Essential Oil Diffusers?
A: We talk about the specific benefits of essential oils further on, but the diffuser itself is like the key to the lock. Simply owning essential oils don't really do anything, unless you can use them properly. With an aroma diffuser, you can:
Safely inhaling essential oil mist
Adding colored LED lights to the room
Keeping your baby's room completely comfortable so they (and you) sleep through the night
Maintaining comfort for your pets while you're at work
Relaxation that leads to easier and more sound sleep
Just about every one of them is very energy efficient
Q: What is the Difference Between an Oil Diffuser and a Humidifier?
A: Humidifiers simply add more water volume to the air, which can also be extremely beneficial, but for different reasons. Humidifiers can help with respiratory issues and skin irritation, but doesn't deal with inflammation and joint pain like aromatherapy does. These are also able to help you fall asleep at night if you're having issues, and while a humidifier can make the environment more relaxing, there's nothing introduced into the air that actually aids in you finding sleep.
Essential Oil Diffusers vs. Scented Candles
Scented candles have most of their effects burned up in the fire on the wick. When you diffuse essential oils, you're adding water to 100% pure oil, whereas the wax in a scented candle is so blended and altered, that you're not really reaping the effects. Your essential oils are covered and safe from evaporation until you add them to the diffuser, where they evenly disperse through the air you breathe. Another key difference is that with candles, heat rises, but with a diffuser, it's not using heat, so it's able to evenly distribute through the air in your home.

Best Essential Oils: Uses and Benefits
These are primarily used for aromatherapy and relaxation, giving an entirely different atmosphere to your space. If you suffer from anxiety, or you have an extremely sensitive nose, adding one of these to your space could be a complete game changer.
If you're wondering what actual benefits a scented oil diffuser has, we've got you covered.
Improves your overall mood
Helps you fall asleep more easily at night
Aids in immense skin irritation
Safer than using candles or burning incense
Known to lower inflammation (especially for RA)