Laser Gun Games: Best Laser Tag Sets of 2022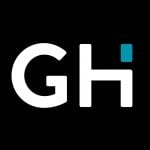 This product guide was written by GearHungry Staff
Last Updated
August 31, 2021
GearHungry Staff
GearHungry Staff posts are a compilation of work by various members of our editorial team. We update old articles regularly to provide you the most current information. You can learn more about our staff
here
.
GearHungry may earn a small commission from affiliate links in this article.
Learn more
If you're looking to bring the high-octane fun from your fantasies to your home without the cleanup of dart blasters or the danger of Airsoft guns, then one of the best laser tag sets is exactly what you need!
From affordable kits that give you the bare fun-having necessities to top-of-the-line professional-grade products that would usually be seen in an arena, this list will surely have something for you. In it, you'll find laser tag equipment for home use that you didn't imagine was available outside of the arcade.
Unleash your inner kid and check out our shortlist of the best laser tag toys out there.
The Best Laser Tag Set Review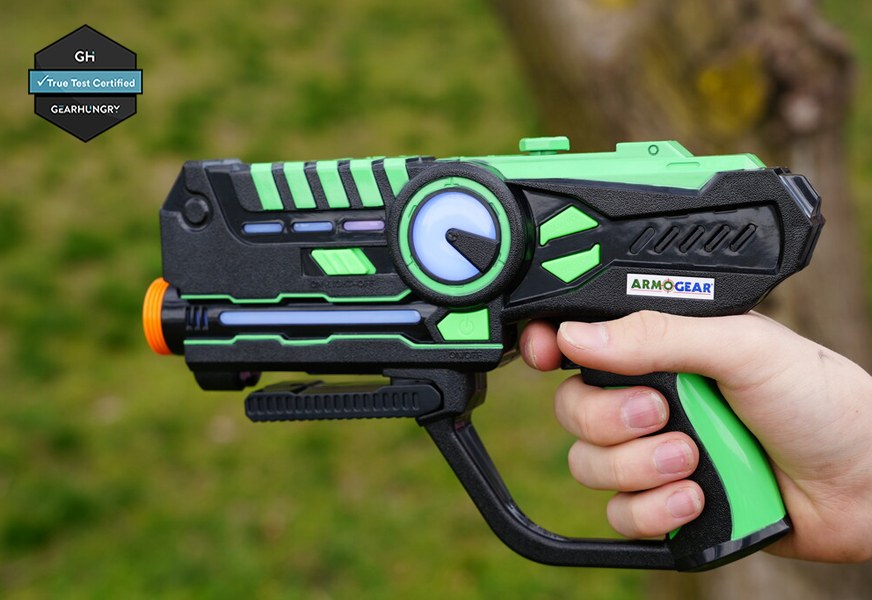 For what you get and the price you get it at this is a great kit. That said it's not much for any serious enthusiasts to get excited over. This kit is exactly what you should look for if you want some fun for your kids; for about $100, you get four guns and four vests. During testing, I was able to try out all of the many weapon modes, abilities, and team settings, but the vests and guns track hits independently, which I found could either add to the challenge…or create arguments.
The ArmoGear home laser tag set certainly has fun no matter what time of day users choose to play, and I found that these guns function well both day and night. When played in the dark, I could take full advantage of the built-in flashlight and "Invisibility" power-up. For some more awesome outdoor toys, check out our list of the best paintball guns.
Key Features:
Four weapon mode options
Four teams
Built in flashlight and power up
Lights and sounds
Target vests included
Non-rechargeable
150' shooting range
Specification:
Brand

ArmoGear

Weight

4.51 Pounds
Affordable price for how much stuff you get
Provides options
Good for kids
Simple design
Less suited for adults and teens
Vests and guns don't communicate information
Batteries required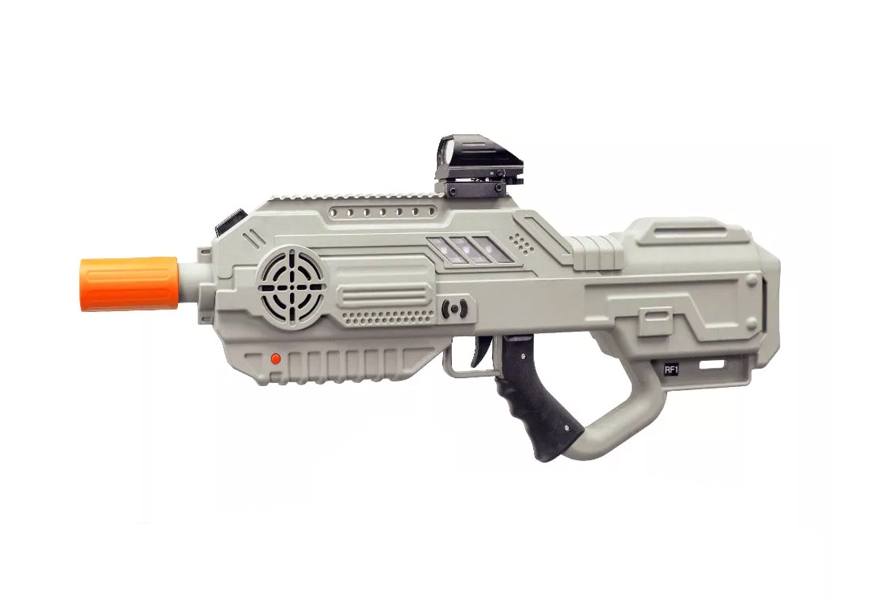 With a range of over 550 feet in direct sunlight, rumble feedback, bolt action priming/reload, full lights and sounds, multiple load-outs, and game modes, smartphone-pairing, rechargeable batteries/charging cord, and a headset target for players to wear, this is the 4 player laser tag set that every enthusiast dreams of owning. And it's an excellent laser tag set for adults.
While on the expensive side, the old saying stands true: you get what you pay for. This laser gun toy was made to give exhilarating, in-depth gameplay that will bring you back for more every single time. In case you also want a fun toy for a day at the beach, check out our selection of the top water guns everyone is buying at the moment.
Key Features:
Large, rifle shaped body
Lights and sounds, including muzzle flash
Attachable/adjustable red-dot sight for zeroing in ranged targets
550'+ range
Bolt action priming/reloading
Multiple loadouts/game modes
Smartphone pairing for more game related options
Rechargeable batteries
Wearable headset that links with guns to receive fire
Extra add-ons and items are available for separate purchases compatible with this product to build on your experience
Specification:
Brand

BRX

Model

14235-KIT-BRX12-HS30-101B

Weight

8.0 lbs
Suitable for adults and is more ergonomic
Rechargeable
Durable
Works at a range
Gun and headset communicate to offer a far more immersive experience
Works well during the day
Best home laser tag set
The wearable target is a headset that means you can't hide from your enemies so easily
Expensive
Heavy
Not designed with kids in mind
Squad Hero Rechargeable Laser Tag Set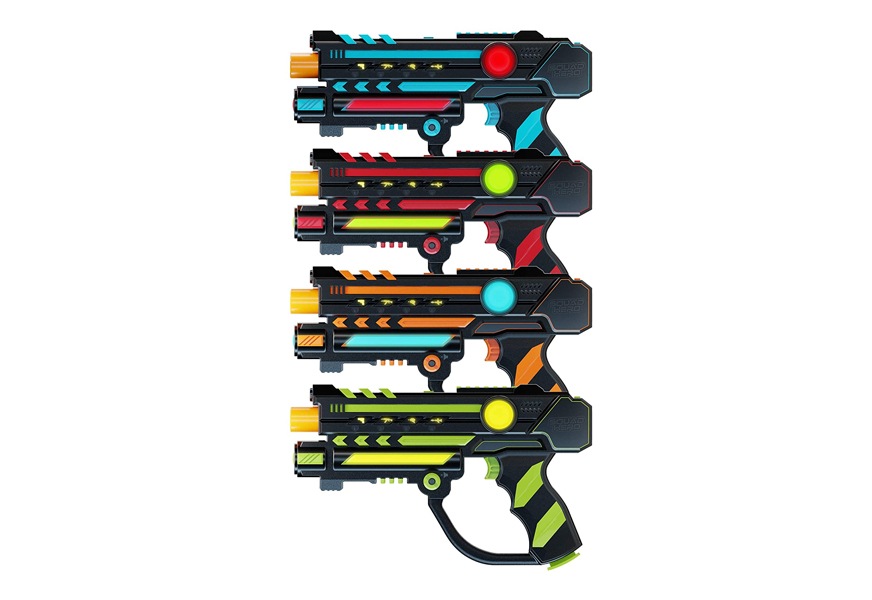 If you're looking for a one-off purchase to have everything you need then look no further! This rechargeable laser tag game set of four guns and four vests is everything you need to have some backyard fun in the day or at night. Just charge your guns in the included charging station, set up your game, and have at it!
This big kids laser tag set features guns that have four different weapon modes to try out, an "invisibility" power-up, a flashlight, and they sync with the vests to give accurate feedback on how much health you have left. You might also like these awesome drift trikes, so make sure to check them out.
Key Features:
Kit comes with four guns, four vests, and one recharging station
Rechargeable
Four firing modes
Flashlight built into gun
Vests that act as targets and also display your remaining health points
Four teams to choose from
Guns have a digital ammo readout
Stealth mode power up
Lights and sounds
150' shooting range
Specification:
Brand

Squad Hero

Weight

6.3 Pounds
Rechargeable
Good value for what you get
Great 4-player laser tag set
Good for both kids and teenagers
Pricier than some sets
Guns don't act as targets, so you can only shoot at the vest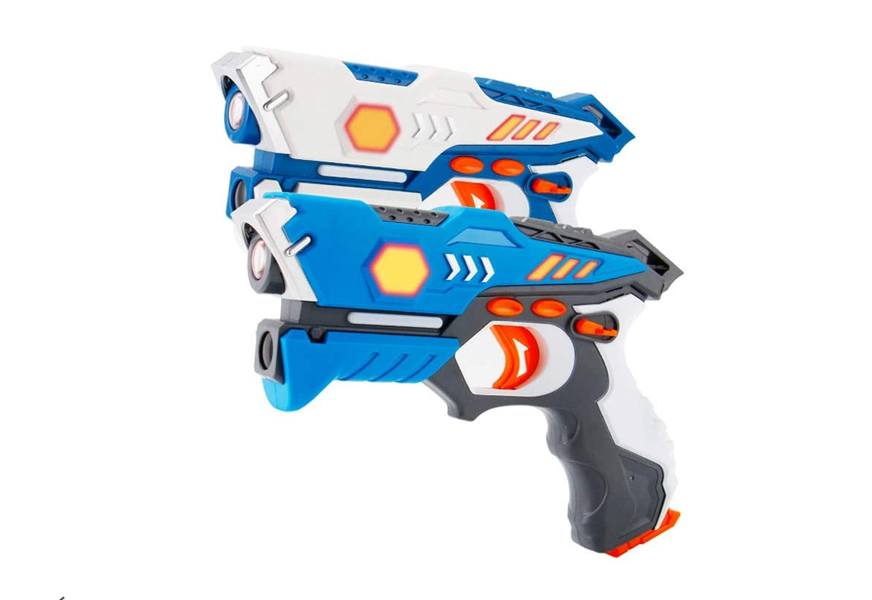 Lightweight, small, and simple to use, these are a prime choice for kids. As is standard, this kit features lights and sounds, four weapon modes, and multiple teams.
This product only supplies you with two guns so if that's all you need then perfect! If not, then purchasing another set (or more) won't hurt your wallet too much. Though made with kids' safety and fun in mind, there is no reason why anyone older can't join in on the fun as long as the gun grip and vest straps fit! If you love outdoor toys and games, you will simply love these cool pogo sticks from our list, so make sure to browse it.
Key Features:
Small, made for kids
Extremely simple
Affordable
Only two guns in a set
Four weapon modes
Up to four teams with additional sets
Vests included
130' shooting range
Non-rechargeable
Specification:
Brand

ComTec

Weight

1.87 Pounds
Affordable
Great for kids
Simple design
Batteries required
Less suited for teens and adults
Pokonboy Laser Tag Gun Set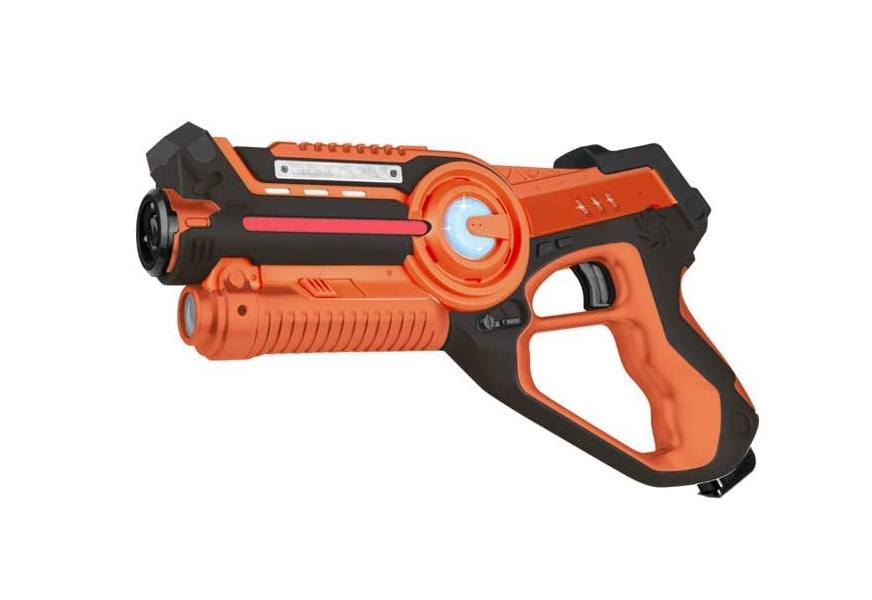 This set doesn't boast as many features as the others, but it's still all you need for up to four players to have a good time! This set is cheaper than others and still comes with four guns and four target vests, with the guns themselves having four firing mode options. You shouldn't be discouraged to buy this product because of its price though, it's designed for just about anyone to be capable of wielding it with a super simple and ergonomic design! For some more fun outdoor games, here is our choice for the best dodgeballs to get right now.
Key Features:
Affordable
Set of four guns
Four teams available
Each gun has four firing modes
Vests included
Simple but functional design
150' shooting range
Specification:
Brand

Pokonboy

Weight

4.74 Pounds
Affordable
Anyone can use
Simple design
Requires batteries
Fewer features than other products
Why Trust Us
We take playing hard VERY seriously, and you probably know that by now. At GearHungry, we rely on good recommendations, market research, and old school field testing to bring the best products to the surface. Furthermore, if there's a true dud out there, we aren't afraid to let our readers know about it.
Who This Is For
Anyone – but it's best suited for group settings. Think families, friends, reunions, birthday parties, or just 'cause. Laser tag is many many things, but it's not so much a game for one.
How We Picked
We checked out current brands' latest releases, scoured a lot of verified buyer reviews, talked shop with some of our in-house game testers, tested some out in "the field" ourselves, and the rest is history.
How We Tested
There's only one way to test a laser tag set – by playing. We played in various lighting, at different times of day, and with a mix of players ranging in age, size, and laser tag expertise. Laser tag should be fun, and there's certainly a skill set that it can develop, but we believe that it should be easy to set up, maintain, and approachable regardless of experience level.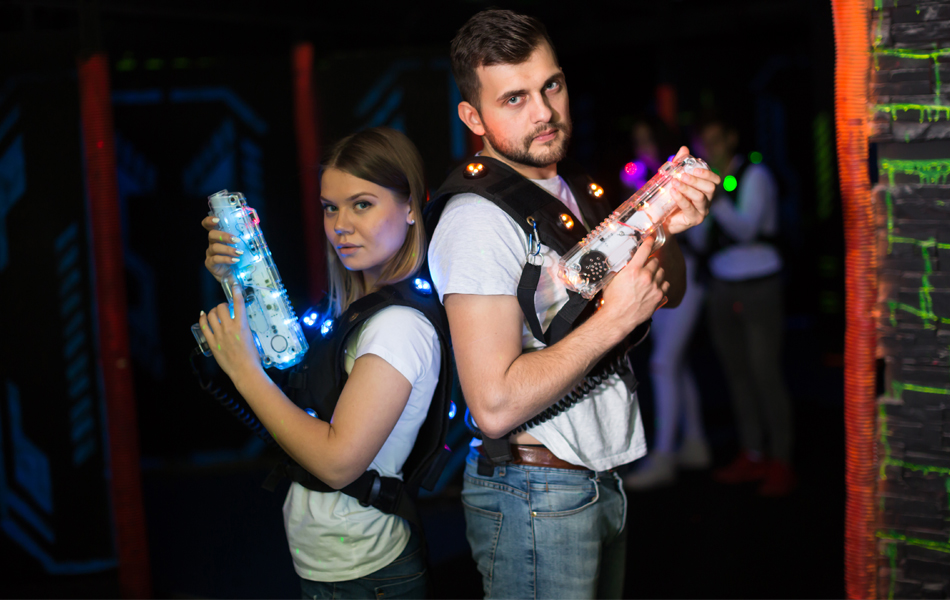 Features To Look For In Laser Tag Sets
Number Of Blasters - Will your young ones want to play solo matches where a single player tries to tag other members, or will they be more interested in being part of a team? Laser tag guns typically come as a set of two, four, or six, depending on how many players you want to get involved. If you want to have larger battles, you can always buy multiple sets as they'll be compatible with each other for unlimited sized teams.
Settings - The settings on a laser tag gun will depend on the number of features it comes with, but at a basic level you'll have a power button, speaker, target area, a reload button, and, of course, your trigger. The health and ammo displays may be included on the vests if the set comes with these or you'll find this on the side of the blaster to indicate how much longer you have in the game. Other settings to look out for include flashlights and invisibility modes.
Shooting Modes - Some of the more advanced laser tag equipment on the market allows you to switch between different weapon modes, such as rocket launchers, pistols, and shotguns, which have varying levels of impact on the number of lives lost for your opponents. In addition to different shooting modes, there's also laser range to consider which helps with aim and accurate shooting. If you're planning on playing outside, you'll want to choose a product with a decent range of at least 120ft to make the game more absorbing and fun.
Sounds And Effects - Sound effects really heighten the gaming experience and many laser guns have satisfying sound effects when you fire your blaster (which can vary depending on the weapon mode you're using) as well as when you hit your target. There are also optional music and voice coaches with certain brands as well, which adds to the video game feel by telling you how much life you have left when you need to reload, and giving tips on when to avoid your opponent.
Features - The more technically-advanced sets allow players to engage in different game play formats and have integrated hardware that can simulate combats or games inspired by sci-fi videogames. There are also more basic sets that are designed for kids to just have fun tagging their friends. Some laser sets, including some of the options listed above, also include accessories such as roving robots which create a different dimension to the game and make it more exciting to play.
Ease Of Use - Depending on whether you've opted for a set with or without vests, you may find that your mobility is limited a bit by wearing a target vest. It can make the player feel uncomfortable and hinder movement. However, most set these days include the sensor as part of the blaster itself which removes this problem. Look for an ergonomic design that makes firing the trigger quick and easy, particularly if kids are playing too.
Durability - Durability can be a problem with laser tag guns due to the nature of the game and the fact that they're often used for hours at a time. The higher the price, the better the quality of materials in most cases, which will mean that you have more chance of the toys lasting a reasonable time.
Construction - The style of the laser blasters differs from brand to brand, and the construction will vary depending on whether you want handheld, thumb-trigger blasters, classic retro-style guns, or high-tech equipment that has a bunch of great contemporary features included. Whichever brand you choose though, all laser tag guns are designed to be lightweight and easy to hold.
Material - Most laser tag guns are made from plastic which is reinforced for better durability, but the quality of the plastic used will vary considerably from one product to another depending on the brand, the price, and the style of the blasters. The benefit of plastic, though, is that it's light so it's great for kids to use and ideal for use in a physical game like this where you'll need to run around with it.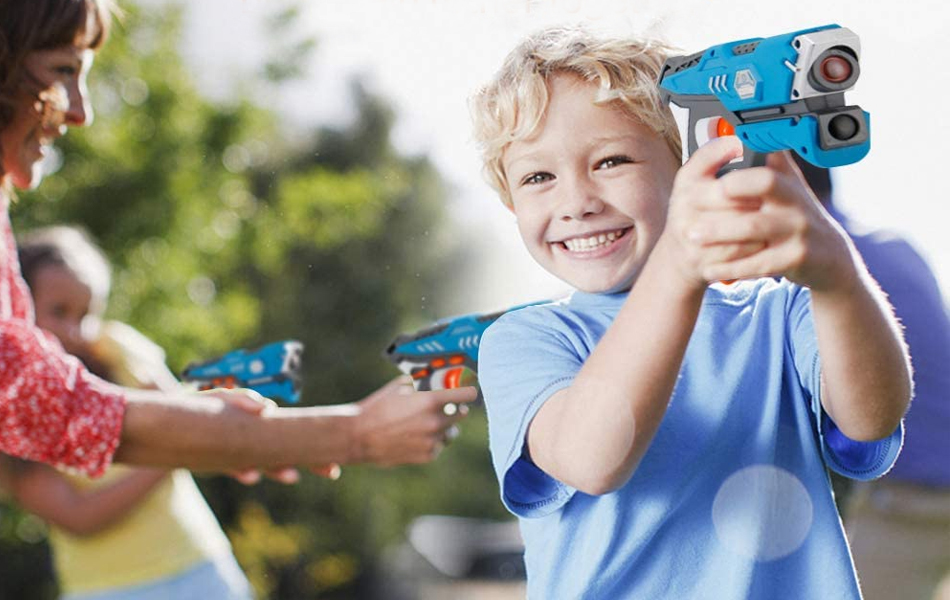 Laser Tag Set FAQ
Q: What is laser tag?
A: Laser tag is a tag game where each player has a gun which shoots infrared beams – the goal is to shoot your opponents to gain the most points, as points are deducted when you're hit. It's a state-of-the-art version of the classic game of tag that kids have been playing for decades, but this time with laser guns and cool sound effects. It has all the tactical fun of paintball, NERF, or Airsoft battles, but without the mess and pain.
Q: How to play laser tag?
A: Whether you're playing indoors or out, the goal is always the same – strike your opponent's sensors with your gun's "laser". You can hide behind things to make it harder to be hit, but in most games the more assertive player is rewarded so striking another player is worth more than what you'll lose by being struck yourself.
Q: What should i wear for laser tag?
A: Look for a laser tag set with vests – because if you're vestless during a game, you won't get very far in the game.
Other than that, the goal is to be as invisible as possible from your opponents, so wear colors that will help you blend in - bright colors make you an easy target. You're also going to be running around a lot, so wear comfortable shoes.
Q: Where can i play laser tag?
A: Laser tag can be played anywhere where you've got plenty of room to run and that's not too confined. Games can be played indoors and outdoors and can be played at night or during the day, although your range may be slightly limited in bright sunlight.
During daylight, without direct sunshine, the range is around 50m (~150ft) for most products – the more sunlight, the more limited your range will become. Higher end models can have longer ranges, which allows you to "tag" people from farther away or play in a larger space.
It's worth mentioning that public playgrounds or school yards may not be the best place to run around with toy guns.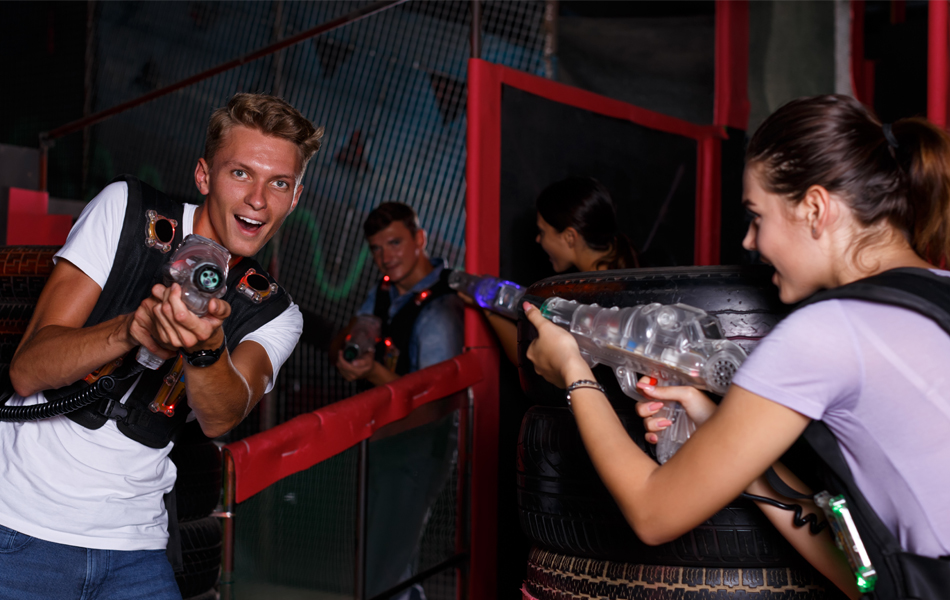 Q: Is laser tag painful?
A: No, laser tag guns and vests will only vibrate and/or make noise when you shoot or get hit, so you won't get a shock and kids will still be able to play safely. Just make sure anything you do is within your range of ability!
Q: Can laser tag damage my eyes?
A: No, laser tag beams will not hurt your eyes. The light in laser guns is a low-power infrared light, the same kind as you'll find in your TV remote, so it won't do any damage to your eyes and is completely child-friendly.
Q: Do I need a vest?
A: Not all home laser tag sets provide vests in their kits, so for those, the gun itself is often both sensor and shooter. For sets that do include vests, if the gun has a sensor that can register a hit, then you may not need to wear the vests also.
Some laser tag sets will opt to use a headset rather than a vest which just means there won't be any cheap hiding of the body in a match. It's best to read the instructions that come with your set to see which parts do what.
Q: Can adults play laser tag?
A: Yes, they can! As long as the handle on the gun and any additional gear required can fit, it's not only great fun, it's great exercise, too!
Sources:
How Do Laser Tag Guns Work? - Interesting Engineering
How Do Laser Tag Guns Work? - Reddit
Sign Up Now
GET THE VERY BEST OF GEARHUNGRY STRAIGHT TO YOUR INBOX