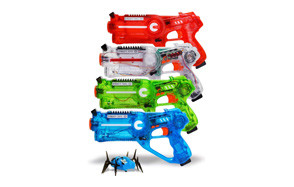 DYNASTY TOYS Family Laser Tag Set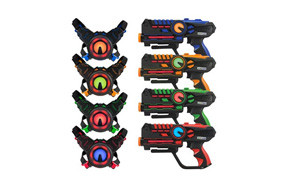 ArmoGear Infrared Laser Tag Set Guns and Vests Mega Pack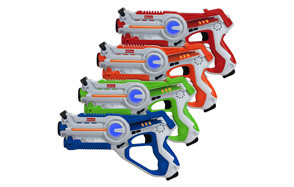 Kidzlane Infrared Laser Tag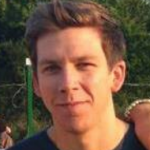 Laser tag is the closest you'll get to starring in your own video game and at-home laser tag sets can provide the same level of excitement you'd get from a laser tag arena. From retro designs to state-of-the-art features, here are 10 of the best laser tag sets on the market.
The Best Laser Tag Set
Laser Tag Set Buying Guide and FAQ
Laser tag isn't just for kids and there's more to laser tag equipment than it first appears. There's range to consider, special effects, accessories and more. We've compiled a list of the best laser tag sets, as well as what to look for when choosing the right one for you.
Performance: Because laser guns are portable, they typically run on battery power. No-one wants to be stopping the game every half hour to change up batteries, so choosing a great-performing laser tag set is key to making the most of your battles. If kids are using the laser tag guns, they're almost certainly going to burn through these more quickly as they're more likely to press the trigger repeatedly while older players will have more aim and precision, so they'll use up less battery power.
Quality: Most laser tag sets are constructed out of plastics which are reinforced with composite materials. Price plays a big role in the quality of the materials used, and how durable they're likely to be, so the grade of plastic used can vary widely. Kids can be pretty heavy handed with toys and the nature of the game means the guns are likely to get dropped or knocked into objects on a regular basis, so don't be surprised if the guns break occasionally regardless of the quality.
Price: For a basic set that kids will get plenty of enjoyment out of – that is to say, just the blasters with no extra sensors or accessories – you can expect to pay in the region of $25 to $35 per gun. If you want the added games and features, the price can rise up to between $35 and $55 per gun. There's also the cost of replacement batteries to consider too, which can add up fast.

Features to Look For In Laser Tag Sets:
Number of blasters: Will your young ones want to play solo matches where a single player tries to tag other members, or will they be more interested in being part of a team? Laser tag guns typically come as a set of two, four or six, depending on how many players you want to get involved. If you want to have larger battles, you can always buy multiple sets as they'll be compatible with each other for unlimited sized teams.
Settings: The settings on a laser tag gun will depend on the number of features it comes with, but at a basic level you'll have a power button, speaker, target area, a reload button, and, of course, your trigger. The health and ammo displays may be included on the vests if the set comes with these or you'll find this on the side of the blaster to indicate how much longer you have in the game. Other settings to look out for include flashlights and invisibility modes.
Shooting modes: Some of the more advanced laser tag equipment on the market allows you to switch between different weapon modes, such as rocket launchers, pistols and shotguns, which have varying levels of impact on the amount of lives lost for your opponents. In addition to different shooting modes, there's also laser range to consider which helps with aim and accurate shooting. If you're planning on playing outside, you'll want to choose a product with a decent range of at least 120ft to make the game more absorbing and fun.
Sounds and effects: Sound effects really heighten the gaming experience and many laser guns have satisfying sound effects when you fire your blaster (which can vary depending on the weapon mode you're using) as well as when you hit your target. There's also optional music and voice coaches with certain brands as well, which adds to the video game feel by telling you how much life you have left, when you need to reload and giving tips of when to avoid your opponent.
Features: The more technically-advanced sets allow players to engage in different game play formats and have integrated hardware which can simulate combats or games inspired by sci-fi videogames. There's also more basic sets which are designed for kids to just have fun tagging their friends. Some laser sets, including some of the options listed above, also include accessories such as roving robots which create a different dimension to the game and make it more exciting to play.
Ease of use: Depending on whether you've opted for a set with or without vests, you may find that your mobility is limited a bit by wearing a target vest. It can make the player feel uncomfortable and hinder movement. However, most sets these days include the sensor as part of the blaster itself which removes this problem. Look for an ergonomic design that makes firing the trigger quick and easy, particularly if kids are playing too.
Durability: Durability can be a problem with laser tag guns due to the nature of the game and the fact that they're often used for hours at a time. The higher the price, the better the quality of materials in most cases, which will mean that you have more chance of the toys lasting a reasonable time.
Construction: The style of the laser blasters differs from brand to brand, and the construction will vary depending on whether you want handheld, thumb-trigger blasters, classic retro-style guns or high-tech equipment that has a bunch of great contemporary features included. Whichever brand you choose though, all laser tag guns are designed to be lightweight and easy to hold.
Material: Most laser tag guns are made from plastic which is reinforced for better durability, but the quality of the plastic used will vary considerably from one product to another depending on the brand, the price and the style of the blasters. The benefit of plastic, though, is that it's light so it's great for kids to use and ideal for use in a physical game like this where you'll need to run around with it.

Laser Tag Set FAQ
Q: What Is Laser Tag?
A: Laser tag is a tag game where each player has a gun which shoots infrared beams – the goal is to shoot your opponents to gain the most points, as points are deducted when you're hit. It's a state-of-the-art version of the classic game of tag that kids have been playing for decades, but this time with laser guns and cool sound effects. It's similar to paintball, without the mess and pain associated with it but all of the tactical competition.
Q: How to Play Laser Tag?
A: Whether you're playing indoors or out, the goal is always the same – strike your opponent's sensors with your gun's laser. You can hide behind things to make sure you stay out of your opponent's view, so they can't hit you, but in most games the more assertive player is rewarded so striking another player is worth more than what you'll lose by being struck yourself.
Q: What Should I Wear for Laser Tag?
A: The goal is to be as invisible as possible from your opponents, so wear colors that will help you blend in, so you don't become an easy target (if you're playing indoors, that's more likely to be darker shades). You're also going to be running around a lot, so wear comfortable shoes.
Q: Where Can I Play Laser Tag?
A: Laser tag can be played anywhere where you've got plenty of room to run and that's not too confined. Games can be played indoors and outdoors and can be played at night or during the day although your range may be slightly limited in sunlight. During daylight, without sunshine, the range is around 50m – the more sunlight, the more limited your range will become.
Q: Is Laser Tag Painful?
A: No, laser tag guns and vests will only vibrate when you shoot or get hit, so you won't get a shock and kids will still be able to play safely.
Q: Can Laser Tag Damage My Eyes?
A: The light in laser guns is a low-power infrared light, the same kind as you'll find in your TV remote, so it won't do any damage to your eyes and is completely child-friendly.