The Incredible, Do-All Trucker Hat: Our Favorites for the Long Haul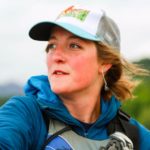 This product guide was written by Josette Deschambeault
Last Updated
March 15, 2021
Josette Deschambeault
Josette is a professional outdoor guide who lives and works in Southeast Alaska, Colorado, and Maine. When she's not rafting, hiking, skiing, or camping with her dog, she writes and edits for multiple outdoor and lifestyle publications.
GearHungry may earn a small commission from affiliate links in this article.
Learn more
How does one go about finding the best trucker hat? There is so much to wade through between brand-names and knockoffs, styles and materials, budget, and higher-end options.
Trucker hats are a staple in our casual couture nowadays — anywhere you go, from the hardware store to the beer garden to a ball game to the beach, you'll see someone sporting a mesh-backed trucker hat any day of the week. They have evolved from yesteryear's foam-paneled fronts and have taken on a whole new level of accessorizing and fashion necessity. However, at the end of the day, we still love them for their core purpose — keeping the sun out of our eyes, hiding the bed head, and representing the logos we love.
As a hat aficionado, our author and tester took out a few of our favorite items from the list below and put these hats through their paces. The rest of our list consists of great designs, quality manufacturers, eco-friendly options, budget-friendly versions, and just plain ol' good time hats.
Check out our picks for the best trucker hats below, pick one out for yourself, and imagine the good times to come in your new snapback cap.
The Best Trucker Hat
Patagonia P-6 Logo LoPro Trucker Hat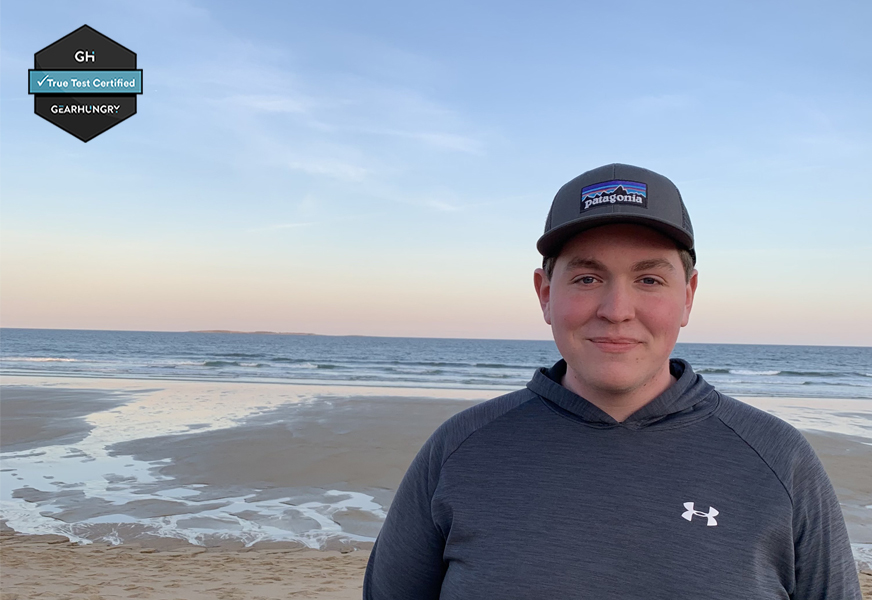 All hail the Holy Grail of trucker hats. You've seen them everywhere: the beach, the bar, the gym, the trailhead, the church picnic, the 7/11 at 3:00 a.m., any SEC game in the last decade.
I've personally worn this version of Patagonia's symbolic hat from Colorado's slopes to the glacial waters of Alaska and Downeast on the Maine coast. The classic Patagonia P-6 Logo LoPro Trucker Hats are beloved across the board and pair well with any sports-inclined or lazy Sunday apparel. 
Choose a solid block color with the iconic Patagonia logo standing in stark relief, or mix up the colors with mismatched mesh, front panels, and gently curved brims. Just in case you like to flip it back, a Patagonia tag by the adjustable snap closure ensures your eco-conscious brand choice is on full display. Read the in-depth review here.
Key Features:
Made from fully traceable, 100% recycled fishing nets
Fairtrade certified
Polyester mesh back
Adjustable snap closure
Organic cotton front
Specification:
Brand

Patagonia

Weight

3.2 Ounces
Carhartt Men's Rugged Trucker Hat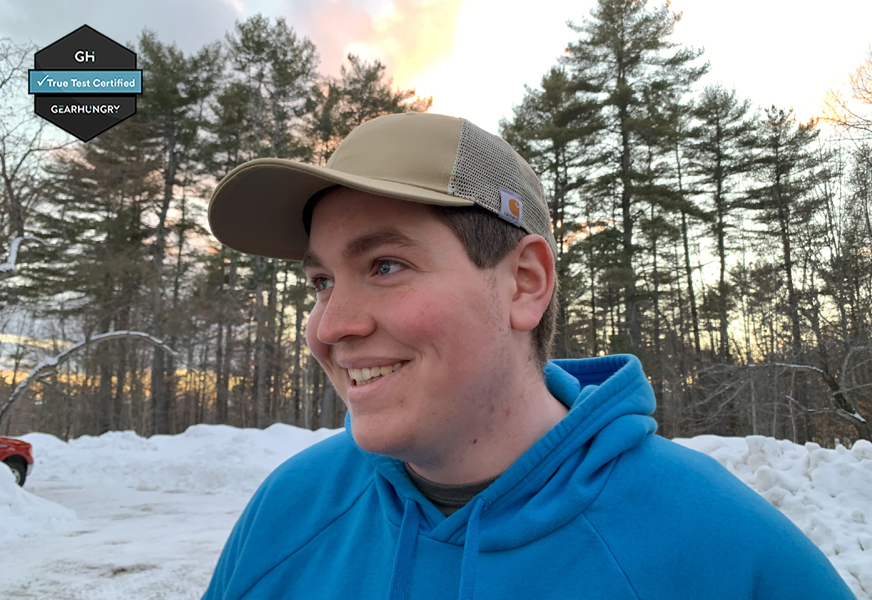 The workhorse of trucker hats just pulled into your drive. My brother and I tested our Carhartt Men's Rugged Trucker Hat. In them, we have cleaned fire trucks, hauled plants, loaded motorcycles into truck beds, and plowed snow in this rugged trucker hat, and kept the sweat away thanks to its design.
This down-to-earth cap lets the world know you're not afraid to work hard, break a sweat, and get your hands dirty. The Carhartt Force sweatband with FastDry technology wicks away sweat and fights the odors that a hard day's work can produce. The medium-profile design features a split-panel front and a slightly-curved visor to keep the sun out, while the polyester mesh backing lets the wind cool you down. Read the in-depth review here.
Key Features:
59% cotton, 39% polyester, 2% spandex
Adjustable snap closure
Machine washable
Carhartt force sweatband fights odors
Fast dry technology wicks away sweat
Structured, medium-profile cap
Embroidered holes
Split panel front
Specification:
Brand

Carhartt

Model

103056
prAna Unisex Journeyman Trucker Hat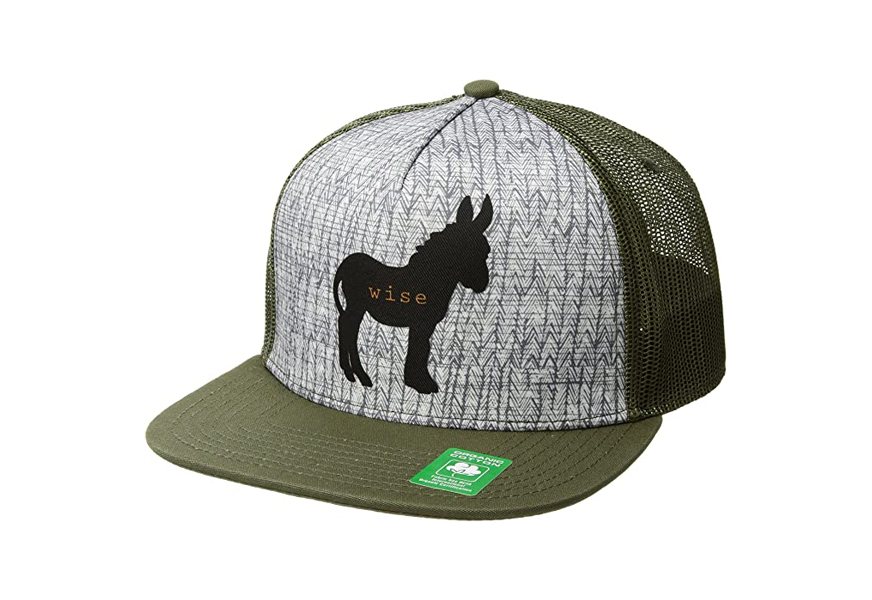 prAna is known for its environmentally-friendly and outdoor-sport-inclined designs, which comes with a side of sass in this choice. The wise, uh, donkey logo is complemented by an earthy chevron pattern against a deep green brim and mesh, which is great for hiding sweat and hat hair.
The trusty adjustable snap closure and flat brim check all the style boxes, while you can rest assured that your favorite lid is made from organic cotton and recycled polyester. Check out the prAna Unisex Adult Journeyman Trucker Hat's many graphics options, including the Bear Hug, Tree Hugger, Haulin' Ass, and Van Life.
Key Features:
Adjustable snap closure
Journeyman graphic on the front panel
Mesh back
Custom prAna logo tape at inside
Embroidered eyelets
Specification:
Brand

prAna

Model

U5JOUR315

Weight

1 Pound
Wear Your Roots Snapback Trucker Hat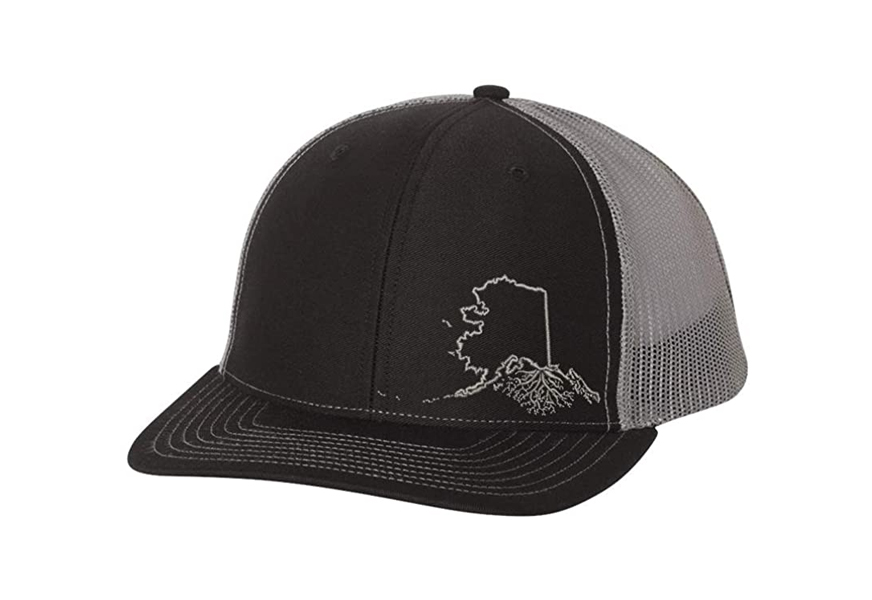 Proud of where you come from? Love the state you live in now? Wear Your Roots took that homegrown feeling and embroidered it onto a comfortable and classic trucker hat for men.
You can choose your Wear Your Roots Snapback Trucker Hat from five color options and each of the 50 states to find your perfect match. The "roots" spread from the southern portion of your beloved state and let everyone know where your loyalties lie. Be sure to also browse our list of the top Bluetooth beanie hats on the market.
Key Features:
All 50 states as options
Multiple colorways for each hat
Low profile
Mesh back
Adjustable snap closure
DALIX Two Tone Trucker Hat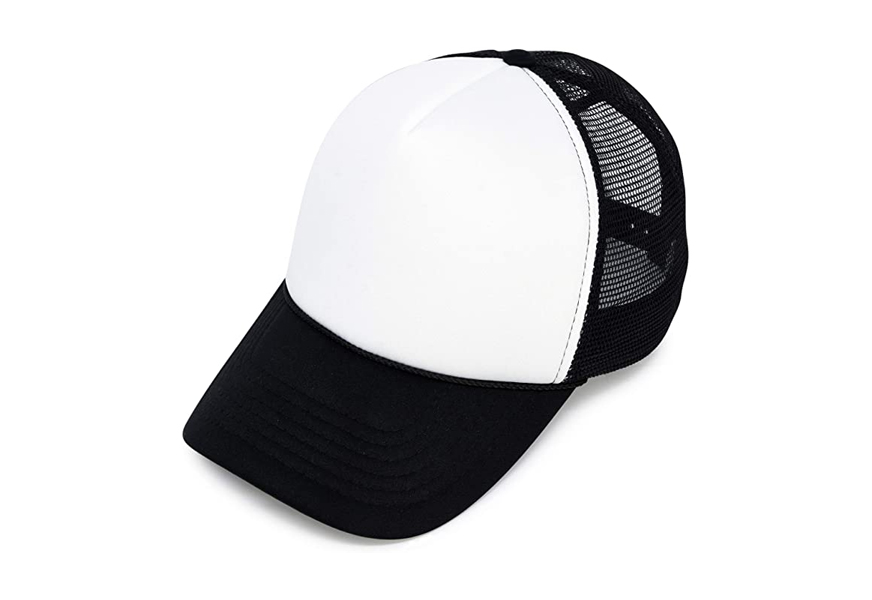 If you're looking for simple, classic, and super-affordable, look no further than the DALIX Two Tone Trucker Hat. These are the original look for trucker hats — simple, blank, and lightweight.
The polyester-foam front panel keeps you nice and cool while leaving a blank canvas for artwork if you want to get creative. The mesh backing allows for maximum airflow on those hot summer days, while the adjustable snap gives you a range of sizes to fit every noggin. For more quality options like this, check out our guide on the best fishing hats currently being sold. 
Key Features:
Poly-foam
Adjustable snap closure
Made with poly-foam material
Light-weight, high-quality fabric & stitching
Crown (forehead) height: 3.75 inches
Specification:
Brand

DALIX

Model

H-088

Weight

3 Ounces
Branded Bills Leather Patch Hat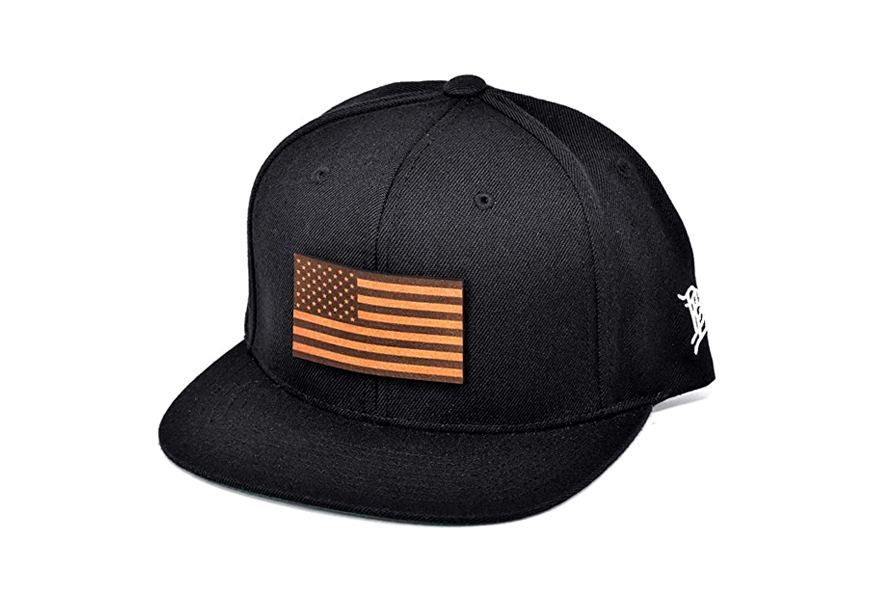 Keep the patriotism alive with one of Branded Bills' four styles — a curved bill trucker, a classic snapback, a flatbill trucker, or a FlexFit fitted cap. Each of these options features an adjustable snap closure, a leather patch, and comfortable cotton. The curved bill and flatbill trucker hats both sport polyester mesh for ultimate breathability, while the FlexFit fitted and snapback options cover your head more fully.
Each Branded Bills Leather Patch Hat is handmade, so you know you're getting the best of the best. You may also be interested in these cool 5-panel hats from our list, so take a moment to check them out.
Key Features:
Adjustable snap closure
Look good and represent your country!
Genuine leather patch
Leather patch will darken and soften over time
Goorin Bros. Animal Farm Trucker Hat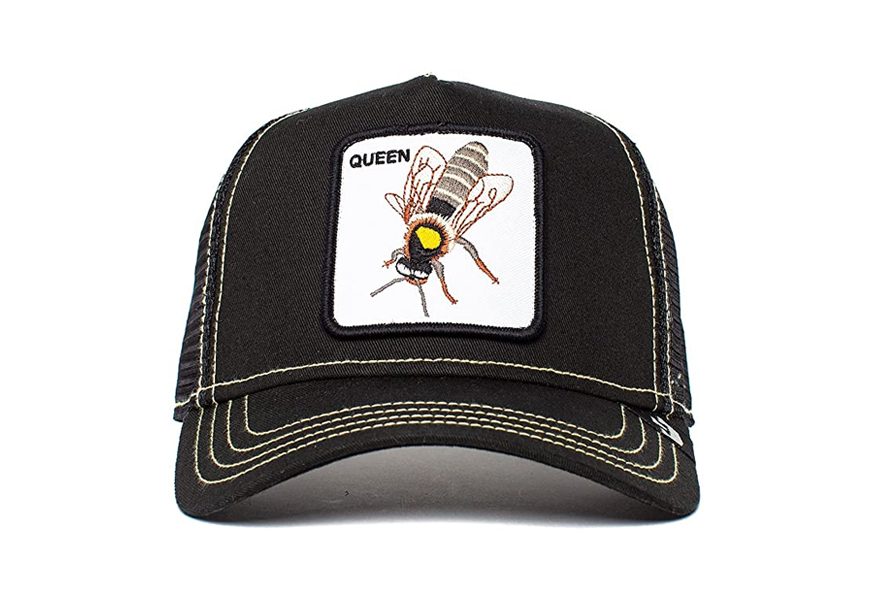 John Deere would be proud of whoever sported this menagerie of trucker hats. Choose from a range of colors and animals — from "wise ass" owls to burly black bears and a studly stallion — mean there's something for everyone in this collection.
Make sure to only hand-wash Goorin Bros. Animal Farm Trucker Hat, as the embroidered patch doesn't hold up well in a washing machine! If you are into swimming, be sure to invest in a reliable swim cap from our list.
Key Features:
Snap closure
Multiple patterns and animal options
Bill Material: poly blend
Sweatband: cotton
Content label: 57% polyester, 43% cotton
Specification:
Brand

Goorin Bros.

Model

1012155-GRY

Weight

12 Ounces
RVCA Adjustable Snapback Mesh Trucker Hat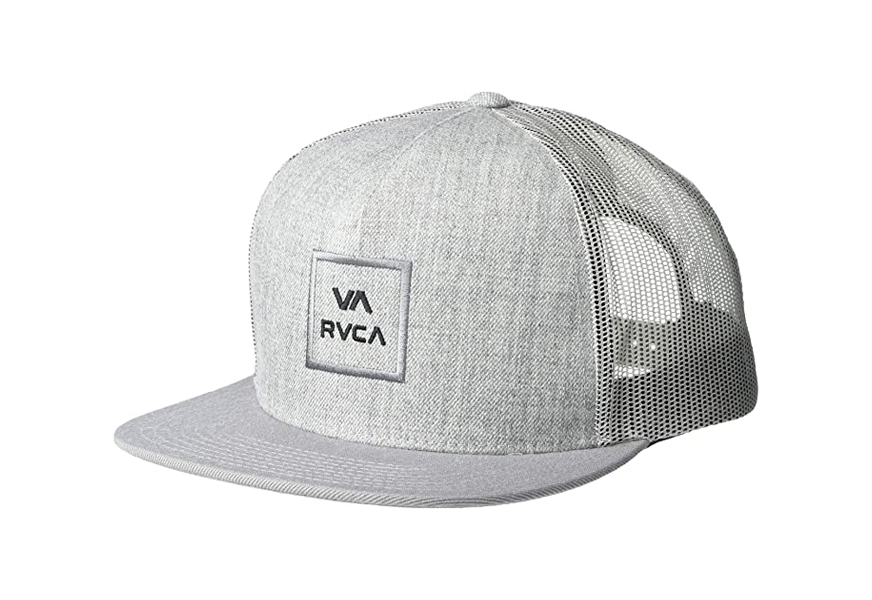 For a mellow surfer vibe and colors that can match darn-near any outfit, RVCA brings you the California classic snapback. The embroidered white logo against the black cotton front panel provides a stark yet subtle contrast, while the green underside of the bill brings a splash of color to the trucker hat.
RVCA is all about clean lines, and RVCA Adjustable Snapback Mesh Trucker Hat brings just that. You know it's a good look when celebrities like Zac Efron wear it as part of their "regular Joe" ensemble.
Key Features:
48% cotton, 40% polyester, 12% wool
Adjustable closure
Hand wash only
Five-panel trucker hat
Green underbill
VA stacked logo embroidered at front
Specification:
Brand

RVCA

Weight

3.68 Ounces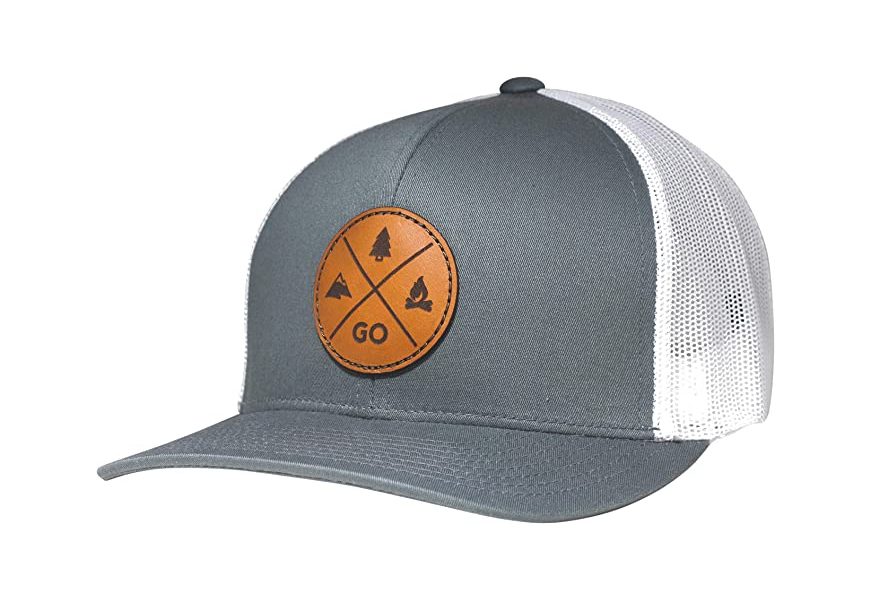 Clean, simple graphics that drive home a laid-back but high-quality aesthetic? Yes, please. The LINDO Trucker Hat collection is all about beautiful artwork, eye-catching patches and embroidery, and quality materials that will last for longer than your legs will on that hike.
The company emphasizes its lack of corporate branding, so you only see the designs, not the company logo. This family-run business brings hats that everyone in your outdoor-centric family will love — and they're comfortable to boot. Combine it with a quality v-neck t-shirt for a casual summer look.
Key Features:
Designed in the PNW
Shipped in box to avoid damage/crushing
Structured front panel
No corporate branding
Adjustable snap closure
Cotton blend with polyester mesh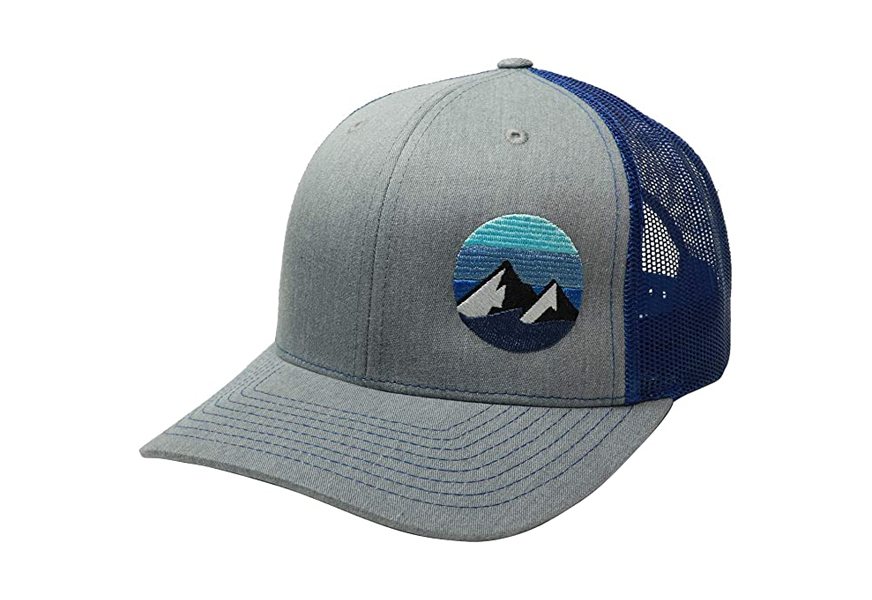 Mountains, sea, and sky combine into an arresting logo cresting a quality trucker hat. Choose from a dozen color combinations to find your perfect match, but rest assured that the logo remains the same: handcrafted and embroidered right here in the USA.
This mid-profile, 6-panel hat gives you enough structure to retain a crisp look while doing its job well — the brim keeps the sun, wind, and rain off of your face, while the polyester mesh allows for key breathability. Adjust the WUE Trucker Hat's size with the snap closure on the back, and you're set for whatever the day throws at you. 
Key Features:
Snap closure
Made of 65/35 polyester/cotton twill
100% polyester mesh back
Mid-profile
Six-panel
Handcrafted embroidered logo made in the USA
e4Hats.com NASA Logo Patched Mesh Back Cap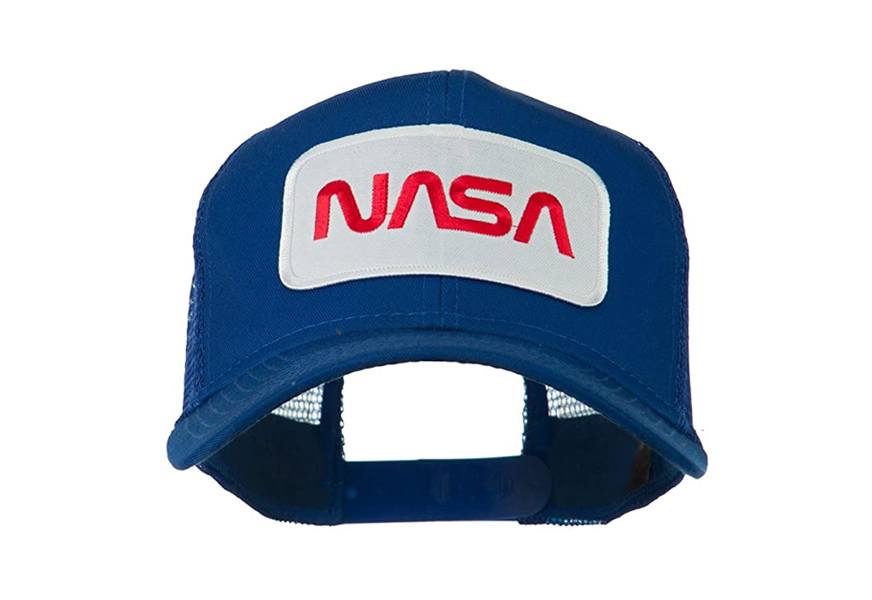 We put a Rover on Mars! What better way to celebrate the genius behind the mission than by sporting a NASA-inspired trucker cap?
This cotton-paneled hat displays a tall front with an old school, embroidered NASA logo in red and white. However, you have several colors to choose from as the background color on e4Hats.com NASA Logo Patched Mesh Back Cap. Match your next 4th of July outfit with one of these bad boys and brush up on your lunar landing facts!
Key Features:
100% cotton front panel
Made in USA and imported
Snap closure
Made of 35% cotton and 65% polyester, mesh back
Same material inner hatband
Crown measures 4 inches deep
Why Trust Us
We wear hats—a lot. I personally spend a significant amount of time outside as a professional outdoor guide, and the rest of my time either outside in Alaska, Colorado, Maine, or New Hampshire. Inclement weather, hat hair, and sweat-inducing work keep a hat on my head for the majority of the year.
Who This is For
Anyone and everyone, but especially those who love a good mesh-backed trucker hat. These caps are suitable for the youngest buckaroo gearing up for the rodeo to the soccer dad on the sidelines, from the on-the-go woman to the outdoor handyman.
At the end of the day, you have to find the design that works best for your noggin and your preferred activities.
How We Picked
We looked for quality manufacturers, great designs, multiple color options, and pleasing aesthetics. However, even a simple trucker hat can rack up quite the price tag, so we made sure to include several budget options to keep on hand, as well.
How We Tested
I wore our tested hats to respond to the fire station, plow snow in a New England blizzard, apres ski, haul plants to and from greenhouses, to breweries, and about my everyday chores. Wherever you could wear a hat, I wore a hat.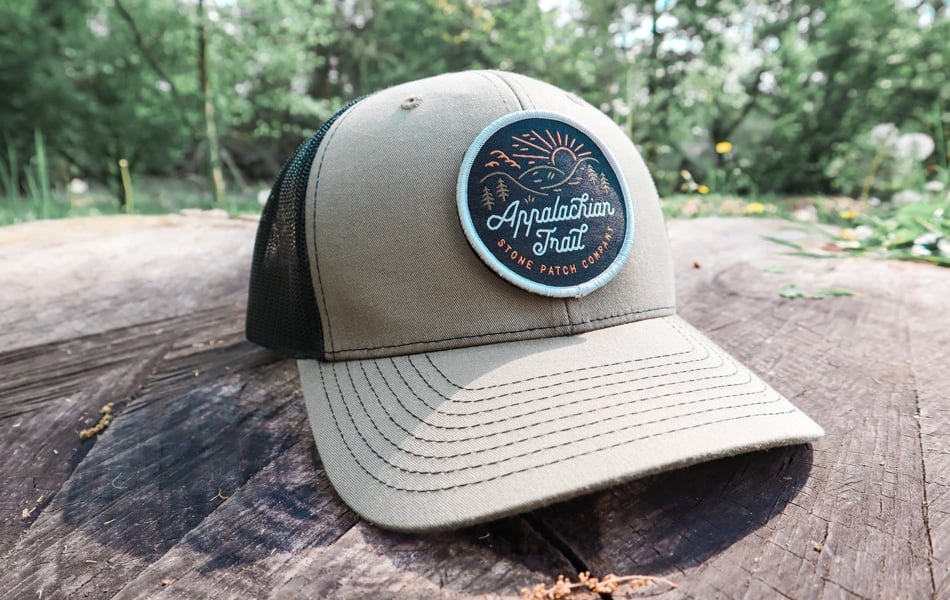 Features to Look for in Trucker Hats
Material — Most trucker hats are made from a combination of cotton and polyester, but make sure you find the material you find most comfortable. Maybe you prefer a 100% cotton front panel; maybe you prefer the warmth of corduroy.
Whatever your preference, make sure that it's absorbent or wicking to keep the sweat out of your eyes!
Fit & Adjustability — Adjustability is key. Every one of our choices above uses an adjustable snap closure to fit a range of head sizes; most trucker hats will measure the same circumference, although some could be larger or smaller than average.
Comfort — This might be the most important aspect of all! Find a hat that's comfortable for your head. Maybe you don't prefer a sturdy front panel; maybe you prefer a foam or thin cotton panel.
Maybe you like a looser fit, or you prefer a flat bill instead of a curved bill. These are all personal preferences, but you probably won't wear them if the hat's not comfortable.
Sweatband — Like our Carhartt choice, a wicking sweatband is crucial for outdoor and work-related hats. You want to keep the sweat off of your brow and out of your eyes, so look for cotton or FastDry sweatbands.
The sweatband will generally become dirtiest first, so do a smell check every once in a while to see if you need to rinse that hat out.
Breathability — Mesh panels on the back of your trucker hat are great for breathability, but make sure that your front panel also has embroidered holes for good ventilation.
Types of Trucker Hats
Structured — As the name says, these hats tend to be more rigid in construction. That could mean a single reinforced panel upfront, thicker mesh, or a wider sweatband. It comes down to personal preference, but these kinds of hats are better for working or longer time spent outdoors.
Unstructured — Generally more casual and more comfortable, unstructured hats are great options. Again, it's a personal preference, but these hats are easy to fold and tuck into your pockets when you don't need them.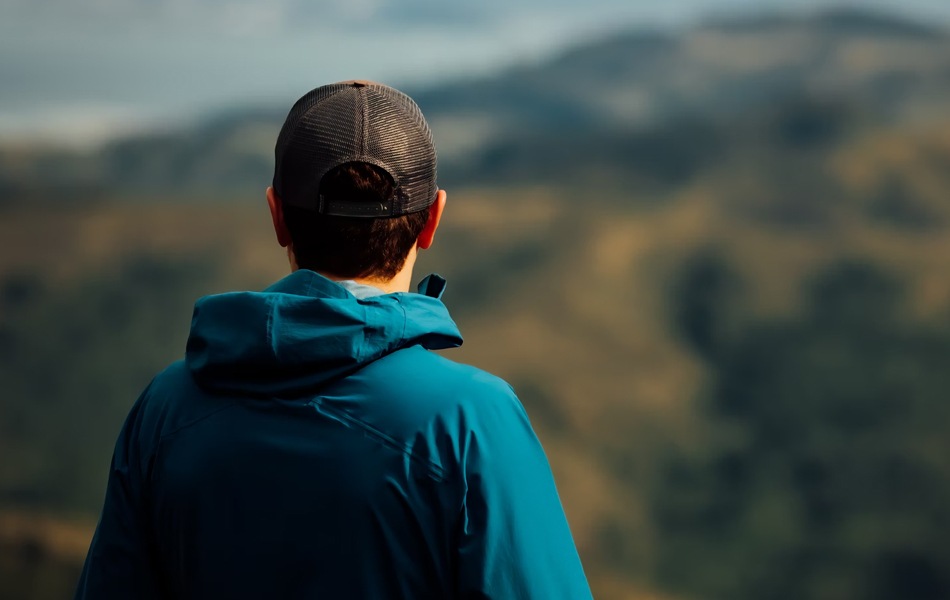 Trucker Hat FAQ
Q: Why is it called a trucker hat?
A: It all started in the country. Traditionally, trucker hats refer to foam-paneled fronts and polyester mesh-backed ball caps. Rural stores, like feed stores and hardware stores, could give away these cheap-to-produce hats as souvenirs or prizes to farmers, ranchers, and truckers coming through town with deliveries in the 1980s. They were primed to display logos on the front and were functional gifts that laborers weren't afraid to use and get dirty daily.
Q: Why do trucker hats have mesh?
A: Mesh is standard on trucker hats, so the wearer has better ventilation while they're out working in every kind of weather condition, and so they don't get too sweaty on those long-haul drives.
Q: Can bald guys wear trucker hats?
A: Absolutely! Anyone can wear a trucker hat, and more power to you for rocking the clean-shaven look under that mesh. Just make sure you apply sunscreen before a sunny day because nobody wants to have a mesh-patterned burn on their dome.
Q: What is the difference between a snapback and a trucker hat?
A: Truthfully? Not much. A snapback refers to the adjustable plastic snap closure that provides adjustability and fit on most hats, including all of our trucker hat options on our list above.
A trucker hat sports mesh panels on the back of the head from breathability but can easily utilize a snapback adjustable feature.
In today's culture, a snapback hat could mean a full-material cap with the snap closure, or it could encompass the whole range of trucker hats, as well. They're nearly interchangeable terms, so don't stress out about the "proper terminology" of the hat world.
Q: How do you break in a trucker hat?
A: Simple; you wear it. Some people will leave their hat in the sun to fade and break down; others will crush and crumple the panels to get them to feel better, while others will dunk their hats in saltwater to break down the stiffness. The best way to break in a trucker hat to fit your head, though? Just wear it. The more you wear it, the more it will break into your desired fit.
Q: Do trucker hats protect from the sun?
A: Yes and no — they're designed to keep the sun out of your eyes and off of your forehead, but the top and back of your head will still be exposed to the sun through the holes in the mesh. That's not necessarily a bad thing, and most people find that the brim is the most important piece to keeping the sun off of them; however, sunburn is still an option with the ventilated mesh backs, so keep an eye on your noggin!
Sources:
Trucker Hat Vs. Baseball Cap - Buffalo Jackson
What Is The Difference Between Snapbacks And Trucker Hats? - Fast Fashion News
Sign Up Now
GET THE VERY BEST OF GEARHUNGRY STRAIGHT TO YOUR INBOX