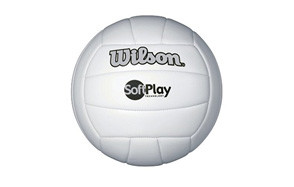 Wilson Soft Play Outdoor Volleyball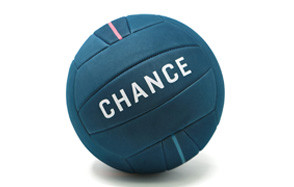 Chance Soft Volleyball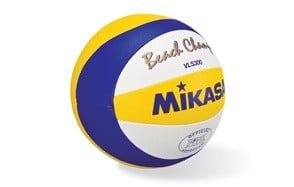 Mikasa VLS300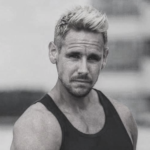 Visit any popular beach around the world and you could end up being a spectator to a game of beach volleyball. Perhaps this is a favorite beach game you play with your friends when you hit the coast? Volleyball is a fast, fun game that has been around for over a century. It didn't take long for the beach version to become just as popular.
Beach volleyball is a little more supercharged as it is generally played with only four players – two teams of two. Of course, that's the standard for regulated competitions. When you get a bunch of friends together to play beach volleyball, you can get away with many more players and even a few alterations to the rules.
As with all sports, you need equipment. You don't need a lot for beach volleyball. You need a net and something to mark the perimeter of the playing area or court, and you need a beach volleyball. There are many different types of balls you can play this awesome game with, but we've put together a list of some of the best beach volleyballs to give your game a little bit of an edge.
The Best Beach Volleyball
Beach Volleyball Buying Guide & FAQ
How To Choose The Best Volleyball From Our List
Sizing – The beach volleyballs in our list are all official size so even recreational players can enjoy the same experiences as the pros. This makes them perfect for beginners as it will make practice more efficient than playing with a non-standard ball and pros will settle for nothing less.

Materials–Controlling a volleyball is quite challenging so you want a ball that is easy to hit and easy to grip. All of the volleyballs in our list feature synthetic leather or composite covers that ensure full ball control, yet are still soft to the touch. Apart from exceptional ball control, these materials are also incredibly durable so you can be sure that each ball will last through several hours of play over the course of many summers.
Brands –Every volleyball in our list comes from a brand with a stellar reputation for manufacturing quality sporting goods. This is your reassurance that you are choosing a volleyball that has been designed by companies that have dedicated considerable resources to research and develop their products to perform well under any conditions. By only considering these reputable brands, you can be certain you are getting an authentic volleyball and not a cheap imitation.
Price – A good quality beach volleyball won't come cheap. However, if you are willing to invest in a good quality ball you will not be disappointed. Cheaper balls are available in almost every sport and variety store, however, the lesser the quality, the more often you will find yourself purchasing a new on. The extra money you spend on an authentic beach volleyball from a reputable manufacturer, such as those from our list, ensures you will get plenty of use out of your ball which will save you money in the long term.
Quality – When we looked at the average use of a beach volleyball, quality is a high priority. Beach volleyball is a rigorous game and the ball can be put through some devastating action. Even though beach volleyball is generally played on sand, beaches often have other elements to them. First of all, there is water. A good quality volleyball will feature proper stitching that is resistant to water seeping through the outer layer, waterlogging the ball and making play difficult. That same outer layer needs to be made of exceptional quality and durable material as many beaches have rocks protruding on land and sea.

Beach Volleyball FAQ
Q: What is the difference between regular volleyball and beach volleyball?
A: Players – The first difference you will see between regular or indoor volleyball and beach volleyball is the number of players per team. Regular volleyball has six players per side, with each player filling a specific position according to their skills. Beach volleyball, on the other hand only has two players per side and both players are usually evenly matched in terms of skills. In more serious competitions, one player may be better at digging, while the other may be more skilled at blocking.
Court Size – Indoor courts are considerably larger than beach volleyball courts. They measure 18 meters by 9 meters with a parallel attack line 3 meters from the center. A beach volleyball court is 16 meters by 8 meters and there are no attack lines, just perimeter lines. The smaller court size of a beach volleyball court is due to the smaller number of players and the fact that it is difficult for the players to move with ease over sand.
Keeping Score – A game of indoor volleyball consists of 5 sets. The first team to reach 25 points wins the set with the obvious winner being the one who wins 3 out of 5 of those sets. If the game comes to a fifth set tiebreaker, they may only play for 15 points in the final set. The teams will switch side after each set.
In beach volleyball, there are 3 sets and to win a set, the team needs to win 21 points. Two sets win the match and if a tiebreaker is needed, they may only play for 15 points.
Whether you are playing indoor or beach volleyball, you must win each set by a minimum of 2 points. Similarly, both games use rally scoring. This means you don't have to serve the ball to win a point. The winning team is the one that wins the rally.
Balls –Indoor volleyballs are usually made of leather and carry considerably more weight than beach volleyballs. With indoor volleyballs, you want more power with each hit so you need a ball that is heavier so it can move with more speed and can be hit a lot harder.
Beach volleyballs are slightly larger than indoor balls and they are lighter. This lighter weight gives the ball the ability to flow more fluently through the air and many professional players will use their weather to gain an advantage over their opponents.
Beach volleyballs also tend to be made from synthetic and composite materials. These tend to be more durable and the materials are generally lighter than the real leather used in indoor volleyball competitions.

Q: What are the different shots in volleyball called?
A: Serve – A good serve is needed to start a game of beach volleyball and there are two main types of serve in the game. The first one is commonly known as the floater and involves tossing and hitting the center of the ball with the simple intention of sailing the ball over the net. A topspin serve involves hitting the ball in much the same way as with a floater, however, instead of hitting the center of the ball with your palm, you hit a little lower which will give the ball a bit of a spin.
Passes – When the opposing side hits the ball into your side of the volleyball court, your team is allowed a total of 3 shots to clear the ball back over the net to your opponents. One of those shots is often referred to as the dig. This involves getting your both of your hands under a descending ball with the intention of not letting it hit the ground. Your hands should be close tougher, almost clasped with your thumbs and heel of your hands facing up. The idea is to direct it to your teammate who will usually await the ball a setting shot. This is done using the tips of your fingers to guide the ball towards the net for the third, and hopefully, the final shot which is the spike. The aim of the spike is an attacking shot and the aim is to shoot it over the net with as much force as possible to make it difficult for the opposing players to return. Whenever possible, a spike should be aimed at a space on the opposition's side of the court that is void of players. This is one of the best ways to score points during the game.
Q: Is beach volleyball always played on a beach?
A: For many years, the game of beach volleyball was played on the beach, and many tournaments still insist on the beach as a location for their competitions. However, many lovers of this great game live too far away from a beach to play as much as they'd like to. Fortunately, as beach volleyball has gained in popularity, particularly over the last couple of decades, more and more sports centers have accommodated players by including a volleyball court with sand instead of the usual surface. Not only has this trend made it possible for inland professionals to practice all year round, but it has also made it possible for recreational players to enjoy this sport no matter where they are located.
Whether you are a recreational beach volleyball player or a professional one, this is a game that appeals to the masses for a number of reasons. Firstly, it appeals to beachgoers looking for a little more activity than swimming or sunbathing. It's lots of fun and you don't necessarily need any equipment or skills to enjoy the game. All you need is a pair of shorts, or a swimsuit, and a volleyball that has been designed for the outdoors. For recreational players, you should have a net, but if you're just playing for fun, you can forgo the net. If you fell yourself getting too hot and sweaty playing on the sand, simply move a few steps and take your game into the water. Professional players are usually a little more selective and need the net and a marked court. Their choice of volleyball will be a little more decisive and they will choose the best beach volleyball for their needs.

Whatever your reasons for hitting the beach with a volleyball, choose a volleyball from our list and you'll enjoy a great game on the beach. You'll look like a pro … even if you aren't one.