In Stride: The Best Men's Walking Shoes in 2022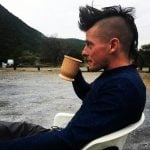 This product guide was written by Sam Anderson
Last Updated
April 12, 2021
Sam Anderson
Sam Anderson has followed a passion for well-told stories and nature's beauty from university classrooms to mountain adventures. After earning a bachelor's degree in literature, he leaned into a life fueled by road tripping, rock climbing, coffee and beer, and renegade camping. He has worked as a chainsaw operator, house carpenter, and window cleaner, at one point running his own window cleaning business. He has finally settled with his girlfriend and small zoo in the western American desert, trading his tool belt for a keyboard.
GearHungry may earn a small commission from affiliate links in this article.
Learn more
Your feet are your foundation. Everywhere you go, they carry you there. So finding the best walking shoes for men can be critical. A simple walk is one of the easiest exercises I can think of, and it's a good way to find peace of mind amid the scrum of our typical chaotic days — but wearing walking shoes for men that don't work for you can ruin the placid experience.
So how do you choose the best men's walking shoes? And what is a walking shoe — I mean, after all, can't you put on pretty much any shoe and go for a walk? I got my steps in while I tested walking shoes, meditating on these and other answers.
Walking Shoes Versus Walking in Shoes
When choosing a walking shoe, your best bet is to envision how you'll use it and evaluate your needs. Will you be walking long distances, say 5+ miles, or just around your neighborhood? Considering that, what terrain do you see yourself walking on? Some walking shoes are specifically designed for smooth surfaces like sidewalks, with heavy-duty cushioning and broad, flat tread. Some are designed for uneven surfaces like nature trails, with strike plates, multi-directional lugs, and toe caps. Some are even waterproof.
Wherever your walk takes you, one thing's for sure: you want to be prepared and comfortable. That's why this guide includes not only the best walking shoes for men but also cross-trainers, hikers, and crossovers.
The Best Men's Walking Shoes
Skechers Afterburn Men's Walking Shoes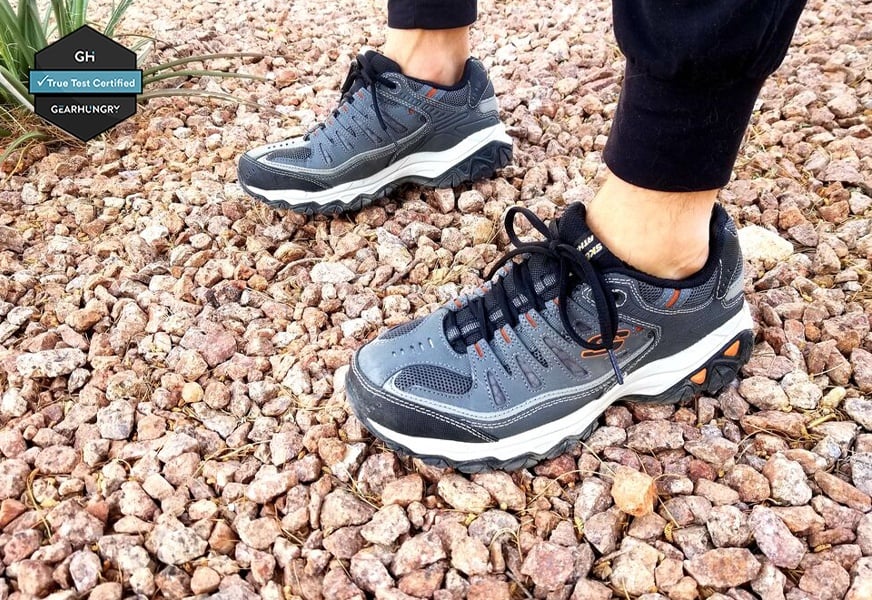 I ventured into the land of memory foam insoles, not knowing what to expect. Now, I'm happy I've been there, but I won't be going back.
The sturdy Skechers Afterburn Men's Walking Shoes tested as heavily supportive, built for lasting comfort. A robust midsole is the shoe's foundation — I was tall while wearing the Afterburn, and I'm not a tall person. Moderately aggressive treads, a durable but relatively lightweight synthetic upper, and memory foam insole round out the shoe.
The Afterburn's tread performed well on various terrain. It gripped smooth rock respectably and delivered traction on loose gravel. Despite the shoe's hefty overall build, it didn't feel heavy or cumbersome — I didn't unexpectedly kick anything or feel clumsy in it like I expected on my first impression.
It also shook off abuse pretty well, refusing to fray or rip when snagged by low-lying branches during hikes.
Too bad the Afterburner's featured asset, its memory foam insole, is actually its liability. To me, the material always just felt squishy. I don't know what else I expected, but the effect was awkward and consistently irritating. The insole was also impossible to break in — by nature, memory foam always bounces back to its original shape until it collapses.
Memory foam insoles may work for some folks, but to me, it doesn't make sense. I tried to replace the Afterburn's insole but found it glued down.
One final note: the shoe's collar felt high and stiff, which was uncomfortable on my ankles.
If you're interested in a memory foam insole, the Skechers Afterburn is a solid buy with its other highly functional features. Read the in-depth review here.
Key Features:
Stout construction
Synthetic upper
Tall, supportive midsole
Memory foam insole
Specification:
Brand

Skechers

Model

50125

Weight

12.24 Ounces

Intended Use

Multi-use

Upper Material

Synthetic, mesh

Water Resistant

No

Widths Available

1
Durable
Relatively lightweight
Memory foam insole felt too squishy
Collar felt high and stiff
New Balance 877 Men's Walking Shoes
New Balance builds the 877 with a breathable suede-and-mesh upper and an impact-resistant sole well-equipped with proprietary technology. As tested, the shoe had a generous toe box and a broad foundation. I felt the New Balance 877 Men's Walking Shoes was a good smooth-surface walking shoe for people with wide feet. Its reputation as one of the top-rated men's walking shoes is well-founded.
New Balance uses grey suede to give the 877 a classic appeal and adds mesh lining and panels for breathability. I found the shoe kept my feet from sweating uncomfortably on strenuous hikes up to five miles in 90-degree-plus heat. With its low weight, I also felt energetic and dextrous even when the miles started to pile up.
That said, the 877 isn't a hiking shoe, and it didn't perform like one. The outsole's smooth tread works a lot better on pavement than it does on sandy or uneven surfaces, and it tested better on the sidewalk. The 877's broad, flat foundation translates better to smooth surfaces, and New Balance's proprietary strike path technology is designed for consistent strides and footstrikes — not the more random pattern you take on a trail.
New Balance constructs 877's midsole with its ABZORB technology, limiting impact with cushioning and compression resistance. This property struck me as a good idea for a shoe designed to pound the pavement, and I never noticed any unusual impact during testing.
Finally, the wide toe box and base make the 877 a great choice for folks with wide feet (if you have narrow feet, like I do, consider yourself warned). I did find the shoe comfortable over long periods due to its breathability and high-performance cushioning. Its go-anywhere style will appeal to those looking for an everyday wearer. Read the in-depth review here.
Key Features:
Suede and mesh upper
Broad sole and toe box
Abzorb midsole adds impact resistance
Specification:
Brand

New Balance

Model

MW877GT

Weight

15.5 Ounces

Intended Use

Walking

Upper Material

Suede, mesh

Water Resistant

No

Widths Available

2
Great for hard surfaces
All-day comfort
Smooth treads not the best for hiking
Excessively roomy for people with narrow feet
Saucony Switchback 2 Men's Walking Shoes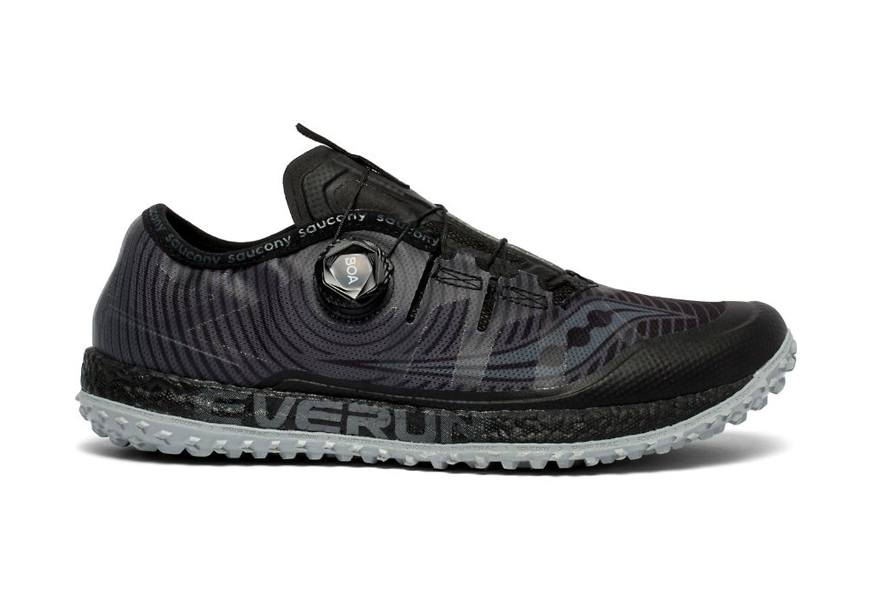 The Saucony Switchback 2 Men's Walking Shoes are Saucony's development on the original Switchback Iso walking shoe, featuring BOA lacing and a mudguard on the upper. A full-length midsole offers cushioning and energy return for long hauls, and rugged lugs secure the shoe on rough terrain. Saucony fits the Switchback 2 with its proprietary PWRTRAC outsole, which it deploys for wet, uneven surfaces. It adds trail-specific cushioning and midsole features, including a rock plate.
The Switchback 2 differentiates itself from the BOA lacing system. In my experience, BOA systems offer three distinct advantages: 1) they make it easy to dial in your shoe's tightness, 2) they can't come untied, and 3) they're quick to put on and take off. That being said, they're either impossible or complicated to repair if they break. The precision adjustment of BOA lacing can add a dimension to a comfortable walking shoe. With a grippy, aggressive outsole and advanced trail features, the Saucony Switchback 2 looks like a high-performance walking shoe that can handle any terrain, similar to some of the best trail running shoes on our list.
Key Features:
Outsole and midsole loaded with proprietary tech
BOA lacing system
Mudguard for added protection
Specification:
Brand

Saucony

Model

S20482-20

Weight

1.6 Pounds

Intended Use

Trail

Upper Material

Synthetic

Water Resistant

No

Widths Available

1
All-terrain
High-performance
Pricey
Overly aggressive for casual wear
ASICS Gel-Venture 7 Men's Walking Shoes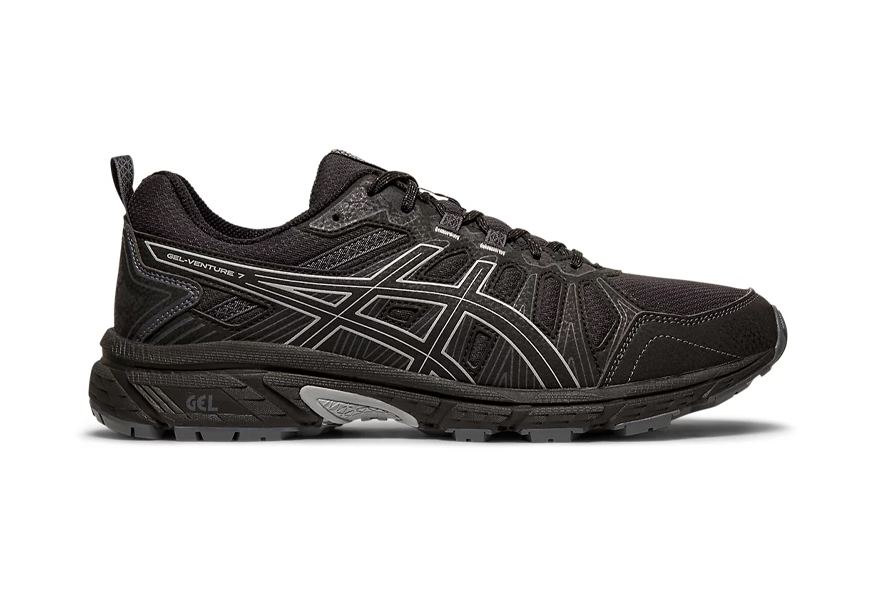 The Gel-Venture 7 is ASICS' running — or walking — shoe for everyone, with solid cushioning and heel construction, plus high rebound and a moderate MSRP. ASICS has this to say about its well-established GEL technology: " [it] attenuates shock during impact phase and allows for a smooth transition to midstance." Whatever this means, the tech has been perennially successful for ASICS. The ASICS Gel-Venture 7 Men's Walking Shoes features gel technology in the rearfoot.
ASICS adds an internal heel counter to help retain foot position in the shoe, designed to shape the foot over time. An EVA midsole increases cushioning. Reversed lugs provide uphill and downhill traction on an outsole that features proprietary abrasion-resistant rubber and synthetic leather on the support of the upper bolster. ASICS also includes a sock liner that aids rebound absorbs moisture, and increases breathability. If you decide you don't like it, it's removable.
I don't know what more I could expect from a trusted brand with a good reputation at the price point. Beware of poor construction or knockoffs, as reported by a few online reviews. Get a genuine, sturdy pair, and the ASICS Gel-Venture gets the job done as a well-featured, versatile walking shoe.
Key Features:
GEL rearfoot
Various cushioning and shaping features
Outsole designed for rugged terrain
Specification:
Brand

ASICS

Model

1011A736

Weight

2 Pounds

Intended Use

Running, walking

Upper Material

Synthetic leather

Water Resistant

No

Widths Available

1
Lots of tech and capability at the price
Versatile
Some reviewers report poor construction
New Balance 608 V5 Men's Walking Shoes
All-day wearability anchors the New Balance 608 V5 Men's Walking Shoes. A highly cushioned midsole and flex grooves in the outsole make it one of the most comfortable walking shoes for men. It's an inexpensive shoe with a leather upper at MSRP $70. New Balance offers the 608v5 in three widths to accommodate your foot shape. In fact, almost all the shoe's design strokes reflect its prioritization of comfort. The outsole's flex grooves, molded into the forefoot area, limit crinkling and abrasive break-in. An EVA midsole adds firm but flexible support. An internal shank protects the foot from surface inconsistencies. A polyurethane insole and dual-layer collar cushioning deliver a final layer of comfort.
Take one look at this New Balance shoe (especially the tread), and you'll know it doesn't belong anywhere near the trail. But that's not the point — it's a straightforward shoe geared toward comfort and wearability at a moderate-to-low price, and it checks each box.
Key Features:
Flex-grooved outsole
Cushioned midsole
Internal shank
Polyurethane insole
Specification:
Brand

New Balance

Model

MX608AB5

Weight

14 Ounces

Intended Use

Walking

Upper Material

Leather

Water Resistant

No

Widths Available

3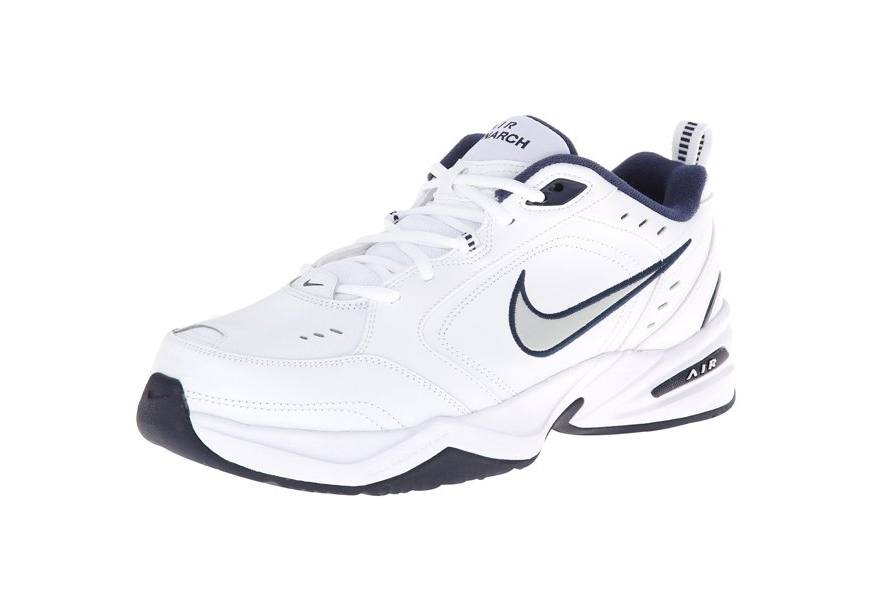 More than any other shoe we've ever known, this Nike sneaker embodies the essence of dad-ness. As if by magic, a mere glance at the stock photo can fill the air with the aromas of fresh-cut grass and burgers on the grill. Cosmopolites scratch their heads, and Suburbans bow to the almighty ensemble that is a t-shirt, jean shorts with a braided brown leather belt, white crew socks, and a pair of Monarchs.
Oh yeah — this legend is also a shoe, not just a legend. Did I mention it's a legend? Actually, it's a shoe with a leather upper that provides durability "for workouts," according to Nike. A full-length encapsulated Air-Sole unit adds cushioning and support. The outsole grips "any surface," but the treads are pretty toothless — let's be honest, these beauties are for piloting the rider or handling the tongs, not walking around in the woods like some hippie. Grilling season is here. Purchase greatness. The Nike Air Monarch IV (in the white-on-white colorway, of course) is available in regular or "extra-wide."
Key Features:
Leather upper
Full-length encapsulated Air-Sole unit
Five colorways, two widths
Specification:
Brand

Nike

Model

416355

Weight

12 ounces

Intended Use

Cross-trainer/grilling

Upper Material

Leather

Water Resistant

No

Widths Available

2
Affordable
Grill-master credentials
Only works if grilling or mowing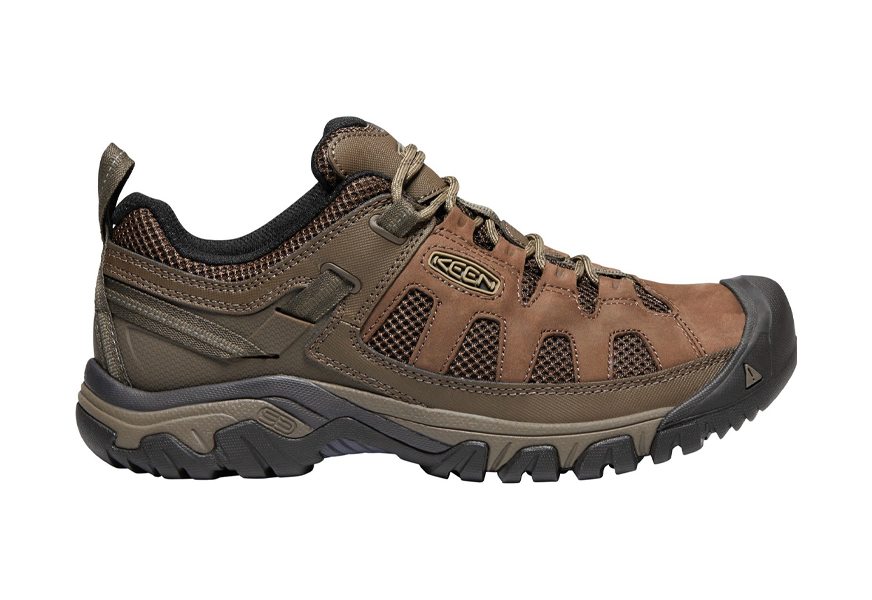 The KEEN Targhee Vent is all about breathable trail proficiency. The rugged shoe features high stability and grip, plus vented panels to keep wearers comfortable during long-distance treks. It's a great walking shoe for anyone who loves nature: the water-resistant nubuck leather in its upper even achieves "environmentally-preferred" status. Multi-directional lugs on the shoe's outsole keep you planted on any terrain. The shoe's next layer houses an internal shank to protect your foot from trail hazards. A dual-density midsole and footbed complete the foundation.
KEEN's injected TPU (thermoplastic polyurethane) heel-capture system helps keep your foot where it belongs in the shoe and adds stability. The leather-and-mesh upper, fitted with metal eyelets, offers a balance of durability, water resistance, and breathability. There's not much this KEEN shoe isn't prepared for (except maybe casual use — it's kind of a beast). Pick up a pair to take on your most exploratory walks.
Key Features:
High-traction outsole with multi-directional lugs
Dense, protective foundation
Constructed for stability
Specification:
Brand

KEEN

Model

1018577

Weight

2.86 Pounds

Intended Use

Trail

Upper Material

Nubuck leather, mesh

Water Resistant

Yes

Widths Available

1
All-terrain
Water-resistant
Not for casual wear
Pricey
Adidas Terrex Skychaser 2.0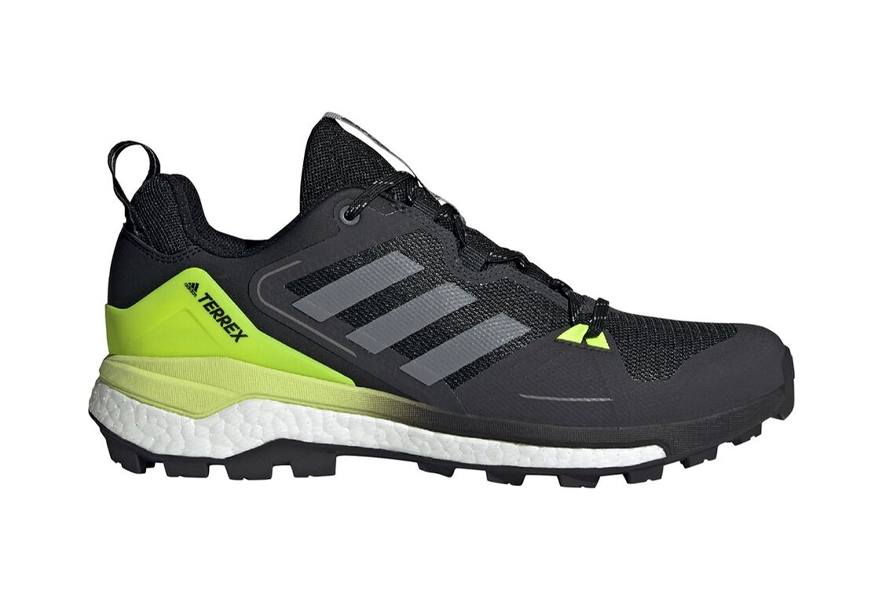 Adidas' Terrex Skychaser 2.0 is a trainer-styled take on the hiking shoe, with a Continental rubber outsole, speed lacing, and an abrasion-resistant upper containing recycled content. Adidas created its Terrex line to appeal to adventure athletes from its base in traditional stick and ball sports. The line adds helpful outdoor features to Adidas' clean aesthetics. The brand fits the Skychaser 2.0 with a Continental rubber outsole that delivers both wet and dry grip, adding multi-directional lugs and a midfoot shank. Aggressive heel support keeps wearers' feet from slipping around inside the shoe.
Adidas says the Skychaser 2.0's upper hugs the wearer's feet for precise footwork, and it includes recycled content as part of Adidas' "ambition to end plastic waste." On a closer look, Skychaser 2.0's contribution to sustainability is not that impressive: 20% of materials in the upper use a minimum of 50% recycled content. Abrasion-resistant overlays protect this Adidas shoe from common trail hazards. Speed laces add quick adjustability. If you're after a trail-ready walking shoe from an established brand with an in-vogue recycled content profile, the Terrex Skychaser 2.0 might be for you.
Key Features:
Aggressive outsole with midfoot shank
Abrasion-resistant upper
Contains recycled content
Specification:
Brand

Adidas

Model

FW2921

Intended Use

Multi-use

Upper Material

Synthetic, recycled

Water Resistant

No

Widths Available

1
Performance design, go-anywhere aesthetics
Positive brand reputation
Expensive
Relatively untested
Merrell Men's Chameleon 8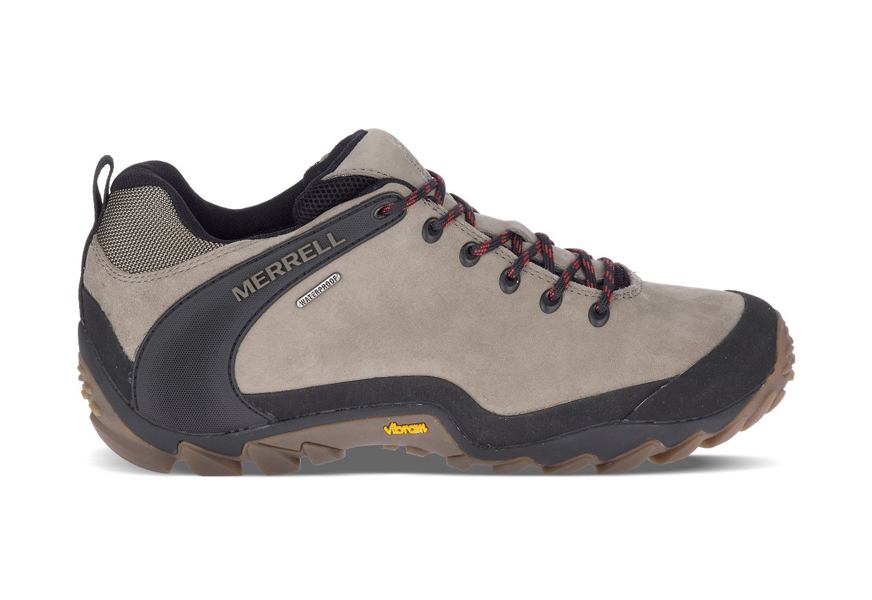 Trail shoe master Merrell strikes again with the waterproof Chameleon 8 leather hiking shoe. Nubuck leather and a proprietary dry layer combine to keep moisture out, Vibram rubber anchors the outsole, and a highly supportive midsole completes the package. The Chameleon is loaded with technology and capability. Merrell's M Select DRY BARRIER is an impermeable membrane that holds water at bay. An air-cushioned heel with a molded TPU insert adds comfort and stability. Merrell's FlexPlate technology improves the Chameleon's torsional rigidity, and best-in-class Vibram rubber grounds the shoe.
Merrell covers the non-techy details too. The tongue is bellows-style to keep debris out. The eyelets are metal for ease of tightening and durability. An aggressive toe cap limits damage from objects you might kick on the trail. It's not cheap, but you get what you pay for with the Merrell Men's Chameleon 8. Considering its intensive, high-performance technology, it also wouldn't look totally out of place worn casually with a pair of stretch jeans. Either way, the stout shoe will get you where you're going.
Key Features:
Waterproof
Vibram outsole
Loaded with performance tech
Specification:
Brand

Merrell

Weight

2.8 Pounds
Reebok Men's Ever Road DMX 3.0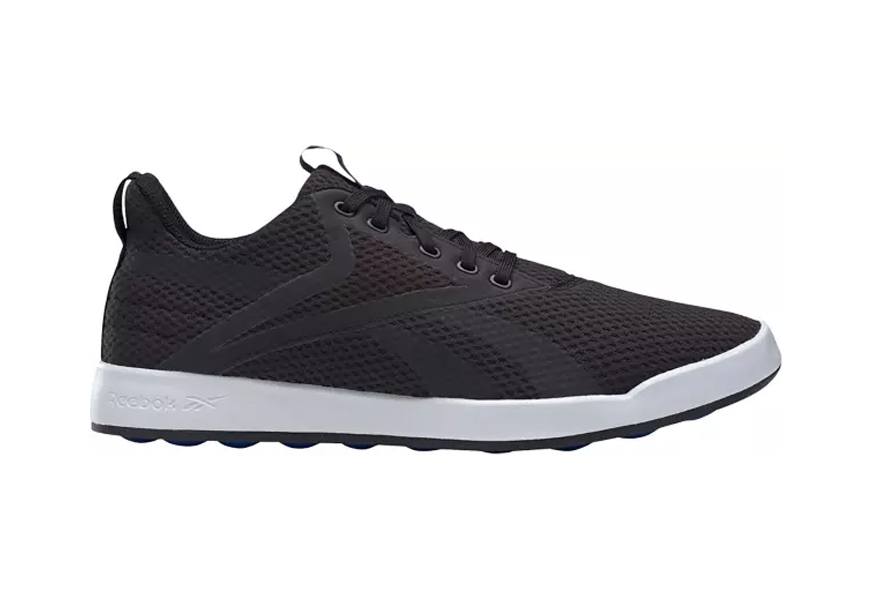 The Reebok Ever Road DMX has a low-key, casual style and a name that invokes a legendary '90s rapper. The go-anywhere shoe is one of the best walking sneakers for men, at a budget price point. At first glance, the Ever Road DMX scans as a casual shoe — pair it with joggers and novelty socks, and you're good to go (to a concert, the coffee shop, or elsewhere). And it comes in four colors, including an understated "brave blue" and a dapper khaki color called (somewhat curiously) "boulder grey."
Adaptive cushioning in the shoe's footbed complements the breathable mesh upper to maximize ventilation. Dual-pull loops facilitate pulling the shoe on and off and add cool points, depending on your taste. This Reebok shoe does not burst with features or technology — instead, it seeks capability and balance as a trainer/lifestyle crossover. At $70 MSRP, it was typically available around $40-60 (multiple sizes checked) at the time of writing. The stylish walking shoe for men promises easy comfort at a budget price point.
Key Features:
Crossover capability
Mesh upper
Adaptive cushioning
Specification:
Brand

Reebok

Model

KZV60

Weight

1.46 Pounds

Intended Use

Training, casual

Upper Material

Mesh, synthetic

Water Resistance

No

Widths Available

1
Versatile for exercise and casual wear
Breathable
Cool name
Why Trust This Guide
Everybody walks, but I do it a lot. Between a demand to exercise my energetic 3-year-old black lab and a penchant for climbing things in the middle of nowhere, I'm hoofin' it at an average rate of 2 to 3 miles per day (per a quick check on Google Maps). On heavier days, I'll log 6 to 8. I also do this on a lot of different surfaces: concrete, grass, caliche, soft sand, gravel, and natural stone, and most everything in between. That means I'm sensitive to traction, versatility, stability, and long-term comfort in shoes.
Who This Guide Is For
Anyone looking for the best walking shoes for men, suitable to their lifestyle needs, can use this guide. The good news is, walking is healthy and generally easy for anyone able to do it. Whether you hike half a mile to get to your mailbox or just enjoy walking your dog around the neighborhood, this one's for you.
How We Picked
A good walking shoe for men handles the terrain you give it. I chose a variety of styles, weights, and tread types to fit a range of walking needs. In my experience, a solid brand will often execute a shoe that lasts longer, so I gravitated toward established shoemakers.
How We Tested
I subjected each tested shoe to a multitude of terrain types and grades. I churned through loose desert sand, hopped across boulder fields, and even simply got my steps in on my neighborhood sidewalks. Walks ranged between a few hundred feet to 5+ miles during the testing period. I paid particular attention to multi-surface traction and comfort over time.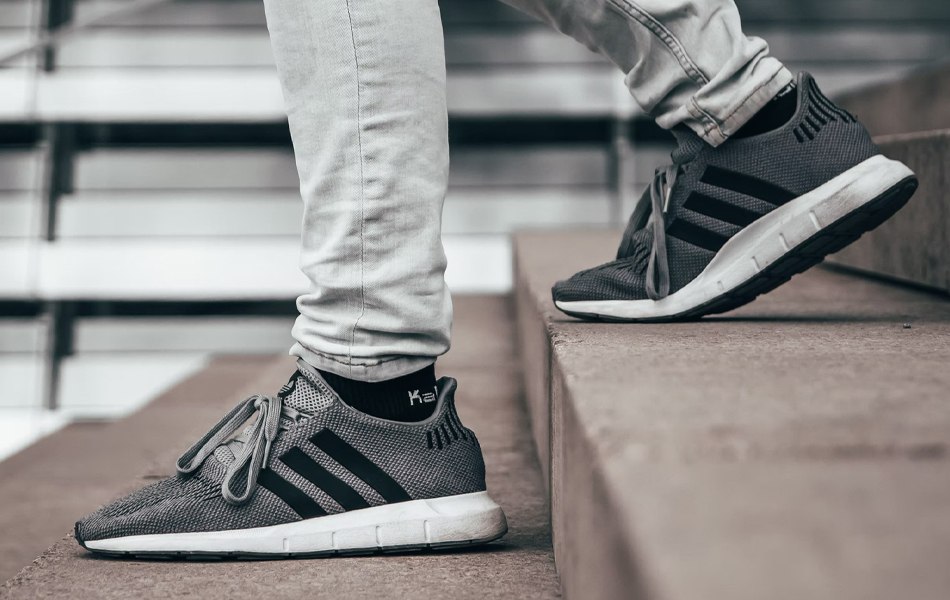 Features To Look For In Men's Walking Shoes
Weight — Heavy or light? Leather, metal, and canvas are heavy construction elements; mesh and synthetics tend to be lighter. I like lightweight shoes for loose surfaces like beach sand.
Water Resistance — If you want a water-resistant walking shoe, I'd recommend a hiking shoe treated with Gore-Tex. If the shoe claims water resistance, pay attention to materials, seam-sealed stitching, and any possible water-resistant coating.
Lacing Style — Standard lace-ups are the name of the game, but this guide includes an entry with boa lacing. The boa system offers easy, precision tightening and loosening, and it's durable due to coated wire laces. An obvious disadvantage is that it's difficult to repair.
Price — I'm not strict with my budget when it comes to my walking shoes. They are the foundation for my body every single day, and I'm happy to pay the price to get the right shoe.
Comfort — Pay attention to a shoe's insole, footbed, cushioning, upper material, and width to get an idea of how comfortable it will feel to you. A men's walking sneaker should deliver all-day comfort.
Support — I want my shoes to make it feel like I'm walking barefoot on a comfortable surface: my shoes should contact my feet in the right places without generating pressure points or pinching.
Fit — Walking shoes should fit your toe and midfoot snugly but not restrictively. Pay attention to pressure points or a loose fit: it's only going to get worse. I also evaluate the fit in my ankle — the heel tab and ankle collar. It's really uncomfortable if they dig into your bones.
Function — My five sliders for walking shoe functionality are: traction, mileage, breathability, weight, and water resistance. Evaluate your needs and priorities for each.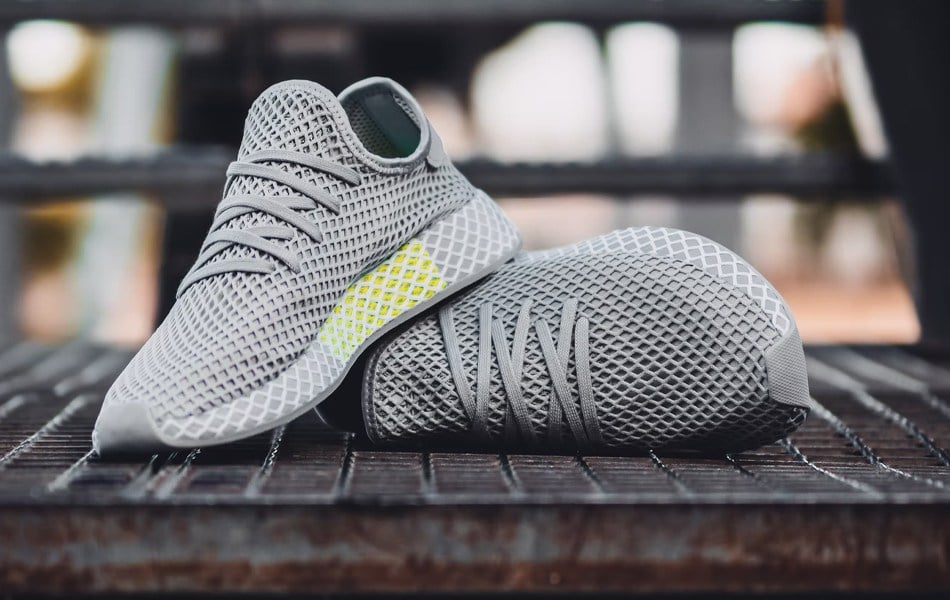 Men's Walking Shoes FAQ
Q: What are the most comfortable walking shoes?
A: Pay attention to insole material, ankle/heel cushioning, outsole shape and design, and width.
To me, the most comfortable walking shoes have supportive insoles, low-profile but sturdy cushioning, great traction, and a fit that matches the shape of my foot. Granted, those four criteria could look completely different for you and me, but you'll know when you find the right shoe.
Q: What are the best walking shoes for me?
A: Go into your search for the best walking shoes for men knowing what you're going to do (i.e., terrain, distance, weather, etc.). Then, explore shoe features based on your needs. You might look into variables like outsole design, upper materials and breathability, and lacing systems.
Q: What walking shoes are best for wide feet?
A: Among my tested choices, the New Balance 877 is the runaway winner for folks with wide feet. It's got a generous toe box and a wide outsole, even at the arch. It also adjusts well with the laces (no awkward crinkling or pinching) and is well-cushioned.
Q: What brand of walking shoe is best?
A: It depends completely on your preferences and needs. Each brand has its own take on the category — its own styles of foam and mesh, its own designs, and its own sources of material. Think about where you'll be walking and what you need. Merrell, for instance, makes good shoes for hiking, but New Balance may be better for pounding pavement.
Brands that have built a reputation for quality running shoes and hiking boots often build solid walking shoes. And if you already have a favorite shoe brand, you can always start there.
Q: Are all walking shoes waterproof?
A: Hard no. Most of the shoes in this guide will saturate if you step in an ankle-deep puddle. Then again, most shoes, in general, will do that. Truly waterproof shoes include rubber boots and some hiking and work boots. Walking shoes are more likely to be water-resistant, which means they can keep your feet from getting wet in the rain, or from water splashing from the ground, etc.
An intuitive way to determine a shoe's water resistance is to look at the upper material: more porous means it can saturate more easily.
Sources:
The Mechanics Of Walking – American Bone Health
What's The Right Shoe To Avoid Ankle Sprains? – Cleveland Clinic
Sign Up Now
GET THE VERY BEST OF GEARHUNGRY STRAIGHT TO YOUR INBOX