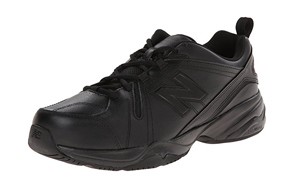 New Balance MX608V4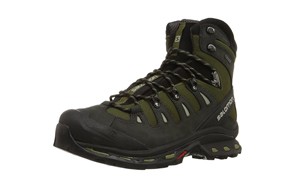 Salomon Quest 4D 2 GTX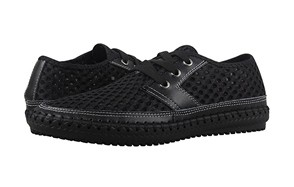 Mohem Poseidon
The best men's walking shoes today combine outstanding design, endless comfort, quality materials, durability and a price that won't send you to the poor house. Throw in water resistance or outright waterproof capability and you have something pretty special on your hands, or rather your feet. The best men's walking shoes are invariably a hybrid then of the best athletic and the best casual footwear all wrapped up in an attractive package that lets you walk to your heart's content without suffering undue wear and tear either on your body or the shoes themselves.
The 9 models we're going to highlight here have proven their mettle both to consumers at large and, more importantly, to our uber-critical product review panel. If they like them you can be sure these shoes have something significant going on. So without further ado here are our choices for the 10 best mens walking shoes on the market today. Keep in mind the following represents the consensus opinion of our review panel members. You may disagree.
Our Top Picks For The Best Mens Walking Shoes
Keen Rialto Walking Shoes
See More Reviews

The Keen Men's Rialto is incredibly well built, providing structure and support in all the key places. The shoe has a heavy duty look but don't let that fool you. They tip the scales at a svelte 374 grams so if you're tired after a long walk in the Rialto it won't be the shoe's fault. This is definitely one of the most comfortable all day walking shoes on the market and though you'll be spending more than a C-note on it, we believe you'll agree with us that it's worth it.
Walking trainers that perform just as well on sidewalks as they do on woodland trails.
Thoroughly waterproof for those days when you get caught in the rain.
High build quality from the soles to the reinforced leather eyelets.
Plenty of cushioning but not so much that it negatively affects performance.
Made in the USA.
The cord strap system is perhaps not everything it could be.
Might have to go up a size to get the right fit.
See More Reviews

The UJoowalk Quick Drying Slip on Mesh Walking Shoes for men are an amazing value shoe that are every bit as comfortable as they are nondescript. While we couldn't say that they're ideal city wear, they are without a doubt ideal for nature trails, canoeing, light rock climbing or any other type of activity that calls for something more than bare feet but something less than your very expensive running shoes.
Specification:
Brand

UJoowalk

Model

B06ZZWRL93
They slip on nice and easy and stay on for the duration whether you're crossing stony brooks, wading out of the shallows or bouldering.
Super lightweight construction lets you fly like the wind.
The unique hole in the sole allows water to drain out rather than lingering and causing problems.
Incredible price point.
The hole that lets the water out can also let sharp objects in so be careful.
No protection from heavy objects.
Salomon Quest 4D 2 GTX Walking Shoes
See More Reviews

Make no mistake, the Salomon Men's Quest 4D GTX Hiking Boot is just that: a hiking boot. It also happens to be one of the most comfortable hiking boots made today and will feel right at home on the sidewalks of your favorite big city. From the time you slip the boot on you'll want to get walking. You feel propelled along the trail, road or sidewalk in the GTX, just like you should with any truly great walking shoes. The best part though may be the design; which is plenty outdoorsy without being so large that it calls attention to itself.
Specification:
Brand

Salomon

Model

QUEST 4D 2 GTX®-M
The boot boasts Salomon's proprietary foot control and protection system which means your foot never feels like it's floating inside the boot.
Dynamic cushioning is sensibly deployed not simply stuffed in to cover design deficiencies.
Breathable, waterproof Gore-Tex outer keeps you dry and warm when the weather is wet and cold.
Salomon's unique grip system includes sport-specific density and geometry.
Laces have been known to come undone from time to time with some customers.
They can be cut a bit narrow as well so wide foot hikers may have an issue.
See More Reviews
New Balance has been around a long time now and for the most part make outstanding athletic footwear. What a lot of people don't know is that they also make some outstanding men's walking shoes like these MX608V4s. Sure you can see the running shoe at the heart of this design shining through but these are more than that. These occupy a very definite grey area between your wingtips and the shoes you wear when you hit the gym. They're comfortable, offer plenty of support, have a high grade leather upper and a dual density collar the offers both cushioning and support.
Specification:
Brand

New Balance

Model

MX608V4
The MX608V4 offers an injection molded EVA foam midsole that is both comfortable and supportive.
The non-marking outsole delivers plenty of grip so you won't be slipping on wet sidewalks.
Redesigned collar padding provides a less bulky feel than earlier versions.
Attractive price point.
Still looks like the New Balance running shoe it's based on.
Not waterproof, so wear them on wet days at your peril.
Skechers Performance Go Walk 3
See More Reviews
Skechers has come a long way from their beginnings making skate shoes and these days they're the second largest athletic footwear company in the US with over $3 billion in annual revenue. Today they offer scores of different styles of footwear including this men's walking shoe that has found a home in our list of top 10 best walking shoes for men.
The Go Walk 3 is incredibly comfortable from the moment you slip them on to the minute you take them off.
They provide surprising all-day support that allows you to stay engaged.
The trendy 'slipper' design belies a high degree of built quality.
Excellent grip on rain slick surfaces.
Not waterproof.
Not really a "con" but you'd do well to resist the temptation to run in them as they'll come off pretty quickly.
See More Reviews

If the Monarch IV from Nike looks familiar that's because these walking shoes are designed to fulfill a range of athletic needs and so come from the same design universe as the company's popular running shoes. There's certainly nothing wrong with that and these are excellent all around shoes, but if you're in search of something that will look passable with your suit you may want to look elsewhere.
Specification:
Brand

Nike

Model

415445-101
Plenty of support throughout including the pylon midsole.
The outsole sports a variety of traction patterns so you're never at a loss or feel like you're going to lose control if you switch surfaces.
Sleeker design than some of the earlier iterations of the Air Monarch walking trainers.
The skin friendly lining makes for less irritation over long hours.
The sole can be a bit stiff, which seems to be a function of redesign.
They're not cheap by anyone's standards.
The Monarch walking shoes design didn't fall far from the running shoe tree.
Rockport We Are Rockin Chranson
See More Reviews

If you can ignore maybe the silliest name in footwear (that would be the "We are Rockin'" of the title) these Rockport men's walking shoes stand head and shoulders above 90% of the competition. While Rockport has always seemed a step or two behind the times style wise (and one has to believe that's at least partially deliberate) that sort of quasi-retro design ethos works perfectly on these Chranson walking shoes which look like your granddad's shoe but perform like something out of the 21st century that spawned them.
Specification:
Brand

Rockport

Model

We're Rockin' Chranson
Outsoles feature what the company calls "biomechanical design" which promotes and supports a more natural gait.
The real rubber outsole provides excellent grip on all the surfaces you're likely to encounter.
Mesh lining promotes breathability and allows the shoe to dry quickly whether you've been caught in the rain or have been sweating on a hot summer day.
Real all-day walking shoes you can wear every day without hesitation.
The heel collar can sometimes rub the wrong way.
What were they thinking with that name?
Merrell Chameleon Slam II
See More Reviews

The Wrap Slam Trail Walking Shoes from Merrell perform exactly as advertised. With their breathable upper and molded heel cup they keep your feet dry, cool and in their proper position all day long. While the Chameleon makes no bones about being a shoe for those long schleps down the trail, the fact is they're also great for those charity walkathons you're fond of participating in as well as walking to work in the morning.
Specification:
Brand

Merrel

Model

B009J6KAII
The upper is made of lightweight breathable synthetic fabric that provides a dry comfortable environment for your feet while also being extremely durable.
The molded toe bumper and rubber banding protect your feet from pebbles and other debris.
The injection molded arch shank helps maintain proper form through the entire step.
They're not truly waterproof which is a feature we'd expect on a 'trail' shoe.
Some folks tend to think these are serious rock climbing shoes. They're not.
See More Reviews

What the Mohem Poseidon Men's Mesh Walking Shoes lack in style they make up for in performance. In all honesty though anyone who's expecting top of the line style in a pair of walking shoes for the price of a T-shirt needs to seriously recalibrate their expectations. What we're looking for at this price point is functionality and durability. If the shoe also happens to impress from a design standpoint, well, that's just gravy.
Specification:
Brand

Mohen

Model

B00U4YM6TU
Upper screen mesh design allows air to flow through and keep your feet cool and comfortable.
Extremely lightweight at 8 oz. You'll never suffer from foot fatigue from walking all day in these shoes.
Excellent 'water' shoes that hold their grip and dry out quickly.
Collapse down to virtually nothing for easy packing.
If you want your walking shoes to have robust support these are not the walking shoes for you.
A design only the shoes mother could love.
Buyers Guide
The following are some of the most commonly asked questions about walking shoes.

Q: What Are The Most Comfortable Walking Shoes?
A: If you're judging strictly by comfort it would be hard to beat the Skechers Go Walk 3. Maybe the only other walking shoes on our list that would give Go Walks a run for their money are the Rockport We are Rockin' walking shoes. While we believe other walking shoes are better overall products either of these shoes will deliver comfort by the barrelful even after long days on the trail.
Q: What Are The Best Walking Shoes For Men?
A: Any of the entrants in our list above would fit the bill and answer this question. They all represent the best, most important qualities a good men's walking shoe should have as laid out at the beginning of this review guide: outstanding design, endless comfort, quality materials, durability and an attractive price.
Q: What Walking Shoes Are Best For Wide Feet?
A: While the Merrell Chameleon walking shoes will certainly fit the bill, the Keen men's Rialto is also a fine shoe for those with slightly wider feet. As with most things though if you're looking for a pair of shoes to accommodate a particular aspect of your physiology you really need to go try them on in person rather than tossing the dice and ordering them online.
Q: What Brand Of Walking Shoe Is The Best?
A: Ask 20 people who own walking shoes which brand is the best and you're liable to get 20 different answers. That's because everyone's feet are different as is their walk and what they're looking for in a pair of walking shoes. Some are looking for waterproof shoes, others for shoes they can wear when they walk to work through the city. Still others are hoping they'll find a pair of walking shoes that they can wear while strolling and while working out. The bottom line, however, is that any of the brands listed above would have to be in the running for best brand of walking shoes.
Q: Are All Walking Shoes Waterproof?
A: While many are many others are not specifically built with water in mind. This is primarily because water is not an issue for everyone. If you live in Phoenix for instance you may go 2 years without ever encountering significant rainfall on one of your walks through the high country. Other guys just aren't of a mind to venture out for a walk if it's raining or snowing and who can really blame them? There are also non-waterproof shoes that are nonetheless designed to get wet and then dry out quickly like the Mxson's Ultra Lightweight walking shoes profiled above.
Things To Consider When Buy Walking Shoes For Men
Weight – Since you're going to be wearing these walking shoes quite a bit you don't want them to wear you out with excessive weight. As a general rule if you can keep the weight to about a pound per shoe you should not suffer leg fatigue even if you wear the shoes all day.
Waterproof or Not? – Whether or not you want your walking shoes to be waterproof will depend on what you plan to do with them. If you're going to be wearing them kayaking then yes, you'll want them to be waterproof. If, however, you plan to wear them while walking on the treadmill at the fitness club there's no need to have waterproof walking shoes.
Sandals or Laced? – There are basically 2 types of walking shoes; those with laces and those that mimic sandals and have no laces. Some people swear by sandal style shoes but for others who may wear their walking shoes while doing light running or climbing sandals style shoes can present a risk of slipping off when you really need them. Other folks simply can't abide anything that doesn't lace up nice and snug. It comes down to how you intend to use your walking shoes, as well as personal preferences.
Price – The elephant in the room when it comes to footwear is always price. Do you really want to spend 2 or even 300 dollars on a pair of shoes to walk around in when you can get a perfectly serviceable pair for about the price of a half tank of gas? There's no doubt that the 300 dollar pair of walking shoes is going to be constructed better and have more of a custom fit than anything you'll get for 30 bucks. But again, we're talking about casual walking shoes here, not shoes you'll be wearing when you run the Olympic marathon.

Conclusion
A pair of high quality walking shoes can make the difference between you wanting to get up and get some exercise or just wanting to stay on the sofa watching Barney Miller reruns. Today's walking shoes are prime examples of the myriad technological advances that have been made in even the simplest items in recent decades. If you're in the market for a new pair of walking shoes any of the shoes on our list will be well worth the investment.
We hope you found the information in this review of men's walking sneakers helpful and that it allows you to make an informed decision when it comes time for you to purchase new walking shoes. Be sure to check back often for more helpful tips, guides, and product reviews.