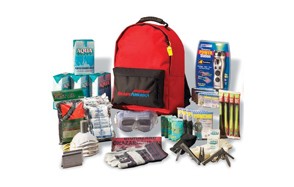 Ready America Deluxe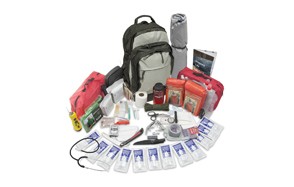 Stealth Tactical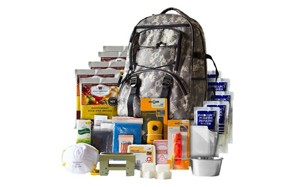 Wise Food 5-Day
A "Bug out bag" (sometimes called a "bail out bag" or "survival bag") is loosely defined as a backpack-style bag that a person keeps at the ready in case they need to evacuate in a hurry (bug out) due to natural disaster, civil unrest, fire, war or any other similar type of calamity. A bug out bag won't be much good should a comet the size of Dallas hit the earth but for the type of events listed above it can make the difference between thriving and barely surviving.
There are 2 types of bug out bags; homemade and pre-made. While there are some folks content to make their own bug out bag there are also plenty who would prefer to simply pick up one that's already been well thought out and prepared for them. In this review guide we're going to take a look at the best of those pre-made bug out bags and discuss what makes each of them a bug out bag worth having should the creek rise or a hurricane make landfall in your area.
The Best Bug Out Bags (Our Top Picks!)
See More Reviews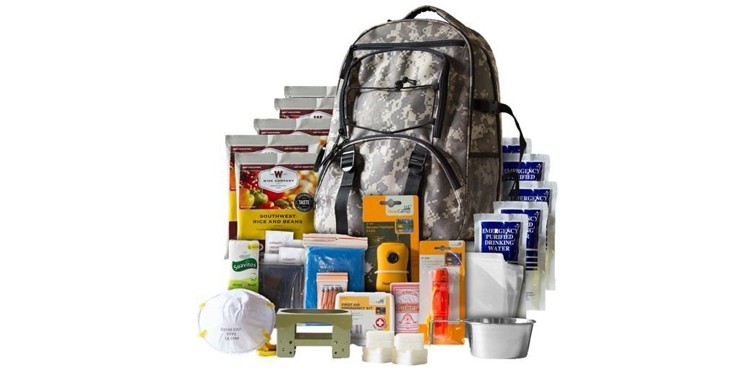 The Wise Food 5-Day bug out bag has an interior space of 10 x 10 x 16 inches, more than enough to store the 5 days of food stuffs, emergency kit, purified water and more that comes with this bug out bag. Add your own change of clothes, rain coat, boots or whatever else you want to take with you and you'll be the best possible position to transcend the difficulties you face. The bug out kit includes a small but effective stove and all the food is factory sealed and dated including the 5 water pouches.
The Wise bug out bag comes equipped with most of the things you'll need to keep yourself and your loved ones well fed and comfortable during a crisis although you'd do well to take the claim of 32 meals with a grain of salt, since they're counting a 12 serving whey package as 12 meals. As such you'll want to use some of the extra space in the bag for additional food which you can pick up at any store that sells mountaineering equipment. As for the rest of the items there's a well-appointed first aid kit, 5 function emergency whistle, an LED flashlight, dust masks and even a deck of playing cards to keep everyone occupied during those long hours in the storm shelter. The nylon bag is water resistant though not waterproof so keep that in mind, but it's comfortable and well made. If you're looking for an affordable, well stocked bug out bag you'd be wise to have the Wise Food bug out bag ready and waiting in the closet.
Specification:
Brand

Wise Company

Model

WISE02-BRK

Weight

1.76 ounces
2. Emergency Zone 840-2 Urban
See More Reviews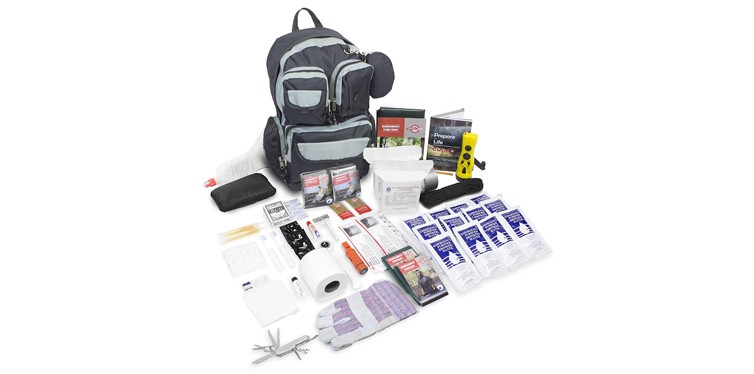 The Emergency Zone bug out bag is one of the best equipped you'll find with everything from the expected like drinking water and flashlight to the unexpected like works, a tube tent, toilet paper and even a multi tool. What it's light on is food but there's plenty of room in the water resistant bag for 4 or 5 days of food or more. While the shoulder straps on the Emergency Zone backpack could use some more padding the rest of the pack is logistically sound with plenty of external pockets for the included gear plus your own compass, GPS device, tactical flashlight, maps and more.
Some will think the omission of foodstuffs from this bug out bag to be a bit odd but it's not if you think about it. It might be years before you have to use the bag so it makes sense that you'll want to procure your own emergency rations and review their condition a couple of times a year, replacing anything that might look dodgy. That said this bug out bag does emergency kit right with the aforementioned items as well as a dozen pouches of purified water, rain ponchos, quality toothbrush and toothpaste, shaving razor, comb, emergency whistle, emergency blankets, survival handbook, duct tape (!), paracord and more. There's also the obligatory deck of cards for when you finally settle into the emergency shelter. Toss in some dry clothes for everyone involved, charger cords for your smartphone in case you run into a power source and a good book or two and you'll be ready to wait out events in good shape.
Specification:
Brand

Emergency Zone

Model

840-2

Weight

14.5 pounds
See More Reviews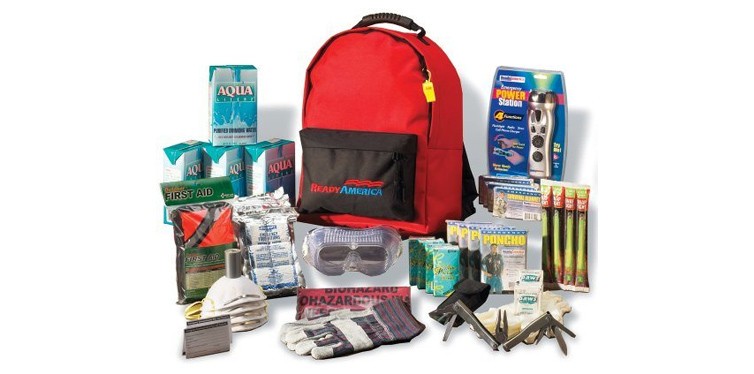 The Ready America Deluxe Emergency Kit is a bug out bag with serious survival in mind. As such it's heavy on practical, tactical gear such as dust masks, duct tape, a multi tool, rain ponchos, protective goggles, a well-equipped first aid kit and maybe most impressive of all, a 4 function emergency power station that requires no batteries or power cord and acts as a flashlight, radio, emergency siren and cell phone charger. Just crank it for 1 minute to get 30 minutes of power for the various functions. Clever and essential survival kit.
The Ready America bug out bag features a 107 piece first aid kit, survival blankets, emergency whistle and more, including 4 'food bars'. Since those food bars won't get you very far the company, like many others, is counting on you to provide your own rations and that's fine. There are plenty of places to purchase ready to eat, vacuum sealed meals as well as dehydrated food that you can stuff in the generously proportioned backpack. The backpack itself is well built, water resistant and easy on the shoulders. It can also be carried at your side using the convenient top handle. If you live in an area prone to hurricane strikes, tornadoes or flooding you owe it to yourself and your loved ones to invest in a bug out bag like this and keep it at the ready. It's 100 bucks very well spent.
Specification:
Brand

Ready America

Model

70385

Weight

20.4 pounds
See More Reviews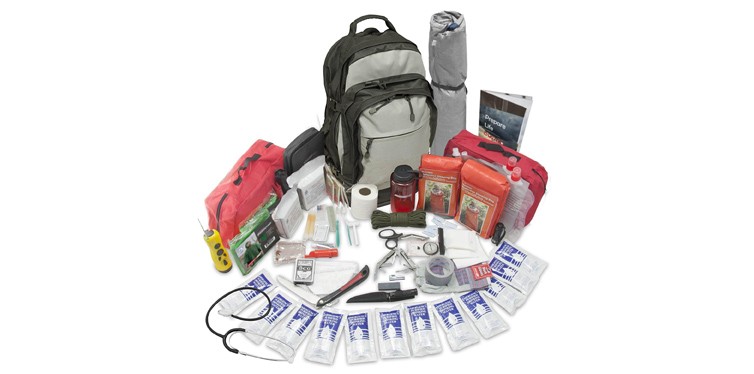 The Stealth Tactical bug out bag assumes that you have not been able to make it to a shelter and will need to fend for yourself in the outdoors. As such there's plenty of tactical gear to keep you moving, keep you dry, keep you hydrated and keep you safe. That includes a dozen packets of purified water, rain ponchos, emergency sleeping bags, a fire starting kit, survival knife, foldable saw, emergency whistle, first aid kit, paracord, multi tool, candles and even a stethoscope so you can monitor your health.
It's an impressive lineup – did we mention the 2 person tents? – that, like many of its competing bug out bags, is light on food. Although there's plenty of room in the heavy duty nylon backpack for all the food you'll need to survive several days in the wild. The company advertises their bag as being 'discreet', which is their way of saying others won't recognize that it's full of high quality survival gear and try to steal it from you. That may very well be but if Hurricane Harvey is bearing down on your location you have bigger things to worry about. The 2 person tent we mentioned is minimalist in nature but will provide welcome shelter if you can find a dry place to set it up and the waterproof backpack cover that comes with the bug out kit is a major plus this bug out bag has over some of the competition. The Stealth Tactical bug out bag costs a little more but it's ready for whatever comes.
Specification:
Brand

Emergency Zone

Weight

25.8 pounds
5. Ultimate Arms Gear 2 Person
See More Reviews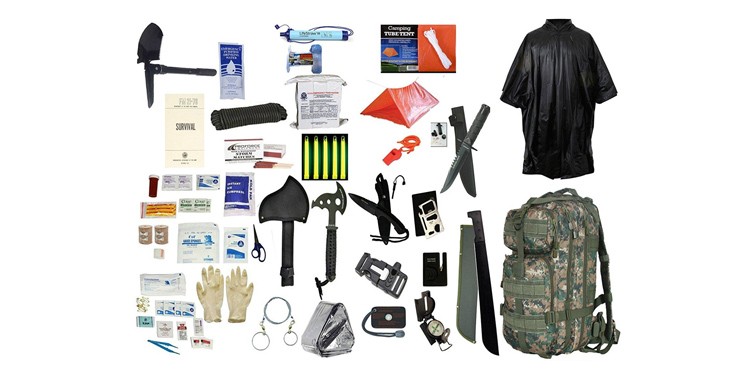 Here's another bug out bag that's designed to help you survive in the out of doors for several days following a natural or man-made calamity. As you might expect from a company call "Ultimate Arms" this particular bug out bag is heavy on the armaments including an EDC knife, a large survival knife, a tomahawk and a full sized machete. Oh yeah, there's also a pick axe and plenty of bandages in case you really get into it with hordes of the undead.
There's no denying the that first aid kit, paracord, emergency tent, waterproof poncho, compass, tactical gloves, candles and more will all come in handy should you find yourself forced to flee with no shelter in sight. The tomahawk will also save you the need to try and harvest wood for a fire using a survival knife and the machete, beyond its obvious self-defense cred, may come in handy if you decide to hack some underbrush to make a cover for your shelter. Where this bug out bag drops the ball a bit is in having virtually no purified water (although to be fair it does include a water filter) and only a single package of emergency rations. Nonetheless if you find yourself wandering the wild due to natural disaster this bug out bag when augmented with food and water, will stand you in good stead.
Specification:
Brand

Ultimate Arms Gear

Weight

8 ounces
See More Reviews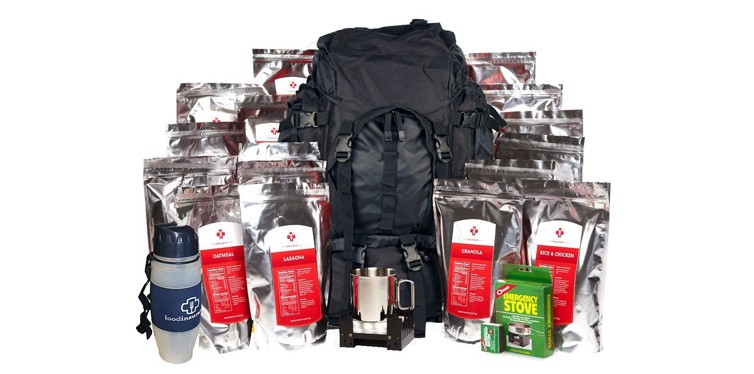 Just as you might imagine a company called "Ultimate Arms" would produce a bug out bag heavy on weaponry so to you'd be safe in assuming a company called "Food Insurance" would produce a bug out bag tripped out with food rations. This bug out bag eschews the notion that you'll need to hack your way through starving, blood crazed, fellow survivors and instead assumes you'll need to eat in order to keep your strength and spirits up should you be dislocated due to natural or man-made disaster. As such there's ample food for a couple to keep themselves fed for a week or a single person for 2 weeks and still lots of room in the backpack for other things like Uzis, pepper spray and concussion grenades should you feel the need to bring them along.
When calamity strikes you'll still need to eat and if there are no shelters in the vicinity stocked with emergency supplies what are you supposed to do? The answer is the Food Insurance bug out bag that provides you with copious amounts of prepared food sealed in vacuum pouches and ready to be eaten. Every Food Insurance meal has a shelf life of more than a decade and requires only a bit of water to prepare. Everything from lasagna to omelets to rice and beans are here along with the stove to cook them. Add some of your own survival gear like a tactical flashlight, survival knife, emergency blankets and water filter and you're ready for whatever comes down the pike.
Specification:
Brand

Food Insurance

Weight

14 pounds
Buyers Guide
Those who've never heard of a bug out bag undoubtedly have questions. Here are some of the most common we encountered during our research and product evaluation process.
What is a Bug Out Bag? – As explained at the top of this review guide a bug out bag is a bag – typically a backpack – that is stocked with the supplies you'd need to survive several days in the aftermath of a natural or man-made disaster. Some of the pre-made bug out bags focus on gear, others on food and some find a balance between the two.
What to Put in a Bug Out Bag? – If your pre-made bug out bag focuses on tactical and survival gear you'll need to finish it by purchasing dehydrated meals and other foodstuffs with long shelf lives. If the bag focuses on food you'll need to supply survival gear such as a flashlight or two, emergency blankets, first aid kit, paracord, EDC knife and other things. If you're making your own bug out bag read the answer to the next question.
How to Make a Bug Out Bag? – If you decide to make your own bug out bag you'll want to start with a good-sized, water-resistant backpack and then fill it with a combination of food and practical implements that will allow you to transcend any difficulties you're likely to encounter. You'll want to include purified water as well as a water filter (in case the emergency has fouled the local water supply), plenty of freeze dried food along with power bars (but no perishables) and things you can use to protect yourself from the wind, cold and any precipitation that may be falling. Which means you'll want emergency blankets, dry clothes and rain ponchos. You'll also want to include other practical implements like a compass, tactical flashlight, walkie talkies, multi tool and more.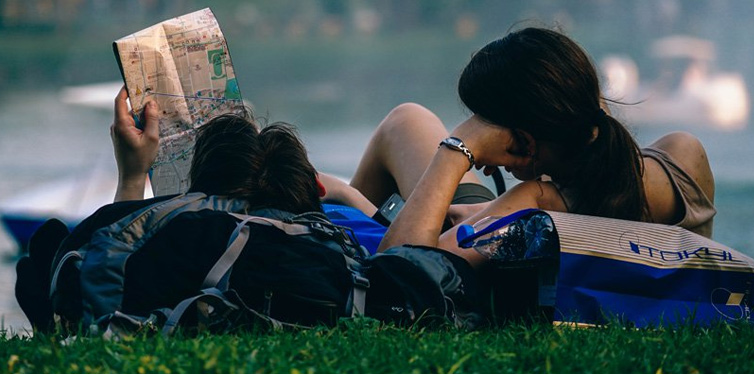 Things To Look For When Buying A Bug Out Bag
One of the most important aspects of the bug out bag is the bag itself so you'll want to make sure you pick out one that will accommodate the gear and supplies you need while protecting them from the rain. Here are some of the things to consider when looking for a bug out bag.
Size – Everyone overestimates how much they're carrying when they go backpacking (if everyone who claimed to carry a 100 pound pack actually did we'd have thousands of hiker deaths every year in the US alone). But a survival situation is one time when you need to be cold-light-of-day honest about how much you can carry and what that load should be comprised of to give you the best possible chance of survival. As a general rule you shouldn't carry more than 15 or 20% of your body weight, which for most people will be between 20 and 40 pounds. With this in mind you'll want to take into consideration the weight of the pack itself (which must be deducted from the total load) and its volume so that you wind up with a bug out backpack that can carry the appropriate amount of supplies.
Design – The best bug out bag is one with plenty of pockets. This allows you to compartmentalize your bug out bag essentials so that you know exactly where everything is and you don't have to dig through mountains of other stuff to find what you need. Put all your fire and light things together such as tactical flashlight, candles, headlamp, fire starting kit and storm proof matches. Put maps, GPS devices, compass and other navigation related items in their own pocket and so on. The more you can separate things the easier it will be to transcend your difficulties.
Build Quality – The last thing you want is to be trudging through the windswept landscape trying to escape the oncoming storm surge and have your pack split open and spill your survival gear all over the place. The bug out bag should be made of durable, water resistant nylon and have high quality zippers (waterproof if possible) and double stitching all around. The shoulder straps should be firmly affixed to the bag and be well padded to help absorb the load you're carrying. And if there's a waist strap it too should be well-padded and preferably adjustable to accommodate people of different heights.
Price – This is your life and the lives of your loved ones we're talking about here so price should be a secondary consideration to all of the above. That said you should be able to get a multi-pocketed, high quality bug out bag for less than $100.