When You Need It: The Best Emergency Radios for 2022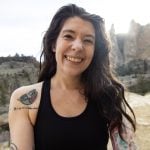 This product guide was written by Tuesday Kirby Kahl
Last Updated
May 28, 2021
Tuesday Kirby Kahl
Tuesday Kirby Kahl is a contributor at Gear Hungry. Her fierce love for the outdoors fuels everything she does. Her professional pursuits include writing, creating art, and photography. These professional passions allow her the time to live life outside as a rock climber, skier, runner, backpacker, paddle boarder, swimmer, and explorer. When Kirby is indoors, she enjoys tea, whisky, old films, cooking, and baking. Her product testing and feedback have shaped the design of everything from climbing shoes to candles.
GearHungry may earn a small commission from affiliate links in this article.
Learn more
When mother nature rears her ugly head in the form of a tornado, hurricane, severe storm, tsunami, or earthquake, we need to be ready for the unexpected. Depending on what kind of event is occurring, you may only have minutes to prepare, or if you are lucky, a few days. Everyone should have an emergency survival kit and plan. And part of that plan should include being informed and able to communicate. Therefore, it makes sense that a good radio will go a long way towards keeping you prepared.
No need to do your homework; we did it for you. We've scoped out and researched the best emergency radios for all sorts of scenarios and needs. And we even tested a few out to see if their claims were up to snuff. As a result of our hard work, we've found some of the best top-rated emergency radios. Whether you're looking for the best battery-operated emergency radios, hand-crank emergency radios, solar emergency radios, or best weather radios, there's a current and reputable option here. Take a look at our list below and see which one is right for you.
The Best Emergency Radio Review
RunningSnail Emergency Radio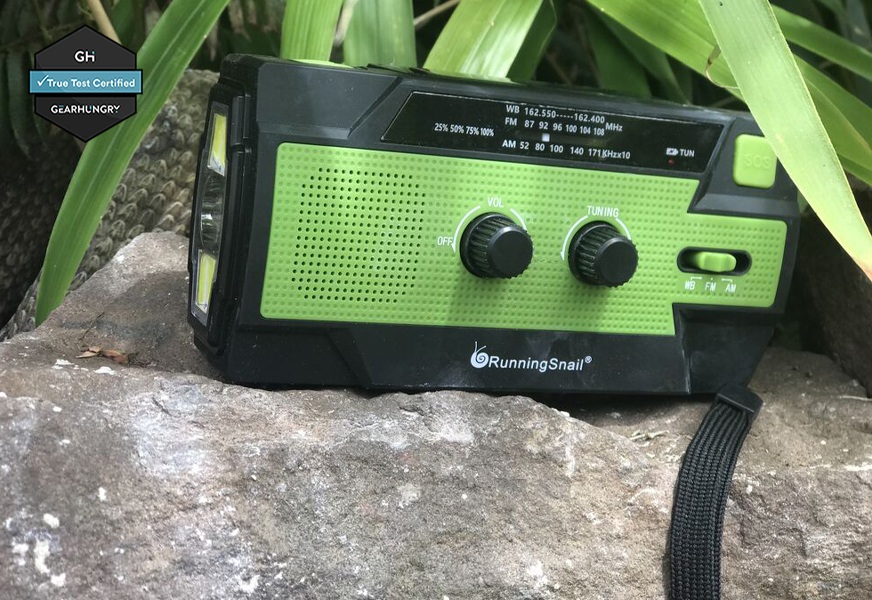 Sometimes good things really do come in small packages. Despite its size, the RunningSnail Emergency Radio impressed me with its capabilities and features. The device itself is handheld and would be easy to grab in an emergency.
The fold-out crank in the back is large, especially considering the device's size, making charging this tool easy. Battery indicator lights let me know how much battery is in the radio at any given time. It could use a bit more oomph, though-when charging my phone or iPad with this device, it drained the battery. 
The speakers are relatively clear but a bit fuzzy only when tuned to the weather radio station. However, when switching to FM radio, the speakers had no issues, and I even managed to find a station of early 2000s rock hits while writing this piece.
Additionally, the flashlight is exceptionally bright. My favorite feature of this device is the SOS button. When held down, the device will release a loud siren sound and flash its lights. This feature could be incredibly impactful in the outdoors should a camping trip go awry or if you need to signal rescuers during a severe weather emergency. Read the in-depth review here.
Key Features:
SOS button
Hand crank
Battery or solar power charging
Flashlight
AM/FM radio
Specification:
Brand

RunningSnail

Weight

13.9 Ounces
Compact
Portable
Easy to use crank
Only one light
Battery drains quickly
Kaito KA500 Emergency Radio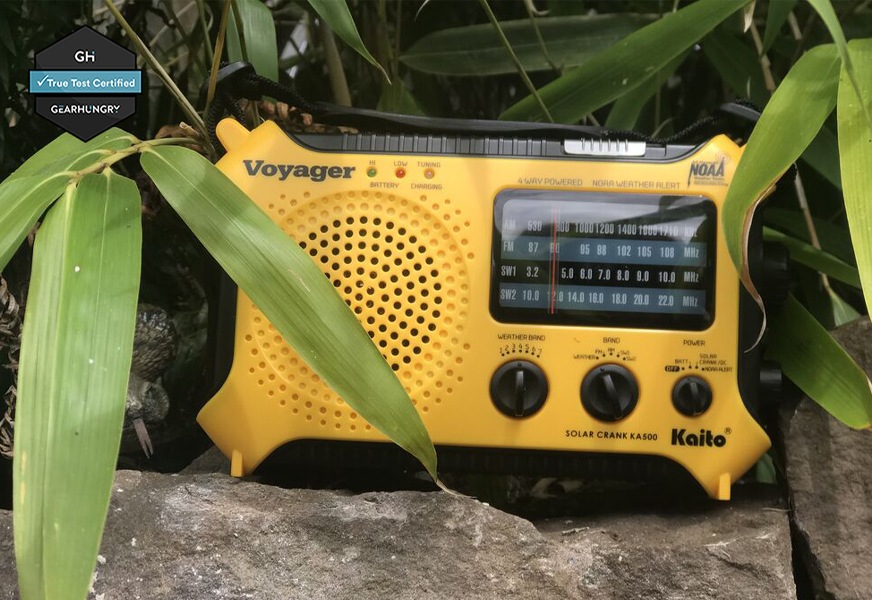 For annoying your dog or making it through severe weather, the Kaito KA500 is the best choice in emergency radios. This portable emergency radio has six power source options, including solar, hand crank, and AA batteries when electricity is unavailable. The hand crank annoyed my roommate's dog and had him barking up a storm. If you have a noise-sensitive animal, this device can also function as a fun toy or dog torture machine. 
NOAA weather radio and a full range of AM and FM emergency radio stations allow you to connect with local and national weather and access music, sports, and other entertainment stations. The speakers were pretty crisp, and it was easy to hear. Multiple lighting options exist on this device, including a reading lamp and flashlight. The hand crank was reasonably easy to operate but is relatively small compared to the device's size. Read the in-depth review here.
For more handy life-saving devices, check out our selection of the best CB radios.
Key Features:
Three lights
Solar panel
AM/FM radio
NOAA weather radio
Carry handle
Six power options
Specification:
Brand

Kaito

Model

KA500YL

Weight

1.5 Pounds
Portable
Crisp speakers
Multiple power options
Hand crank can be difficult to use
Initial set up is tricky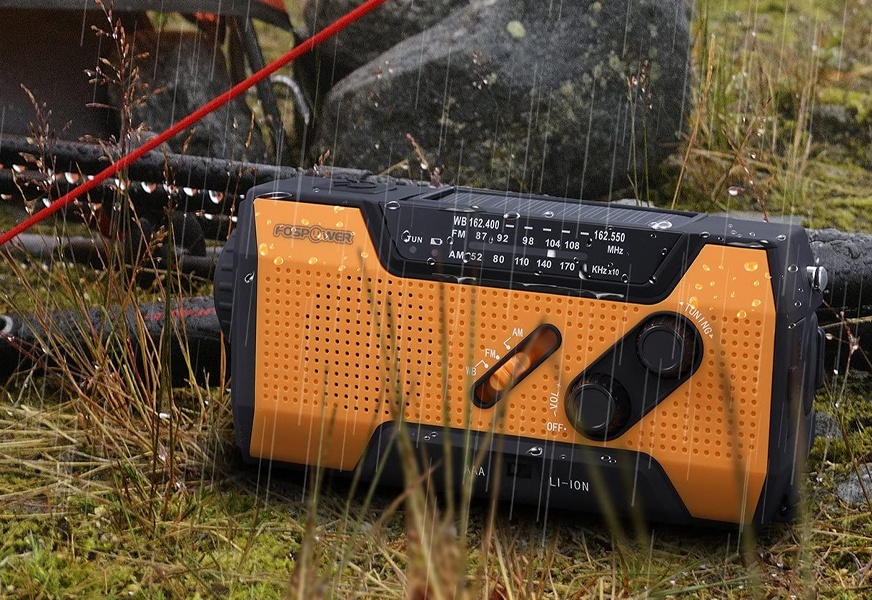 If your area is prone to severe storms, hurricanes, or flooding, a NOAA emergency radio with a water-resistance rating is vital. The FosPower Emergency Radio comes with an IPX3 water-resistance rating allowing it to still function after being sprayed with water from an angle of 60 degrees or less. While this might not be the best emergency radio as it isn't 100% waterproof, it still provides more protection than other competitors while offering similar features and functionality. 
The FosPower radio can act as a charging bank, provides an LED flashlight and reading light, and multiple charging options such as solar power, a hand crank, and a battery pack. When the storm hits and you need to know what is happening outside your door, this device also offers AM/FM radio and NOAA weather radio so you can stay tuned into both regional and national alerts.
Key Features:
AM/FM and NOAA radio
Flashlight and reading light
Powered via a hand crank
Solar power, or batteries
Specification:
Brand

FosPower

Model

FOSPWB-2376

Weight

10.9 Ounces
Lightweight 
Compact
IPX3 Rating
LED light under the solar panel cannot be turned off when the panel is lifted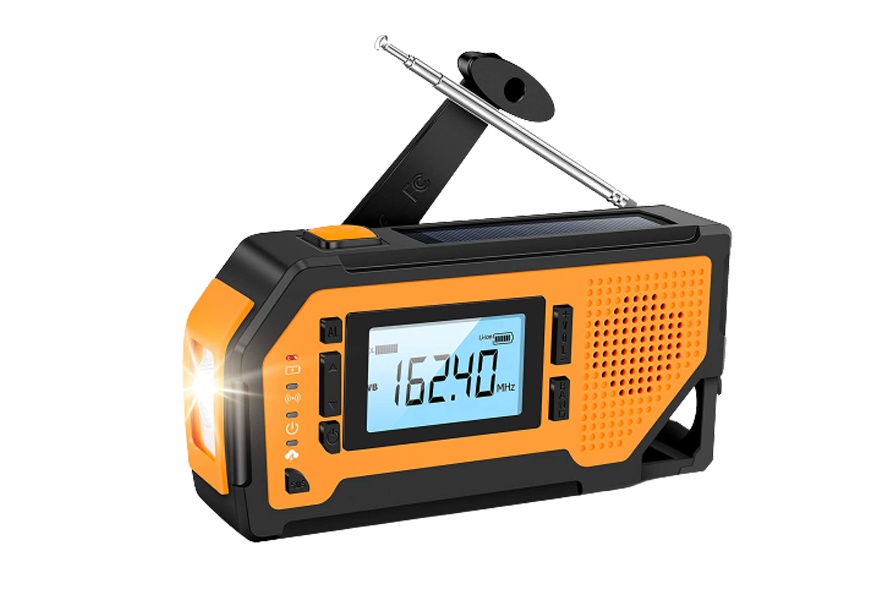 One of the first things you will notice about the Aiworth Emergency Radio, and the thing that sets it apart from the competition is the LCD screen featured prominently on the side of the device. The screen displays information such as the emergency radio frequency, volume, and battery percentage. This NOAA emergency radio offers AM/FM stations and weather radio, so you stay informed. The extra-long telescoping antenna ensures your device stays connected no matter where you are. 
For powering the device, a hand crank, solar power, mini-USB cord, and AA batteries are all options ensuring you can keep your radio running regardless of the situation. Additional features include a reading lamp, flashlight, an SOS alarm, and even a bottle opener. Because if the sky is already falling around you, why not crack open a cold one to take the edge off? 
Key Features:
Four charging options
LCD screen
AM/FM/WB radio
Specification:
Brand

Aiworth

Model

WSS101

Weight

13.4 Ounces
Large LCD screen
Bottle opener
Mini-USB cable included
Solar panel is not adjustable
Midland ER310 Emergency Radio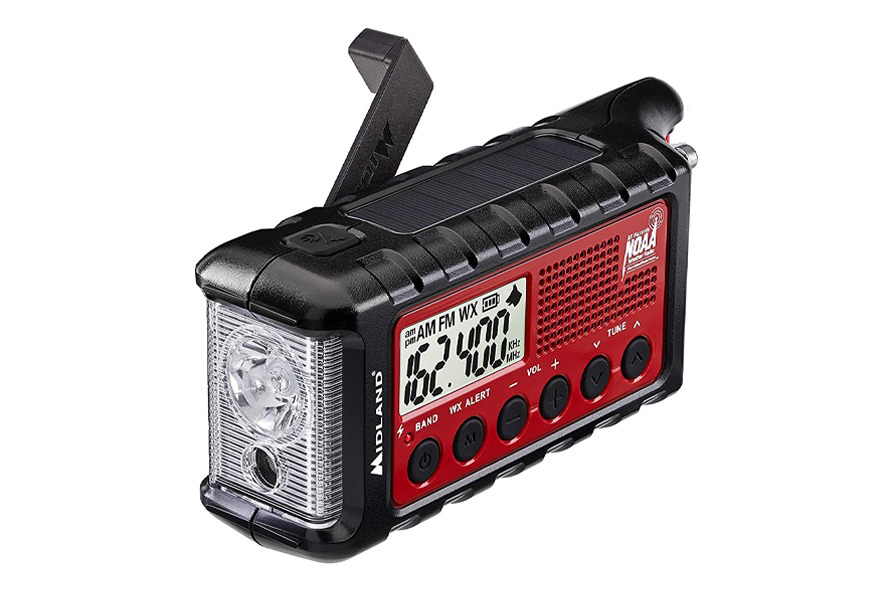 When it comes to safety features, the Midland ER310 Emergency Radio can't be beaten. Not only does this battery-powered am/FM radio feature the siren blaring SOS feature of other radios, but it also has a dog whistle for signaling rescue teams that may be using dogs to search for human life. If you live in an earthquake-prone area, this minor feature could make a big difference and make this potentially the best emergency radio. 
In addition to safety features, this weather radio also boasts a 2600mAh rechargeable li-ion battery, solar panel, and hand crank, a flashlight, the ability to charge devices, and AM/FM/WB emergency radio station access. The only downsides of this device are its lack of reading light and a non-adjustable solar panel.
Key Features:
AM/FM/WB radio
Dog whistle
multiple charging options
SOS feature
Specification:
Brand

Midland

Model

ER310

Weight

1 Pound
Dog whistle
SOS function
AM/FM/WB radio 
No reading light
Non-adjustable solar panel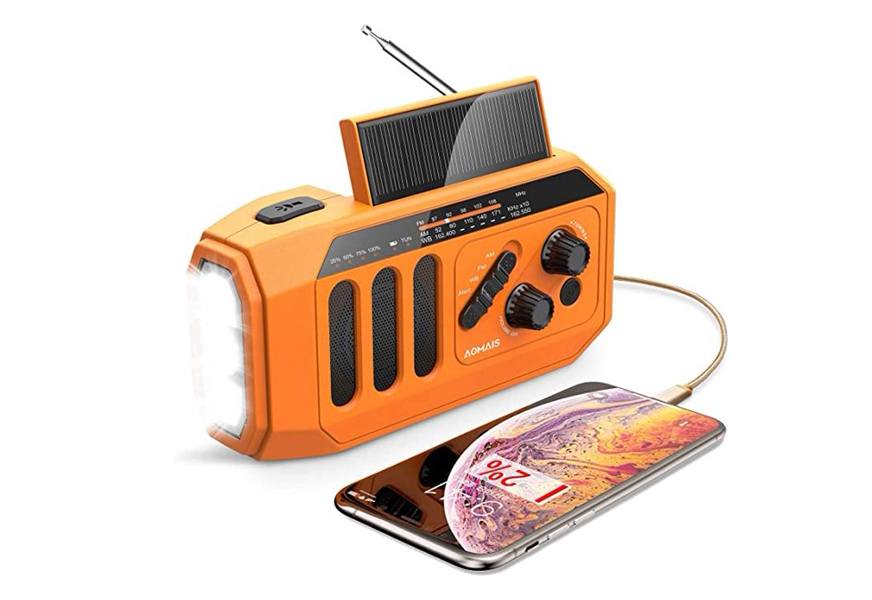 While the AOMAIS Emergency Radio may be budget-friendly, it is still a top-of-the-line device ready when you need it most. In addition to hosting AM, FM, and weather radio stations, you can also turn on the weather alerts function. This allows the device to immediately alert you if the National Weather Service is pushing out an emergency alert — even if your radio is not on otherwise. 
Charging is easy for this device with the hand crank, USB cable, and adjustable solar panel. Two additional lights will help light up the night when needed. A reading light is located under the solar panel, and a flashlight with three modes dons the front of the device. A perfect addition to your survival gear collection.
Key Features:
SOS alarm
Flashlight, and reading light,
Solar
USB cord, or hand crank-powered
Specification:
Brand

AOMAIS

Weight

1.08 Pounds
2 lighting options
Adjustable solar panel
Weather alert mode
SOS alarm
Not compatible with batteries
Eton Ultimate Camping Radio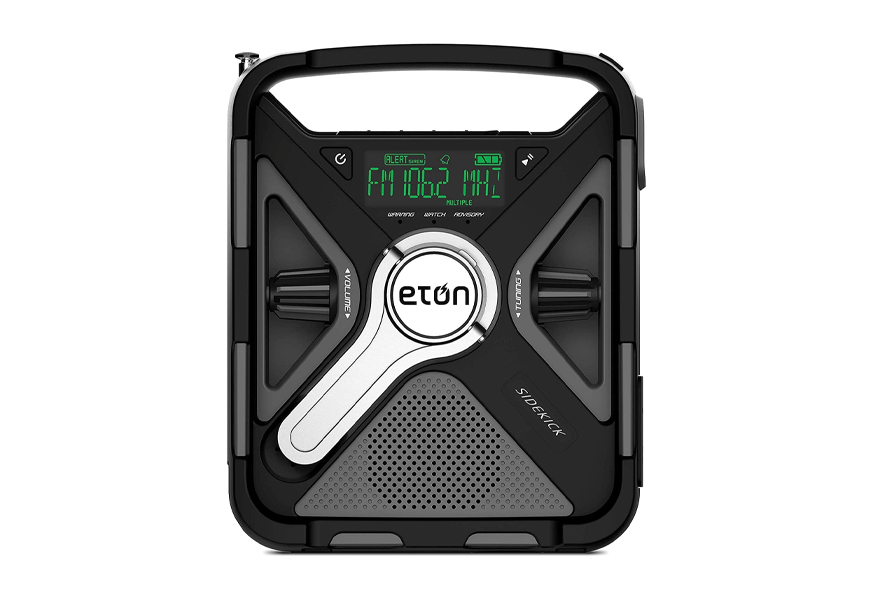 While the Eton Ultimate Camping Radio does well in emergency settings, it truly shines as a camping radio. Many folks head to the great outdoors to get away from lights and technology, but others still want a few creature comforts such as a light, speaker, radio, and more. The Eton Ultimate Camping Radio could be an excellent asset for the RV owners or glampers out there. 
This radio features a sizeable ambient light on the back with a flashlight and red blinking light on the handle. To keep tunes playing even in the great outdoors, this radio also features AM/FM/WB radio stations and Bluetooth connectivity. A charging port keeps your phone at full capacity, and a headphone jack ensures you don't bug your camping neighbors. You can charge the device via the large hand crank on the front or the non-adjustable solar panel on the handle.
Key Features:
Large ambient light
Bluetooth connectivity
AM/FM/WB radio
Specification:
Brand

Eton

Model

NFRX5SIDEKICK

Weight

2 Pounds
Large light
Large hand crank
Bluetooth connectivity
Headphone jack
Non-adjustable solar panel
No additional safety features
Why Trust Us
I grew up on the hurricane-laden gulf coast. My Mimi (grandma) would tell stories of the night she watched her house fall apart over her head during Hurricane Camille, and my mother would round that story out with stories of hurricanes too.
It wasn't too long before I was in the thick of it too. Tropical Storm Allison at age 7, Rita at 11, Ike at 14, Harvey at 23, and those are just the big ones. Every year, severe storms, tropical storms, and minor hurricanes (in the lucky years you might have an ice storm) descended upon the gulf coast, and we often learned to continue with life through the storm, evacuate, or hunker down.
When you choose to hunker down, you better have an emergency kit, and that always includes a hand crank emergency radio. 
Who This is For
Emergency Radios and this guide are not just for doomsday preppers. Emergency Radios are a valuable tool for anyone who lives in disaster-prone areas.
If there's any chance your area could see ice storms, hurricanes, tornadoes, tsunamis, earthquakes, or severe weather of any kind, you should have an emergency radio. These tools are one of those items you hope you won't need but will be thankful you have when the time comes. 
How We Picked
I picked the product selection for this guide through my own experience living on the hurricane-prone gulf coast and by reading product reviews for dozens of products.
With my combined experience of living through dozens of major storms and the wealth of information available at the click of a button, curating the best emergency radios was done in a jiffy. 
How We Tested
Initial testing for these radios involved some first impressions and time spent learning the products. One of the first things I noticed is that certain winding noises from cranks annoy dogs more than others. More on that later (see the FAQs below).
Additional testing involved testing particular features on each device, such as the radio, flashlights, and more.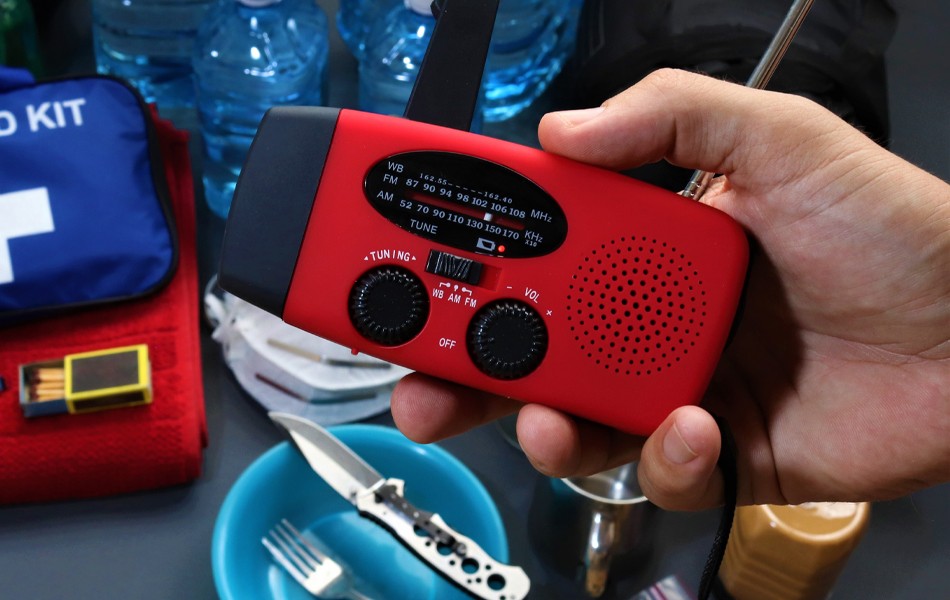 Features to Look for in Emergency Radios
Channels and Alerts - Many radios can access both AM and FM channels as well as NOAA channels. While NOAA channels and the ability to receive critical weather alerts are crucial elements of an emergency radio, access to AM/FM radios is an excellent bonus for entertainment on camping trips or other scenarios when the radio is not accessible by other means. I mean, enjoying the great outdoors isn't always about disconnecting from technology, right? 
Ability To Receive Signals From NOAA - It is vital that your emergency radio be able to receive signals and alerts from NOAA. These alerts are essential in an emergency.
NOAA also gives regular weather reports for all 50 states. Should you be out of power, these signals can inform you of what's happening around you.
Additionally, NOAA transmits critical safety alerts during weather and disaster emergencies like hurricanes, tornadoes, or earthquakes that can help you make decisions about your safety before, during, and after the event. 
Charging Methods - When considering charging methods for your emergency radio, you should consider what may or may not be available to you in a disaster scenario in your area. The more charging methods, the better.
In many disaster scenarios, the power may be out, and charging exclusively via a cord is impractical. Solar power is a great option, but storm clouds, smoke, or ash could cloud the available sunlight. Hand cranking is one of the best charging options because it is not reliant on anything other than movement. 
Battery Life - Battery life can refer to many things when talking about emergency radios. Battery life could be the length of time the device operated while running on batteries or the amount of time the device functions after charging via solar or hand cranking.
The most sustainable way to keep a radio functioning is with hand cranking or solar power. Long battery life is ideal, but with hand cranking and solar power usually readily available, it is less of a crucial element of your emergency radio. 
Extra Features - Extra features can include sirens, flashlights, phone charging, and more. These features can come in handy by helping signal help those who may otherwise struggle to see you.
Flashlights on your radio eliminate the need for additional devices.
Phone charging can be critical for keeping your phone working without power. 
Durability and Waterproofness - It should go without saying that if your radio is not durable, it's not made for emergencies. Extreme weather like hurricanes and tornadoes will destroy homes and belongings and put those caught in their midst through the wringer.
If your radio is not waterproof or durable, it might as well be dust. 
Size and Weight - If you have an emergency preparedness kit, which is an excellent idea whether you live in a disaster-prone area or not, an ideal scenario is that your emergency radio fits into your kit. If the radio is too large or bulky, it can't move with you easily.
If your radio is not portable and needs to move locations during an emergency, your emergency radio is no longer helpful. A portable radio that is easy to carry one-handed by anyone in your family is ideal. 
Price - Budgets vary, so do the costs of emergency radios. Many emergency radios are under $100. An emergency radio is not a purchase you want to skimp on because it could potentially be lifesaving, but it should not break the bank either. 
Ability to Annoy Dogs - Ever find a noise that your dog absolutely despises? The one that takes them from perfectly behaved Fido to ravenous, fiendish Kujo? Well, it turns out winding and cranking noises are a common agitator for dogs, but some are worse than others.
Specific radios with hand cranks proved to bug my roommate's dog and would rise him out of a dead sleep and send him into a barking spree worse than his daily barks at the mailperson. Other cranks appeared not to bug him at all. Is there a way to tell which one will anger your dog before you buy? Probably not, but you should know it's a possibility.
Types of Emergency Radios
Weather alert radios - Some radios only have weather alerts through NOAA, although these are becoming less and less common. If purchasing a radio with weather alerts only, look for a radio with SAME, ensuring your radio only gets your local weather alerts and national alerts. 
AM/FM radios - Most emergency radios on the market offer AM/FM radio stations and the NOAA weather station for critical alerts. AM/FM radio access allows better access to your local radio stations and warnings. Additionally, if you need to hunker down for a few days or more, those additional stations could provide excellent entertainment.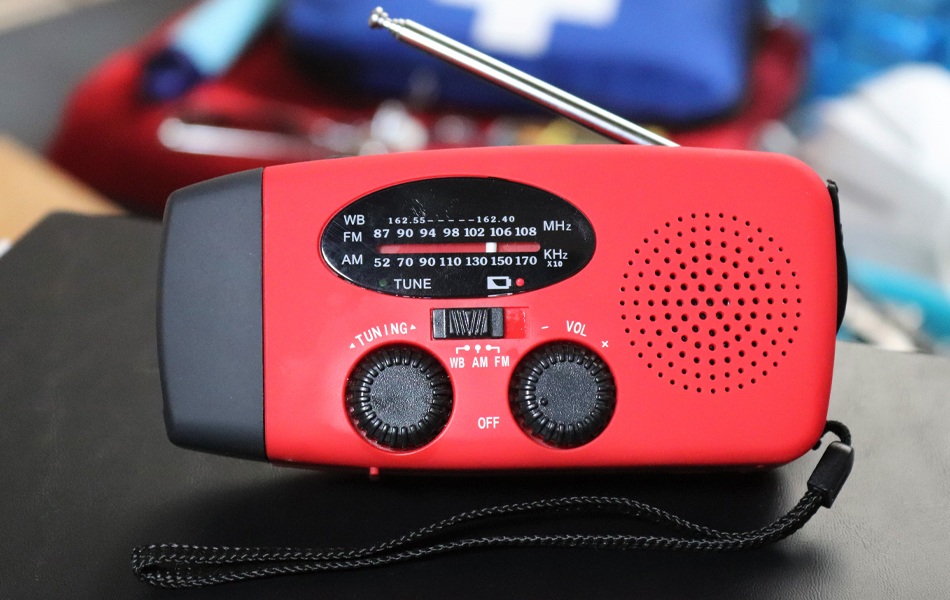 Emergency Radio FAQ
Q: Where can I buy an emergency radio?
A: You can purchase emergency radios via the links we've attached here. Alternatively, if you feel more inclined to buy in person, many home improvement and megastores often carry at least one model of emergency radios.
Your best bet is to buy online, so you have a chance to research each one thoroughly. 
Q: When will I need an emergency radio?
A: In events like a hurricane, tornado, earthquake, or power outage, a portable emergency radio can be a lifesaving device. With climate change on the rise and weather-related disasters becoming a more frequent occurrence in many areas, you will likely need an emergency radio at some point. Having this device and not needing it is much better than needing it and not having it. 
Q: Why can't I use my smartphone?
A: In short, because your smartphone will die. While we know it is hard to separate yourself from your smartphone, it may not actually work depending on the emergency. Your phone is less durable and waterproof than a radio and has shorter battery life.
Q: What does an emergency radio do?
A: Emergency radios have a variety of features that can serve you during a disaster scenario. Emergency radios can receive transmissions and alerts from NOAA to keep you informed and often double as phone chargers, flashlights, and more. 
Q: How do you use an emergency radio?
A: Before using your radio, you should ensure it has a full charge. Once your radio is charged, you can use the controls on the device to access the NOAA weather channels or your local radio station. Additionally, many radios can charge your phone via a USB cord and can act as a flashlight. 
Q: How long does a crank radio last?
A: When fully charged, a crank radio will generally provide 10-15 hours of radio time. If you are using other features, that time frame will be shorter. The good news is that all you have to do to get the radio up and running again is crank it.
When it comes to the lifespan of a crank radio, there's no firm answer but generally 500 to 1000 charges, so unless you have tornadoes ravaging your home weekly, we're willing to bet you have a few years out of your device if not decades. 
Q: What are the emergency radio channels?
A: Emergency radio channels usually vary by your location. It is wise to find your local and state channels and write them on a note in your emergency preparedness kit.
Additionally, the national weather service (NOAA) has its own weather station. The NOAA station will deliver non-weather emergency updates as well. 
Sign Up Now
GET THE VERY BEST OF GEARHUNGRY STRAIGHT TO YOUR INBOX