Kaito KA500 Wind Up Emergency Radio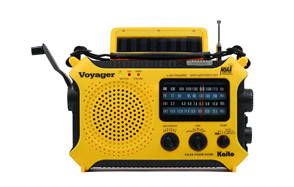 Key Features:
6-way powered portable emergency radio
Offers real-time weather forecast with coverage of 7 pre-programmed FM/AM channels in USA and Canada
Doubles up as a mobile battery charger for digital and mobile devices
Offers a built-in standard USB port
Comes with LED reading and flashlights
Impact-resistant and water-resistant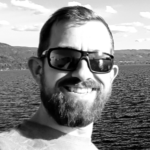 If you're lucky you'll never need to use an emergency radio. But if recent events surrounding hurricane Harvey in Texas showed us anything it's that you can never be too prepared, especially if you live in an area prone to extreme weather events. And although technology has progressed by leaps and bounds in recent years the fact is that if Mother Nature's wrath is bearing down on you it's not wise to depend solely on smartphone apps to save your bacon. What you need is the type of crucial information and practical assistance you get from the emergency radio.
With an emergency radio, you'll get the kind of weather updates and emergency information that are invaluable when you're trying to determine if you need to batten down the hatches or evacuate. But finding a dependable, high-quality emergency radio with plenty of useful features can be a daunting task if you have no experience with such things, which is why we've done the research for you. Below are our choices for the best emergency radios currently on the market. Let's get started.
The Best Emergency Radio
Emergency Radio FAQs
Q: What Is A Crank Radio?
A: Like most hand-powered generators the hand crank on a survival radio produces power by way of a magnet wrapped in a coil of conductive wire. When the coil is spun or "cranked" around the magnet an electric current is generated. Simply put, this electricity is then used to recharge the battery in the emergency weather radio. This is essentially the same way power is produced in a hydroelectric dam, with a few differences in application and on a much, much larger scale. If you've ever driven past a modern windmill farm you've also seen this method of electricity generation in action.
Q: Where Can I Buy An Emergency Radio?
A: Emergency radios are widely available in electronic stores, big box stores, home improvement centers, many hardware stores and of course from a plethora of online retailers including eBay and Amazon. The advantage of buying a solar powered radio in a brick and mortar shop is that you can hold it in your hand, feel the weight, determine what kind of grip you can get on it, whether you can put it in the pocket of your pants and see how bright any lights may be. The advantage to buying online is that you don't have to leave your home and you may get a better price.
Q: When Will I Need An Emergency Radio?
A: The weather radio is typically used whenever Mother Nature decides to unleash her fury in the form of high wind, high precipitation events such as hurricanes, tornados, blizzards and seasonal flooding; such as that experienced nearly every year in the American Midwest. The emergency survival radio is an invaluable asset that allows a person to key in on important weather updates, evacuation orders, emergency decrees and more. With it you have a dependable tool to aid in your survival. Without it you are essentially on your own against the power of nature.
Q: Why Can't I Just Use My Smartphone?
A: During a natural disaster the normal workings of society are disrupted. That means clean water is often hard to find, supplies of heating oil can become scarce and most commonly of all, electric power is lost. Sometimes for days or even weeks. While most smartphones are amazing devices their battery is going to die, probably sooner rather than later. Then what do you do? Thankfully we have the emergency weather radio to keep us informed, guide us to safety, provide light to navigate the darkness and provide power to keep our mobile devices up and running. Perhaps the day will come when smartphones are self-charging or with a power bank. Until that day we have the emergency radio.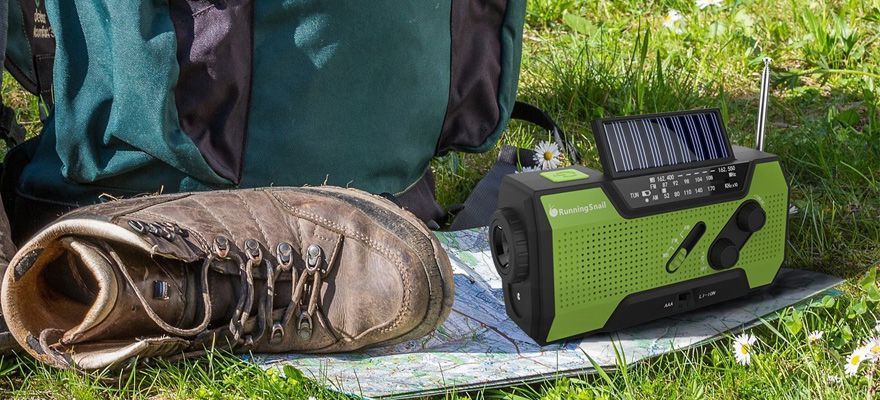 Conclusion
The best crank radios are important allies when it comes to transcending a natural disaster. They allow you to maintain contact with the outside world and plan either your survival or escape strategy based on accurate, timely information. Emergency radios often cost less than $50 and yet the information, power, light and yes, entertainment, they provide to people under the natural disaster gun is priceless.
We hope you found the above emergency radio reviews helpful in determining which is likely to be the best emergency radio for you and your loved ones. Remember to stop back on a regular basis for more product review guides from gearhungry.com.