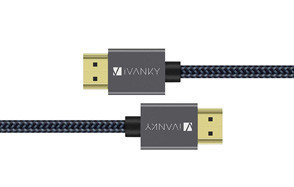 IVANKY 4K HDMI Cable 10 ft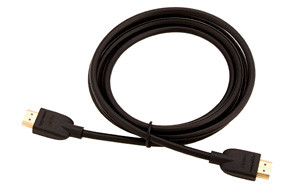 AmazonBasics High-Speed HDMI Cable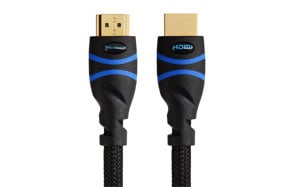 BlueRigger 4K HDMI Cable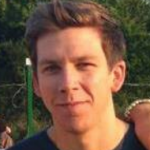 In theory, any High-Speed HDMI cable should deliver your UHD/4K content with sparkling efficiency. In reality, however, all HDMI cables are not created equal. If you tested a half dozen high-speed HDMI cables one after the other on a true HD system you'd probably find little, if any, the difference at first between the picture one produced and what any of the others produced. Things change however when that cable gets longer, when you plug and unplug the cables on a fairly regular basis, and when the cables begin to age. The best HDMI cables will stand up to the test of time, won't break down due to repeated plugging/unplugging and will transmit just as well over 10 feet as they do over 3 feet. With those facts in mind, we present the best HDMI cables on the market today.
The Best HDMI Cable
HDMI Cable Buying Guide & FAQs
While all high speed HDMI cables should, in theory, start off producing nearly identical results things can start to break down when cables get longer or are repeatedly plugged and unplugged. As such it pays to keep an eye on what goes into the making of a particular cable. Here are some of the things you'll want to consider before purchasing an HDMI cable.
Cable Material - HDMI cables are composed of several strands of copper wire bundled together and wrapped in a casing. In this sense they're all pretty much the same. What can impact performance is the gauge of those wires. 28AWG (American Wire Gauge) wires are pretty thin and while they'll do a fine job delivering HD content from the Blu-ray player to the HDTV 2-6 feet away there's likely to be signal degradation in a 10' long HDMI cable made from 28AWG. If you need a longer cable you'll want something that is 26 or even 24AWG (smaller number = thicker wire). A 24AWG cable will deliver a nice clear signal twice as far as a 28AWG wire will.
Length - For most people their Blu-ray or cable box is in close proximity to their HDTV. So they aren't going to need an HDMI cable that's more than a few feet long at most. However, as we have just seen above, if you need a long HDMI cable of say 8 to 10 feet you're going to have to make sure that it's 26 or even 24AWG because a thinner cable that may be fine for 2 or 3 feet isn't going to deliver over a distance of 8 or 10 feet.
Connector Material - The newest, fanciest HDMI cables have gold-plated connectors. These don't necessarily produce a sharper picture right out of the box but they often do help prevent signal degradation that can occur after repeated plugging and unplugging of a device. So while you won't necessarily see any difference in picture quality when you first start using your gold plated connectors, if you're paying attention you may notice a year or two down the line that the picture quality is still as sharp as the first day you plugged the cables in.
Resolution - The original HDMI 1 cables were able to transmit 4.95 Gbit/s which was good enough for 720p, 1080i resolution. Today's high speed HDMI cables can handle 48 Gbit/s and will deliver true 4K resolution provided all components of your delivery system are also HD components.