High-Def, Hardwired: The Best HDMI Cables of 2022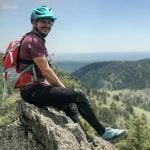 This product guide was written by Mark Wilson
Last Updated
April 29, 2021
Mark Wilson
Mark is a longtime journalist based in Austin, Texas with a background in breaking news reporting and media relations. Outside of the office he spends nearly every waking moment hunting down an adrenaline rush through mountain bike racing, gravel touring, rock climbing, triathlons and trail running. Mark also is a bassoonist who loves learning to play the latest hits for his friends, and will never back down from a karaoke stage. His rest days are spent lounging with his wife and dog, playing chess and cooking fancy meals, but always planning for the next adventure.
GearHungry may earn a small commission from affiliate links in this article.
Learn more
In theory, any High-Speed HDMI cable should deliver your UHD/4K content with sparkling efficiency. In reality, however, all HDMI cables are not created equal. If you tested a half dozen high-speed HDMI cables one after the other on a true HD system, you'd probably find little, if any, the difference at first between the picture one produced and what any of the others produced. Things change when that cable gets longer, when you plug and unplug the cables on a fairly regular basis, and when the cables begin to age.
The best HDMI cables will stand up to the test of time, won't break down due to repeated plugging/unplugging, and will transmit just as well over 10 feet as they do over 3 feet. With those facts in mind, we present the best HDMI cables on the market today.
The Best HDMI Cable Review
AudioQuest BlueBerry 4K-8K 18 Gbps HDMI Cable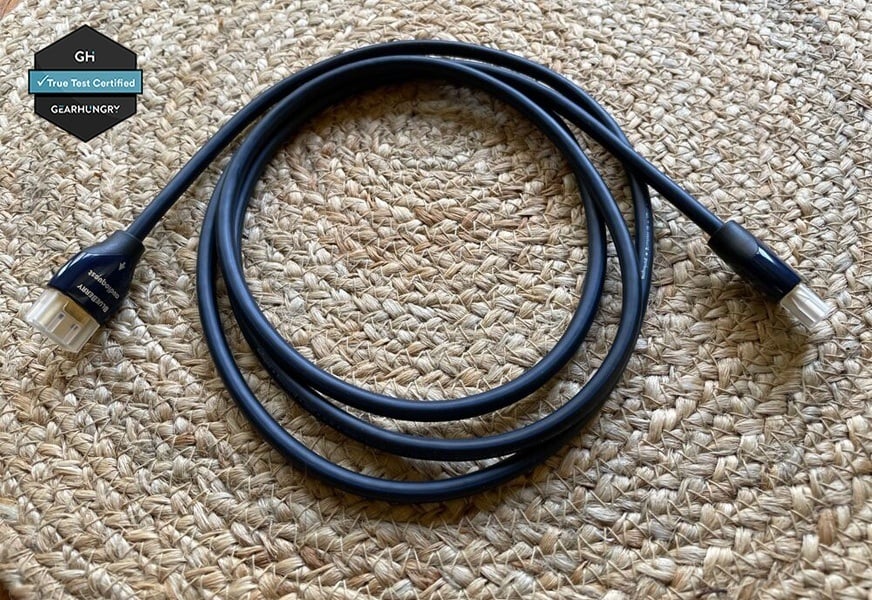 This excellent choice for an HDMI cable is made by AudioQuest and is constructed with a combination of high-quality materials and cutting-edge technology. The near-futureproof cable is rated to handle 4K and 8K video signals at 7680 x 4320 resolution — which is over 33 million pixels — and at up to 30 frames per second, with a bandwidth of 18 Gbps to easily handle High Dynamic Range (HDR) and Dynamic HDR imagery. These last two features helped make our viewing experience the best. It made video content have deeper, darker blacks that contrast with brighter whites and supported better color saturation and brightness.
A key technology that makes the AudioQuest BlueBerry HDMI cable a stellar option is its eARC or Enhanced Audio Return Channel. This refers to supporting uncompressed and lossless high-resolution multichannel audio like Dolby TrueHD, Atmos, and DTS-HD Master Audio. These enhanced sound capabilities come with HDMI 2.1 hardware.
Another important technology this HDMI cable offers is Level 1 Noise-Dissipation. That means that it goes beyond the typically touted "100% shielding" by making all 19 conductors (wires) in the cable direction controlled, so they more easily protect against the constant RF noise like that from WiFi and cellular signals. Here are some of the best AUX cables you may be interested in, as well. Don't miss them.
Key Features:
Supports 4K-8K video up to 30 frames per second
Supports 18 Gbps bandwidth
Solid long-grain copper conductors
Direction-controlled noise dissipation technology
Specification:
Brand

AudioQuest

Model

HDM18BLUE050

Weight

3.52 ounces
A wide variety of cable lengths
Will support HDMI 2.1 signals
Uses superior shielding tech for crystal clear audio
Tripp Lite High-Speed HDMI Cable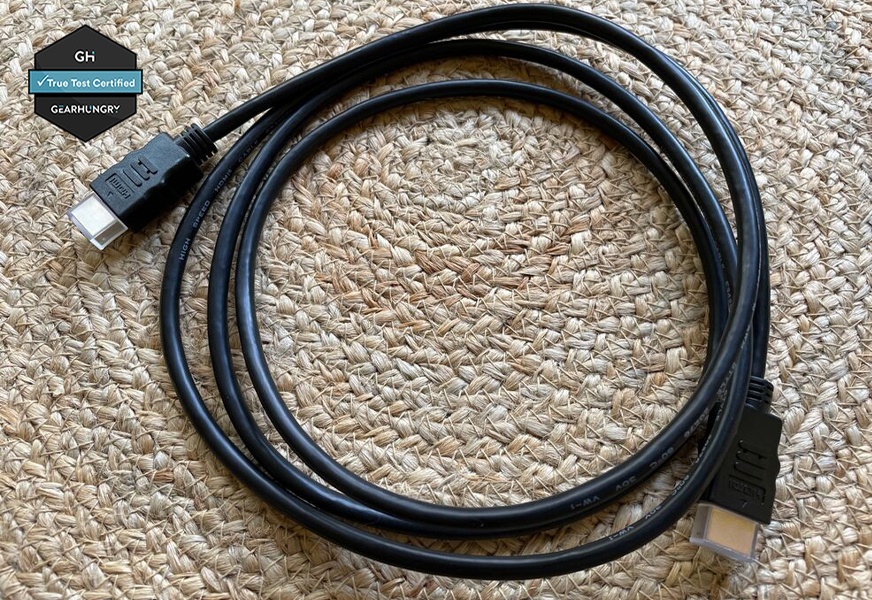 Those looking for a solid, bargain HDMI cable will do just fine with the Tripp Lite High-Speed HDMI cable. Though it doesn't boast the highest ratings for video signal or boast special shielding technology or noise reduction tricks, the Tripp Lite was still a good performer with gold-plated connectors and a double-shielded, 28AWG cable that offers 18 Gbps for a full 1080p and supports a 4k Ultra HD signal.
Where this cable really shined was the plethora of options available for lengths and connectors. The sizes range in standard increments of 2 to 5 feet from 3 to 40 feet — you can even get an astounding 100 feet (though you'll definitely need a signal booster for a cable that long). And for those looking for a special connector, the Tripp Lite has you covered with options like swivel, right angle, flat, and gripping that will fill most home theater set-up scenarios.
Key Features:
Supports 18 Gbps bandwidth
Gold-plated connectors
Supports Apple iPad video mirroring
Internal strain relief
Specification:
Brand

Tripp Lite

Model

P568

Weight

3.2 ounces
Supports 4K and 1080p video
Bargain priced
Available with a huge amount of connector shapes and styles
Only 28AWG wire so will need a signal booster for the longer cable lengths
Monoprice 4K Certified Premium High Speed HDMI Cable – 18 Gbps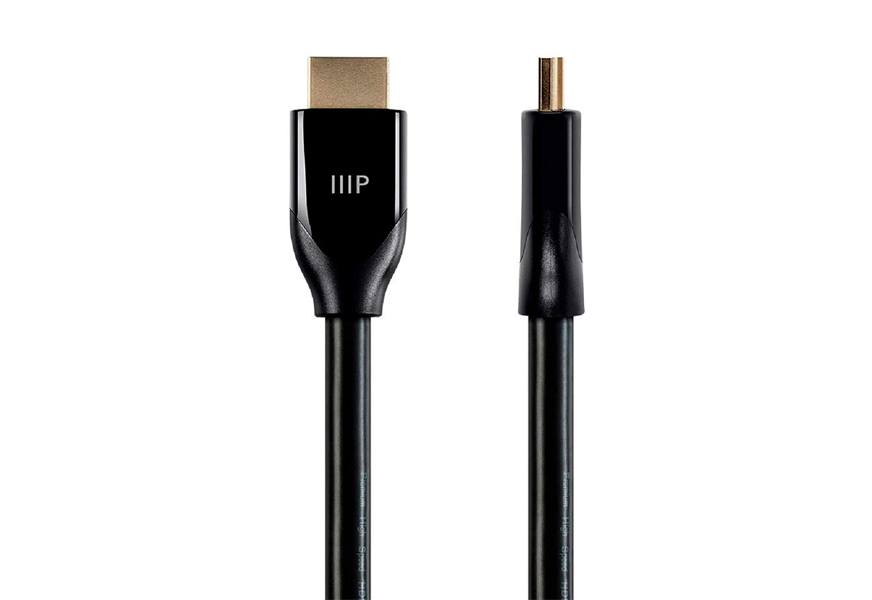 The Monoprice 4k Certified Premium High-Speed HDMI cable is a super affordable, reliable cable that supports a wide spectrum of high-quality audio and video formats up to 4k. The cable supports dual video streams and is available in various length options ranging from three to 30 feet. Monoprice offers the cable as a single item or in packages of two or three on their website.
Each cable undergoes testing to make sure it can dole out 18 Gbps of bandwidth and has high resistance to electromagnetic interference. It comes with a lifetime warranty and a 30-day money-back guarantee. You may also be interested in some of the top fast charging cables from our list. Take a moment to check them out.
Key Features:
Supports 3D, multiview, 4k video, 3840X2160p at 60hz
Supports 21:9 cinema aspect ratio, and up to 32 audio channels.
Works with SA-CD, DVD-Audio, DTS-HD Master Audio, Dolby TrueHD.
Specification:
Brand

Monoprice

Model

115428

Weight

4.2 ounces
3D and multiview video
Affordable
Available in size ranging from three to 30 feet.
Some users found the cable stiff, especially in shorter lengths.
Zeskit Maya 8K 48 Gbps Certified Ultra High Speed HDMI Cable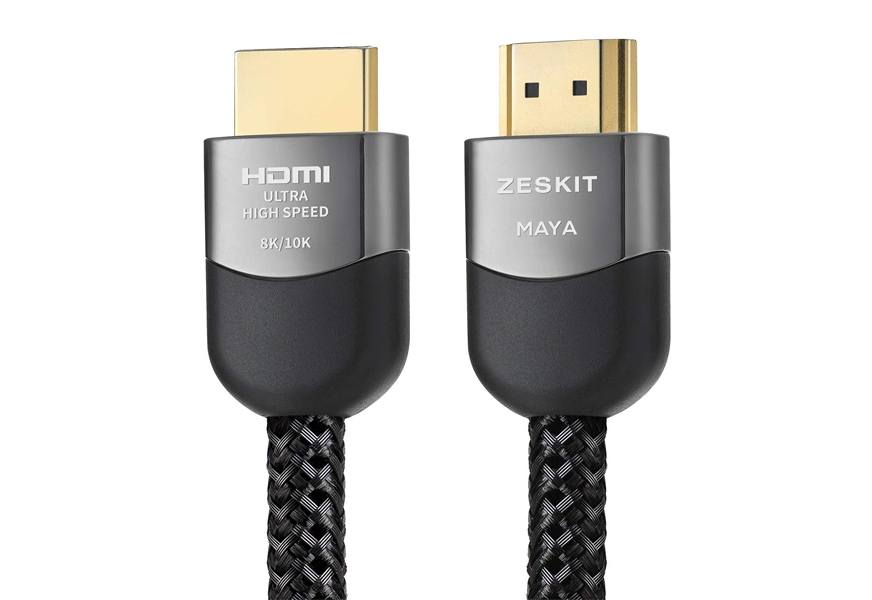 The Zeskit Maya 8K 48 Gbps Certified Ultra High-Speed HDMI Cable is another super high-speed cable that is perfect for gamers. The Maya supports HDMI 2.1, including 8K60, 4K120, and 10K resolution. It also supports Dynamic HDR, eARC, ALLM, QFT, QMS, VRR and is backward compatible with previous HDMI iterations. This cable starts in a 1.5-foot option and is available at up to 10 feet. The cable is wrapped in a durable braided jacket and non-metal insulation that reduces interference through touch and a full zinc alloy housing that stops signal loss.
Key Features:
8K60, 4K120 & up to 10K resolution
Dynamic HDR
Enhanced Audio Return Channel
Variable refresh rate
Quick Frame Transport
Specification:
Brand

Zeskit

Model

HDC-8K050

Weight

2.89 ounces
Durable cable with braided sleeve
Comes in sizes from 1.5 to 16 feet
KabelDirekt 4K HDMI Cable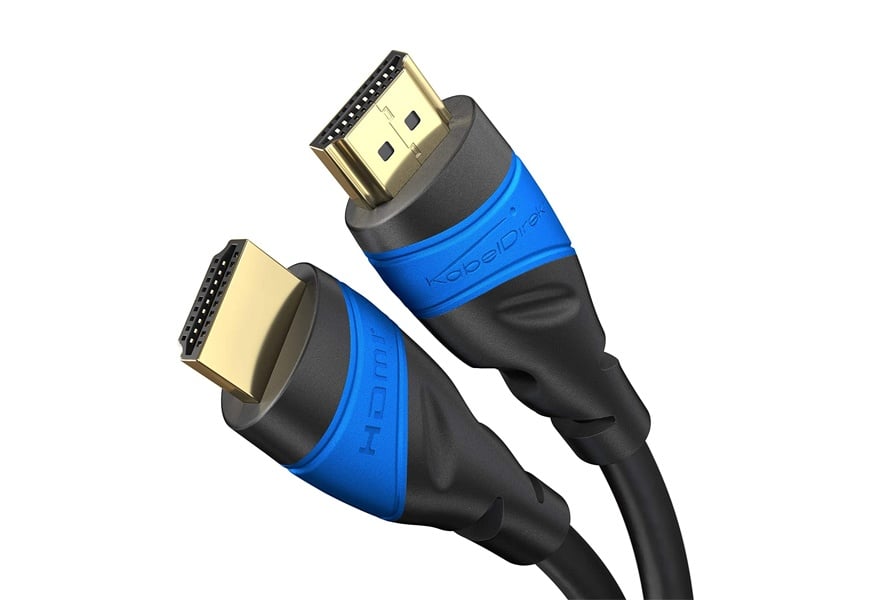 The KabelDirekt 4k HDMI Cable is a well-built, quality cable that provides crystal clear image and sound quality at high speeds. The cable supports UHD-2 resolutions, including 8k60 and 4k120, HDR, and 7.1 surround sound.
The cable is machine soldered and includes gold plated connectors, layered shielding, and high-purity copper wire to cut out interference. It comes with a 36-month manufacturer warranty and comes in sizes of up to 50 feet. Some of you may still need good old RCA cables. Be sure to browse our list of the best ones on the market.
Key Features:
8k60, 4k120 in cables up to 20 feet
HDR
7.1 surround sound
Specification:
Brand

KabelDirekt

Model

197

Weight

1.6 ounces
High-quality, well-insulated construction
36-month warranty
Cable loses some features in sizes longer than 20 feet.
Monster M-Series 3000 Certified Premium HDMI 2.1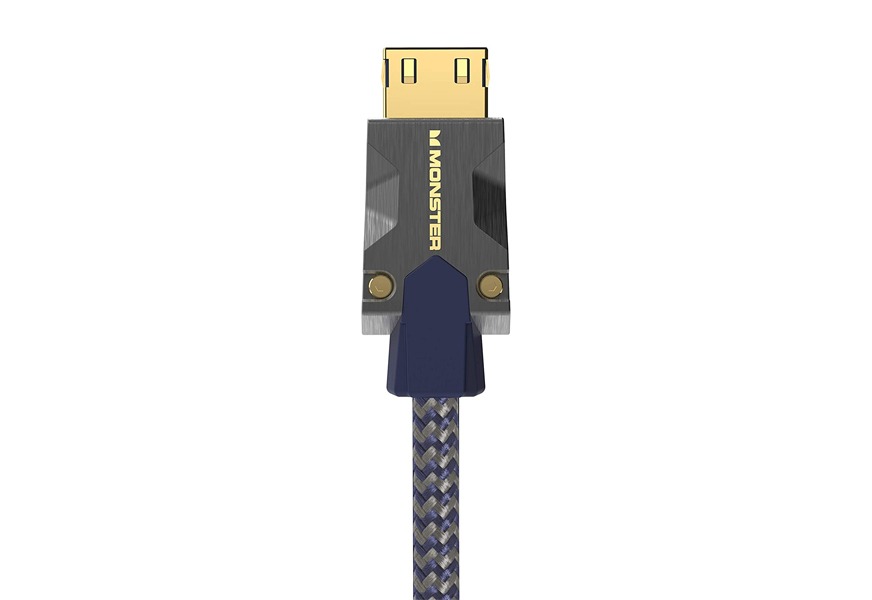 The Monster M-Series 3000 Certified Premium HDMI 2.1 cable is a pricey and sharp-looking cable that boasts 8k image quality at 60Hz. The cable brings precise, vivid detail to your screen with high-speed transfer rates of up to 48 Gbps. It supports HDR imaging and 7.1 Dolby surround sound.
The M-Series 3000 is housed in a Duraflex protective jacket and includes 24k gold V-grip connectors that increase the stability of the cable's connection. Monster's cable comes with a 100% replacement guarantee, so even with a higher price tag, you can count on it. Be sure also to read our in-depth guide to the best-selling lightning cables.
Key Features:
8k60
24k gold V-grip connectors
1080p high definition video
Triple Shielded
Specification:
Brand

Monster

Model

VMM10007

Weight

7.2 ounces
Duraflex protective jacket
100% replacement guarantee
V-grip connectors increase stability
FURUI Nylon Braided 2.1 HDMI Cable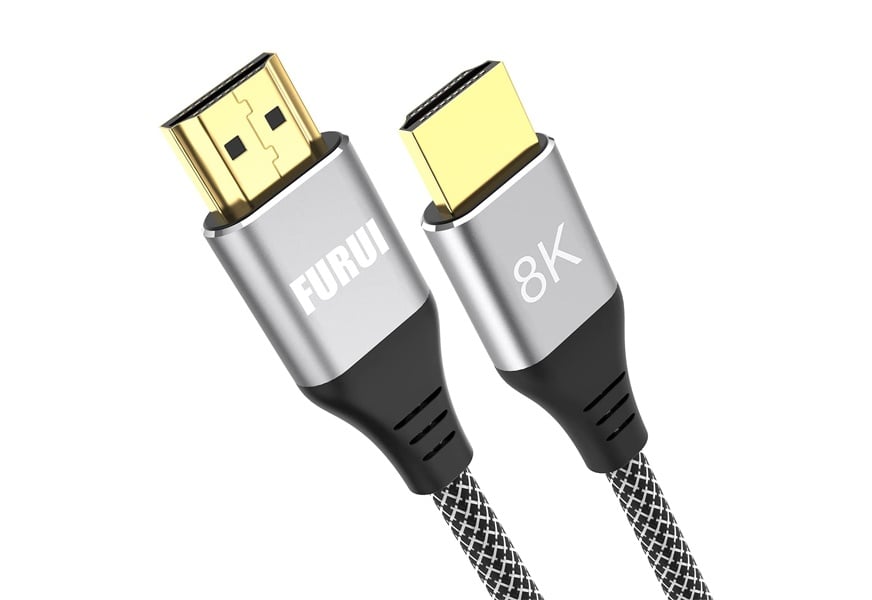 FURUI's Nylon Braided 2.1 HDMI Cable is a cable meant to last a while. It features a braided nylon jacket with connectors housed in a 100% metal shell. It also has a layer of braided tinned copper to beef up resistance to electromagnetic and radio frequency interference. The cable supports 8k60, 4k60, 4k120 and 4k144, and comes in lengths of 3, 6, 10, or 15 feet.
The braided cable is subject to bend testing and is expected to last more than 15,000 bending cycles. The cable is compatible with 48  Gbps, Dynamic HDR, HDR 10, and eARC. The HDMI 2.1 inner conductor is made from 28AWG silver-coated copper, improving its connection and lessening signal loss and delay.
Key Features:
CL3 rated metal shell
Braided tin copper for added EMI resistance
Supports 8k60 and 4k120
Compatible for 48 Gbps
Specification:
Brand

FURUI

Model

80068

Weight

3.13 ounces
Strong, EMI resistant
Long life span
Extra insulation for signal reliability
More expensive than some competitors
Snowkids High Speed 8k HDMI Cable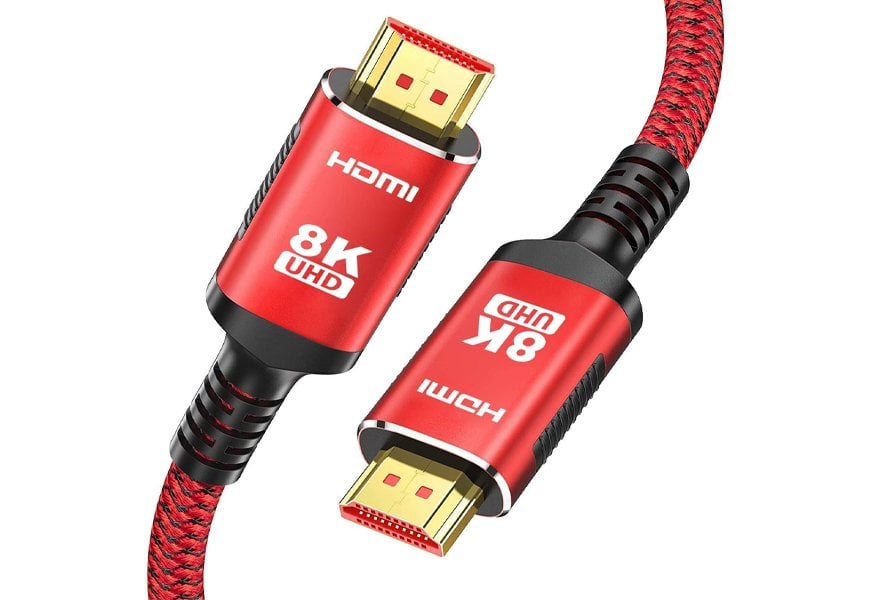 The Snowkids 8k HDMI Cable is a reliable braided cable that can hang with the latest tech to bring striking image and sound quality to your setup. The cable supports resolutions up to 10k, improving the previous HDMI 2.0 model with a more future-proof option. The cable has a strong, braided nylon jacket to fend off interference and knock out data loss.
It contains a copper core surrounded by an aluminum shell capped on either end with gold-plated connectors. The cable itself can withstand more than 20,000 bending cycles.
Key Features:
Supports resolutions up to 10k
Durable braided nylon jacket
Supports 48Gbps
Supports 3D video, eARC, and dynamic HDR
Specification:
Brand

Snowkids

Model

8135299697

Weight

2.89 ounces
Durable cable
Insulated for stable transmission
Prevents corrosion
More expensive than some competitors
How We Tested and Why You Can Trust Us
To give you the best glance into HDMI cables in this guide, we scoured the internet for highly-rated products and companies with a history of producing good products. We brought in cables to test to ensure they function well and were prepared to handle upcoming changes in tech that may leave other cables behind. We brought both first-hand testing experience together with reviews and research to compile a guide that will give everyone the information they need to make the right purchase.
Who This Is For
This article is intended for people who need a reliable HDMI cable for home theaters and gaming setups.
How We Picked
We chose HDMI cables that would be ideal for people with varying budgets and needs. Some are more expensive and have added features that more serious users may appreciate. Others are value-based options that will get the job done but not break the bank.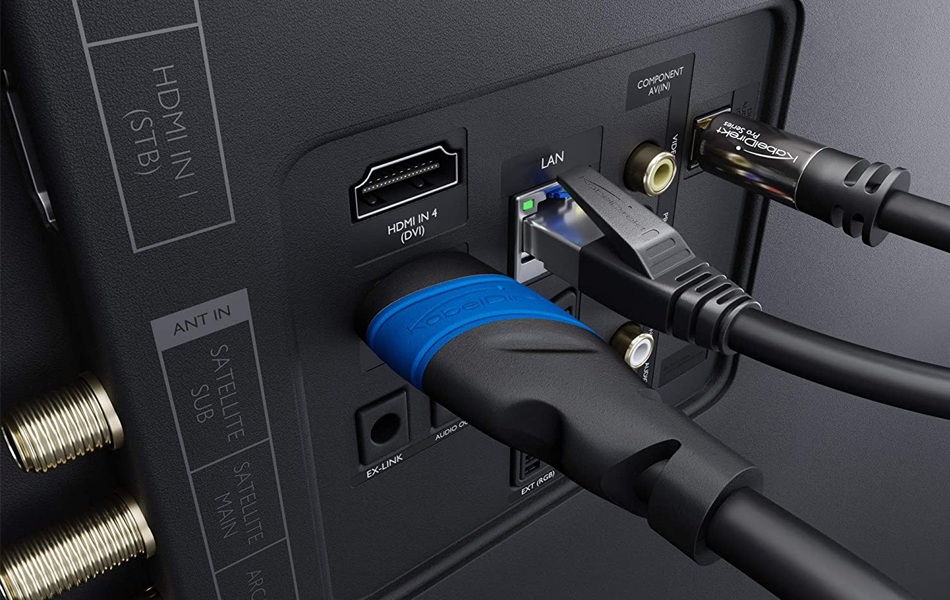 Features to Look for in HDMI Cables
HDMI Cables come in a huge variety of sizes, designs, and technology. Make sure you look out for a few key features in your cable to ensure you find the best match.
It's also important to consider how you plan to use the cable and consider purchasing new hardware if you need a higher-rated cable.
Speed (or Bandwidth) - The latest HDMI specification, 2.1, brings a whole new level of clarity and speed to audio and video transmission. HDMI 2.1 supports refresh rates of up to 8k60 and 4k120, along with 10k resolution. Ultra-high-speed HDMI cables also increase bandwidth to 48 Gbps.
If your cable does not support 2.1, it will likely still function well, but as high-resolution options take off, it may become obsolete quickly. HDMI 2.1 cables are backward compatible, so they will still work with older gear.
Installation Type - Make sure you have the right connectors on your cable. HDMI cables now come in mini and micro options, along with ports that connect directly to computers or USB drives. Before you make your purchase, double-check that you have the correct hardware for the cable you purchase.
Certification - Ultra High-Speed Certified HDMI cables go through a required certification process that makes certain cables support key HDMI 2.1 features, including 4k and 8k video,  HDR, eARC, and all other 2.1 bells and whistles. Cables with this certification also have been tested to confirm low electromagnetic interference, which decreases the likelihood of clashes with other devices, including Bluetooth and wireless networks. The certification is an easy way to identify a quality cable that will work well.
Price - It's easy to find an HDMI cable that will accomplish everything you need for under $10, but they run the gamut in the price for models that include enhanced exterior protection and other features.
Finding a cable that matches your equipment, lights up, or includes a unique feature specific to a manufacturer can increase the price. Many of the more expensive cables come with good warranty programs that ensure buyer confidence.
But if you don't want to spend big money on a cable, don't feel obligated.
Durability - Many cables include insulation in the form of braided jackets and internal casings that reduce interference and prevent data loss during use.
Another tool manufacturers use – incorporating non-metal exterior components to reduce interference through touch. This feature makes transmission more reliable while also making cables more durable.
Cables are also tested for bend resistance and should be able to withstand 10,000 or more bends. You may pay a higher price for cables braided with tougher material, so consider whether you plan to handle or move the cable frequently or if it will just sit behind a TV.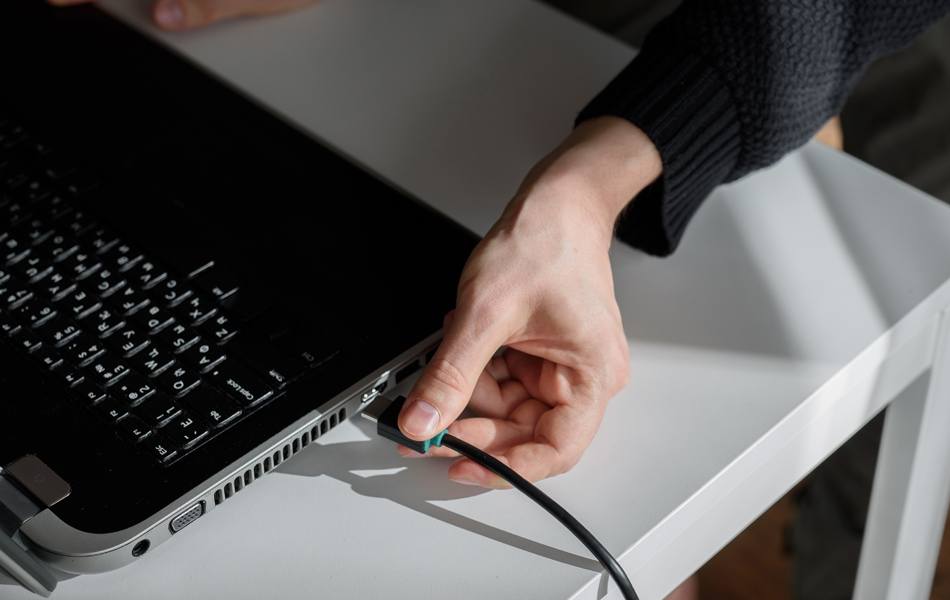 HDMI Cable FAQ
Q: How do I choose an HDMI cable?
A: Choosing the right HDMI cable is a bit like going to a restaurant with a 50-page menu and having no idea where to start. Cables run anywhere in price from a couple of bucks to well more than $100 and in lengths from a few inches to further than you could hope to throw.
They also come in packs of multiple cables, which can also help save you money. Finding the right cable is a combination of identifying the right price point and features for you.
Most new HDMI 2.1 cables will offer all the features you are looking for and are equipped with backward compatibility, so they will run on previous HDMI hardware and be ready for the latest technology when you decide to upgrade.
Q: Is there a difference in quality of HDMI cables?
A: Yes. Aside from aesthetics, how cables are composed plays a part in their efficiency and reliability. If you are unsure whether you are looking at a quality cable, check to make sure it is Ultra High-Speed certified. That will ensure it supports HDMI 2.1 and all the features that come with it.
Many cables on the market support HDMI 2.0, rather than 2.1. These cables still function well but are not considered as "future-proof" as 2.1 models.
Q: Can HDMI cable affect picture quality?
A: Yes. The connection and insulation of your cable can have an impact on picture quality. They can also cause or eliminate lag in video games and sound transmission. Again, quality certified cables are a good way to ensure you will get the best bang for your buck. HDMI 2.1 cables are rated for up to 8k video. Earlier models, like HDMI 2.0, can handle 4k. The higher the resolution the cable supports, the better the picture.
Q: Are premium HDMI cables worth it?
A: That depends upon what you are looking to accomplish. Many premium cables are wrapped in fancy jackets that manufacturers say increase strength. But many say cheap cables have the same sound and video capabilities as their counterparts.
As long as cheap cables are certified, you can purchase them with the knowledge that they have been through the same testing as more expensive options.
Q: Is HDMI better than RCA?
A: HDMI cables support high-definition video and sound that RCA cables don't. Especially in the HDMI 2.1 system, viewers can see the video in up to 10k resolution. While plugging in older models of console gaming systems with RCA cables was the norm for a long time, the latest consoles offer extremely detailed video that an HDMI cable can better accommodate.
Q: Do you lose picture quality with a long HDMI cable?
A: Cables lose signal over increased distances through attenuation. So in longer cables, typically those above 25 feet, transmission quality can suffer.
Q: Are thicker HDMI cables better?
A: HDMI cables incorporate different gauges of wire and shielding, or insulation, around the internal wiring to prevent data loss and interference with other devices. Look at the specs of a cable you are considering to see what shielding features it offers.
Q: Why are HDMI cables so stiff?
A: Some HDMI cables are stiff because of the components inside the cable itself, which include metals and insulation to prevent data loss and interference. Some models are wrapped in a more pliable material that makes bending and twisting easier.
Q: Is there a difference between an HDMI cable and 4K HDMI cable?
A: HDMI cables come in different models that support different resolutions. If you are using an HDMI cable only to watch TV or connect a DVD player, you'd probably never notice a need for high resolutions.
But for home theaters and gaming, a 4K cable will have the ability to provide a more reliable picture. Whether you need a cable that supports 4K, 8K or 10K really depends on the equipment you intend to use with it.
Sources:
Sign Up Now
GET THE VERY BEST OF GEARHUNGRY STRAIGHT TO YOUR INBOX