Tables Have Turned: The Best CD Players of 2022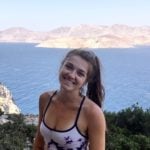 This product guide was written by Chloe Matthews
Last Updated
April 28, 2021
Chloe Matthews
Based in Austin, Texas, and bred in the Midwest, Chloe joins our team with a background in Health and Human Physiology, team management, and a wealth of customer service knowledge. After years of personal writing and journaling, her enthusiasm for the outdoors, travel, and continued learning has brought her to a professional journalism career. Chloe is an avid rock climber, currently enjoying the Texas limestone bluffs, and a passionate, lifelong runner. When she's not seeking sunshine outdoors, you can find her reading history books, volunteering at running events, or working on her latest automotive project.
GearHungry may earn a small commission from affiliate links in this article.
Learn more
With the first iPod's release on October 23, 2001, CD players and CDs simultaneously started their decline in popularity. Listeners gobbled up the convenience and hype of the industry-changing iPod and other MP3 players. Entire albums started to get less recognition from average listeners as Ipods and iTunes made it convenient and possible to purchase singles.
I can't say why the interest in CDs and vinyl has blossomed once again in the modern age of Apple and Spotify. But faithfulness and superior sound quality of the best CD players kept them from disappearing altogether. I assume the sound quality and current retro pop culture have them creeping back into homes once again. Most modern CD players have features like Bluetooth and USB outputs and still include aux jacks for an all-inclusive sound system. If you're jumping on the bandwagon, stay tuned for the best CD players of 2022.
The Best CD Player Review
Gimigo Portable Wall Mountable CD Player
The Gimigo Portable Wall Mountable CD Player reminded me of a modern Walkman. It does need a power source, so the portability and the mounting options of the CD player limited it to the house and the garage. Since it supports Bluetooth connection, FM radio, an aux jack, USB input, and microSD card slot, I wasn't constrained to CDs while working on house chores. The optional wall mounting plate and desk stand made it great for option a small office or yoga studio.
With the remote control and top control panel, it was easy to operate and switch between sources. A pull switch controlled power; I pulled the power cord, and the unit woke up or powered down. An LCD screen awakens and displays the source last used, and then HiFi speakers bring the space to life. 
Key Features:
Portable, wall-mountable
Bluetooth connection
Aux, MicroSD, and USB input
FM radio
CD tray dust cover
Remote control
Specification:
Brand

Gimigo

Weight

1.92 Pounds
Bose Wave SoundTouch Music System IV
Bose products repeatedly make appearances in any guide having anything to do with audio products and sound quality. From quarter-sized headphones to the Bose Wave SoundTouch IV music system, Bose has listeners covered.
The Bose Wave SoundTouch IV fit perfectly into my home's aesthetic and immediately recognized the Alexa Smart technology already present in my home. It has a similar build as retro CD players and boomboxes: two Bose proprietary waveguide speakers on either side of a centered informational display. Despite its size, the speaker's sound filled my house with deep bass and clear audio. Using the dual alarms, the rich sound was pleasant but loud. In the SoundTouch Bose app, I set the six preset buttons to my favorite radio station, playlists, and music apps. The infrared remote also had six preset options and power controls, volume and track adjustments, and alarm functions.
The unit connected to Bluetooth and my home's wifi. Using that connection, the Wave SoundTouch IV accessed Spotify, Pandora, the radio, SiriusXM radio, Amazon Music, and more. An 8-ft power cord provided enough length without limiting where the unit could live in my home or office.
Key Features:
Bluetooth connection
Wifi connection
AM/FM radio
Remote
Dual alarms
App connection
Alex compatible
Specification:
Brand

Bose

Model

738031-1310

Weight

14.55 Pounds
PHILIPS FX10 Bluetooth Stereo System for Home
For a big sound, you need the Philips FX10 Bluetooth Stereo System. The traditional stereo system has a 230W output and fools you into thinking it's larger than it is. Dual amplifiers create better sound performance by giving each transducer a dedicated amplifier. Using MAX sounds technology, the stereo CD player has an instant MAX power boost and a bass boost. The MAX tech calibrates to the playback and volume level to not distort the output.
Gold accents on the receiver and bookshelf speakers break up the rest of the entirely black unit. The stereo has a Bluetooth connection for Bluetooth-enabled devices and a USB and an audio-in for external MP3 players without Bluetooth. Philips includes a remote with all the controls necessary to complement the control panel on the unit. The radio is tuned with a digital tuner and has six preset options for your favorite stations.
Key Features:
USB and audio inputs
CD/Bluetooth/FM radio
MAX sound tech bass and volume boost
Dual amplifiers
Remote included
Specification:
Brand

Philips

Model

Philips8268

Weight

16.17 Pounds
NAXA Electronics NPB-426 Portable CD Player
90s kids unite and reminisce on the summer days when the boombox poolside pumped out tunes instead of a modern waterproof shower speaker. It was an all-day struggle to keep the stereo powered with pounds of D batteries or an outlet. With the NAXA Electronics NPM-426, you only need to find shade and a dry area.
Not only useful outdoors where a power source isn't available, but the AC power cord and a tape player and recorder and CD player make the NAXA great for the homes of vintage-motivated audiophiles. This unit does not have Bluetooth but does have an audio jack for modern music devices. Twin speakers output 16W and detach from the main body for a surround-sound atmosphere.
Key Features:
Top loading
AM/FM radio
Cassette player
Twin detachable speakers
DC battery or AC power
Bass boost
Specification:
Brand

NAXA

Model

NPB-426

Weight

3.7 Pounds
Sony CDP-CE500 5-Disc CD Changer
Disc changers like the Sony CDP-CE500 are great for habitual listeners or folks who only use their CD player. The 5-disc CD tray allows listeners to keep their go-to favorite albums in the CD player simultaneously, with a few slots left open for shaking up the vibe. There is a control panel on the front of it and a remote.
Adding the Sony CDP-CE500 to your home entertainment center requires a receiver/amp and external speakers. The unit has both an RCA L/R analog and optical digital outputs. A USB input is on the front of the unit. Playback from the USB is supported as is burning a CD onto the USB drive or vice versa. This Sony supports CDs, CD-R/-RW, multi-sessions, and 8cm CDs.
Key Features:
5-disc carousel
Analog and digital outputs
USB input
Remote control
Specification:
Brand

Sony

Model

CDP-CE500

Weight

11.4 Pounds
HOTT CD903TF Portable CD Player
Now for the real modern Walkman, the HOTT CD903TF. You'll look old-school HOTT with this handheld CD player. But it's a far cry from players of old with a Bluetooth transmitter to connect wirelessly to Bluetooth speakers or headphones. Or hook it up with an aux cord to your home speaker system. Better yet, find that old Fleetwood Mac album for the HOTT CD player, pair it with your shower speaker, soak down into the bathtub. And you know those FM transmitters you used in your car to play your iPod before there were aux and USB inputs in vehicles? The HOTT device has a built-in FM transmitter. Use it while you road trip and play those embarrassing CDs you burned as a kid.
There are no built-in speakers, but the unit does use HiFi decoding technology to decrease the loss of sound quality to external outputs. A rechargeable battery has a playtime of 12-hours at medium volume or 9-hours playing the radio or Bluetooth. After a three-hour charge time, the unit is ready for round two. The addition of its anti-shock and anti-skip protection makes for a trouble-free listening experience.
Key Features:
Bluetooth transmitter
Aux input
FM transmitter
Anti-shock protection
Wireless, portable
Rechargeable
Specification:
Brand

HOTT

Model

CD903TF

Weight

1.04 Pounds
Aesthetically, the KEiiD CD Player smashes the competition. The faux wood exterior surrounds dual 4-inch woofers and dome-silk tweeters for a smooth sound. In the center sits a refurbished Volkswagon entertainment panel with a 5-inch display, CD drive, and controls with a retro feel. From the display, users can adjust bass, mid-range, and treble separately. The KEiiD supports a Bluetooth connection for wirelessly streaming from your phone. Users can take phone calls as well using the built-in microphone.
The refurbished car stereo now is a multi-media home stereo. Not only does it support Bluetooth, but it has a USB and SD card drive, an RCA aux line-in, and FM radio. If your home TV has an analog connection via a 3.5mm aux or RCA cable, the device works double-time as your new soundbar.
Key Features:
Twin 4-inch bass speakers
Bluetooth connection
Aux/USB/SD card inputs
FM radio
Works as a soundbar with analog configurations
Specification:
Brand

KEiiD

Weight

20 Pounds
GPX PC332B Portable CD Player
For nostalgic simplicity, the GPX PC332B Portable CD Player will trigger fond memories while creating new ones. The small portable CD player runs off two AA batteries and displays the battery level on a screen on top of the CD tray; there is also a headphone jack, a dial to controls volume, and a latch to open the tray. The CD player has three playback options: random, repeat one or repeat all.
If you have an extensive CD collection and a curious kiddo, the price, easy controls, skip protection, and simplicity make it an ideal choice. Unfortunately, the GPX CD player is not compatible with Bluetooth headphones but it does include a pair of earbuds.
Key Features:
Battery-powered
FM radio
Headphones jack
Skip protection
Playback options
Programmable FM channels
Specification:
Brand

GPX

Model

PC332B

Weight

6.9 Ounces
How We Tested & Why You Can Trust Us
Drawing from an extensive CD collection that encompassed Adele, Tupac, Duran Jones, and the Temptations, we tried the tested CD players for sound quality, ease of use, chassis (body), and choice of input sources. I tested the CD players at various volumes across various music genres to see if the CD player chassis would chitter or would result in any unpleasant distortions.
Who This Is For
If you're a seasoned audiophile, the chosen CD players may seem underwhelming. For individuals who wish to build a state-of-the-art stereo system with a CD player included, there will be a few traditional CD players to fit the bill. These few models will be more expensive than the chosen retro boombox, Walkman equivalent, or stereo systems, but as an entry-level hi-fi deck, the prices and choices are appropriate.
How We Picked
We chose the CD players based on price point, features, connectivity, and ease of use. We did not make the choices with musical professionals or obsessive audiophiles in mind.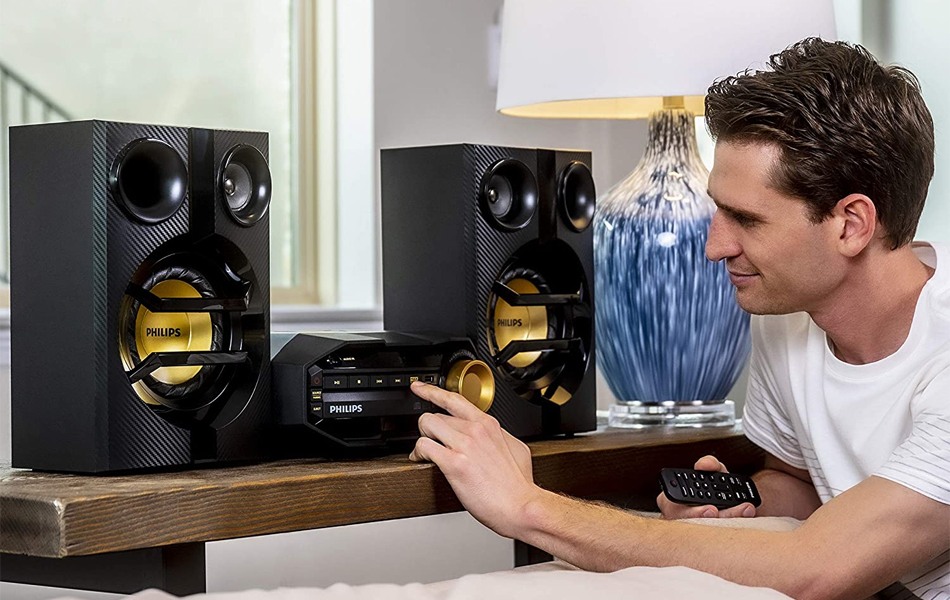 Features to Look for in CD Players
Be sure you know what you're getting in a CD player. CD players have various audio formats, inputs and outputs, and features. And it's not only the sound quality that's important but the integrity of the entire unit.
Audio Formats - Today's CD players will typically support FM radio, aux, or Bluetooth formats in addition to playing CDs. If you have any CD-Rs or CD-RWs that you have burned yourself, they may not work on any old CD player.
Sound Quality - The main reason anyone would choose CDs over other audio formats is the superior sound quality. The great news is that good sound quality does not have to come at an exorbitantly high price. It is pretty easy to land an affordable product that will satisfy the ears of audiophiles everywhere.
Build Quality - CD players need to have a certain amount of bulk to drone out vibrations that could affect the audio signal. The best CD players have a robust and solid build and sturdy chassis to house and spin the discs. It can influence the overall sound and listening experience.
Connections and Media Types - Typically, a CD player has a couple of analog RCA outputs which can conveniently connect to a receiver or amplifier. Other options must be considered, such as USB, Bluetooth, and wi-fi connectivity.
Digital-to-Analog Converter - Digital-to-analog converters convert the digital file from the source into an analog signal for playback. Most boomboxes and portable CD players will have the DAC built-in, but units that need external speakers or larger stereo systems will require a DAC between the deck and the speakers.
Power Supply - Most units will need a 12V outlet unless wireless and rechargeable or battery-powered.
Portability - The portability of CD players ranges from unmoveable to slip into your hydration pack for a smooth bike ride to your favorite album. High-end CD players or decks will not move from your entertainment center.
Stereos offer more portability than decks, but prominent speakers and wiring harnesses can make it more of a hassle than, let us say, a boombox. Boomboxes will typically need a 12v outlet; it's limiting, but boomboxes can easily be moved from room to room, or from house to garage, or your house to pool deck with an extension cord.
Walkman style or handheld CD players offer the greatest portability. They easily fit inside a small pack or larger fanny pack. The handheld CD players do not require a power source, using batteries or rechargeable batteries.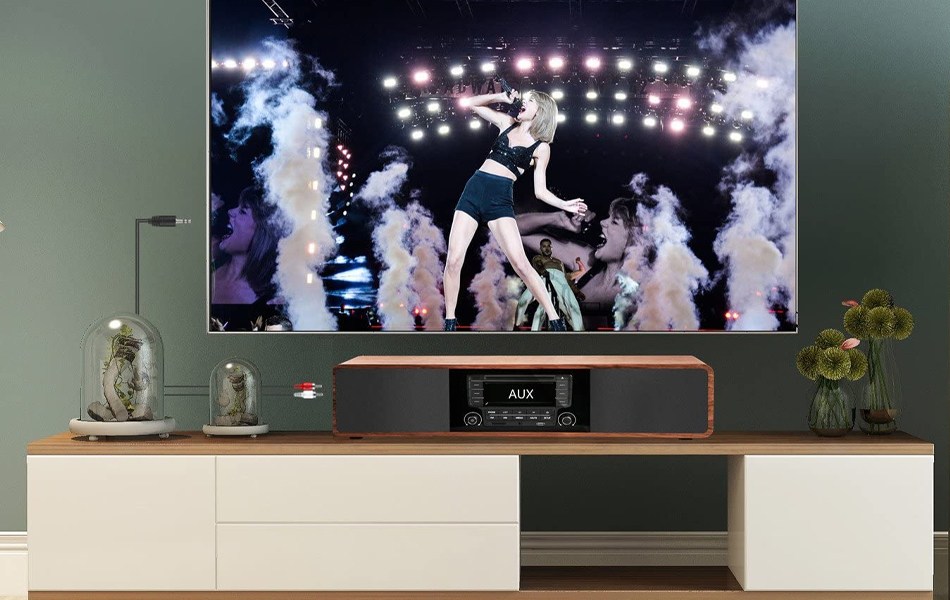 CD Player FAQ
Q: Are CD players obsolete?
A: CD players are not as convenient as modern MP3 players like our phones and iPods, leading to a declined interest in CDs and CD players. Today's technology allows listeners to carry hundreds of albums and thousands of songs on something smaller than a CD case. But obsolete? No. CD players are still very much alive but serve a more niche audiophile market.
Q: Do high-end CD players make a difference?
A: High-end CD players will have a better build quality and audio output. The build quality affects the sound output. The CD players with heavier price tags typically have better componentry, leading to better performance and increased longevity.
Q: How long do CD players last?
A: The lifespan of a CD player depends on the unit's initial quality and whether the CD player has been properly taken care of. The laser and internal parts of certain high-end CD players are replaceable and typically see their demise between 5-10 years based on usage. But the unit itself could last forever.
Q: Is there a Bluetooth CD player?
A: Certain models of CD players will have Bluetooth compatibility. Be sure to check the connection specs before purchasing if Bluetooth is a must-have as not all models will have it.
Q: Why are CD players so expensive?
A: As CD players decline in popularity, manufacturing costs have increased due to lack of batch production. As the audio industry moves on, CD players are no longer in high demand. Manufacturers know there are individuals with extensive CD collections and enthusiasm for the medium, so prices respond to changes in supply and demand.
Q: Why do cars no longer have CD players?
A: Lack of demand and technological advancements drove CD players out of vehicles. Automobiles are now more likely to have Bluetooth, USB, or Aux plug-ins. And with further advances in technology like Apple CarPlay or Android Auto, I believe that soon audio will be completely wireless in automobiles.
Sources:
CD and DVD Players - Explain That Stuff
Sign Up Now
GET THE VERY BEST OF GEARHUNGRY STRAIGHT TO YOUR INBOX