Best Men's Leather Belts: From Country to Corner Office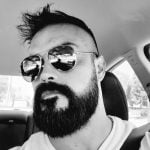 This product guide was written by Billy Brown
Last Updated
March 5, 2021
Billy Brown
Billy Brown has a problem sitting still. His constant search for the next challenge has him doing everything from running ultramarathons and climbing 14er's to gaining 40 pounds to compete in powerlifting, breaking several state records and growing a killer beard in the process. With over a decade of writing under his belt, his work, covering action sports, gear, and beer, can be found in a variety of publications. He lives with his wife and their two cats in Sacramento, California.
GearHungry may earn a small commission from affiliate links in this article.
Learn more
The best leather belts are not only a great way to hold your pants up, but they're also a great symbol for some of life's greatest mysteries. Mitch Hedberg, one of the 20th Century's finest philosophers, once said, "My belt holds my pants up, but the belt loops hold the belt up. I don't really know what's happening down there. Who's the real hero?"
Take all the time you need to reflect, but we're going to side with belts for the sake of this article. And in the belt world, no other material holds a candle to the classic leather belt. Timeless style and outstanding durability make a leather belt the undisputed king of pants retention systems. Leather belts work with almost any outfit. They are equally at home in business, casual, or formal settings, and it's an essential part of any man's wardrobe.
If you don't have a solid leather belt in your closet, we've got you covered. We looked around for the best men's leather belts on the market and found various styles and brands; we even bare testimony to some of our personal tried-and-true favorites. What follows is the best of the best leather belts for men.
The Best Leather Belt
Timberland Classic Jean Leather Belt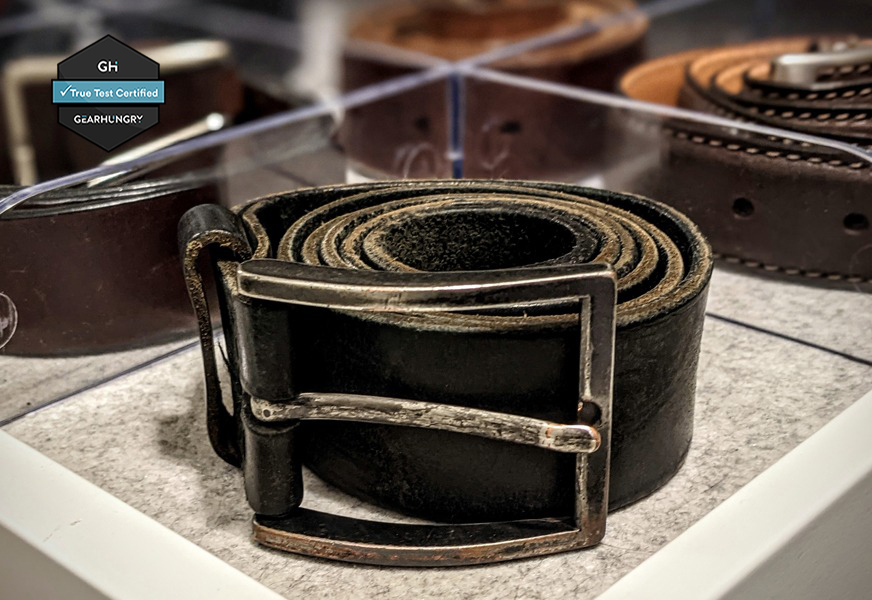 For casual or everyday use, the Timberland Classic Jean Leather Belt is an easy favorite. This 100% genuine leather belt is comfortable enough for everyday wear yet understated enough to dress up for work in a pinch. The antique finish buckle adds a rugged aesthetic to any work outfit and perfectly matches a well-worn pair of jeans.
The buckle finish makes it a vintage look right out of the box, and the belt only improves as it ages. After years of wear, this belt has only gotten softer and more comfortable with age. I've been wearing this 35-mm belt daily for the last decade, and the leather has a soft, buttery feel to it that mimics the fit and finish of my favorite jeans.
This belt feels like an old friend at this point. It's worked in a pinch with slack at work events, and even doubled as a backpacking belt when I lost my nylon hiking belt.
The name "Classic Jean Belt" indicates that this is a belt for jeans, but it's also an appropriate descriptor for how it feels. It's as comfortable and soothing as your favorite pair of Levi's. Read the in-depth review here.
Key Features:
100% leather
Antique finish buckle
Timberland logo embossed on belt tip
Black, dark brown, brown, and navy color options
Specification:
Brand

Timberland

Model

B75453

Weight

4.8 ounces
Dickies Casual Leather Belt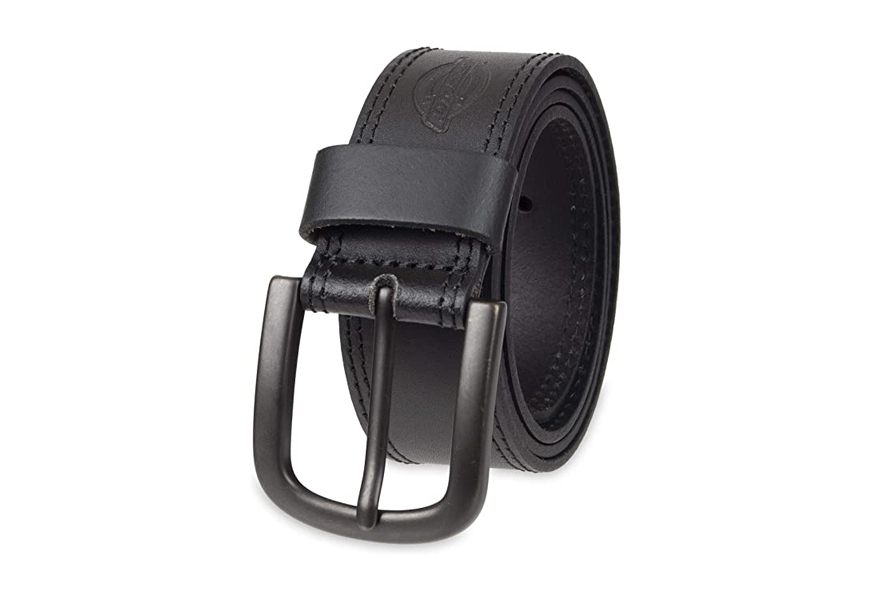 A model blend of simplicity, style, and durability, Dickies Casual Leather Belt is perfect for just about any situation. If you work in an office, it's low-profile enough to work with your office attire, thanks to its understated look and matte-finish buckle. It's also equally at home in more vigorous careers, thanks to the double-stitching and sturdy build. The Casual Leather Belt can withstand the forces that come with bending, lifting, twisting, and anything else it may come across in the field.
The leather is firm yet flexible, with enough give to allow a full range of motion, but not enough to leave your crack at risk of exposure when bending over. This is a huge feature for people who bend over a lot at work (essentially eliminating the stigma of plumber's crack).
On the weekends, the belt works well with a pair of comfortable stretch denim jeans or slacks; the double row of stitching and matte buckle adds a touch of flair. Owing to its easy transition between office, field, and casual settings, the Men's Casual Leather Belt is a perfect choice for anyone who wants a belt that will work in any situation.
Key Features:
100% leather
Matte finish buckle
Double stitching
Ideal for office or outdoor wear
Multiple color options
Specification:
Brand

Dickies

Model

11DI02F9

Weight

6.4 ounces
Levi's Reversible Casual Jeans Leather Belt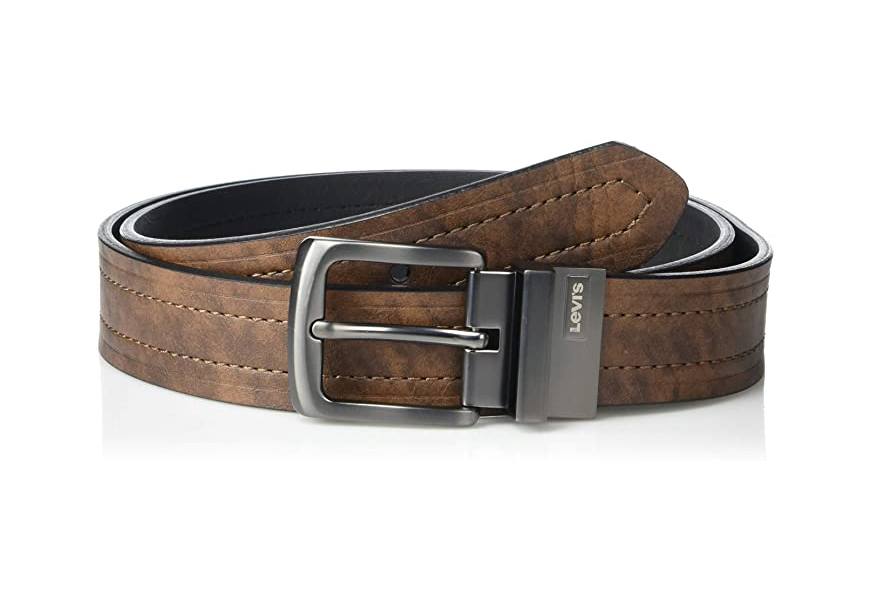 If you're looking to save space in your closet, take a good, hard look at Levi's Men's Reversible Casual Jeans Leather Belt. This belt features a blend of polyurethane and split and bonded leathers, with a reversible matte finish buckle.
On one side, the classically styled belt dons a black colorway, while the other side is brown. If you're rocking an outfit where a brown belt would work better, pull the buckle, give it a quick twist, and boom: you've got a brown belt. The two sides join together with a dual row of stitching down the middle, and Levi's logo is affixed to both, so you'll be repping the quality brand no matter which color you choose.
Key Features:
40% split leather, 40% polyurethane, 20% bonded leather
Reversible buckle
Black and brown option with each belt
Levi's logos on either side of buckle
Specification:
Brand

Levi's

Model

11LV2223

Weight

7.4 ounces
Marino Genuine Leather Belt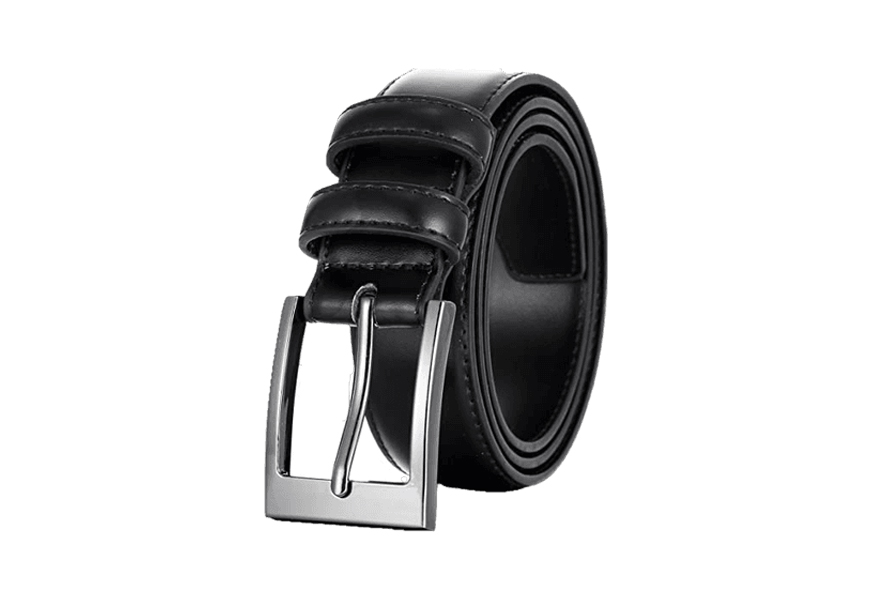 If you're looking for something on the dressier side, it's hard to beat Marino Genuine Leather Belt. The two-layered leather belt comes in various colors, from the classic black and a selection of browns to charcoal, burgundy, even navy blue and white. Designed to work with dressy outfits, peacoats, and uniforms, these belts sport a shiny finish, a bright zinc buckle, and two straps to keep the remainder looking sharp and secure.
The leather is supple, which minimizes the risk of cracking over time, and the zinc buckle is scratch-resistant, meaning your belt will look fresh and new as you make your way from a cubicle to a corner office. That soft leather also means that the unpleasant rigidity that formal belts are known for is nonexistent here. You'll enjoy unrestricted freedom of movement without pinching or binding as you go about your day.
Key Features:
100% leather
Zinc alloy buckle
Ideal for office and formal wear
Huge variety of color options
Specification:
Brand

Marino

Model

B84N-84-BK30-1

Weight

4.8 ounces
Calvin Klein Smooth Reversible Leather Belt
As expected from Calvin Klein, the Men's Smooth Reversible Leather Belt is one of the most stylish and elegant options on this list. Not only does it look great, but it's also reversible, making it easy to adjust your wardrobe without making you late for work.
With one side brown and the other black, this belt pairs equally well with a tuxedo as it does a navy-blue suit and boat shoes. The leather construction gives it a durable and supple feel, and the matte buckle gives it a sleek, modern look.
The leather is firm but soft enough to prevent cracking over time and is stronger than belts of cheaper make. That said, it's one of the pricier belts on this list. But in this case, you will definitely get what you pay for.
Key Features:
80% cowhide leather / 20% synthetic
Reversible silver-tone buckle
Black and brown option with each belt
Engraved logo on buckle
Specification:
Brand

Calvin Klein

Model

79234

Weight

4 ounces
Bulliant Slide Ratchet Leather Belt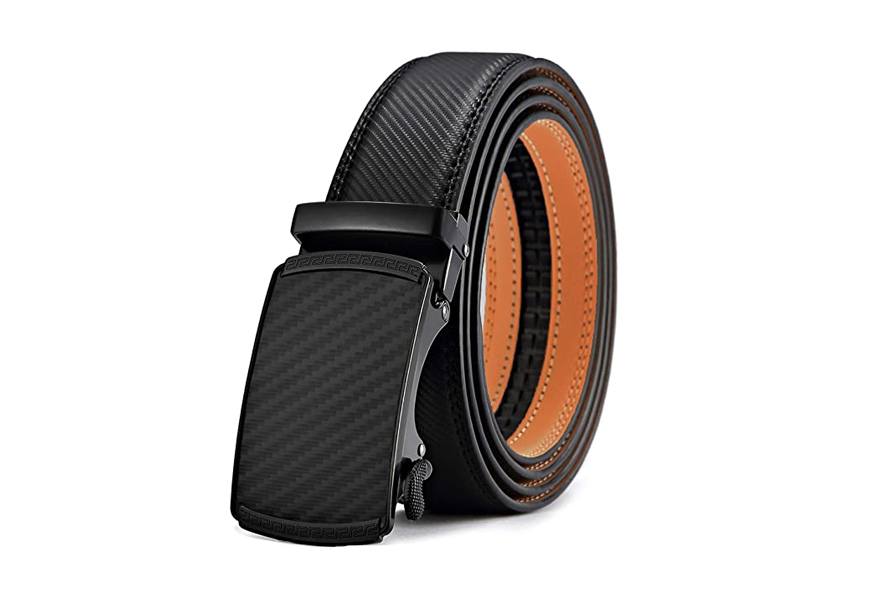 With a hole-free look and a totally customizable fit, ratcheting belts are coming to the forefront of functional fashion. The Bulliant Slide Ratchet Leather Belt is a great example with its embossed diagonal stripe texturing and availability in a wide range of colors. 
The simplicity is refreshing: the belt only comes in one size and is trimmable down on the buckle end to provide a precise fit. And without any designated holes, the belt adjusts to fit any size, even if your weight fluctuates up or down.
The zinc alloy buckle is scratch-resistant so that that chic carbon fiber finish will stay bright and clean for years of use, and the embossed diagonal stripe on the belt gives your work outfit a subtle bit of flair. This belt would have made our list just on looks and feel alone, but the custom fit that it provides really steps it up a notch (ahem).
Key Features:
Custom fit
Fast-action buckle
Zinc alloy buckle
Embossed texturing
Specification:
Brand

Bulliant

Model

A1203KH105-US

Weight

9.6 ounces
Carhartt Signature Casual Leather Belt
'Work belt' may be a bit of a misnomer since the Legacy Leather Belt from Carhartt is classy enough to wear to the office matched with a pair of Chelsea boots, but the durability of this belt is unbeatable. As you would expect from anything from Carhartt, the Signature Casual Leather Belt is just about bombproof, thanks to its 100% full-grain leather and hefty single prong buckle.
The full-grain leather is smooth and sleek, while the stitched Carhartt logo patch gives a great edginess to the style. Even when it's covered up, the stitching gives a subtle nod to the branding underneath.
The leather is an excellent combination of softness and durability. It lets you twist, turn, heave, and bend without any restriction. And the thick, single-piece leather can handle anything you throw at it. If you're looking for a belt that's as comfortable throwing a bale of hay as it is sitting down to a nice dinner, this is the one for you.
Key Features:
Full-grain leather
Stitched patch logo
Available in black or brown
Extremely durable
Specification:
Brand

Carhartt

Model

2203

Weight

9.9 ounces
Nike G-Flex Pebble Grain Leather Belt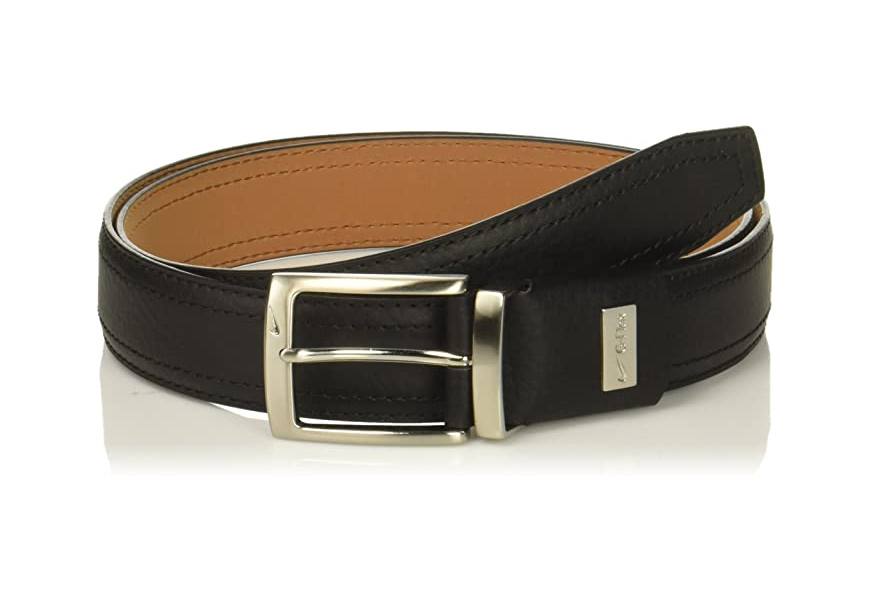 More than an example of understated style, the G-Flex Pebble Grain Leather Belt is also a great display of Nike's ingenuity. The company's proprietary tech utilizes fibers that twist and stretch as you move, providing a completely unrestricted range of motion. Used often in Nike's golf belts, this freedom allows you to twist, bend, and turn (as you would in driving or putting situations) without your belt hampering your movement or causing discomfort.
A contrasting brown interior complements the genuine leather construction, and it's put together with double stitching for durability and a unique look. Also, the Nike Swoosh engraved in the buckle gives this sleek belt an added touch of personality.  As at home on the golf course as it is in the office, Nike's belt is one of the most comfortable, chic, and versatile belts on this list.
Key Features:
100% leather
Proprietary G-Flex technology
Engraved logo on buckle
Feather edge strap
Double stitching
Available in black or brown
Specification:
Brand

Nike

Model

DS5002

Weight

5.6 ounces
How We Chose
We looked at a variety of belts to try to find the best one in several categories. We chose belts for their varying styles, fit, durability, and price point to make this list relevant to as many people as possible.
Who This Guide Is For
We looked for belts for every user, from the best leather belt brands to newcomers. We sought out belts for people who want a casual belt to go with jeans to those looking for belts that would fit in at the office and everyone in between.
How We Tested & Why You Can Trust Us
We used several techniques to provide our readers with the best insight into what makes a great belt. We tested belts ourselves, chose some old favorites, surveyed the people around us for the features most highly valued, and weighed our experiences with online research to back up our experiences.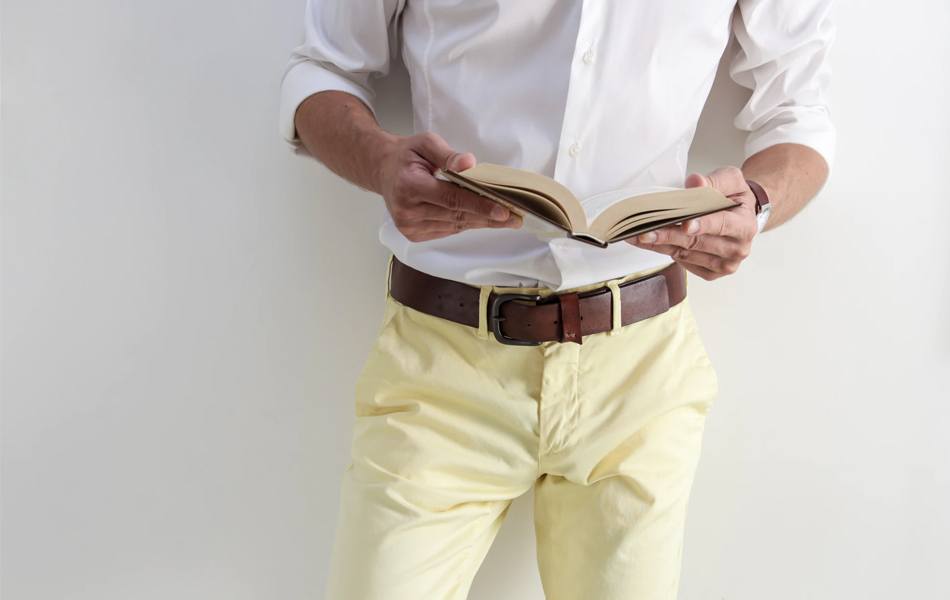 Features to Look for in Leather Belts
Sizing - For the best fit, the end of the belt should stop halfway between the first and second belt loop in your pants. Often listed in inches, a belt size refers to the strap's length from buckle to the middle hole. To have a proper fit, this middle hole should be where you secure your belt. This gives you more play to wear with higher or lower-waisted pants (and for some breathing room around Thanksgiving).
Buckle - A leather belt's buckle can be a great way to show some personality. And no, we don't mean by wearing giant cowboy buckles (although we've seen people pull it off); we're thinking more subtly.
For more formal settings, you're going to want to match your buckle's metal to whatever other metals you happen to be wearing, like your watch, wedding ring, or (pinkies out) cufflinks.
The standard is a bit looser for casual belts. Like the jeans they're worn with, they should be a bit more versatile. These buckles can stand out with different finishes (matte, patina) or with a subtle logo engraved on it like the Nike Swoosh on Nike's G-Flex Pebble Grain Leather belt.
Color - Black and dark brown belts are so universal that these two belts can cover just about any combination in your closet.
Black belts go well with black shoes and color palettes ranging from light grey to black.
Dark brown belts pair well with almost any color but work best with dark tone pants.
If you want to expand your options from here, light brown works well to add some pop-to-earth tone pants or navy suits and pair best with light brown shoes. If you feel bold, shoot for a navy-blue belt. They can add some pop to a pair of khakis for casual settings, and they pair well with brown shoes.
Width - Unless you're hiding smoke bombs and a grappling hook in your belt, the width should be somewhere between 1 and 1.5 inches. This will accommodate pretty much every pair of pants you'll find. Any larger than that, and you're approaching utility belt territory. And if you're not fighting crime dressed as a bat, that's not a great look.
Length - This is where sizing really counts. It would be best if you had a belt that secures your belt in the middle hole to allow for fluctuations in weight and different pants styles. Choosing a belt online is generally pretty simple, as recommended belt sizes for different waist sizes are usually listed.
Types of Leather Belts
Full-Grain Leather - Full-grain leather belts are made up of the hide's outer layer, and many high-quality leather belts are made with this type of leather.
Since it is made up of an animal's outer skin, this leather can have imperfections like unhealed scars on its surface. This material is the strongest and most durable leather that you can find on a belt. The outer layer also develops a patina over time that gives the belt a pleasant, worn-in look. And it's the most water-resistant type of leather.
Most custom leather belts feature full-grain leather.
Top-Grain Leather - The layer just underneath full-grain leather, top-grain has had the very top layer sanded off to remove imperfections and make the leather softer and more flexible. However, it does so at the cost of durability. The removal of the top layer also removes some of the strength and water-resilience.
Split-Grain Leather - Many good quality leather belts feature split-grain leather.
Taken from the lower levels of the hide, split-grain leather is not as dense as full or top-grain leather. This means that it is also not as durable as either of the above.
Split-grain leather is often used in belts that are embossed, which not only helps bolster the durability but also allows for a variety of different colors.
Bonded Leather - Bonded leather is the McNuggets of belt leather.
Made up from scraps of leather shredded and bonded together with polyurethane or similar material, the amount of leather in the blend can vary widely. It is often used in colored or glossy belts, and it can be embossed to give it the appearance of a particular leather.
While on the cheaper end of the spectrum, many good leather belts feature this type of leather.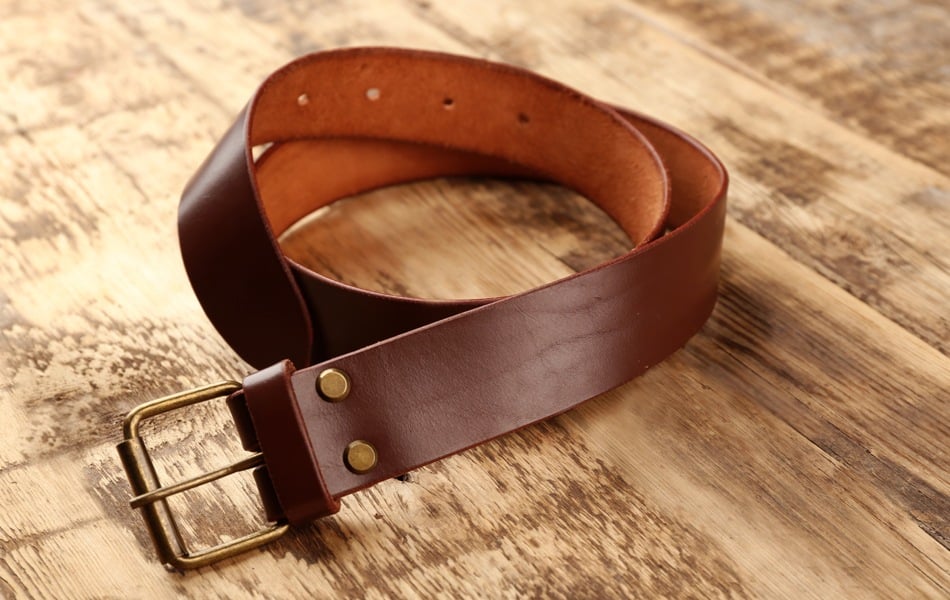 Leather Belt FAQ
Q: How much do real leather belts cost?
A: Full, 100% leather belts vary widely in cost. You can find lower-end leather belts for around $15 to $20, and many mid-range belts run anywhere from $30 to $50.
If you're looking for handmade leather belts for men or high-end designer belts, you can expect to spend up to $100 and more.
Q: How long do leather belts last?
A: Depending on its leather quality and how often you wear it, you can expect a leather belt to last anywhere from five years to a decade or more.
Q: How can you tell if a leather belt is pure?
A: If you're shopping online, check to see if the belt label says "real leather" or "genuine leather."
If a site doesn't specifically say that, then it is likely legally prohibited from doing so because the belt is made of faux leather material.
If you're buying it in the store, check to see if there are imperfections, wrinkles, or any other markings that indicate that this used to be an animal's skin.
Also, check the edges — leather belts tend to have rough and/or uneven edges. Leather also has a specific smell. If it smells like leather versus, say, plastic, you've got the genuine article on your hands.
Q: Why do leather belts crack?
A: Many leather belts will eventually crack, especially at the holes. This is because these belts incorporate processed leather, which is a product made from leather scraps. To avoid cracking, try to buy leather belts made from full-grain leather, which tends to stay moisturized over time and are much less likely to crack.
Q: Do leather belts stretch out?
A: Leather belts do tend to stretch out over time, but usually by about 5% only. The better the quality of the leather, the less stretching it will do.
Q: Should I polish my leather belt?
A: Glossy belts tend to lose their shine over time. A good polish can bring back that shine and have it looking brand new again.
Non-glossy belts don't need to be polished, but a good rub with a leather conditioner now and then will keep it moisturized and supple.
Q: Do leather belts shrink when wet?
A: Leather belts do shrink when they get wet. When a belt gets wet, the water mixes with the leather's natural oils and removes those oils when the water evaporates, shrinking the belt and drying it out and making it more brittle.
How much the belt will shrink depends on the quality of the leather. Top-grain leather tends to shrink less since it's made from the top half of the hide and is more resistant to shrinking, but genuine leather (a step down from top-grain) comes from the bottom half more prone to shrinking.
Sources:
The Difference Between Bonded Leather vs Genuine Leather – World of Leathers
Shrunken Leather - Leather Shrinkage – Leather Dictionary
Sign Up Now
GET THE VERY BEST OF GEARHUNGRY STRAIGHT TO YOUR INBOX