The Best Camping Utensils Worth Forking Out For In 2022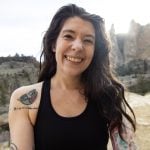 This product guide was written by Tuesday Kirby Kahl
Last Updated
July 7, 2022
Tuesday Kirby Kahl
Tuesday Kirby Kahl is a contributor at Gear Hungry. Her fierce love for the outdoors fuels everything she does. Her professional pursuits include writing, creating art, and photography. These professional passions allow her the time to live life outside as a rock climber, skier, runner, backpacker, paddle boarder, swimmer, and explorer. When Kirby is indoors, she enjoys tea, whisky, old films, cooking, and baking. Her product testing and feedback have shaped the design of everything from climbing shoes to candles.
GearHungry may earn a small commission from affiliate links in this article.
Learn more
Whether you're into casual glamping on weekends or long primitive camping trips in remote areas, you need the best camping utensils in your camping kit. The right set of utensils can make camp cooking so much easier and more enjoyable as well as save you loads of time and inconvenience.
For lightweight backpackers, quality sporks are great all-rounders, especially if they come with a serrated knife on one side. But if you have room to spare, we highly recommend getting a proper set of camping utensils: a knife, spoon, fork, and possibly a bottle opener and a can opener. Given that camping is usually far from home, and in some cases from civilization, it's a good idea to cover all your basis, just in case.
Below, we rounded up some of the best camping-friendly utensils. All of these are reusable, durable and pretty affordable, so whether you're into ultra-lightweight backpacking or enjoy whipping up fine dining dishes on your camp stove, you're guaranteed to find the right set of camping cutlery here.
The Best Camping Utensil
When picking out van accessories, the UCO ECO 5 Piece mess kit seemed like a compact and affordable option for meals while enjoying the great outdoors. After more than a year of use, that statement has held up exceptionally well. While the set does include a plate bowl and mug too, we'll focus on the utensils here. Overall, I love this set for car camping and van life with the added benefit of these utensils and plates being dishwasher safe when my excursion is over.
There are two utensils in this set: a fork and a spoon and knife combo. These two items slide together for simple storage. The set as a whole, and therefore the utensils, is available in three colorways. When I don't mind shorter handled utensils, these are a great choice and the plastic doesn't conduct as much heat as other products on this list. I think this set is the best value option on our list.
Key Features:
Five-piece mess kit
Utensils slide together for easy storage
Plastic is surprisingly durable
Whole set is dishwasher safe
Specification:
Brand

UCO

Model

ECO 5 Piece mess Kit

Weight

14 Ounces
Set packs together for portability and saves space
Utensils are lightweight
Serrated edge on the knife is great for cutting
Items are not available for purchase separately
So iLL Black Wolf Cutlery Set
When it comes to style, the So iLL Black Wolf Cutlery Set is the clear winner. This sleek and fashionable set features long handles, matte black titanium construction, and a gorgeous design. In this set of titanium camping utensils, there is a spoon, fork, knife with a serrated edge, and a spork, all connected with an included carabiner for easy storage in an eco-friendly package.
The matte black design and titanium make this set stain-resistant. The long handles are excellent for camp cooking but beware that since this is metal, it will conduct heat. Sometimes, I really don't like how short most camp utensils are and I love having options that are still durable and lightweight that still sit well in my hand. This set strikes the perfect balance of heft, style and durability.
Key Features:
Four-piece set
Titanium construction
Sleek matte black finish
Laser-etched handles
Specification:
Brand

So iLL

Model

Black Wolf Cutlery Set
Significantly more durable than plastic utensils
Dishwasher safe for easy cleaning
Choose which utensils you want and leave the others behind. Want just a spork? No problem.
Excellent style
Heavier than most options
Scratches can be visible in the finish
JetBoil JetSet Utensil Set
The JetBoil JetSet Utensil Set was a Christmas gift from my father after I bought my van. I like that these utensils slide in and out. This combo set is perfect for camp cooking as the length allows you to cook without keeping your hands too close to the flame. While this set is mostly focused on cooking at camp and working with your cooking pot, the fork is a handy tool that can be used for eating most camping meals.
This set weighs a mere 1.3 ounces altogether making it extremely lightweight. This product may not pack as well as others but still deserves a spot in your camping box; it's certainly earned one in mine! I usually use this set for cooking with my JetBoil stove and when I'm eating out of it as well.
Key Features:
Compact three-piece set
Made with high temperature nylon
Telescoping handles
Excellent companion for a JetBoil stove
Specification:
Brand

JetBoil

Model

JetSet Utensil Set

Weight

1.3 Ounces
Excellent for both cooking and eating
Telescoping handles are great for safety
Extremely lightweight
Orblue 2-PACK 4-in-1 Camping Utensil
Camping can be fun when you are geared up and have everything you need from your packing list. One of such items to complete your list is this Orblue 4-in-1 Camping Utensil Pack. Compact and versatile, this simple pocket knife-shaped cutlery pack would give your camping experience the boost it deserves.
With a simple and handy design, this multipurpose set can be a spoon, fork, bottle opener, and knife all in one pack. With the fork easily removable, you can enjoy your meals with ease and convenience, using a unique camping set that easily fits into your pocket. Made of top-grade stainless steel, these utensils are ideal for kitchen use as well and come in a cool leather pouch to make storing them pretty easy. 
Key Features:
Four-in-one set
Made of anti-rust stainless steel
Strong and durable parts, no plastic parts included
Comes in two packs, each containing a foldable spook, fork, knife, and bottle opener
Easy to dish wash
Specification:
Brand

Orblue

Weight

8.5 Оunces
Scoop, cut, and spear your meals
Packs down small
Fits in a pocket
Easily lost
Hinges may rust or be difficult to use over time
Light My Fire Titanium Spork Camping Utensils
When it comes to camping, the little things matter just like the big ones. Mistakenly leave something as basic as a spook, bottle opener or a fork out of your camping pack and you would be setting yourself up for a not-so-good experience. Here's the almighty spork from Light my Fire, one of life's little essentials that would do your camping trip a world of good.
This perfect fork-knife-spoon combination is the right fit for outdoor camping, as it is perfectly designed for quick and on-the-go use. With a well-textured mid-section giving it an assured slip-resistant grip, you can enjoy your meals with ease using this cool buddy, as it is well built to guarantee no metallic taste whilst in use. The Light my Fire Titanium Spork is strong and durable, and with a polished finish giving it a clean and evenly bright look, it is one of the best sporks you can find.
Key Features:
Made of high-grade titanium
Heat-resistant and non-corrosive
Slip-resistant grip
Easily washable, dishwasher friendly
Serrated edge for cutting
Specification:
Brand

Light my Fire

Model

P1309637
Lightweight, fits easily into a backpack
Titanium construction is corrosion resistant
Sturdy and durable, guaranteed to last a long time
Titanium is more expensive than other metals
CRKT Eat'N Tool Outdoor Spork Camping Utensil
Looking for a simple yet versatile spork you can use for eating almost anything? Here, meet the CRKT Eat'N Tool Outdoor Spork Multitool: a modern camping utensil designed to help you eat, open beverages, and even acts as an emergency screwdriver blade that can work as a pry for opening canisters, too.
Packing a separate spoon, fork, knife, and bottle opener for your next camping trip can be a real bother, particularly when you have very limited space in your backpack Thanks to CRKT, this Eat'N Tool is built to save you time and space so you can focus on more important details for your adventure. A fork, spoon, bottle opener and a screwdriver in one simple cutie, the Eat'N Tool is a perfect utensil for you if you are looking for a multipurpose tool to complement your camping cookware. It comes in an attractive chrome finish and with a hole for hanging on backpacks or as a key chain.
Key Features:
Spoon, fork, and bottle opener in one sturdy tool
Acts as an emergency screwdriver
Can open canisters
Non-load bearing handy carabiner
Chrome finish
Specification:
Brand

Columbia River Knife & Tool

Model

9100KC

Weight

1.44 Оunces
Smallest fork and spoon set on our list
Multi-tool style and functionality
Perfect for backpacking
May be difficult or uncomfortable to hold for some users.
HIKENTURE 4-in-1 Camping Utensil Set with Storage
If you're looking for a complete cutlery set in a simple and compact pack, one that comes in handy when traveling and camping, check out the Hikenture 4-in-1 Camping Utensil Set. This four-in-one set is super-small and lightweight and will easily fit in your pocket or any bag.
The set comes with a spoon, a detachable fork, a bottle opener, a knife and a convenient pouch for storage. Made of non-corrosive and anti-rust stainless steel, this utensil pack is just what you need for your car camping trip, or as a set for your lunch box. As a bonus, it's cheap and comes with a lifetime warranty.
For a pleasant outdoor cooking experience, pick one of the best mess kits from our list.
Key Features:
Four-in-one cutlery set
Stainless steel material with rust-free aluminum handle
Includes a bottle opener
Comes with a pouch for storage
Specification:
Brand

HIKENTURE

Weight

5 Ounces
Lightweight and easy to pack
Stores in a compact package
Includes fork spoon and knife and a bottle opener
The crevices are a little hard to clean
Hinges can rust and become tricky to open over time
SE KC7043FSK Survivor Series 4-IN-1 Stainless Steel Utensil Set
The SE's Survivor Series Utensil Set takes camping to a whole new level with its professional yet simple utensil set specially designed for easy outdoor use. The easily detachable set features a spoon, fork, knife, and a bottle opener, with an attractive, transparent plastic storage bag giving the set a stylish look.
The premium corrosion-resistant stainless steel material used for these utensils is safe for eating and also dishwasher safe so you can thoroughly and easily wash it when you get back home. Unlike similar products, this does not leave a metallic taste while in use and comes highly recommended by hikers and campers alike.
Key Features:
Four-in-one cutlery set
Made of lightweight stainless steel
Comes in a transparent plastic bag
Units clip together for compact storage
Lightweight
Specification:
Brand

SE

Model

KC7043FSK

Weight

2.88 Оunces
Lightweight and compact
Includes a built-in bottle opener
Flat shape is easy to pack
It can be easy for these to come apart in your pack
TOAKS Titanium 3-Piece Cutlery Set
If you are looking for a simple yet strong cutlery set for hiking or camping, you may want to consider this TOAKS Titanium 3-Piece Cutlery Set. Each set of titanium utensils comes with a knife, spoon, and fork, and has a small clip to hold the utensils together in one place.
Made from durable but lightweight titanium with no coating, this set is perfect for camping, hunting, and other outdoor adventures where you want to eat well. The three utensils are held together by a removable aluminum carabiner so you can easily attach it to your backpack.
You may also like some of the best coolers for camping for your next trip, so take a moment to check them out.
Key Features:
3-piece set, with a knife, spoon and fork
Strong and lightweigh, made with titanium
Features a clip to hold the utensils together
Specification:
Brand

TOAKS

Weight

3.20 Ounces
Pure titanium is a great material for camping silverware
Included mini carabiner for easy storage
One of the lightest utensils out there
The knife could be a little more serrated
GSI Outdoors Glacier Stainless 3 Pieces Ring Cutlery
This GSI Outdoors Glacier Stainless 3 Pieces Ring Cutlery is not just a simple and lightweight utensil set, it is also built with corrosion-resistant stainless steel that is guaranteed to make your outdoor eating experience as easy as can be. Featuring a spoon, fork, and knife, the Glacier Stainless Steel pack has everything you need for a fantastic dinner, lunch or breakfast in the great outdoors.
Made from forged stainless steel, this camping cookware is not only sturdy and durable but rust and fire-resistant, too. It comes with a lanyard to hold the utensils firmly together for easy organization.
If you want to prepare delicious meals while camping, be sure to invest in one of these quality camping grills from our list.
Key Features:
Three-in-one utensil set
Made with forged stainless steel
Fire and rust-resistant material for durability
Features a simple lanyard to hold the utensils together
Specification:
Brand

GSI Outdoors

Model

Glacier Stainless 3 Pieces Ring Cutlery

Weight

3.36 Ounces
Well-made and sturdy
Lighter than other stainless steel options
Rust resistant
The lanyard is paracord string, metal ring or carabiner sold separately
Tapirus 5 Spork Of Steel Utensils Set
Camping utensils are made to not only give you convenience on the go, but also to save space while packing, and this unique Tapirus 5 Spork Utensils Set does that and so much more. This camping flatware set features a set of five sporks, making it perfect for small camping groups. The five sporks nest together in a cool case, making the entire set a compact and simple utensil pack for your next outing.
Unlike similar products, this set of sporks is made of premium quality stainless steel that is strong, durable, and reliable. If you are a guide or often work with groups in the outdoors, this is a great item to have in your arsenal. Alternatively, maybe you lose things a lot. Ideal to always have in your roll top backpack while camping.
Key Features:
Set contains 3 in 1 sporks, 5 in each pack
Bottle opener included
High-quality stainless steel construction
Comes with a pouch to store the utensils
Lightweight and easy to use
Specification:
Brand

Tapirus

Weight

9.9 Ounces
Excellent for groups, guides or folks who tend to lose things
Stainless steel construction makes them each a durable item
We always appreciate a bottle opener in a camping utensil set
Ka-bar Stainless Steel Hobo All-Purpose Knife
Not a fan of separate utensils that might get lost in your bag? Well, check out this multipurpose camping utensil from Ka-Bar. The Ka-Bar Stainless Steel Original Hobo Knife is a camping buddy that gives you the versatility of a spoon, fork, and knife all in one convenient package.
The set itself boasts of a sturdy stainless steel build, with a simple nylon pouch to store this particular set with ease. Whether for quick dining or to slice beef jerky, fruits, or vegetables, this simple yet strong and efficient tool is all you need.
Key Features:
Features a fork, knife, and spoon in one
Stainless steel handles for a firm, anti-slip grip
Pieces slide aparat and back
Nylon carrying case
Specification:
Brand

Ka-Bar

Model

Hobo

Weight

5.6 Ounces
Stores into a compact package
Exceptionally durable set
Eco-friendly
Can be a bit heavy for some
The hinge could rust or become hard to open over time
Roaming Cooking Reusable Travel Utensils
Roaming Cooking Reusable Travel Utensils Set is another great camping utensil set we just cannot get enough of. This camping utensil is a real boss when it comes to quality, versatility and functionality. This set features an ergonomically designed spoon, fork, and knife for traveling and outdoor use. For chopstick lovers, this camping cutlery set also features a set of chopsticks, perfect for noodly dishes. Yum!
Instead of more of a butter knife, the knife here is able to slice meat, fruits, and bread with ease. The smooth and shiny finish on these utensils is due to the high-quality stainless steel construction.
Every serious camper needs a proper camping knife, so be sure to pick your favorite from our list.
Key Features:
Spoon, fork, knife and chopsticks in one set
Made from stainless steel with a polished finish
Designed for indoor and outdoor use
Comes with a zipper case for easy storage
Specification:
Brand

Roaming Cooking

Weight

3.20 Ounces
High-quality construction
Includes chopsticks
Comes with a carrying kit
Double the weight of some other models
Sea To Summit Alpha Knife, Fork And Spoon Set
Whether you are a regular camping enthusiast or a first-timer, a good camping utensil set does a great deal of good and gives you a memorable outdoor experience. Get this Sea To Summit AlphaLight Spoon, Fork & Knife Set for your next camping trip and you'll be set. It features a simple set containing a fork, knife, and spoon, and a mini-included carabiner to hold them together.
The utensils are made of aircraft aluminum alloy and are strong, durable and a great choice for simple, lightweight camping cookware for any occasion. And as its name suggests, the set is ultralight so it won't weigh you or your backpack down.
You may also be interested in some of these super practical cooking tripods, so check them out.
Key Features:
Fork, knife and spoon set
Made from hard-anodized aluminum
All utensils have punched holes in them to keep them ultra-light
Included carabiner for storage
Specification:
Brand

Sea To Summit

Weight

1.60 Ounces
Strong and durable, does not break easily
Lightweight, great for backpacking
For a flatware knife, this one has great serration
Not as durable as stainless steel
Why Trust Us
I've been camping since I was young. I grew up mostly with two of my siblings and my mother who was single for most of my childhood. We couldn't really afford nice vacations, but we did go camping semi regularly. This is where I started to see the value in camping utensil sets, as we usually brought some from home. As an adult, I now camp multiple times per month. I used to be in my tent more but now I camp in my van, however the need for a reliable fork, spoon and knife has not changed.
Who This Is For
This guide is for anyone looking for a set of camping cutlery for their ventures into the great outdoors. Some folks choose to bring their regular cutlery but it can become dirty, damaged and is often heavy. A camping cutlery set allows you to preserve your normal utensils and bring tools custom fit for the job when you head to camp. Whether you're a backpacker or a car camper, we have plenty of options on this list.
How We Picked
Selecting the best camping utensils started with tried and true favorites from our stashes of camping gear. From there, we wanted to ensure a variety of options for car camping, backpacking and hike-in sites. We also wanted to ensure a variety of materials, shapes and sizes so that there is truly an option for everyone.
How We Tested
Throughout the year, I spend a lot of time traveling and camping in my camper van. I usually spend anywhere from a day to two weeks on the road. A staple of van living is having durable eating utensils and cookware for eating meals on the road. I cook my meals outside so it's very similar to camp cooking. I usually have several options on hand for cooking, eating and drinking.
Our tested products in this guide are some of the items that have been trusted for many of my outdoor excursions in every single season. I've cooked on a two-burner camp stove and in my JetBoil. I also often cook for my friends before ski days and we eat breakfast in the parking lot before a full day on the slopes. So, the utensils here have been tested all over the west coast, in every season and for meals for one, and for twelve.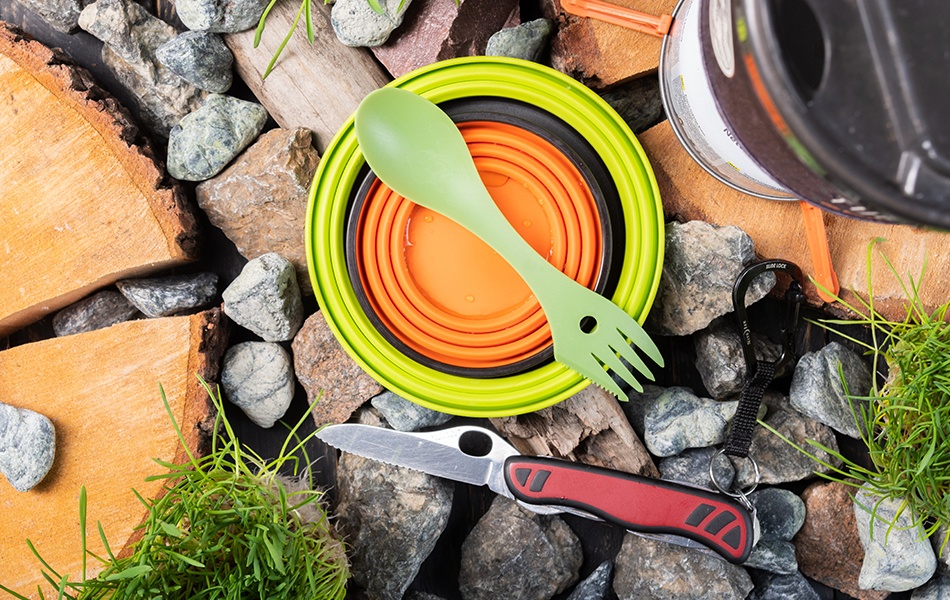 Features To Look For In Camping Utensils
Materials - It is important to take note of the materials your camping utensils are made of before you make a purchase. Most camping utensils are often made from materials such as steel, titanium, aluminum, or plastic. While titanium is light, strong, durable and transmits heat fairly easily as compared to others, utensils from titanium tend to be quite expensive. Some camping cookware is made from aluminum, and although it is a great alternative and has some great qualities that make it special (it's super-lightweight and affordable), it can scratch and dent easily. Plastic cookware can be quite convenient in that they are easily available to serve whatever purpose you wish, but they are not as strong and durable as the other options. On top of that, plastic utensils are not eco-friendly. Depending on what your preference is, be sure to select camping cookware that best works for you.
Uses - What are you going to use your utensils for the most? Some of the utensils are ideal for eating, others are made for cooking, and some can be used for both and more. Overall, utensils for one camper would be simpler than that for a group or family. Be sure to choose a set that is the best fit for your needs. Some meals may be fine with a spork but gamey meats and camping meals may need a proper knife and fork.
Durability - Trust us, you don't want to go camping and begin to settle for a nice meal only to realize your utensils are damaged or broken. It can be very disappointing. In making your choice of the best camping cookware for your next trip, it is also vital to take note of the durability of the cookware you intend to use. As indicated earlier, utensils made of titanium are more durable compared to aluminum and plastic and steel is a fantastic option too. Get the best and most durable camping utensils you can for your budget and save yourself from unnecessary trouble.
Easy to use / store - Most camping utensils come in handy pouches and can easily be tucked safely into your backpacks without hustle. Others, however, are harder to use and store. The best camping utensils, in our humble opinion, should be both easy to use and store. For this reason, we recommend sets that come in handy pouches or those that can be cliped together for easy organization. While some setsare multifunctional and can act as tools, using them can be a chore, especially when you are not so used to them. Ideally, options without too many moving parts are easier to use.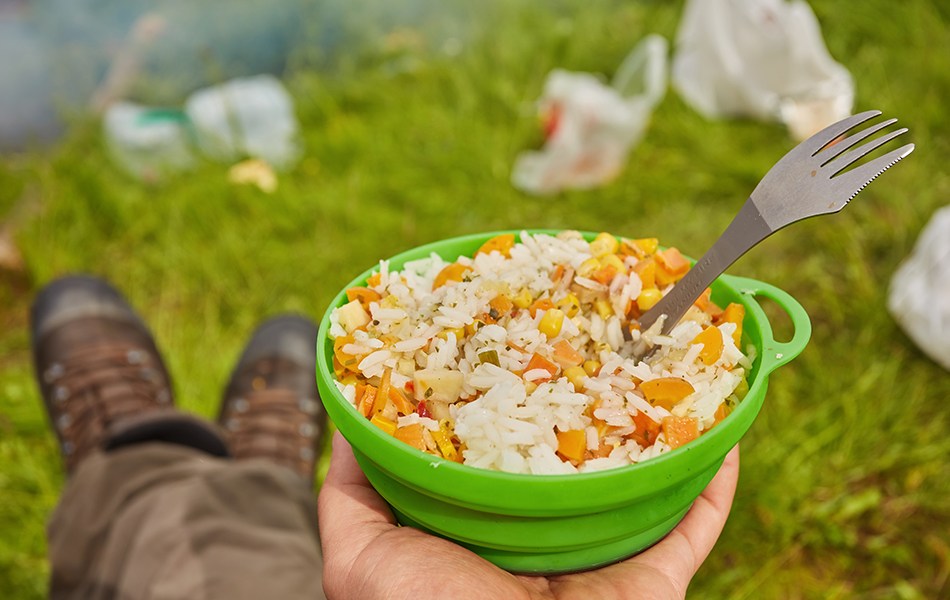 Camping Utensil FAQ
Q: What are camping utensils?
A: Camping utensils include forks, knives, spoons, and sometimes other tools as well that can be easily carried along for camping trips. Because camping is usually done far from home and in some cases far away from civilization, it is important to get the best camping utensils to make your trip less stressful and more enjoyable. Eating well is key to being able to hike, rock climb, paddle, bike, explore or whatever your campout entails.
Q: Is aluminum or stainless steel better for camping?
A: Both stainless steel and aluminum utensils have a place in the camping world. Stainless steel is more scratch-resistant but is heavier and doesn't heat as evenly, causing hot spots (not really a problem when it comes to cutlery but can be in pots and pans). Aluminum is lightweight, making it portable and great for backpacking. Aluminum scratches and dents much easier though but conducts heat more evenly.
Q: Can you use regular cookware on a camp stove?
A: In general, this is usually safe. However, keep in mind that your pot from home isn't designed to be over an open flame or deal with wind and this could cause issues depending on the materials and design of your pot or pan. I once had the wind blow the flame and it began to melt the plastic handles of my pot. It's best to use items that are intended for use on a camp stove. But, we understand logistical and budgetary restrictions, and using a whole new cook set may not be feasible for all.
Q: How do I clean my camping utensils?
A: Being far from home at a campsite means it's highly unlikely you will have the convenience of a dishwasher. You may have to improvise to get your utensils sparkling clean and healthy for reuse. While cleaning can be done in several ways, here are a few steps you can take to get your utensils cleaned with ease:
Get rid of any food residue on your camping cookware
Use soapy (with biodegradable soap) warm water and clean scrubber to wash each dish thoroughly. Be sure to begin with dishes that are less dirty and move to the dirtiest. This keeps your scrubber from transferring as many food particles to already nearly clean dishes.
Rinse the cleaned utensils with water and shake off any suds.
Sources:
How To Choose Cookware - REI Co-Op
Sign Up Now
GET THE VERY BEST OF GEARHUNGRY STRAIGHT TO YOUR INBOX