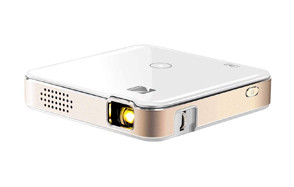 Kodak Ultra Mini Portable Mini Projector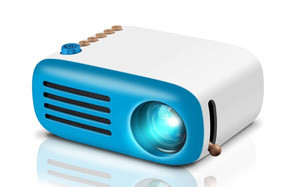 GooDee Mini Projector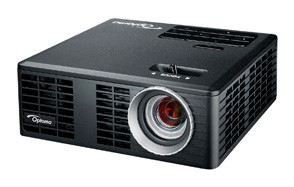 Optoma ML750 Portable Mini Projector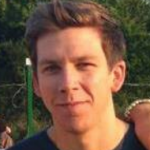 What is technology doing to us? Every day we want to go out and get fit and healthy, we want to eat right and see the world, and we want to catch up with friends in ways that aren't just a quick What's up over WhatsApp. The problem is that everyday technology keeps clawing us straight back in determined that we never venture out ever again. This time, it's marvelous mini projectors which, like Magikarp evolves into Gyarados, have surprised us all with just how incredible the new millennium models are. Long gone are wires, distracting, lethargic whirs of the fan, and all those annoying technical difficulties that your teacher never did figure out. These little devices will fit in the palm of your hand and are great for home theaters, presentations, and education, as well a some more unique ways, too. With that in mind, let us project to you our choices for the best mini projector, and you can clearly see what we mean.
The Best Mini Projector
Mini Projector Buying Guide and FAQs
When buying a portable mini projector, there are a few things you should know before making the final payment. We have outlined some important things to consider as well as some useful information that should help make your final decision.

How We Chose Our Selection of Mini Projectors
Brand - Not all brands are equal when it comes to manufacturing mini-projectors, they differ in durability, build, picture quality, audio, and design. We ensured that we chose products from trusted brands that are known for delivering premium quality and durable products.
Price - Some mini projectors are a little more on the pricey side costing from $700 and above, that doesn't mean you have to go above and beyond your budget. They are great products that cost as low as $200-$600 with equally great features and excellent picture quality.
Reviews - A lot of brands boast of exceptional quality and performance, and the best way to ascertain they live up to the hype is through viable reviews. We always thoroughly read through reviews to find out which products fibbed a little in their descriptions and which products delivered the standard.

Features to Look Out for in a Mini Projector
Entertainment or Business - It's best to ascertain what the projector will be used for, some mini projectors are made for entertainment purposes with lumens of over 2000, they usually perform well with the lights off or on. Others are made for more business or academic purposes with brighter lumens of 4000-6000.
Indoor vs. Outdoor - Outdoor mini projectors require a higher level of lumen to display clear images. This may require up to 5500 lumens, however for indoor use, projectors with up to 1000 lumens the videos will be displayed clearly enough.
Brightness - This highly depends on the lumen level; higher lumens deliver brighter images. For business meetings, a brighter mini projector is required for the setting.
Resolution - The resolution determines how high quality the pictures will appear, they range from 320 to 4k. The pictures or videos will appear sharper, more crisp and real with a higher resolution.
Zoom Range - The zoom range allows you to change the image size to fit the screen required for the number of people present.
Portability - The whole idea of owning a mini projector is to attain a compact and lightweight form that can be carried anywhere with ease. The projector should be portable enough to be placed in a bag or suitcase without taking up too much space or weighing a ton.

Mini Projector FAQs
Q: What is the best mini projector?
A: While this is more of a personal choice, you may want to consider the Nebula Capsule by Anker. It's one of the most compact mini projectors in the market that deliver great audio and clear picture quality if portability is your priority.
Q: What is the best mini projector for iPhone?
A: A wide range of modern projectors have USB ports that accept IPhone cords, however, the DR.J's Hi-04 is designed to allow iPhone USB cables and will require an adapter for Android devices. This makes it one of the suitable mini projectors that accept IPhone cables without the need of purchasing an extra adapter.
Q: Is A Mini Projector useful?
A: Mini projectors are actually more affordable than their larger counterparts; they are also great for being portable enough to be carried around. During trips, travels, and indoor/outdoor entertainment, mini projectors can easily and quickly be set up for reliable viewing and presentations.
Q: What is the best mini projector for presentations?
A: For business meetings or school presentations, you may require a projector with high resolution and higher levels of lumen. The Vankyo Leisure 3 Mini Projector has great focus, 2400lux superior brightness as well as compatibility to a wide range of plugs and devices.