Best Mini Projectors of 2022: Make Your Own Movie Theatre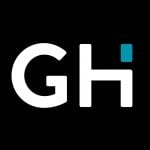 This product guide was written by GearHungry Staff
Last Updated
April 8, 2021
GearHungry Staff
GearHungry Staff posts are a compilation of work by various members of our editorial team. We update old articles regularly to provide you the most current information. You can learn more about our staff
here
.
GearHungry may earn a small commission from affiliate links in this article.
Learn more
While going to the movies is a fun night out, many people opt to spend the evenings at home these days. Luckily, we can have something close to the theater experience at home, in our backyards, or even out camping, thanks to mini projectors.
Instead of the huge, heavy, and loud projectors of the past, some pocket-sized projectors can fit in the palm of your hand and are great for entertainment, education, and business. Others may not fit in a pocket but are easily small enough for travel use. There are tons of mini projectors on the market, all of which have varying quality.
We scouted around the internet looking for the best small projector and tested some of our favorites to help you choose the right one for your needs. After hours of web searching and tucking in with a truckload of homemade popcorn, a few mini projectors rose to the top.
Take a look at our list of the best mini projectors on the market and let us know on our social channels if there are any we missed.
The Best Mini Projector
Magnasonic LED Pocket Pico Mini Projector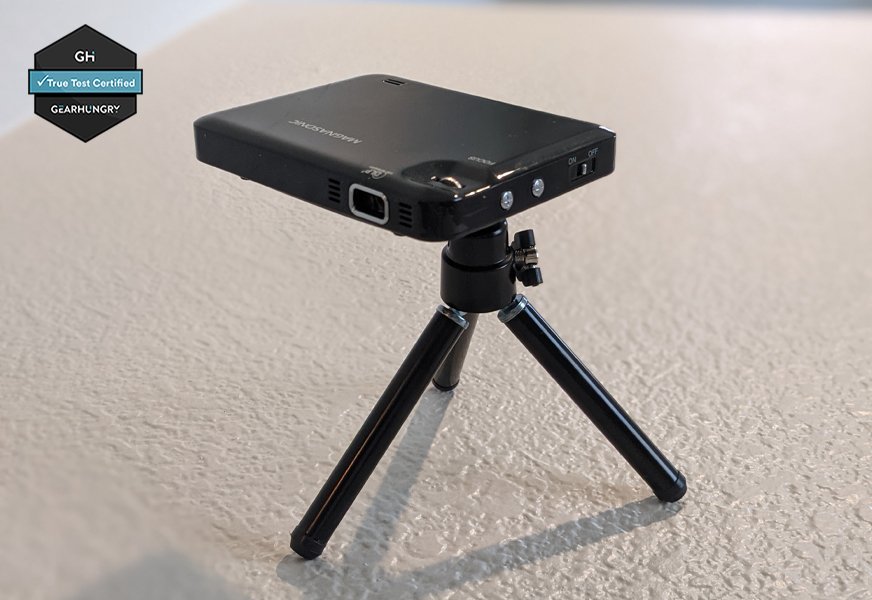 I originally called the Magnasonic LED Pocket Pico Mini Projector "The Best for Ceiling Viewing" because that was my favorite use for it. This tiny projector fits in the palm of your hand and can put out a 60-inch hi-resolution image. The included tripod makes it easy to get your image dialed in, making it a viable option for the best micro projector on the market. Its inputs make it a solid mini projector for Android phones, and as a Pixel user, I'm a fan.
For those who don't lay in bed watching Netflix until 2 am, this is also a great projector for travel. It fits easily in a carry-on or laptop bag, and the plug-and-play setup makes getting a movie or presentation going from your laptop a snap. This portable mini projector works either plugged in or can run for 2 hours on its battery, so you can bust out that presentation, then head home and unwind with your favorite episodes. Read the in-depth review here.
Key Features:
Extremely portable
Displays up to 60 inches
Plug and play capability
Includes tripod
Specification:
Brand

Magnasonic

Model

PP60

Weight

4.5 Ounces
Vankyo Leisure 3 Mini Projector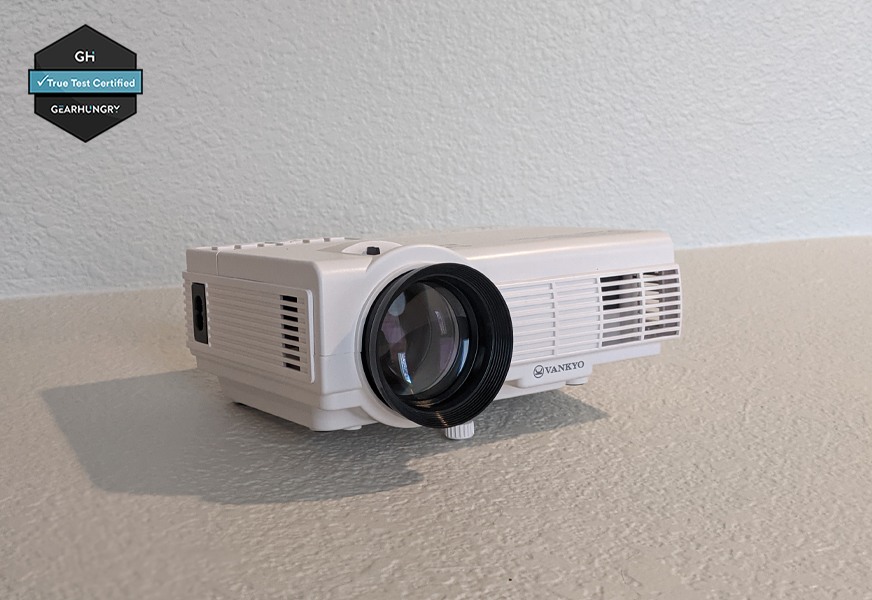 Despite the laid-back name, the Vankyo Leisure 3 Mini Projector is an excellent led mini projector for business applications. The image, which Vankyo updated to offer 60% more brightness in 2020, works well in low-light settings, so your bosses see well enough to write down notes about how excellent your presentation has been. I tested this projector in my office on a bright day with the blinds half open, and John Wick was clearly visible, if a little faint.
There's a wide range of inputs and plugs, including the old-school RGB analog component video, which gives you a range of about 40 years of devices that will work. The MStar color engine provides vibrant colors, and the sound coming from the speaker carries well over the fans.
Bonus: the included remote control is handy for walking around the conference room or pausing and rewatching especially compelling fight scenes. Read the in-depth review here.
Key Features:
A projection distance of 5-20 ft
Excellent focus and keystone balance
Very bright
Includes travel bag and remote control
Specification:
Brand

Vankyo

Model

Q5

Weight

2.1 Pounds
Cinemood Portable Mini Projector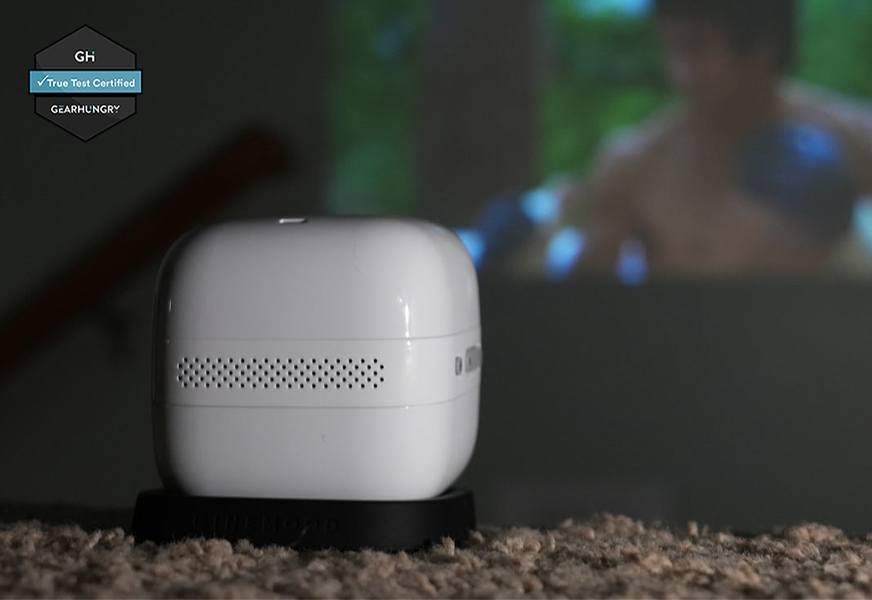 If you want to stream content without connecting to any other devices, the Cinemood Portable Mini Projector is the way to go. Preloaded with Amazon Prime Video, Netflix, YouTube, and Ameba TV, it may be the easiest setup we've seen. You don't even have to plug it in – thanks to the 5-hour run time, you can just set it down, pick a movie, and start watching.
For families with kids, the preloaded Disney content, including 40 Disney e-books, 25 short safety videos, and cartoons, plus over 75 other Disney cartoon episodes, makes this a great option for traveling or a backyard campout with the kiddos.
Our tester was a huge fan of the Cinemood for watching in close quarters like a tent or a blanket fort. Plus, he noted that the built-in speaker was loud enough for quieter environments. Luckily, the auxiliary port allows you to connect headphones or a speaker to boost the audio.
Key Features:
Video apps and Disney content included
Extremely portable
Up to 5 hours of battery life
Silent fanless cooling
30-day satisfaction guarantee and 1-year warranty
Specification:
Brand

Cinemood

Model

CNMD0016WT

Weight

8 Ounces
Anker Nebula Capsule II Mini Projector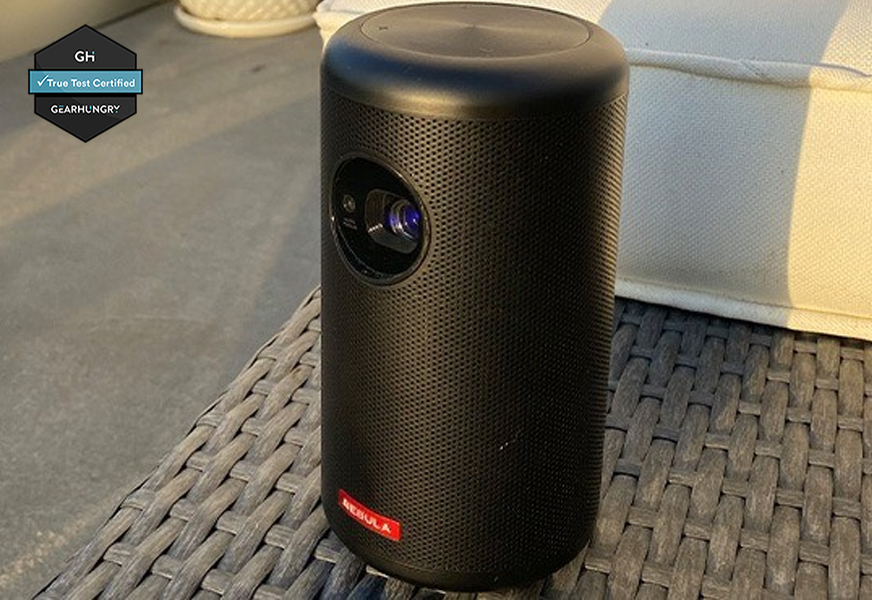 If you're looking for a mini projector that will do it all and do it well, the Anker Nebula Capsule II Mini Projector is the way to go. With a speaker loud enough to double as a Bluetooth speaker, an onboard app store that includes HBO Max, Hulu, and other casting apps, and a simple, fast setup, you'll have a party started in minutes. Just make sure the popcorn is popped and the beer is cold, and you're good to go.
Our tester used the Nebula to host a patio movie night to showcase a new movie, and he was pleased to report that the sounds were loud and clear, even in a wide-open space with a rowdy crew cheering them on.
When you've got people over, you don't want to waste time fiddling with your projector; you want to get the movie cracking. If you're looking for the best mix of convenience and quality available, you need to check out the Nebula II.
Key Features:
Loud, clear speakers
Over 5,000 apps in the app store
Can project up to 100-inch images
Specification:
Brand

Anker

Model

AK-D2421J11

Weight

1.6 Pounds
Massive compared to some of the mini projectors on this list, the G2S earns its place on this list with its excellent splash- and drop-resistance. The wireless setup is simple. The tilt-adjusted foot has a threaded tripod insert, which adds flexibility and makes it a breeze to provide a stable environment in the great outdoors.
Our tester took the BenQ GS2 Mini Projector to a wildlife refuge for a movie night with his daughter and her friend and had the projector (ahem) projecting Netflix onto an outdoor screen in under ten minutes. Few things are better at gauging toughness than two rambunctious kids, and eventually, they whacked the GS2 hard enough to break the head off the tripod. The projector fared much better, never skipping a beat.
The autofocusing was on point, and the movie played flawlessly at 720p. In areas with lower light pollution, the brightness is perfect, but brighter urban environments may require more lumens. Also, the speaker left something to be desired, but it connected easily to a Bluetooth speaker to boost the audio.
There are certainly more svelte mini projectors with better picture and sound quality, but if you're the outdoorsy type, the BenQ GS2 may be the perfect choice when the show must go on.
Key Features:
Extremely durable
Wireless connection
Auto keystone and 15-degree tilt
HDMI, USB-C, and USB connectivity
Specification:
Brand

BenQ

Model

GS2

Weight

3.52 Pounds
Kodak Ultra Portable Mini Projector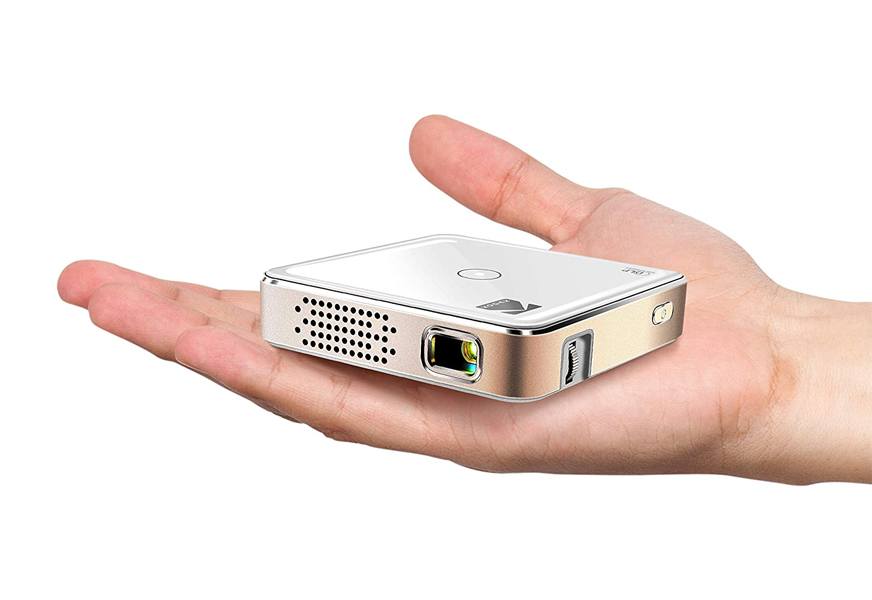 Kodak is a brand with plenty of street cred in the optical game. While the company is known for its photo gear and the phrase "Kodak courage" (which has led me down some hazardous paths), this offering in the mini projector market lives up to the name. Roughly the size of a stack of Post-it Notes, the Kodak Ultra Portable Mini Projector punches above its weight with an excellent image, excellent brightness, color accuracy, and technical quality.
The built-in speakers pump out solid sound for their size, but you can also plug it into an external speaker if you want louder sound. It can connect to your device via USB and HDMI cables as well as via the micro-SD port. It works with both Android and Apple phones, tablets, and devices through the HDMI port with ease. Simply plug it in and start playing on your device.
Key Features:
Pocket-sized
Excellent brightness
Solid sound for speaker size
Versatile connectivity across multiple devices
Specification:
Brand

Kodak

Model

RODPJS75

Weight

5.3 Ounces
Anker Nebula Capsule Smart Projector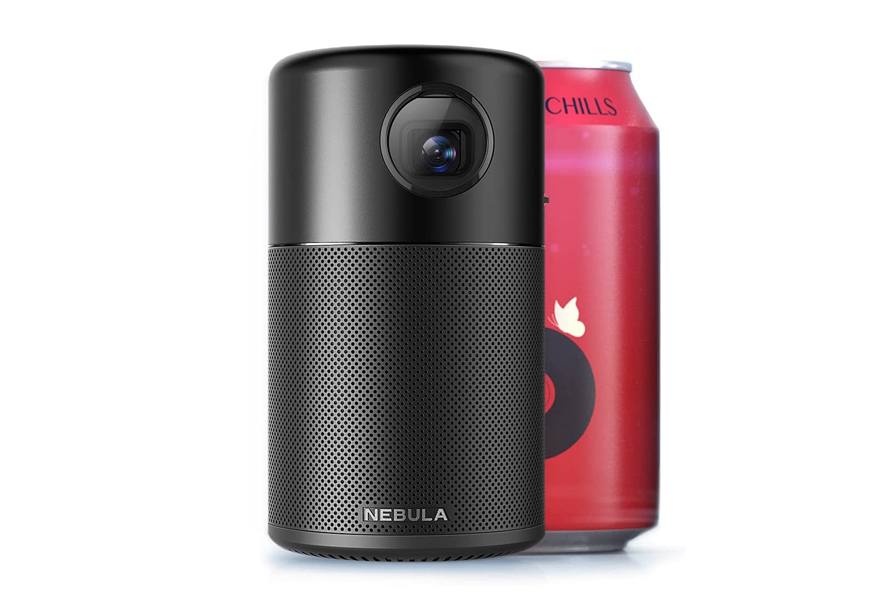 If you want good sound regardless of where you are relative to the projector, the Anker Nebula Capsule Smart Projector is a great Bluetooth mini projector. Instead of the usual rectangular or square shape of most mini projectors, the Nebula sports a cylinder shape with 360-degree speakers that pump out excellent sound no matter where you are.
As far as the picture goes, the clarity and contrast are excellent, thanks to the 1000 ANSI lumen rating. This means you get bright, clear imagery whether you're looking at pictures, watching movies, or playing video games. The setup process is simple, allowing you to connect devices via an HDMI or USB port on the back or stream directly through Airplay, Miracast, or Bluetooth. The app, which is downloadable in the App Store or on Google Play, allows you to turn your phone into a remote control.
Key Features:
Roughly the size of a soda can
360-degree speakers
Excellent clarity and contrast
Proprietary smartphone app
Versatile connectivity across multiple devices
Specification:
Brand

Anker

Model

D4111111

Weight

1.04 Pounds
ViewSonic M1 Portable Projector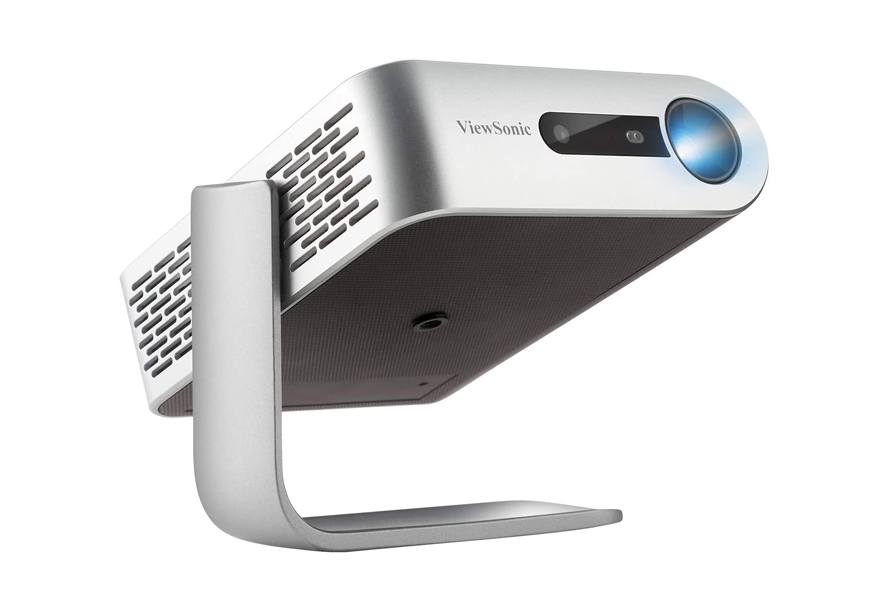 Even the best mini projectors' onboard speakers sport sound that's great "for a speaker of this size," but ViewSonic decided to go big with the M1 Portable Projector's sound output. They built in two Harmon Kardon speakers to provide deeper, more accurate sound that you'll get from any other mini projector on this list.
ViewSonic M1 Portable Projector can throw out a 100-inch image from 9 feet away, with automatic keystone adjustment to eliminate distortion. You can connect wireless dongles to expand your input options, including mirroring content from phones. The Type C USB port also accepts data, audio, and video, and it doubles as a charging port, which you won't often need since this bad boy can hang for up to six hours on a single charge.
Also, the 16 GB of internal storage means you can store 4 hours of video content, so you don't have to connect a device at all. And for some supporting equipment, check out our guide to the best projector mounts.
Key Features:
High-quality Harmon Kardon speakers
Up to 6 hours of battery life
Integrated projector stand that doubles as a lens protector
Versatile connectivity across multiple devices
Specification:
Brand

ViewSonic

Model

M1

Weight

1.52 Pounds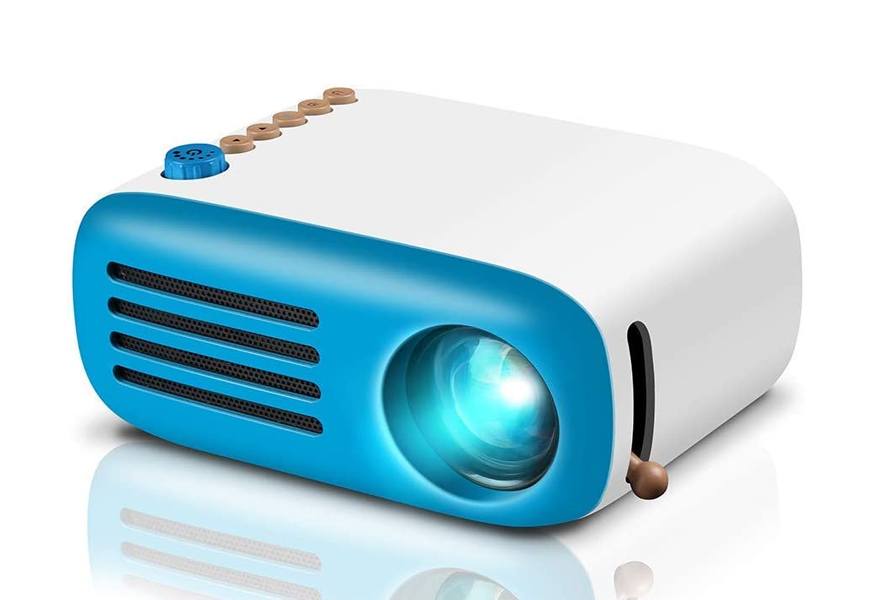 You'd usually be hard-pressed to find a halfway-decent mini projector for $100, but we've seen this little gem from GooDee priced at roughly half that. While GooDee Mini Projector is one of the cheapest mini projectors we've found, it can still hang with its more expensive brethren. The first thing you'll notice when you pull it out of the box is its impressive array of ports. It sports HDMI, USB, Micro SD, audio, and AV ports, which means with the right lead, you can connect just about anything.
It supports 1920 x 1080 resolution so that you can get a solid picture up to about 60 inches, but the setup does take some fiddling. You may also have to do some tweaking to get the picture dialed in, and the sound from the speakers will have you looking for a good external speaker, especially when the fan kicks on. Overall, though, this is an inexpensive way to break into the world of mini projectors. If you're looking for a cheap mini projector, this is a great way to go.
Key Features:
Great price
Plenty of port options for connecting devices
Portable design
Supports 1920 x 1080 resolution
Specification:
Brand

GooDee

Model

YG200

Weight

9.5 Ounces
How We Tested & Why You Can Trust Us
To give you an in-depth look at each mini projector on this list, we researched the best products online, recalled the projectors that we've used in the past, and called in equipment to test and evaluate new, updated, and interesting pieces. We rounded out our first-person impressions with user reviews online to gather a comprehensive view.
My testers and I collectively covered tech for over a decade and drew from our audio and visual equipment experiences.
Who This Is For
This article is intended for people looking to find the best mini projector for various situations. From business and travel to home entertainment, we looked at a wide range of projectors to fit every need and to work in multiple situations.
How We Picked
We tried to find mini projectors that would be useful in all kinds of situations and for a range of budgets. We looked at the audio and visual specs and portability and, in some cases, durability.
You can choose some of these pieces to create a mobile home theater or supplement your business presentations.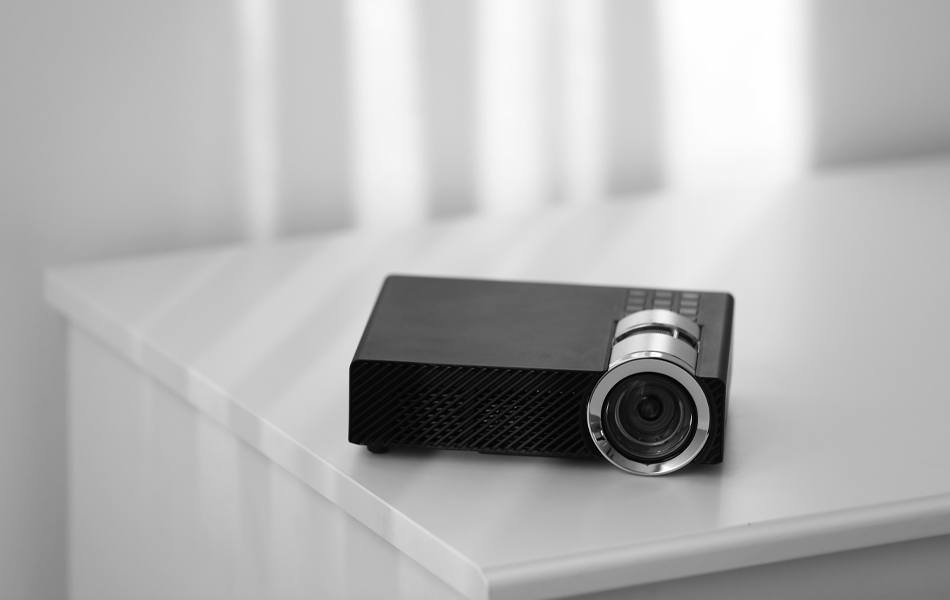 Features to look for in Mini Projectors
Business vs Entertainment - The first thing you should consider when buying a mini projector is how you plan to use it. If you're using it for business use, you'll likely be using it in a conference room that's not very dark to allow people to take notes, so look for one with higher lumens. One with 4,000 to 6,000 lumens should be bright enough.
For personal entertainment use, you can get away with a dimmer projector since you'll likely be in a very dark room; 2,000 lumens or above should be plenty.
Indoor vs Outdoor - Outdoor mini projectors will usually require higher outputs to display crisp images, so look for one with a brightness between 5,000 and 6,000 lumens. Indoor mini projectors require less, but it depends on how big your space is.
If you're using it for use in a bedroom, you can find solid images somewhere between 1,000 to 2,000 lumens.
Brightness - The higher the lumen output, the brighter the images. If you want the brightest image possible (for, say, a business or large room), go with the highest lumen count you can find.
Resolution - The resolution refers to the projected image quality, usually ranging from 320p to 4k. Higher resolution means videos that are sharper, crisper, and more realistic.
Zoom Range - This one's pretty simple: the zoom range determines how much you can change the image's size to fit a specific surface like a screen or a wall.
Portability - This is a big characteristic of mini projectors. These lighter and more compact projectors are meant to be carried around with ease. At the very least, they should be able to fit into a carry-on bag or a backpack. The smallest ones can fit in the palm of your hand.
Durability - Travel can be a bear on a mini projector, as can use in the outdoors. Since there are so many working parts in a tech piece like this, a lot can go wrong if you bang it around or if it gets caught in a sudden downpour.
Look for a projector that either comes with a protective case and/or has a shock- and water-resistant exterior if you're planning to use it outside. Even if you aren't, the case will help your mini projector last a lot longer.
If you're in love with a specific mini projector, but it doesn't come with a case, look around for an aftermarket option to help keep it safe over the long haul.
Apps - Not all mini projectors come with apps, but if yours has an app, it's one of two types.
The first and most common is an app for your phone that allows you to control your projector remotely.
The second kind you're likely to see are onboard apps like Netflix and Amazon Prime that allow you to watch videos without connecting to an external device like a smartphone or tablet.
Sound - The nature of a mini projector prevents it from having large booming speakers, so the vast majority will have a sound that is tinnier than you'd get from a home theater.
Luckily, most if not all mini projectors have an audio out port that allows you to connect it to a speaker or headphones for better audio.
Battery Life - Larger mini projectors need to be plugged in, but smaller ones like pocket projectors can run on their own batteries for a time.
At the very least, shoot for 2 hours of battery life per charge, which is enough to watch the average movie.
Throw - This refers to how far away a mini projector can project a clean, clear image. How far a throw you need depends on the size of your watching space, so measure how far your screen, wall, or another watching surface will be from where your projector will be and check the specs on any device you're considering buying.
Connectivity - Connectivity is how your access the videos or images you want it to project. Most projectors will connect to an external device like a computer, smartphone, or tablet, which provides the content, so make sure your projector has the proper connections for it.
Occasionally, a mini projector will come with onboard streaming apps, which means it just needs Wi-Fi to stream or download content.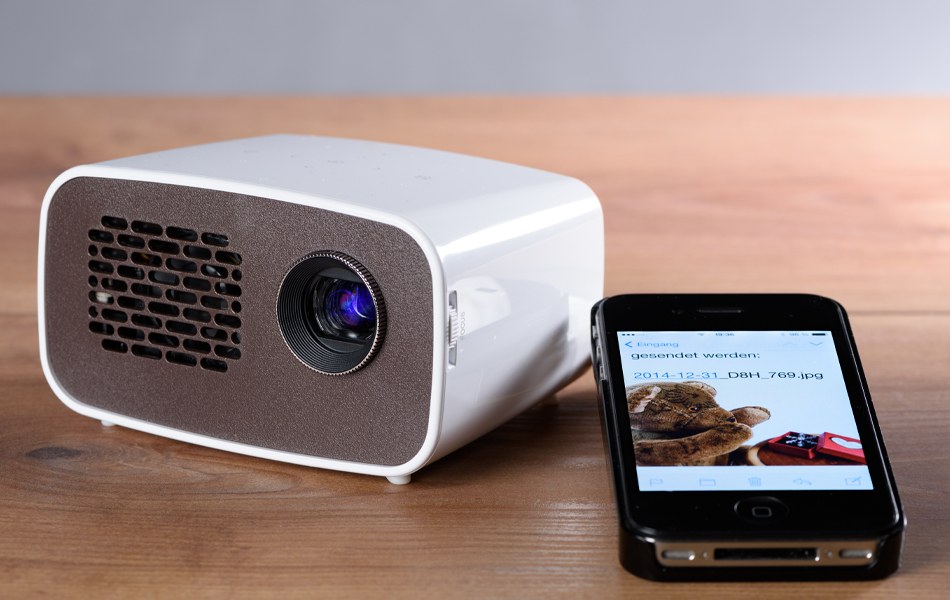 Mini Projector FAQ
Q: What is the best mini projector?
A: It depends on how and where you intend to use it.
For larger rooms, you'll need one with a larger throw distance and a high lumen count. You can get away with a dimmer projector with a smaller throw for entertainment in a smaller room.
If you plan on using it outside, look for one with at least a minimal amount of shock and water protection.
For our money, we're big fans of the Cinemood Portable Theater for its preloaded apps and Disney content, as well as its silent cooling system.
Q: What is the best mini projector for iPhone?
A: Most mini projectors actually have ports and software that works with iPhones and iPads. First, look for a projector with the specifications and performance you need. Then, when you've made your choice, double-check to make sure that it will work with your Apple product.
Q: Is a mini projector useful?
A: A mini projector is handy if you're looking for a portable way to watch video on a surface that's larger than a phone or laptop screen.
Mini projectors are much more portable than their larger counterparts, making it easy to take them with you during travel, to the office, or simply switching rooms.
Q: What is the best mini projector for presentations?
A: For business or educational presentations, you'll want a projector with plenty of brightness and high resolution.
We are fans of the Vankyo Leisure 3 with its high resolution and bright output. It's also compatible with a wide range of plugs and devices, which gives it plenty of versatility.
Q: Can you watch Netflix on a mini projector?
A: Since they generally plug right into your phone, tablet, or computer, most mini projectors will allow you to watch Netflix. Some, like the mini projector from Cinemood, comes with Netflix preloaded, so you can watch it without connecting it to any other devices.
Be aware that some projectors can't mirror protected content from streaming apps on your phone, however. Most mini projectors will have some indication on their website whether or not this is the case. If you're planning on mirroring streaming content from a mobile device, make sure that the mini projector that you're looking at doesn't have any of these restrictions.
Q: What is the difference between a mini projector and a regular projector?
A: The number one difference between the two is size. As the name suggests, a mini projector is going to be much smaller than a regular projector.
A normal projector's size and weight generally require it to remain stationary, whether it's bolted to the ceiling or placed on a table or stand. In contrast, a mini projector's smaller size and weight make it easy to transport it to different locations, whether it's to a boardroom across the country or a different bedroom in your house.
Since they are built for travel, some mini projectors can run on batteries, giving them a run time of around 2 to 5 hours. This allows you to project a video when camping and in other situations where there are no outlets. Regular projectors (and some larger mini projectors) have to be plugged in, limiting their mobility.
A regular projector's advantage is that its large size allows for a higher lumen count and a farther throw distance. Since mini projectors come in smaller packages, there's less room for hardware, so the lumen count and throw distance in a mini projector can be somewhat limited.
Sources:
Lumens And The Lighting Facts Label – Energy.gov
The Science Behind Projector Throw Distance – Lumina Screens
AV Cables & Connectors Reference – UC Santa Cruz
Sign Up Now
GET THE VERY BEST OF GEARHUNGRY STRAIGHT TO YOUR INBOX