Speedwork: The Best Speed Bags for Boxing in 2022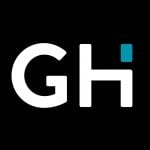 This product guide was written by GearHungry Staff
Last Updated
April 15, 2021
GearHungry Staff
GearHungry Staff posts are a compilation of work by various members of our editorial team. We update old articles regularly to provide you the most current information. You can learn more about our staff
here
.
GearHungry may earn a small commission from affiliate links in this article.
Learn more
Few things are as synonymous to the sport of boxing as the machine-gun rattle of a speed bag in the hands of a skilled fighter. Anyone who's seen a boxing film knows the familiar "buddabubudaba" sound of a speed bag in use. Besides making you look cool as hell, a speed bag is designed to develop hand speed, endurance, and eye-hand coordination.
While it may seem intimidating at first (and it definitely requires patience to learn), putting in work on a speed bag not only develops physical skills but also can be a fun, meditative way to calm down and find your mental sweet spot. I've spent a lot of rounds just working my way around the speed bag as the repetitive motion and constant droning of the bag chilled me out after an intense training session.
If you're looking to up your fight game at home, build out a proper well-rounded garage gym, or just trying to develop a new skill and find a different way to burn calories, a good speed bag is a great way to go. We looked around for the top speed bags on the market for a variety of uses. From the traditional free-hanging bags to double-end bags, we found a variety of options for fighters to train with. We even drummed up a few nontraditional mounting options.
Take a look at our list below and let us know in our social channels if there are any we missed.
The Best Speed Bag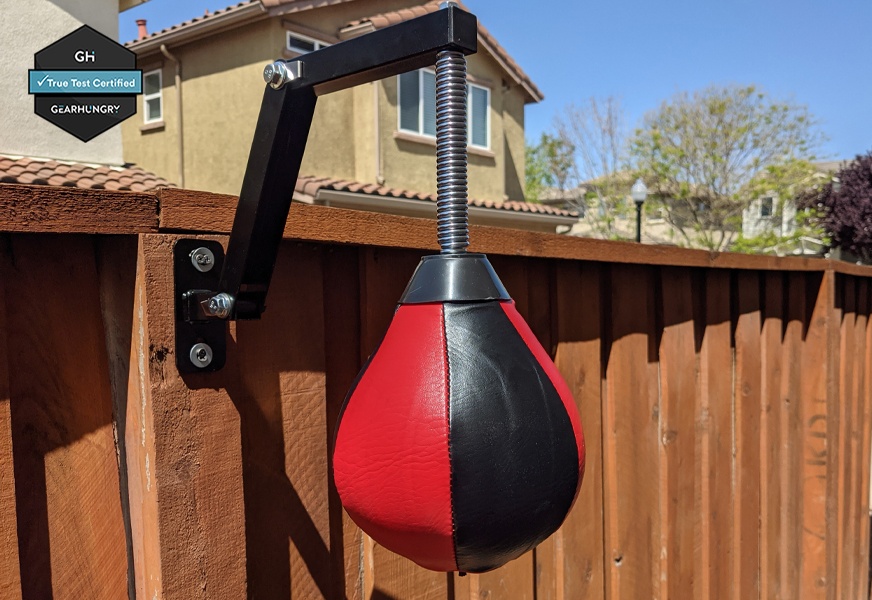 If you want to train at home but don't have much space, the Moulyan Speed Bag is worth a look. I mounted the bag on the wall via a jointed arm that allows for height adjustment. When not in use, I was able to store it in a closet or drawer, and the arm folded down to half its length and flat against the wall, all but disappearing when I didn't need it.
Don't expect the same performance as a larger speed bag setup, however. The bag is pear-shaped and hung from the top, but that's where similarities end. Instead of the much larger platform, the bag springs back via, well…a spring. Makes sense. But this also makes it a spring bag much faster than a traditional bag, which can be frustrating for experienced users.
There are compromises to be made for the sake of saving space, and while the feel is definitely different, you can still get a solid workout and practice your hand speed and punching power with this minimalist bag. After adjusting to the bag's differences from traditional speed bags, I did! Read the in-depth review here.
Key Features:
Takes up little space
Adjustable height
Faux leather bag
Spring mounted
TITLE Boxing Gyro Balanced Speed Bag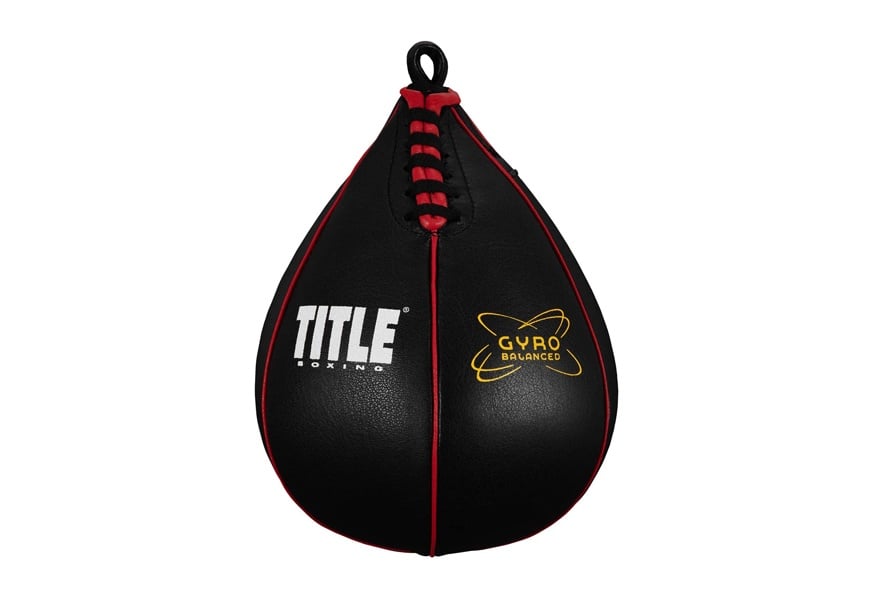 A smooth, predictable rebound and consistent response is a huge factor in a speed bag's performance. However, irregularities and small imbalances are to be expected. My trainer told me that it was something that fighters had to work around. Apparently, TITLE Boxing didn't get the memo because their Gyro Balance Speed Bag is gyro balanced for optimal precision. Also, the bladder is internally balanced. This eliminates errant bounces that may throw you off your rhythm and affect the performance of your workout. This balance keeps the rebound and speeds accurate and smooth so that you can spend more time on your hand speed and less time adjusting to your bag's wonky mechanics.
The high-grade leather shell and triple reinforced seams add durability; the three available sizes accommodate everyone from beginners to advanced boxers. If you're looking to maximize your hand speed and precision, you won't find a more balanced speed bag. Take a look at our comprehensive guide to the top punching bags, as well, and pick your favorite.
Key Features:
Leather shell
Consistent bounce and excellent speed
Triple reinforced leather seams
Available in three sizes
TITLE Boxing Classic Complete Set Speed Bag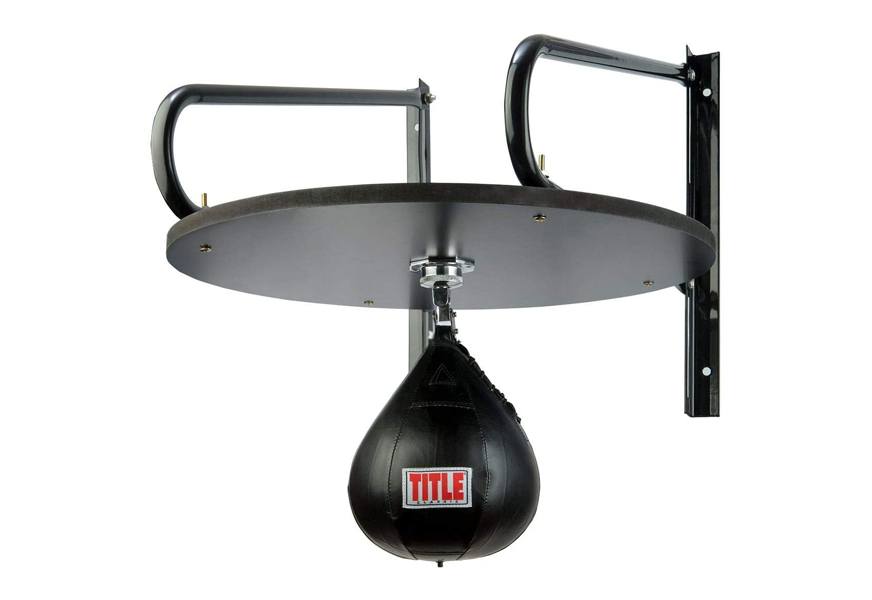 Obviously, speed bags require both a platform (the platform that it rebounds off when you punch it) and a swivel attached. While there are many full setups available, many of them skimp when it comes to the most important feature – the bag. This is why most people buy the platform and swivel separately and search reputable websites with amazing writers (ahem) to help find the ideal boxing speed bag for their setup.
If you're hoping to, TITLE Boxing Classic Complete Set Speed Bag stands out from other setups by including its excellent Classic Speed Bag in the kit. The stand is adjustable up to 7 inches, and the wood speed bag platform is extremely sturdy for a consistent bounce. This kit is ideal for anyone who wants to simplify their setup without compromising on the speed bag. I bought this for my Dad for Father's Day, and he has loved it. He's always whooped me when we spar, so I think I should have gotten him a less effective training tool.
Key Features:
Complete speedbag platform setup
TITLE Classic Speed Bag included
Adjustable height
Includes installation hardware for masonry walls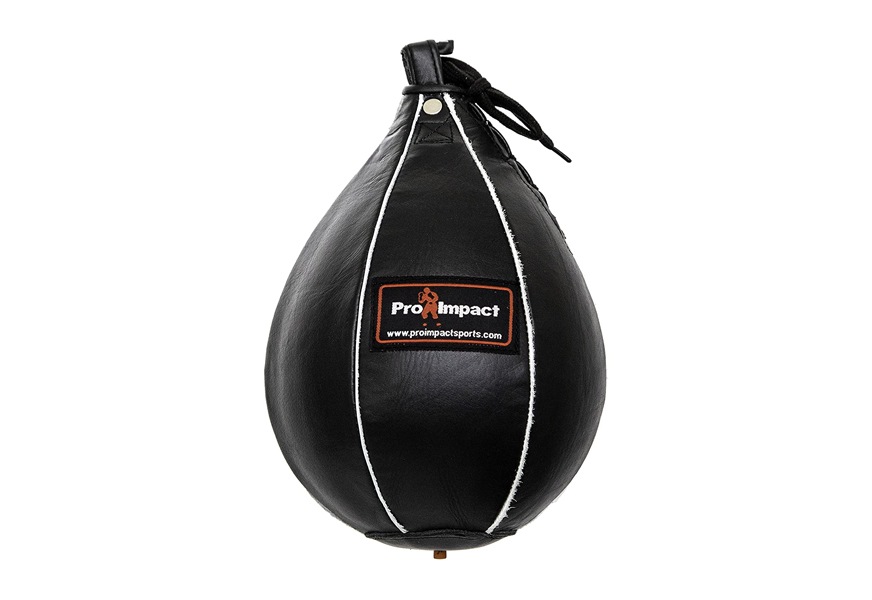 Looking for a bag that's likely to outlast you? Then check out the Pro Impact Speed Bag. Built using tough top-grade genuine leather, the bag's exterior can take years of abuse without degrading. And the triple-reinforced seams mean you can swing as hard as you want without any risk of bursting the bag. The loop is also triple seamed as well, so there's minimal chance of you knocking it across the room if you finish your workout with a nasty left hook. The air bladder is built with lightweight, heavy-duty latex that's extremely resistant to leaks and pops.
The seams are also welted to minimize irregularities, so you'll get a consistent feel and response with every punch. It comes in three sizes, from medium to extra small, so if you're looking for a large bag for beginners, you'll either have to look elsewhere or expect a steeper learning curve. In any case, it's a cool addition to your collection of home gym equipment.
Key Features:
Top grain leather
Heavy-duty latex bladder
Welted, triple reinforced seams
Available in three sizes
TITLE Boxing Classic Speed Bag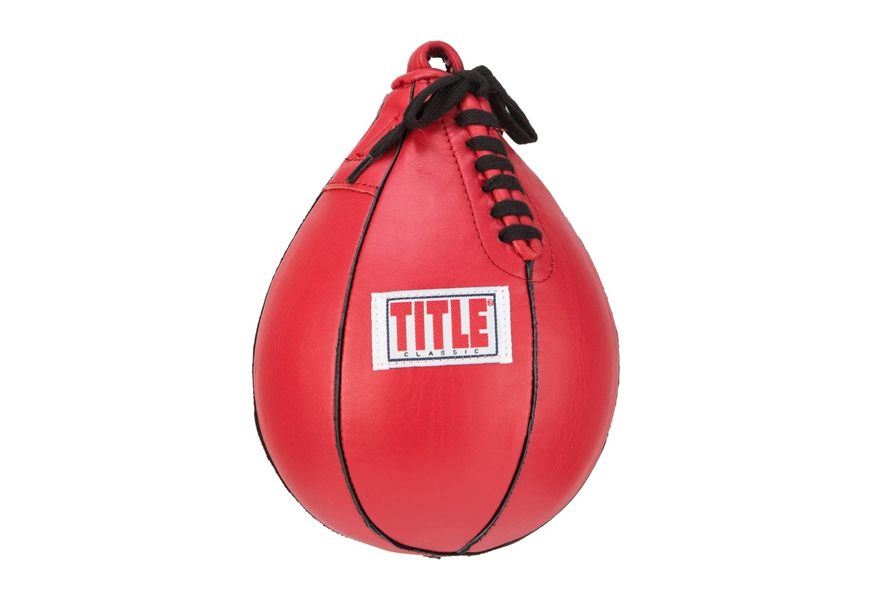 If you grew up in the boxing world, chances are you used a version of this speed bag from TITLE Boxing. The Classic Speed Bag sports the classic red leather shell with black lacing and the iconic TITLE logo patch on the front. The styling brings me back to the converted barn that I trained in when I was growing up, doing pullups on steel pipes bolted to the wall and losing my mind trying to skip rope for three minutes straight. The Classic doesn't rest on nostalgia, however. The durable leather outer is constructed with a triple reinforced loop and seams.
The precision-balanced bag provides a fast response and consistent rebound, while the two sizes (medium and small) cater to more experienced boxers. Note: it's recommended that you use speed bag gloves or wrist wraps when you do a speed bag workout. This is especially true for the Classic Bag, as the logo patch can chafe your hands.
Key Features:
Leather shell
Extended-life rubber bladder
Precision balanced
Triple reinforced leather seams
Available in two sizes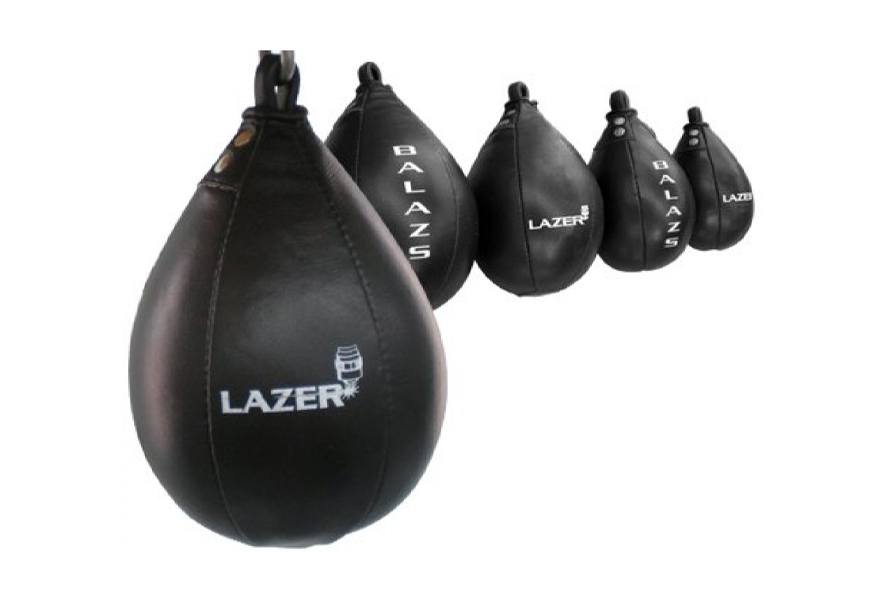 If money is no object for you, the Balazs Laser Speed Bag is a great option. With over 20 years in the business, Balazs has constantly refined their speed bags, and the current iteration is a great example of the company's legacy. The Lazer Speed bag's cover is made of smooth-grained leather for extreme durability and is completely free of welted lacing for a uniform surface.
One of the weakest points in a speed bag is the attachment loop – I've had several go flying off the platform mid-workout when the loop finally gave out. That won't be an issue with the Lazer. The bag's loop is made of Kevlar, a material commonly used in bulletproof vests. The loop is also double layered and perfectly centered to give the Lazer optimal balance. It comes in four sizes, from large (the slowest) to pebble (the fastest speed bag), so there are appropriate sizes from beginner to pro. Here are some of the top-quality kickboxing gloves you may be interested in, too. Don't miss them.
Key Features:
Smooth grain leather
Smooth seams
No external lacing
Kevlar loop
Meister SpeedKills Leather Speed Bag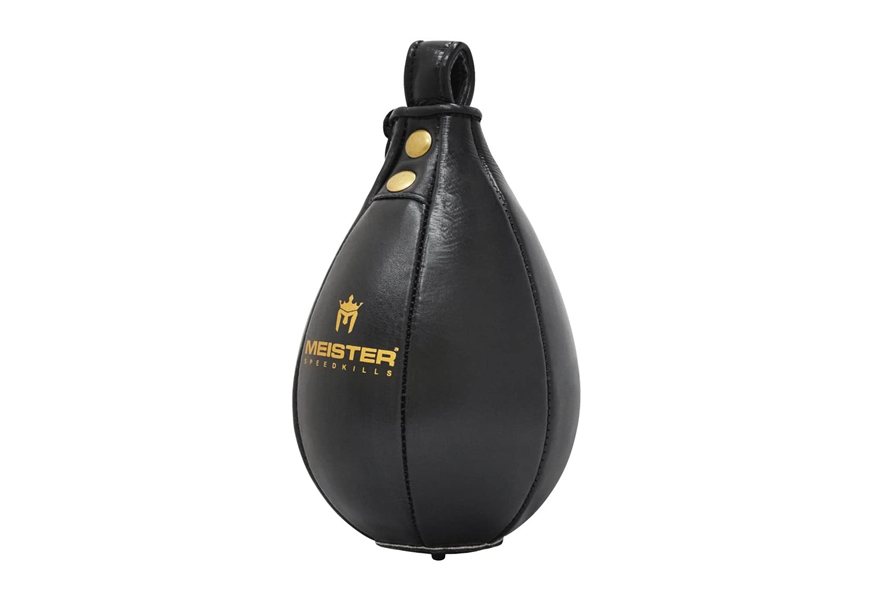 If money IS an object for you, the Meister SpeedKills Leather Speed Bag will deliver speed, durability, and consistency without breaking the bank. Made from special cowhide leather, it's thick, tough, and double-stitched, meaning the outer shell can take everything you dish out and then some. If you manage to pop the interior bladder with a haymaker, Meister sells replacement bladders at ten bucks apiece, so you can swap it out and go back to work.
The sizing options mean they have a bag available for any skill level. It comes in three different sizes – large for beginners, medium for intermediate athletes, and small for pros. And at this price, you can afford to upgrade whenever you're ready. For more quality boxing gear, check out our selection of the best boxing gloves on the market.
Key Features:
Great price
Cowhide leather
Replaceable bladder
Available in three sizes
Ringside Fitness Reflex Bag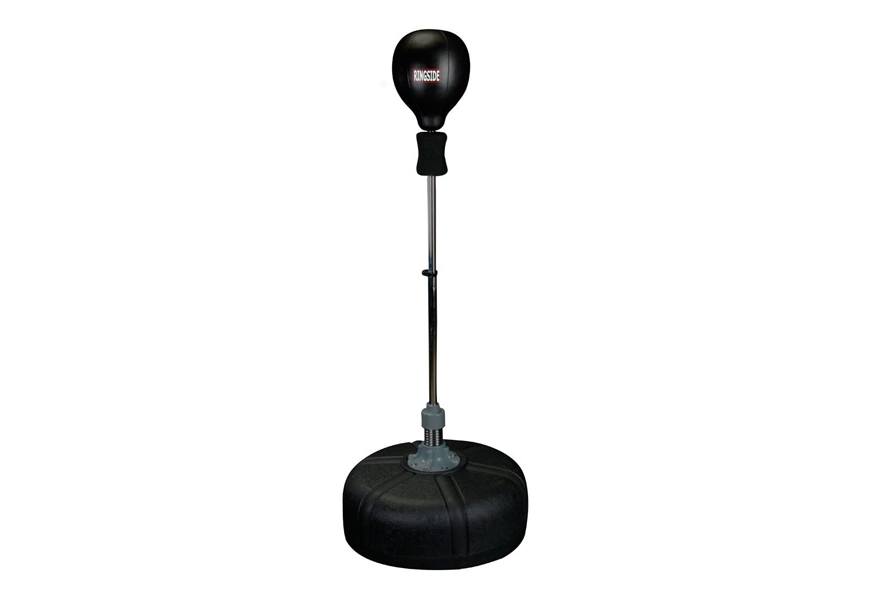 If you want to work on your hand speed but don't want to drill holes in your wall, a reflex bag is a great option. This Ringside Fitness Reflex Bag goes right on your floor, so there's no need to put holes in the wall. The synthetic leather bag is attached via chrome spring to a base tank that can hold 125 lbs. of water or 240 lbs. of sand (so make sure you've got it where you want it before you fill the thing).
You won't get the same kind of speedy rebound as a traditional speed bag, but the spring allows the bag to move freely, requiring you to place your punches with precision. The bag also rebounds back towards you, so you'll have to move more and anticipate the bag's rebound to build up a rhythm.
Key Features:
Floor mount
The base tank can hold water or sand
Adjustable height
Synthetic leather bag
Precision balanced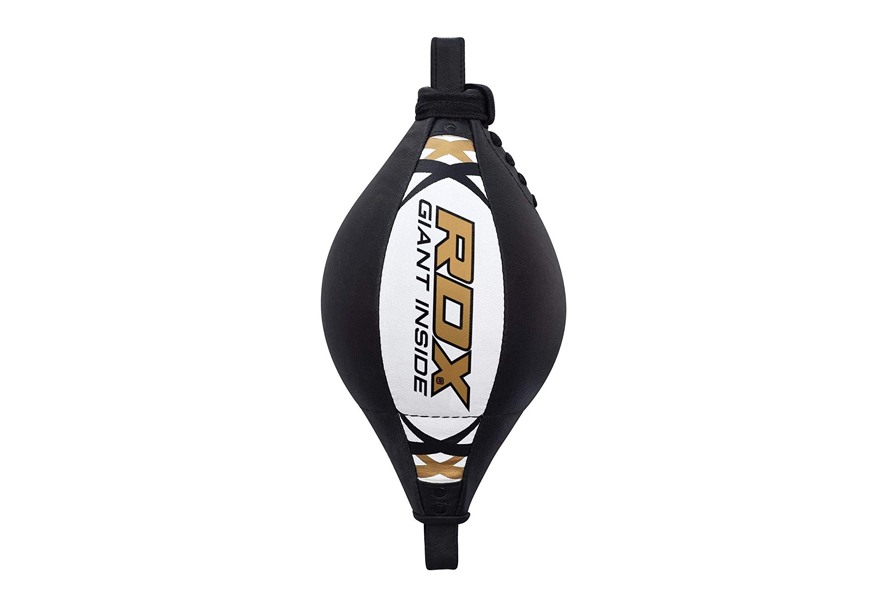 The RDX Double End Speed Bag is great for more intense workouts. Instead of mounting at the top of the bag to a stationary platform, a double end bag is attached to the ceiling, and a weight or bag anchor on the floor via elastic bands. This allows much more bag movement and requires an enormous amount of precision and coordination to use. This is because instead of working on hand speed and timing in one direction like a top-hanging speed bag, a double-end speed bag will bounce and rebound in any direction on the horizontal plane, including right back at you.
This requires a lot of dedication and patience, but it does a great job teaching you to read and react to your opponents' movements very quickly. If you're trying to take your fight game to the next level, this is definitely a must-have, just like a reliable pair of boxing shoes from our list, for top performance.
Key Features:
Floor and ceiling mount
Movement in multiple directions
Works full-body speed and reaction
Steep learning curve
Maya leather bag for durability
How I Tested & Why You Can Trust Us
To give you an in-depth look at each speed bag on this list, I researched the best products online, recalled the speed bags that I've used in the past, and called in equipment to test and evaluate any pieces that were new to us. I rounded out our first-person impressions with user reviews online to gather a comprehensive view. I've been covering sports and gear for over a decade and have been participating in team and individual sports since the '80s. Also, I'm a third-generation boxer and grew up training in my uncle's gym in Virginia. 
Who This Is For
This article is intended for people looking to find the best speed bag for various situations. I found speed bags for various needs and priorities, as well as a few varying mounting options.
How We Picked
I tried to find speed bags that would be useful in all kinds of situations and for a range of priorities, experience levels, and budgets. I looked at the rebound, balance, durability, and mounting style. You can choose a speed bag on this list to either up your fight game, improve your fitness, or just let off steam after a rough day at work. I categorized them according to what priorities readers may be looking for in a speed bag.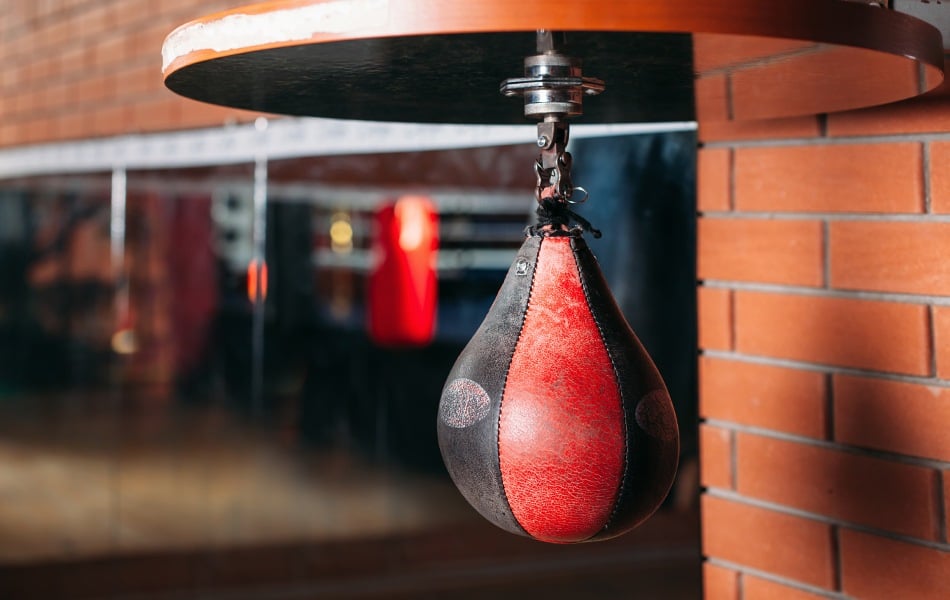 Features to Look for in Speed Bags
Size - Speed bags come in several sizes. They're generally available in small, medium, or large. The size differences are basically difficult settings. Larger bags are larger targets with bigger sweet spots and slower movement, so it's much easier to hit them to produce the perfect rebound. As speed bags get smaller, the smaller the target is, the more difficult it is to get that perfect bounce. If you're just starting, shoot for a larger bag. As you level up in mastery, you can move down to a medium or small speed bag to add difficulty.
Material - One of the most important aspects to consider in a speed bag is its material. Generally, the construction and materials are what give a speed bag its durability. The best material for a speed bag is leather, as the durability and resistance to wear make it ideal for taking repeated poundings day after day. The downside to premium leather is that these bags generally tend to cost more money. If you're new to speed bag work or just dipping a toe in to see if you'd like it, you may want to opt for a speed bag made with synthetic materials, which are much more affordable.
Durability - Speed bags are mostly made from sewn panels for their shape. Since they take a beating, durable outer material like the aforementioned leather is a great option, but the material is only part of what makes it durable. Look for a speed bag with reinforced seams and hanging loops designed to withstand constant pulling as the bag swings back and forth.
Bladder - The air bladder holds the air inside the speed bag, and like the other materials that make up the outer, it needs to be built tough enough to withstand a pounding. Look for a bladder made with durable material to prevent leaks and pops during your workout. Bladders are also replaceable and tend to be inexpensive, so if you do pop one, you shouldn't have to buy a whole new bag.
Stitching - The stitching of a speed bag is what holds the individual outer panels together. Since these panels help form the body of the bag, they must be burly enough to survive the constant beatdowns you give them in your workouts. Look for a bag with double or triple reinforced seams.
Mounts, Platforms, and Swivels - If you want a traditional speed bag, you're also going to have to buy a platform to hang it from and a swivel to attach it to the platform. A quality platform is essential because solid, well-made platforms allow the bag to bounce back and form consistently and precisely. A good speed bag swivel is key since it's what allows a bag to swing freely.
If you don't want to drill into a wall, consider a reflex bag or another floor-mounted bag that doesn't require any installation. You can also invest in a speed bag stand to avoid mounting a platform on the wall.
Weight - Since they need to move quickly, speed bags should be light. Most speed bags on the market will weigh less than a pound. Anything heavier than that will slow the bag down and cause unnecessary fatigue. These workouts will tire you out enough without the added weight.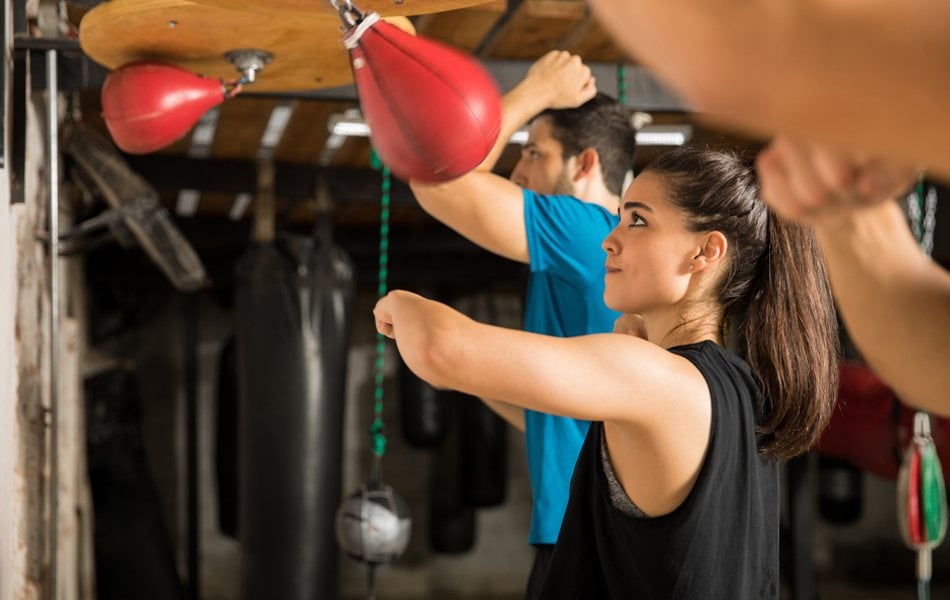 Speed Bag FAQ
Q: What are speed bags?
A: Speed bags are small air-filled bags that are usually anchored to a horizontal platform. When you hit the bag, it rebounds off the platform and returns for another hit. Speed bag workouts are designed to increase hand speed, eye-hand coordination, and increase shoulder endurance for keeping your hands up.
Q: How do I get started with a speed bag?
A: Short answer: slowly. You're not going to come out of the gate and hit that machine-gun rattle, Rocky. Start with slower punches. With your hands up, strike the bag with the bottom of your fist, let it hit the back, then the front of the platform, then let it hit the back again. When it comes back towards you the second time, strike it with the other first. Repeat until you have it down. As you develop your rhythm, hit the bag harder to speed things up.
Q: How do I care for a speed bag?
A: Speed bags are pretty tough, but you can help them last longer by wiping them down after each use, occasionally using a leather conditioner on leather bags, and keeping them out of the sun for long periods of time.
Q: What is inside of a speed bag?
A: There's an air bladder inside each speed bag, and inside that is air. Any other material like water or sand would make it too heavy to get a decent rebound.
Q: Do you need gloves for a speed bag?
A: They are highly recommended, as prolonged use can skin your hands up pretty badly. Speed bag gloves are thinner and lighter than a heavy bag or sparring gloves, with just enough padding and coverage to protect your hands.
Q: How heavy is a speed bag?
A: Every decent speed bag will weigh about half a pound, plus or minus. Any heavier than that will cause undue fatigue and will slow down the rebound.
Q: How much space to you need around a punching bag?
A: For speed bags, you'll need an arm's length of distance all around the speed bag. That should give you plenty of room to swing and move around the bag.
Q: Does hitting a speed bag burn calories?
A: Yes, it does. Hitting a speed bag requires fast, sustained movement, as well as holding your arms up for a prolonged amount of time. It usually only takes a few minutes of constant work to get a sweat going and burn calories. According to industry estimates, you should use around 3 calories per pound of bodyweight per hour of speed bag work.
Q: What muscles does hitting a speed bag work?
A: While punching speed bags does a lot for your hand speed, reflexes, and coordination, it also provides a killer shoulder burn. Steady use of a speed bag requires you to hold your hands up for long stretches of time, which really fatigues the shoulder muscles.
Q: What is the correct height for a speed bag?
A: Speed bags should generally be at or just above face level. I usually mount a speed bag so that the fattest part of the bag (aka the sweet spot) is level with my nose.
Sources:
What Muscles Does an Exercise Punching Bag Work? - AZ Central
How to Hit a Speed Bag - ExpertBoxing
The Skills of the Speed Bag - Mayweather Boxing + Fitness
Sign Up Now
GET THE VERY BEST OF GEARHUNGRY STRAIGHT TO YOUR INBOX