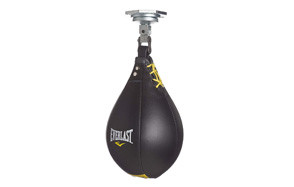 Everlast Speed Bag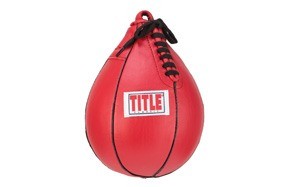 TITLE Classic Speed Bag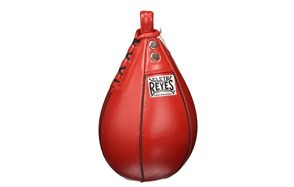 Cleto Reyes Speed Bag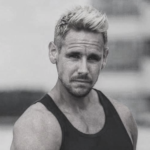 There are few things that are quite synonymous or symbolic to boxing or mixed martial arts than the sight and sound of a speed bag being knocked around during practice. It is one of the most recognizable training gears and even people with no interest in sports will have no problem in correctly identifying which sport the gear belongs to. Speed bags serve as a great training aide for boxers, and when used in the right manner, it can help a boxer improve endurance levels, eye-to-hand coordination and fitness. Below is a list of the best speed bags which guarantee these qualities.
The Best Speed Bag
Speed Bag Buying Guide & FAQ
How We Chose Our Selection Of Speed Bags
Brand - Several known brands of speed bags exist; however, the ones on this list are hugely popular among boxers because they help them improve eye-to-hand coordination, speed, endurance and overall fitness. Also, the brands on this list come in multiple sizes which make them available for boxers of all skill levels. Brands such as TITLE and Everlast are highly recommended because of their durability.
Price - Though they serve the same function, some speed bags are more equal than others in terms of price. Most of the speeds bags listed on this article are readily affordable even to beginner boxers. Brands such as KOUYOU and Balazs are cheap but still high in quality.
Reviews - The speed bags on this list have gotten positive reviews from professional and amateur boxers alike and they were appraised based on their durability, type of material, recoil and rebound.

Features To Look For In Speed Bags
Size - It is very important to consider the size of a speed bag before purchasing it. Speed bags can come in small or big sizes and there is often the small matter of choosing the correct size. Choosing the correct size of speed bag is mostly dependent on the skill level of a boxer. Small bags are faster and harder to hit because of their small surface area which makes it an easy fit for professional boxers who have improved eye-to-hand coordination. On the other hand, large bags are a suitable fit for beginners or amateurs as the bags are slower and have a large surface which makes it an easy target.
Material - The most important aspect to consider when purchasing a speed bag is the type of material used in constructing it. This is because the type of material used in making a speed bag will determine its durability, performance, convenience and price. The best material for any speed bag is leather because it is very durable and does not wear easily. The only disadvantage of leather speed bags is that they are expensive. Another material used in making speed bags are synthetic materials which are quite affordable but do not offer the same level of premium quality of leather speed bags.
Platforms -To get the most out of a speed bag, you need to find a good platform to hang it on. Some brands such as KOUYOU include platforms in the package but in other cases, the platforms have to be purchased separately.
Durability - Speed bags are mostly made from sewn panels which form their shape. Durable speed bags are built with reinforced stitching along the seams which effectively prevents leaks. The inclusion of welts between the leather panels also help to reduce air leaks and deflation
Stitching -  The stitching of a speed bag is very important as it has to be able to withstand continuous and heavy beating. The best speed bags are the ones that have double or triple stitching. Also, the stitching at the loop is very crucial and durable speed bags usually have quality stitching at the loop.
Welting - Quality welting helps to keep the air from leaking out of the bag but welting should be moderate as too much of it will affect the rebound of the bag.

Speed Bag FAQ
Q: What are speed bags?
A: Speed bags are small, air-filled bags that can be anchored to a rebound platform parallel to the ground. They help boxers learn how to keep the hands up, improve agility and eye-to-hand coordination. They are filled with air around a leather material.
Q: How do I get started with a speed bag?
A: Starting slow is highly recommended for beginners as it may take some time before getting a rhythm.
Q: How do I care for a speed bag?
A: To ensure that speed bags made from leather last long, the bag has to be cleaned if it comes in contact with water. Leather conditioners can also be used to maintain its durability.
Q:  What is inside of a speed bag?
A: Speed bags are mostly filled with air. Using water or sand makes it too heavy which will have a negative effect on the rebound.