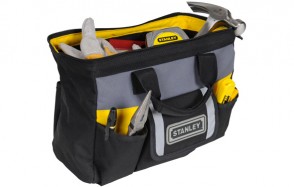 Stanley STST70574 Tool Bag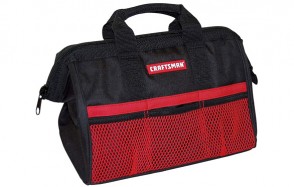 Craftsman 9-73535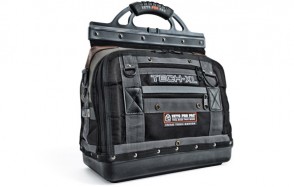 Veto Pro Pac Tech XL
In today's construction industry, manufacturing companies are striving hard to improve the tools that have already been introduced to the market. One great example of this is the chainsaw as this now comes in different types, expanding the tasks it can help you with. Another one is the tool bag, which came from the original concept that toolboxes are made of. One of the most essential things any carpenter or electrician should always have is something that will contain their tools to carry with them when on the job. A tool bag is just like a toolbox as its main purpose is to keep your tools organized and safely stored while you're traveling from one workplace to another; however, it's known to be more convenient and portable to carry around.
Tool bags differ when it comes to shapes, sizes, and types, number of compartments, features, and brand. Some bags are specifically designed to match the kind of work you do, while some are designed to allow you to carry more tools than when you're using a toolbox for a tool carrier. Having known about what a tool bag generally offers, it's pretty obvious that this will be what people would want to have by their side. Of course, with the number of tool companies that manufacture tool bags, the process of choosing which one to purchase may get hard on your side; however, you won't have to worry about it as 10 products have been chosen and reviewed for you to check out.
Tool Bags To Keep Your Tools Secure In 2018
Below are the top 10 tool bag picks that will surely give you an idea as to what companies offer you through this bag. Each product was given an in-depth summarization, covering details about its features.
See More Reviews

The first product in this list comes from DEWALT and the first thing you'll notice in this bag is the number of compartments it has, taking note of the different sizes and placements it comes with. At the back part of the bag, there are four pockets to provide you convenience when reaching for your tools. It also comes with a strap on the area for attaching some things to it. On the side part of the bag, there's a hook and two slots to give you a place where to store tools that you usually use. The other side of the bag has the same small slots, with an addition of a Velcro pouch. The area inside the bag seems to be an open compartment, with 4 open pouches within, so you can easily organize and find your tools inside. All in all, there are about 41 pockets found in this tool bag; Because of these, you can surely store a variety of tools in it.
This tool bag comes with an LED light feature that you can easily use when working on a task or when searching for tools in the bag. The light has 3 levels of light output to match the adjustment you need at work. The unit is also very comfortable to carry around as the handles, shoulder straps and back area are padded. The pad feet on the bag's bottom help eliminate the unwanted and inevitable wear and tear.
Specification:
Brand

Dewalt

Model

DGL573

Weight

4.4 lb
See More Reviews

This next one comes from Carhartt Legacy, which is known for manufacturing large and durable tool bags. This tool bag is made a synthetic fabric that comes with a Rain Defender technology to keep your tools clean and dry within your bag. A total of 23 exterior and 11 interior pockets with different sizes are provided so you can easily reach out and access your tools whenever. The bag also features an internal metal frame that maintains the structure of the bag so you can put and get your tools in and from the bag without it losing its shape.
This model features a triple needle stitch construction for maximum durability. It also comes with rugged haul handles and YKK zippers for optimum performance. The bottom of the bag is abrasion resistant to protect your tools while stored in it. The tool bag has dimensions of 16.4 x 13 x 10.2 inch and is backed with a limited warranty by the company.
Specification:
Brand

Carhartt

Model

8926010702

Weight

3.7 lb
CLC Custom LeatherCraft Tool Bag
See More Reviews

This tool bag model from Custom LeatherCraft is known among professional workers, technicians and DIY enthusiasts for its durability. With a total of 48 pockets, tools like screwdrivers, wrenches, and larger tools can be easily stored and organized in the backpack. Some pockets also come zippered so you won't have to worry about small accessories like screws and nails getting lost. The bag has 2 main compartments that have multiple pockets where you can store your tools with no hassle. There's also a pocket on the top of the bag so you can access important and often used tools conveniently and instantly.
As what have been mentioned, this tool bag has a backpack style to make it easy for you to travel with your tools without having to hold any of it in your hands so you can climb ladders or bring more construction equipments with ease. The bag is also comfortable to carry as it comes with adjustable padded shoulder straps, padded back support and an additional adjustable chest strap, supporting the weight of your tools and protecting your shoulders from strain.
This CLC model also provides protection on your tools as the bag is weatherproof. In addition, the bottom of the bag has feet to keep your tools from getting dirty and wet during multiple surface conditions. This bag, indeed, is one of the best choices for tool carriers.
Specification:
Brand

CLC

Model

1134

Weight

4.4 lb
Stanley STST70574 Tool Bag
See More Reviews

This tool carrier from Stanley is designed for carrying small to medium-sized hand tools and other small accessories. The STST70574 is constructed with a durable fabric so it can withstand the load of your tools. On the bottom of the bag, there's rubber foam that maintains its sturdiness. The foam protects your bag and your tools such that the items in the bag will remain in their places even when accidental and hard drops occur.
Aside from interior pockets, there are also outer mesh pockets where you can store often used small tools and accessories so you can instantly reach them. The bag comes with an adjustable strap to provide you an easy and quick access to your tools. If you have to travel and carry the bag for a long time, this strap is a big help.
The bag is also comfortable to travel with as it comes with ergonomic and padded handles. This supports the weight of the tools inside so you won't feel the pressure, especially when you're carrying the bag in awhile.
Overall, this tool bag is a great choice for carrying small tools; however, you should be aware that it's not made of a waterproof material so you may want to be careful and avoid putting it to wet and moist surfaces.
Specification:
Brand

Stanely

Model

STST70574

Weight

15.2 oz
See More Reviews

The fifth product in the list comes from Craftsman, a tool line that's currently owned by Stanley Black & Decker. The brand is known for having tools, garden equipments and other accessories of high quality and durability. One of their popular products is the Craftsman 9-73535 Soft Tool Bag. The bag features a wide opening design for you to easily store, organize and take out your tools. It has a wide storage capacity and is specifically designed to carry larger tools. The 13 inch tool bag is made of durable 100% polyester material that's perfect for handling heavy tools. In addition to this, the bag's zipper is also heavy duty, which other tool bag models lack. The zipper has bigger teeth than what most tool bags have, saving the bag for a lot longer use. The bag also comes with a reinforced base to support the weight of your tools and provide additional protection for the bag and the tools.
The Craftsman 9-73535 has 3 mesh and 3 exterior pockets where you can put the tools that you mostly use so you can have a quick and easy access to it. Even though there are no interior pockets in the bag, you can save the bigger space for bulky and larger tools.
Specification:
Brand

Craftsman

Model

9-37535

Weight

1 lb
Klein Tools 55421BP-14 Tradesman Pro
See More Reviews

The Klein 55421BP-14 tool bag has a backpack design, providing you to travel with your tools with ease as you have both of your hands free. It's very convenient to use especially when you're required to climb ladders or bring larger tools with you. This high quality tool bag is recommended for technicians, contractors, carpenters and other labourers in the construction industry.
This model comes with about 39 pockets where you can easily organize multiple tools, including cables, electronics, hand tools and other accessories. It also has a front pocket that's moulded where you can put fragile items like safety glasses and such. The backpack features tall interior pockets to allow you to store screwdrivers and other long tools. You can assure full tool support and bag durability with the bag's moulded bottom that protects the tool carrier from dirty and wet surface conditions. The backpack is made of 1680D ballistic nylon fabric that's polyurethane coated for the ultimate durability, lengthening the tool bag's life.
Specification:
Brand

Klein Tools

Model

55421BP-14

Weight

6.05 lb
Milwaukee Heavy Duty Contractor's Bag
See More Reviews

This next product comes from Milwaukee, a brand owned by Techtronic Industries that's known for manufacturing goods in the construction industry like power tools, screwdrivers and other equipments. One of their products is this Contractor's Bag that has a dimension of 11x10x11 inches. The bag is made of a durable 600 denier material that's also water resistant to provide protection to your bag and the tools stored in it. To give you extra support when carrying it, this model comes with 2 heavy duty straps. The bag's zippers are also heavy duty, withstanding the weight of your tools when you're travelling.
Specification:
Brand

Milwaukee

Model

00158000848

Weight

14.1 oz
See More Reviews

WORKPRO® is a brand owned by GreatStar, one of the biggest tool and accessory manufacturer in Asia. Their products include high quality tool carriers, including the W081021A. This bag is made of a 600D polyester material for high durability, allowing you to carry hand tools and other equipments that are small to medium in size. You can easily put in and get tools to and from the bag as its mouth is designed to be wide open so you can reach your tools instantly. The tool carrier also comes with a rubber foam bottom so that the bag maintains its sturdiness, protecting the tools in it during falls.
Specification:
Brand

WORKPRO

Model

W081021A

Weight

1.7 lb
CLC Custom LeatherCraft 1579
See More Reviews

This product comes again from Custom LeatherCraft, featuring multiple pockets: 12 exterior and 15 interior pockets, and 6 web sleeves. This provides you enough storage space for tool organizing. It's designed such that it has an extra large centre while having soft sides. The large open space provides you instant access to your tools as well as visibility to the tool you want to use. The bag also comes with dividers, which you can adjust according to your storage requirements.
This tool carrier is easy and comfortable to travel with as it has a padded shoulder strap and a metal handle that has a moulded foam grip. This is great, especially when you have to carry other equipment with and a metal handle that has a moulded foam grip. This is great, especially when you have to carry other equipment.
Specification:
Brand

CLC

Model

1579

Weight

5.7 lb
See More Reviews

This last product is known for its enormous storage space for your tools. With about 600 pockets, the Veto Pro Pac Tech XL Tool Bag can carry up to 100 tools, making it ideal for professionals that always have a high demand when it comes to tool capacity. The good thing about all of this is that the bag is made of a heavy duty polyvinyl chloride material that has weatherproof technology, scoring high in durability; the weatherproof feature allows excellent tool storage conditions. The tool bag also comes with a shoulder strap so you can carry it around with ease.
This model is backed with a 5 year warranty by the manufacturer.
Specification:
Brand

Veto

Model

Tech XL

Weight

7 lb
Things To Consider When Purchasing Tool Bags
By this point, you're done scrolling through the 10 products that are featured here as the top units that are most likely worth your money; however, the above products don't instantly guarantee your full satisfaction as you have yet to see the things that make the best tool bag. With this being said, here are some tool bag points you should always consider and take note of before placing any purchase.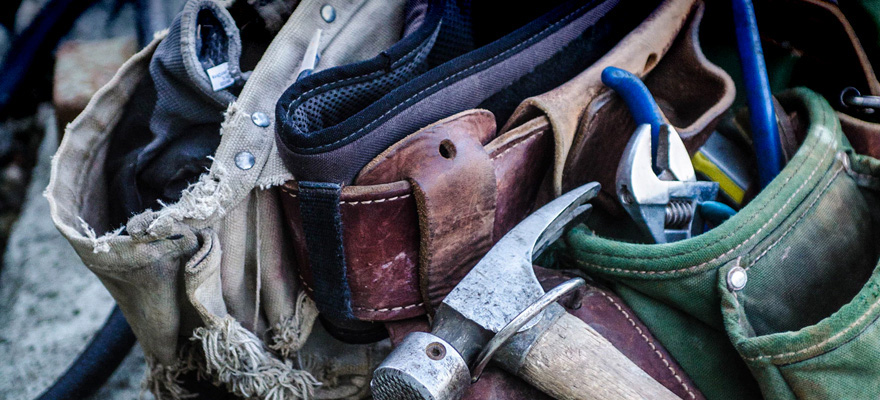 Material - Because there are different types of tool bags that are manufactured by different tool companies, the material utilized in the production of these are also distinct but it's a fact that strong tool bags are constructed of canvas, nylon and poly fabric materials. If you're up for getting the best one, see to it that the bag you're holding is made of quality and durable material so that it can withstand the weight of the tools you'll be carrying. Keep in mind that the stronger the material used for the tool bag, the longer it will last for your benefit.
Zipper - Like the tool bag's main material, the zippers of the bag should also be heavy duty. Remember that once the zippers break, it will be impossible to make use of the bag anymore as you won't be able to close, and the tool might get lost when you bring it with you. The ideal zippers are heavy duty and double-pull.
Pockets and Compartments - Tools come indifferent shapes and sizes and that's what tool bags are specifically designed for. The best tool bag has numerous pockets, interior or exterior, and compartments. Make sure that the outer pockets are placed where you can easily reach it while you're on the go. It's also recommended that these pockets are zippered or that it's deep enough so you don't lose tools, especially small ones like screws. When a tool bag comes with a number of pockets, this automatically means that you can put more tools in it.
Bottom Padding Support - Avoiding the wear and tear is easy when the tool bag comes with padding or feet on the bottom. Make sure that the pad or feet placed on the bottom of the bag are thick as this protects the tools in it from dirty, wet and other surfaces.
Pad Support on Shoulder Strap - While your tool bag can withstand the weight of your tools, your shoulder may get strained when you carry the bag, overall. Because of this, it's necessary that the shoulder strap of your tool bag has pads to support you and the tool's weight.
Wheeled or not? - If you're carrying an average number and size of tools, it's okay if you're using a normal tool bag; however, if you're carrying big tools, it's ideal that you use a tool bag that has wheels on the bottom. Having to carry big tools may strain your shoulders or arms so using such bag is a convenient way to travel with heavy tools.
Maximum Tool Number and Weight Capacity - You should always take consideration on how much tools you usually carry with you in the workplace. See to it that the tool bag you choose has a number of pockets and compartments and is spacious enough for your tools and has a wide range of weight capacity so that it can accommodate and withstand the weight of your tools. The weight capacity of a tool bag is usually given so you better check that out first before placing a purchase.
Bag Types - As what have been mentioned, there are numerous of tool bag types for you to choose from. Design, features and sizes are the things that differ these bags from each other, with these characteristics depending on what type of job you're doing and the tools you're going to use. The most common types of tool bags include backpack, wheeled and duffel bag style. Some are designed to carry heavy duty tools while others are designed for a regular type of jobs. There are a lot of tool bags designed for easy transport and convenient pocket placements. Despite the number of bag types available in the market, it's very important that you match the types of your work to the type of bag you'll want to carry around with you.
Weatherproof and Waterproof Feature - It's pretty hard to cope up with your work when weather and environment conditions are not agreeing with you. Travelling with your tools can be a bit tricky when you can't predict the weather in front of you so it's very important that the tool bag you choose has been tested to withstand different weather conditions. In addition, having a waterproof tool carrier is also recommended to provide more protection for your tools so you can put the tool bag in any surface. With these 2 features, you can be assured that the bag and your tools will last longer.
Ergonomics - Considering that your job is tough enough, with an additional stress of carrying your tools (heavy or not) with you, you should settle for a tool bag that's ergonomically designed. This way, the strain on your shoulder from the weight of your tools will be lessened as the bag will be easy to handle and carry, with the pockets conveniently placed so that the ease of accessing your tools is provided.
Durability - Like any other feature to check out, durability is one of the most important points to look out for before buying. Always keep in mind that the key to making something long last is checking the quality of it. Things that are made of high quality materials are more likely to have a high level of durability as well. If you want to have the best tool bag in your hands, see to it that the bag is made of high quality and durable materials. The zippers and straps should also be heavy duty.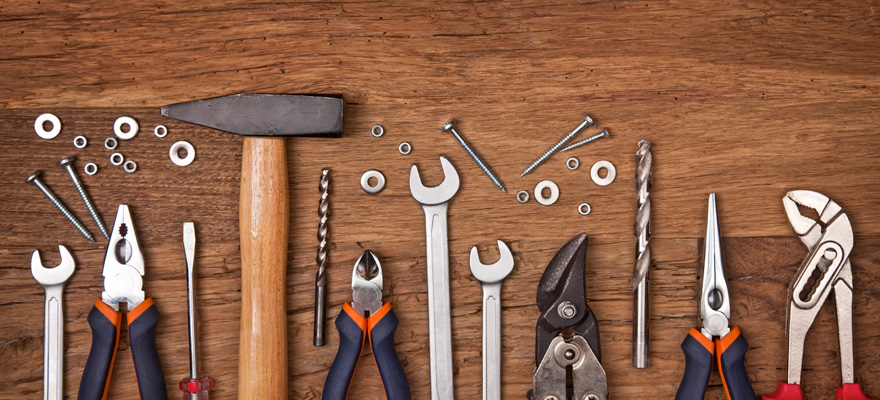 Conclusion
This article provided you an in-depth discussion about one of the most essential things needed in the tool and construction industry: tool bag. We've handpicked 10 products to serve as your basis on what an ideal tool bag is; from what brand it's from and what it features. Each product was thoroughly reviewed and described accurately so that a short summarization is provided for you to check out. To give you additional help for future purchases and product choices making, a buying guide was also given. The section included the points you should look for and take note of when choosing a tool bag to buy. Hopefully, this article has been a great help in providing you detailed information about tool bags.