Tool Time: The Best Tool Bags in 2022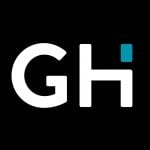 This product guide was written by GearHungry Staff
Last Updated
April 28, 2021
GearHungry Staff
GearHungry Staff posts are a compilation of work by various members of our editorial team. We update old articles regularly to provide you the most current information. You can learn more about our staff
here
.
GearHungry may earn a small commission from affiliate links in this article.
Learn more
The best tool bags deliver on utility first. A great tool bag organizes every tool you need for a job, provides easy access to each one, and handles any job site conditions you subject it to. Any trade worker or home DIYer can benefit from the right tool bag — it's just a question of matching up features and capability with cost and intended use. It's never a decision to take lightly, since using a tool bag that works for you can make jobs run smoothly, but working out of the wrong tool bag is frustrating, difficult, and can even result in lost or damaged tools.
The good news is, I've done it, so you don't have to. During a decade of trade work spanning a wide range of jobs and requirements, I personally experienced many of the highs and lows of the tool bag experience. Using the best tool for the job is the engineer's joy — here's a guide to finding the best tool bag for your job.
The Best Tool Bag Review
Klein Tools Tradesman Pro Tool Bag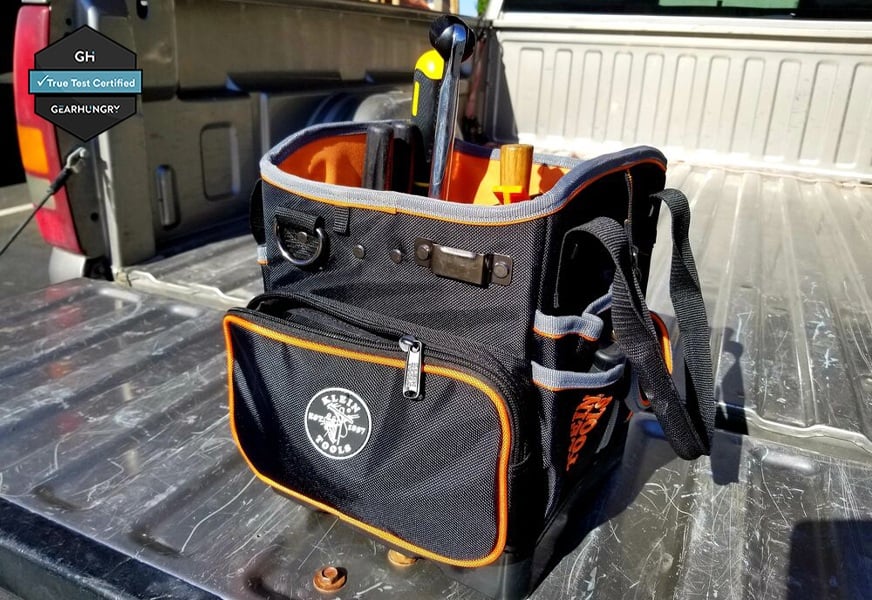 Klein Tools makes a sturdy, space-efficient tool tote that works really well for anyone with many narrow, handled tools. The Tradesman Pro uses 1680 denier nylon for the bag's shell (inside and out). Well-constructed exterior pockets and a rigid body help keep the bag's shape. It's one of the top-rated tool bags on the market and tested well overall, with only a couple of minor deficiencies.
Klein claims the Tradesman Pro has 40 pockets, but I counted 33 (including open interior space). I found the interior pockets very deep — each was deep enough to swallow a standard screwdriver past the end of the handle. But, due to the pockets' tight construction, they still held tools upright even with just the blades inserted. For my personal kit, I would like more short pockets — the bag has four on the inside and one outside.
A 3/4-height divider (with pockets on each side) split the interior space in half. This created two interior wells that were a little too deep and narrow to be effective for me. A compact 12v impact driver, for instance, only fit comfortably with the interior pockets empty. I stuck the charger in the other side, and I was out of room for anything else.
The Tradesman Pro's exterior pockets were higher capacity. They were wider than the interior pockets and generally stood out further from the bag. There was a 5-inch-tall zipper pocket that ran the full width of the bag and a Velcro case-like pocket with stitched elastic inside to hold drill bits and drivers or nail punches.
The bag had a metal clip for a tape measure and a webbing loop for rolls of tape. If you don't like tape measure clips (like me), you'll be forced to put your standard 25-foot tape in the zipper pocket (it didn't fit anywhere else), which goes against the intended catch-all purpose of the pocket.
The bag was reinforced with a hard, weatherproof plastic bottom to protect it from water, oil, grease, or any typical surface hazard. It had long carrying handles and a detachable shoulder strap. During testing, it carried comfortably no matter what.
The Klein Tradesman Pro is one of the best tool bags for electricians (true to the brand's heritage) or anyone with a lot of slim hand tools to organize — mechanics would benefit from the bag's organizing capacity as well. Heavier trades might do best to look elsewhere or plan to carry a separate bag for heavier tools.
Still, the bag's stout construction and durable materials promise long-term utility. Read the in-depth review here.
Key Features:
1680 denier ballistic nylon construction
40 pockets claimed (33 counted during testing)
Exterior zipper pocket
Interior divider with pockets
Specification:
Brand

Klein Tools

Model

5541610-14

Weight

6 pounds

Material

1680d ballistic nylon

Dimensions

10 x 10 x 12 inches

Pockets

33 (23 interior, 10 exterior)

Style

Tote
Solid construction, heavy materials
Good for organizing narrow tools with handles
Too deep and narrow for some tools
Expensive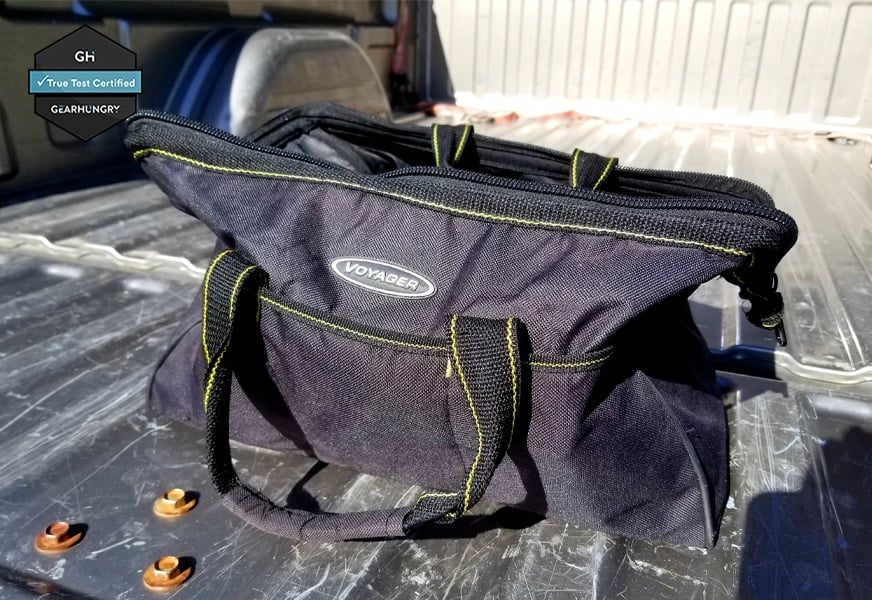 At one time, I was a hardened nail-pounder with top-of-the-line carpentry gear, but those days are long gone. Eventually, I found myself needing a cheap, utilitarian tool bag for the assortment of hand tools I use around the house. Enter the Voyager 15" tool bag at an unbeatably low price. The duffel-style Voyager bag is ultra-simple: eight pockets inside, six outside, a metal-framed opening, and zippered closure. That's it. The bag's polyester is claimed to be "durable." It's finished with unspecified ballistic nylon trim on the opening, outer seams, and handles.
After about a year of pretty minor use, my 15-inch Voyager still does its job. The sewing is solid: not a single stitch has popped. But one of the exterior pockets has a small puncture, and the metal frame is starting to poke through the nylon trim at the bag's opening. The bag's polyester fabric is a single layer, and the plasticized backing is starting to flake off. As a trade-off, it is a lightweight tool bag — light-duty materials mean less weight.
But the bargain bag has proved its utility to me. It has worked best when I haven't overloaded it. It never offered impressive organization for various tools with its soft sides and flat pockets, but I never expected it would. Instead, I've successfully used my voyager bag to hold smaller tool kits, like my drills, drivers and bits, or socket set.
It may not be built to handle rough conditions over the long haul, but if you're in the market for cheap tool bags, the Voyager 15" bag should be on your list.
Key Features:
15" interior space
14 pockets
Metal-reinforced opening
Polyester shell
Specification:
Brand

VOYAGER

Weight

1.29 pounds

Material

Polyester

Dimensions

15 x 10 x 9 inches

Pockets

14 (8 interior, 6 exterior)

Style

Zippered, metal frame
Basic design
Decent capacity
Cheap
Materials are less durable than other bags
Pockets are difficult to use
Hard to organize bigger tool kits
Carhartt 16" Legacy Tool Bag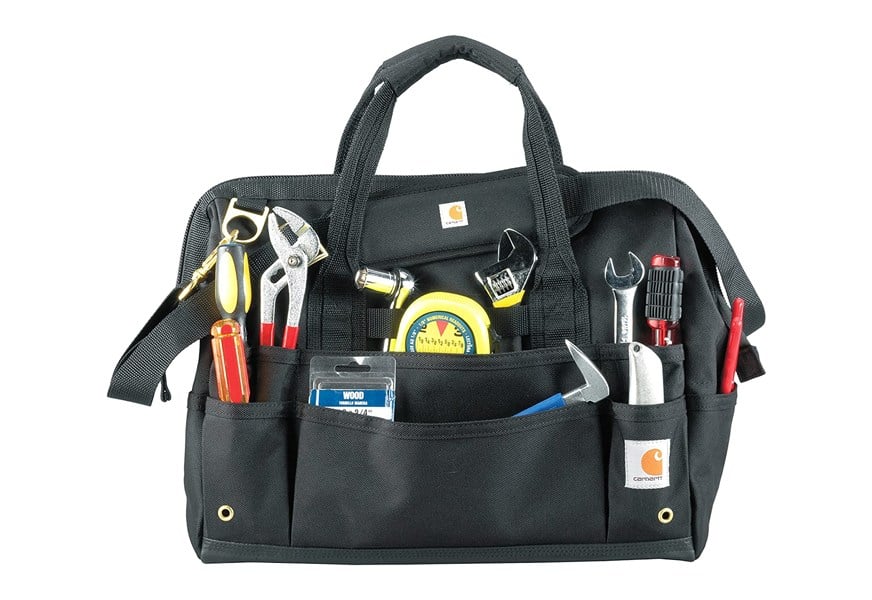 Carhartt's 16" Legacy tool bag features an assortment of pockets for a wide variety of tools and a zippered top. The bag's exterior pockets are arranged in a different pattern on each side, which may seem inconsequential but should help users stay organized. Carhartt builds the bag with capable 1200 denier heavy-duty polyester (a step down in durability from 1680d) coated with Rain Defender. It transparently advises that Rain Defender coating will protect tools from "light rain." The Legacy has an added layer of material on the base for abrasion resistance. An interior metal frame in its main compartment keeps the bag upright and semi-rigid.
With 23 outer pockets and 11 inner pockets, there's plenty of potential to organize a basic home tool kit. Since the bag's pockets are arranged uniquely on each side, it should be easy to avoid confusion and find the right tool at a glance. The 16-inch interior space isn't huge, but it would be substantial enough to store a small drill kit, plus a few bigger tools like hammers, pipe wrenches, or caulking guns.
The Carhartt Legacy tool bag comes in two colors and two sizes (16 or 14 inches). Anyone interested in a small tool bag should look into the 14-inch size.
With its metal frame and varied pockets, it looks like a well-made bag for the home user at MSRP $70 ($60 online price as of writing).
Because it's a rugged Carhartt product in a moderate size, it looks like one of the best portable tool bags in our lineup.
Key Features:
16" single interior space
34 pockets
Rain Defender water resistance
Reinforced base
Specification:
Brand

Carhartt

Model

8926010701

Weight

1.32 pounds

Material

1200 denier polyester, Duramax base

Dimensions

16 x 13 x 11 inches

Pockets

34 (11 interior, 23 exterior)

Style

Zippered, metal frame
Unique pocket arrangements for easy organization
Available in two sizes
Durable, water-resistant shell
No larger option
interior pockets could be unsubstantial
DEWALT DGL573 Lighted Tool Bag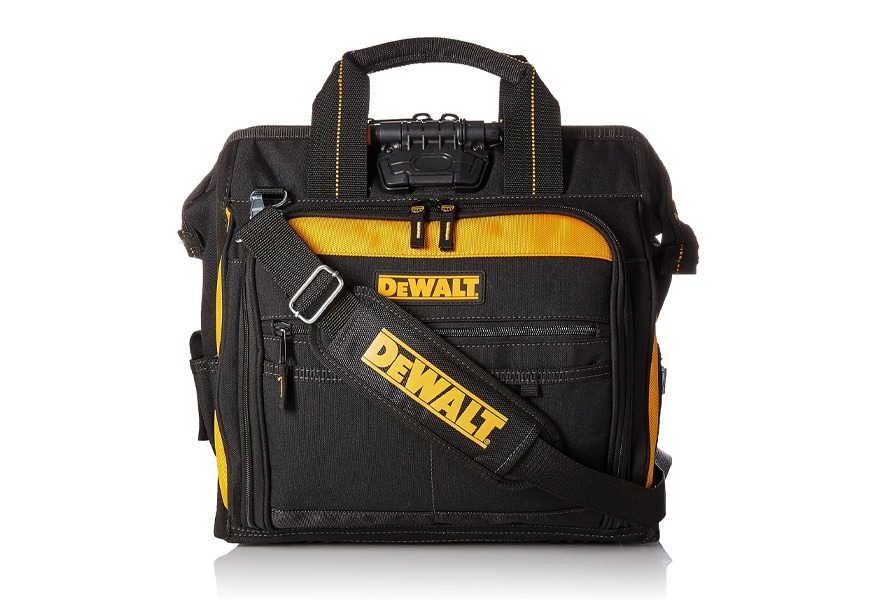 DEWALT's DGL573 Lighted tool bag is a powerhouse (har har) for anyone with a multitude of small tools that need to stay organized. The bag's narrow width makes it ideal for working in tight spaces, and a unique light feature helps users find tools in low-lit conditions.
When I look at the DGL573, I think of working in a cramped, possibly unlit room where space management and precision tools are key. The bag is 15 inches long and 15 inches tall but only 8 inches deep, so you should be able to fit a lot into it but still find a handy, out-of-the-way spot for it. The LED light on the front seems more of a gimmick than anything, but why not have it? On any job site, you never fully know what's going to come in handy.
But the DGL573's real utility is its pockets. There are four on the back, several on the sides, and a tape measure clip, but the front zipper pocket is the showcase. Unzip the panel and find 20 vertical pockets of various sizes inside, suitable for organizing all shapes and sizes of tools.
I should qualify that statement — the DEWALT DGL573 is well-suited as an organizer for compact hand tools, but its interior space can register as very deep and very narrow. One Amazon reviewer vividly likens searching for tools inside the bag to digging around in a garbage disposal. (Why isn't that guy writing this review? I don't know, but rest assured, I'm trying to find his information so I can interview him for the next article). 
Information on DEWALT's material choices for the DGL573 is marginal, but the interior is lined with woven material (not plastic), and many reviewers are satisfied with durability. It has four rubber feet to keep it planted and help protect the corners. Reviews do mention shoulder strap and zipper issues with relative frequency.
But the DEWALT DGL573 looks like a solid bag with relatively high capacity that can also be easily stored or pushed out of the way. Its multiple pockets in various sizes, combined with its narrow profile, should make it a hit with anyone who works in tight spaces with lots of specific tools.
Key Features:
Front zipper pocket with extensive organizer
Deep but narrow
Mounted LED light
Specification:
Brand

Custom Leathercraft

Model

DGL573

Weight

1 pound

Material

Nylon/Polyester (Unspecified)

Dimensions

15 x 15 x 8 inches

Pockets

41 (28 interior, 13 exterior)

Style

Zippered, metal frame
Useful for vertical organization of hand tools
Fits in tight spaces
Interior space can be hard to use; deep but narrow
Some reported issues with zippers and shoulder strap
Makita 831303-9 20" Contractor Tool Bag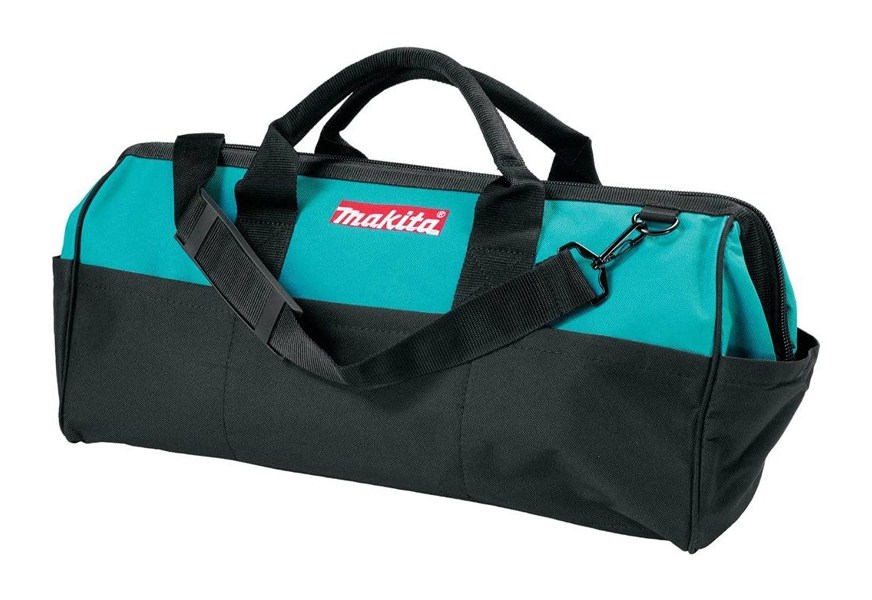 Makita's 20" tool bag is a simple, duffel-style bag with a long, narrow profile. The tool bag with shoulder strap carries easily no matter what's in it and has eight basic exterior pockets. If it were my bag, I would use it to tote power tools, cords, batteries, and chargers.
Material choices are unspecified. Makita says that the bag is "constructed with industrial fabric" and notes the reinforced handles. Simplicity is a consistent theme with the tool bag. It has eight exterior pockets but none on the interior. The opening has an internal metal frame to hold rigidity.
Users report a soft base, which doesn't cushion tools from drops. And like many less expensive zippered bags, the metal frame can punch through its lining after repeated use.
But the Makita bag has plenty of interior space to keep big tools together with cords and chargers. Circular saws, Sawzalls, or 20v drills would be good candidates. If you're going to put hand tools into it, it's essentially the same thing as putting them in a grocery bag: there is no structure or organization element, so you'll end up with a jumble. 
With Makita's signature turquoise color, you'll never have trouble locating it or picking it out of a lineup. All things considered, it's a good option for power tools, or maybe to keep under the backseat of the truck.
Key Features:
20" interior space
Metal framed opening
8 exterior pockets
Specification:
Brand

Makita

Model

831303-9

Weight

2.1 pounds

Material

Unspecified

Dimensions

20 x 9x 10 inches

Pockets

8 exterior

Style

Zippered, metal frame
Simple design
Distinctive color
Big interior compartment
Unprotected base
Lacks capacity for organization
Husky 18" Large Mouth Tool Bag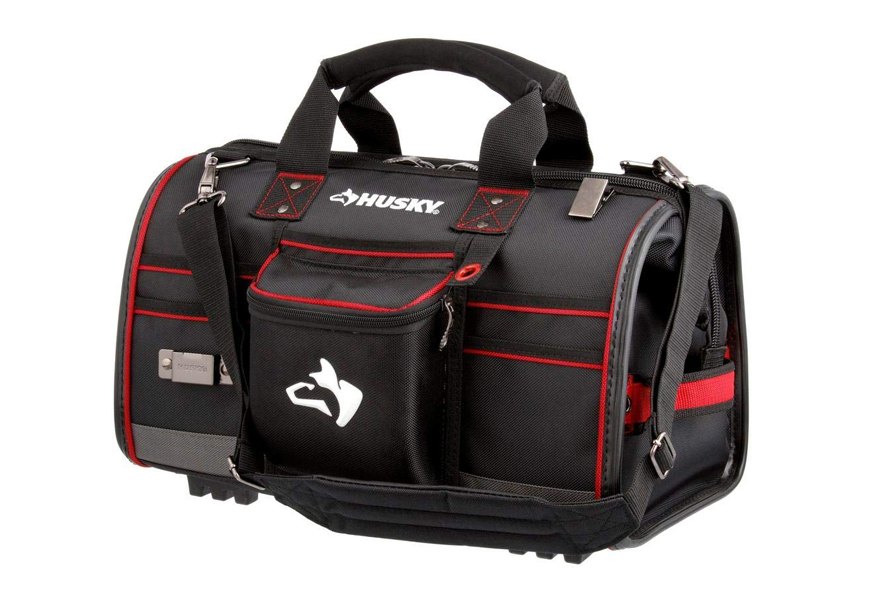 Husky makes the de facto tool bag of the trade. The Home Depot proprietary brand combines field-proven construction with a broad stable of designs to produce success in various trades. Husky's 18" Large Mouth tool bag earns our lineup's Best All-Around spot, delivering a ton of durability and innovation.
The bag has a high capacity for large and small tools at 18 inches long, 10 inches high, and 12 inches wide. The bag's center divider, or "tool wall," is removable, a differentiated and useful innovation. I used an earlier iteration of this Husky bag for about half a decade of cabinetwork. I can say I would have been thoroughly stoked on the ability to reconfigure the interior space.
Built with 1680 denier ballistic nylon inside and out, the Husky Large Mouth sheds water and resists abrasion. A total of 41 interior and exterior pockets (including the tool wall) keep tools organized. Rigid walls keep stored tools and pockets from collapsing inward. A hard-shell front zipper pocket helps protect more delicate items, like line levels or safety glasses. Rubber feet keep it planted on any surface.
Like the constructed zipper pocket and removable tool wall, Husky's masterstrokes are unmatched in the industry, and its bags reliably display durability and versatile performance.
Expect the 18" Husky Large Mouth tool bag to perform for years. I only parted ways with mine when it got stolen out of my truck, and I would trade in every bag I've had since to get it back.
Key Features:
1680 denier ballistic nylon inside and out
Rigid walls
Removable interior divider with pockets
Hardshell exterior zipper pocket
Specification:
Brand

Husky

Model

67127-02

Weight

7.16 pounds

Material

1680 denier ballistic nylon

Dimensions

18 x 10 x 12 inches

Pockets

41 (25 interior, 16 exterior)

Style

Zippered, rigid wall
Reputation for durability
Configurable interior space
High capacity
Husky 19" Pro Hybrid Tool Tote with Tool Organizer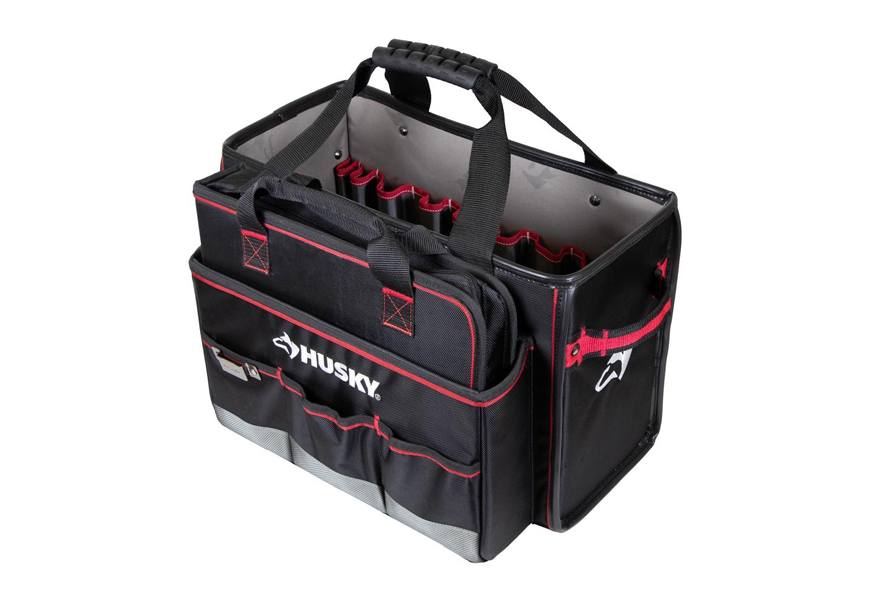 Husky's 19" Pro Tool Tote is the top choice for anyone with many tools at every size range. Its open-top design means storing and retrieving tools is always easy, and overfilling it is no problem. But it's not just a bucket: interior and exterior pockets in various shapes and sizes help organize hand tools, and a removable folding tool organizer stows sets of hand tools neatly and efficiently.
First of all, the bag is huge. At 18.7 inches long, 11.5 inches tall, and 14 inches wide, it's by far the biggest bag in our lineup and features the most open interior space with the easiest access to tools. If you come to the job site every morning with hand tools, power tools, measuring tools, and everything in between, chances are you can fit it all in the Husky Pro Tool Tote. (A little guy like me might not want to — a full contractor's tool kit can get pretty heavy!) Rubber reinforced handles help carry the load.
The bag has 28 total pockets, including 11 in the removable, binder-style tool organizer. The organizer is an interesting category innovation unique to the Husky Pro Tote. It looks ideal for organizing screwdriver, plier, or wrench sets with sewn pockets backed up by MOLLE-style elastic webbing.
Rubber feet keep the bottom safe and stable, and 1680 denier ballistic nylon fabric resists abrasion all around. The 19" Husky Pro Tool Tote is a tank built to carry the heaviest tool kits and survive through anything. Solid materials, a great brand pedigree, and innovative features make it the best tool tote on the market.
Key Features:
High-capacity open-top design
Removable zippered tool organizer with 11 pockets
1680 denier ballistic nylon construction
Specification:
Brand

Husky

Model

67132-02

Material

1680 denier ballistic nylon

Dimensions

18.7 x 11.5 x 14 inches

Pockets

28 (14 interior, 3 exterior, 11 in removable organizer)

Style

Tote
Carries tools in a wide range of sizes
Removable organizer helps keep kits of wrenches, screwdrivers, etc.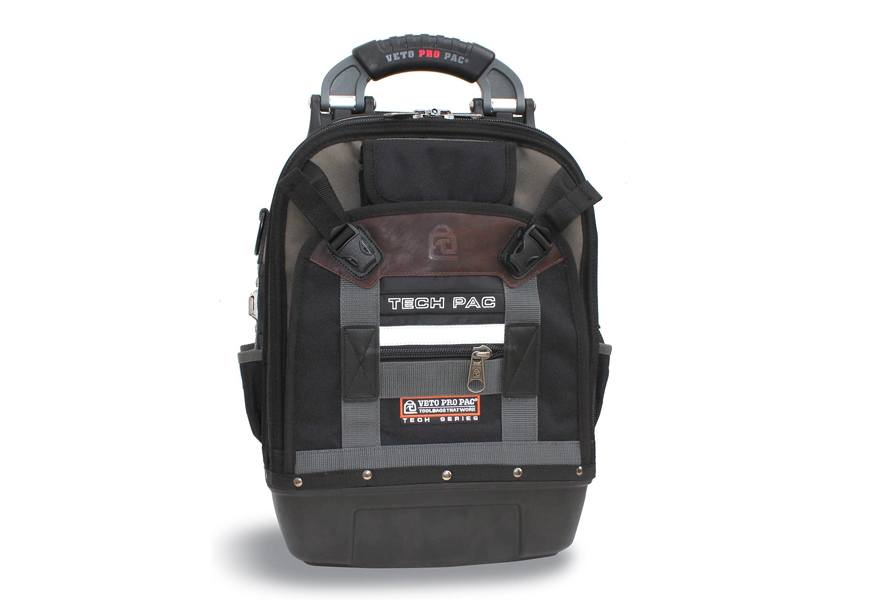 Veto Pro Pac designs the Tech Pac with workers who walk or climb a lot. It's advantageous in cities or industrial buildings, where long-distance walking is a necessity. The pack has some construction features unique to Veto Pro Pac, like its injection-molded base and patented center panel. 
It comes equipped with 46 pockets and zippers for hand tools (Veto Pro Pac mentions technician-specific items like meters and manifold gauges), but from there, the bag diverges sharply from the rest of the pack. The patented center panel design is imbued with more technical genius than I can grasp but manages to use a platform system to stabilize the pack's weight. This helps keep the pack from falling over, which is a prevalent complaint with most tool backpacks.
A quick-release handle allows easy access to the main tool bay and (somehow) reduces strain on the shoulder straps — which is another genius idea. Veto Pro Pac adds multiple adjustment points on the straps and an EVA back panel for user comfort. Balancing weight and applying key user comfort features in the right places can go a long way toward producing a lightweight tool bag feel, no matter the load.
The pack has five D-ring attachment points, weatherproof construction anchored by the injection-molded base, and even a pocket for a small laptop or tablet.
Veto Pro Pac displays a real passion for delivering a solid tool backpack. Most tool backpacks are just backpacks marketed as tool bags; the Tech Pac is anything but. In fact, company founder Roger Brouard developed the Tech Pac by spending weeks on job sites with actual technicians. If you have a job that requires a lot of walking or climbing, the Veto Pro Pac Tech Pac is the way to go. But I hope it pays well: this bag isn't cheap.
Key Features:
Designed for comfort during long walks and climbs
Filled with Veto Pro Pac proprietary tech
Highly weather-resistant
Built to stay upright when open
Specification:
Brand

Veto

Model

TECH PAC

Weight

9 pounds

Material

950 and 1250 PVC Impregnated Denier Nylon fabric/Molded Polypropylene base

Dimensions

13 x 18.75 inches

Pockets

46

Style

Backpack
Specifically curated construction
Features geared to overcome specific job site challenges
Engineered for comfort
Milwaukee 13" Carpenter's Pouch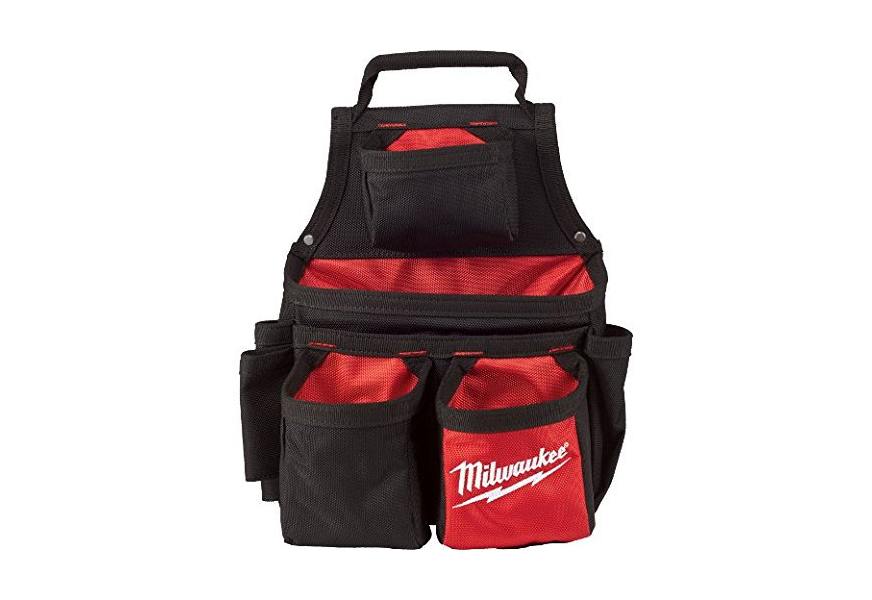 Any tool pouch you wear on a belt needs to be functional, durable, and comfortable. Milwaukee designs a carpenter's tool pouch with 1680 denier ballistic nylon, a tunnel-style belt loop, and a carry handle to get the job done.
Everybody who's worn tool bags knows the amazing feeling of taking them off at the end of the day. Milwaukee delivers with a tunnel-style belt loop that accommodates belts up to 3 inches wide. (As a side note, never buy a tool pouch that clips on with a hook or a magnet. One way or another, the hook will find its way into your hip. The magnetic bag will inevitably snag on something).
The Milwaukee pouch maximizes durability with heavy-duty nylon construction and riveted seams. Various pockets and loops hold all kinds of tools, but let's be honest: you only need a place for your tape, your knife, your square, your pencil, and some extra racks of nails. Milwaukee's got it covered with 17 total pockets.
The carrying handle is an under-appreciated part of a solid tool pouch: when you're not wearing your bags, it's way better to carry them with handles than to pick them up by the belt. That way, the bags don't slide around, and everything in them stays put.
For durability, comfort, and utility, Milwaukee's 13" carpenter's tool pouch is top-notch and affordable.
Key Features:
1680 denier nylon construction
Tunnel style belt loop fits belts up to 3"
17 pockets
Specification:
Brand

Milwaukee

Model

48-22-8121

Material

1680 denier ballistic nylon

Dimensions

3 x 11 inches

Pockets

17

Style

Pouch
Lightweight, durable alternative to leather
Carrying handles help transport bags when not worn
Klein 19" Tool Bucket Bag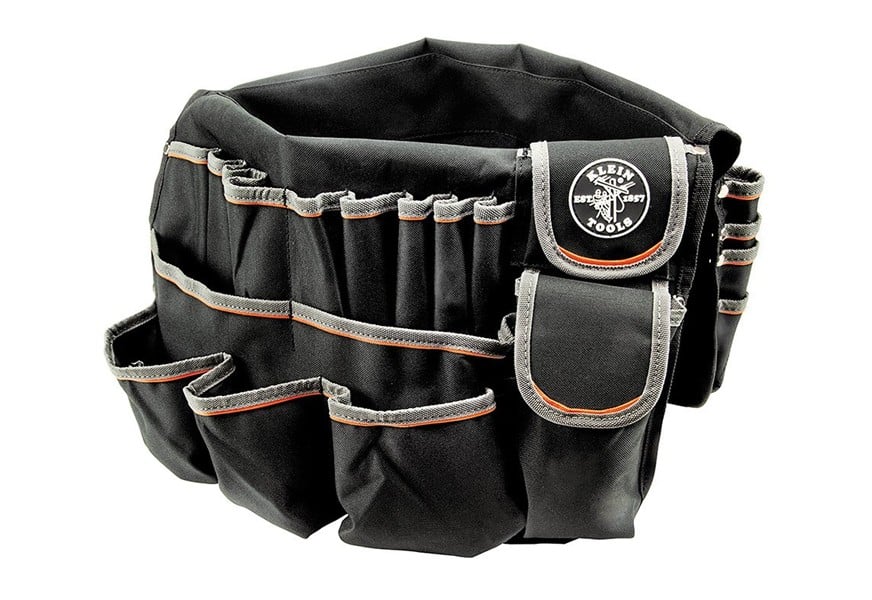 The concept of a bucket-style tool bag is simple: take any 5-gallon bucket and turn it into a tool bag. Klein exemplifies the form with its 19" Tool Bucket Bag. The double-layer polyester sleeve attaches to any standard 5-gallon bucket, adding 45 pockets for a huge amount of tools. Interior pockets feature a sleeve big enough to hold a power tool and cord. 35 exterior pockets organize hand tools by type. Two Velcro pockets secure odds and ends, and a chain thong holds tape rolls.
Klein's 19" Tool Bucket Bag is a simple but complete rig designed for use with any 5-gallon bucket. When bucket bags get overfilled, they can be uncomfortable to carry (think of carrying a bucket full of sand by its narrow wire handle). But for under fifty bucks, it offers an affordable solution to organize a big tool kit. 
Key Features:
Compatible with any standard 5-gallon bucket
Double layer polyester construction
45 total pockets
Specification:
Brand

Klein Tools

Model

55448

Material

Double layer polyester

Dimensions

19 inches

Pockets

45

Style

Bucket Tool Bag
Affordable
Offers easy organization with many pockets
Bucket bags can be uncomfortable to carry
Why Trust This Guide
I may have traded in the hammer and the drill for the keyboard and Wi-Fi connection, but for a decade I did what the initiated call "working for a living."
I framed houses in the Texas heat, built and installed cabinets, cleaned windows and everything in between.
Each trade requires a specific tool bag, and anyone who does it every day knows their tool bag is critical to their job performance and enjoyment.
Who This Guide is For
Hopefully, anyone who needs a tool bag can find one here, from at-home DIYers to seasoned pros. Bonus points if you're evaluating the pros and cons of different tool bags — advantages and disadvantages of open and closed styles, size requirements, how many pockets you need and why etc. If you're here to nerd out on tool bags, I'm with ya all the way.
How We Chose
A quality tool bag starts with using the right materials. Any tool bag is only as good as it is durable; once it flops over or falls apart, it doesn't matter how good it used to be. Although tool bags can look similar, key construction features and material choices can differentiate between a good entry and an early candidate for the trash can.
How We Tested
I have the remnants of tool kits from a lot of different trades and one-off jobs from a decade of getting my hands dirty on the job site every day.
With my diverse kit, I can test a tool bag pretty extensively. Field experience helps me recognize pretenders, and a real passion for a solid tool bag makes me intently analyze utility, advantages, and disadvantages.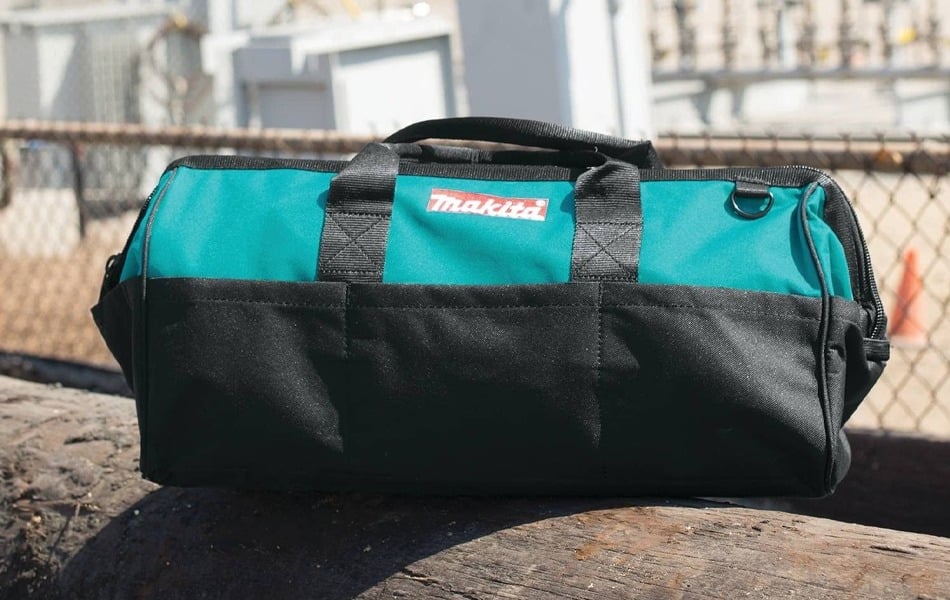 Features to Look for in Tool Bags
Material — 1680 denier nylon is becoming an industry standard for tool bags with its high abrasion resistance and its ability to withstand extreme conditions. Leather tool bags are an old-school alternative, durable but heavy and vulnerable to weather conditions. Canvas tool bags are a classic, inexpensive choice.
Zippers — Many tool bags have zippers; the question is usually, do they do anything? Sometimes they break or freeze, which can be a killer for a backpack-style bag. Many people I've worked with, including me, end up ignoring them if at all possible.
Pockets and Compartments — The meat and potatoes of a tool bag. Construction, material choices, size, and shape are all critical to the performance of tool bag pockets and compartments.
Padded Support — Padding and support can matter for backpack-style bags or any bag you're going to carry a long way.
Weatherproof/Waterproof — If you work in conditions where you're often exposed to weather or water, pay attention to your bag's weatherproof qualities. Note that tool bags are often reinforced from the bottom to keep water out.
Durability — A tool bag can only be good if it still holds your tools. Ballistic nylon, reinforced seams and corners, and heavy-duty construction like riveted handles can increase a bag's durability.
Framed Opening — Many tool bags have embedded hard plastic or metal elements to maintain rigidity. Even zippered bags can have framed openings, and it's a feature that I highly recommend.
Size — Take a look at your tool kit. The biggest tool bags we list are 20 to 22 inches long and around a foot deep and wide.
Carrying Options — Usually, tool bags are carried with soft nylon handles or shoulder straps. Totes can have tubular metal handles. Tool backpacks and tool belts are the alternatives.
Rugged Construction — Where is the tool bag reinforced? Does it have extra layers of material on its corners or bottom? On its seams? What materials are used? These are all questions to take into account when evaluating a tool bag for ruggedness.
Design — Tool bags take many shapes, between totes, zippered styles, rolling bags, backpacks, belts, etc.
Price — Our guide's low point is $15. High? $290. There are many in-betweens, but if you spend $50 you should be in business for a good general-purpose tool bag.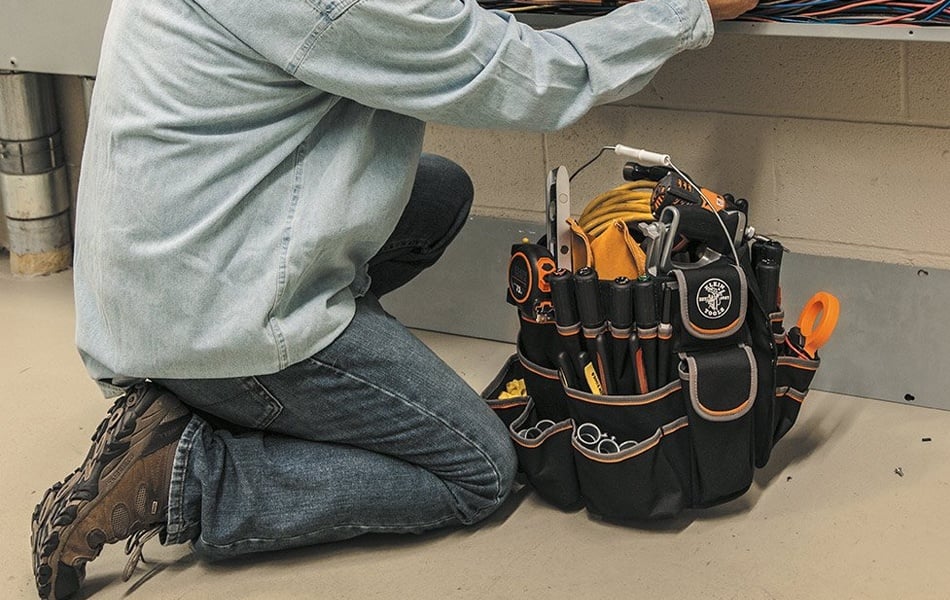 Types of Tool Bags
Standard Bag — To me, a standard tool bag sits flat on the floor, opens at the top, and holds your tools. It features some abrasion-resistant materials and construction.
Backpack Style — Tool backpacks are good for workers who are constantly on the go (or, perhaps more specifically, people who walk or ride public transportation to work). The advantage of a backpack is, of course, that it frees your hands up for carrying other stuff. However, many tool backpacks don't offer sturdy construction or easy access to standard tool bags.
Bucket Bag — Bucket tool bags are attachments designed for use with 5-gallon buckets. The point is to turn the bucket's sides into a tool organizer so that you can use the bucket itself for bigger items.
Tool Bag FAQ
Q: Why do you need a tool bag?
A: How else are you going to carry and organize your tools? Toolboxes are stationery items or designed for short trips around a shop or garage. If you're transporting your tools, a tool bag is the way to go.
To be blunt, repurposing any other bag as a tool bag sucks. They always fold or fall apart; a good tool bag becomes a dependable but portable tool cabinet, where you always know where to find everything.
Q: What should you have in a tool bag?
A: Whatever you want. Following lists can limit effectiveness by strangling creativity. Of course, specific trades come with specific tool kits, but every trade worker knows that making the work one's own means improvising.
I think of a tool bag as having a specific purpose: DIY, vehicle, drill kit, backyard, electrical, etc.
Q: How do you clean a tool bag?
A: This one is easy. 1: get yourself a big flat surface that you can easily vacuum. 2: turn your tool bag upside down onto it. That's it! Then you can vacuum the bag itself and reorganize it.
Personally, I seldom cleaned mine because odds and ends floating around in the bottom often came in handy in situations I could never have anticipated.
Q: How do you organize tools in your tool bag?
A: This is a personal preference question. My main principle is to choose a specific pocket for each tool and always put only that tool in that pocket. That way, the pockets reshape around the tools over time, so the tools go in and come out effortlessly. After that: tool handles up when at all possible, tape measure easily accessible, and plenty of random odds and ends scattered around the never-never-land at the bottom for impossible situations.
Q: What is the best tool bag for plumbers?
A: If I were a plumber — I deeply admire the trade, admit that I could never do it, and have extremely little natural ability for it — I would want a big bag that could handle getting wet and dirty.
For those reasons, I'd choose a bag with a lot of interior space to hold big tools and parts like elbow joints, cans of pipe sealant, etc., plus plenty of pockets and a removable tool organizer for hand tools. I would also recommend materials that are easily cleaned and dry quickly, like 1680 denier nylon. If it gets wet or dirty, take it outside, dump it out and hose it off.
Q: What is the best tool bag for electricians?
A: I've never been an electrician, but experience and sources tell me that an electrician should look for a tool bag that's got 1) a ton of pockets for screwdrivers, pliers, voltage testers, wire strippers, 2) a Velcro pocket with elastic loops for drill bits and drivers, 3) a tape loop, and 4) a zipper pocket for loose odds and ends.
Sources:
Nylon (Chemistry, Properties and Uses) - ResearchGate
Klein Tools Expands Tradesman Pro Bags Product Line - Concrete Construction
Sign Up Now
GET THE VERY BEST OF GEARHUNGRY STRAIGHT TO YOUR INBOX