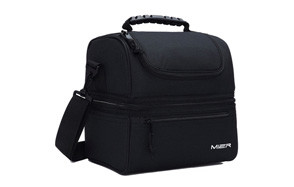 MIER Adult Men's Insulated Lunch Box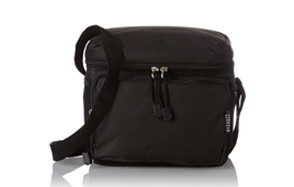 Everest Cooler Lunch Bag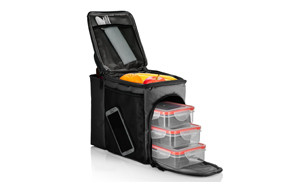 HemingWeigh Insulated Lunch Box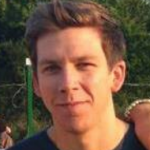 The first lunch boxes for work can be traced back to the end of the 19th century. At that time cities were booming and the men employed to construct the buildings, dig the subway tunnels and lay down the roadways got in the habit of bringing their lunch to work in metal pail. It was a crude way of transporting food and it placed you squarely in the ranks of the working class, as it meant you couldn't afford to buy a hot, freshly cooked meal for lunch. In the 20th century, several different companies began mass-producing specially designed metal lunch boxes for kids and adults. By the mid-80s metal was phased out in favor of plastic and that decade also saw the rise of the insulated lunchbox. Take a look at our list of the 10 best lunch boxes for men below.
The Best Lunch Box
Lunch Box Buyers Guide
Q: How Do Insulated Lunch Boxes For Adults Work?
A: In the days of yore men's lunch boxes were just metal shells that provided zero insulation. Today's lunch boxes utilize either Styrofoam or one of several types of foam insulation to retain heat (hand warmers) or keep your cold items cold. Many types of insulated adult lunch box have foil-lined interiors that buttress the boxes' ability to keep things either warm or cold. In addition some break up the internal space into separate compartments that are individually insulated so that you have the option of taking both warm and cold items. The foam insulation used by many of the boxes reviewed above makes for flexible, lightweight lunch boxes that are easy to carry around and absorb bumps better than rigid boxes.

Q: How To Keep Lunch Warm In A Lunch Box?
A: While the insulation of the lunch box itself will typically do a good job keeping your food warm for prolonged periods of time there are other things you can do to help. Choosing the right type of food is the first thing because some foods retain heat naturally better than others. Fried rice, casseroles, lasagna and some other pasta dishes are all structurally dense foods that retain their heat well. By contrast, if you hope to keep a grilled cheese sandwich warm for several hours you're going to have a tougher time. Same with a pork chop. Soup will retain its heat well but you should carry that in a Thermos.
Once you've selected the right kind of hot dish heat it up and place it in an insulated hard plastic container with a snap-on lid. If you want to go the extra mile you can wrap that container in aluminum foil and then wrap the whole thing in a small towel before placing it in the insulated lunch box. In a nutshell every layer of insulation you add will help retain more heat. If you are packing both hot and cold items this extra insulation is particularly important in preventing hot items from affecting cold ones and vice versa.
Conclusion
The best lunch boxes for men typically have lots of internal space, high-quality lightweight insulation, plenty of pockets for secondary stuff and are built to last with comfortable handles and shoulder straps. Any one of the lunch bags for guys reviewed above will fit that description so which one is right for you will depend on things like size, looks and price.
We hope you found the information in this lunch kit review guide helpful and don't forget to stop back often for more informative product reviews from the team at Gear Hungry.