Click Clique: Best Vertical Mouses (Or Is It Mice?) of 2022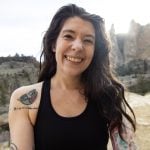 This product guide was written by Tuesday Kirby Kahl
Last Updated
June 18, 2021
Tuesday Kirby Kahl
Tuesday Kirby Kahl is a contributor at Gear Hungry. Her fierce love for the outdoors fuels everything she does. Her professional pursuits include writing, creating art, and photography. These professional passions allow her the time to live life outside as a rock climber, skier, runner, backpacker, paddle boarder, swimmer, and explorer. When Kirby is indoors, she enjoys tea, whisky, old films, cooking, and baking. Her product testing and feedback have shaped the design of everything from climbing shoes to candles.
GearHungry may earn a small commission from affiliate links in this article.
Learn more
Vertical, ergonomic mouses (mice? I still don't know) are small but potent arrows in today's workspace optimization quivers.  The best vertical mouse will conform to the size and orientation of your hand, mitigate hand, wrist, and forearm pain, and give you the optimal toolkit for your digital objectives. If you suffer from carpal tunnel, arthritis, or wrist strain from too much desk time, an ergonomic mouse could be the answer.
Through our own curiosity, product research, and a little in-house testing, we've curated this shortlist and accompanying guide. In it, you'll find an upright mouse suitable for professional applications, recreational endeavors, and even casual use. We took into consideration various budgets, styles, capabilities, and user preferences.
Now, adjust your very cool lumbar supports, cinch up those posture braces, and let's get to scrolling, ya big nerds.
The Best Vertical Mouse Review
Logitech ERGO M575 Trackball Vertical Mouse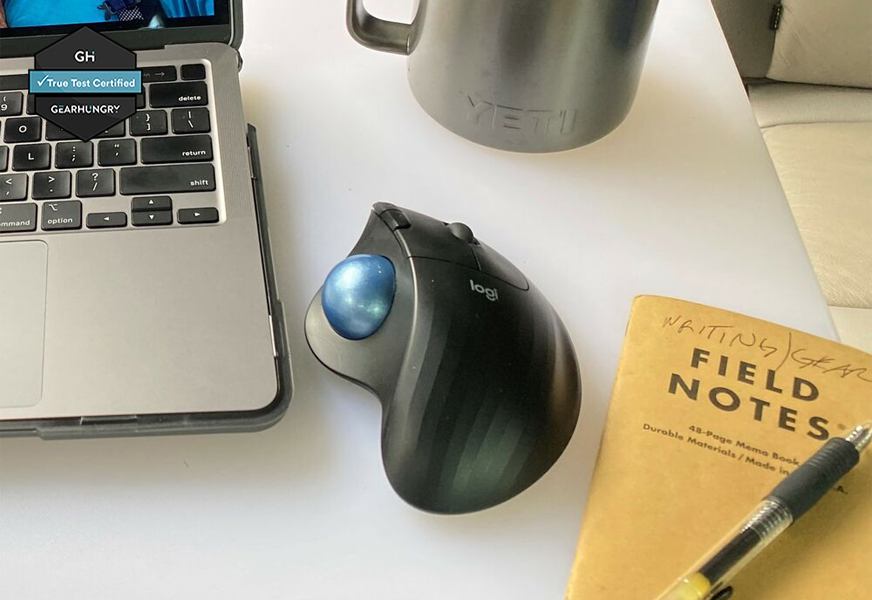 Longtime contributor, editor, and general OG gear tester, Seiji Ishii, swears by his Logitech ERGO Trackball wireless vertical mouse. He's been a fan of Logitech's ergonomic trackball design since its first entre to the accessory tech scene back in the '90s. Read his in-depth review here.
What makes this trackball-style mouse stand out from the crowd? According to Ishii, a lot of things. Besides the unique, thumb-controlled cursor movement, this stationary vertical computer mouse boasts Bluetooth and USB-receiver connectivity. The ERGO M575 also gives users one hell of battery life — reportedly up to 2 years when utilizing the 2.4 GHz USB channel. Expect a shorter battery lifespan when using BT connectivity, says Logitech. 
At the time of writing, the M575 is Logitech's latest in a long line of vertical trackball mice, having scrolled onto the screen in late 2020. It's a date of arrival that jives with this conscientious-capitalist touch: each ERGO M575 mouse incorporates partially recycled plastics. It's not enough to offset all the plastic kipple produced by gadget giants, but it's a click on the right link (I'll see myself out).
Key Features:
Bluetooth and USB connectivity
Ergonomic trackball cursor control
Extremely long battery life
Partially recycled materials
Reprogrammable buttons (reqs optional native software)
Specification:
Brand

Logitech

Model

M575

Weight

5.11 oz.

Connectivity

Wireless (Bluetooth, USB 2.4 GHz)

Wireless Range

10 m/33 ft

Buttons

5 + Scroll wheel

Battery Life

Up to 2 years (USB connection)

Power

AA battery (1)

DPI Cycle

400-2000

Click Rating

3 million

OS Compatibility

Windows, MAC
Jelly Comb Advanced Vertical Wireless Bluetooth Mouse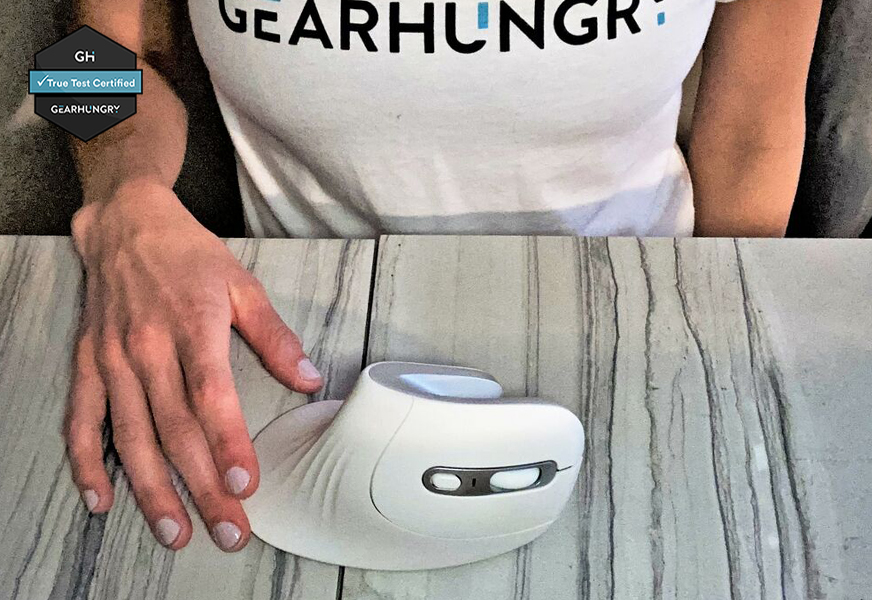 I've tested the Bluetooth vertical mouse from Jelly Comb for the past 4 months. Honestly, this puppy has all of the specs that I require in a mouse. And it's one of the most affordable mouses (mice? meese? mousi.) that I found during the course of our product research.
This model is the first BT-coded mouse I've ever had. (I know – what took me so long?) The advantages were great. Not relying on the USB dongle meant that I didn't have to sacrifice my computer's limited USB ports which were taken up with other USB-only equipment. When not in use, said dongle stows away in the mouse's battery compartment. And, even better, I didn't have to worry about unplugging it/storing it/fishing it out/plugging it in every time I moved work spots. With BT synced up, toggling the mouse's underside power switch to 'On' was all I needed to connect. Plus, you can connect to two devices in tandem through its Bluetooth and USB receiver connectivity.
Also, I'm extremely picky about the DPI speed of my mice. I wield cursors like I live: fast and all over the place, baby. For that I require at least 2000 DPI speed; faster is even better. Jelly Comb imbued this puppy with three DPI settings that, I think, appeal to a broad swath of moderate-to-intensive, non-gaming users: 1000 for the real chiller, 1600 for the spreadsheet pro, 2400 for the casual neurotic.
The button array is my jam, too: right/left, scroll wheel with classic click-down features (e.g., smooth scrolling in documents, or opening links in new tabs), forward/back thumb-adjacent buttons. Not to mention, each button is cushioned so that those clicks are silent.
And, lastly, the finish. Jelly Comb offers the Advanced Vertical Wireless Bluetooth Mouse in classic black or white/silver colorways; both finishes utilize a matte, silken rubber material.
The Advanced Vertical mouse's functionality is extremely impressive, especially for something that's ergonomic and under 30 bucks. So yeah…I'm into it.
Key Features:
Bluetooth and USB connectivity
Android compatible
Silent-click technology
Concave thumb extended pinky pad
Rubbery matte finish
Specification:
Brand

Jelly Comb

Model

MV045

Weight

5.3 oz.

Connectivity

Wireless (Bluetooth 4.0, USB 2.4 GHz)

Range

10 m/33 ft

Buttons

5 + Scroll wheel

Battery Life

2-4 months

Power

AA battery (1)

DPI Cycle

1000, 1600, 2400

Click Rating

3 million

OS Compatibility

Windows, macOS, Android
J-Tech Digital Ergonomic Vertical Mouse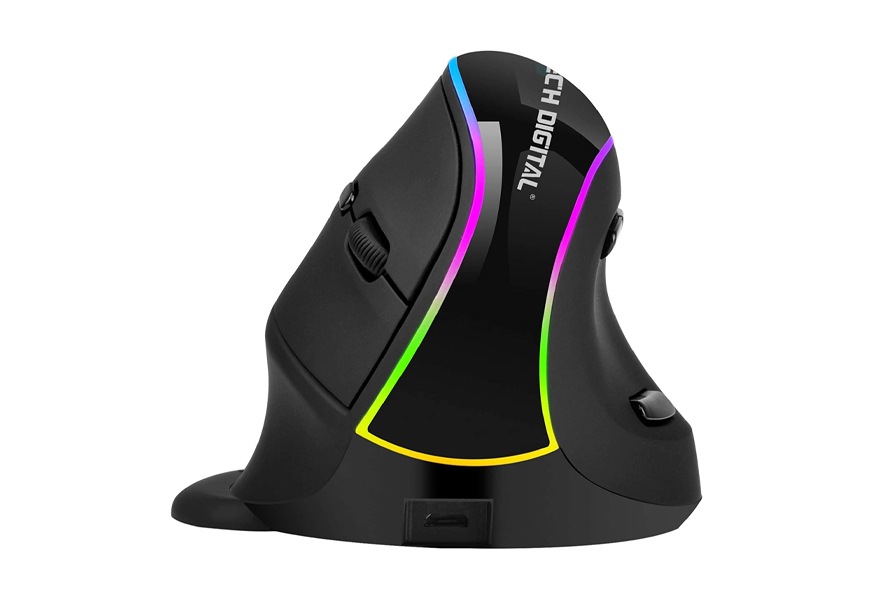 The J-Tech Digital Ergonomic Mouse is a wireless iteration of its budget-friendly/gamer-favored hardwired predecessor, J-Tech's Digital Wired Ergonomic Optical Mouse. This latest rendition seems to enjoy similar popularity among verified buyers and favorable reviews.
What makes the wireless vertical mouse uniquely appealing? A few things:
First, in a big throwdown to other vertical mice claiming "ergonomics" as their hustle, J-Tech's wireless mouse comes complete with a detachable, non-skin palm rest. Supposedly it's like a steroid injection to the buttocks of desk job comfort? So…sign me up.
Second, it has one of the most capable long-range wireless connections we've seen. The reported 50-foot, 360-degree USB signal outshines the majority of even high-end competitors by 15 to 20 feet.
Finally, the in-built rechargeable lithium-ion battery is a dealmaker. The J-Tech might not be made of recycled PET, but at least it doesn't add to the growing hoard of old batter-filled pringles cans labeled "X E-Waste!!! X". For more awesome products like this, check out our list of the best travel mouses on the market.
Key Features:
Detachable non-skid palm rest
360-degree signal
Rechargeable li-ion battery
Reprogrammable buttons (via optional software)
Optional light effects
Specification:
Brand

J-Tech Digital

Model

V638

Weight

8.1 oz.

Wireless Range

15 m/50 ft

Buttons

5 + Scroll wheel

Battery Life

2-3 weeks/charge

Power

Rechargeable Li-ion

DPI Cycle

800, 1200, 1800, 3200

Click Rating

5 million

OS Compatibility

Windows, MAC
TRELC Wired Vertical Gaming Vertical Mouse with 5D Rocker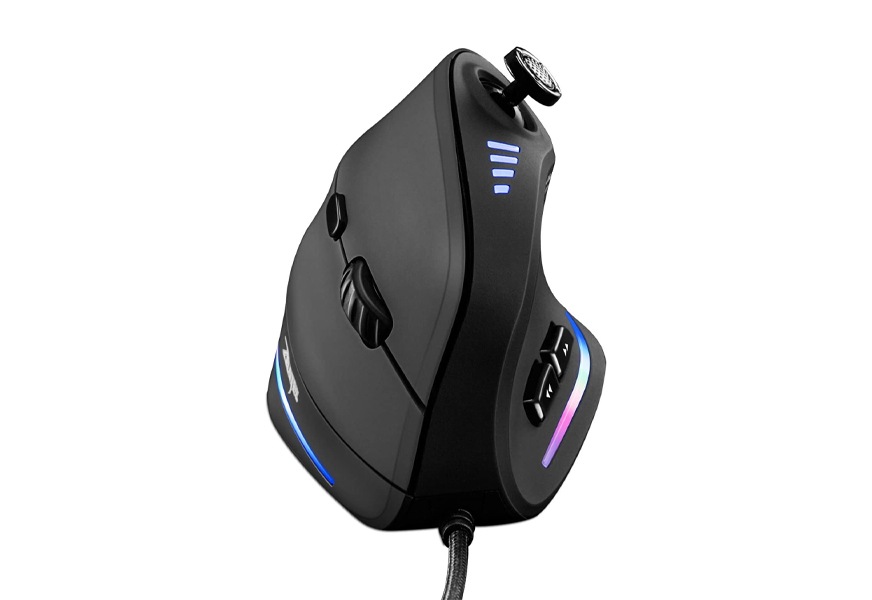 The robust, wired vertical gaming mouse from TRELC is a tastemaker among gaming mice. At least, that's what the cloud seems to indicate. Two standout features may be why: first, the mouse's thumb-controlled, multi-directional 5D Rocker joystick, meant to give gamers unlimited, unparalleled control. Second, the mouse's 11 buttons —including the 5D Rocker — are programmable to allow for all manner of advanced gestures.
Furthermore, TRELC's mouse boasts a litany of DPI speed settings. Starting at a moderate, office-friendly 1500, it revs up to a freakish 10,000. Add to that the fact that it has a photoelectric game chip and comes with 128 kbs of built-in memory, plus 20-G acceleration.
One fanatical reviewer offers some advice: don't squander this zoomer-ready tool by using it on some turn-based strategy game. Glad I read that review because, honestly, my Civ VI strategy needs something. And at first glance, I was pretty sure that this mouse was the answer. Guess I'll stick it out of my current set of overqualified gaming peripherals, womp womp.
If you like this mega mouse but aren't about that cord life, consider our list of the best wireless gaming mouses.
Key Features:
Multi-directional thumb controller
11 programmable buttons (via optional software)
PMW-3325 photoelectric game chip
128 kb built-in memory
100 IPS move speed/20 G acceleration/5000 FPS
Specification:
Brand

TRELC

Model

FF-Maus

Weight

7.2 oz.

Connectivity

Wired (USB cable)

Cord Length

1.8 m/5.9 ft

Buttons

11

Battery Life

N/A

Power

USB cable

DPI Cycle

1500, 2500, 4000, 7000, 10000

Click Rating

10 million [left/right buttons], 1.2 million [roller]

OS Compatibility

Windows, MAC
Jelly Comb Bluetooth Ergonomic Vertical Mouse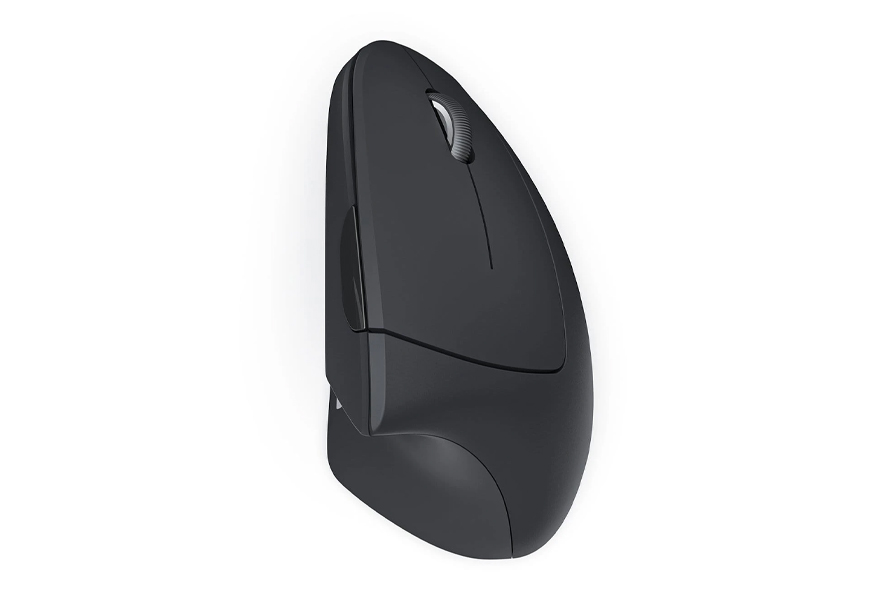 This dexterous, multi-device upright mouse from Jelly Comb offers two not-oft seen features: three discrete channels for simultaneous wireless connectivity to three separate devices and a built-in, rechargeable li-ion battery.
Much like most of Jelly Comb's entries to the mouse market,  this model utilizes silent-click technology beneath the button array, plus three business-savvy DPI settings. Don't forget to also check out these handy touch pads everyone is raving about.
Key Features:
Simultaneous 3-device control (2 Bt channels, 1 USB)
Silent-click technology
Rechargeable li-ion battery
Battery warning light
Works well on varied surfaces
Specification:
Brand

Jelly Comb

Model

MV14B

Weight

3.7 Ounces

Maker

Jelly Comb

Connectivity

Wireless (Bluetooth, USB 2.4 GHz)

Wireless Range

10 m/33 ft

Buttons

5 + scroll wheel

Battery Life

2-3 weeks/charge

Power

Rechargeable battery (via micro-USB)

DPI Cycle

1000, 1600, 2400

Click Rating

> 3 million

OS Compatibility

Windows, macOS, Chrome OS, Android
Logitech MX Vertical Wireless Vertical Mouse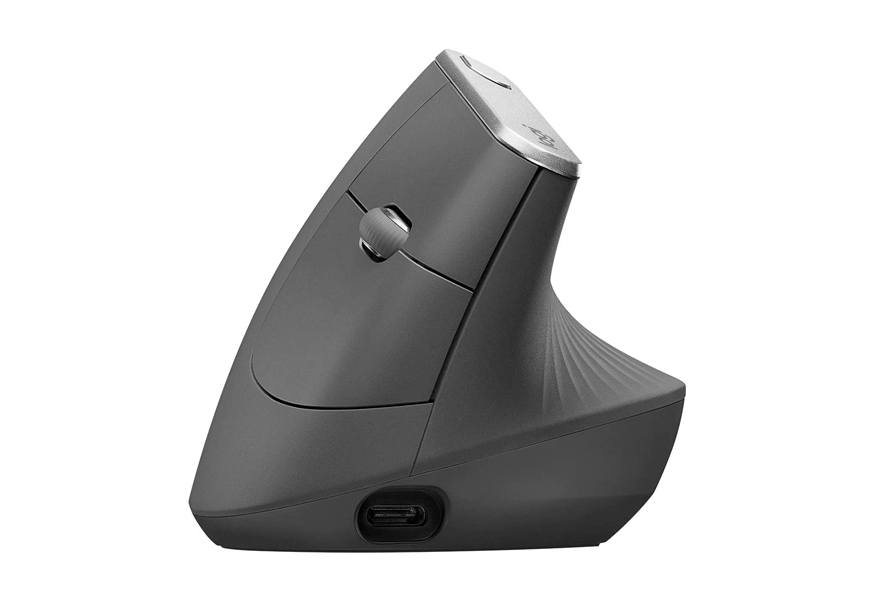 The Logitech MX is scientifically advanced and ergonomically designed. With a unique 57-degree angle, it's unlike anything else you will have previously seen or used. Sure, it's sleek, elegant, and stylish to look at. But more importantly, it promotes a natural hand position, preventing forearm twisting and minimizing unwanted muscular strain to the lower arms.
It's wireless and rechargeable, and features a host of advanced functionality including hyper-efficient tracking to 4000 DPI. That's super precise and requires four times fewer hand movements when compared to a traditional mouse. Significantly reduced micro-movements means significantly reduced hand fatigue. The MX also allows for seamless navigation and cross-computer control when used in conjunction with Logitech Flow.
Key Features:
Simultaneous 3-device control (2 BT channels, 1 USB)
Reprogrammable buttons (via optional software)
Textured thumb area
Cross-device copy/paste capability
3 hours off 1-minute  quick-charge
Specification:
Brand

Logitech

Model

910-005447

Weight

4.76 oz.

Connectivity

Wireless (Bluetooth, USB 2.4 GHz)

Wireless Range

10 m/33 ft

Buttons

5 + scroll wheel

Battery Life

4 months

Power

Rechargeable Li-Po battery

DPI Cycle

Nominal: 1000, 1600; Programmable: 400 – 4000

Click Rating

10 million

OS Compatibility

Windows 10 +, macOS 10.15 +, iPadOS 13.4 +, Chrome OS, Linux
Perixx Wireless Ergonomic Left Handed Vertical Mouse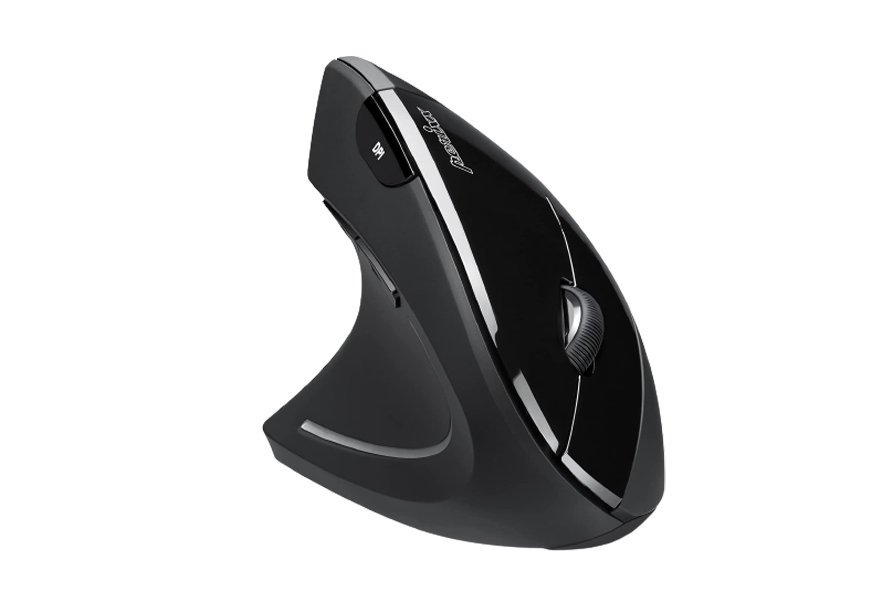 Perixx looks out for the southpaws out there with this entry. 
There were several lefthanded vertical mice in the running for a feature here. But this model stood out to us for how well-rounded it is across the board. It's budget-friendly, notably comfortable for small, average, and big hands, easy to use, and ergonomist endorsed (because apparently, an ergonomist is a real thing that someone can be). For more must-have devices, browse our list of the top ergonomic mouses on the market.
Key Features:
Advanced, ergonomist-approved design
Suits all hand sizes
Excellent for vertical mouse beginners
Budget-friendly
Scientifically proven to reduce strain
Specification:
Brand

Perixx

Weight

3.10 Ounces

Connectivity

Wireless (USB 2.4 GHz)

Cord Length

10 m/33 ft

Buttons

5 with scroll wheel

Battery Life

2-6 months

Power

AAA batteries (2)

DPI Cycle

800, 1200, 1600

Click Rating

5 million

OS Compatibility

Windows, MAC, Linux
Why You Can Trust Us
Despite our mostly fitness/construction/outdoor-laden backgrounds, we the people of Gear Hungry are a bunch of nerds. As contributors and editors for online publications, we work face-to-screen, tips-to-keyboard, hand-to-mouse.
Personally speaking, I spent the first 8 years of my adulthood wheeling and dealing in Excel spreadsheets and futzing with databases. That's 40 to 65 hours, on average, per week at a desk, tip-tapping and mousing away. I learned fairly early on that the quality, position, and means by which I interacted with work equipment really really mattered.
Who This is For
You, duh. Real talk, though, this guide is meant for any genre of computer user looking to improve the ergonomic quality of their computer setup.
You may be a gamer, freelancer, editor, photographer, designer, road warrior, influencer, vlogger, casual click artist, TikTok-er — the point is, this guide is for all.
Curious about how a vertical mouse fits into the picture? Good on ya, and welcome. Looking to retire your current vertical mouse? Come on in, fam.
How We Chose
Lots of personal experience informed the selection of vertical and trackball mice that you'll find in this guide. For instance, one of our testers recommended a trackball-style mouse because it's been his unequivocal favorite since the late '90s.
From there we researched various types of vertical mice: vertical mice for gamers, travelers, beginners, desk jobbers.
Then we culled those subcategories for the cream make and model of each crop. We hounded the verified buyer reviews, scoped out what various pc-peripheral authorities had to say, and tested a few upright mice ourselves. What made the cut made our list.
How We Tested
This was the easy part – testing consisted of swapping out my traditional wireless mouse with an upright mouse for everyday use. Since I spend most of my weekdays editing, researching, and writing content for you, my beautiful geeks, I was able to see how the mouse performed in a litany of arenas: clicking, scrolling, switching between windows.
I tried out each of its DPI settings. It was a grueling task on the mouse's lower modes; I want my cursor to be everything I'm not – fast and responsive.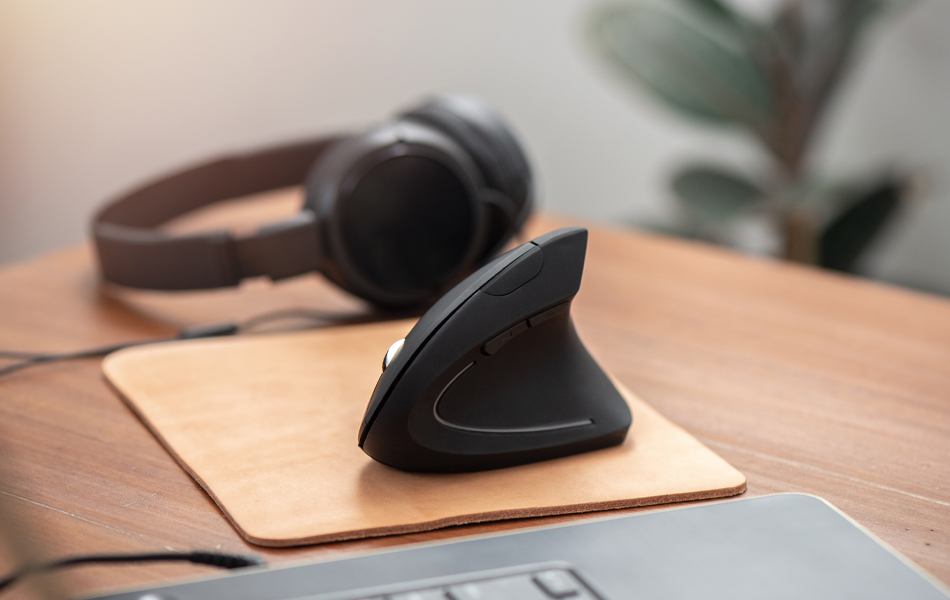 Features to Look for in Vertical Mouses
Size - The whole point of buying a vertical and ergonomically designed mouse is that it fits better and provides enhanced comfort and usability. So, make sure that it's the right size for you to improve your overall experience. Vertical mice are not always one size fits all; many brands do offer them in at least two sizes.
Comfort & Ergonomics - Explicitly designed to reduce overall wrist pain, forearm torsion, and hand fatigue, vertical mice should be more comfortable and easier to handle. There's less potential to develop carpal tunnel syndrome over time if you switch to using a vertical designed mouse.
Connectivity - You might be one of the people that just prefer the security and old-fashioned reassurance of a wired mouse. They work every time, and there's no need to worry about recharging them. For those of you that prefer a world of wireless connections, there are plenty of options available for powering your vertical mouse via wireless USB or Bluetooth, so consider which is most important to you.
Buttons - Think about how you prefer to operate your mouse and the number of buttons you require. Do you prefer centrally positioned buttons located by the side of the scroll wheel or side ones? It's pretty much a case of personal preference, but if you are buying a mouse for gaming, you will probably want more versatile and easily accessible controls.
DPI Switch – DPI is the speed at which the on-screen cursor responds to physical movement of the mouse. Adjusting it is mostly a matter of taste.
Some vertical mice come without a DPI switch, and therefore operate at one speed only. But I think you'll find that most vertical mice out there come with a DPI switch.
The switch is typically found somewhere in the button array atop a mouse (all four of my wireless mice feature it between the scroll wheel and the palm rest).
Adjusting the DPI typically requires just tapping the switch until you find your desired speed setting. Most mice have three to four speeds, usually ranging from 1200 to 2400 DPI. There are some high-end, precision gaming mice with as many as 10 different DPI settings. The fastest settings reach into the 10,000 DPI range. If  you're at that level of mousing, just know that I stand perennially in awe of you. Also, wtf are you doing here?
Left-Handed or Right-Handed - Since vertical mice are ergonomic, they come in right- and left-handed styles.  While handedness is generally a matter of preference, it is a much more prominent and important factor to consider when looking at vertical mice specifically. Why? Vertical mice are sort of like shoes — you can't really make a left shoe fit you right foot, obviously. The principle is the same with vertical mice.
The bad news? If you're a lefty, there are fewer lefthanded mice to choose from than there are righthanded mice.
The good news? There are still loads of lefthanded vertical mice to choose from. And, as the time/tech continuum grows ever greater, more and more companies are bringing equitably priced, lefty-conscious mice to the commons. Because inclusionary thinking is hot right now. And it's about damn time.  
Weight – As a stand-up millennial salt miner, I live in a tiny bubble. So, it's difficult for me to imagine why the weight of a table-top mouse might matter that much (for more of my unsolicited thoughts on the matter, skip to the asterisked "*" sidebar below).
Now, if you are a prolific gamer or just a very intensive user, your vertical mouse's weight might be worth factoring in. In that case lighter mouses will, theoretically, have fewer compounding effects on your wrist. But it's nearly impossible to say exactly where that line between "light" and "not light" lingers, and just how much use it takes to see any adverse effects. It's all just too damn subjective. I can tell you that most vertical mice will weigh somewhere between 2.75 and 5 ounces.
*Sidebar: If you're all about that ultralight life then I gotta ask, why tf are you looking into computer peripherals? To that point, it might be time that you take pause, turn inward, and examine what you're really about. We're all for fostering a happy readership here — it's a privilege, honor, and it really gets our proverbial rocks off, honestly. But realize who you're dealing with: this is GearHungry, not GearNoAppetite.)
Wireless or Wired – Most vertical mice today are wireless. There are exceptions to that on both ends of the engineering spectrum.
For simpler models and very light use, you can still find wired vert mice, and at a price point that's extremely affordable.
On the flip side, the most precisely engineered and competition-level vertical gaming mouse is still going to be wired. This is a matter response-timing: while wireless connectivity is vastly improved from just a few years ago, a wired mouse is as close to fail-proof as you can get. Not to mention, wired mice draw power from the computer, not batteries.
There's a reason e-athletes and Twitch royals still use wired mice: the last thing you want getting in the way of your boomheadshot (/subsequent teaba-… victory dance) is a months-old, petered-out AAA or janky Bluetooth signal.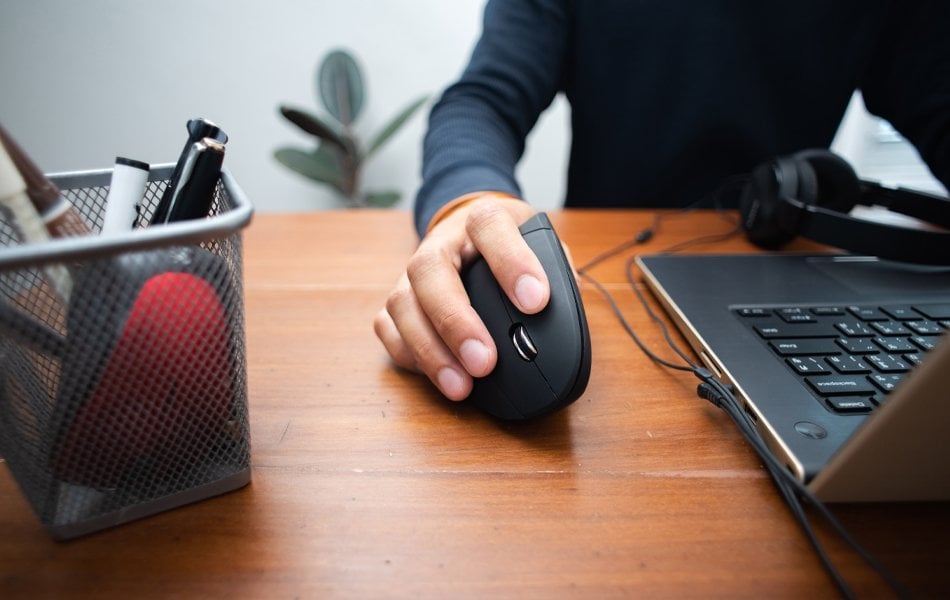 Vertical Mouse FAQ
Q: What is a vertical mouse?
A: Simply put, a vertical mouse has been redesigned for a more natural fit, contouring better to the palm — rather like a handshake. This scientific, ergonomic-shaped design might look unusual at first, but it has been proven to decrease wrist pain and hand fatigue significantly.
Q: What are the benefits of using a vertical mouse?
A: You may not have previously known this fact, but the natural resting position of the wrist and forearm is in what is best described as a thumbs-up position. This is totally opposite to the position that the traditional computer mouse puts your arm into.
The ergonomics of a vertical mouse can actively prevent pronation. Pronation of the wrist/hand can lead to tightening of the joints, which increases pressure on the entire lower arm. All that tightening and pressure can result in painful carpal tunnel syndrome. Using a vertical mouse is particularly beneficial to workers using computers who carry out lengthy sessions operating a mouse and keyboard.
Q: Are vertical mice good for carpal tunnel?
A: Short answer: Sure they are!
Long answer: Owing to a vertical mouse's ergonomic build, users of vertical mice are less likely to develop carpal tunnel. In cases of preexisting carpal tunnel, they're less likely to experience agitation of the condition. That said, established overuse of desktop-geared mice (and keyboards), regardless of how "ergonomically friendly" they are, can lead to carpal tunnel syndrome.
As previously stated, the ergonomics of a vertical mouse can actively prevent pronation. Pronation of the wrist/hand can lead to tightening of the joints, which increases pressure on the entire lower arm and can result in painful carpal tunnel syndrome.
For a more in-depth and medically qualified explanation of carpal tunnel symptoms, causes, and mitigatory methods, you can fall into the syndrome's WebMD rabbit hole here.
Q: How do you use a vertical mouse?
A: Don't be thrown off by nomenclature — most vertical mice work just like traditional mice. The difference between the two is the shape, not the function.
However, mice that feature a thumb-controlled trackball work a little differently from what most of us are accustomed to. There are several popular trackball-style models of vertical mice out there (Logitech makes several category-leading trackball mice, for instance). Rather than gliding the entire mouse assembly over an area to move the cursor, trackball mice are stationary, and users control the on-screen cursor by manipulating the mouse's rollerball with their thumb. If you're looking to make the switch to a trackball model, this write-up by Techwalla provides a great primer.
Q: Should you use a wrist rest with a vertical mouse?
A: Ergonomic + ergonomic = more ergonomic, right? Sure, probably. Obviously, this depends on the angle and quality of the rest.
As mentioned earlier, preventing unnatural positioning of the wrist/hand is a good idea, especially if you're an avid mouse user.
Q: Is vertical mouse better for gaming?
A: Probably! As noted above in "What are the benefits" and "Are vertical mice good for the carpal tunnel", intensive use of any peripheral computer equipment can strain the hands, wrists, and forearms. If you're putting in some serious mouse time, it best to err on the side of ergonomics.
Sources:
Sign Up Now
GET THE VERY BEST OF GEARHUNGRY STRAIGHT TO YOUR INBOX