When we were kids we spent hours staring into the mirror waiting for the first vestiges of facial hair to break the surface and declare we were no longer children. Now here we are, years later, having to spend time every morning making sure that facial hair isn't a portable bird's nest and wondering what all the beard fuss was about anyway. But regardless of whether you see your beard as your greatest asset or a ball and chain attached to your face you need to take steps to make sure it looks and feels great so you can look and feel great too. The best way to do that is with a first-class beard trimmer.
So for all the guys out there questing for the perfect beard we're here to help with our list of the best beard trimmers on the market today. It's not a scientific survey. Rather, it's based on the experience of our product review experts (some of whom would give Grizzly Adams a run for his money) and any opinions expressed in the following review guide are theirs and theirs alone. Now that we're square on the ground rules, let's get started.
Top Picks For The Best Beard Trimmers
Buyers Guide
While operating an electric trimmer isn't rocket science it does take practice and patience if you're to learn the proper use of the different attachments. Here are some questions guys typically have when they're contemplating the purchase of an electric trimmer.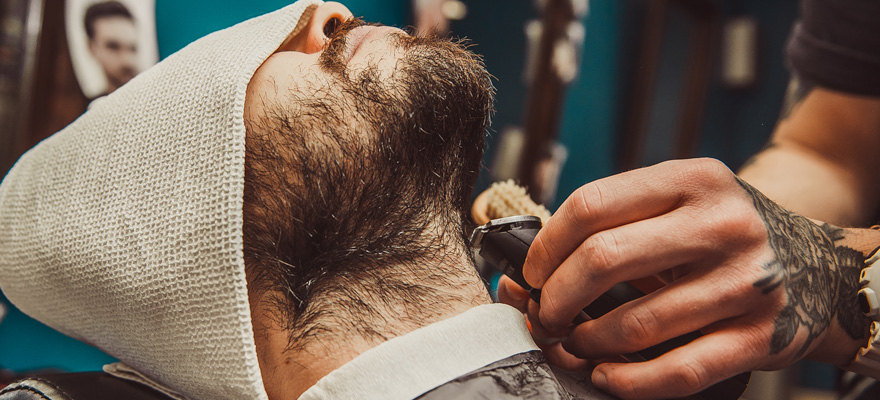 What's The Best Beard Trimmer?
Among the top products in any line it's very difficult to absolutely say this is better than that. (Is a Ferrari better than a Lamborghini?) That said if we had no choice but to pick one trimmer today, the consensus of our experts would be to pick the Panasonic ER-GB40S. It feels as good as it looks and it works as good as it feels.
How Do I Trim My Beard?
While each man has his own grooming rituals the process of trimming the beard with an electric trimmergenerally proceeds as such:
Wash and dry your beard to soften up both beard and skin.
Select the trimming tool you feel will best deliver the look you're after.
While each man has their own system as mentioned above, it's common to start by cleaning up the neck area and establishing a border under the chin. Don't make your borderline too close to the chin line though, or you'll wind up with a George Lucas type fiasco.
Next move over to the side of your face and clean up around the cheeks and ears.
Don't forget to give the same level of attention to the mustache.
Once you have the beard you want in the style you want make sure you tidy it up every day to keep it looking and feeling its best.
Do I Need A Separate Trimmer For My Beard And Body Hair?
If by "body hair" you mean the hair on the top of your head most of the grooming kits above come with extensions that allow you keep your hair neat and trim. Remember, however, that you should keep any touchups to your haircut to a minimum leaving most of it to your barber who has the advantage of being able to move around your head while he works.
Things To Look For When Buying A Beard Trimmer
Most men don't have much idea what to look for when purchasing their first electric trimmer. In order to help clarify things for you we've compiled a brief list of things you'll want to look for/keep in mind so that you wind up with the reliable, high-quality beard trimmer you want.
Battery life – In recent years a lot of manufacturers have begun sourcing their batteries from countries and companies whose quality control is, let's say, questionable to be kind. On the other hand some manufacturers have embraced the Lithium-ion battery that is generally more dependable, charges faster and holds a charge better than old fashioned rechargeable batteries. So things seem to be moving in the right direction overall.
To cord or not to cord? – Is it smarter to go completely cordless, or choose a trimmer that offers both cordless and corded operation? For our money, we'll take the dual powering option every time. If you're looking at a slightly lower budget, however, you'll be given mostly corded options. Here's how to make your lifestyle decision based on corded, or cordless.
Be certain to think ahead for business trips. We all know that beards and suits just rock together (thank you ZZ Top), but unkept beards that just look wild and frizzy make you look a bit, well, wild and frizzy. If you know that you're landing and heading straight to a hotel, you'll be fine with a corded trimmer. However, if you're landing and going straight from the airport to your task-at-hand, you'll need a cordless.
Travelling overseas? If you're going for a ten-day business or leisure trip, you're probably going to need to tighten up that shave. You can't just bring your corded trimmer with you—it's not going to work. While many airport terminals in other countries have adapter kits, it's always highway robbery. You'll do best with a cordless trimmer here, since most don't require another charge for up to a month if they're used on a daily basis.
You're energy conservative, and you just don't want to rack up a big electric bill. Using a cordless trimmer is about ten times better for the environment, and your energy consumption. One charge of your lithium-ion battery lasts you ages, so it's as if you're only using your trimmer once per month as far as your electricity bill is concerned. Not only that, but how often do we all forget to unplug things when we're done? Leaving anything plugged in when not in use costs you snippets of electricity here and there. You just can't make that mistake with a cordless one.
Build quality – Try to avoid a trimmer that is entirely plastic if possible. Look for a trimmer with high-quality, self-sharpening stainless steel blades, a dependable battery and a range of extensions.
Ease of maintenance – If at all possible you want an electric trimmer that's fully waterproof and can be cleaned up by simply holding it under the faucet for a minute. Anything else is a waste of time and money.
Buy a name you recognize – There are a plethora of electric trimmer manufacturers these days including many you've never heard of before and many copycats with names that sound familiar but actually aren't. Stick with any of the brand names on the above list and you should be fine. Even if the trimmer disappoints you'll likely still get your money back.
If you're still unsure which electric trimmer is right for you ask your barber for advice. They're familiar with most of the different trimmers on the market and will usually give you a reliable recommendation, or at least tell you in more detail what to look or look out for.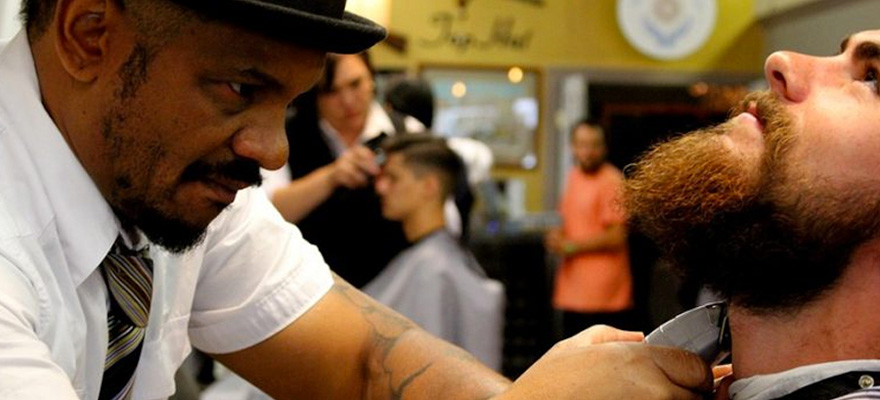 Beard Trimmer Attachments
We all have different tastes when it comes to our own facial hair. Some of us can rock the big, bushy beard, while others just can't do it—either way, you want to keep it trimmed to your perfect style, which is why you'll need a kit with all the fixings. For instance, our writer shaves twice per week on the 5th size trimmer. He can rock about an inch or two of facial hair, but after that, it just looks wrong on him. The attachments matter, or else our editor wouldn't be able to keep his mustache so tidy. Here's what you need to know:
The multiple sizes you get for your guards matter a great deal. It's not as simple as just applying one, shaving, and being done with it. Every face shape is different, every stylistic choice is different. You could end up using two or three of these per shaving sessions to keep your perfect beard. In some cases, a guy will use the 2ndguard for his sideburn area, the 3rd guard for his mustache, and the 4th or 5th for his actual beard. This keeps everything looking styled instead of just trimmed. Find out what works for you, but don't dispel these guards as a vital part of your shaving kit.
Nose hair trimmers—no, you don't have to purchase a brand new nose hair trimmer. Most electric beard trimmer kits are going to come with these attachments, so you don't have to worry. Simply pop off the head of your beard trimmer, attach this, and voila! You'll be able to keep your nose hairs from poking out. Nose hairs do actually serve a purpose, and your beard trimmer brand has this in mind. Nose hair trimmers don't obliterate every nose hair, but they trim them down to the most manageable levels. Nose hairs are designed to catch harmful things that we inhale, so they're necessary, but we don't have to see them when we look in the mirror.
The detailer is one of the most useful secretive weapons in your arsenal. We're men—hair pops up everywhere. How many of you have noticed little hairs poking up between your eyebrows? Or better yet, between the edges of your eyebrows and your hair line? (Add both of these together, and you have what's called a helmet strap.) This miniature, fine-toothed devil is going to take care of all the areas that need precision. Perhaps you're keeping a specific angle on your cheek hair, or your sideburns are pencil-drawn. Either way, you'll find a few uses for the detailer tool that will immediately compliment your style.
Blades In Your Beard Trimmer
When it comes down to the wire, the type of blade that's in your trimmer matters a great deal. You don't want 99% of your trimmer to be awesome, being the grip, side, and all that—you want the part that matters to do the job right, and for that, you need a stainless steel blade in your trimmer. Now, most models come with stainless steel trimmers, so you don't have to be super on the lookout or anything, but it's a good thing to check out before you hit checkout.
Stainless steel blades are almost impervious to rusting (though you'll find some accounts online of stainless steel blades gathering rust, it's at the cost of how the owner cares for their trimmer). If you maintain your trimmer, such as not leaving it in the liquidity of your shower caddy, and being sure to empty out the bits of hair that get trapped underneath from time to time, you should only have to replace your electric beard trimmer blade once every six months. Now then, that's for the closest and most flawless shave possible. It's a huge precautionary step, but if you're looking for low-maintenance, you can simply replace this once every year and it will operate just as well.
Conclusion
The electric trimmer is an important grooming tool for any man, making maintenance of their facial hair simple and convenient and producing attractive results that promote healthy skin at the same time. When shopping for an electric trimmer just keep in mind that there are scores of knockoffs out there hoping to snag your precious hard-earned money so stick to the name brands purchased from reliable retailers like Amazon in order to minimize the risk of being stuck with a lemon.