Tame the Mane With These Beard Trimmers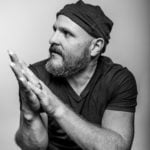 This product guide was written by Andrew Marshall
Last Updated
February 12, 2021
Andrew Marshall
Andrew Marshall is a writer, painter, photographer, and filmmaker. He primarily writes about the outdoors, though like most writers he's interested in just about everything. Andrew is a long-distance athlete with a passion for running and walking up and down mountains. Born and raised in the southeast, he now lives high in the Sierra Nevada with his wife and a freakishly large orange cat.
GearHungry may earn a small commission from affiliate links in this article.
Learn more
Sometimes it can seem like the 70s…1870s, that is. Beards are back in a big way, but if you are looking for the best beard trimmer around, you've got a lot of options. That's why we're here to help you out with a Buyer's Guide that pulls together a range of options from across well-known personal grooming brands. Your search for the best stops here.
Before you scroll through our products, take a moment to examine the Buying Guide and FAQ sections near the bottom of this page. They will give you some context as you ponder your choices.
So, break out the beard oil — time to tame that mane!
Quick Answer: Best Beard Trimmer
Brio Beardscape Beard and Hair Trimmer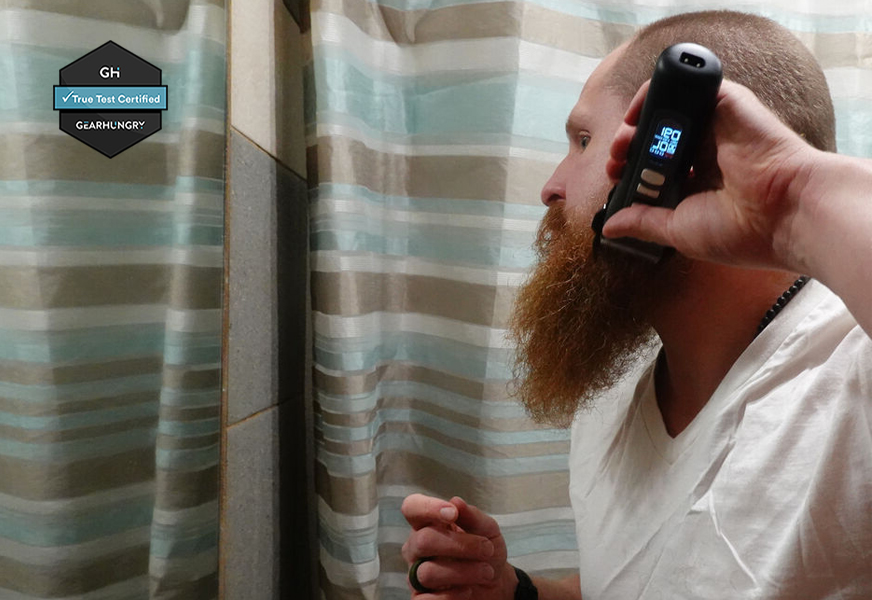 The Brio Beardscape is one of the top beard trimmers in our guide, and for good reasons — it is quiet, sports a low-friction ceramic blade, has a digital readout for battery life and speed settings, and comes with a range of guards.
We got our hands on the Pro version of this adjustable beard trimmer, and we are happy to say there is a lot to love. The digital readout and low-heat ceramic blades are particularly great features. We also liked the quick-charge feature. The Beardscape is a pricy and, dare we say, professional-grade beard trimmer.  But if you are looking for the best, sometimes you have to pay for it. Read the in-depth review here.
Key Features:
Quiet motor
Adjustable speed and cutting depth
Long-lasting battery
Specification:
Brand

Brio

Weight

10.08 ounces
Quick-charge feature
Digital readout
High-quality ceramic blade
High cost
Not as many accessories as other options
Philips Norelco Multigroom Series 7000 23 Piece Beard Trimmer Kit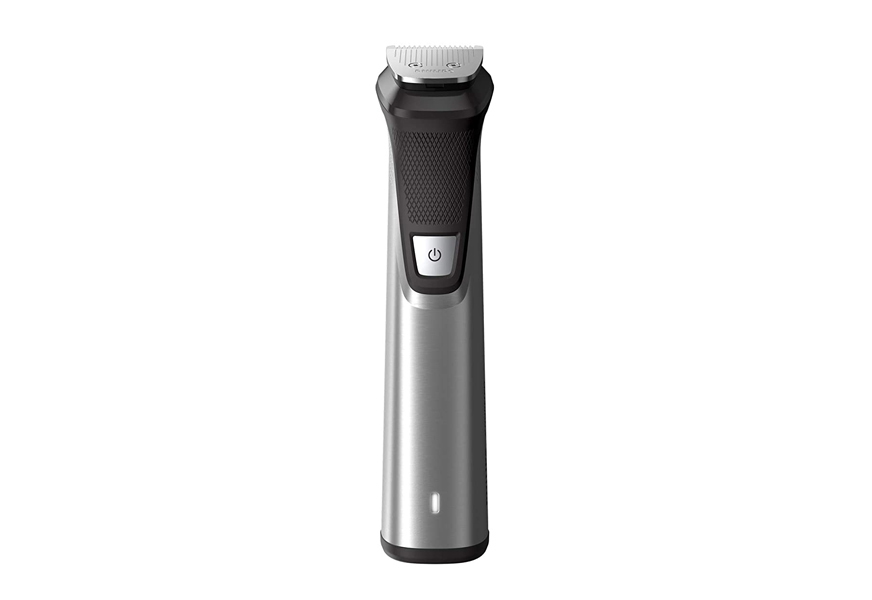 This Philips Norelco Multigroom Series 7000 is a workmanlike choice. Its self-sharpening blades last about 5 years, and the motor and drive train are both fully metal. The guards are fiberglass reinforced, which is great because guards are easy to break. Finally, the stainless-steel handle adds a bit of durability to the package. 
5-hour battery life is pretty great, and the price is right, making it one of the best budget beard trimmers we've found. Even better, you get a 23-piece kit for your trouble. This Norelco beard trimmer is washable, so it's easy to keep clean. The kit includes 23 accessories, including 14 trimming guards, a foil shaver, a precision trimmer, and an ear and nose hair trimmer. This electric beard trimmer's extra-wide design means it can handle the hair on top of your head just as well as it mows your face fuzz.
Key Features:
Metal handle, motor, and drive train
Fully washable
4 switchable blade assemblies
Specification:
Brand

Philips Norelco

Model

MG7750/49

Weight

14.96 ounces
Affordable
Lots of accessories
Metal construction
Steel blades create more heat than higher-end ceramic or titanium 
Philips Norelco OneBlade Hybrid Electric Beard Trimmer and Shaver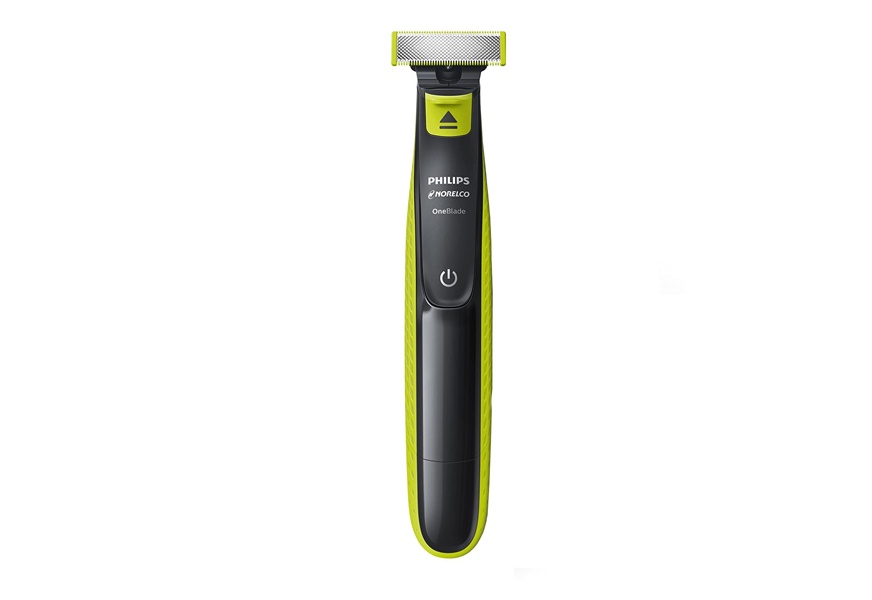 If you like that stubbly look, the Philips Norelco OneBlade Hybrid Electric Trimmer and Shaver is for you. It's an electric shaver shaped like a standard safety razor, so right off the bat, you are getting the power of an electric shave in a much smaller package than usual.
The replaceable blade lasts up to 4 months (assuming you shave twice a week). And with the included guards, you can trim a close-cut beard to three different lengths. It's designed for stubble length whiskers, though, so don't choose this trimmer if you want to grow out your beard. You can shave dry, with foam, and even in the shower, but be aware that the NiMH battery only gives you 45 minutes of runtime after an 8-hour charge.
Key Features:
Gives a close-to-the-skin shave
Long-lasting replaceable blades
Wet/dry shaving capability
Specification:
Brand

Philips Norelco

Model

QP2520/90

Weight

11.42 ounces
Multi-uses and compact size for small bathrooms
Only good for short beards or stubble
Philips Norelco MG3750 Multigroom All-In-One Series 3000 Beard Trimmer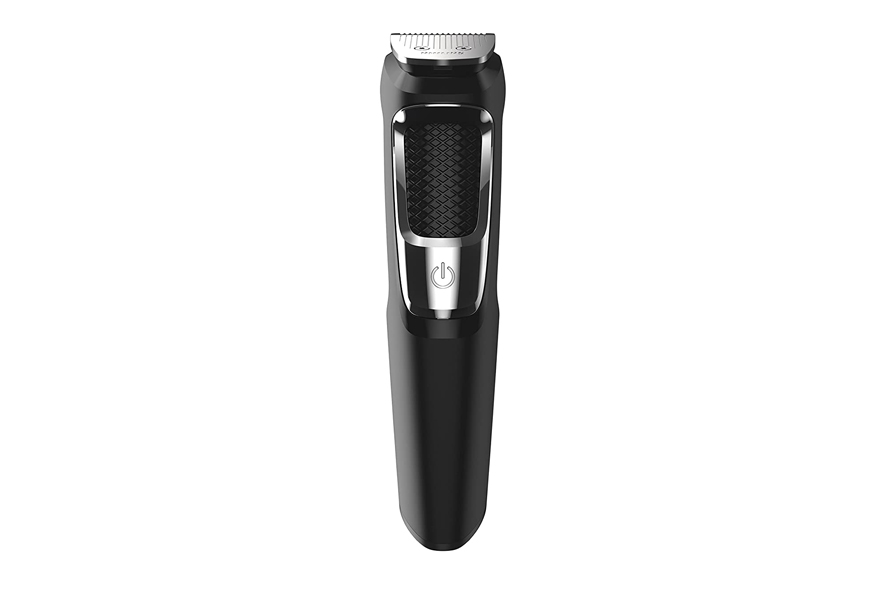 Next up in our buyer's guide of best men's beard trimmers is this budget option from Philips Norelco. You get a full-sized trimmer, precision trimmer, three hair trimming guards, three beard trimming guards, a stubble guard, and a travel bag for storing accessories while on the go.
The steel blade doesn't need oil, which certainly makes it easy to clean. Given this trimmer's plastic construction, bargain-basement price, and plastic construction, we suspect it won't last as long as others on this list. On top of that, it only has a 60-minute run time. Still, if you are just beginning to experiment with growing a beard and unsure if you want to make a significant investment, this beard trimmer might be a good option for you. You may also be interested in some of the best pubic hair trimmers from our list. Please take a moment to check them out.
Key Features:
13 attachments
DualCut technology
Detachable blade assemblies
Specification:
Brand

Philips Norelco

Model

MG3750/60

Weight

9.59 ounces
Affordable
Oil-free blade
Short battery life
Entry-level trimmer
WAHL 5622 Groomsman Rechargeable Beard, Mustache, Hair & Nose Hair Trimmer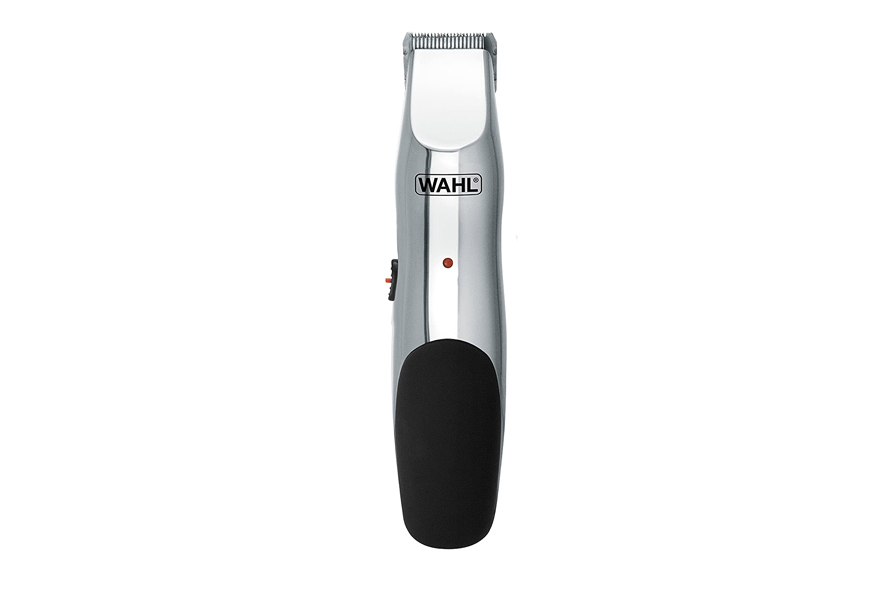 The Wahl 5622 Groomsman kit is affordable, solidly made of stainless steel, and comes with a wide range of accessories, including a mustache brush and an accessory carrying case. The nose-and-ear-hair trimmer is a separate device instead of a separate blade assembly, which might strike some users as clunky.
Wahl beard trimmers have a reputation for durability and long-lastingness. While this author has never used this particular model, he has used Wahl beard trimmers in the past and considers these trimmers to feel heavy and well-constructed. The Wahl blades are high-carbon and have always given him a precision cut. You only get a 1-hour run time with this entry-level NiCad battery, so keep that in mind. This is another entry-level, low-cost beard trimmer. Here are some quality back shavers you may be interested in, as well. Please take a moment to browse them.
Key Features:
Includes a separate nose-and-ear-hair trimmer
Heavy-duty stainless-steel construction
Comes with a range of accessories
Specification:
Brand

Wahl

Model

05622

Weight

1 pound
Wahl blades are high-quality, high-carbon steel
Solid construction
Dual voltage for travel purposes
Low battery life
Entry-level trimmer
Braun Hair Clippers for Men MGK3980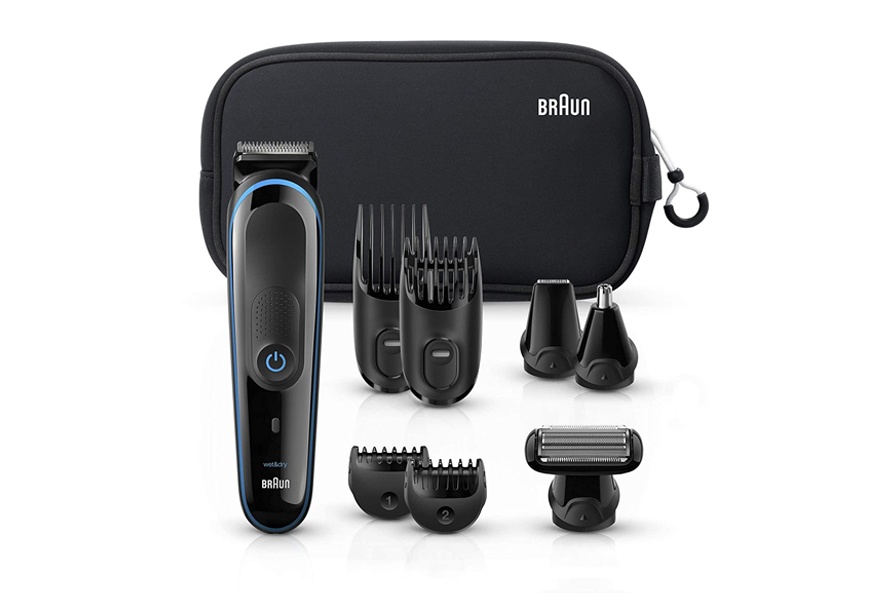 This option from Braun gets us back into the mid-level range for beard trimmers, and you can immediately see a difference in the feature sets. It's waterproof, for one thing, so you can use it in the shower and clean it easily.
As we've said multiple times in this guide, a quick-charge feature is always welcome. And a long-beard-specific comb makes this one of the best beard trimmers for long beards in our directory. You only get 1 hour of run time, but the glut of other features (including the carrying case and 13 length settings) make up for the short battery life, in our opinion.
Key Features:
100% waterproof
13 precision length settings
Mid-level beard trimmer from an established brand
Specification:
Brand

Braun

Model

Braun

Weight

1.39 pounds
Trim your beard in the shower!
Adjustable
1-hour battery life
Not as many accessories as some other options
Philips Norelco MG5750/49 Multigroom All-In-One Trimmer Series 5000
This men's beard trimmer from Philips Norelco walks the line between budget-friendly and capable. You get stainless steel construction, a Philips Norelco's DualCut technology blade, and three interchangeable blade assemblies (an edger, eyebrow trimmer, and ear-and-nose-hair trimmer). The range of fiberglass-reinforced guards doesn't hurt.
But the real draw for this beard trimmer is the 3 hours of runtime. It also has the ability to run indefinitely with the use of an included cord. That alone makes it stand out from the pack! 
For more men's grooming essentials, be sure to browse our list of the top head shavers.
Key Features:
Philips Norelco DualCut technology
3-hour Li-ion battery
Continuous run capability via power plug
Specification:
Brand

Philips Norelco

Model

MG5750/49

Weight

12 ounces
Tempered steel full-metal motor and drive train
18-piece set
Long battery life
Mid-level price-point won't appeal to bargain hunters
Hatteker Men's Beard Trimmer Cordless Hair Trimmer Hair Clipper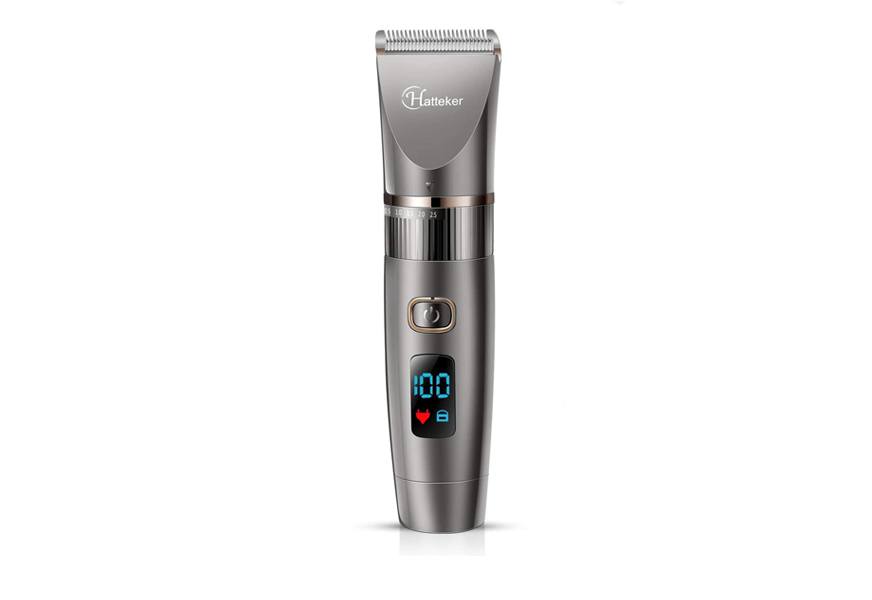 Another mid-level trimmer, this three-in-one hair clipper from Hatteker has a range of popular features that make it hard to ignore, especially for the price.  To start with, it's waterproof, making it great for use in the shower. It's also adjustable (it features a dial with a 5-mm range in addition to a tunable blade) and comes with six guides for a range of beard lengths. Did we mention the three additional blade assemblies for trimming, edging, and stubble-oriented work? How about the high-end titanium self-sharpening blade?
Two more features stick out — the first is the LCD screen that displays the Hatteker trimmer's battery life and a lock indicator. The second is the runtime of 2.5 hours with just a 90-minute charge.
Key Features:
4 interchangeable blade assemblies
LCD screen for battery-life readout
Waterproof
Specification:
Brand

Hatteker

Weight

2.4 pounds
Easy to clean and great for the shower
Long-lasting battery
Powerful motor
Mid-level cost will price out bargain hunters
Panasonic Cordless Men's Beard Trimmer with Precision Dial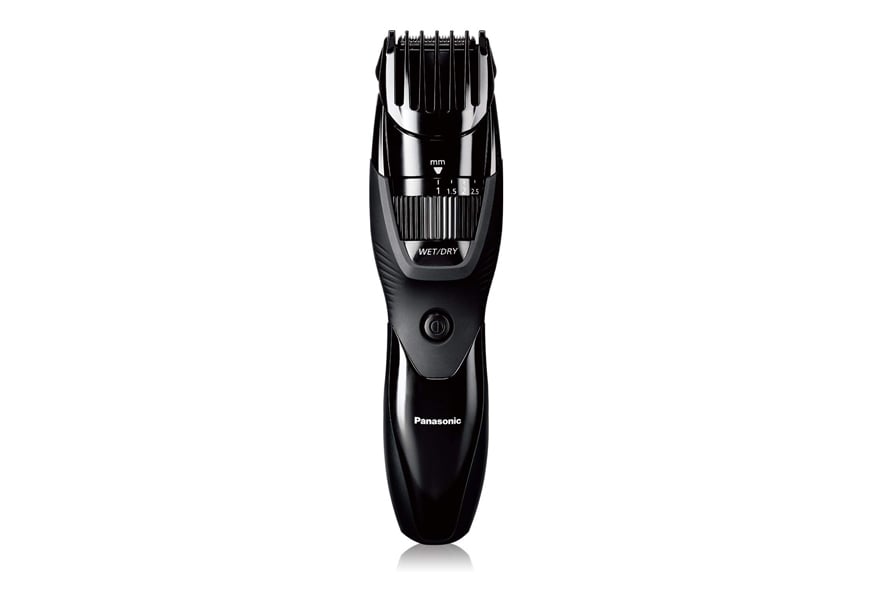 If you are looking for a beard trimmer that looks like a futuristic weapon in a cyber-punk novel, look no further than this option from Panasonic.
A rubberized grip and ergonomic construction ensure it's easy to use from any angle, and — bonus — you can use it in the shower, as well. We also like the AC charging/storage stand. You only get 50 minutes of power, but it's an acceptable tradeoff for the other features included here. 
For some old-style options, check out our selection of the top-rated straight razors.
Key Features:
Useable in shower
Ergonomically shaped for ease of use
AC charging/storage stand
Specification:
Brand

Panasonic

Model

GB42

Weight

5.3 ounces
Waterproof
Easy-to-use
Highly adjustable
Short battery life
Smaller-handed folks might find it clunky 
Remington PG6025 All-in-1 Lithium Powered Grooming Kit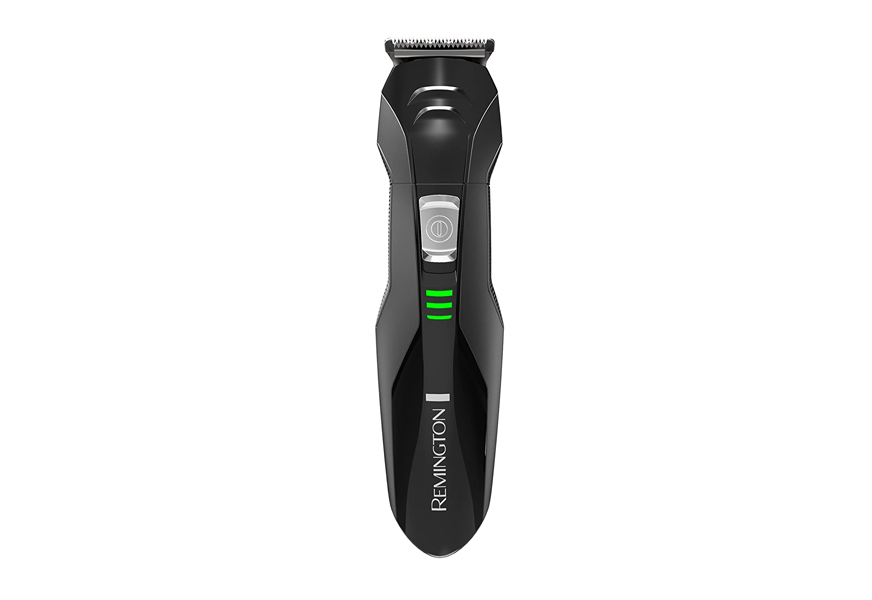 This budget option is heavy at 16 ounces but includes four interchangeable blade assemblies, four guards, and a travel pouch. That's about all we can say in its favor — other than the fact that it has about 65 minutes of runtime. That's slightly longer than the most common 1-hour time we find throughout most of this guide.
Key Features:
Self-sharpening blades
4 interchangeable blade assemblies
4 guards
Specification:
Brand

Remington

Model

PG6025

Weight

1 pounds
Slightly longer-than-average run time
Budget-friendly
Entry-level beard trimmer
Heavy
Braun Beard Trimmer BT7240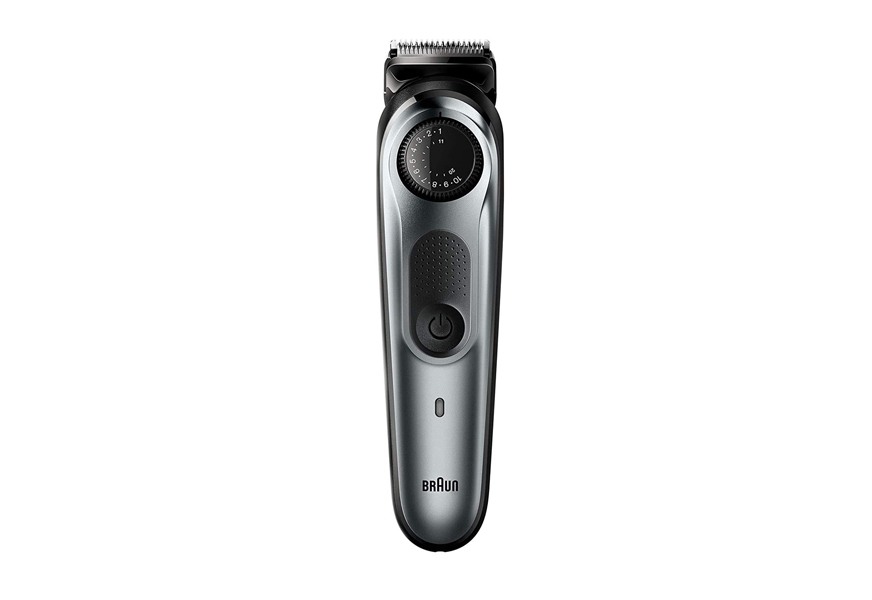 The Braun Beard Trimmer BT7240 has lots to love, including a robust adjustment system, a Gillette ProGlide Razor, and a mini-foil shaver for close-to-the-skin work. We think the auto-sensing motor that adjusts power for any beard thickness is pretty neat (if it works as advertised).
100 minutes of run time and 39 length settings make this beard trimmer a great middle-of-the-road option for those looking to compromise between utility and cost.
Key Features:
39 length settings
Lifetime sharp blades
100-minute run-time
Specification:
Brand

Braun

Model

BT7240

Weight

14.56 ounces
German-designed ergonomic grip
A great mid-range option
Long battery life
Too pricy for some
Not waterproof
Why Trust Us?
The author has been sporting a beard for close to 10 years and is currently cultivating a face mane that extends down to his chest. If that isn't reason enough, we don't know what is.
Who This is For
This guide is for bearded folks with around $30 to $100 bucks to spend on grooming tools. We're positive you could spend more than that on a beard trimmer, but we don't see a reason to.
How We Picked
We chose from a range of popular products sold online. You'll find a little something for everybody here.
How We Tested
We only tested one of the items in this guide in-house, the Brio Beardscape. The author tested it over the course of a month, using it every few days to trim beard and buzz hair alike.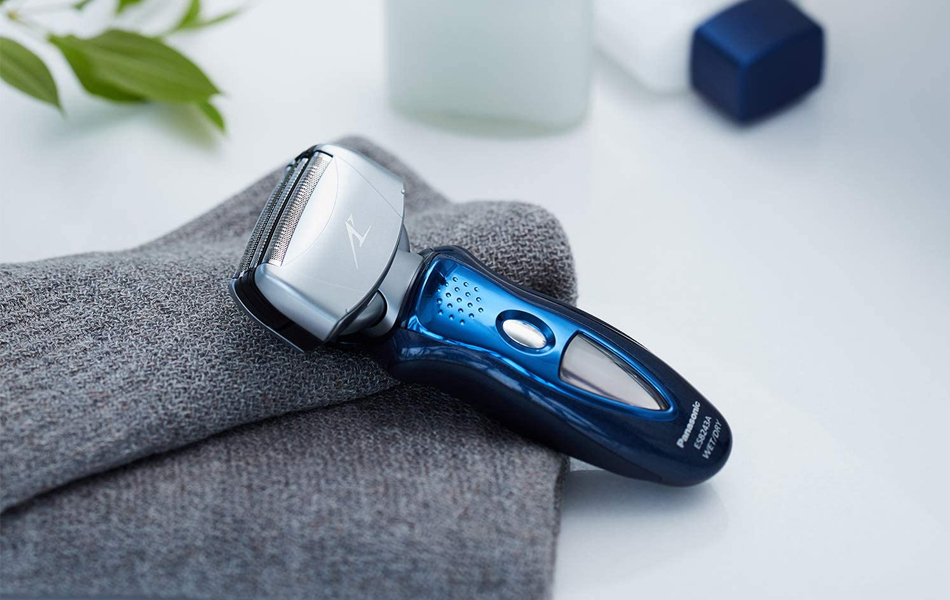 Features to Look for in Beard Trimmers
Battery Life - Long battery life is essential in a beard trimmer, especially for travelers or those who might be forgetful about charging after a few uses.
Some beard trimmers have a digital readout that indicates how many operation minutes remain on the battery. Now that's handy!
Recharge Time - If you are the kind of person who is always running late in the morning, chances are you are also the kind of person who forgets to charge your beard trimmer. Both things will haunt you when you are halfway through trimming your beard before your trimmer dies. This scenario is where a quick-charge feature shines. Some beard trimmers will charge enough to give you a shave in only a few minutes.
Know thyself and adjust thy gear accordingly.
Cordless or Corded?  - Corded beard trimmers are getting rarer and rarer. The advantage to corded options is that you don't have to worry about getting stuck with a dead or dying battery. The disadvantage is a lack of portability.
Blade - Beard trimmer blades are, most commonly, stainless steel, but some are titanium or ceramic (these tend to be higher-end products).
Look for self-sharpening blades, pay attention to the manufacturer's recommended blade lifespan, and always use that blade oil!
Attachments - Beard trimmers almost always come with attachments. Most often, this is a variety of guards, but it can also mean nose trimmers, edgers, eyebrow trimmers, and so on.
If you are the minimalist type, you can safely buy a simple trimmer with only a few guards. If you are into manscaping, search for the total package. 
Noise Level - Noise level might seem like a minor issue, but many folks don't prefer to have a loud, electric buzz going on right next to their face first thing in the mornings.
Quality blade assemblies and well-made motors make for a quiet, pleasurable grooming session.
Build Quality - The build quality of beard trimmers is somewhat related to the manufacturer (more on that a little further down).
Generally speaking, beard trimmers from long-standing brands like Philips Norelco, Panasonic, and others will have a little higher quality than knock-off brands.
Direct-to-consumer brands also tend to offer high-quality options (in our experience).
Look for Metal Beard Trimmers - They won't crack or break if you accidentally drop one on the hard bathroom floor. 
Ease of Maintenance - Look for beard trimmers with removable blade assemblies. A removable blade assembly allows you to rinse the blade assembly without exposing the trimmer's electronics to water.
Waterproof beard trimmers are even easier to clean!
Manufacturer - In general, you get what you pay for. Buying a beard trimmer from a respected manufacturer with a long history of success is a good way to ensure yours lasts a while.
That said, the internet has allowed direct-to-consumer manufactures to make a dent in the market. The Brio Beardscape that the author tested out is from just such a manufacturer.
But, overall, we recommend staying away from budget options if you have the means to do so. Budget options just won't cut as well nor last as long.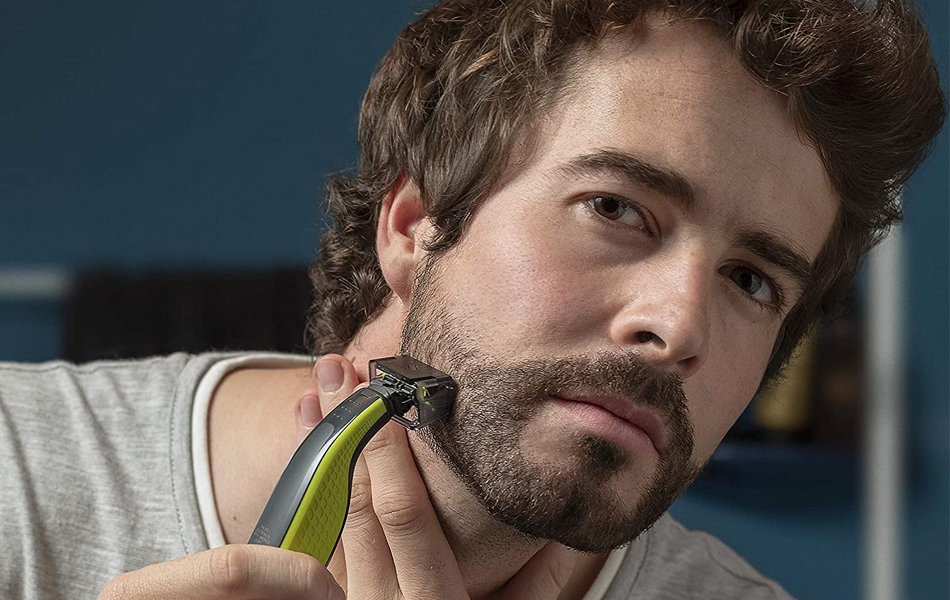 Beard Trimmer FAQ
Q: Can I use a beard trimmer to trim body hair?
A: You can, but we don't recommend it unless your beard trimmer is designed to also meet that need. Body hair often grows in, shall we say, delicate places, and a beard trimmer that generates heat or doesn't have a specially designed blade assembly can cause discomfort at best and injury at worst.
If you want to do some manscaping, buy a tool with that in mind.
Q: How do I trim my beard?
A: Beard styles abound, and it's best to do a little research before you start hacking away at your face fuzz.
Once you've decided on a style, comb out your beard to remove any tangles, then go from long guards to short guards so you don't start out too short accidentally. 
Q: How do I keep my beard trimmer clean?
A: If your beard trimmer is waterproof, a quick rinse under the faucet is the best way to go. But use caution — this technique can and will destroy many models. Removing the blade assembly for wash is always a safe bet.
Many beard trimmers ship with small brushes that you can use to whisk trimmings out of the blade assembly. Using these brushes regularly is a good way to keep your blades sharp and free of obstruction.
After cleaning, dab a bit of blade oil on to the assembly and run the motor for a few seconds to evenly distribute the oil.
Q: What is the difference between a hair clipper and a beard trimmer?
A: Hair clippers often feature a larger blade. They also usually have more powerful motors and blade guards that don't have as much variation between sizes. The reasoning is obvious — when cutting hair, you don't need as much finesse as you do when trimming a beard.
Q: Can I use a hair clipper for my beard?
A: This author has done it, and it works in a pinch. But for all the reasons we described in the previous question, it's best if you have a beard-specific trimmer at your disposal.
Q: How often should you replace a beard trimmer?
A: If you are taking care of the blade (i.e., using blade oil) and using battery management best practices (only charging the battery once it is completely empty) a quality beard trimmer will last for years.
This author has found that batteries tend to degrade before blades do. That said, each beard trimmer manufacturer should have information available about the expected life of the blade. Heed that number and upgrade your tool once you reach it.
Sources:
How to Trim Your Beard (Video) - The Art of Manliness
How to Grow a Beard - The Art of Manliness
Sign Up Now
GET THE VERY BEST OF GEARHUNGRY STRAIGHT TO YOUR INBOX