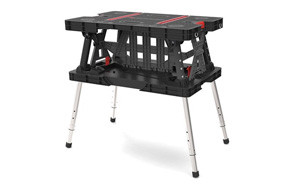 Keter 700 lb Capacity Folding Workbench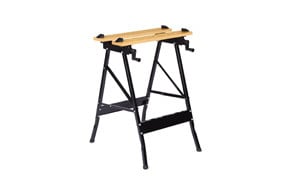 Finether Folding Workbench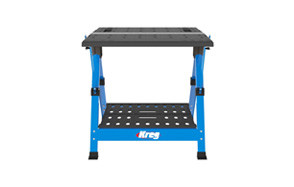 Kreg KWS1000 Mobile Project Center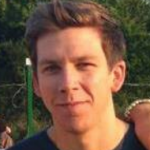 If you work in the building trades or are simply a dedicated DIY enthusiast you need the ability to clamp, sand, cut, bend and/or otherwise work on a variety of materials for a variety of applications. While the sawhorse continues to find a place on the construction sites of the world the portable workbench is today the preferred assistive device for sanding, planing, varnishing, sawing, repairing appliances, drilling, holding pipes, gluing and a whole lot more. Below we're going to take a close look at the best portable workbenches on the market today followed by a brief buyer's guide.
The Best Portable Workbench
Portable Workbench Buying Guide/FAQs
How We Chose Our Selection of Portable Workbenches
The items on our list are chosen through a combination of real world experience, interviews with craftsman and others who have used the items and information provided by the manufacturers.

Things to Consider When Purchasing a Portable Workbench
Making sure you end up with the right portable workbench requires that you keep the following things in mind during the selection process:
Size - If the size of the work surface is important to you then you'll likely want to avoid the WM125 from B&D or one of its clones since the actual work surface on those items is virtually non-existent. (Where the Workmate and its progeny do excel is in their ability to take a firm hold of virtually any type of item no matter how large or small or how oddly shaped.) As for height, there is nothing that will generate back problems quite as quickly as having to bend over a bit to reach the work surface of a portable bench. If you're a tall individual either make sure your bench is of an adequate fixed height, or that it has legs that can be adjusted to bring the bench up to where you need it.
Weight - As a general rule the heavier the workbench the more stable it is. But weight becomes an issue if you take the foldable work table with you wherever you go. You don't want to be toting a 50 pound bench around on a daily basis if you don't have to. Many of the lighter portable workbenches on this list have wide stances that provide excellent stability. So that may be a practical option if you move around a lot with your work.
Assembly Difficulty - None of the workbenches on the above list require an engineering degree to assemble. They wouldn't be very practical if they did. Still, some are easier to put together than others. So if the idea of having to assemble your new workbench just turns you off as a matter of principle then go for one of those that require minimal assembly like the WORX Pegasus.
Stability - Any time power tools and heavy loads are involved you want to be sure you have a stable platform to work on. As we mentioned above stability is often a function of weight. But there are other considerations that play into stability as well including a wide stance, non-slip feet and a strong, steel frame. In general if a folding workbench is on the high side and yet has a narrow footing you should be wary about using it work on heavy or awkwardly shaped items.
Sturdiness - It should go without saying that a portable workbench needs to be sturdy. After all if you are taking it at its word and resting 300 or 400 pound items on it you need to know it's not going to buckle under the weight. If you have the chance you should always verify the carrying capacity with the manufacturer. The importance of this was driven home during our testing when we found more than a few cheaper benches that were advertised as being able to handle impressive loads but which were clearly straining to do so.
Accessories - The best portable workbench is just that; a portable workbench. You don't expect or want it to be tripped out with LED lights on the legs, a Bluetooth speaker or an app that will allow you to watch it collect dust when you're on the other side of the world. Still, there are a few accessories that come in handy including scales on the work surface, non-slip feet, storage for nails, screws and hand tools along with an effective clamping mechanism.
Foldability - One requisite of being portable is that the workbench be light enough to carry around with you without hurting your back. The other requisite when it comes to portability is the ability of the workbench to fold down to a convenient size for storage. With some you'll be able to hang them on the pegboard in your workshop. With others you'll need to find another place to store them. The main point, however, is that you can easily store the portable workbench in an out-of-the-way place once you're finished with it. If you can't all you really have is a fancy sawhorse.
Bench Top - We mentioned the size of the benchtop earlier but it bears repeating. Always keep in mind how much work surface you're going to need to be able to do your job effectively. There are plenty of portable workbenches out there that provide 6 or even 8 square feet of work surface. Just as there are a number that provide little by way of a workable surface. Those without much work surface are mostly purchased for their ability to hold objects in place while you work on them. Which is different than working on the surface of the bench itself.
Clamping - Some portable benches like the X-tra Hand 2 in 1 profiled above provide no ability to clamp or otherwise grasp items. And that's fine if you don't do the type of work that requires you hold things steady while you work on them. If, however, you need to cut, drill, plane or otherwise manipulate wood or any other material you'll want a folding workbench with a reliable clamping system or even one that is essentially a standing vise, such as the Workmate.
Versatility - The best foldable work table enables you to execute a variety of tasks. This is what makes them so valuable to carpenters, furniture builders, plumbers, handymen and do-it-yourselfers. Make sure you take into consideration all the things you might need to do with your workbench before you purchase it, since not all are created equal from a versatility standpoint

Portable Workbench FAQ
Q: What are Portable Workbenches?
A: As cities spread to the suburbs during the middle and late 20th century it became important for craftsmen to become mobile in order to get to where the new work was. Gone were the days when they could bring everything back to their shop to work on it. At the same time the rise of the DIY movement, fueled by innumerable TV shows, magazines and later, websites, created a burgeoning market for devices that enabled homeowners to perform various tasks around the house without turning the home itself into a workshop. The portable folding workbench fulfills both of these needs. For craftspeople it provides them the ability to set up shop wherever they go and for DIYers it allows them to indulge their love of tinkering without having to set up a workshop in the home.