The Best Camping Chairs For Outdoor Comfort In 2022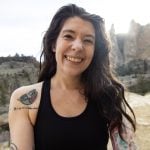 This product guide was written by Tuesday Kahl
Tuesday Kahl
Tuesday Kirby Kahl is a contributor at Gear Hungry. Her fierce love for the outdoors fuels everything she does. Her professional pursuits include writing, creating art, and photography. These professional passions allow her the time to live life outside as a rock climber, skier, runner, backpacker, paddle boarder, swimmer, and explorer.  When Kirby is indoors, she enjoys tea, whisky, old films, cooking, and baking. Her product testing and feedback have shaped the design of everything from climbing shoes to candles.
GearHungry may earn a small commission from affiliate links in this article.
Learn more
For some people camping means an opportunity to stretch their legs on wilderness trails, drink in the vistas, feel the rush of the mountain air caress their face, and then return to the tent in the evening exhausted but enriched. For others, it means popping open a cold strong beer under the pines and putting their feet up on a log while the kids go off and do all that communing with nature stuff. If you're more the latter type than the former type you're going to need a first-class camping chair to unwind in. Not any old hiking chair will do when you're on vacation or just chilling for the weekend at your favorite campground, however. You're going to need something that speaks to your need for comfort and durability, is easy to transport, and easy to set up.
Below we've compiled a list of what we consider to be the best camping chairs available today. When determining our choices we factored in build quality, comfort, durability, and any special features the chair may have, along with the price. As a result, each is not only a great camping chair, it's a great value.
The Best Camping Chair
Our best overall camping chair has a lot of competition but the Stoic Fireside Lounger ended up being my favorite. It isn't the most packable or lightweight option on our list, but its cozy design allows you to sink in and sit with your legs crossed or in odd positions, which are things I greatly appreciate in a chair. The colors are also much more fun than many of the options on the market as well. This chair was impressively stable and hasn't had me tumbling out of it yet.
The mesh seat panel provides excellent breathability and dual cup holders are great for those who want to always have multiple beverages on hand, like me. So far, this steel-framed chair has been easy to pack, easy to clean, easy to use and easy to store. I probably won't want to hike it very far, but it's perfect for camping and fireside smores and lighter than many comparable options on our list. This one earned its spot in my van.
Key Features:
Stable, supportive chair
Two cup holders
Mesh panel for breathability
Seamless mesh seat panel
225-pound weight capacity
Specification:
Brand

Stoic

Model

Fireside Lounger

Weight

4 Pounds, 9.7 Ounces
AmazonBasics Portable Camping Chair
One of the joys of camping is sitting quietly in a nice, shady spot and enjoying the blissful sounds of nature. This experience is made all the better when you can sit in the marvelous comfort of our best budget camping chair, the AmazonBasics Portable Camping Chair. This camping chair has a fully padded seat and backrest all secured to a heavy-duty steel frame that is strong, durable, and convenient. The chair is foldable so you can easily stash one or more of them in your car and make sure you have a comfy place to sit, anywhere, anytime. I keep mine in my van, stored under the bed at all times. To keep it all neat, this budget camping chair also comes with its own carry bag. Of the chairs I tested, this was my partner Patrick's favorite chair.
This is a fantastic camping chair to take with you when you go camping, fishing, or even poolside. I have used it next to rivers, while rock climbing, cooking and camping. It has a built-in cooler pouch on the armrest that is advertised to hold up to four cans of your favorite drink, but I've found two to three to be more reasonable without tipping over the chair when you get up. The integrated mesh cup holder nestles easily into the armrest of the AmazonBasics camp chair. You can even take a good book or magazine with you and keep it in the storage pocket. As far as cheap camp chairs go, this is a winner: cheap for your wallet, but not a cheaply made product.
Key Features:
100% polyester padded camping chair
Fully cushioned seat and back
Built-in beverage-cooler pouch
Cup holder & storage pocket
Heavy-duty steel frame
Carry bag included
Big Agnes Mica Basin XL Camp Chair
I love inclusive products and I think very often we forget how many people we exclude when we don't make products that accommodate larger, taller and differently-sized people. The small, fit and sub-250-pound folks are not the only ones who should enjoy the outdoors! Weighing in at just over two pounds and with a 300-pound weight capacity, the Big Agnes Mica Basin XL Camp Chair provides a marvelously packable and backpacking-friendly chair for those of all sizes. This chair was my friend Paul's favorite in testing and it packs down much smaller than the other models I tested, which is great when you're in a small camper van for the weekend. Every inch matters.
I love the instructions inside the bag, but the design is intuitive enough to not need them. I found the first assembly of this backpacking chair to be tricky but it was fine in subsequent set ups and easy to pack and take down. My only complaint about this chair was that if you sit in odd positions or cross-legged on the chair, it tips forward. This product was a contender for the top spot and the top four were very narrow. If you need a chair that is packable, great for backpacking trips, lightweight and accommodating, this model is the answer.
Key Features:
Aluminum frame
300-pound weight capacity
Easy to assemble
Self-equalizing poles on uneven ground
Plenty of unique colorways and designs
Specification:
Brand

Big Agnes

Model

Mica Basin XL

Weight

2 Pounds, 15 Ounces
Coleman Camping Chair With Cooler
Coleman does outdoor equipment really well so it's no surprise that they would produce one of the best camping chairs out there. The Oversized Quad Chair with Cooler is the epitome of the modern camping chair with its heavy-duty steel frame that can accommodate up to 300 pounds, its high degree of overall comfort, the built-in cooler sleeve on the side, and its attractive price. Store your cold drinks under the left armrest and on your right, there's a cup holder and a sleeve to store your books or magazines or the writing tablet you're using to take notes for your great American novel.
The adjustable armrests are a nice touch to make this affordable chair your own and the whole thing folds down nice and neat and stows away in the handy carrying sack. This is one serious camping chair that anticipates your needs and provides you with the ways and means to enjoy yourself. Toss a small bag of ice or two into the cooler along with a few drinks and you're good to go for the entire afternoon or evening in front of the fire. There's even a smaller mesh pocket for holding your insect repellent, lip balm, sunscreen, sunglasses or whatever else you feel you need to optimize your experience. You can pay a lot more for a first-rate camping chair but at the very least this Coleman folding chair with a built-in cooler will have you asking why you should.
Key Features:
Adjustable design
Easy to store and transport
Made with polyester fabric
Includes 4-can cooler pouch and easy-access side pocket
Specification:
Brand

Coleman

Model

2000020267

Weight

7.69 lb
Trekology YIZI GO Portable Camping Chair
Find a quiet spot among the trees and watch the sun go down in this Trekology YIZI GO Portable Camping Chair. The first thing you'll notice is the shape of the chair which has been designed to give you all the lower back support you need to sit back and relax without a care in the world. This camping sunset chair is super light and compact so you can take it with you anywhere. Now even hikers can ensure they have a nice chair wherever they go! It folds neatly into the carry bag and only weighs 2.1 pounds.
The construction of the chair is solid, sturdy, and durable aluminum allowing our lightest chair on this list the ability to hold a person up to 300 pounds. The frame is nice and solid as is the material for the chair. You can even add a sand cover to the bottom of this camping chair to prevent yourself from sinking on softer terrain. Never be left standing again when you have this light, ultra-portable, comfortable camping chair.
Key Features:
Compact ultralight folding backpacking chair
Sturdy aluminum frame
Seat made from grade 600d polyester
Fits in backpacks and carry-on luggage
Chair weighs 2 lbs but can hold 300lbs
Side pockets for personal items
Set up in seconds
ALPS Mountaineering Rendezvous Chair
The ALPS Mountaineering Rendezvous Folding camping chair is for those who feel that there's just something a bit off about sitting up high at the campsite. The Rendezvous brings you right down to earth and does so with an absurd degree of comfort that's going to make you look at your living room furniture differently. There's no need to put your feet up on anything because the ground is right there. In this regard, this is one of the best beach chairs we've ever seen. You can dig it down into the sand a bit, in front of your beach tent, and have the perfect low-riding platform for kicking back and either copping some rays yourself or keeping an eye on the kids as they play in the surf. A low profile makes it less likely to be taken by wind at basecamp and keeps you closer to the warmth of the fire.
The thing also feels like it could withstand being run over by a tank, and maybe it could. The powder-coated, corrosion-resistant, heavy-duty steel frame can easily accommodate up to 300 pounds, and the broad sturdy feet will never let you tip over as can happen sometimes in more stand-up camping chairs. The one-piece seat has a mesh that runs right up the back so again, it's great for keeping you cool at the beach. Another advantage of the ALPS Mountaineering Rendezvous Folding camping chair is the weight, which is a very reasonable 6.8 pounds. The camping chair comes with a sturdy canvas carrying sack so it can be easily toted into the woods a bit if your campsite happens to be off-road. Add a five-year warranty and you may have the best camping chair for the money.
Key Features:
Powder-coated steel frame
Low profile design
Sits low to the ground so you can stretch out your legs
Foldable for better storage and easy transport
Weighs 6.8 lbs, has a capacity of 300 lbs
Specification:
Brand

ALPS

Model

8013914

Weight

7.2 lb
Coleman Big-N-Tall Quad Camping Chair
Finding camping chairs that not only have the capacity to take on more pounds, but also will last for years can be difficult. The Coleman Big-N-Tall Quad Camping Chair fills that gap assuring that everyone has a chair they can comfortably relax in, regardless of their height or weight. The chair has been made with extra provision for bigger and taller builds; extra space and a lengthier form ensure all-around comfort. All in all, this budget camping chair provides a 600-pound weight capacity and a cup holder to boot.
Slightly larger individuals may not have an easy time alighting from low chairs as it takes extra effort to get up from such low positions. This high chair provides the ease you need to comfortably be yourself among others on outdoor trips; easily sit and stand up without pulling a muscle or breaking a sweat. It's also great for expecting mums who may not have the luxury of going that low because of their budding baby bump; the high chair accommodates their form allowing the legs to stretch easily and comfortably. Take a seat on this thoughtfully designed high chair that will keep you at the top of the game all through your camping trip.
Key Features:
Extra space for extra comfort
Seat drain system for easy water drainage
Cell-port water-resistant sleeve for storing devices
Cup holder
Steel frame supports up to 600 pounds
Specification:
Brand

Coleman

Model

2000026491

Weight

9.9 Pounds
Coleman Camp Chair with Side Table
Coleman is known for its phenomenal design and expertise in manufacturing only quality and durable products. So when the Coleman Camp Chair with Side Table came out we knew it had to be a sturdy, comfortable product, uniquely crafted with an innovative design. While it comes with a small table, it's quite portable making it very easy to carry around and transport – take it for practically any outdoor gathering from picnics, barbeques, family cook out, and of course, camping. The structure is held up with a strong and durable steel frame that will definitely stand the test of time. Made with weather-resistant materials, it fares exceedingly well in practically any weather condition providing long-term use and an excellent value for your money.
It also balances well in uneven and even terrain providing adequate support to the avid camper. The back form and armrests are equally well-padded to ensure comfort and convenience. With the introduction of the side table; drinks, food, snacks, and the likes can suitably be placed right by your side granting easy access to all the goodies. Enjoy the amazing features of this phenomenal camping chair that offers comfort, convenience, and portability all in one purchase.
Key Features:
Designed with a small side table
Portable for easy storage and transport
Foldable form with carrying handles
Supports up to 225 pounds in weight
Comfortable seat with padded arms
Specification:
Brand

Coleman

Model

2000003084

Weight

7.12 Pounds
Caravan Sports Infinity Zero Gravity Chair
The Caravan Sports Infinity Zero Gravity chair harkens back design-wise to the classic webbed lawn chairs of the past. But the recliner-like profile is where the similarities end. This camping chair is all business when it comes to providing you with a platform for total outdoor relaxation. The chair frame is high quality, powder-coated, corrosion-resistant steel that can handle up to 300 pounds. The chair locks in any position so you can sit up to drink or eat and lay back to catch some rays or nap under the shade of the forest popup canopy. There's a built-in headrest that is fully adjustable and provides excellent support as well as contoured armrests that let your forearms rest naturally, no matter what position you choose.
The Zero Gravity chair from Caravan Sports lets you elevate your legs as much or little as you like. It's so comfortable you may be tempted to use it in the family room in the basement and it will certainly be a welcome addition to the furniture lineup on the deck or in the backyard around the pool. At 18 pounds it may be a bit heavy to be lugging to and from the beach or camp but that will depend entirely on your conditioning. With its powder-coated corrosion-resistant frame, it will certainly stand up to the salty spray as good or better than any other beach chair you've ever had. There aren't a lot of extras that come with the Zero Gravity but once you lay back and feel your cares melting away, will it really matter?
Key Features:
Powder-coated corrosion-resistant frame
Adjsutable headrest and lumbar support
Included armrests
Locks in any position
300 pound weight capacity
Specification:
Brand

Caravan Sports

Model

Zero Gravity Chair

Weight

18 Pounds
Stylish Camping Folding Director's Chair
The Stylish Camping Full Back Folding Director's Chair is a bit of a departure in the realm of the camping chair. In spite of its Hollywood ambitions, it's actually a really great chair to take to the campsite or even the beach with you as it features a host of add-ons that will make your camping trip easier, more comfortable, and more enjoyable. Just off the left armrest are a slew of pockets designed to hold all your tech and non-tech items including sunscreen, books, notepad, mobile phone, tablet, sunglasses, different gadgets and more. Just off the right-hand armrest, there's a fold-out tabletop that will hold your lunch or dinner items or anything else if you are far from your camping table.
The frame on this camping chair is flat-sided, high-performance aluminum, and is built to last. The fabric seat and seatback are one piece of durable but comfortable polyester blend fabric that's water-resistant and cleans up easily. The whole camping chair folds up in a snap and while it may not be backpack material it's not going to waste space in the trunk of your car either. At ten pounds the Stylish Camping Full Back Folding Director's Chair won't wear you out toting it from car to camp or vice versa and once you have it set up you'll likely never look at other fold-up camping chairs quite the same way again. It is not the most portable chair, but it makes up for it in its features.
Key Features:
Durable aluminum frame
10 pounds, with 300 pounds capacity
Polyester blend seat
Large side pockets
Fold-out table with cup holder
Specification:
Brand

Stylish Camping

Model

Folding Director's Chair

Weight

10 Pounds
Kelsyus Original Canopy Chair
The Kelsyus Original Canopy chair isn't going to win any style awards but what it will do is keep the baking sun off of you when you're trying to enjoy yourself at the campground or the beach. The built-in canopy is made of heavy-duty synthetics that clean up easily and also provide up to 50+ UPF protection. While you won't get full-body sun protection from the Kelsyus (that's what sunblock is for), it will provide much-needed protection for your head, neck, shoulders, and upper arms. The sturdy powder-coated steel frame will hold up to 250 pounds without complaint and the seat features a mesh strip that runs from your seat to your upper back so that you stay cool.
The Kelsyus Original Canopy chair is one of the best camping chairs for camping trips, watching parades, lounging on the pool deck, or kicking back on the beach. It's light, comfortable, affordable, and stain-resistant. It's well-balanced, the canopy is easy to set up or take down, there's a cup holder in the right arm and the whole thing breaks down into a tidy bundle that is tucked into a carrying case for easy transport. If you're tired of lugging big umbrellas to the beach or don't like the sunlight bearing down on you when you're trying to relax at your favorite campsite, in front of your camping tent, or at the beach, you'll want to have this one in the trunk.
Key Features:
Powder-coated steel frame
Adjustable canopy, 50+ UPF
Cup holder
250 pound weight capacity
When folded, becomes a carrying case
Specification:
Brand

Kelsyus

Model

Original Canopy Chair

Weight

11.22 Pounds
TravelChair Slacker Chair Folding Tripod
With the TravelChair Slacker we're getting into the realm of temporary outdoor seating. This easy to unfold 3-legged stool is the kind of camping chair that can come in handy if you've been huffing it down the trail all day and you need to take five to recover. It weighs less than two pounds so slinging it on the back of your backpack or even sliding it inside the pack won't be a problem. As such, it falls into a category of outdoor kit some might call luxury accessories like a hunting GPS, tactical pants or a tomahawk: those things you can live without but live better with. This stool is also ideal for buskers or those who want to work on their posture.
This isn't the kind of camping chair for pure relaxation, it's better for mobility as there is no backrest. This is a camping stool that's intended to meet temporary needs as they arise. If you've been waiting for your favorite float in the Thanksgiving Day parade to make an appearance and are starting to tire, set up the Slacker. If you stopped at the charity car wash to have your car cleaned, take the Slacker camping chair out of the trunk and have a seat. The Slacker camping chair will hold up to 275 pounds comfortably and the PU-backed polyester fabric seat will stand up to years of use without fading or tearing. A great piece of gear in your secondary outdoor kit to have available in a pinch. Best of all, this is a compact chair so it should fit under most camping tents.
Key Features:
Compact 3-legged design
Reinforced ripstop polyester
Weighs 1.9 lbs., has 275 lbs capacity
Stool style seating
Easy to set up
Specification:
Brand

TravelChair

Model

Original Slacker

Weight

2 Pounds
Quik Shade MAX Shade Chair
The final entry on our list of best camping chairs is the Quik Shade Max: a camping chair with a canopy that's no joke. The Quik Shade Max has a fully adjustable canopy that will protect most of your body from the ravages of the hot summer sun, and it features a heavy-duty steel frame that has a weight capacity of 225 pounds. It also has a large zippered storage pocket below the right armrest, and has a cup holder in both of those armrests, and folds up in a jiffy. Quick set up, quick take down, and loads of features to boot. This chair with a huge seat is a great choice for sunny days, river adventures and relaxation.
The Quik Shade Max camping chair tips the scales at a trim nine pounds so you can take it anywhere you believe you're going to need to sit for a while and be protected from the sun. Do note, however, that the canopy doesn't have a UPF rating, so don't forget to slather that sunblock. This is one of the heavier camp chairs on our list but it is arguably the most comfortable camping chair if staying out of the sun is your version of comfortable. That would include the beach, the campground, the park to watch the kid's soccer game, the pool deck, the tailgating party, or the balcony of the hotel where you're staying. The canopy sets up in seconds and can be raised and lowered as well as tilted until you find just the right level of shade, while the 600D polyester fabric is highly breathable and will cradle you comfortably. Quik has redesigned the canopy from earlier models and it now provides up to 40% more coverage. If you're heading into the sun for some holiday fun you'd do well to have the Quik Shade Max camping chair in the trunk.
Key Features:
Adjustable canopy
Quick set up
Dual cup holders
Stainless steel frame
Weight capacity of 225 pounds
Specification:
Brand

Quik Shade

Model

MAX Adjustable Shade Folding Chair

Weight

9 Pounds
Why Trust Us
I've spent many years camping and exploring the outdoors. What started as occasional camping trips as a child blossomed into an adult who rarely goes a few days without camping, paddling, skiing, hiking or rock climbing. A camping chair is critical for comfort at your campsite whether car camping or backpacking. I always keep a few camp chairs in my camper van including the AmazonBasics Camp Chair, The Big Agnes Basin XL, and the Stoic Gear Camp Chair. I love these options for river days, a cozy place to sit while bouldering, or for parking lot BBQs at the ski resort or after a big day of backcountry skiing. I didn't test alone, I had my friends set up and sit in chairs at our parking lot cookout and had my partner test them too!
Who This Is For
This guide is for anyone looking for quality camping chairs. These are mostly for car camping, sporting events and the like due to the weight, size and features. We have a few backpacking chairs and travel-friendly options on the list for those on the go or backpacking trips, but the bulk of these camp chairs are a bit too heavy and unwieldy for that purpose.
How We Picked
Selecting the best camp chairs started with my own personal favorites and following that, are the favorites of our testing team and well-known best sellers. Then, we evaluated our picks and rounded them out with other selections to fit a variety of needs and uses.
How We Tested
Well, I sat in them. That's how you test a chair, right? Jokes aside, I took some of these camp chairs bouldering with me in the snow to sit in while I read and between burns. I used these as seating options in Isolation areas of rock climbing competitions, at a campsite while cooking, and for ski resort parking lot cookouts with my friends. They now live in my camping gear, permanently.
Features To Look For In Camping Chairs
Until recently there wasn't a lot of variety when it came to camping chairs. You had the 60s-era lightweight aluminum jobs that would break when the dog jumped in your lap or the vinyl strap folding outdoor chairs that began to lose their integrity after being sat in for about 10 minutes. You could always bring some standard folding wooden director's chairs to the campsite with you but they are heavy and cumbersome. Thankfully, camping chair design has finally come of age. Which is great but means you'll need to think about a few things before you bite the bullet and invest in your outdoor comfort.
Size - Camping chairs today come in a variety of sizes ranging from the 3-legged minimalist, temporary kind all the way up to the portable double chairs, and even rocking chairs. To determine the right one for you you'll need to ask yourself a few questions such as:
Am I too tall for this camping chair?
Is the seat wide enough for me?
Is the camping chair strong enough to support my weight?
Am I willing to carry this chair around camp?
Is this chair stable?
Weight and packed size matter when you are transporting these camp chairs around to tailgate, camp and more. A seven-pound chair is a hard no for backpacking trips, but might be fine for a base camp set up, car camping or sporting events. A portable chair should have an easy way to carry it, be light enough you won't hate lugging it around, and pack down compactly enough to be stored or fit in your camp gear.
Use - If what you want is to be able to set up your camping chair and just sink into it for an afternoon of relaxation, then you'll probably want one with some bells and whistles like pockets, cupholders and maybe a padded headrest. Do you want a full-on recliner or rocking chair? Features often mean added weight. If you're car camping, weight is less of an issue, but for backpacking trips or hike-in campsites, you may want backpacking chairs that trim down on features but will be much easier to carry. If you think you'll be exposed to the sun for prolonged periods of time you'll want to give serious consideration to buying a canopy chair like one of those featured above.
Comfort - If the name of the game for you is relaxation, you're going to want a camping chair that's on the same page with a supportive seat. You'll want to take a pass on a 3 legged camping stool and loveseats are probably out as well. As comfort and convenience often go hand in hand, having a camping chair with plenty of pockets and a mini cooler attached can go a long way toward making you feel more comfortable. If you've already got a cooler and are looking for the best camping chair for a bad back, you'll want to consult your doctor before buying anything.
Stability -Stability is key. If you always have your feet planted on the ground this may be less of a concern. Folks like me who love to cross their legs and sit in odd positions may struggle with unbalanced chairs. Most portable chair options should be stable enough for this but many tripod-style seats are not.
Features - We've discussed the weight vs features trade-off between fancy camping chairs and backpacking chairs. A modern camp chair may have an extra-wide seat, a carrying case or stuff sack, one or two cup holders, a supportive seat, adjustable armrests, and occasionally you may even have a folding table or canopy. While it's quite uncommon to find all these features in one of the top camp chairs, you can select the ones that really matter to you and start to sort through choices from there.
Ease of setup - After a long day of adventuring, travel, or hiking, no one wants to have a full-on brawl trying to put together an item they are supposed to relax in. Finding a chair that is quick and easy to set up will save you loads of frustration later.
Style - While style considerations may not be at the top of everyone's list of concerns when it comes to camping chairs, it deserves at least to be on the list. We understand that camping chairs are first and foremost functional items, but there's no reason you can't get an attractive one anyway. After all, people are going to see you with it and associate you with it. Maybe you don't care about such things but if you do, there are definitely some camping chairs and backpacking chairs that stand out among their peers.
Price - Last but not least we come to cost. While all of the camping chairs listed above are outstanding values for a variety of reasons, some can be had for significantly less than the competition. Coleman, for example, has made their reputation on creating high quality, affordable outdoor fold-up chairs and other gear for more than 100 years. Or, if you want, you can splurge on comfortable chairs loaded with features. In any case, you should be able to get the camping chair you need for less than $100. In some cases significantly less.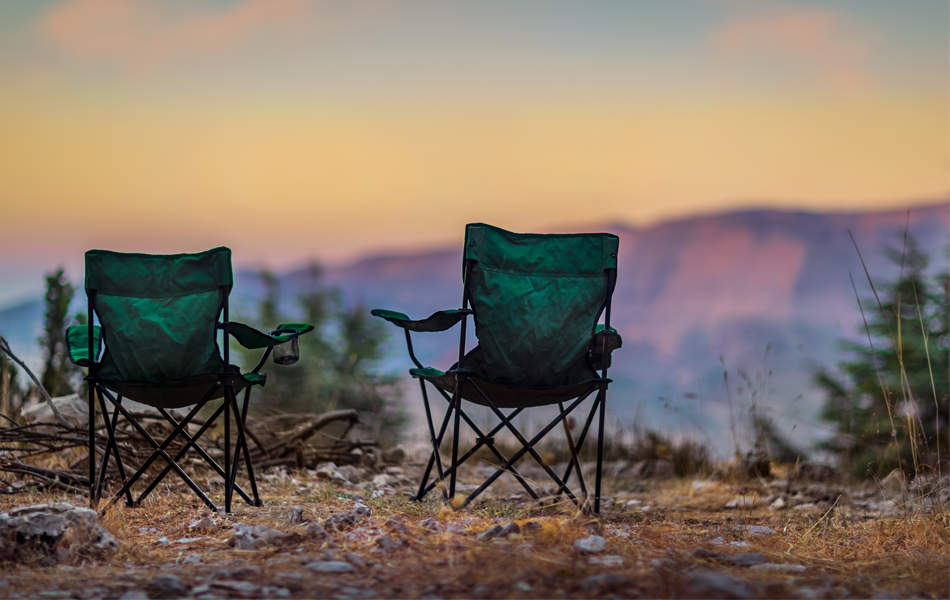 Camping Chair FAQ
Q: What is the difference between a beach chair and a camping chair?
A: Beach chairs are usually made for stability on rocks, sand and uneven ground. They're also generally made of a water-resistant material or are porous to prevent mildew and mold. Camp chairs may be more comfortable and supportive but may not be stable on rocks or sand and most take longer to dry. This said, some of the camping chairs reviewed here can serve well as beach chairs.
Q: Can camping chairs get wet?
A: Camp chairs generally can get wet to some extent but will often need to be dried before storage to prevent mold and mildew. In any case, it's best to check what materials your chair of choice is made from before you make a purchase.
Sources:
Sign Up Now
GET THE VERY BEST OF GEARHUNGRY STRAIGHT TO YOUR INBOX