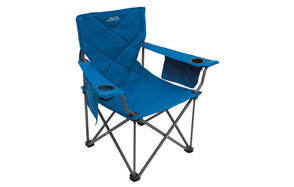 ALPS Mountaineering King Kong Chair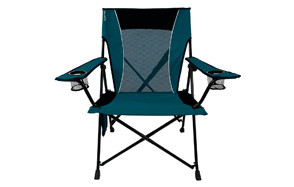 Kijaro Dual Lock Chair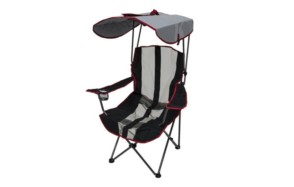 Kelsyus Original Canopy Chair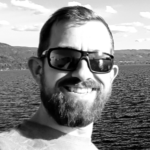 For some people camping means an opportunity to stretch their legs on wilderness trails, drink in the vistas, feel the rush of the mountain air caress their face and to return to the tent in the evening exhausted but enriched. For others, it means popping open a cold strong beer under the pines and putting their feet up on a log while the kids go off and do all that communing with nature stuff. If you're more the latter type than the former type you're going to need a first-class camping chair to unwind in. Not any old hiking chair will do when you're on vacation or just chilling for the weekend at your favorite campground, however. You're going to need something that speaks to your need for comfort and durability, is easy to transport and easy to set up.
Below we've compiled a list of what we consider to be the 12 best camping chairs available today. When determining our choices we factored in build quality, comfort, durability and any special features the chair may have, along with the price. As a result, each is not only a great camping chair, it's a great value.
The Best Camping Chair
Camping Chair Buying Guide
Until recently there wasn't a lot of variety when it came to camping chairs. You had the 60s era lightweight aluminum jobs that would break when the dog jumped in your lap or the fugly vinyl strap folding outdoor chairs that began to lose their integrity after being sat in for about 10 minutes. You could always bring some standard folding wooden director's chairs to the campsite with you but they were/are heavy and cumbersome. Thankfully, camping chair design has finally come of age. Which is great but means you'll need to think about a few things before you plunk down your hard earned to obtain one.
How To Choose The Perfect Camping Chair
Size - Camping chairs today come in a variety of sizes ranging from the 3 legged minimalist, temporary kind all the way up to the portable loveseat. To determine the right one for you you'll need to ask yourself a few questions such as:
Am I too big for this camping chair?
Is the seat wide enough for me?
Is the camping chair strong enough to support my weight?
And so on. If you're a bigger person checking and double checking the weight limit on the different camping chairs in vital. You don't want the chair to buckle under you while you're trying to enjoy yourself. The great thing is that there are chairs rated all the way up to 800 pounds so you're sure to find one to accommodate you.
Use - Just as important as the size is how you intend to use the chair. If what you want is to be able to set up your camping chair and just sink into it for an afternoon of relaxation then you'll probably want one with some bells and whistles like pockets, drink holder and maybe a padded headrest. Do you want a full-on recliner? There are some great ones out there, including the Caravan Sports Infinity Zero Gravity camping chair we reviewed above. If you think you'll be exposed to the sun for prolonged periods of time you'll want to give serious consideration to buying a canopy chair like one of those featured above.
Style - While style considerations may not be at the top of everyone's list of concerns when it comes to camping chairs it deserves at least to be on the list. We understand that camping chairs are first and foremost functional items. But there's no reason you can't get an attractive one anyway. After all people are going to see you with it and associate you with it. Maybe you don't care about such things but if you do there are definitely some camping chairs like the Kijaro Dual Lock Chair that cut a more dapper profile than some others.
Comfort - If the name of the game for you is relaxation you're going to want a camping chair that's on the same page. You'll want to take a pass on a 3 legged camping stool and loveseats are probably out as well. As comfort and convenience often go hand in hand having a camping chair with plenty of pockets and a mini cooler attached like the Oversized Quad camping chair with Cooler from Coleman (reviewed above) can go a long way toward making you feel more comfortable. If you've already got a cooler and are looking for the best camping chair for a bad back you'll want to consult your doctor before buying anything.
Price - Last but not least we come to cost. While all of the camping chairs listed above are outstanding values for a variety of reasons some can be had for significantly less than the competition. Coleman, for example, has made their reputation on creating high quality, affordable outdoor fold up chairs and other gear for more than 100 years. Or, if you want, you can splurge on luxury camping chairs like the ALPS King Kong chair or the Quik Shade Max camping chair. In any case you should be able to get all the camping chair you need for less than $100. In some cases significantly less.

Conclusion
Camping chairs are the kind of item that hardcore outdoor types who catch their own meals, make fires with a flint and trek 30 miles a day won't be interested in. For the rest of us humans though a good camping chair can make the difference between an enjoyable week at the campground and one we'd just as soon forget. With all the different types of camping chair on the market today there is no doubt you'll find one to fit your particular outdoor needs to a T.
We hope this review of the best camping chairs for sale has provided you with information you can use to make sure the camping seats you wind up with are the right ones for you. Be sure to stop back regularly for more helpful product reviews from Gearhungry.