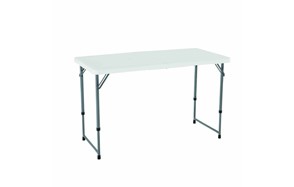 Lifetime 4428 Height Adjustable Folding Utility Table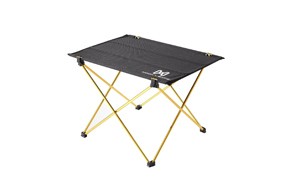 Moon Lence Ultralight Folding Camping Picnic Roll Up Table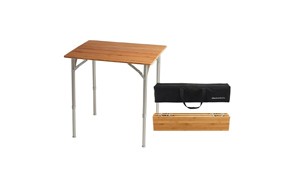 Beckworth & Co. SmartFlip Bamboo Portable Outdoor Picnic Folding Table
There's nothing like camping in the great outdoors to put you back in touch with nature and help recharge your batteries. But even hardcore outdoor types know the value of having a solid surface to eat your meals from, whether you're in an organized campsite or deep in the woods miles from anyone else. It's tough enough cooking with your camp stove on the ground but eating off the ground can be a major drag. What you need is a camping table. Fortunately there are plenty of styles and sizes available these days so whether you're in the state park with the family or by yourself half way up a lonely mountainside in the Sierra Nevada there's a camping table that's perfect for your situation. Below we're going to look at 11 of the best.
Our Top Picks For The Best Camping Table
1. Lifetime 4428 Height Adjustable Folding Utility Table
See More Reviews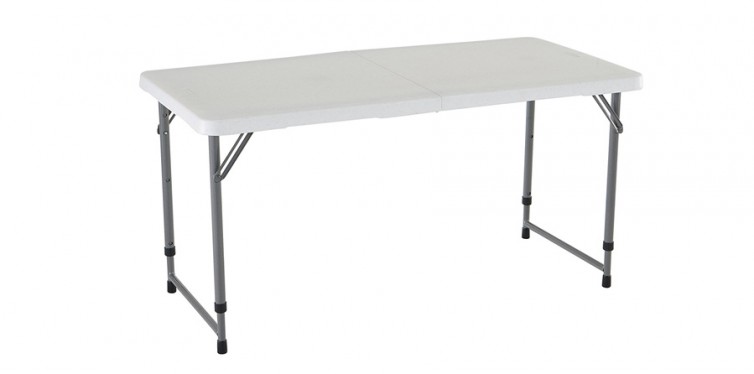 This is a fairly large folding table intended for social gatherings at the seashore or in the campground. (Although it's not something you're going to want to schlep up the mountain.) It's durable, opens up to a comfortable height, will hold a fair amount of food and folds down pretty small. Maybe the best thing about this table is that it has a slew of other applications as well. Use it to augment your kitchen setup during big holiday get togethers. Use it to display items during a yard sale or put it to work as a craft table.
Specification:
Brand

Lifetime

Model

4428

Weight

19.18 pounds
Extremely versatile.
Folds down small for easy storage.
Built in handle for carrying.
Stain resistant surface.
Powder coated rust resistant frame.
As it's only 24" wide it can become unstable in the wind.
2. Coleman 2000020279 Compact Folding Table
See More Reviews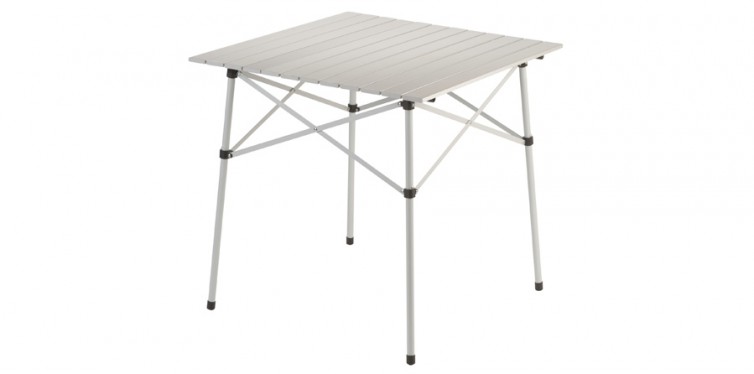 Although the Coleman marketing team could afford to do a little work on the name of this camping table (maybe use about a dozen fewer numbers) it nonetheless earns a spot on our list of the best. Primarily because it sports one thing even some of its fellow 'best of' list mates can't claim: stability. This is probably the most stable camping table out there for its size. And even though the legs are a tad spindly you won't have to worry about things tipping over even when you place heavy items near the edge.
Specification:
Brand

Coleman

Model

2000020279

Weight

13.11 pounds
Table surface is almost all useable.
Folds down to next to nothing.
Remarkably stable for a table this size.
Typical Coleman quality throughout.
Not the most beautiful camping table on the market.
Seating 4 people at this table at once would be pushing things.
3. Moon Lence Ultralight Folding Camping Picnic Roll Up Table
See More Reviews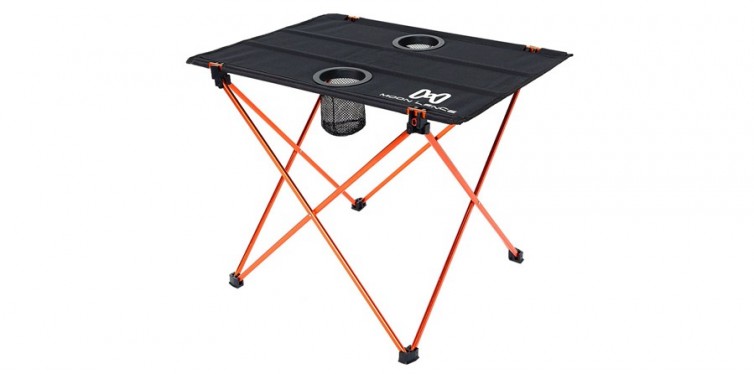 There's a lot to like about the Moon Lence Portable Camping Table. Start with the built in drink holders and then check down the list. Waterproof construction? Check. Folds down nice and small? Check. Lightweight design you can take anywhere? Check. Sets up in seconds? Check. The Moon Lence has just about everything any reasonable person would want to see in a camping stove with the possible exception of a hard surface to place your heavier items on.
Specification:
Brand

Moon Lence

Model

2017tab-o

Weight

1.6 pounds
Durable construction throughout. Won't become malformed after a few uses.
Built in cup holders ensure your drink stays put.
Folds away easily into the nylon tote bag.
Table surface of 600D ripstop Oxford cloth should hold up for years.
About the cost of a large pizza with everything.
Don't expect it to hold heavy bowls of potato salad.
4. ALPS Mountaineering Eclipse Table
See More Reviews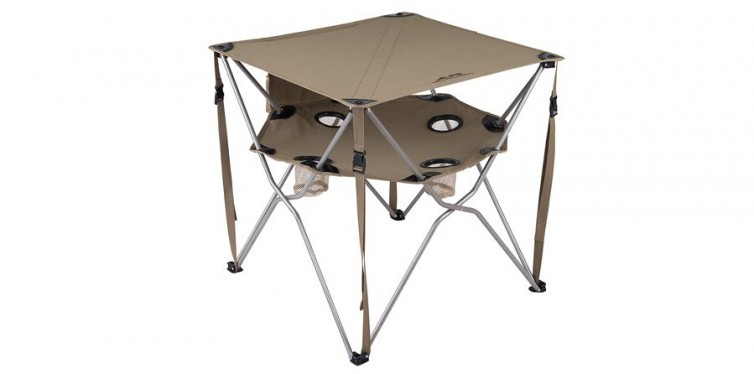 The ALPS Mountaineering Eclipse Table unfolds fast and provides a decent sized platform for your camp food. The table surface is a 27" square and below that there's ample room for storing drinks. Having the drink holders underneath the main table surface has the benefit of aiding in stability by lowering the table's center of gravity. Besides that you can adjust the tautness of the cloth table top and there's a side organizer pocket for recipes, cell phones and the like. Makes a great card table for those summer evenings in the tent.
Specification:
Brand

ALPS Mountaineering

Model

8369914

Weight

8 pounds
2-tier design enhances stability.
4 built in drink holders on the lower level.
Surface tightness can be easily adjusted at the corners.
Surface areas made of 600 Denier polyester.
Can't really pull your chair up to it.
A "busy" look not everyone will find attractive.
5. Outsunny Portable Folding Outdoor Camp Suitcase Picnic Table
See More Reviews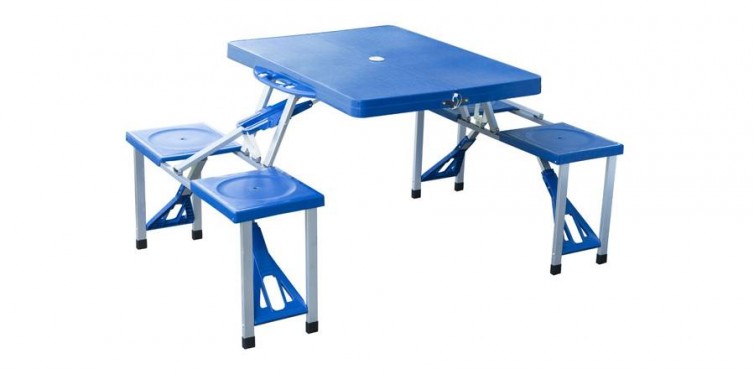 The Outsunny Portable Folding Picnic Table is a great way to bring the picnic table with you wherever you go. There are plenty of campsites out there that don't have picnic tables or anywhere else to sit so having the Outsunny Folding Picnic Table with you at all times is a perfect way to ensure you're never left eating off the ground or out of your car. Unlike a lot of camping tables sitting right up against the table top is no problem with the Outsunny and when they claim it will seat 4 you can believe it will seat 4.
Specification:
Brand

Outsunny

Model

01-0009

Weight

16.4 pounds
Innovative design.
High quality, heavy duty construction.
Aluminum alloy frame for outstanding durability.
Folds up into a suitcase size container with carrying handle.
A must for dedicated outdoor types.
If you're a big person you'll find the seats a bit small.
6. Trekology Portable Camping Tables with Aluminum Table Top
See More Reviews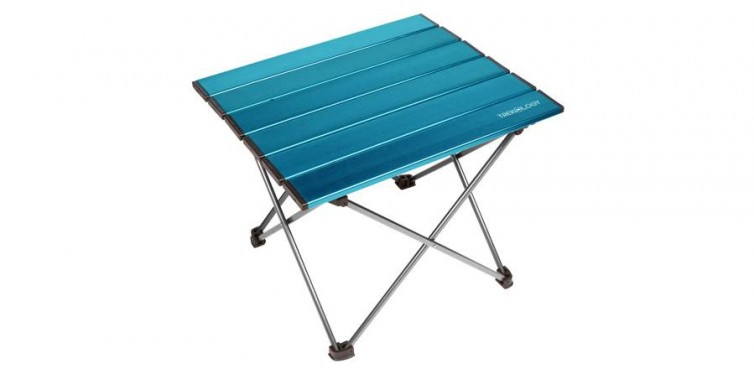 The Trekology Portable Camping Table with Aluminum Top is a made-for-one table that sets up in less than a minute and provides you a nice hard, stable surface to put your camp food, drinks, camping lantern, cell phone or myriad other things on. It's not intended to be the table your group eats off of. It's intended to be set up in front of your camping chair to hold whatever it is you don't necessarily want to set on the ground. This Trekology camping table is actually small and lightweight enough that even those on a trek deep into the wilderness can consider taking it along. 
Specification:
Brand

Trekology

Weight

2.2lb , 3.5lb or 4lb
Rated to 50 lbs.
Waterproof and easy to clean.
Aircraft grade aluminum alloy frame.
Compact, long lasting and affordable.
Totally weatherproof.
Smaller than it looks in the photos.
7. GCI Outdoor Compact Folding Camping Table
See More Reviews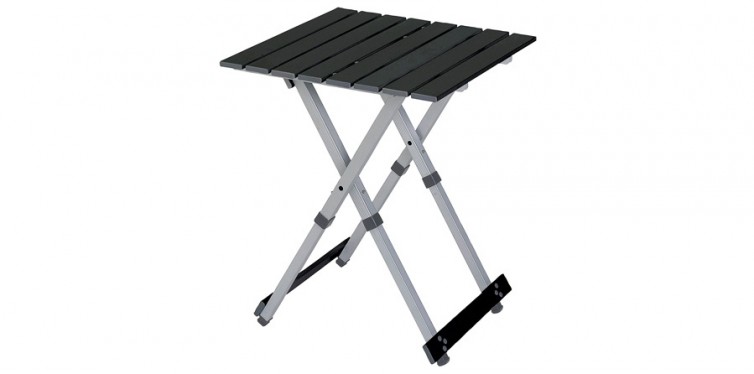 The GCI Outdoor Compact Folding Camping Table looks a lot (when open) like those folding pine tables you get at Crate and Barrel or a hundred other stores. The difference is that its frame and top are fabricated from aluminum rather than pine so it will stand up to the demands of the outdoors. If you're a fan of campsite hopping during the warm weather you'd do well to have a couple of these in the trunk or the RV. They're the kind of simple accessory that can turn an awkward camping experience into a comfortable, totally enjoyable one.
Specification:
Brand

GCI Outdoor

Model

39126

Weight

4 pounds
Weighs in at a svelte 4 pounds.
Sets up in about 15 to 20 seconds.
Sets up high so you're not bending over all the time.
Will serve you well for years for less than a pair of jeans.
Danger of becoming top heavy if overloaded.
8. Beckworth & Co. SmartFlip Bamboo Portable Outdoor Picnic Folding Table
See More Reviews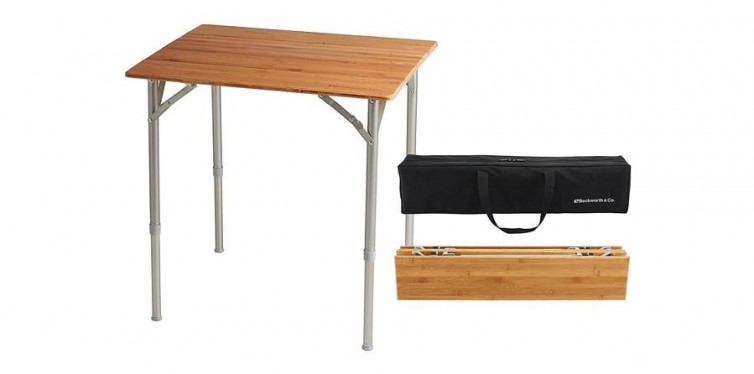 This is a nifty camp table that sets up in under a minute and has 2 things many other camp tables don't: stability and leg room underneath. Leg room (or lack thereof) is one of the unspoken issues where camp tables are concerned with many telescoping designs negating the ability to pull your chair in close. This Beckworth table is one of the few exceptions. But beyond that this SmartFlip has other things going for it as well, including the attractive bamboo table surface and the ability to lengthen or shorten the legs to your needs. When you shorten up the legs a bit you have one of the most stable camping tables out there.
Specification:
Brand

Beckworth & Co.

Weight

10.29 pounds
Attractive, portable and easy to clean.
Attractive heavy duty carrying case.
Legs adjust to various heights.
Plenty of leg room underneath.
A very affordable outdoor table.
Gets just a bit shaky when the legs are fully extended.
9. REDCAMP Small Folding Table Adjustable Height
See More Reviews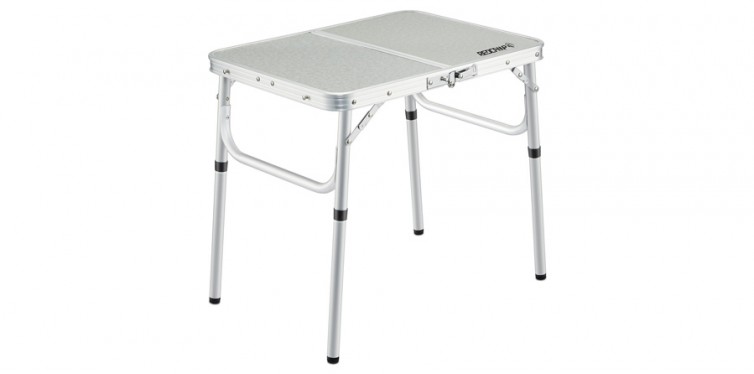 Here's another camping table that does legroom right. While it's not the aesthetic equal of the Beckworth it is every bit the functional equal. Setup is a bit more complex than that of the Beckworth but when the REDCAMP Folding Table is open you have a large, strong surface for food, your laptop, your card game or tailgate party. Like the Beckworth this REDCAMP table is also delightfully stable and, as we mentioned, accommodates the fact that people have legs. It's also about ½ the price of the Beckworth.
Specification:
Brand

REDCAMP

Model

rc31031a

Weight

5.99 pounds
May be the sturdiest of the small camping tables.
Folds down nice and flat with built in handle for carrying.
Table surface itself is medium density fiberboard.
Legs and frame are high quality aluminum.
Comes with 2 small folding stools.
Removable leg extensions could get lost if you're not careful.
10. Moon Lence Portable Lightweight Folding Camping Hiking Picnic Table
See More Reviews
This Moon Lence Portable Picnic Table comes in black or blue and features a telescoping design that unfolds in under 10 seconds. It has a tough but attractive aluminum table surface that's great for your camp food, magazines, LED camping light, tasty beverage and much more. It's another camping table that isn't really designed for people to sit at, like you do a kitchen or dining room table. It's intended to be pulled up next to your camping chair and hold whatever you need held.
Specification:
Brand

Moon Lence

Model

2017720

Weight

3 pounds
As attractive as it is useful.
Rated to 33 lb loads.
Use it in the campground or on your deck during a BBQ.
Fully waterproof design.
Limited lifetime warranty from Moon Lence.
Be wary of putting heavy things near the edge of the table or you risk toppling it over.
Conclusion
A camping table is one of those things you don't know you always wanted until you actually have it. But once you do have a really great camping table you'll never go back to camping without one again. Any of the above camping tables will serve you well. Just keep in mind whether you require leg space underneath and whether you want a hard or soft surface before choosing one.