Best Torque Wrenches in 2022: Get Your Tight Right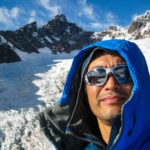 This product guide was written by Seiji Ishii
Last Updated
March 17, 2021
Seiji Ishii
Seiji is Editor in Chief at Gear Hungry. He has enjoyed a lifetime of outdoor adventure and sports, from participant and competitor to coach and trainer, and finally as an editorial contributor. His interests have spanned cycling, climbing, motorcycling, backpacking, trail running, and the training involved for all of it. He has also designed outdoor and off-road motorcycling gear. He lives in a wildlife refuge in Wimberley, Texas, with his daughter, itinerant dirtbags, a dog, and a cat.
GearHungry may earn a small commission from affiliate links in this article.
Learn more
A torque wrench measures the amount of torque applied to a mechanical fastener, usually a nut or bolt. And the best torque wrenches will do this accurately through years of hard use.
Although many household items do not require accurate torque measurements for assembly, some items require specific torques to ensure safety. A loose backyard grill handle may not be cause for alarm, but insecure handlebars could injure your child. Accurate torque measurements become critical when working on things like cars, motorcycles, or your overhead garage door. I know about this from personal experience, including a severe injury. More on this later.
So how do torque wrenches work, and why do you need one? The force that matters for nuts and bolts is the tension along the bolt's length. The bolt acts as a tension spring that clamps the fastened parts together. This force stretches the bolt to create the clamping tension and is not measurable with hand tools. The best facsimile is a torque wrench, which measures the twisting force applied to the nut or bolt head.
Measuring this twisting force is also beset by variables such as bolt, nut, and clamped part materials or the presence of a gasket. But what affects bolt and nut torques the most is the friction between the threads and the friction between the bolt and clamping surface. The assigned torque value found in the owner's manual or assembly guides takes all of this into account. An accurate torque wrench ensures that you won't damage the fastener or item by over-tightening. Yet, you will apply enough torque to keep the fastener from incidentally working itself loose.
The Best Torque Wrench Review
Snap-On 3/8-Inch Drive Techangle Flex-Head Torque Wrench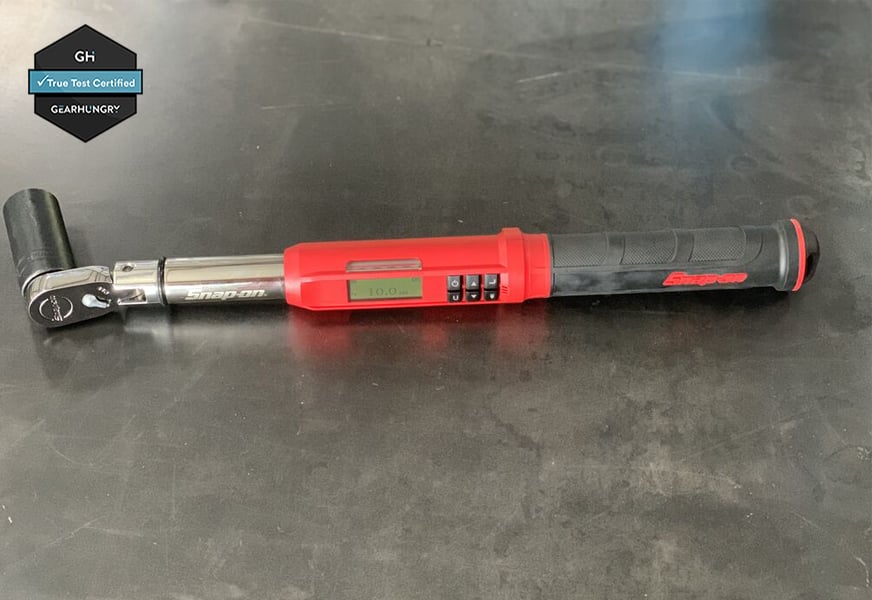 When you want the best, regardless of price, Snap-on TechAngle Flex-Head Torque Wrenches are it. This torque wrench series is the unanimous choice for every professional auto mechanic I know or have seen in action. And the 3/8″ size serves a broad range, covering torque values from 5 to 100 ft-lb.
This digital torque wrench makes it nearly impossible to over-tighten a fastener. Progressive LEDs light up in sequence, giving the user guidance to meter the effort near the desired torque. Four alerts signal this value: the LCD readout, the LED lights, an audible alarm, and finally, the tool vibrates.
The user sets up the target torque value via up and down buttons, in ft-lb, in-lb, Nm, Kgcm, dNm, (+/- 2-3% accuracy), and the Snap-on TechAngle Torque Wrench can read the angle of rotation (+/- 1% accuracy). Additionally, the LCD readout works in four languages. The tool stores data including the number of fasteners torqued, a record of 50 uses, and is configurable with ten commonly used presets.
The fit and finish of this tool are second to none. The ratchet mechanism will engage with only 4.5 degrees of arc, useful in tight confines (along with the flex head), and the grip is seamless and non-textured to prevent sore hands for heavy users. It is flared at the end to prevent slipping due to oily hands or high torque. The buttons are low-profile to avoid accidental activation, and the exterior polishing screams quality. 
The Snap-on will store up to 50 records, which could come in handy to confirm that the user has indeed tightened every fastener in the process. This tool can even translate the LCD into four languages!
I have jealously used this tool while working out of my friends' various motorcycle shops, knowing that the $565 MSRP was never justifiable to me. But I can attest — if spinning wrenches was the way I earned money, then the Snap-on 3/8″ Drive TechAngle Flex-Head Torque Wrench would be a priority in my tool acquisition plan.
Key Features:
Four-way alarm at desired torque, including vibration
Data storage
Measures torque and angle in both directions
Specification:
Brand

Snap-on

Model

ATECH2F100RB

Torque Range

5 – 100 ft-lb

Accuracy

2-3%

Warranty

2 years
The choice of professionals
4.5-degree ratchet engagement
Typical excellent Snap-on quality and service availability
The most expensive in this guide
Only available directly from Snap-on or franchise
Your friends will try to steal it
GearWrench 3/8-Inch Flex Head Drive Electronic Torque Wrench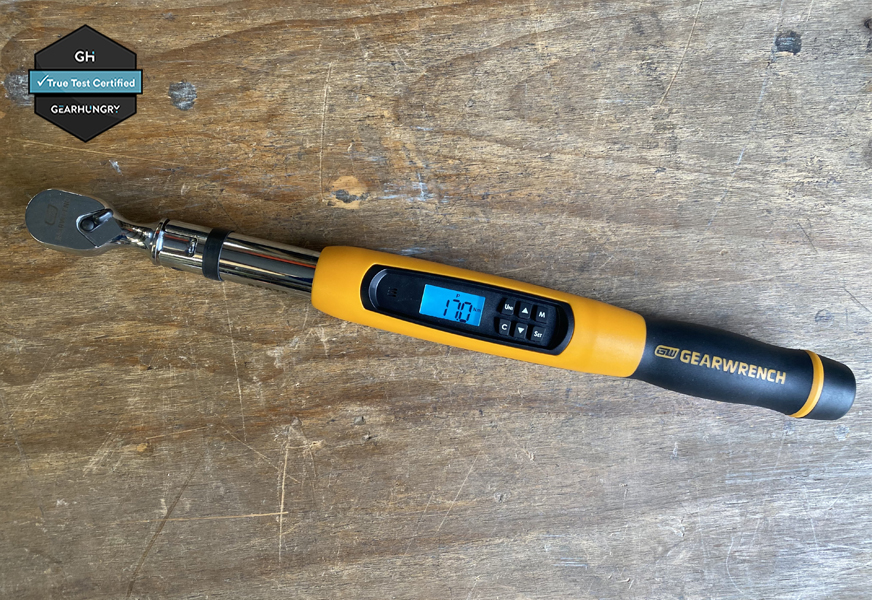 Although the GearWrench 3/8-Inch Drive Electronic Torque Wrench carries an MSRP of $249, which is much pricier than others, it's still a lot more affordable than the Snap-on version and touts many of the same features. It alerts the user through an LED light, audible buzzer, and vibrating handle which indicate that the target torque is achieved, making it almost impossible to over-tighten a fastener.
It has a 72-tooth ratchet mechanism, allowing for a narrow 5-degree swing arc, handy for tight places. And GearWrench claims a torque accuracy of +/- 2% clockwise and +/- 3% counterclockwise between 20% and 100% of the wrench's capacity. All these operational highlights put it on par with its more than twice as expensive Snap-on counterpart.
And in use, I found the GearWrench unit an absolute joy to work with. The tool made a mundane yet critical task much more enjoyable, and I had more confidence in getting the job done right. It was easy to enter the desired torque (or angle) in whichever units the manual listed, and all the notifications of reaching this value were impossible to overlook.
The one functional advantage I gave the Snap-on wrench over the GearWrench is the former's sequentially-illuminating LEDs. These LEDs inform you of how close you are to the target torque value. I knew that feature was handy (especially on high torque fasteners like motorcycle axle bolts) but for less than half the price, I can make do with being more careful when cranking hard.
The 72–tooth ratchet mechanism indeed allowed for small arcs, which proved handy inside the motor compartment of my van, while the flex head accommodated for head bolts inside the frame of my adventure bike.
The ten available presets were time savers for frequently used torque values on my dirt bikes. And the oil-resistant handle and generally solid build of the tool gave a feel that justified the higher price than other tested units. What was missing compared to Snap-on was the data storage ability, and the fit and finish looked and felt just a hair less refined. But again, the price difference is massive.
For the heavy home user or the self-proclaimed "prosumer," the Gear Wrench 3/8″ Flex Head Electronic Torque wrench is an absolute winner, delivering professional-level functionality at a much lower price compared to Snap-on.
Key Features:
Three-way target torque alert: buzzer, LED light, vibration
Measures torque and angle in both directions
72-tooth ratchet / 5-degree arc
Specification:
Brand

GearWrench

Model

85078

Torque Range

10-100 ft-lb

Accuracy

2-3%

Warranty

1 year
Multiple torque notifications
5.5-degree ratchet engagement
Professional level functionality for less
Expensive compared to "home mechanic" alternatives
Requires batteries
Too nice/expensive to throw around
Venzo Bicycle 1/4-Inch Drive Torque Wrench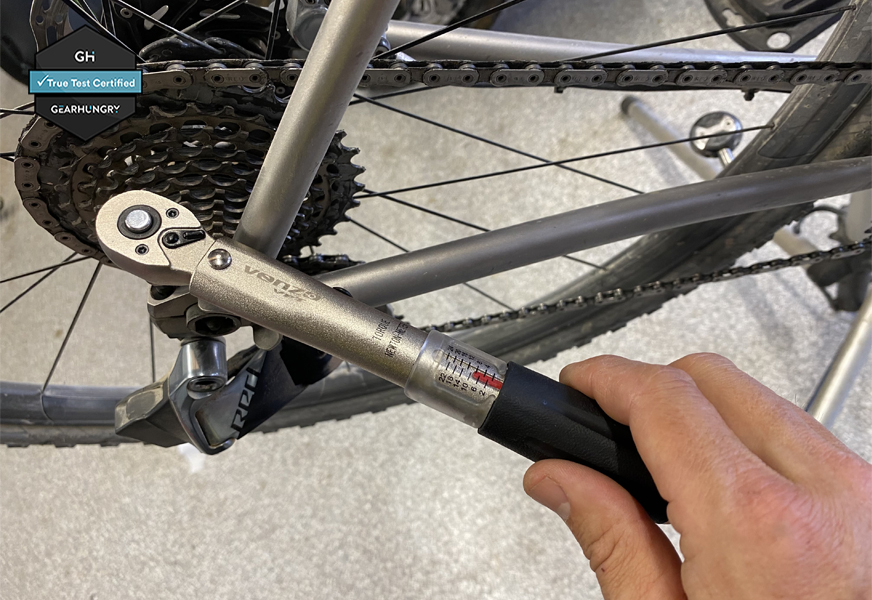 This affordable unit is the right size and operates in the correct torque range for bicycles and other less robust mechanical items. High-end bicycles can cost as much as a motorcycle or used car, and carbon parts and small bolts are intolerant of ham-fisted tightening. This Venzo Bicycle 1/4-Inch Drive Torque Wrench kit has been in service in my home bike shop for three years and has proven its value.
The 1/4″ click-style driver measures between two and 24 Newton-meters with a claimed accuracy of +/- 4%. and the 8″ length limits leverage to help prevent overtightening. The desired torque value is set by rotating the handle, and I found the click indicating the correct tightness to be obvious and with the appropriate feel for smaller fasteners. The torque wrench did operate in both directions but only measured torque in the clockwise direction.
This torque wrench came with a calibration certificate, and my comparisons with other torque wrenches proved it to be adequately accurate. I am very cautious working on my bicycles, as they are often test units on loan, and their retail prices are sometimes beyond belief (five figures). So, accuracy is essential to me, and the Venzo torque wrench has yet to let me down.
Amazon does list a handful of critical reviews of this unit, with users claiming inaccuracy in torque readings. I initially had issues, but with further investigation, I found that the purchaser must distribute internal fluids in some wrenches that have sat for a long time. Once I shook my wrench, it functioned correctly and has remained operable since.
If you are a hand-tool enthusiast, the fit and finish of the Venzo torque wrench may be unappealing. The unpolished finish and details are not on par with higher-end tools, but the instrument was functional and practical. And really, it's what I expected in the price range. The wrench is built in Taiwan; manufacturer support may be questionable.
The wrench comes with a plastic case and all the bits necessary for most bicycles: 3-, 4-, 5-, 6-, 8-, and 10-mm Allen keys, an extended 5-mm Allen key, and T20, T25, and T30 bits. All were of high enough quality for me to trust on my most expensive rigs in the torque ranges for bicycles and smaller motorcycle parts and accessories.
The Venzo Bicycle 1/4-inch Torque Wrench also comes in a version with a lockable handle to prevent accidental changing of the set torque value for an MSRP of $90.
For more useful tools for your collection, check out our guide on the best adjustable pipe wrenches.
Key Features:
Click style torque wrench
It comes as a kit with bits appropriate for bicycles
The size and feel are appropriate for bicycles
Specification:
Brand

Venzo

Torque Range

2-24 Nm

Accuracy

4%

Warranty

1 year
Affordable
It comes with a case and bits
Proved accurate in comparison to others
Utilitarian fit and finish
Made in Taiwan, possibly questionable support
Some reports of inaccuracy
Lexivon 1/2-Inch Drive Click Torque Wrench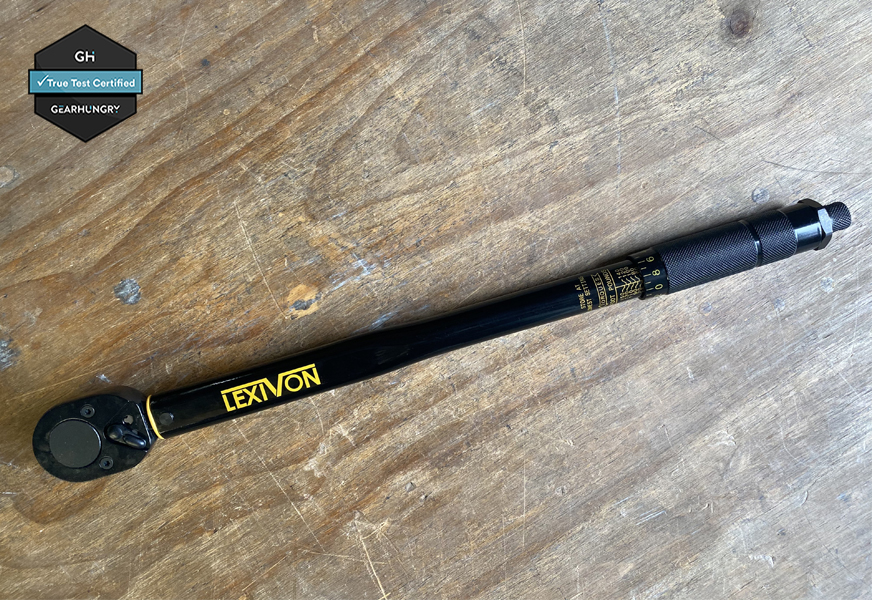 Fasteners on cars can be larger and demand more torque than on other household items, making 1/2″ drive versions a better choice most of the time. DIY types can benefit from the longer handles of these larger models for high-load fasteners like lug nuts. A tool that gets limited use ideally won't break the bank, but it does have to be accurate.
The Lexivon 1/2″ Drive Clique Torque Wrench has an unbelievably low MSRP of $70 for the 10 to 150 ft-lb version and sells on Amazon for half that. Can you trust a torque wrench at that price? Especially for something like lug nuts on a family vehicle? I purchased one to find out.
Lexivon claims a +/- 4% accuracy when shipped and includes a certificate of this calibration with a traceable serial number. No telling how long this calibration will stand, but when new, it registered torque that matched digital units that cost almost seven times as much at the typical 80 to 90 Nm specified values of axle nuts.
The 18″ handle made easy work of these higher torque specifications. The yellow-on-black graduations on the twist-to-adjust handle (with twist-lock) made dialing this value easy even in poor lighting conditions. The click sensation when arriving at the set value was adequate but not overly obvious. The ratchet mechanism has fewer pawls than higher-priced units, requiring more arc to engage, making it cumbersome when space was limited and rendering a less-than-high-quality feel.
Still, I felt it was appropriate for a wrench of this size and cost. The ratchet is reversible to loosen bolts, but will only act as a torque wrench in the clockwise direction.
Lexivon's Electro-Black finish looked much nicer than the price tag would ever suggest, and the included case was an appreciated bonus.
It's hard to complain about a tool for occasional use on more robust fasteners with a roughly $30 street value. And surprisingly, this wrench comes with a two-year warranty.
Our guide to the top cordless impact wrenches offers more quality tools you may be interested in.
Key Features:
Click style torque wrench
Properly sized for higher torque applications
10-150 ft-lb and 25-250 ft-lb versions available
Specification:
Brand

Lexivon

Torque Range

10-50 ft-lb

Accuracy

4%

Warranty

2 years
Extremely affordable
Easy to read the yellow scale on a nice black finish
The certificate of calibration has a traceable serial number
Made in Taiwan, so questionable recalibration opportunity
Wide ratchet arc required
The "click" at the desired torque value is only adequate, not obvious
Craftsman 3/8-Inch Drive Micrometer Torque Wrench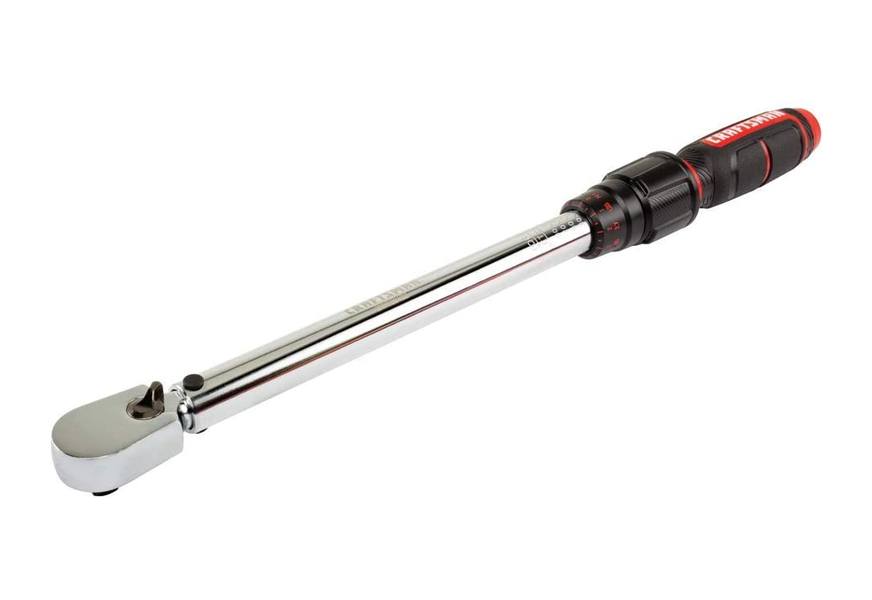 Craftsman has been a widely recognized name in tools, widely available at retailers like Sears, Lowe's, Ace, and Amazon. An earlier version of the Craftsman 3/8-Inch Drive Micrometer Torque Wrench has been in service in my home motorcycle shop for 15 years and still proves its worth today.
This click-style torque wrench has the typical twisting collar to dial in the desired torque value, stamped on the bottom of the shaft, with further gradations marked on the locking collar. This style of adjustment has been proven effective across several torque wrenches in my collection. The click's feel took attention, as it's not as apparent as other click-style units I've used.
The ratchet on my version of the tool doesn't have as many pawls as my more expensive versions, so it didn't have as high a quality feeling, and the swing arc is more extensive than my "prosumer" model, but for the MSRP of $70, I found it adequate. The ratchet is reversible but only measures torque in the clockwise direction.
This tool also meets or exceeds all ASME specifications and comes with a case.
In conclusion, this is a practical, functional, and dependable unit, perfect for the frequent home user. My version of the same tool helps back this claim up, as well as a five-star rating on Amazon.
This workhorse does represent the Craftsman name well, but one caveat: unlike Craftsman hand tools, torque wrenches carry a one-year limited warranty — not the brand's lifetime warranty. And also, there is no claimed accuracy for this tool. 
Be sure to also browse our list of the best-rated screwdriver sets for more handy tools like this.
Key Features:
Click-style torque wrench
Locking adjustment collar
Reversible ratchet
Specification:
Brand

Craftsman

Model

CMMT99433

Torque Range

20 – 100 ft-lb

Accuracy

N/A

Warranty

1 year
Legacy models of the same wrench have proven reliable
Five-star rating on Amazon
Sold by many popular retailers
Not as many ratchet pawls as higher-end tools
No accuracy claims
It doesn't carry a lifetime warranty like Craftsman hand tools
EPAuto 3/8-Inch Drive Click Torque Wrench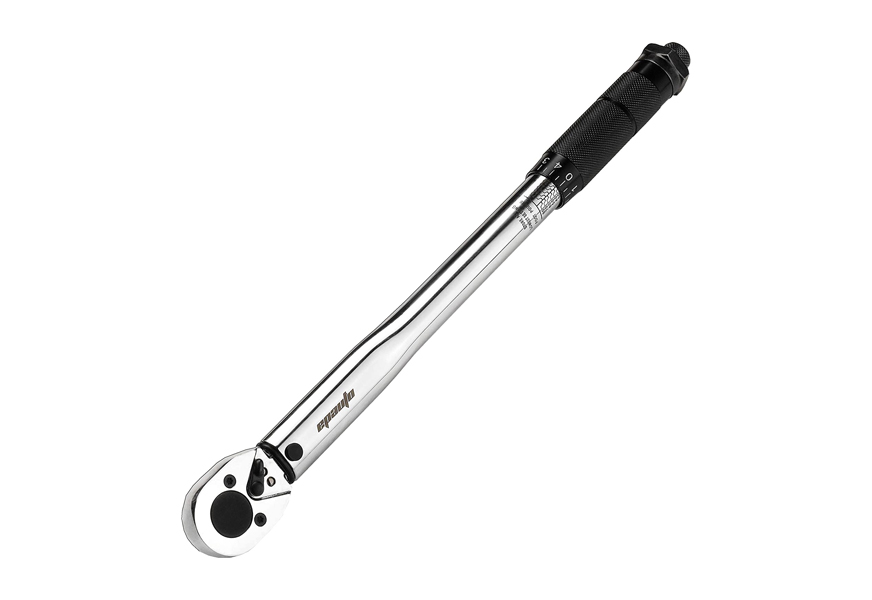 This click-style torque wrench with an MSRP of $25 has 4200+ reviews with a 4.5-star average on Amazon, making it hard to beat for occasional use. Although beam-style torque wrenches sell for a similar price, the ease of use of click-style torque wrenches makes this a no-brainer choice for occasional use around the home.
The 10-80 ft-lb range spans the sweet spot for general home use, while the claimed + / – 4% accuracy matches models costing more. There are isolated reviews of units that failed to click at the set torque value, so it may be best to test the unit against a wrench known to be accurate in critical cases.
The twist-to-set handle has a locking collar, with high contrast markings on the handle and a dual-range scale etched into the shaft. EP Auto uses hardened chrome-vanadium alloy in the ratchet head for durability and long life, and knurling in the handle prevents oily hands from slipping.
The EPAuto 3/8-Inch Drive Click Torque Wrench comes with a plastic case, 1/4″ drive adapter, 1/2″ drive adapter, and a 3/8″ drive extension. And, surprisingly, EPAuto claims a lifetime warranty in-home use.
The ratings are favorable, but mostly, it's the price. For the DIY type that only uses a torque wrench a few times a year, spending any more money might be a hard call.
Key Features:
Easy-to-use click style torque wrench
Hardened chrome-vanadium steel ratchet head
Comes with three adapters
Specification:
Brand

EPAuto

Torque Range

10-80 ft-lb

Accuracy

4%

Warranty

Lifetime (in-home use only)
Affordable
It comes with a case, adapters, and extension
Claimed lifetime warranty
No calibration certificate
Isolated reports of inaccuracy
Made in Taiwan, possibly questionable support
Ares 1/4-Inch Drive Beam Torque Wrench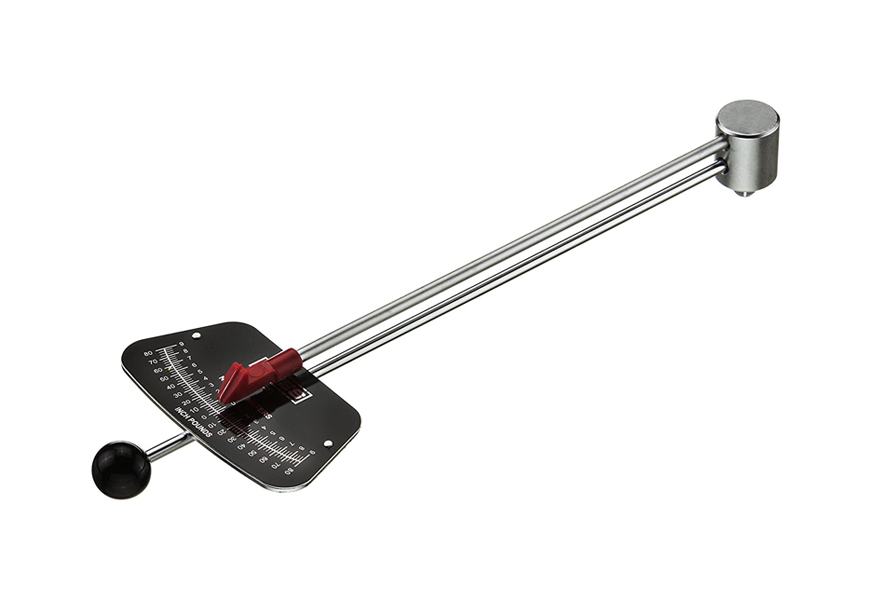 With the ease of use of click-style and electronic torque wrenches, why do we list a beam style? The Ares 1/4-Inch Drive Beam Torque Wrench is appropriate for smaller fasteners with lower torque requirements. The click-style and electronic torque wrenches listed in this guide may not measure torques this low, and if they do, they are less accurate in that part of their range.
Beam-style torque wrenches are also ideal for beginner mechanics with aspirations of honing skills. Because the application of force must be applied to get a reading, and there are no indicators of reaching any values, the user must always be attentive and watch the scale. These use requirements develop a feel for fastener torque that I use every time I turn a wrench.
The Ares torque wrench looks like almost every other beam-style wrench, with sharp, white delineations in inch-lbs and Nm on a black plate for easier use in low light conditions, in both the clockwise and counterclockwise direction. The claimed accuracy is +/- 4%, and beam-style wrenches never need recalibration. 
The ball handle encourages the proper lower forces appropriate for the 0-80 in-lb range, and all beam-style torque wrenches have simple construction that ensures long life. I have a beam-style wrench in my tool chest that I got 40 years ago, and it is still working as designed.
For an MSRP of $27 and a street price that's even less, this Ares 1/4-Inch Drive Beam Torque Wrench may be the affordable solution for smaller fasteners or aspiring mechanics.
Key Features:
Bean style torque wrench
Sized adequately for smaller fasteners
Easy to read the white scale on black background
Specification:
Brand

Ares

Torque Range

0-80 in-lb.

Accuracy

4%

Warranty

90 days
Affordable
Never needs recalibration
Develops a feel for fastener torque
Torque value must be read while force is applied
No ratchet means repositioning tool more often
Requires more attention and care for proper use
Why Trust Us
I have been a professional bicycle mechanic and have tested motorcycles, motorcycle parts, and accessories for over a decade. I have also built two Overlanding trucks and have maintained all my vehicles and any motorized tools or lawn and garden machines since high school. Although I may not be able to pound a nail, I'm very experienced and confident when it comes to motors and mechanical devices.
Bolt torque hits a nerve for me. A few years ago, I used a professional motorcycle mechanic for the first time in my career because the tested item didn't have an installation component (it was a suspension, something not done by a customer). The mechanic failed to torque a critical bolt, and it loosened and fell out during testing. The result was a life-altering injury that I am still dealing with today. If the bolt had failed at almost any other time during that ride, I would have likely died. So, bolt torques are something I never, ever overlook, and the several torque wrenches I own are the most valuable tools in my tool cabinet.
How We Tested the Best Torque Wrenches
In any given week, I am removing or installing motorcycle or bicycle components several times. I also routinely do bolt checks before riding as a safety preauction, a "pre-flight" check that only takes a few minutes but could prove life- or limb-saving. There is a torque wrench in my hand at least three times a week, which has been the case for over a decade. 
Because of my motorcycle industry connections, I have been surrounded by the highest caliber mechanics for over a decade—race teams, suspension shops, motor modification services, and similar. I have observed up close the almost constant use of torque wrenches and occasionally stepped in to assist. In motorcycle racing, bolt failure is not an option.
All these experiences were real-time testing opportunities, and it continues today.
How We Picked the Best Torque Wrenches
I have owned and used dozens of torque wrenches over the last 30 years, and I have used them in a professional setting on both bicycles and motorcycles. I have also used them to modify, maintain, and build my Overlanding vehicles. These experiences gave me plenty of hands-on knowledge to choose the array of torque wrenches in this buyer's guide.
I surveyed all types, sizes, and price ranges for torque wrenches, and I chose models that served the widest span of needs and cost. I also ensured that at the time of writing, every model was readily available for purchase.
I also interviewed the working professional mechanics I know for bicycles, motorcycles, and automobiles. These people use several torque wrenches daily, and I valued their opinion on which brands and models they trusted. I also gained insight into what models they would recommend for the home user or "Prosumer" (consumer pro).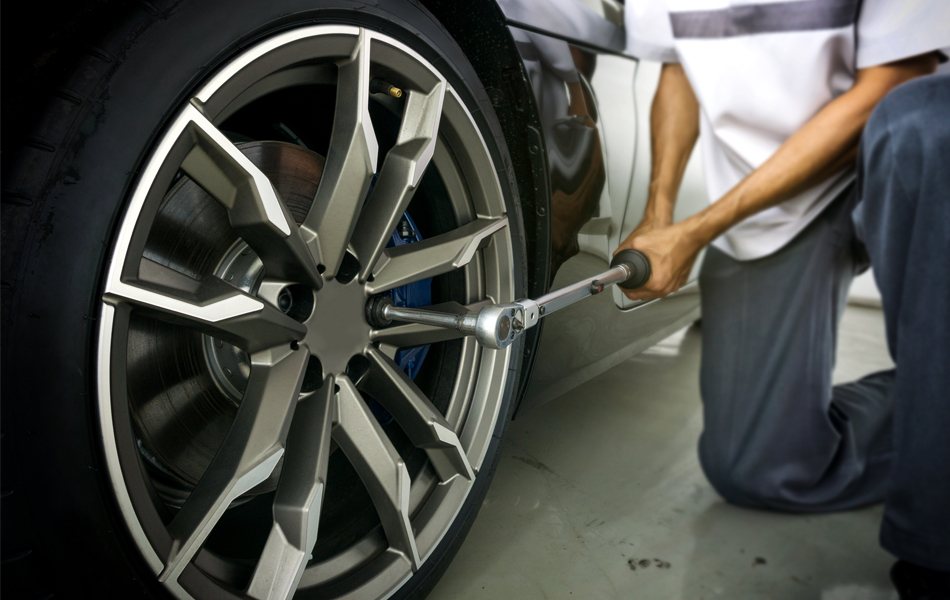 Who This is For
This guide to the best torque wrenches will serve the DIY subscriber who wants to ensure proper bolt torques for safety, reliability, and functional reasons, regardless of the item. From cars to swing sets, assembly instructions and manuals list the correct tightening torques, and an accurate torque wrench is the only way to attain these values.
Things to Consider
Type - The three most common types of torque wrenches are deflecting beam, click, and digital.
The most common deflecting beam-type torque wrenches estimate torque from the amount a metal beam gets deflected when tightening a bolt or nut. This deflection changes where another beam connected to the head but not the handle intersects a scale, which gives the instantaneous torque reading. These simple torque wrenches are inexpensive, and require no calibration and zero maintenance. But they need close observation during use, as the reading isn't "saved," and the torque value only shows while the user is applying force.
Click-style torque wrenches are the most common for home mechanics, and as the name implies, they produce an audible click sound that can be felt when the user reaches the predetermined torque setting. Most of these torque wrenches only click as an indicator; it is still possible to overtighten a fastener. These wrenches are affordable for the home mechanic and DIY fan, usually costing much less than digital versions.
Digital torque wrenches are the choice of professional mechanics and for good reasons. These wrenches usually beep, vibrate, and light up when the user reaches the preset torque setting, virtually eliminating over-tightening. And setting the torque couldn't be easier; the user toggles "up" and "down" buttons. These high-end wrenches can provide readings in whatever units the mechanic desires. But the drawback is the price; digital torque wrenches cost substantially more.
Other less common types of torque wrenches include beam, split beam, slip, and micrometer. There are also torque adapters, which attach between a socket and corresponding wrench that provide torque measurements. 
Size - Choosing between a 1/4" drive, 3/8" drive, and 1/2" drive is a matter of determining the fastener sizes, and their corresponding torque ranges that you will encounter most. Although you can use adapters, ideally it's a rare need.
1/4" drive torque wrenches are best for smaller projects, like bicycles, that use smaller bolts and nuts. These smaller fasteners tend to be much more fragile and easier to break than fasteners on cars, making the 1/4" drive torque wrenches one of the more critical sizes to have if you frequently encounter such bolts. The more diminutive stature of these wrenches helps limit leverage, which helps minimize accidental over-tightening.
The majority of motorcycle, household, and lawn and garden equipment can be serviced with a 3/8" drive unit. I have all the torque wrench sizes, and the 3/8" gets the call 90% of the time when working on anything other than a bicycle.
1/2" torque wrenches can often service cars with their heftier parts that demand much higher torque than other mechanical devices. The longer tools also add necessary leverage for monster bolts like motorcycle axle nuts or lug nuts on an automobile.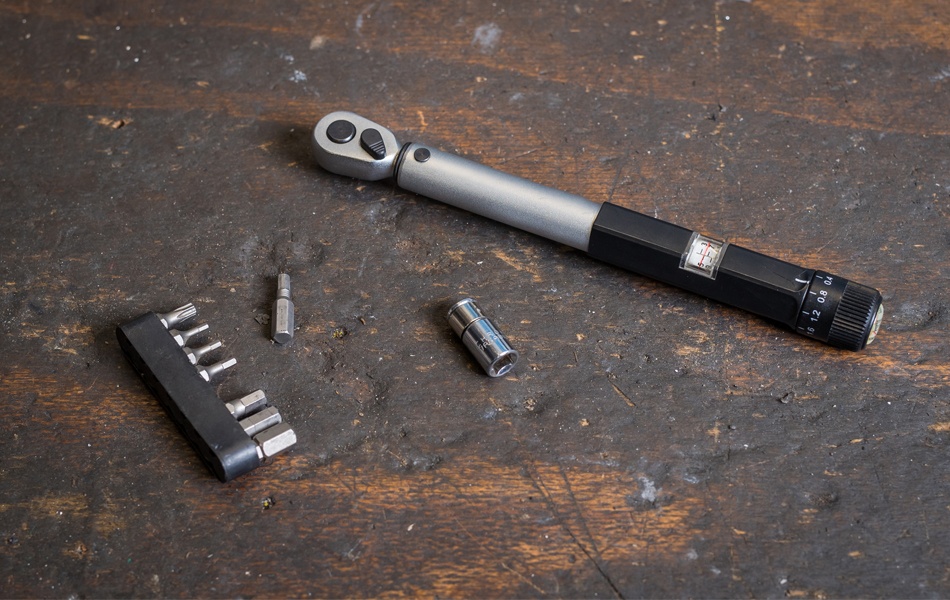 Torque Wrench FAQ
Q: How to use a torque wrench?
A: For digital and click-style torque wrenches, the user sets the desired fastener torque. Digital torque wrenches generally have buttons to input the value, while click-style wrenches have a handle that turns and usually locks to set the correct torque value against a scale on the tool's shaft. There is no way to preset the torque on beam-style wrenches.
The nut or bolt is tightened, and on digital wrenches, one or a combination of audial, visual, or tactile signals inform the user upon reaching the desired torque value. On click-style wrenches, a mechanical click that can usually be heard and felt indicates the fastener has met the desired tightness. It is important to note that with most wrenches, the user may continue to tighten the nut or bolt after reaching the correct value; the user must stop turning the wrench to avoid over-tightening.
With beam torque wrenches, the user must read the torque value while actively tightening the fastener, which may be difficult due to space or the angle of use. The user must stop applying pressure when reaching the planned value. There is no signal to stop tightening.
On click-style wrenches, it is essential to return the tool to the lowest torque setting when work is complete.
Q: What is a digital torque adapter?
A: A digital torque adapter is a tool that attaches to a ratchet on one side and a socket on the other. This combination acts as a digital torque wrench, complete with preset torque values and audible, visual, and tactile signals available to indicate correct tightness. Although these adapters may be a less expensive way to obtain the advantages of a digital torque wrench, space limitations may negate their use.
Sources:
Back to Basics: The Nuts and Bolts of Torque and Tension - Valve Magazine
Sign Up Now
GET THE VERY BEST OF GEARHUNGRY STRAIGHT TO YOUR INBOX