Expert Panels: The Best Graphic Novels for Adults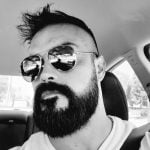 This product guide was written by Billy Brown
Last Updated
May 31, 2021
Billy Brown
Billy Brown has a problem sitting still. His constant search for the next challenge has him doing everything from running ultramarathons and climbing 14er's to gaining 40 pounds to compete in powerlifting, breaking several state records and growing a killer beard in the process. With over a decade of writing under his belt, his work, covering action sports, gear, and beer, can be found in a variety of publications. He lives with his wife and their two cats in Sacramento, California.
GearHungry may earn a small commission from affiliate links in this article.
Learn more
While comic books and graphic novels arguably hit their heyday during the '90s, all of us who were reading kids back then have grown up (ish). But for many of us, the appreciation of quality art and excellent storytelling never went away. Between the nostalgia of our favorite story arcs reissued in graphic novel form and the continuing wave of innovative new graphic novels being published every year, there's no shortage of the best graphic novels for adults.
You don't even have to be an old-school "I was a nerd before it was cool" reader. People intrigued by the recent wave of films based on comic books can deepen their appreciation for those films by reading the source material.
We collected the best graphic novels for adults with a two-pronged approach. First, we took a look at some of our old favorite graphic novels, characters, and story arcs. Then we delved into a host of newer books that engage readers on a deeper level than just bright colors and pretty pictures (not that there's anything wrong with that). After copious amounts of research that entailed serious couch time, a stack of comic books, and a bottle of bourbon or two, we've narrowed down the huge list of good graphic novels for adults to a select few must-read graphic novels.
To see what we've enjoyed, take a look at our subjective list of great graphic novels for adults. Feel free to recommend some of your favorites if we left them out. We're always looking for more reading material.
The Best Graphic Novel Review
The Call of Cthulhu Illustrated Hardcover by H.P. Lovecraft and François Baranger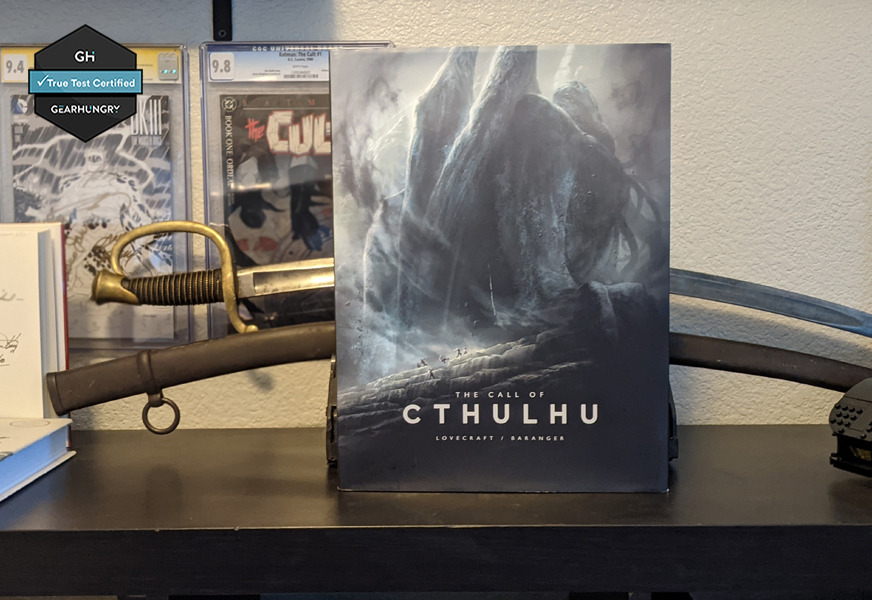 To be fair, this isn't strictly a graphic novel, but more of an illustrated edition of H.P. Lovecraft's iconic story. The Call of Cthulhu is the short story that launched an entire mythos and has haunted me personally since the first time I read it back in high school.
The story follows Francis Thurston as he tracks a mystery in documents left behind by a recently-deceased elderly relative in 1920's Boston. Throughout his exploration, he encounters horrific death cults in Louisiana swamps, artists whose nightmarish visions have driven them mad, and a cyclopean city hidden under the depths of the sea. All of which center around the slumbering priest Cthulhu, who calls to his followers from the depths of the ocean. The story remains one of the greatest classics of American horror. Francois Baranger gives it a beautiful, haunting rendering, managing to do justice to the subtle horror and nearly indescribable monster that the story centers around.
Featuring the original story's entire text supplemented with glorious full-page illustrations, this edition of The Call of Cthulhu is a must-read for any Lovecraft fan. Read the in-depth review here.
Key Features:
Written by H.P. Lovecraft
Art by Francois Baranger
Specification:
Publisher

Design Studio Press

Hardcover

64 pages

Weight

2 pounds
Hellboy, Library Edition Volume 1: Seed of Destruction and Wake the Devil by Mike Mignola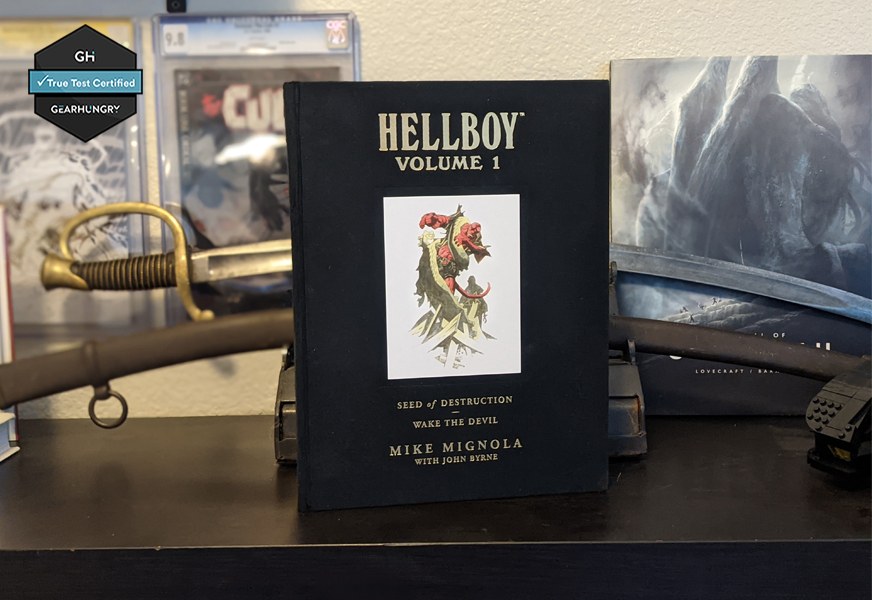 Since his first full comic book appearance in Dark Horse's Next Men #21 in 1993, Hellboy has enthralled readers by fighting demons both external and internal. Readers may notice that every panel is a gothic masterpiece worthy of framing. But it's Mike Mignola's complex, conflicted, and earnest signature character that gives the series such long legs and makes it one of the best comic books for adults.
The Hellboy series has racked up numerous Eisner Awards for its engrossing storylines, excellent mythology, and immersive narratives that can be haunting, thought-provoking, and even humorous by turns. The graphic novels have been published in several editions, but the hardcover library edition of the first two stories, "Seed of Destruction" and "Wake the Devil," introduces the character effectively.
Beautifully bound and loaded with supplemental materials, this version offers excellent insight into the making of the story. It includes unreleased sketches and designs, as well as introductions by literary legend Robert Bloch and Watchmen creator Alan Moore.
Key Features:
Created by Mike Mignola
Script by John Byrne
Colors by Mark Chiarello
Introductions by Robert Bloch and Alan Moore
Supplemental sketches and notes
Hardbound cloth cover
Specification:
Publisher

Dark Horse Books

Hardcover

288 pages

Weight

4.08 pounds
Batman: The Killing Joke, 30th Anniversary Edition by Alan Moore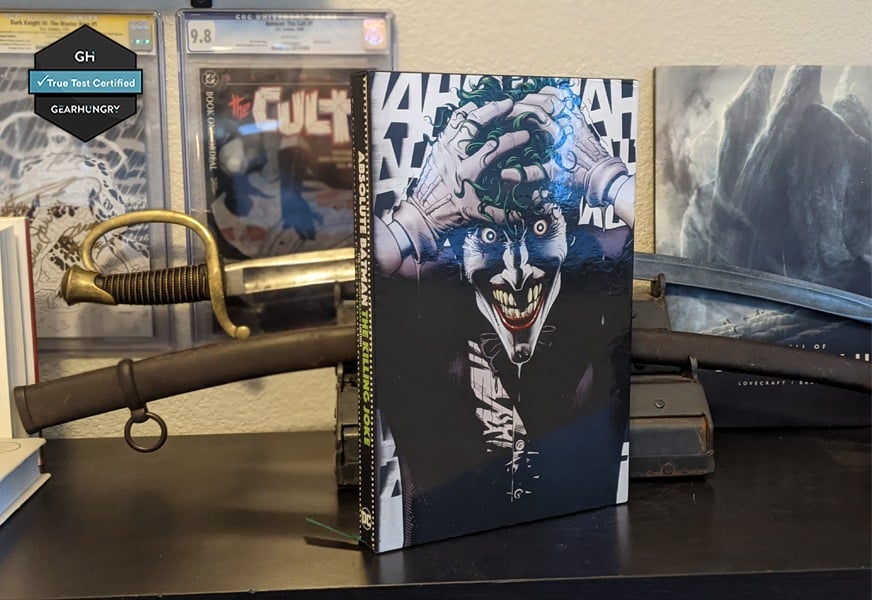 The greatest Batman and Joker story ever told by leaps and bounds, Batman: The Killing Joke is a chilling look at Batman's greatest villain by acclaimed writer Alan Moore. Moore, whose other works include Watchmen, V for Vendetta and The League of Extraordinary Gentlemen, takes a deep dive into the Joker's origin and his relationship with Batman while telling the story of his attempt to drive Commissioner Gordon insane.
The book, whose events had repercussions in the DC Universe for decades, is decidedly for mature audiences. Moore explores the depths that the Joker will go to in order to reach his chaotic goals. Much more than just a beat 'em up action comic, The Killing Joke offers the first definitive origin of the Joker and looks hard at the psychological ramifications of contending with amoral supervillains, as well as the impact that the Joker and Batman have had on each other over time.
The subtle art and colors add to the book's growing horror. DC was bold enough not to shy away from some of the more horrific scenes, rendered in simplistic realism.
An ambiguous ending that left comic book fans arguing since the time of its publication puts the finishing touch on a story that will stay with you long after you read it.
We recommend The Killing Joke 30th Anniversary Edition for including the high-gloss recolored version, old-school pump paper print, and a host of supplemental material.
Key Features:
Written by Alan Moore
Art by Brian Bolland
Colors by Brian Bolland and John Higgins
Introduction by Tim Sale
Never-before-published scripts
Supplemental Batman and Joker sketches
Hardbound cover with slipcase
Specification:
Publisher

DC Comics

Hardcover

152 pages

Weight

4 pounds
300 by Frank Miller and Lynn Varley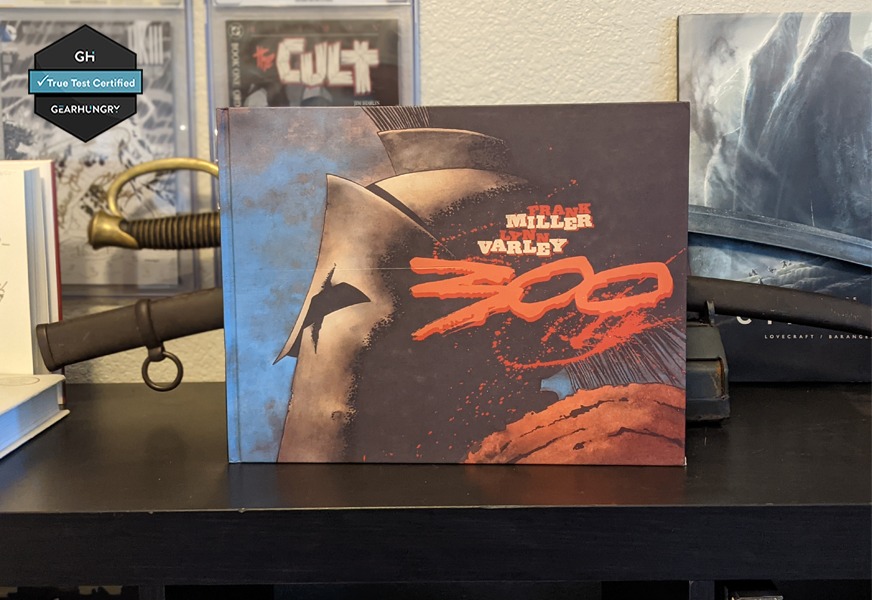 300, the retelling of the Spartans' defense against the Persian forces at Thermopylae in 480 BC, is a brutal epic worthy of multiple re-reads. Artist and writer Frank Miller is best known for his Batman mini-series The Dark Night Returns and crime noir Sin City. Both, along with 300, have been adapted into blockbuster films.
Rightfully so: Miller's gritty storytelling and matching art style lends gravitas to almost anything he puts his hand to. And nowhere is that gravitas more appropriate than in the Spartans' defense of the Western world against Persian invaders.
The story of Leonidas has been examined since the Greek historian Herodotus first wrote about it in his book The Histories in 430 BC. While 300 is by no means an accurate historical account, neither is Herodotus', according to some historians. Instead, 300 is a stirring story that captures the sacrifice, bravery, and camaraderie of the Battle of Thermopylae. Miller's spare storytelling is a perfect match for the Spartan ethos. His art is stylized, beautiful, and, at times, brutal. The art is complimented by Lynn Varley's excellent coloring, which adds depth to the scenery and gives every splatter of blood a visceral feel.
For those who are interested in pursuing a more accurate account of the story, the book concludes with a list of recommended books for diving deeper into the historical events. 
Reduce stress and let yourself be creative with some of the top adult coloring books from our list.
Key Features:
Story and art by Frank Miller
Colors by Lynn Varley
Hardbound cover
Specification:
Publisher

Dark Horse

Hardcover

88 pages
Noah by Darren Aronofsky, Ari Handel, and Niko Henrichon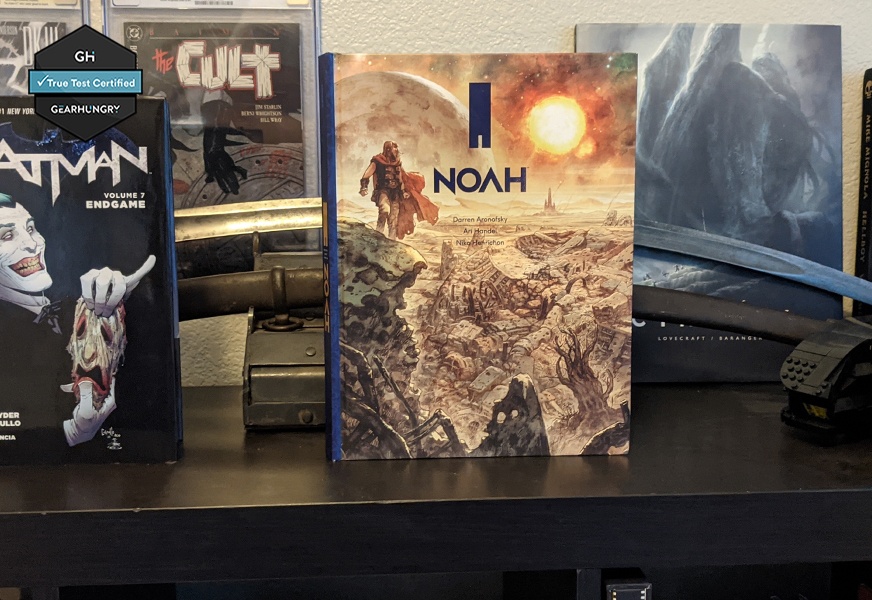 While the 2014 film "Noah" was met with mixed reviews at best, the precursor graphic novel by famed director Darren Aronofsky, written with Ari Handel, presents a much more engaging story. The book's sparse storytelling is based on the biblical account of Noah's flood with heavy influence from apocryphal works such as the Book of Enoch, which elaborates more on the flood than the Book of Genesis.
Noah starts with the fall of man and makes its way through the story of the biblical flood in which God intended to wipe man from the Earth. The retelling of the classic story gives a more emotional and human perspective than the biblical one. Here, we get a deeper look at both Noah's family as well as those doomed to drown outside the ark. The resulting story gives us a deeper sense of the tragedy for those who didn't survive the flood, as well as the emotional torment and responsibility of those within the ark.
Niko Henrichon's art gives antediluvian Earth a young, vibrant feel, from the prehistoric animals and iron-age tools and armor to the sky, which is lit up with stars during the daytime. Henrichon's art does a good deal of the storytelling, creating mood and emotion in a comic that is thrifty with words. If you're looking for a wordless graphic novel for adults, this comes close.
The stylistic rehashing of biblical characters such as Methuselah and Tubal-Cain give the time-worn story a fresh, modern feel, and the image and appearance of the Nephilim is awe-inspiring. It may inspire cries of blasphemy in more conservative readers, but the graphic novel brings new life to a story that has been around for millennia. A perfect addition to your bookcase collection.
Key Features:
Story and art by Frank Miller
Colors by Lynn Varley
Hardbound cover
Specification:
Publisher

Image Comics

Hardcover

256 pages
Batman Volume 7: Endgame by Scott Snyder and Greg Capullo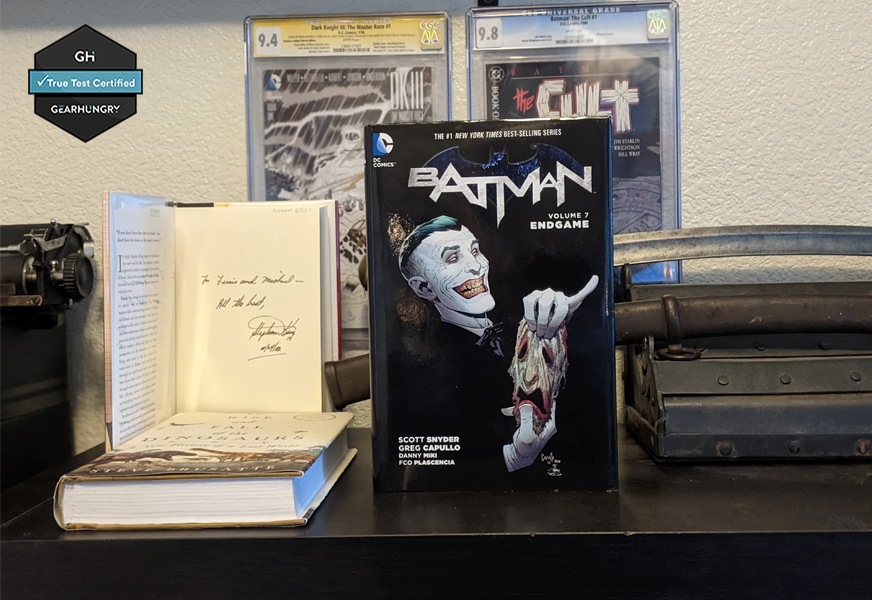 Quite possibly the best Batman storyline of this century, the Endgame story arc written by Scott Snyder and penciled by Greg Capullo has just about everything you could possibly want from a Batman story. Collecting Batman #35-40, it starts out with him fighting the Justice League, which highlights the tactics he deploys for just that situation (the 'banana peel' tactic he uses against the Flash is genius). It also includes a Jokerized Superman, and a Joker story that is second only to The Killing Joke in depth and horror.
Snyder is my favorite Batman writer in recent history, and this story of Batman and the Joker is unique in its scope as well as its finality. Without releasing any spoilers, it also reaches a satisfying conclusion that is about as permanent as you're going to find in the comic world.
Capullo's dynamic artwork portrays a younger, more technical Batman than we grew up with. As well, the Joker actually seems capable of going toe to toe with the Dark Knight. Snyder's storyline doesn't shy away from doing some serious permanent (for comics) damage to the main characters. Overall, Endgame's combination of creators puts together a modern story that stands among the classic Batman arcs.
Fans of this famous superhero will also love these cool Batman Lego sets from our list. Be sure to check them out.
Key Features:
Written by Scott Snyder
Art by Greg Capullo
Hardbound cover
Specification:
Publisher

Scott Snyder

Hardcover

192 pages
Transmetropolitan Volume 2: "Lust for Life" by Warren Ellis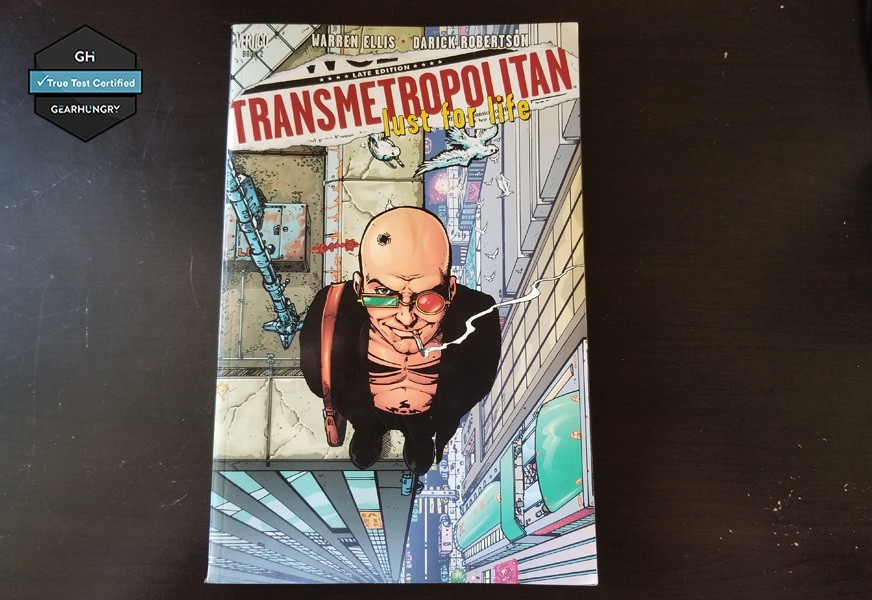 Transmetropolitan follows unhinged investigative journalist Spider Jerusalem through a cyberpunk near-future dystopia as he tries to dismantle a violent bureaucracy. The Hunter S Thompson-like Jerusalem has no identifiable superpowers, except maybe his tolerance to intoxicants. Instead, he is a lovable anti-hero, speaking truth to power in his own twisted way.
The setting is The City, a seething mass of urban squalor and vibrantly evolving humanity. Power imbalances and extreme wealth stratification wrack the citizens, who are on one hand incredibly resilient, but on the other doomed to ongoing abuse by the cruel state. The addled but clearly talented Jerusalem becomes a folk hero as he eviscerates evil politicians and corrupt capitalists with the help of his two attractive female assistants.
According to our reviewer, Writer Warren Ellis brings each main character to life with relatability. Spider is a lonely malcontented addict, prone to spiralling into manic depression; his assistant Channon struggles with trust and bitterness; and Yelena seethes with existential anger.
As far as artwork, our reviewer has spent days poring over Darick Robertson's rich, textural world. He finds that Robertson pencils his work intricately, enriching the visual story with goofy advertisements, zany cyberpunk characters, and background action that ranges from endearing to disturbing. He also notes that the content is biologically visceral — blood and gore, vomit, feces, and sex are all as common in The City as black market commerce and police surveillance.
Transmetropolitan has proved addictive for our tester. He reports being captured by its detective-adjacent storyline, well-written and believable characters, and balance of brutality and tenderness. Add immersive artwork and you've got the makings of an obsession. He recommends starting Transmetropolitan with Volume 1, "Back on the Street," but says the series really revs up in Volume 2, "Lust for Life."
Key Features:
Written by Warren Ellis
Art by Darick Robertson 
Specification:
Publisher

DC Comics

Paperback

203 Pages
The Infinity Gauntlet by Jim Starlin, George Perez, & Ron Lim
Marvel has such a wide range of superheroes that it can be hard to decide where to start. So why not start with a story arc that encapsulates almost every major hero in the Marvel Universe? This is why Infinity Gauntlet is such a great introduction to the Marvel worlds. In the story, the mad titan Thanos has captured six gemstones that grant him god-like powers. Thus armed, he snaps half of all life out of existence.
Sound familiar? Unless you've been living under a rock for the last decade, it should. It's the plot of the first three phases of the Marvel Cinematic use films, a film franchise that uses this graphic novel as its inspiration. While the movies take liberties to make the narrative more cohesive and (I think) tell a better, more comprehensive story, the source material offers a great look into the origins of this franchise of blockbusters. Written by Jim Starlin and illustrated by George Perez and Ron Lim, this series gives an excellent look at the writing and art of comic books in the late 80's and early 90's. It also gives an interesting look at how our favorite heroes' costumes have evolved over time.
Our guide to the best Marvel Lego sets offers more cool products for superheroes fans. Don't miss them.
Key Features:
Written by Jim Starlin
Art by George Perez & Ron Lim
Specification:
Publisher

Marvel

Paperback

256 pages
The Complete Maus by Art Spiegelman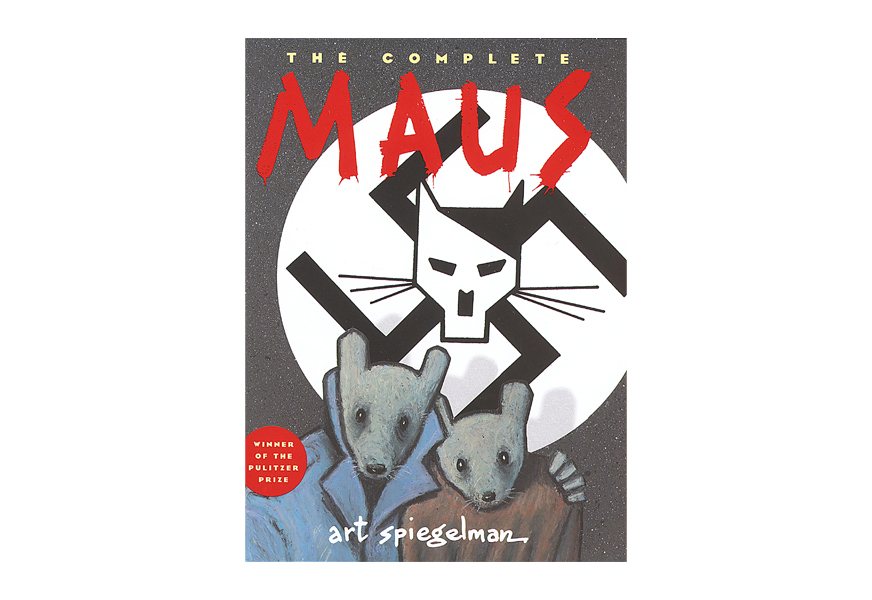 For those who think that comic books are light fare, this Pulitzer Prize winner will set you straight. One of the best graphic novels of all time, Maus' story centers around Vladek Spiegelman, a Jewish survivor of Hitler's Europe, and his son, a cartoonist coming to terms with his father's story. This black and white graphic novel approaches the difficult subject matter by portraying the Jews as mice and the Nazis are cats. The authorial decision changes the reader's perspective on the familiar subject and shocks them into awareness of the horrors that so many endured.
While the narrative revolves around Vladek's Holocaust survival story, it also weaves in the author's tortured relationship with him as he works through his survivor's guilt. It's a brutal, moving tale that offers a fresh perspective on one of the greatest tragedies in modern history. Maus will likely leave readers contemplating how much our history affects our present. That perspective makes it, along with Frank Miller's 300, one of the best history graphic novels for adults.
For more interesting titles, be sure to browse our list of the top-rated coffee table books.
Key Features:
Story and art by Art Spiegelman
Available in hardcover or softcover
Specification:
Publisher

Pantheon

Hardcover

295 pages
The Immortal Hulk Omnibus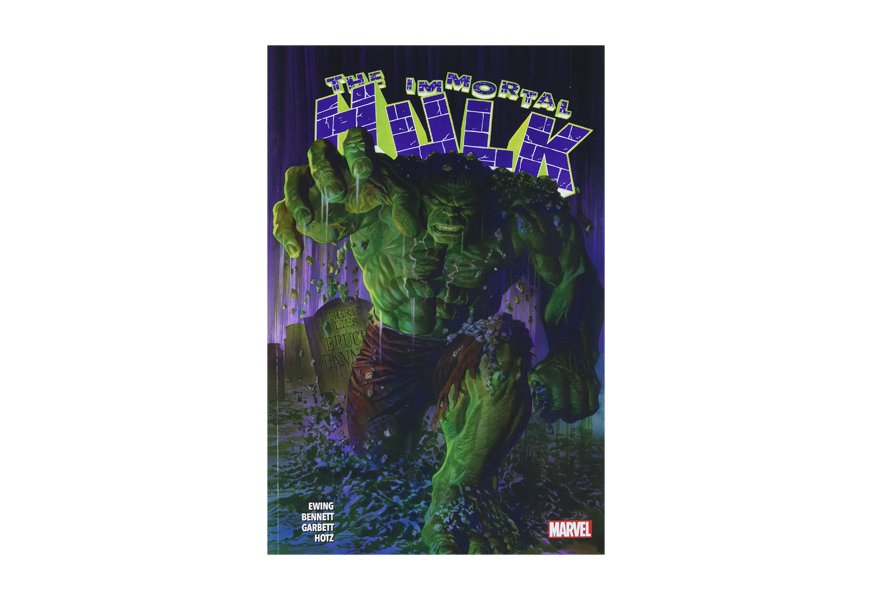 Taking a familiar character and giving it a horrifying twist, The Immortal Hulk takes a darker look at Marvel's strongest superhero. Far from the well-meaning, if a bit dim, green behemoth that we know from films and television, this series looks at what it really feels like to lose control. The result is one of the best horror graphic novels for adults.
In it, Bruce Banner struggles to control the monster within, even as they both fight the literal monsters that attack from all sides. While the storyline may sound familiar, this arc takes a different look at the Hulk. Instead of the slow-witted monster that's just trying to do his best, this Hulk takes a dark glee in his ability to rip his prey limb from limb. While the gore in the book does add to the scare factor, it's the look of tainted glee in the titular character's face that really sets the reader on edge. Seeing a familiar hero revel in his loss of control is a jarring experience, to say the least. And the fact that the villains he fights are even worse only ramps up the tension.
Key Features:
Story by Al Ewing, Mark Waid, Jim Zub, Joe Bennett, Lee Garbett, and Paco Medina
Specification:
Publisher

Panini Uk Ltd/Marvel

Paperback

388 pages
How We Tested & Why You Can Trust Us
When I saw this assignment, I knew I had to snag it. I've been reading coming books as long as I've been able to read and haven't stopped since. I've read everything from the Big Two pubs (Marvel and DC) to Dark Horse, Image, and Valiant, including a stack of independent pubs. I've even scripted a few western comic books as well.
Who This Is For
This list is intended for a variety of people, from folks who are looking at reading their first graphic novels to longtime fans who are wanting to get back into it, to current fans looking for something they may have missed. It was also for me, to get a chance to revisit some of my favorites and recommend them to other people who may enjoy them.
How I Picked
There are so many popular graphic novels for adults that this list could be a weekly series. In the interest of brevity, I tried to choose some graphic novels that would have a broad appeal, ones that old-school fans would appreciate, and a few of the best mature comics that readers may have missed.
I've had to leave out a stack of graphic novels that would have been perfect on this list, but hopefully, this will serve as a good starting point for readers.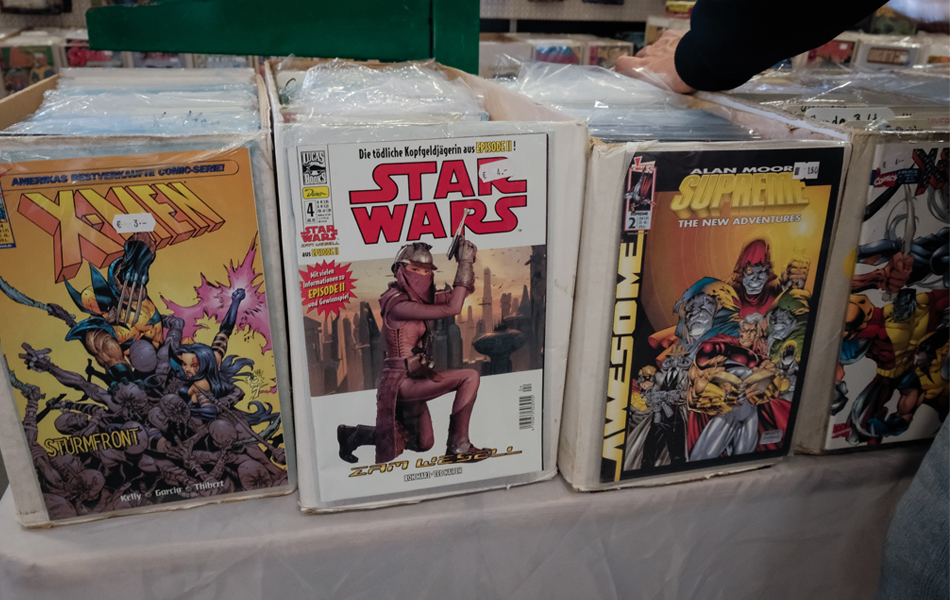 Graphic Novel FAQ
Q: What is the difference between graphic novels and novels?
A: Novels are traditional books: all words, little to no pictures. Graphic novels (aka comic books) use both art and text equally to tell a story.
Q: Do graphic novels count as books?
A: In terms of delivering a narrative, absolutely. Graphic novels are capable of telling gripping, emotional or hilarious stories just as well as traditional books. There are plenty of funny graphic novels for adults, historical graphic novels, as well as a host of other genres. However, they do read a lot faster, so if you're competing with someone to read the most books in a year, you'll probably get some pushback if you try to include graphic novels on the score.
Q: What is the main similarity between graphic novels and comic books?
A: The format is essentially the same between graphic novels and comic books, and some people consider the two terms interchangeable. However, a graphic novel is generally a single story that is much longer than a single comic book issue. They are also linked to trade paperbacks, which are either longer collections of individual issues, or longer narratives contained in one volume. Comic books generally refer to single issues.
Q: Where do I start with graphic novels?
A: The best way to start is to pick up a graphic novel related to what piqued your interest in the first place. If it was a superhero movie, look for a graphic novel that features the hero to learn more about their backstory. If it's a particular subject, search online for graphic novels that cover that subject. Better yet, head to your local comic book store and ask an employee for recommendations on, say, science-fiction graphic novels for adults.
Q: What makes a good graphic novel?
A: In general, a great graphic novel is the result of an engaging story combined and enhanced with visually arresting art. Other than that, the answer is highly subjective. There are so many genres and styles that it's impossible to nail down any universal characteristics that make a good graphic novel.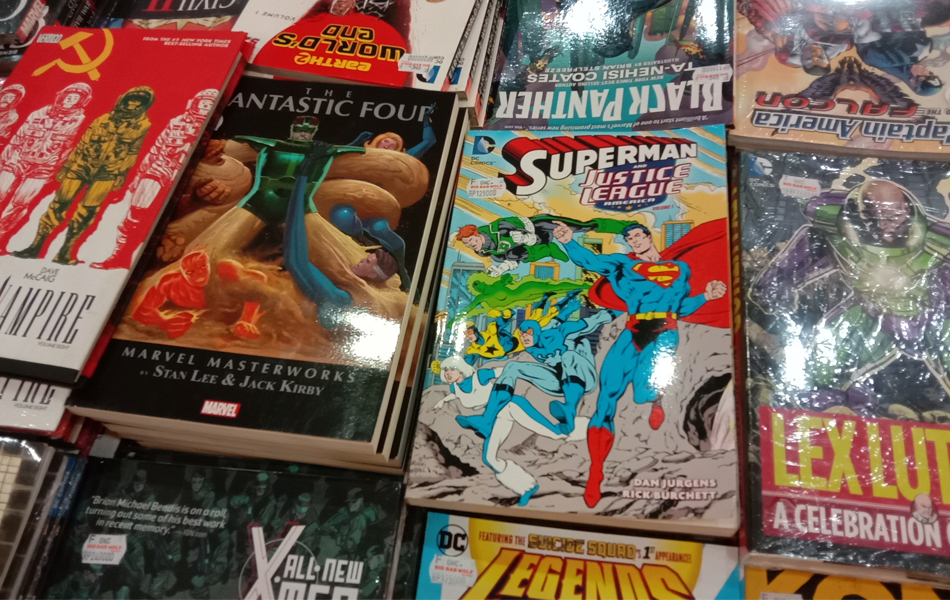 Q: How long does it take to draw a graphic novel?
A: It depends on the individual artist and their creative process, but generally, illustrating a graphic novel can take anywhere from one to three years or longer.
Q: When did graphic novels start?
A: It's hard to nail down the first graphic novel ever, but Eisner's A Contract with God, and Other Tenement Stories is widely accepted as one of the earliest and most important examples of the standalone graphic novel medium.
Q: Are graphic novels good for dyslexia?
A: According to The Yale Center for Dyslexia & Creativity, they are excellent for readers with dyslexia. They offer readers several cues to what's going on in the story and provide more context about what's happening in the narrative. There are even wordless graphic novels for adults if people need to ease into text.
Sources:
How Long Does It Take To Make A Graphic Novel? - Comix Well Spring
The First Graphic Novels - Britannica
Graphic Novels - The Yale Center For Dyslexia & Creativity
Sign Up Now
GET THE VERY BEST OF GEARHUNGRY STRAIGHT TO YOUR INBOX