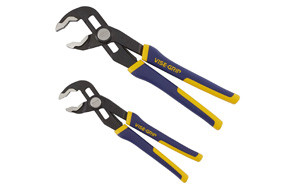 Irwin Tools VISE-GRIP GrooveLock Pliers Set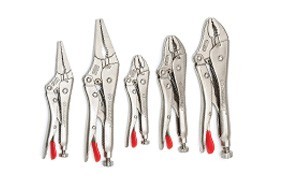 Crescent Tools 5 Piece Locking Pliers Set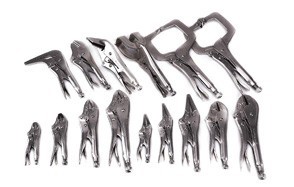 MAXPOWER 15 Piece Locking Pliers Set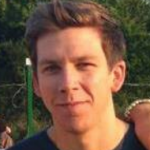 There's no mystery to locking pliers. They do exactly what their name says they do. They lock onto objects – typically nuts and/or bolts – with a pair of serrated jaws and hold fast while you free up your hands to do other things. The secret is to set the jaws to be slightly smaller than the object you need to grasp and then apply pressure to the handle and let the levers and pivot points create tension and lock them in place. They're great for grabbing stripped nuts and screws and they have saved a million tradesmen and DIYers from a million tight spots on the job and around the house over the years. Below are the best locking pliers for 2019.
The Best Locking Plier
Locking Pliers Buying Guide And FAQ
About Locking Pliers
When they first came on the market locking pliers were a revelation. Today, we take their many benefits somewhat for granted. They allowed you to effortless clamp down on a workpiece and transfer the energy you used to waste squeezing the grip into energy you could use turning. In other cases they allow you to essentially bring a vice with you wherever you go, enabling you to hold items even in out of the way places firmly while you work on them. Widely known by the proprietary name "Vise Grips" they are a hand tool like no other.
Locking pliers perform their magic by way of a double lever system. When you first approach an object to be worked you close the pliers onto it like you would any standard set of pliers. But that's where the similarities end. Once in place on the object to be worked you adjust the jaw opening by turning the screw-drive that runs through the handle. Once the screw and the grip agree you apply a bit more pressure and lock the pliers in place.
At this point you are free to redirect all your energy to other aspects of the job because you no longer need to apply pressure to hold the pliers closed on the work item. When it's time to release the locking pliers this is done by gently squeezing a lever built into the handle. Just make sure to be holding the pliers when you hit the release handle or they'll fall to the ground.
While Vise Grips are the property of Irwin Tools there are many other types of locking pliers on the market today produced by a range of companies large and small. Most are similar in concept to the original locking pliers but vary in things like length, jaw shape, clamp configurations and handle characteristics. Because they typically have serrated jaws you should be careful how and on what items you use locking pliers. Since the intensity of the grip combined with the teeth may damage the item.

Features To Look For In Locking Pliers
There are a number of features you should look for in locking pliers including:
Size - The size of the locking pliers you need for a job will be determined in part by the logistics of the job (is the item to be clamped in a tight, out of the way place or in an open shop) and by the amount of leverage that's needed to get the job done. All other things being equal if the job requires intense leveraging you'll want to use longer handles. If it's a matter of precision work smaller, needle nose jaws and shorter handles are usually called for.
Material - While the market is flooded these days with locking pliers from all over the world many tend to be made of cheaper materials that will snap, bend or otherwise fail when under heavy pressure. So do your homework and check on the type of steel used in making the locking pliers you have your eye on.
Ease of use - Not all locking pliers are created equal either from a material or performance perspective. Some grab objects with ease and can be released just as easily, time after time. Others however, have a clumsier locking mechanism that may be a chore to unlock. Another consideration is the handle. Does it provide adequate leverage? Is it comfortable? Is it padded?
Warranty - Some brands offer extensive warranties while others offer none and try to sidestep the issue by blinding you with a blizzard of upbeat, positive marketing. Always look to see what kind of warranty a company offers. It could be the difference between money well spent and money wasted.
Locking pliers are an essential item in any modern tool box. They earn their keep every day on a thousand different types of work. One could say they're the duct tape of hand tools. Whether you are a journeyman carpenter, electrician or machinist or whether you just like tinkering around the house your tinkering will be much more effective and productive if you have a pair of good locking pliers at your beck and call.

Other Types Of Pliers
There are a lot different types of pliers on the market today, many of which you'd be wise to have in your tool bag to augment your locking pliers and maximize your options.
Electrician's Pliers - Sometimes called engineer's pliers or lineman's pliers this variety of plier typically features an insulated handle to protect against electrical shocks. Today's electrician's pliers can trace their DNA to a 19th-century tool called bell pliers that were designed to help bell hangers manipulate the wires used to hang bells.
Channel Lock Pliers - Also known as water pump pliers these are designed primarily to help plumbers get a grip on pipes. The jaws of the channel lock pliers are angled along the long axis and can be adjusted in a series of steps in order to more effectively grab pipes that occupy tight spaces.
Slip Joint Pliers - Slip joint pliers are the simplest type of adjustable pliers. As the name implies the joint has the ability to slip a single notch either to enlarge the mouth or to shrink it. Whichever the task calls for. Slip joint pliers are what most people think of when they think of pliers and are used by countless tradesmen and do-it-yourselfers every day to crimp sheet metal, remove nails, fix bicycles and tighten or loosen nuts.
Needle Nose Pliers - The needle nose plier is a variation on electrician's pliers. They feature a tapered jaw, or nose, and insulated handles to protect from shocks. Needle nose pliers are used for precision work such as manipulating wire in tight spaces. In truth though, people put them to use in myriad non-electrical capacities. Most notably they are a staple of the jewelry maker's toolkit.
The Bottom Line
The best locking pliers are like having an extra pair of hands to help out on the job. They free you from the mundane task of having to constantly hold the pliers and let you reallocate your energy to other aspects of the work at hand.