Tight Bite: The Best Locking Pliers and Plier Sets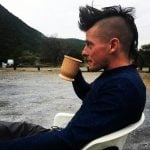 This product guide was written by Sam Anderson
Last Updated
May 14, 2021
Sam Anderson
Sam Anderson has followed a passion for well-told stories and nature's beauty from university classrooms to mountain adventures. After earning a bachelor's degree in literature, he leaned into a life fueled by road tripping, rock climbing, coffee and beer, and renegade camping. He has worked as a chainsaw operator, house carpenter, and window cleaner, at one point running his own window cleaning business. He has finally settled with his girlfriend and small zoo in the western American desert, trading his tool belt for a keyboard.
GearHungry may earn a small commission from affiliate links in this article.
Learn more
No matter whether you're a trained professional at the top of the game, or a layperson with a can-do attitude and a toolbox in your closet, your kit should include the best locking pliers.
They're cheap, they're versatile, and they can play the role of pliers, wrenches, breaker bars, and clamps. They can help unfreeze stuck fasteners, remove them even when their heads get shredded beyond recognition, and twist, grip, or squeeze just about anything.
For welders, machinists, and manufacturing workers, locking pliers are everyday tools. The rest of us usually don't quite know when we're going to bust them out; those that have been there just know that at some point, it's coming. On just about every job, there's a range of situations you can't account for. The best locking pliers keep any job flowing smoothly and successfully through hiccups and head-scratchers.
Gear Hungry told me to gather up some locking pliers and do what I do best: subject myself to heinous situations for the benefit of the readers. So, I bent to the task! Results below.
The Best Locking Plier Review
Irwin Vise Grip 10" Original Locking Plier
The original, the legend. Irwin's Vise Grip 10" Original Locking Plier with the curved jaw is the genuine article of locking pliers. The 10-inch unit is stout enough to generate heavy torque for the most stubborn jobs, and the brand's pedigree reaches all the way back to the inventor of the locking plier. It tested exactly how I expected based on years of experience, proving dependable, well-built, and no-nonsense.
High-strength, heat-treated steel with a subtle knurled texture for grip characterizes the straightforward tool. The Vise Grip 10" with the curved jaw has essentially been the same tool since 1957 when the company added the easy-release lever. (The first Vise Grip was fabricated in the 1930s by a blacksmith who identified a need for a clamping plier: part vise, part plier).
Something about that makes me happy inside. A tool, invented by a trade worker out of ingenuity and personal necessity, has proven so useful and successful that it still hasn't changed after six decades. The inventor, William Petersen, was well ahead of his time.
Good thing, too: I constantly use Irwin Vise Grip locking pliers for repairs and maintenance on my truck and around my house. From memory and experience, most Irwin Vise Grip tools are tightly built, with little play between the joints. The test specimen was no exception. The curved jaw's shape grips just about everything and it adjusts to fit anything from a piece of paper to a sink drainpipe. The tension screw's hex key acceptor helps users get maximum pressure.
During testing, I used the Irwin Vise Grip 10" Original for some moderate-duty truck maintenance. It broke fasteners free up to around 40 ft-lbs. of torque, but 10 inches of leverage was not enough for heavy-lagged, corrosion-encrusted bolts (I tried to remove 129 ft.-lb. torqued caliper bolts with 50k+ miles of built-up tension with the pliers, but no dice. I eventually used an 18-inch breaker bar).
Solidly built and dependable as tested, I consider Irwin's Vise Grip 10" Original curved jaw locking plier to be a valid choice for anyone who's only going to have one locking plier in their kit. Read the in-depth review here.
Key Features:
Design based on original locking plier
Curved jaw
High-strength textured steel
Specification:
Brand

Irwin

Model

502L3

Weight

1 pound

Tools Included

1

Length

10"

Jaw Type(s)

Curved

Grip

Steel
Trusted design and brand
Dependable performance
Can be difficult to use in tight spaces
Crescent 3-Piece Curved Jaw Locking Plier
Crescent makes a three-piece locking plier set that deliver bang for your buck. The set includes a 10-, 7-, and 5-inch locking plier. Its wide range of sizes make it useful for many projects and applications. My test showed me Crescent 3-Piece Curved Jaw Locking Plier would be a good foundational locking plier set, especially for home users.
Crescent's curved jaw design is identical to the Original Vise Grip. Crescent adds a rubber boot to the release lever for user comfort; that feature made zero difference to me, and one boot ripped after a few uses (to no functional effect).
I did notice that Crescent's locking plier was built to a fairly loose fit. Joints, especially in the lower handle, had a lot of play. It irked me at first because I thought it indicated cheap manufacturing. But after a while, it made sense. I found that the loose build helped the tool fit in my hand, in whatever specific angle or position it was in.
The pliers were well-constructed elsewhere. Rivets and molding were consistent, and the screw operated smoothly. The locking function worked as intended.
The Crescent pliers tested as a good foundational locking plier set. I could use the various sizes for various parts of a job, from relatively minute items like hose mounting bolts in my truck to tougher tasks like lag bolts, under moderately heavy torque. I generally never have the occasion to use hex key cutouts in tension screws, but the Crescent set has them just in case.
For utility and value, it's hard to beat the Crescent 3-piece curved jaw locking plier set. Read the in-depth review here.
Key Features:
3 tools
Curved jaw
Rubber-coated release lever
Specification:
Brand

Crescent

Tools Included

3

Length

5", 7", 10"

Jaw Type(s)

Curved

Grip

Steel
Some may interpret loose fit as poor quality
Milwaukee 10-Piece Torque Lock Locking Plier
For those who need the full spectrum of locking plier functionality and a trusted brand pedigree, the Milwaukee 10-piece Torque Lock Locking Plier set is the way to go. It features every locking plier style, including clamps and long-nose.
Each of the 10 tools features Milwaukee's unique tension screw. Instead of a hex key, it has a through-hole; stick a screwdriver through the hole and lag it down. The set comprises four curved jaw pliers, two long-nose, two straight-jaw, and two C-clamp locking pliers, all in various sizes.
The 5-, 7-, and 10-inch curved jaws are the workhorses, useful for anything. Bust out the 7-inch Max Bite curved jaw plier for the rowdiest jobs; Max Bite is Milwaukee's proprietary curved jaw shape that maximizes pressure points for a claimed 3X gripping force.
The 7- and 10-inch straight jaw pliers maximize surface contact on any flat, hex, or square surface. The 6- and 9-inch-long nose pliers handle the finesse work and tight spaces. And the 6- and 11-inch C-clamps hold materials together for gluing or attaching, or securely grip an object while you work on it.
Milwaukee's 10-piece Torque Lock locking plier set is capable in the category's entire utility range. The set belongs in the most complete toolboxes, from mechanics to machinists.
Key Features:
Wide tool variety
Torque Lock tension screw with through-hole
Specification:
Brand

Milwaukee

Tools Included

10

Length

5"-11"

Jaw Type(s)

Curved, straight, long nose, C-clamp

Grip

Steel
Professional-quality tool set
Versatile range of applications
Pricey
No carrying case included
Maxpower Tools 15-Piece Locking Plier
Though it looks dubious for a couple of reasons, Maxpower Tools 15-Piece Locking Plier set has established a solid review profile. With so many tools plus a tool bag at such a low price, it seems like the product would be junk. Instead, reviews are comprehensively positive. If I were a professional who relied on my tools every day for a living, I would proceed with caution. However, if I were a DIYer who just wanted the most bang for my buck, I wouldn't hesitate.
Maxpower Tools' 15-piece kit is the broadest on the locking plier market. It includes the familiar entries of most big sets; an assortment of the curved jaw, straight jaw, long nose, and C-clamp pliers. It adds a 90-degree angle pair, a wire cutter, a sheet metal clamp, and a U-shaped plier.
It's hard to think of specific use for the 90-degree angle pliers, but that's probably the point: you never know you need something like this until you do. The sheet metal clamp and wire cutter have more obvious, but similarly specific, utility. Most people would bust them out once in a blue moon. U-shaped pliers can clamp irregularly shaped objects and can be popular with welders.
All things considered, the Maxpower Tools 15-piece locking plier set clocks in at about $6 per tool (not including the bag) at its Amazon price. As of this writing, there was no other place to get the set, and Maxpower Tools appears to have discontinued it — which raises my eyebrows. Again, I'd recommend this set to the home user, but if you're a pro who relies on their tools day in and day out, I might look elsewhere.
Key Features:
Every locking plier style included
Domestic Chinese brand
Comes with a tool bag
Specification:
Brand

Maxpower

Model

JM-X5X5-Q70A

Weight

15.91 pounds

Tools Included

15 plus tool bag

Length

4"-11"

Jaw Type(s)

Curved, straight, long nose, C-clamp, sheet metal clamp, U-shaped, 90°, wire cutter

Grip

Steel
Low price per item suggests quality issues (none reported)
Discontinued by manufacturer
King 4-Piece Locking Plier
King's 4-Piece Locking Plier set is a straightforward collection of four tools, including three curved jaw locking pliers and one long-nose. The kit is affordable and features just enough versatility for a wide range of home jobs.
The King kit has rubber-coated handles for an easy, comfortable grip. With any rubber-handled tool, the trade-off is the ease of cleaning for comfort. Though the rubber grip may be less abrasive in your hand and, under slippery conditions, easier to hold on to, they're also hard to clean and tend to get grimy over time.
King features the usual 5-, 7-, and 10-inch curved jaw pliers for all-around use with a variety of objects and fasteners, and includes a 6-inch long nose locking plier with a straight jaw for tight spaces or maximal surface contact on flat surfaces.
The 30-year-old company started as a precision machine tool maker, and eventually widened its scope and started importing. There's a reason King tools isn't a household name on most job sites, and I'd let that guide my buying decision. The King 4-piece locking plier set looks like a great home set for those interested in locking pliers with wide capability and comfort grips, but I wouldn't choose them if I relied on locking pliers to make my daily bread. 
For more must-have tools, be sure to browse our list of the top hammers.
Key Features:
Four tools
Comfort grip
Specification:
Brand

King

Tools Included

4

Length

5", 6", 7", 10"

Jaw Type(s)

Curved, long nose

Grip

Rubber coated
Low price for four tools
Versatile capability
Rubber grips are hard to clean
Brand is not a household name
Irwin Vise Grip 10" Fast Release Locking Plier
The Irwin Fast Release adds a one-handed release to its ubiquitous Vise Grip locking pliers. It's one of the few technical advancements the tool has seen in the past half-century. Irwin Vise Grip 10" Fast Release Locking Plier adds convenience but comes at a price.
Irwin's Fast Release line is all about user comfort. A short promotional video says the updated tool "makes hand strength a thing of the past" (which we don't think should ever be a goal) by reducing the hand span by 20% and remove the traditional release lever from the equation. Rubber grips make this a plush plier. 
A newer style is now available, with steel grips and rubber on the inside of the handle (as a safety measure for releasing the pliers). Though the world still hadn't quite caught on as of this writing, the relatively few available reviews for the Fast Release plier were generally positive.
One-handed release may be the wave of the future in locking pliers, and if you like tools designed ergonomically, the Irwin Vise Grip Fast Release does a lot to deliver. 
Our guide to the best-selling bolt cutters offers more handy tools like this. Don't miss them.
Key Features:
One-handed release
20% narrower hand span
Comfort grips
Specification:
Brand

Irwin

Model

IRHT82573

Weight

1.41 pounds

Tools Included

1

Length

10"

Jaw Type(s)

Curved

Grip

Rubber or Steel
Ergonomic design
Built by industry leader
A little pricey
New technology always invites skepticism
Why Trust This Guide
Because the life of the writer and adventurer is one of amateur maintenance improvisation, and locking pliers are often the linchpin of an amateur technician's success.
I'm heavily experienced with locking pliers because I've generally had more time than money in my life, meaning I've been willing to try just about anything to save a buck — vehicle repair, home repair, obscure building projects, all generally without a firm grasp of how to do it. Locking pliers have consistently played the role of wrenches, pliers, breaker bars, clamps, and more in my life.
Who This Guide Is For
Saying amateur DIYers are the only people who need locking pliers is like saying bad golfers are the only ones who need good golf clubs — professionals in welding, mechanical, and manufacturing fields also rely on the versatile, rugged capability of a good pair.
The tool's reputation for being inexpensive and compact, especially considering its versatility, makes it a no-brainer addition to anyone's tool kit.
How I Chose
For this guide, I wanted to reflect the broad utility of locking pliers at various price points. Therefore, I included various brands, sets, and individual tools. There are small three-piece sets and exhaustive sets that cover the entire range of locking plier tools. There are tools from Vise-Grip, the company started by the man who invented the locking plier, and tools from relative newcomers and unknowns.
How I Tested
My most consistent use for locking pliers has always been vehicle maintenance, and the test period for this guide was no different. Because of their utility for loosening stuck fasteners, they can save a lot of time and money for moderate-duty vehicle repair. Beyond that, they're useful around the house — I also tested them on a little light-duty plumbing.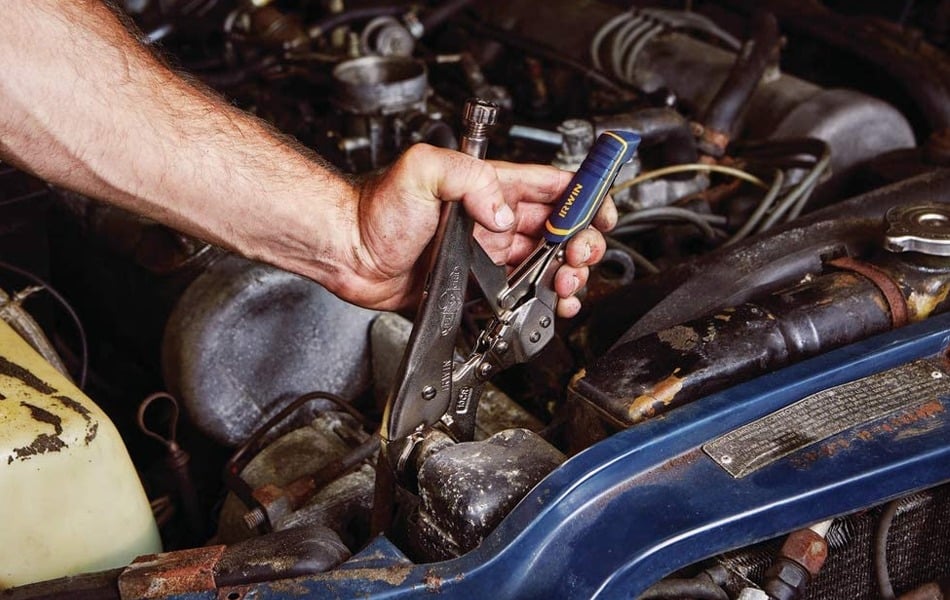 Features to Look for in Locking Pliers
Size - By design, locking pliers have a wide jaw range (similar to channel locks). But having a few pliers in different sizes helps the user work them into tight spaces, throw down different magnitudes of torque, etc.
Material - Textured steel is the name of the game, and if you verify that any plier's steel is significantly stronger than any other, we recommend it. The texture can be important because of the inherently dirty jobs locking pliers sometimes get into, where you might have oil or water on your hands. Much newer style locking pliers have rubber grips for this reason.
Ease of Use - By definition, locking pliers are easy to use: they're built to fit a wide range of sizes, grip tightly, not let go, and release easily. Look for user comfort features like rubber grips or easy release triggers. For maximum leverage, a hex driver cutout in the head of the tension bolt is the industry standard.
Warranty - If you get a warranty and you break your pliers (by some other method than, say, shooting them through a large hadron collider or dynamiting them), send them in! Reliable tool brands stand by their warranties.
Performance - What do you need your locking pliers to do? Different designs, especially jaw shapes, affect performance in different applications.
Construction Quality - Look at rivets, molding, machining, and welds. Avoid locking pliers with loose or cheap-looking rivets or inconsistent molding (especially on the teeth). Some locking pliers' upper jaw is welded into the handle — inspect that weld! It should be clean, with no bubbles or inconsistencies.
Convenience - Locking pliers are massively convenient. I look at a locking plier as a four-in-one: wrench, plier, breaker bar, and clamp.
Affordability - For their functionality, locking pliers are cheap. Whether you're a home DIYer or a pro in virtually any trade, there's no reason not to pick up at least one pair for your toolkit.
Durability - I've never broken a pair of locking pliers, and I've done some pretty heinous things working with them. But I've also never bought a cheap brand — why would I? The top locking pliers are far from expensive, all things considered.
Pressure Adjustment Screw - Also called the tension screw or tension bolt, this is the screw that adjusts the width, and therefore the pressure, at the locking plier's jaw.
Grip-Enhancing Handles - Some locking pliers have rubber-coated handles. The grip on locking pliers can be easier with rubber added, but rubber-handled tools almost always get sticky and grimy over time.
Adjustability - Adjustable locking pliers offer versatility in the form of a wide jaw range. Many, especially curved jaw designs, have about the same range as a similar-sized pair of channel locks.
Versatility - Locking pliers have massively varied utility. The more you use them, the more you find out. I consider a locking plier to be four tools in one: plier, wrench, breaker bar, and clamp.
Types of Locking Pliers
C-clamp - Locking pliers with C-clamp jaws. Often used by welders.
Long-Nose - Needle-nose locking pliers can reach into tight spaces, grip small fasteners, etc.
Curved Jaw - The most common, most popular locking plier; also offers the widest range of utility.
Straight Jaw - Provides maximum surface contact on hex, square, or flat surfaces.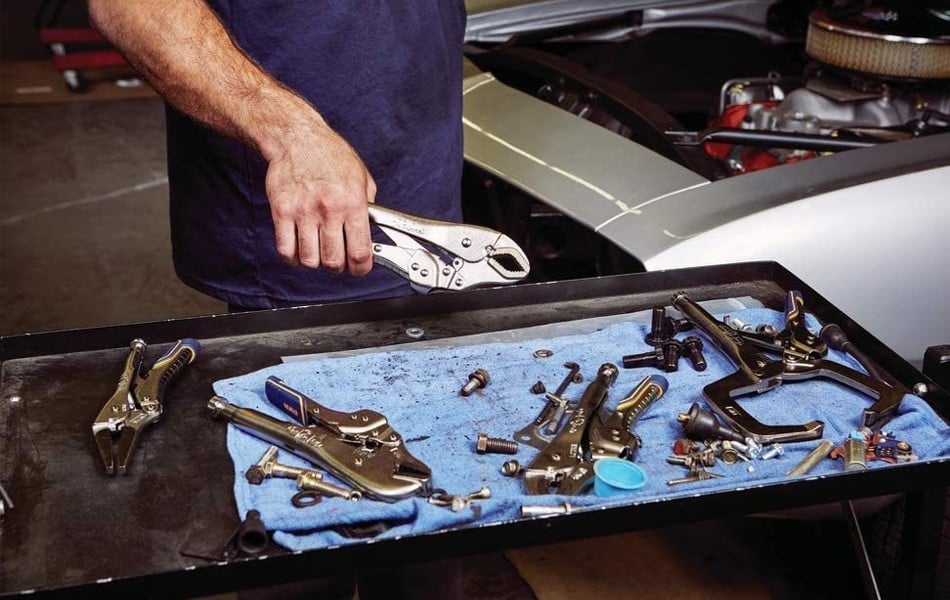 Locking Plier FAQ
Q: What are locking pliers used for?
A: Just about anything. Locking pliers can be used as pliers, wrenches, breaker bars, and clamps. Mechanics use locking pliers to break stuck bolts free.
Welders use locking pliers as clamps (so do cabinet makers, carpenters, etc.).
Plumbers use locking pliers to free stuck pipe fittings. One can use locking pliers in repair or construction.
I've used locking pliers for myriad vehicle maintenance. Use your imagination!
Q: How do you use locking pliers?
A: With the pliers open (in an unlocked position), position the jaws over the fastener or surface you want to grip. Tighten the tension screw until you have to squeeze hard to lock the pliers onto the fastener. That's it.
If you need even more pressure, use a hex wrench on the tension screw head (most feature a hex cutout for this purpose). To release the pliers, push the release lever.
Q: Are locking pliers the same as vise grips?
A: From a functional point of view, yes. But technically, no. Vise-Grip is the brand name of the original locking plier. So, all Vise-Grips are locking pliers, but not all locking pliers are Vise-Grips.
Sources:
Locking Tools, Pliers & Wrenches - Irwin
Sign Up Now
GET THE VERY BEST OF GEARHUNGRY STRAIGHT TO YOUR INBOX