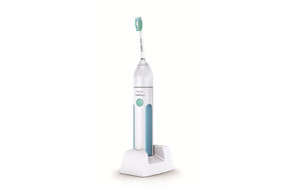 Philips Sonicare Essence Electric Toothbrush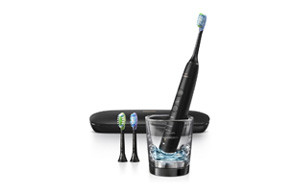 Philips Sonicare DiamondClean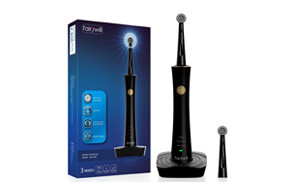 Fairywill Basic Model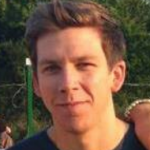 Dental hygiene is a constant battle, one that gets harder with age, and the readily-available stash of processed foods. Truth is, everything is out to dig into your dental hygiene, from your teeth to your gums, and everything in between. Electric toothbrushes offer a clear line of defense against the unknown, which we'll discuss in our extensive buying guide at the end of the product list. Everything you've ever wanted to know, from using them with braces to their effectivity, is about to drop. Let's start with the best of the best electric toothbrushes!
The Best Electric Toothbrush
Philips Sonicare Essence Electric Toothbrush
See More Reviews
See More Reviews
Philips has been one of the major small electronics and appliance providers in America for years, and when it comes to oral healthcare, they don't take a backseat on quality. You get up to 31,000 brush strokes per minutes, which is just a super fancy way of saying that you're combating every possible microbe of plaque forming on your teeth. The built-in timer function lets you know when two minutes is up, reducing any possibility of over brushing or damaging enamel. One truly unique and excellent feature comes from the Reminder Bristles, which slowly fade over time, letting you know when it's time to switch the head out for a new one. As one of the most durable and trusted brands, Philips slapped a two-year warranty on Sonicare Essence, giving you 360 degrees of brushing and peace of mind.
Key Features:
Built-in timer function to reduce the chances of brushing too hard
Reminder Bristles fade away in color when the head needs to be replaced
31,000 brush strokes per minute
Specification:
Brand

Philips Sonicare

Model

HX5611/01

Weight

1 pounds
Oral-B White Pro 1000 Electric Toothbrush
See More Reviews
Oral-B take the glory for the very best electric toothbrush on the market. Not only is White Pro 1000 rechargeable, but it comes on a charging dock, and boasts an impressive power reserve. If you bring this with you on a trip and forget the charger, you'll be good for weeks to come. The price is beyond excellent, considering we've seen plenty of brushes with half the usefulness of the White Pro 1000 for twice the price. Pressure sensor technology tells you when you're brushing too hard, so you can alleviate stress on your teeth and properly maintain your enamel. On top of that, there's an in-handle timer, giving light indicators every thirty seconds, so you know when to switch to another area of your mouth. You can combine it with one of toothpastes for bad breath from out list.
Key Features:
Rechargeable battery
Included pressure sensor to let you know when you're brushing too hard
30-second interval timers to signal when it's time to switch mouth areas
Specification:
Brand

Oral B

Model

1000

Weight

15.8 ounces
Waterpik Complete Care Water Flosser and Sonic Electric Toothbrush
See More Reviews
See More Reviews
Waterpik got in on a technicality. We've covered water flossers in the past, and as one of the best in the world, they also decided to take to sonic toothbrush manufacturing, and thank goodness they did. Complete Care Water Flosser and Sonic Electric Toothbrush gives you everything you need for total oral healthcare monitoring, all at an excellent price. You get a high capacity 90-second water flosser, and a sonic toothbrush that beats up to 50.0% more plaque than manual brushing. You'll walk away from your restroom feeling fully refreshed; pampered, even. Thanks to the 360 angle of the brush, you'll be able to access the toughest spots that you thought only the dentist could reach.
Key Features:
Includes high-capacity water flosser system
Gives you 100% care over eliminating plaque, and washing bacteria down the drain
Two-year warranty on entire system
Specification:
Brand

Waterpik

Model

WP-900

Weight

3.28 pounds
Philips Sonicare DiamondClean
See More Reviews
See More Reviews
Philips took to an entirely new plateau of existence with the Sonicare lineup's DiamondClean brush. First of all, we never thought that a toothbrush would be able to hook up to your phone via Bluetooth, but hey, what did we know? You get real time feedback on how you're brushing thanks to the smart technology, at which point, you'll know which of the three included brush heads to use, ensuring that you don't damage your enamel or gums. Their DiamondClean challenge gives you visibly healthier gums in just two weeks of use, and trust us, you can actually see a difference. Less red above the teeth, more healthy pink, the way it should be. Hats off to this truly inspired tech. Be sure to combine this with a cool dental floss from our list.
Key Features:
Truly gives you healthier gums in just two weeks of use
Smart sensors provide real time feedback on brushing and pressure
Includes three different brush heads, each of which have their own purposes
Specification:
Brand

Philips Sonicare

Model

HX9903/11US

Weight

2.31 pounds
Philips Sonicare Series 2
See More Reviews
On the less technical side of things, their Sonicare series, second edition comes with a slew of features that you can't live without. Not after knowing how much it could positively impact your life. 31,000 brush strokes per minute offer some excellent power and cleaning capability, while the smart timer warns you at the two minute mark, keeping you from damaging your gums and tooth enamel from excessive brushing. Recharge this with a simple click on the charging dock, ensuring that you're 100% ready to go three times a day. This is the best electric toothbrush for travel, short or long-term, so you're not stuck using those bendable manual toothbrushes from the front desk.
Key Features:
Recharged by the included charging dock
31,000 brush strokes per minute
Included smart timer for two minutes of brushing, and nothing more
Specification:
Brand

Philips Sonicare

Model

HX6211/04

Weight

12.8 ounces
Fairywill Sonic Electric Toothbrush
See More Reviews
See More Reviews
These buggers didn't just earn Amazon's Choice rating for nothing. At an excellent price that anyone could afford, you get 100% waterproofing, allowing you to save some time off the clock, and bring this in the shower with you in the morning. Listen to the smart timer function, giving you thirty second intervals within a two minute gap, keeping you efficient and free from gum and tooth irritation. Fairywill Sonic Electric Toothbrush includes three heads, each accommodating for the three different brushing modes. You get a one-year warranty, and a six-month no-hassle return if, for whatever reason, you're not as blown away and refreshed as we are with this magnificent electric toothbrush.
Key Features:
100% waterproof; shower-friendly
Two minute smart timer w/ 30-second intervals
Three modes, three brush heads for different experiences
Specification:
Brand

Fairywill

Weight

8 ounces
See More Reviews
See More Reviews
Much like the improved model above, Fairywill backs up their one-year warranty and six-month no-hassle return policy. You won't get the waterproofing of the upgraded model, but you do get an LED indicator for your current battery life, as well three brush heads, and three modes for massage, clean, and a delicate mode for sensitive teeth and gums. They're still offering the Basic Model at an absolutely killer price, but with a twist: they're challenging you to the whiter teeth smile. You're able to lift stains and maintain a higher degree of cleanliness. Two weeks, a brighter smile, a more confident you: can you handle it?
Key Features:
Three modes for massage, clean, and sensitive teeth
Whiter teeth challenge within two weeks
LED battery life indicator
Specification:
Brand

Fairywill

Weight

15.4 ounces
See More Reviews
See More Reviews
Last but not least, we have the underdog in this fight, the O'bella sonic model. This FDA-approved toothbrush comes with five different modes, giving you a wide range of sensitivity options to rifle through. This bolsters a super impressive battery life, giving you forty-five days of continuous use, assuming you're going at it twice a day. You'll get some additional heads, a charging stand, and a wonderful case to keep it all in, making it optimal for travel. That charging dock is USB compatible, so if you haven't charged it in a while and you're out on the road, just plug it into your USB 1.0 port, and you're good to go.
Key Features:
Five different brushing modes
Additional heads w/ protective case for entire unit
Forty-five straight days of battery life (rated at twice-daily use)
Specification:
Brand

O'bella

Weight

1.46 pounds
Best Electric Toothbrush Buying Guide and FAQs
These are a hybrid between a small electronic, and dental hygiene; there's a lot to cover, so let's just jump right into it. If you're still uncertain which toothbrush to grab based on our selection, get informed, and circle your way back to grab the one that's perfect for you.

Q: What to Consider When Purchasing an Electric Toothbrush?
A: Size - Electric toothbrushes from the 90s were hard to hold, and bulky as all holy hell. The handle size, right on down to the bristle head size, all play a role in how comfortable and convenient these are to use.
Shape - Ergonomic handles, rubber bristles along the side of your nylon/plastic ones. There's a unique shape to most of these, and they'll affect how you use them, and how effective they are at combating the ever-president list of oral hygiene issues.
Texture - There are a ton of American adults and children with sensory processing disorder. If you don't know what that is, it's when certain textures and sensations trigger incorrect or abnormal reactions in your body. The texture of your toothbrush should comply with your personal preferences.
Bristle Material - Bristle materials affect your texture reaction, but they also determine how deep your clean is, and how long your toothbrush lasts. Most modern-day toothbrushes, manual or electric, have nylon bristles.
Types of Brush Heads - There's a few different types, from polishing heads to sensitive-friendly, giving you a different experience, and an equal clean. The only thing we recommend looking out for here, is if you have sensitive teeth or gums.
Durability - It's not just about the head; is the mini motor going to last? Certain electric toothbrushes can cost you a pretty penny, so the last thing you want is to grab a non-durable model (don't worry, we weeded them out in our selection process).
Q: How to Use an Electric Toothbrush?
A: You grew up on manual toothbrushes, but you've still been blindsided by a few cavities here and there, and the possible diagnosis of gum disease. It happens to the best of us, which is when most of us decide to switch to an electric toothbrush for better results.
Apply toothpaste. Hold your brush at a simple 45-degree angle, pressed up against your gums to begin the process. You're going to turn it on, and start in this region, where your gums and teeth meet. When you start from the bottom, you end up pushing bacteria and food particles up into your gum line, which only irritates them more.
Starting with the  gum line, massage into the space between your gums and teeth to rid any food particles. Work down your entire gum line on the top. Slowly work your way down to your actual teeth, and vertically move down each tooth, and then the space in between each tooth. Many people use these wrong because they're so used to manual brushing. You're not supposed to keep switching between your top and bottom row.
Let the toothbrush do most of the work. You're just focusing on positioning, essentially automating the process as much as possible. Once the top row is done, work down to the bottom. Work the teeth first, moving in between each, and then spit. Now, you'll have to go back in and clear out your bottom gum line last, since everything else has just been coming down on them, and spit, rinse, and you're done with the brushing aspect.

Q: How to Clean an Electric Toothbrush?
A: Electric toothbrushes work harder to remove plaque and bacteria, so it only makes sense that they harbor more than a manual toothbrush, as well. Your bathroom also harbors more bacteria than anywhere else in your house, and through air contact, your toothbrush will slowly harbor and build on that bacteria. It's disgusting to think about, but important. Here are a few ways to clean your electric toothbrush.
First, remove the head, and provided there's no metal components to it, put it on a plate in the microwave. If you "nuke" it for 10-15 seconds, you'll eliminate all the bacteria, sanitizing your toothbrush. As a life hack, this also works on kitchen sponges that get gross after only a few days of use.
You can also use a water and bleach solution, if you'd prefer. Boil one cup of water, remove from heat, and add ¼ cup of bleach to it. Mix it in, and drop your toothbrush head inside. Leave it there for about five minutes or so, and gently remove from the water while wearing gloves. You'll want to use a rag or microfiber cloth to brush against the bristles, eliminating any debris that was too large to be destroyed by the solution. Drop it back in, wait ten minutes, and when you take it out, rinse it like you've never rinsed anything before.
There's also the motorized shell/handle area to clean, and most people forget about that. Even though it's just your hand that's touching it, we're willing to bet you don't wash your hands and then immediately, exclusively handle your toothbrush. It needs to be wiped down. The best way to do this is with a one part water, one part white vinegar solution. It sanitizes, it reduces streaking and residue on the handle, and helps to keep any rubber grip components completely intact.
Q: Why do I Need an Electric Toothbrush?
A: They do provide a better clean than manual brushes (more on that in our next section), but more than that, they take a lot of human error out of the equation. They make up for a lot that manual brushes just can't, even if you're detail-oriented when it comes to brushing your teeth.
Electric toothbrushes mainly help fight against plaque buildup in hard-to-reach areas, and the early signs of gum disease, or gingivitis. Gum disease has recently been linked to numerous medical conditions, and not just minor things that you can "shrug off and live with." We're talking about heart disease, cholesterol level increases, increased resistance against antibiotics, all through absorption through your gums and cheek tissue, leading directly into the rest of your body. It really is the gateway to your physique, and combating gum disease is one of the best reasons to pay extra special attention to your brushing regimen.
Electric toothbrushes can also aid in eliminating bad breath. We're not just talking about morning breath, (although they can help that, too). We're talking about a consistent level of bad breath throughout the day that can't seem to go away. Over time, your cheek tissue collects bacteria that's been resting on the outside of your teeth, and it creates a narcotizing aroma that escapes when you talk. Since electric toothbrushes improve your overall oral health and cleanliness, it will eliminate bad breath in a few short weeks.
Q: Should I Get a Case to Protect From Bacteria?
A: These are actually falsely marketed, because your toothbrush is never 100% clean when you put it into the case. You wouldn't dry off a paper towel you just used on the floor, save it for later, and then use it again to "clean" with, right? It's along the same lines. There will always be a small amount of bacteria on your toothbrush, and putting it into a small enclosure for eight hours at a time is not going to protect it from bacteria; it'll make a breeding ground. Avoid getting an additional plastic case.

Q: Is an Electric Toothbrush More Effective?
A: Full disclosure: yes, but it's not astronomical leaps and bounds in terms of cleanliness. If you've ever brushed your teeth really well, you're eliminating nearly all bacteria in your mouth. You understand what a clean-feeling mouth is, but it doesn't mean that everything has been eliminated. Due to oscillating rotation from an electric toothbrush, stubborn food particles and bacteria get swept away. While it may not make enough of a difference to cause a cavity as opposed to manual brushing, it does aid in preventing the aforementioned gum disease, and its disastrous consequences.
Q: Are Electric Toothbrushes Bad for Your Gums?
A: No matter how much alcohol you pound or how many crispy, overcooked foods you eat, your gums are always up to the task. That doesn't mean that you can ignore their health and always have it that way. When it comes to using an electric toothbrush, it's near impossible to cause gum recession from use. However, these can cause damage to the enamel on your teeth, which is why some brands input a timer function built right into the handle.
Don't get us wrong: leaving nylon bristles moving in fast circle on your gums for extended periods of time will irritate your gums, but that same ideal can be applied to just about anything. Stick to a timed regimen, don't spend the whole clock on one or two teeth, and you'll only be improving your oral healthcare instead of dragging it down.
Q: Are Electric Toothbrushes Waterproof?
A: To a certain extent. If your electric toothbrush has a compartment for disposable batteries, there's a good chance that it's not waterproofed. Waterproofing is measure in IP or IPX ratings, and if there are too many removable plates, they can't guarantee the device. It's like having a single hole in a big tent. It's not going to protect you from the rain anymore, is it?
When it's a lithium-ion or lithium-metal rechargeable battery, the enclosure where you plug in the AC adapted, as well as the access plate, are usually waterproofed. Don't automatically assume this is the case; take the time to look at the sales page for a waterproof rating before making the purchase.
That being said, the top part of your toothbrush is almost guaranteed to be waterproof. The brush and bristles obviously are, but so is the rotating oscillator that's actually moving the brush, that little vibrating nub that's located under the brush head attachment. Those have been being used in waterproof beard trimmers and men's electric razors for well over a decade, and are completely waterproof. Top half, almost guaranteed. Bottom half, check for a rating.
Q: Can You Use an Electric Toothbrush in the Shower?
A: If it meets the requirements in the previous section, you should be alright. If you're not too keen on IP/IPX ratings, you can check out our portable Bluetooth speaker guide, which has a list of each rating and what it means. Keep in mind, waterproof and water submersion are two different deals. We understand brushing in the shower, but you should take the two minutes out of your morning routine to solely focus on oral hygiene instead of rushing through it.

Q: How Often do You Need to Replace an Electric Toothbrush?
A: Most motors are rated for tens of thousands of hours of use. However, that doesn't mean that the head is going to last for just as long. We'll cover that in a minute, but so long as you purchase a reputable, quality electric toothbrush from a brand that offers "refills" on the heads, you should be in good hands. We personally recommend stocking up on a small bulk pack of them to save money in the future.
Q: Can You Use an Electric Toothbrush if You Wear Braces?
A: Absolutely. Either way, you have to brush your teeth a lot more closely when you're wearing braces. It's actually a lot easier to maintain your braces if you're using an electric toothbrush, allowing you to vigorously attack debris and bacteria that hides behind the hundreds of unique angles. The same rule applies: don't use this too hard. You'll be brushing for longer with braces, but you should still be wary of aggravating your teeth and gums.
Q: How Often Should You Change an Electric Toothbrush Head?
A: Most companies are going to sell replacement heads for their toothbrushes, usually coming in three or five packs. Stocking up on them is good, because then you'll be good to go for a few years. If you follow the cleaning protocol, you'll be able to squeeze about six months of life out of each head before you should just junk it and begin anew.
Q: What is an FDA-Approved Toothbrush?
A: The FDA likes to get into specifics, so they've gone ahead and regulation electric toothbrushes as medical devices. This simply means that they see  them as viable options for improving or maintaining your personal health, putting them a cut above the rest. While we did mention this in our eighth product on the list, it's simply a formality.
Many question or combat the influence of the FDA when it comes to regulating and approving devices. We prefer to go based on the ADA (American Dental Association) and how they rate products. Since it's tough as nails to get their seal of approval, many companies go ahead without official backing of the ADA, but still get dentists to recommend these products in controlled testing environments. FDA rating is a formality, ADA seal of approval is excellent, and as long as the toothbrush maintains your oral healthcare, you're good to go.

Q: Can an Electric Toothbrush Lift Teeth Stains?
A: You'll see a lot of "challenges" on these products, and personally, we wouldn't mention them if they didn't work. There's a few different ways to classify stains on your teeth, and their candidacy for being removed.
You have extrinsic, intrinsic, and age-related stains. Extrinsic are stains located in the center of your enamel, intrinsic lay in the dentin (layer beneath enamel), and age-related stains also sit in  your dentin, but those are practically impossible to remove. Everyone has some mixture of each stain type. Even if you can't see it, there's likely a little bit of each going on.
Electric toothbrushes can help to remove extrinsic stains. We talk about protecting your enamel in this guide by not brushing too hard, or applying too much pressure to your gum line. After twice-daily brushing for a couple of weeks (average challenge criteria and length), those extrinsic stains are gently lifted without causing damage to your enamel. Other than that, brushing won't remove other stains, but it's still enough to give you a noticably whiter smile.
Sources: