Monitor Humidity With The Best Hygrometers of 2022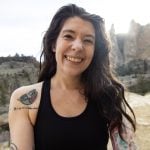 This product guide was written by Tuesday Kirby Kahl
Last Updated
March 18, 2021
Tuesday Kirby Kahl
Tuesday Kirby Kahl is a contributor at Gear Hungry. Her fierce love for the outdoors fuels everything she does. Her professional pursuits include writing, creating art, and photography. These professional passions allow her the time to live life outside as a rock climber, skier, runner, backpacker, paddle boarder, swimmer, and explorer. When Kirby is indoors, she enjoys tea, whisky, old films, cooking, and baking. Her product testing and feedback have shaped the design of everything from climbing shoes to candles.
GearHungry may earn a small commission from affiliate links in this article.
Learn more
If you live in a state with low or high humidity, keeping an eye on the humidity can make a difference in how you prepare for days outdoors, store items in your home, or go about your day today. Knowing the humidity around you, whether that's indoors or outdoors, allows you to make informed decisions in your home or before you head out for the day. Hygrometers allow you the ability to track and monitor humidity levels. While testing hygrometers, we used them to make decisions as simple as how to wear our hair for the day outside and as big as saving thousands of dollars in outdoor gear from mildew due to storage in too high humidity. From small moments to huge expenditures, hygrometers can make a big difference in treating ourselves and our belongings.
The Best Hygrometer
The Govee Smart Hygrometer is the product I was most excited to test. This model is a Bluetooth hygrometer that allows you to receive readings straight to your smartphone. Its 328ft connectivity range allowed me to check it from anywhere in the house, and the smartphone app was straightforward to use. 
Shortly after this product arrived, my roommate found a tent that was beginning to mildew. We became concerned about our gear storage area in our home and decided to use it to test it and monitor changes and trends from above. This smart home device saved thousands of dollars in outdoor gear. Read the in-depth review here.
Key Features:
328ft connectivity range
20-day data logging
Smartphone app
Specification:
Brand

Govee

Model

H5074001

Weight

0.37 Ounces
Data logging features
Customizable alerts
328ft connectivity range
No display
Smartphone app required
ThermoPro TP50 Hygrometer
The ThermoPro TP50 Hygrometer is one of the most accurate hygrometers for home use. This product comes with an easy-to-read screen featuring the humidity, temperature, and 24-hour minimums and maximums. This model can easily rest on a countertop or hang on the wall for ease of use. 
This top-rated hygrometer ensures you understand your home's comfort level and air quality with a low margin of error. An impressive temperature range of –58 degrees Fahrenheit to 158 degrees Fahrenheit means this product is suitable for many different environments. The hygrometer comes with a single AAA battery, so you can have it out of the box and running in just a few minutes. This product was crucial in comparing different rooms in my home and understanding the airflow in my house. Read the in-depth review here.
Key Features:
+/- 2-3% relative humidity margin of error
Specification:
Brand

ThermoPro

Model

TP50

Weight

2.72 Ounces
Large screen
Vast temperature range
24-hour highs, and lows on display
Suitable only for indoor use
AcuRite Digital Hygrometer
When it comes to hygrometers, mobile and versatile product is key. The AcuRite Digital Hygrometer is an indoor hygrometer that is easy to read and provides multiple mounting options. This product is one of the most accurate hygrometers and offers a large display with humidity and temperature and 24-hour highs and lows. When deciding on a placement, this device can stand on its own or be attached to a magnet or wall-mounted. 
If you find this product is off, manual calibration is possible with the touch of a finger. This device can measure the humidity of all levels and temperatures from –4 to 158 degrees Fahrenheit, so unless your home dives into the negatives, this product has you covered. And for more useful devices for your home, check out our guide to the best humidifiers.
Key Features:
Measures humidity and temperature every ten seconds
American-made
3 inches by 2.5-inch dimensions
Specification:
Brand

AcuRite

Model

01083

Weight

3.87 Ounces
Multiple mounting options
Manual calibration
Not suitable for outdoor use
Ideal Sciences Temp Stick Hygrometer
When it comes to monitoring from afar, Ideal Sciences Temp Stick Hygrometer offers wireless monitoring of your home's humidity and temperature from anywhere. Additionally, if the temperature or humidity drops below certain levels, you can set alerts for up to ten people so that you can remedy the situation. Datalogging with unlimited history allows you to track trends and understand your home's weather patterns easily. 
When this product arrives at your home, add two AA batteries, download the smartphone app, and connect your device. Once setup is complete, place the device in your desired area, and the Temp Stick will begin monitoring and sending information to your smartphone. You will be able to review data from your device via the smartphone app with endless history and easy-to-read graphs and trends. The only downside we see on this product is that you must use your smartphone to get the data from your device, as it has no screens. You may also be interested in some of the top weather stations on our list. Please take a moment to check them out.
Key Features:
Datalogging
One-year battery life
Check your humidity from anywhere
Specification:
Brand

Ideal Sciences

Model

TEMP-STICK-TH-W-FBA

Weight

3.3 Ounces
Excellent data logging
Alerts
Easy setup
Requires Wi-Fi
SmartPhone app required for monitoring
Cigar Oasis Caliber IV Hygrometer
A true cigar aficionado knows how critical humidity is to cigar storage. If your cigars aren't stored in the right conditions, they could become ruined. If your collection is too extensive for a humidor, or you want a digital hygrometer in your humidor, investing in a high-quality hygrometer to preserve your investment is a wise choice. The Cigar Oasis Caliber IV Hygrometer is designed with cigar storage in mind. This thin device easily attaches inside your humidor or cigar box with a magnetic mounting and provides quick readings for easy storage and monitoring.
This device offers a +/- 1% margin of error, ensuring accurate readings to preserve your precious cigars. While this device's design has cigars in mind, it can measure household humidity or monitor the conditions for other valuables like wine.
Key Features:
Magnetic mounting
+/-1% margin of error
Easy re-calibration
Specification:
Brand

Cigar Oasis

Model

ACC-CALIBER IV

Weight

1.44 Ounces
Quick mounting
Slim profile
Less common battery type
Small screen
First and foremost, the first thing you'll notice about the Extech Digit Thermometer is the large, easy-to-read screen. Next, you will see reading for dew point in addition to temperature and humidity, one of the few hygrometers on this list that offers this feature. There is also a tiny red light below the screen that acts as an alarm if the humidity changes outside your preset range. 
Our favorite feature is the 18-inch probe that can measure humidity behind walls, doors, or in nooks and crannies. This feature could be convenient in detecting the source of water leaks, similar to water detectors, or other issues.
Key Features:
Large screen
Dew point
Humidity and temperature readings
Alarm
18-inch probe
Specification:
Brand

Extech

Model

445815

Weight

6.7 Ounces
Easy to read screen
Alarm feature
Probe included
Amazon reviewers noted issues with the calibration screw
Govee Smart Digital Thermometer/Hygrometer
The convenience of checking the humidity in your home from your smartphone cannot be understated. That's something we love about the Govee Smart Digital Thermometer/Hygrometer. This device combines the ease of an easy-to-read thermo-hygrometer screen with smartphone monitoring and data logging convenience. 
When you are near the Govee device, you can easily view accurate temperature and humidity readings due to the large LCD digits. When you step into another room, you can use your smartphone to check the readings and review past readings from up to 20 days ago. The data logging makes identifying trends easy and can help you manage your home's air quality and environment. 
Key Features:
20 days of data logging
Alarms
Notifications for temperature and humidity changes
Specification:
Brand

Govee

Weight

1.76 Ounces
Datalogging included in the Govee app
Easy to read screen
The app can only connect to the device within 260ft 
Antonki USA 2-Pack Humidity Gauge
The Antonki USA 2-Pack Humidity Gauge is our most affordable digital hygrometer. These devices will measure humidity with a +/- 5% margin of error and a +/- 2-degree margin of error for temperature. These products feature large, easy-to-read screens and two mounting options for use anywhere in your home. 
While the margin of error may not be ideal for highly-sensitive items, this pair still makes for an excellent choice for monitoring your home's air quality and environment. To be able to track the temperature both inside and outside at the same time, check out our selection of the best indoor outdoor thermometers and find the right one for your home.
Key Features:
Large screen
Large vents for measuring humidity
Specification:
Brand

Antonki USA

Weight

3.53 Ounces
Budget-friendly
Easy to set up
Easy to read screen
Magnet or stand mounting options only
Larger margin of error
DOQAUS 3-Pack Indoor Thermometer
Two is better than one, and three is better than two. The DOQAUS 3-Pack Indoor Thermometer is an excellent budget-friendly option for monitoring humidity in your whole home. Setting up a top-rated hygrometer in each room in your home doesn't need to cost a fortune. These hygrometers display a room's temperature and humidity with a margin of error of +/- 3-5% for humidity and +/- 1-3 degrees Fahrenheit for the temperature. 
Setup takes just a few moments once these devices arrive at your home. Three mounting options, including a magnet, hanging hole, and adjustable stand, make it simple to add this product to your home in an unobtrusive way. For more amazing devices for your home, check out our guide to the top-quality smart thermostats. 
Key Features:
3-pack of hygrometers
Temperature and humidity readings
Three mounting options
Specification:
Brand

DOQAUS

Weight

3.84 Ounces
Easy setup
Straightforward use
Budget-friendly
Why Trust Us
As someone with lots of outdoor gear to store, frizzy hair, and loves a sport where humidity matters, I take measuring humidity with some seriousness. While high humidity is far from the end of the world, it does play a factor in my decisions on when to rock climb outside, how I wear my hair, care for my skin, and store my gear. I grew up in the south, where 99% humidity was shockingly normal, and now that I've transitioned away from the swamp and to the pacific northwest, where the humidity varies quite a bit more. Whether you're storing wine, precious cigars, or outdoor gear, I want to ensure you have a product that meets your needs and provides exceptional accuracy. 
Who This Is For
In short, this guide is for everyone. If you want to monitor your air quality or humidity or ensure your precious cigar investments are cared for, this guide is for you. We have hygrometers with data logging and extra features for the curious types and straightforward screens that are easy to use for the casual user. When selecting products, I took great care to supply options that met various needs and budgets. 
How We Picked
When curating a selection of hygrometers, I wanted to ensure we met the widest array of requirements. I considered both indoor and outdoor hygrometers, as well as specialty options. Ensuring there was something for every price point was another critical element when selecting products. I catered to folks who had ten dollars to spend and someone with $100 to spend. Pricing someone out of monitoring their home air quality is not what we want. 
How We Tested
Testing hygrometers ended up being a more eye-opening experience than expected. I used hygrometers to check the humidity outside and make decisions for my hair and skin and see why my kombucha brew wasn't producing new SCOBYs. The most telling element of hygrometer testing was in storage spaces. My roommates and I have made use of every nook and cranny of our home for outdoor gear. We're a collection of mountaineers, skiers, bikers, snowshoers, rock climbers, campers, backpackers, runners, and paddlers. Between the five of us who reside on the property, there's a lot of gear to be stored. We've modified several indoor and outdoor spaces into creative gear storage and found a tent beginning to mildew one day. We placed hygrometers in our storage areas to ensure conditions were adequate to keep our gear safe and ended up saving thousands of dollars in equipment during this test from mildew.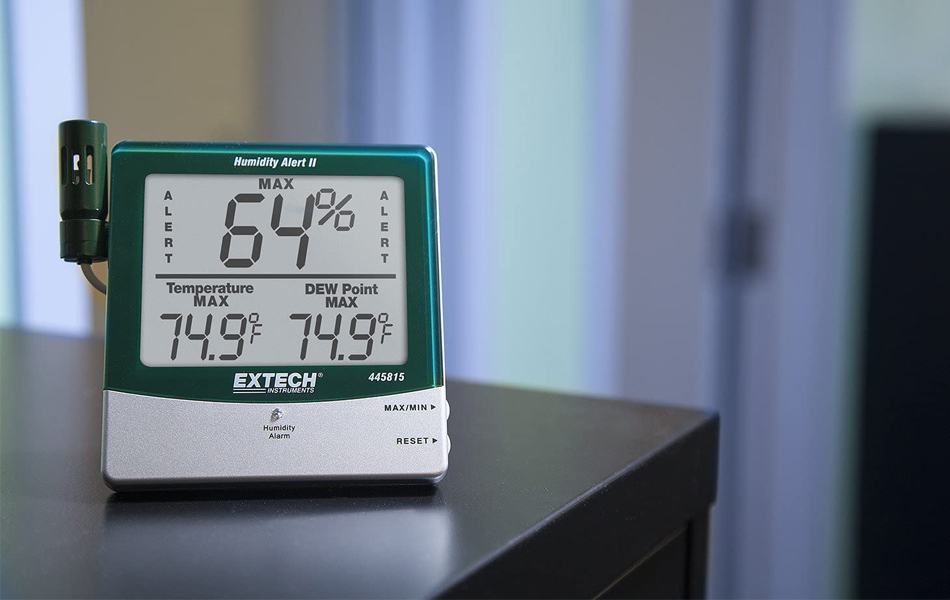 Features To Look For In Hygrometers
Application – Depending on your intended use for your hygrometer, you may select a different product. If you want to precisely monitor cigar or wine storage, selecting a product specifically for that purpose is in your best interest. Consider all the potential applications for your hygrometer before purchase so that you have a product that meets all of your needs from the beginning. Some hygrometers are built for indoors, others are best for outdoors, and some move easily between both environments. 
Accuracy – Ensuring accurate readings is a critical element of choosing a hygrometer. Most digital hygrometers have a +/- 2 % margin of error, which means the reading may be off by two percent in either direction. To ensure accurate readings, you can perform the salt test and calibrate your hygrometer, as discussed above. 
Power Source and Battery Life – Most Hygrometers are powered by batteries, which will require replacing. Some hygrometers feature a cord and plug into an outlet for their power source, but these options are less common. Analog hygrometers don't require a power source but do not provide the same features and readability as digital products. 
Remote Monitoring and Alerts – A hygrometer can be a valuable tool to save precious items and collections. While hygrometers with remote monitoring and alerts may be pricier, they could save you hundreds, if not thousands of dollars by providing quick alerts when humidity levels rise or drop too high for your cigars, collectibles, or other items. Additionally, these devices could also potentially help detect leaks and water damage in your home before it gets too far. 
User Interface – The user interface on a hygrometer is predominantly for viewing only. Your hygrometer must have an easy-to-read screen. Otherwise, you are less likely to spend the time to check it regularly. If you have vision issues, look for a product with a clear screen and large numbers for easy reading.
Data Logging – For some users, just knowing the current humidity levels is adequate, but if you want to track the humidity over time in a room or space to assess trends and make adjustments—a device with data logging capabilities will be worth it for you. Data logging will allow you to see trends and better understand what affects temperature and humidity changes in a particular space. 
Types Of Hygrometers
Electrical - Electrical hygrometers contain a semi-conductor that measures changes in electrical resistance in the air. The electrical resistance is dependent on water vapor in the air, and thus the relative humidity. Electrical hygrometers usually have vents that allow them to monitor changes in the air. Electrical hygrometers are common in cigar humidors. 
Mechanical - Mechanical hygrometers come in many forms. Because of the low margin of error in mechanical hygrometers, they are often used in indoor and outdoor uses and controlled environments. Mechanical hygrometers use organic fibers and their reactions to moisture to measure humidity. 
Dew point - Dew point is a common weather term to note at what temperature condensation forms. Dew point hygrometers measure the condensation on a polished metal mirror. Because dew point hygrometers look at condensation, they tend to measure humidity closer to absolute humidity rather than relative humidity. 
Psychrometers - A psychrometer is an analog hygrometer that uses two thermometers, one dry bulb, and one wet bulb, to measure relative humidity. A damp cloth goes on the wet-bulb, and the device is whirled around to evaporate the water. After referring to a chart and looking at the difference between the two thermometers, you can calculate relative humidity.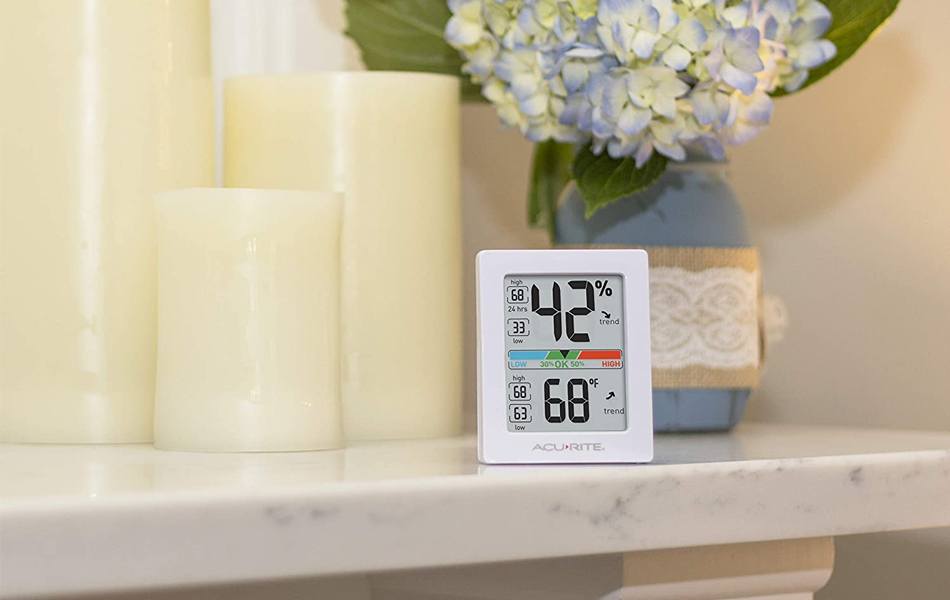 Hygrometer FAQ
Q: What is a hygrometer?
A: A hygrometer is a device used to measure humidity. Hygrometers come in all sorts of forms and can be an excellent tool for monitoring and adjusting your home environment. Additionally, some items such as cigars require specific humidity levels for appropriate storage and longevity. A hygrometer can help preserve precious items. 
Q: How do you calibrate a hygrometer?
A: Most digital hygrometers come calibrated from the factory. However, to ensure your hygrometer is calibrated correctly, you can perform the salt test. The salt test involves adding salt and a small amount of water to a bottle cap or tiny cup and placing it inside a secure zip lock bag with your hygrometer. Seal the bag and let it sit for six to eight hours. Your hygrometer should read 75%. If your hygrometer does not read 75%, it means the hygrometer needs to be calibrated. However many points above or below 75% are how much you need to adjust your device. Most digital hygrometers have buttons for adjusting the margin of error. 
Q: How do you adjust the humidity level in your home?
A: Changing the humidity in your home requires adding or removing water from the air. You can alter the moisture in your home in several ways, including opening windows, adding fans, a humidifier, a dehumidifier, or other devices that alter the airflow of your home.
Q: What is the difference between a hydrometer and a hygrometer?
A: A hydrometer measures a liquid's specific gravity, and a hygrometer measures relative humidity in the air. While the names of these devices sound similar, they serve two very different purposes.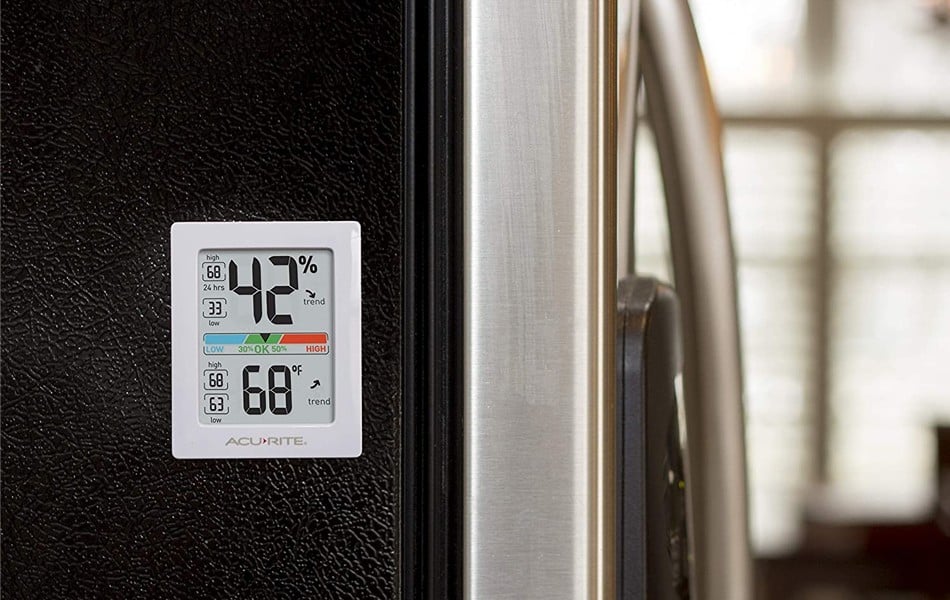 Q: Where should a hygrometer be placed?
A: When choosing where to place a hygrometer, consider what exactly you are trying to measure. If you want to know the room's general humidity, the room's center or a table is a great option. If your hygrometer is too close to a window or water source, it may read the humidity as higher or lower than it is in the rest of the room. The good news is, most hygrometers are mobile, and you can experiment with placement until you find the perfect location. 
Q: How do I know if my hygrometer is accurate?
A: As mentioned above, when we discussed calibrating a hygrometer, the salt test is the best method for testing your device's accuracy. 
Q: How long does it take for a digital hygrometer to read?
A: Most digital hygrometers are reading within a few moments after connecting to a power source. How often a hygrometer tests the air varies, but most hygrometers retest every few seconds for consistently accurate readings. 
Q: Do hygrometers measure relative humidity?
A: Yes, all of the hygrometers on this list measure relative humidity. How much moisture the air can hold is called absolute humidity. Relative humidity helps us understand how comfortable a room or environment is. Generally, lower relative humidity is more comfortable. 
Sources:
Sign Up Now
GET THE VERY BEST OF GEARHUNGRY STRAIGHT TO YOUR INBOX