Guard Your Grill: Best Mouthguards for Boxing in 2022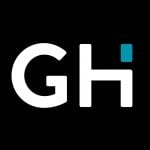 This product guide was written by GearHungry Staff
Last Updated
April 8, 2021
GearHungry Staff
GearHungry Staff posts are a compilation of work by various members of our editorial team. We update old articles regularly to provide you the most current information. You can learn more about our staff
here
.
GearHungry may earn a small commission from affiliate links in this article.
Learn more
If you do any form of contact sport, wearing a good mouthguard is not only a requirement, it's also just good sense. Any hit to the teeth can cause severe damage from cracked or loose teeth to getting your teeth knocked out altogether. Taking a shot to the head or jaw can slam your teeth together, which can chip or crack your teeth or take a chunk out of your tongue if it's unlucky enough to be caught in the middle. Even a light jab can cause that awful "clack" when your jaw snaps shut, which, at best, can be annoying and painful, and at worst, cost you a hefty dental bill.
In light of this, we've looked around for the best sports mouthguard on the market for boxing, as well as other combat sports like kickboxing or MMA. We checked out reviews, looked at prices, even called a few in, and took some shots to see how well they worked.
Check out our list below and take your pick of the top mouthguard from some of the best mouthguard brands on the market. Feel free to share your favorites (or any horror stories) on our social media pages.
The Best Mouthguard
Venum Challenger Mouthguard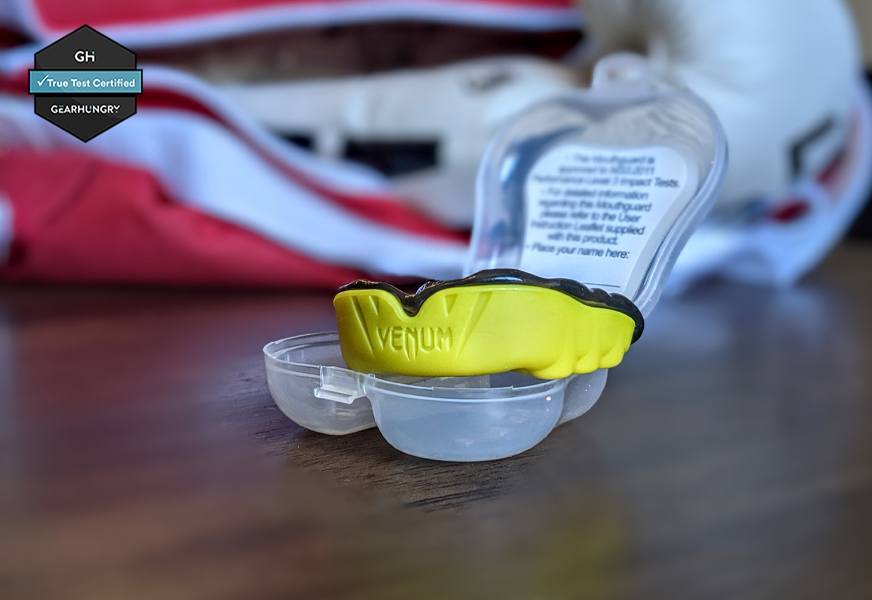 Venum is a well-known brand in the field of boxing, MMA, and other combat sports. We've tested their boxing gloves in previous articles and came away impressed. We're happy to share that the company's reputation for quality expands into its mouthguards as well.
The Venum Challenger Mouthguard sports a high-density rubber frame lined with a moldable interior for two layers of impact protection to distribute shock and keep your teeth safe. The molding process is simple, and I got a perfect fit after one round of boiling. It's designed for combat sports, but thanks to its comfort, feel and fit, it'd be perfect for any situation where you might take a shot to the chops. Read the in-depth review here.
Key Features:
Shock dispersing rubber frame
Easy moldability
Protective case included
Dual layer protection
Specification:
Brand

Venum

Model

616

Weight

0.16 Pounds
Shock Doctor Gel Max Mouthguard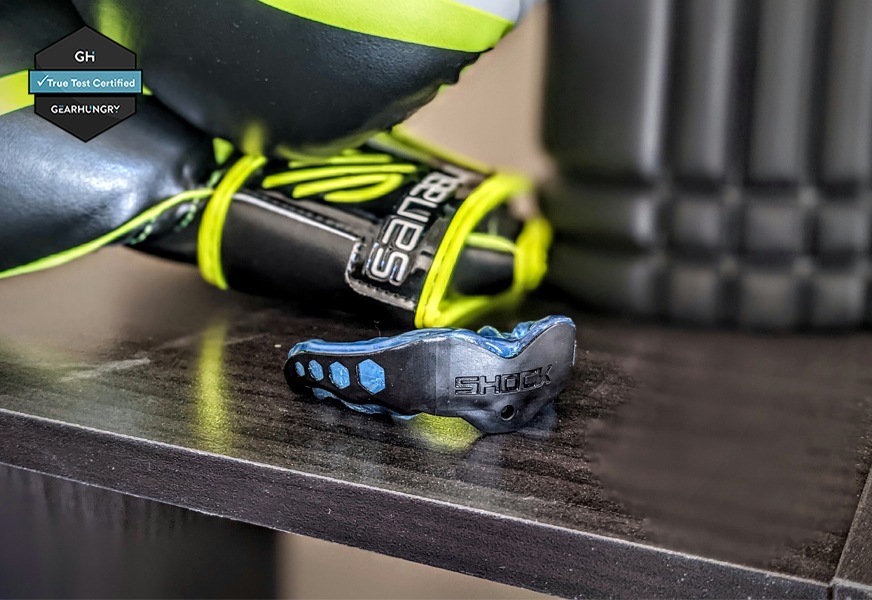 Shock Doctor has been in the mouthguard game for a while now, and their guards have come a long way since I was lighting up quarterbacks. The Shock Doctor Gel Max Mouthguard is a close contender for the top spot on this list due to its firmer exterior for face shots, complemented with a softer gel interior. The exterior (aka the Exoskeletal Shot Frame) keeps your front teeth safe from errant elbows (or not so errant boxing gloves), and the interior keeps your molars separate when you get blindsided by an uppercut because, well, it happens. If you want to use it for other sports, you can add the helmet strap to secure it to a facemask or helmet. Shock Doctor backs the Gel Max with its $10,000 dental protection warranty.
And it not only comes in a variety of colors, but you also can choose from a series of flavors like bubblegum or cherry — no word yet on whether the choice of "opponent's tears" will be available any time soon. Read the in-depth review here.
Key Features:
Shock dispersing rubber frame
Easy moldability
Multiple color and flavor options
$10,00 dental warranty
Specification:
Brand

Shock Doctor

Model

26697

Weight

0.04 Ounces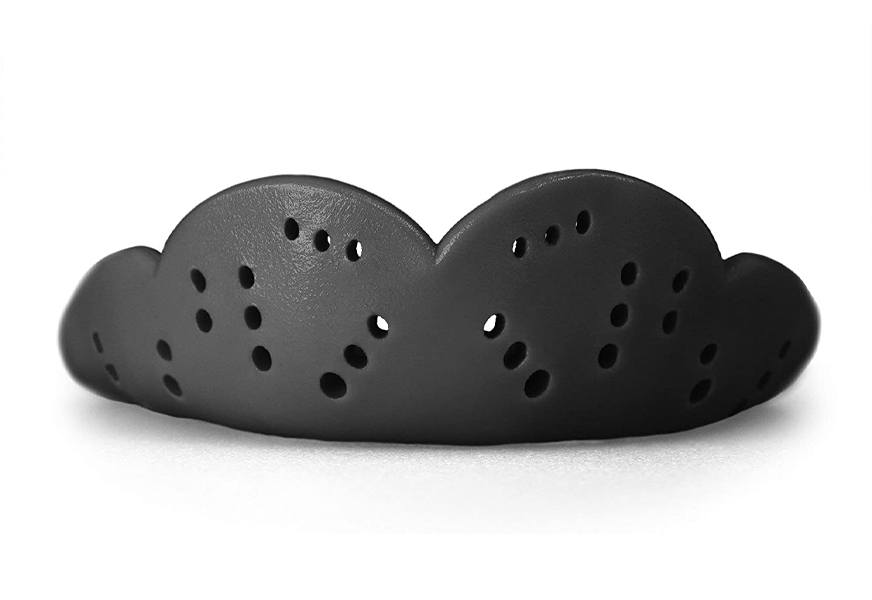 If you're looking for a mouthguard that lets you communicate, SISU Max Mouthguard is a great option. It's thinner than most of the mouthguards on the market, but the non-compressible material still offers plenty of protection. This thinness makes it easier to breathe, drink, trash talk, or yell at your cornerman that maybe he should try to duck those punches if it's that easy.
Also, it's dentist-recommended and comes with a 1-year limited dental protection of $50,000, so it's clear that SISU is confident in its ability to keep your teeth in your head. For more must-have boxing equipment, check out our list of the best punching bags on the market.
Key Features:
2.4mm thick
Non-compressible perforate material
Compatible with braces
Moldable fit
Huge dental protection warranty
Champs Breathable Mouthguard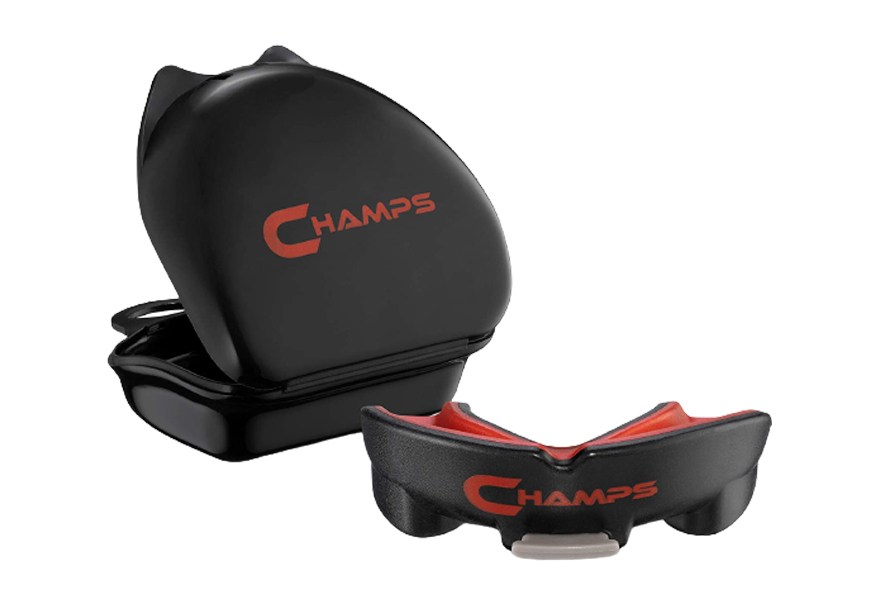 Breathing is a huge factor in performance, so it makes sense that breathable mouthguards are a great idea. Well-known fight brand Champs thinks so too because they developed its Breathable Mouthguards with three center-mounted breathing channels.
The channels allow you to breathe freely through the mouthguard, so you don't have to open your mouth to gulp in air as you slip right crosses. The customizable fit is soft and comfortable, and the removable strip keeps the channels from collapsing during the molding process.
Key Features:
Center-mounted airflow channels
Available in six colors
Customizable fit
Removable strip keeps channels open during molding
Specification:
Brand

Champs

Weight

1.16 Ounces
Sparkling White Smiles 2-Pack Professional Mouthguard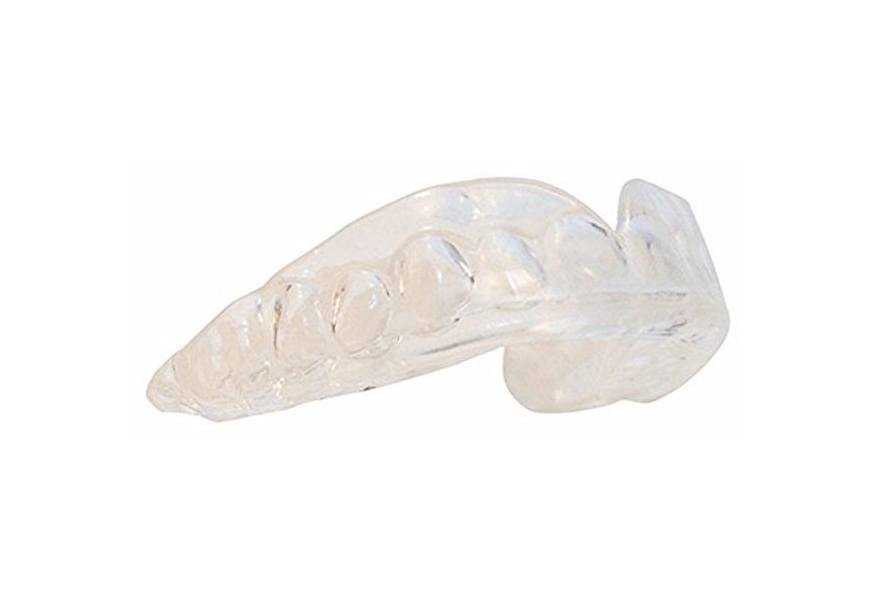 If you're anything like a certain writer, you tend to chew on your mouthguard between plays. Don't judge me; Steph Curry does it all the time. While approved by one of the best three-point shooters in history, it is terrible for the longevity of your mouthguard. That's why Sparkling White Smiles 2-Pack Professional Mouthguard is a great option.
The guards use boil-and-bite technology to give you a perfect fit that's free of latex and BPA. There are also no color additives, so you'll be rocking a clear mouthguard to showcase those pearly whites. For more awesome products for boxers, check out our selection of the top speed bags.
Key Features:
Great price
Two mouthguards included per pack
BPA- and latex free
Customizable fit
Vented case included
Specification:
Brand

Sparkling White Smiles

Weight

1.59 Ounces
Impact Custom Professional Mouthguard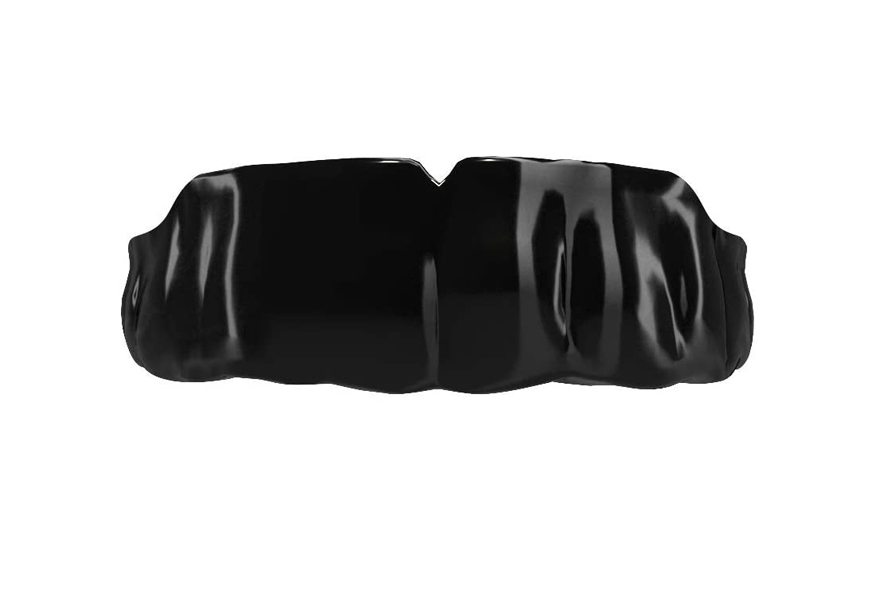 For combat-specific athletes, you're going to need a heavy-duty mouthpiece. That's why we love the Impact Custom Professional Mouthguard. Its 6 to 7-millimeter profile is thicker than many you'll find on the market, which is perfect for absorbing punches and kicks without sending your teeth flying into the front row. Despite its thickness, the mouthguard is designed to make breathing and communicating easy, so you don't need to take it out between rounds to recover and discuss strategy with your cornermen.
With fighting, mouthguard fit is important to prevent the guard from flying out when you don't see a left hook coming. Impact addresses this with its elaborate custom fitting method. Instead of the common boil and bite technique, Impact sends you a molding kit, which you use to take an impression of your mouth. After you send it back, the company uses it to provide you with a custom-fitted mouthguard.
Key Features:
Custom fit
6-7 mm profile
Easy to breathe and speak
100% guaranteed fit
Case included
OPRO Power-Fit Mouthguard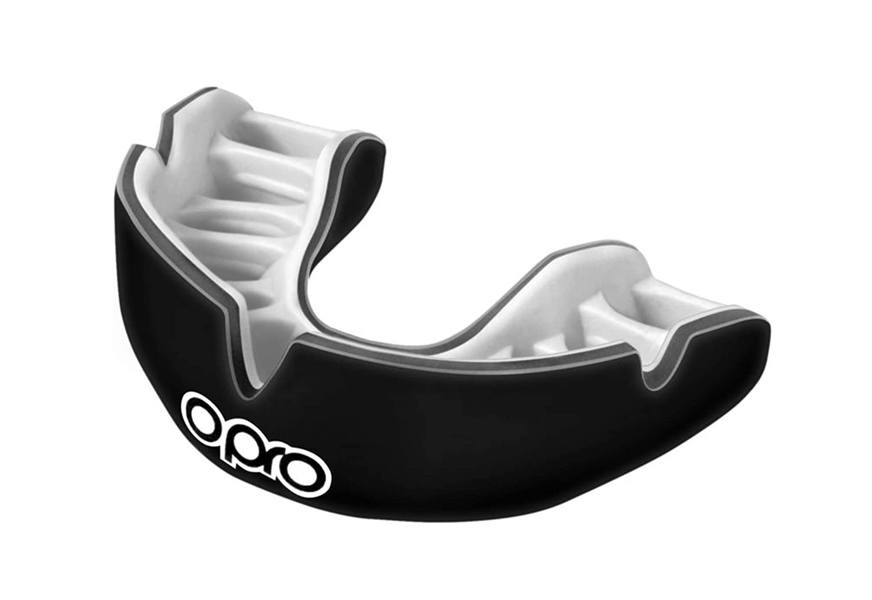 If money is no object (and why should it be, new teeth are pricey), the OPRO Power-Fit Mouthguard is a great choice. This option is more expensive than the others on this list, but the benefits more than justify the cost. First, the Power-Cage tech on the guard's interior allows the mouthguard to mold to your teeth without having to boil and bite down on it to provide a perfect fit, and it also provides an added bit of shock absorption. Second, it uses a Biomaster Antimicrobial layer to protect against 99.9% of bacterial growth. Because mouths are dirty.
Also, OPRO offers an 18-month $20,000 dental warranty, which shows that these mouthguards are built to last and that OPRO has a lot of faith in this product's ability to protect you. If kickboxing is your thing, here are some of the best-selling kickboxing gloves on the market.
Key Features:
Power Cage technology
Bacteria-resistant
Biol-free fit
Used by the UFC
18-month $20,000 dental warranty
Specification:
Brand

OPRO

Model

Power-Fit

Weight

4.94 Ounces
Shock Doctor Double Braces Mouthguard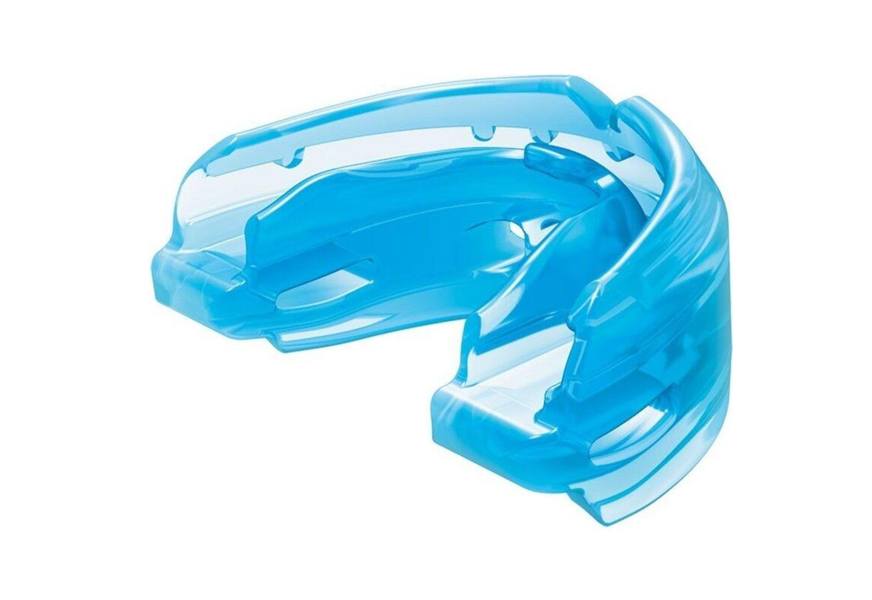 If you've got braces, finding a good mouthguard can be pretty dicey. Fortunately, Shock Doctor has developed the Double Braces Mouthguard designed specifically for these athletes. It sports extra room for braces on the top and bottom teeth, and it automatically adjusts to your teeth as they realign. Also, four air channels in the middle of the guard allow you to breathe without opening your mouth or spitting the mouthguard out.
With sizes for both youth and adults, this mouthguard doesn't require boiling and molding, which makes sense considering that your teeth will change alignment over time. Instead, it uses Shock Doctor's Instant Fit tech, which means you pop it in and play. Great news for wrestlers: it meets national and state high school rules requiring full coverage of upper brace brackets during wrestling.
Key Features:
Designed for athletes with braces
Ortho-channels for breathing
BPA- and latex-free
Instant fit tech
100% medical-grade silicone
Sized for youth and adults
Specification:
Brand

Shock Doctor

Model

4300Y

Weight

0.04 Ounces
Battle Fang-Edition Mouthguard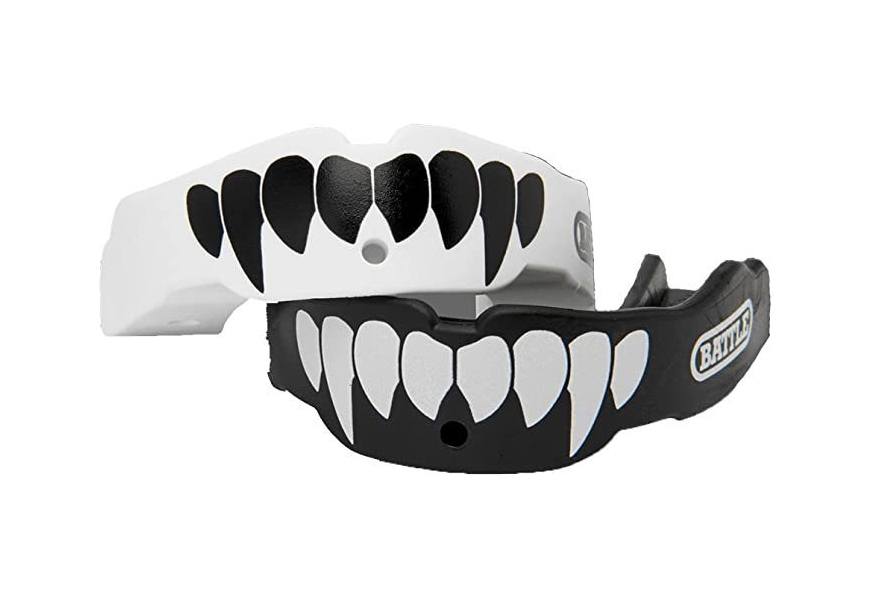 We're big fans of Battle Sports mouthguards, and the Battle Fang-Edition Mouthguard is a great example of why. Built and designed by athletes, Battle Sports makes mouthguards specifically to address the needs of an athlete. In this instance, the two needs are jaw protection and a mouthguard that doesn't make you gag. If you've got a sensitive gag reflex, these are the perfect mouthguards for you. The ultra-slim profile on the inside of the mouth keeps your heaving to a minimum. And the pre-formed base adds extra cushioning for your jaw when you take a shot to the chops.
Also, the Fluid Fit tech allows the interior to mold to and fill every contour of your teeth for a perfect fit. And if it doesn't work the first time you mold it, the guard's ReModel Tech lets you try multiple times. If it doesn't fit even then, Battle will give you your money back so you can get a mouthguard that does. For more important pieces of your boxing gear, check out our selection of top-quality boxing shoes.
Key Features:
Great price
Two mouthguards included per pack
Plenty of color options
Sweet fang design
Customizable fit
Specification:
Brand

Battle

Model

8702Y

Weight

1.6 ounces
How We Tested & Why You Can Trust Us
To give you an in-depth look at each mouthguard on this list, we researched the best products online, recalled the gear we've used in our sporting lives, and called in equipment to test and evaluate new and interesting pieces.
We rounded out our first-person impressions with user reviews online to gather a comprehensive view. I'm a former boxer, football player, and wrestler, so I drew from my experience to consider what makes a mouthguard great. I also had an MMA-trained fighter give me a few direct shots to the face in testing. Next time, I'm making an intern do it.
Who This Is For
This article is intended for looking to find the best mouthguard for boxing and other combat sports. From thin mouthguards to ones that fit over braces, we looked at a wide range of mouthguards to fit every face and protect every set of teeth.
How We Picked
We tried to find mouthguards that are useful in all combat sports for people with and without braces. We looked at a range of styles and fitting processes as well as price ranges.
We categorized them according to what priorities readers may be looking for in a mouthguard.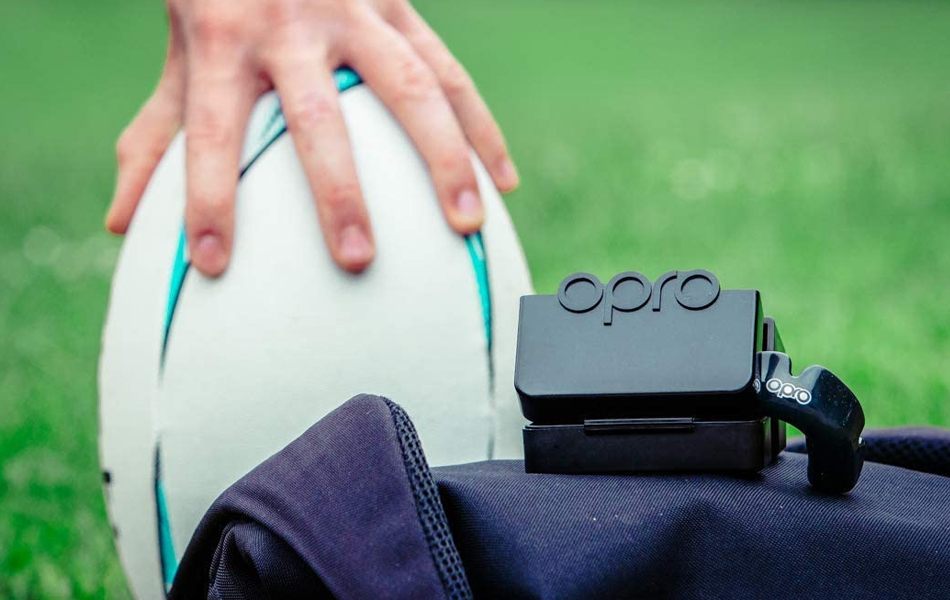 Features To Look For In Mouthguards
Protection - First and foremost, protection is what you should look for in a mouthguard. Mouthguards often come with either one layer of a firm protective gel or a firmer exterior layer to protect against direct hits with an interior layer that prevents the teeth from clacking together. They also usually extend into the upper gums to prevent bruising. 
Mouthguards also protect your lips from crushing against your teeth when you take a shot to the mouth, which can do serious damage. I've seen someone take a forehead to the mouth without a guard, and his teeth went through his lower lip. It was…unpleasant.
Comfort - Finding a comfortable mouthguard is key. During high-effort situations, being distracted by an uncomfortable or improperly fitting mouthguard can, at best, minimize your output, and at worst, leave you open to a blindside hit from a defensive end. Finding the right guard and getting a proper fit will provide you with a guard that you'll forget about when wearing.
Basically, a mouthguard is like a seat belt. You want one that you never notice that it's there…until you need it. So if you can find a mouthguard that disappears and does its job without you noticing, you're good to go.
Sport - Consider the sport that you participate in and buy your mouthguard accordingly. For lower-contact sports like soccer or basketball, a thinner mouthguard will serve well and will likely be more comfortable. If you play a higher-contact sport like football, roller derby, or combat sports, a thicker one will provide more protection.
Braces - People with braces need a different fit than people without. Look for mouthguards built specifically for people with braces, as they offer more room for the hardware without sacrificing protection.
Style - Many mouthguards will come in different colors and prints. It can be fun to dig into the various options to find one that you like. Many athletes will go with a color that matches their fight wear or go with something more intimidating like fangs.
Case - Cases don't always come with mouthguards, but it's a great idea to have one. I've dropped my mouthguard in my football bag and pulled it out the next day only to find it covered in whatever was floating around in the bottom of my bag. It's not ideal.
Make sure to wash your mouthguard thoroughly after every use and try to keep it somewhere cleaner than I did.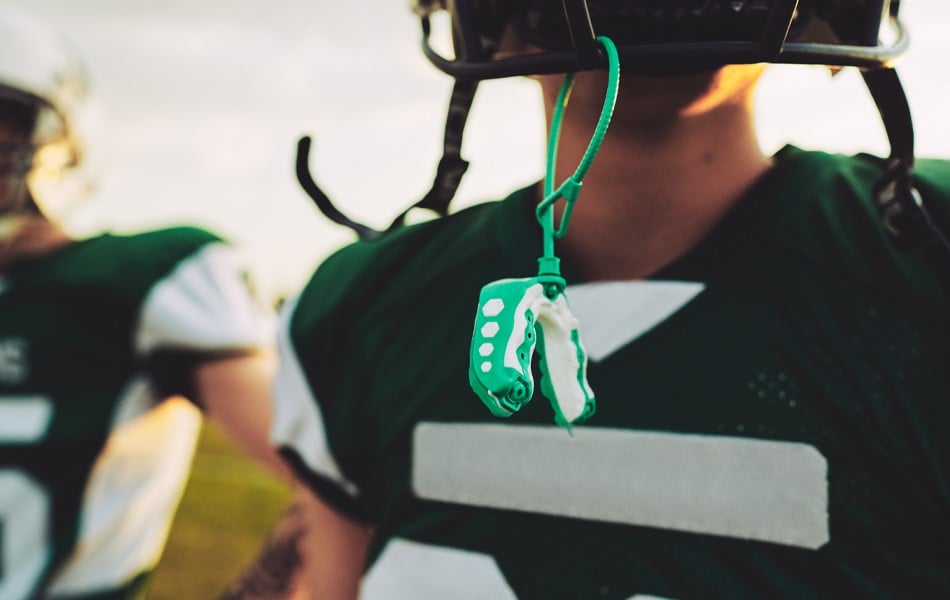 Types Of Mouthguards
Non-Molded - A non-molded mouthguard doesn't require any sort of molding to your teeth; it has a universal fit. A lot of athletes will go with a non-molded mouthguard for convenience – you simply put it in your mouth and go to work. They are a great option for athletes with braces since their teeth will shift over time. However, they don't often provide the secure fit that boil and bit, or custom-fitted mouthguards do.
Boil and Bite - Probably the most common type of mouthguard, these are designed to be boiled in water. Once softened (and cooled a bit), the guard is put in the mouth and bitten down on, allowing the gel to conform to that user's teeth. This process provides a unique and secure fit, although it might take a few reboils to get it right.
Custom-Fitted - Generally, on the highest end of the price spectrum, custom-fitted athletic mouthguards require you to send the manufacturer a mold of your teeth so that they can custom make a mouthguard for your set of teeth. This option is more time-consuming and generally more expensive, but it provides the most secure and specialized fit you can get.
Sport-Specific Mouthguards - Mouthguards are generally categorized by the amount and severity of the impact one should expect during a specific sport. Three main categories that you'll find are:
Light contact, in which contact is possible but not necessarily required. Sports like soccer and basketball fit into this category.
Heavy contact, in which contact is a fundamental part of the game. Football, lacrosse, rugby, and roller derby would fit here.
Combat sports, in which athletes are often struck directly in the face. Boxing, MMA, kickboxing, and any fighting sport would be in this category.
Mouthguard FAQ
Q: What is a mouthguard?
A: A mouthguard is protective equipment that athletes wear in their mouths to prevent injuries to their teeth, gums, lips, and jaw. They are used in countless sports and are required by many sporting organizations.
Q: Which sports require the use of a mouthguard?
A: Most contact sports will require the use of a mouthguard. The American Dental Association recommends wearing them when participating in boxing, field hockey, football, ice hockey, lacrosse, and combat sports.
Q: What is a flavored mouthguard?
A: A flavored mouthguard is treated with a specific flavoring, like cherry or bubblegum. There is no benefit to a flavored mouthguard other than the pleasant taste, which can be useful to distract from the taste of blood…or defeat.
Q: How often should i change a mouthguard?
A: It depends on how often you wear it and how well you take care of it. It would be best if you replaced your mouthguard at the first indication that its protective qualities have been compromised. If it shows cracks or tears or no longer fits properly, it's time to get a new one.
Q: How often should I clean my mouthguard?
A: Wash it with warm water, scrub it with a toothbrush, then re-rinse it as soon as you can after taking it out of your mouth. Then let it dry before putting it back in its case.
Q: What type of mouthguard is most effective?
A: The best way to make sure that a mouthguard is effective is to make sure that it is a good fit. A mouthguard that slides around in your mouth or flies out the first time you get punched won't do you any good.
Also, make sure that the mouthguard design is suitable for your sport. Check online to ensure that the mouthguard you're considering can handle the type of impact you'll be absorbing.
Q: How thick should a mouthguard be?
A: It depends on the sport, but most mouthguards are somewhere between 3 to 5 millimeters thick. Mouthguards for low-contact sports may be thinner, while combat sports and other higher contact sports may be thicker.
Q: Should a mouthguard cover gums?
A: For total coverage, mouthguards should cover at least one-half to two-thirds of your upper gums. Any higher than that, and it can jam uncomfortably into your upper gumline.
Q: How to fit a mouthguard?
A: If fitting a mouthguard at home, you're probably using the boil and bite method. This process entails leaving it in boiling water for a short time, rinsing it briefly to cool it, then biting down hard on it to allow it to mold to your teeth.
Every mouthguard comes with instructions that vary to a degree, so be sure to read the instructions that came with your mouthguard and follow them closely.
Sources:
Oral Health Topics – ADA
Mouthguards For Braces – The Orthodontists
Mouthguards – Mouth Healthy
Sign Up Now
GET THE VERY BEST OF GEARHUNGRY STRAIGHT TO YOUR INBOX