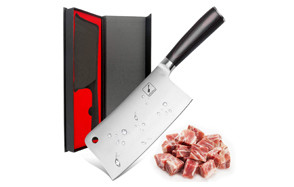 Imarku Cleaver Knife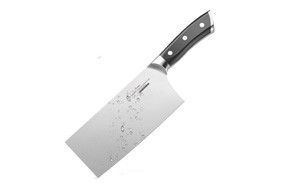 Sky Light 7" German Carbon Steel Cleaver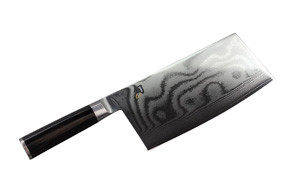 Shun Classic 7" Chinese Butcher's Cleaver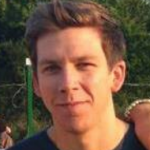 Men of the culinary world, assemble! You go gaga over certain kitchen necessities and accessories, and we can't blame you, especially when it comes to having an arsenal of properly-sharpened and useful blades at your disposal. It starts with a butcher's block, but it ends with a stellar meat cleaver. We've corralled the top ten from around the web to razzle and dazzle you, and explain a couple of questions you've always been wondering about in our comprehensive buying guide at the end of this list. Spoiler alert: we're about to tell you what that hole in the back of the blade is for.
The Best Meat Cleaver
Meat Cleaver Buying Guide & FAQs
People who say, "It's just a meat cleaver," clearly aren't ultimate kitchen masters. But you are, and you understand that much like EDC knives, no two blades are built the same, no matter what. Let's break down which type of steel you should be using, explain a few questions you've always been wondering about, and talk about technique.

German vs. Japanese Steel
If you never knew there was a difference, prepare to be shocked. If you're wondering which type is going to give you the edge, you've got two main methods to look at. For one, Germany has been crafting the most reliable engineering for as long as anyone can remember, and that generally involves steel. On the flip side, Japan has an ancient history of steel crafting from samurai swords, a method that's still used today to make their epic blades. So which is better?
We're going to talk about tang. No, not that dead beverage from the 90's - it refers to how much of the blade is sharp. When a blade is razor sharp from tip to the height of the hilt, that's called a full tang. When it doesn't reach all the way down to the handle, it's called a half-tang, or partial tang. For the most part, German-made knives are going to have a full tang, and Japanese-made will have a three-quarter or partial tang.
That's not really the main difference, however. It comes down to the steel itself. There's a system called the Rockwell scale, one that defines the density and toughness of steel. German-made blades generally rank 56 to 58, while Japanese-made steel is harder, and rates somewhere between 60 and 61. In short, Japanese steel is tougher, but they're also angled differently.
Japanese knives are trimmed-down to a 15-degree angle, or in some cases, an even finer point. German blades tend to be around an 18-20 degree angle. When it comes time to sharpen these knives, you're going to have an easier time sharpening German blades due to its less dense steel. If you prefer thicker-bodied knives, German is the way to go. While Japanese knives can be less dense and sharper, they're also more lightweight and come with less to the build
Q: Why Use a Cleaver Rather Than a Knife?
A: Believe it or not, cleavers have more than their intended use. Butchers used meat cleavers in the past to cut straight through bone when hacking off pieces of a large animal, but since most men don't have a dead cow in the next room, it's also good for other features. For one, it cuts through meat better than a standard steak or kitchen knife. When you swing down, you have more weight, and a more angular edge than most knives, so you bring additional power plus a sharper, finer edge. This is essential when preparing or cutting and serving delicate meats, like veil or filet mignon.
On top of that, the broad, rectangular shape is excellent for crushing-up tough foods, such as a head of garlic (most common use). When you use a standard-sized kitchen knife for this, you're dancing with the edge of the blade, and subjecting yourself to unnecessary risks. When you use a cleaver, your fingers don't have to go anywhere near the blade thanks to all the room. You'll be able to use this in lieu of a garlic smasher, standard blade for vegetable cutting (especially helpful to cut through dense vegetables, like potatoes), and cutting through fish without botching the delicate nature of the meat.

All About Sharpening
Sharpening your blade is essential to maintenance - in reality, it's the only maintenance you really need to perform on your meat cleaver. If not you're going to be the proud owner of a blunt object on a handle. We recommend a high-quality sharpening stone like Diamond Sharp Sharpening Steel Whetstone, which works to keep your blade sharp at all times. Even if you command an exemplary set of cutlery, this one sharpening stone will be more than enough to last you for over a decade.
But how often should you sharpen? Truth be told, there's no real way to tell. Steel is steel: if you unsheath a 300-year-old samurai sword, it's still going to be as sharp as when it was put into that case. It all comes down to how much you use it. On average, if you're using it to prep three meals a week, that's about twelve times per month - we'd recommend once every three months. By then, it's had enough use and enough washes to dull it a bit. If you fell that it's still sharp enough after three months, hang it up and carry on - it's all up to your use.
Q: What is the Hole in the Blade For?
A: If you've been hanging up your cleaver by the little hold, you've got butcher's blood in you. Way back when, these would hang by meat hooks in the back room of a butcher's shop. They didn't want to hang it by the handle on a leather strip or piece of rope, because back then, they were still ultra sharp knives, but with no modern conveniences/safety protocol to put in place. You would just walk into a butcher's back room and lop off an ear if you weren't careful. And so, butcher's hung them by the holes that were specifically requested when they ordered blades, and it's just become a staple and signature look.
Proper Cleaving Techniques
If you've ever Googled, "How to use a meat cleaver," you probably came up with some sketchy responses. No matter; we've taken that out of your list of concerns. You're going to run into three types of cleavers: heavy, light, and somewhere in the middle to serve multiple purposes. It's going to come into play when you're using the cleaver.
You're not going to have both hands on your cleaver - it wouldn't make sense. Whenever you're cutting, have your hand on the food you're cutting, but curl your fingers inward to form a fist-like tightness. When you're constantly aware of your digits, you're focusing on keeping them safe instead of taking a mishit with the cleaver.
Due to the broad side of a cleaver, you'll have to hold it extra tight. While most meat cleavers are going to be evenly distributed and not force any weight issues, the last thing you want is the blade swinging sideways and smashing onto your hand. Hold it tight, curl your fingers in, and never take your eye off the cleaver until it's safely put away again.
Q: Should I Put my Cleaver in the Dishwasher?
A: Most are going to come dishwasher safe, but it's never recommended. If you're not handwashing your cleavers, (and for that matter, any stainless steel cutlery you own), then you're doing it wrong. It preserves the sharpness on the blade, and prevents hard water building from getting in anywhere that a small screw or crevice may be. In truth, handwashing your cleaver is going to keep it cleaner and more sanitary than a dishwasher ever could.