Deep Cuts: The Best Meat Cleavers of 2022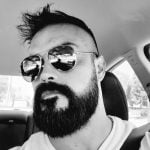 This product guide was written by Billy Brown
Last Updated
March 26, 2021
Billy Brown
Billy Brown has a problem sitting still. His constant search for the next challenge has him doing everything from running ultramarathons and climbing 14er's to gaining 40 pounds to compete in powerlifting, breaking several state records and growing a killer beard in the process. With over a decade of writing under his belt, his work, covering action sports, gear, and beer, can be found in a variety of publications. He lives with his wife and their two cats in Sacramento, California.
GearHungry may earn a small commission from affiliate links in this article.
Learn more
Nobody's kitchen is complete without a good meat cleaver. One of the mainstays of any butcher's shop and meat-lovers home since people have been cooking, the not-so-humble meat cleaver is the centerpiece for every kitchen's knife block.
We looked at a pile of meat cleavers on the internet, called in some demos to test, and found the best meat cleavers for your kitchen. We've also found some of the best ways to keep your cleaver sharp and effective and even figured out what that hole in the blade is for. Have a favorite that we didn't mention? Hit us up on social media and let us know!
The Best Meat Cleaver
The best cleaver knives do more than cleave meat, and the Imarku Meat Cleaver excels at just about everything in our kitchen. I've used this blade to do everything from quartering chickens to cutting tomatoes into translucent slices with ease. The blade's weight and toughness make it perfect for cutting through large chunks of meat, while its sharpness provides precision cuts for dicing and mincing. The high-carbon stainless steel imported from Germany has retained its edge over time, and the hardness has allowed the blade to keep its integrity throughout its rigorous testing.
The PAKKA wood handle is grippy, looks great, and is ergonomically shaped so you can slice through anything in your kitchen in comfort. With a 60-62 on the Rockwell Hardness Scale (HRC), this blade is tough, sharp, and durable. All of this adds up to a knife that works well in just about any situation. I've been using this knife daily since it arrived, and I don't see that changing any time soon. Read the in-depth review here.
Key Features:
60-62 HRC rating
PAKKA wood handle
High carbon imported German stainless steel
Excellent edge retention
Specification:
Brand

Imarku

Model

8541905295

Weight

13.1 Ounces
Another great mix of precision and power, this Aroma House Meat Cleaver is a great option. The carbon stainless steel blade is rated at 58-60 on the HRC, which is lower than some of the blades on this list but definitely hard enough to get the job done.
This daily cutter is built to handle meat, vegetables, and whatever else needs chopping, slicing, dicing, or filleting. This thanks in part to the heavy blade, which makes anything you cut feel like it was made of warm butter. At over a pound, this is no lightweight, but the full tang handle gives it a balance that makes it feel like a much lighter blade. Also, it comes with a lifetime warranty, so if anything goes wrong with the blade, they'll replace it with a new one. Make sure to keep it in perfect condition with a quality knife sharpener.
Key Features:
58-60 HRC rating
Full tang wood handle
Carbon stainless steel w/ chromium, molybdenum, and vanadium elements
Lifetime warranty
Specification:
Brand

Aroma House

Model

BH001-CK

Weight

1.19 Pounds
Wusthof Gourmet 7-Inch Meat Cleaver
Meat-eaters are going to love this crusher from lauded German company Wusthof. At almost 2 pounds, the Wusthof Gourmet 7-Inch Meat Cleaver is built for cutting through bone and joints to separate meat. The blade, bolster, and tang is made from one single piece of high carbon stainless steel, and the synthetic handle is secured with three rivets. This makes the cleaver able to withstand the sheer force needed to hammer through tough joints and bone. And the sharpness allows you to do it with precision, so you'll come away with the perfect cut every time.
User reviews have lauded this cleaver's ability to do everything from process chickens to slicing pizza. Plus, the hatchet-like feel makes you feel like a beast, even when you're cutting your kid's grilled cheese sandwich in half. We've used plenty of Wusthof kitchen knives over the years, and they're still cutting like we just got them. This one should be on everyone's wish list, just like any of these reliable butcher knives.
Key Features:
Built to cut through bone
Black 3-rivet synthetic handle
Single-piece high carbon stainless steel blade, bolster, and tang
Lifetime warranty
Specification:
Brand

Wusthof

Model

4685/19

Weight

1.88 Pounds
Golden Bird Hand Forged Meat Cleaver
While it's not your traditional meat cleaver, the Golden Bird Hand Forged Meat Cleaver is more than capable. Instead of using blunt force to break down meat, the knife uses a razor-sharp curved blade to slice through meat and joints. The balanced blade, curved wood handle, and large finger hole provide a comfortable, balanced feel with unsurpassed control. If you prefer precision slicing to brute force, this is definitely the knife for you.
The hammered texture doesn't just look cool (but it does look really cool); it also has functionality. The dimpling is highly corrosion-resistant and prevents food from sticking to the blade. And while we don't think you'll need it, Golden Bird provides a 30-day money-back guarantee, so you'll have time to try it out and make sure it's the right cleaver for you. Don't also forget to get a quality ceramic knife set for your kitchen.
Key Features:
Handmade
Hammered texture
High carbon steel
Leather sheath included
30-day money-back guarantee
Specification:
Brand

Golden Bird

Weight

8 Ounces
One look at this cleaver from DALSTRONG, and you know it means business. The Cleaver Knife from the company's Shadow Black Series features a distinct black titanium coating that makes it look like the Bentley of kitchen knives and makes it more resistant to corrosion much easier to clean. It also makes you want to store it in a place where everyone can see it at all times. You're not going to want to stick this one in a drawer.
DALSTRONG Meat Cleaver isn't just a pretty face, however. This clever is exceptionally sharp, heavy enough to power through meat and gristle with ease, and sports handle geometry inspired by the F-117 Nighthawk Stealth Fighter. This blade is as effective as it is gorgeous. The only problem is that you'll want to replace the rest of your knives to match it.
Key Features:
58+ HRC
Full tang handle, military-grade fiber resin handle
Aggressive black titanium coating
A single piece of high carbon vacuum-treated stainless steel
Sheath included
Specification:
Brand

DALSTRONG

Weight

1.62 Pounds
One of the challenges with creating a great cleaver is creating the right balance. Most cleavers need to be heavy enough to power their way through the material, yet to be well-balanced enough to disguise that weight. TUO manages this in its Chopping Knife with a hearty bolster (the part of the blade closest to the handle), which puts more weight closer to the hand. This reduces wrist fatigue and adds control to your chop. 
The German chromium toughened stainless steel blade is forged with up to 67 alternating layers to increase durability, resist corrosion, and retain sharpness. The PAKKA wood handle is oil-proof and anti-corrosive. The ergonomic shape increases comfort and control for cutting smaller pieces of meat or slicing and dicing fruit and vegetables. Looking for more kitchen tools that will make your life easier? Browse our selection of the top electric knives on the market.
Key Features:
58+ HRC
Full tang PAKKA wood handle
Hand-sharpened
Robust bolster
67-layer stainless steel
Specification:
Brand

TUO

Model

TC0720

Weight

1.54 Pounds
Dexter-Russell 8-Inch Heavy Duty Meat Cleaver
If your chopping necessitates something more like a hatchet than a knife, the Dexter-Russell 8-Inch Heavy Duty Meat Cleaver is more than capable. This large meat cleaver is an 8-inch, 2 and a half-pound beast that's meant to be wielded like a hammer for high-force chopping through any cut of meat, joint, bone, or cutting board that you may come across. The hardened edge will stay sharp after repeated uses, and the compression-riveted rosewood handle can stand up to any shock you can muster. You can use the broad blade to crush foods like garlic and ginger as well.
After over 200 years in the business, Dexter-Russell has built a real blockbuster, but it's not just for hammering away at meat with abandon. You can use the sharp carbon steel blade to slice vegetables and fruit and fine-chop more delicate meats like lamb or salmon without fraying. For more must-have kitchen tools for meat lovers, check out our list of the best steak knives.
Key Features:
Heavy-duty brass compression rivets
Rosewood handle
Hand-sharpened
High carbon steel blade
Specification:
Brand

Dexter-Russell

Model

S5288

Weight

2.5 Pounds
Shun Classic 7-Inch Cleaver
If the price is no object, this professional meat cleaver from Shun should be high on your list. The Shun Classic 7-Inch Cleaver is pricey, but you can see where each dollar goes. The blade is made with propriety steel with cobalt, chromium, carbon, and tungsten to create tough, durable steel that keeps its razor edge. And the d-shaped handle is made with genuine hardwood infused with resin, resulting in a water-resistant and durable handle that can survive years of heavy use. The cleaver is presented in a beautiful Damascus pattern that reflects the quality and care that created the blade.
The Classic is built to be an all-kitchen tool, from heavier duties like breaking down chickens and smashing garlic cloves to more delicate uses like thin-slicing vegetables and fruit. While it is an investment, the knife also comes with a lifetime warranty, meaning this is the only cleaver that you'll ever have to buy.
Key Features:
34-layer Damascus build
Ebony PAKKA handle
Shun "Super Steel" cutting core blade
Lifetime warranty
Specification:
Brand

Shun

Model

DM0712

Weight

13.6 Ounces
Utopia Kitchen 7-Inch Meat Cleaver
If you're looking for a great cleave but want to have some money left over for food, the Utopia Kitchen 7-Inch Meat Cleaver is a quality meat cleaver at a great price. This stainless-steel cleaver is burly enough to cut through chicken bones and sharp enough to dice vegetables with no issue, and the ergonomic handle is grippy and comfortable.
While other cleavers stand on their premium build and finish, this one has no pretense whatsoever. It's built to get the job done and focuses on utility. It's even dishwasher friendly, a claim that we have never seen from any other cleaver. We've seen varying reports on its durability, but for $10, this is a highly effective cleaver. Plus, if you manage to break it, you can always buy a new one without taking a big hit to your wallet. If you are also a sushi lover, don't miss to check out these must-have sushi knives from our list.
Key Features:
Dishwasher friendly
Affordable
Ergonomic handle
Stainless steel
Specification:
Brand

Utopia Kitchen

Model

UK63C

Weight

14.1 Ounces
How We Tested and Why You Can Trust Us
To give you an in-depth look at each cleaver on this list, we researched the best kitchen cleavers online, looked at brands that we've used in the past, and called in cleavers to test and evaluate new and interesting pieces. We rounded out our first-person impressions with user reviews online to gather a comprehensive view. We also pulled from our experience testing and evaluating cookware over the last decade.
Who This Article Is For
This article is intended for people looking for the best meat cleaver on the market, whether exclusively for chopping meat or an all-around cooking tool.
How We Picked
We chose knives that would be useful for a wide range of chefs in professional and home kitchens. We also looked for knives that were useful for a wide range of applications and accommodated varying budgets. We categorized them according to what priorities readers may be looking for in a meat cleaver.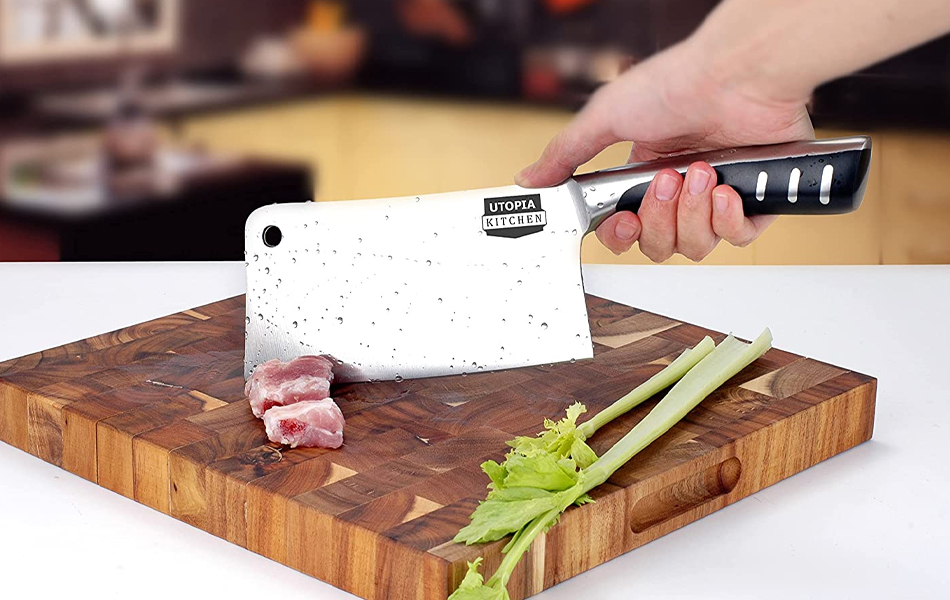 Features To Look For In Meat Cleavers
Blade Length - A cleaver's blade needs to be long enough to slice through various items with as few chops as possible. Ideally, one chop should be enough to make your cut because the fewer the chops, the cleaner the cut will be. Also, shorter blades tend to lodge into bigger items. Because of this, most of the cleavers you'll find are somewhere between 7 and 8 inches.
Blade Height - Blade height is important because there has to be enough space for your knuckles. The most common chop is a heavy downward motion straight through the object when cutting with a meat cleaver. If the blade isn't high enough, you'll whack your knuckles on the counter or cutting board with each chop. Look for a blade with a minimum of 3 to 4 inches in height.
Blade Thickness - The ideal blade thickness depends on how you tend to use your cleaver. Western cleavers tend to be thicker from the cutting edge to the spine, increasing durability and delivering a powerful strike. On the other hand, Eastern knives (like Japanese meat cleavers and Chinese meat cleavers) are thinner with a tighter angle on the cutting edge. This gives you greater control and cleaner cuts without tearing or fraying. If you want more precise cuts, opt for a thinner blade, but shoot for a thicker one if you tend to use more force. If you want a blend of the two, get a blade with a cutting edge between the two, somewhere around 16 degrees.
Overall Size - Finding the right size is a delicate balance. Too short, it'll get lodged into larger items. Too big, it can cause fatigue and downgrade the accuracy of your cuts. The sweet spot with cleavers seems to be around 7 to 8 inches in length and 3-5 inches in height. Most companies are aware of this, which is why most cleavers are made to these parameters.
Balance - Cleavers tend to be blade heavy. This is because the weight comes from the blade, which allows the knife to fall forward. Too much weight in the blade, however, can hurt your swing control. This can lead to sloppy cuts or missing digits. Blades with full tangs and hearty bolsters can help even the balance of a blade, which helps your control and can even make a heavier blade feel somewhat lighter. A blade with more weight closer to the handle can give you better and control. This leads to better (and safer) chopping.
Weight - Weight is an essential aspect of meat cleavers, as the weight drives the blade down in an effective chop. Meat cleavers can weigh up to two pounds, which means they can cut through just about anything, but it will tire you out after a while. A cleaver lighter than a pound can also tire you out, however. The lighter weight means that it will likely require more effort to cut through even smaller bones or prepping a chicken. A cleaver somewhere in the middle (around 1 pound) is the sweet spot: it's heavy enough to cut through most objects with one swing but not so heavy that it will exhaust you.
Sharpness - Most blades will come sharp but lose that sharpness over time. Over how much time depends on how durable the edges are. Look for a blade that has at least a 56-58 HRC rating. These blades tend to keep their sharpness over time with proper maintenance.
Strength and Durability - A good meat cleaver is built to last a long time, as long as you maintain it. That said, some are built tougher than others. Look for a blade with the aforementioned HRC rating of at least 56. This will ensure that the blade won't buckle, chip, or roll during use. Also, check on the handle – ones that are secured via rivets are less likely to detach. The only issue with riveted handles is that the rivets' holes can create weak points in the material.
Types of Meat Cleaver - As mentioned above, there are two main types of makes for cleavers. The Western-style, and the Eastern style, favored in China and Japan. The main three differences are in the hardness of the steel and the thickness of the edge.
Hardness - Western cleavers tend to have a hardness of 56 to 58 on the HRC scale, while Eastern blades tend to be harder, usually rated around 60-61. This adds to the durability of the blade but also makes it tougher to sharpen.
Edge - This may be why Eastern blades are trimmed down to about a 15-degree or finer angle, while Western blades are usually close to 18-20 degrees. This leads to a denser and burlier cleaver, but one that will require more sharpening. If you're more of a chopper than a slicer, the Western-style may suit you better. If you want a more precision cut, the Eastern may be a better fit.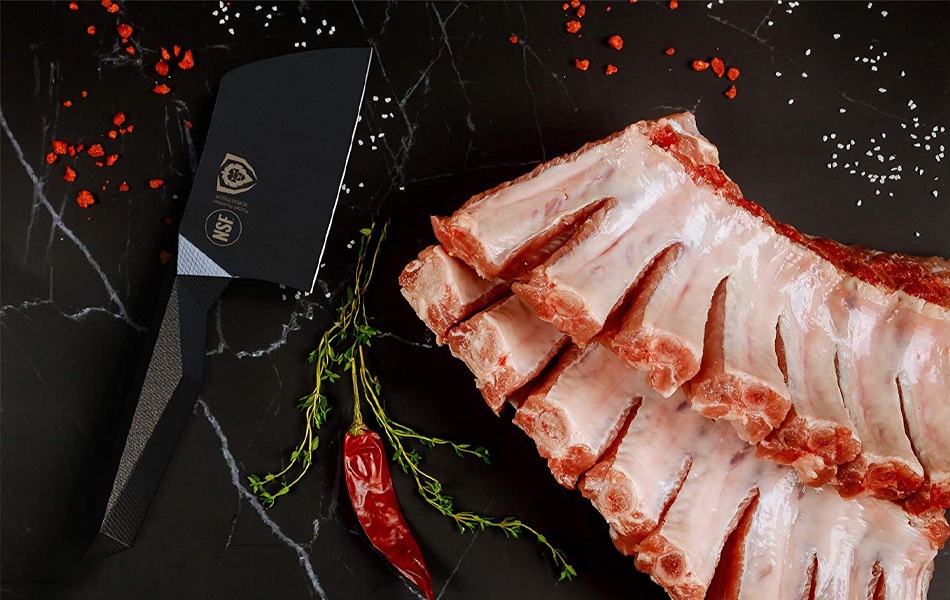 Meat Cleaver FAQ
Q: Why use a cleaver rather than a knife?
A: While meat cleavers were originally intended to hack their way through bone when parting out an animal, they are also one of the most versatile knives in any kitchen. In addition to the ability to slice through bone and gristle, they also provide cleaner, quicker cuts of delicate meat like filet mignon. The extremely sharp blades are also ideal for slicing and dicing fruits and veggies, piecing out sandwiches, and even slicing pizza (even though it may be a bit overkill). Also, the wide, flat blade is useful for crushing items like garlic or ginger.
Q: What is that hole in the blade for?
A: This goes way back to when butcher cleavers would hang from meat hooks in the back of the butcher's shop. Hanging the cleaver by the handle would leave a butcher exposed to walking into the blade, so bladesmiths would make butcher knives with the hole on the blade so the handles would hang down instead.
Q: What are proper cleaving techniques?
A: The main use of cleaving is to…well, cleave. One solid chop through a dense piece of meat or bone. Use a one-handed grip and hold the food you're cutting down with your hand in a fist a good way away from the cutting area. This keeps your digits away from the blade and attached to your hand.
Gripping the handle tightly with your other hand, swing it down in a forceful but controlled strike, never taking your eyes off of your intended target. You're going to hit what you're looking at, so do NOT look at your other hand during your swing. For safety, don't raise the cleaver above the head or chest level. The higher you go, the more things there are that can go wrong. If a basic hammer swing doesn't do the trick, you probably need a bone saw.
Q: Should I put my cleaver in the dishwasher?
A: Some companies list their cleavers as dishwasher safe, but to ensure the knife's longevity and the integrity of the blade, you're better off handwashing it.
Q: Can a meat cleaver cut through bone?
A: Most meat cleavers can cut through lighter bones like chicken, fish, or turkey bones, but thicker bones like cow bones require a heavier cleaver. If you're looking to chop through cow or similar bones, look for a bone cleaver that's closer to 2 pounds.
Q: What is the difference between a butcher knife and a cleaver?
A: You can usually tell by the shape. Whereas a butcher knife is narrower and has a sharp point, a cleaver generally has a square shape and a heavier weight. This is because, in addition to slicing, a cleaver is meant to use that weight to hew through thicker and denser items like meat and bone. The cleaver is more of a chopper, where a butcher knife is used mostly for slicing.
Q: How do you sharpen a meat cleaver?
A: Use a 300-grit whetstone and sharpen the cleaver from the heel to the tip at a slight angle, following the same profile as the original edge. Repeat the same motions on the other side, then wipe down the cleaver and rinse off the whetstone to remove the metal you ground off.
Q: Can you chop vegetables with a cleaver?
A: You absolutely can chop vegetables with a meat cleaver knife. The heavy, sharp blade can make even quicker work of tougher foods like root vegetables and potatoes.
Sources:
Why Do Meat Cleavers Have a Hole? – Knife Analyst
Sign Up Now
GET THE VERY BEST OF GEARHUNGRY STRAIGHT TO YOUR INBOX