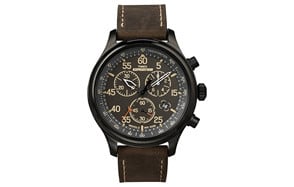 Timex Men's Expedition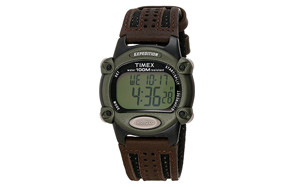 Timex Men's Expedition Classic Digital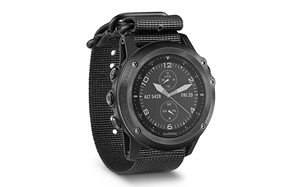 Garmin Tactix Bravo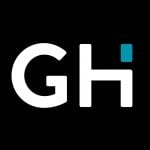 Hiking enthusiasts, members of law enforcement, soldiers, first responders and others often find themselves in situations where weather, terrain, darkness, altitude, and other considerations could compromise the operation of a standard wrist watch. Because of this is they need something tougher and more feature-rich. They need a tactical watch.
Every tactical watch we'll be reviewing below is worthy of the title and has passed muster with our review panel. Let's get started.
The Best Tactical Watch
Tactical Watches Buyers Guide
People who've never owned a tactical wrist watch typically have a lot of questions about them. Below we've rounded up 4 of the most common questions we encountered when talking to people about tactical watches in the hope these answers – along with the following list of "Things to Look for When Buying a Tactical Watch" – will help you make an informed decision.

Q: What Is The Best Make Of Tactical Watch?
A: For our money the choice is clear: Casio. Others may disagree and you could certainly make an argument for a couple of other manufacturers but Casio wins the day for us by consistently delivering high quality, feature rich, dependable and affordable tactical watches.
Q: What Is A Tactical Watch?
A: A tactical watch is a timepiece designed to be worn on the wrist that embodies rugged construction while incorporating useful survival-related features. They're intended to continually operate regardless of how difficult conditions may get and are typically highly shock and water resistant. They are also commonly referred to as "military watches", "army watches" or even "combat watches".
Q: What Can A Tactical Watch Do?
A: Different manufacturers incorporate different features and in many cases the feature menu is price-dependent. Or, rather, price will often depend on the number, type and quality of the features on offer. Most offer basic survival features like a compass, illuminated hands, water resistance, shock resistance and alarms. While a more upscale tactical watch may offer features such as a barometer, altimeter, thermometer and even GPS. As of this writing one – the SureFire 2211 reviewed above – offers a built in flashlight feature that allows you to keep both hands occupied with other things while still bringing light to bear on the task in front of you.
Q: Who Wears A Tactical Watch?
A: Anyone can wear a tactical watch but they're mostly used by people who spend a great deal of time outdoors in often less than ideal conditions. That would include first responders, police officers (self defence), extreme athletes, rescue workers, firefighters, hunters and more.
Things To Look For When Buying A Tactical Watch
Here is our list of things you should look for when buying a tactical watch.

Durability – This is first on the list because if the tactical watch can't stand vigorous impacts, shocks and intense movement all the features in the world won't do you any good. Aircraft grade aluminum or carbon polycarbonate are at the high end of the material spectrum and should serve you well for years. It's also crucial that the lens be shock, scratch and impact resistant and for that reason you'll want one made of sapphire.
Water resistance – Anyone working outside like construction workers, first responders, police officers and more, or those engaged in extreme sports like mountain biking, base jumping or even surfing, is going to need a watch that won't flinch when it gets wet, or even submerged. Every watch on our list is water resistant down to at least 50 meters and that should be the absolute minimum level of water resistance for your outdoor watch. Looking for more? Check out our dive watches guide.
Luminescence – If you find yourself engaged in strenuous outdoor activity after dark you want to be able to read your watch by simply glancing at the face. Having to tie up both hands to engage a backlight is less than ideal. For that reason look for watches that feature self-illuminating hands and digits that will always light up regardless of the battery situation.
Analog Or Digital – The face of the timepiece is a matter of personal preference. As long as it's properly luminescent either analog or digital will serve you well. Many models of tactical watch actually provide both in the form of a large analog face and a smaller digital window displaying 24 hour military time. If you need as much information at your disposal as possible that's probably the option for you.
Power – The last thing you want is for your watch to die on you in a tight spot. As such the power source for your tactical watch is crucial. Lithium-ion batteries are a popular, dependable choice but even they will eventually need to be recharged at some point. If you spend long days in the bush you'll want to consider a self-winding watch (or a watch winder) that feeds off your movements or a solar powered watch that recharges using sunlight.
Size And Weight – The typical tactical watch can be pretty bulky. Since we're not all built like NFL linemen it's fair to say you'll want to give due consideration to the size and weight of the device you're strapping on to your wrist. You're going to be wearing it for long hours after all and want it to be an asset not an anchor. Fortunately there are several high quality tactical watches that embrace a slimmer profile like the Hamilton Men's Khaki and the Timex Expedition tactical watch reviewed above.
Additional Features – Any additional features will be up to your personal preference or the demands of your particular job or sport. Additional features you may want to consider include a barometer, an altimeter, a thermometer and GPS for obvious reasons. GPS however won't do you a lot of good if you don't have some form of reference to plot the data onto.

Maintaining Your Tactical Watch
It's built tough, with you in mind, so you want to ensure that it's going to continue operating smoothly as time goes on. It's had your back, so now, you need to upkeep your fantastic tactical watch—here's what you do:
Don't Submerge To Clean – A lot of people think that having water resistance on your tactical watch (we'll explain later) means that you can dunk it to clean all the gunk out of it. That's not necessarily true; you have to pay attention to the model and its capabilities.
Clean Often – When we're wearing our watch, we sweat. It's just what happens. Grime fills in all the tiny crevices that we just can't see until we take off our watch. Use a toothpick or a very small nail cleaner (this would be a good time to bust out your Swiss Army Knife, too) and gently chip away all the grime. It can only take a few days for this to start building to a visible level.
Certified Dealer – Most certified deals are also experts at maintaining your watch. Ever been walking through the mall and you find that little kiosk that cleans watches and jewelry? They know what they're doing, and can even make repairs to clasps and other components in the meantime.
Water Resistance Explained
If you read diving capabilities on your watch, you're probably picturing dropping a watch into the ocean for as deep as the requirement says, and pulling it out unharmed. Well, it's not that simple. Just because it says there's 33t of diving capability doesn't mean that you should go jumping into the sea with it. Here's what you need to know about the different diving capability thresholds on tactical watches.
Up to 33ft – Take it out when it's raining; if you're doing dishes and you splash some water on it, it'll be just fine. This resistance is just meant f or the everyday wear and tear. You shouldn't be testing the waters too much, but you don't have to worry about a little flash rainstorm every now and again.
Up to 98ft – We've all done this at least once—look down at your wrist, and you're still wearing your watch. If you're good up to 98ft, then you're fine to keep showering. This is also going to be okay with quick, accidental submersions. If you reach down into the water to grab a fish off a line, your watch will be just fine.
Up to 164ft – You're good for all of the above—showering, dishes, rainstorms—but you're not going to hop on a jet ski with this model, alright? That's a big no-no. If you're the kind of fella who likes looking stylish when he takes a dip in the pool, or your partner is being playful and pushes you into the ocean when you're out on the boat, your watch is going to be alright.
Up to 328ft – Don't scuba dive or deep dive, but everything else is fair game. You can handle most watersports (keep it vanilla though) and handle most of the wear and tear of the real world. Take a dunk in the hot tub or the pool on the deep end. You'll be alright.
Up to 656ft – If you want a diving watch, you're going to need more than just water diving requirements. You'll need a sapphire crystal, and a bunch of other fixings—but you don't want that. You want a tactical watch to handle every situation that you'll be faced with, even in high-pressure situations. Don't deep dive with this one, but it's not going to kill the thing if you go a hundred feet underwater.
All About Tactical Sensors
You're getting into the big leagues now. Think you can handle it? These are the devices that are used by our Marines, and by the most logistic and tactical-minded people on the planet. Your tactical sensor is going to respond to your environment—any environment—and stick out the elements with you. Overcast, sandstorms, hurricanes—these are made to last. These are excellent if you need to give someone your location, especially if you're going hiking in the woods.
While you can imagine how the military could use these effectively, your life isn't quite as dangerous as that. If you're looking for a way to use your tactical sensor, refer to the booklet that comes with your tactical watch. Every sensor is different, and its capability double so—find out what the best practical means of use are by adhering to the booklet.
Conclusion
The modern tactical watch is a marvel of design and engineering that provides those engaged in life saving occupations or extreme outdoor activities with the information they need to perform their tasks safely and efficiently. With the right tactical watch you no longer need a satchel of instruments to navigate the woods or bring life-sustaining aid to those in need. Everything you need is on your wrist.
We hope you found this tactical watch information helpful and don't forget to stop back on a regular basis for more insightful product review guides from your friends at gearhungry.com.