Best Waterproof Smartwatches in 2022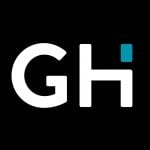 This product guide was written by GearHungry Staff
Last Updated
October 29, 2020
GearHungry Staff
GearHungry Staff posts are a compilation of work by various members of our editorial team. We update old articles regularly to provide you the most current information. You can learn more about our staff
here
.
GearHungry may earn a small commission from affiliate links in this article.
Learn more
Water-resistant smartwatches have been around for quite a few years now, and they've certainly made life easier for a lot of people, especially those who love their digital devices. As technology advances, smartwatches keep getting better and better. These remarkable watches are basically an extension of your smartphone with a touch screen in that you can answer calls, see your notifications, and a whole lot more without actually looking at your phone. This makes a smartwatch so much more appropriate when it comes to social etiquette, as you won't be glancing at your phone every few minutes.
It was only a matter of time before waterproof smartwatches entered the market, and this has increased their functionality, especially for those who enjoy swimming or any outdoor activity. One of the most popular features of a smartwatch is for fitness buffs to track their progress, and the best waterproof smartwatch will give you the freedom of taking your fitness to a whole new level, and that means you can wear your waterproof phone watch when you decide to run on rainy days or even in the swimming pool. We've put together this selection so you can find your waterproof watch on Amazon and stop worrying about getting your smartwatch wet.
The Best Waterproof Smartwatch
LETSCOM Waterproof Smartwatch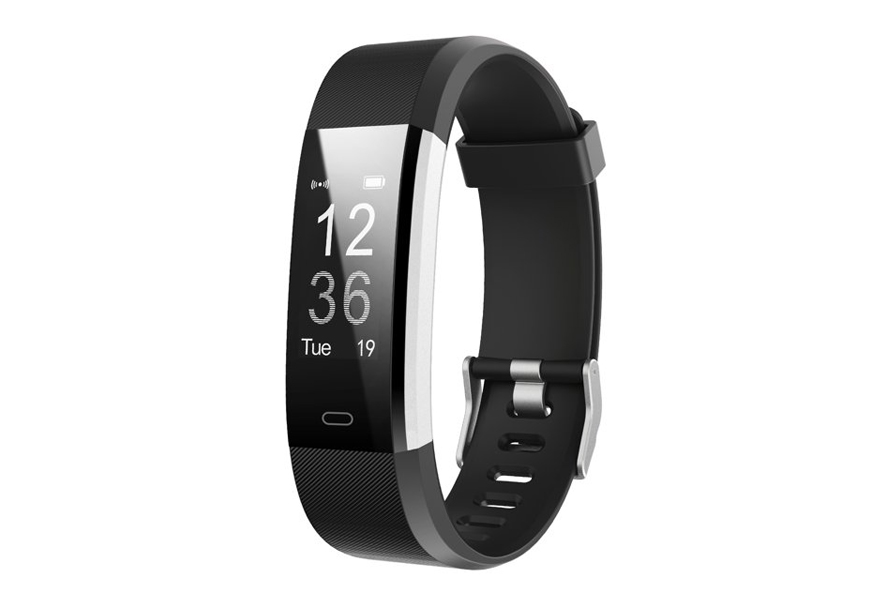 The LETSCOM Waterproof Smartwatch has a heart rate monitor that also offers All-day Activity Tracking that monitors your steps, distance, active minutes, and the time you spent sleeping. This water-resistant smartwatch has multi-sport modes that are more intuitive to the activities you enjoy engaging in and there it also features Connected GPS that connects to your phone to give you real-time run stats so you can more accurately track your progress and step up your fitness activities.
This waterproof smartwatch also allows you to receive calls, messages, and notifications from social media and other apps so you can keep your phone in your bag or pocket and simply check the information on your wrist. It also has a built-in USB plug that allows you to charge your waterproof smartwatch on your laptop, computer, or even a portable power bank.
Key Features:
Waterproof smartwatch with step counter
All-day activity tracking
Heart rate & sleep monitoring
Multi-sport modes & connected GPS
Receive calls, messages, notifications, etc.
Built-in USB plug
Specification:
Brand

LETSCOM

Model

ID115Plus HR

Weight

0.84 Ounces
Garmin Vivoactive Waterproof Smartwatch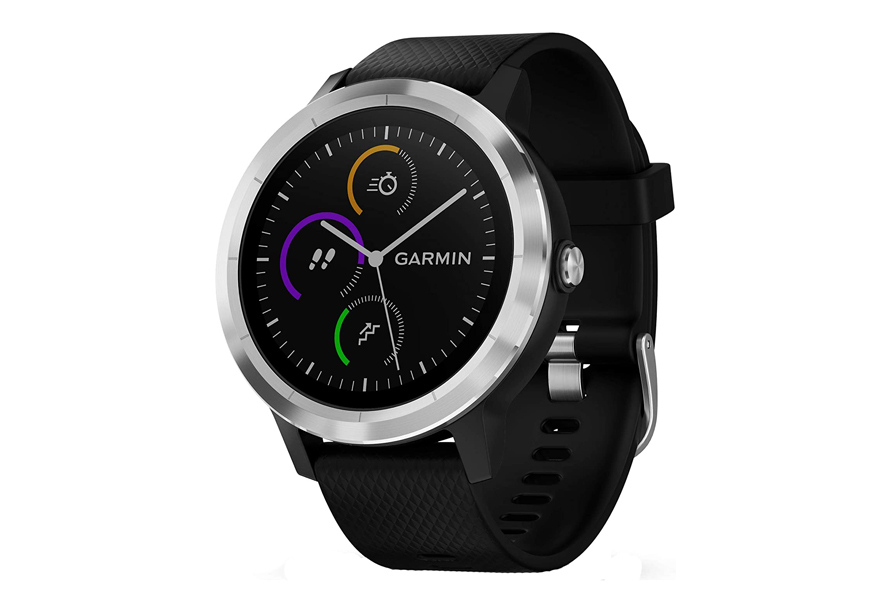 Stay connected with your Garmin Vivoactive Waterproof Smartwatch without missing out on any of your favorite activities. This waterproof touch screen watch has 15 preloaded sports apps but you can also download and create your own personalized workouts.
This high-quality waterproof Bluetooth Garmin watch is also capable of daily fitness and stress tracking as well as tracking other health-related monitoring such as your heart rate, sleep, hydration, and even your fitness age and hydration levels. It has a waterproof rating of 5 ATM which is good for up to 50 meters. You can personalize the watch face with dozens of different styles and designs and you can even use GarminPay to pay for purchases you make online. 
Key Features:
GarminPay to pay for purchases
15 preloaded sports apps
Download & create workouts
Daily fitness & stress tracking
Personalize with hundreds of watch faces
Built-in GPS
Specification:
Brand

Garmin

Model

010-01769-00

Weight

1.5 Ounces
YAMAY Waterproof Smartwatch
The best types of watches are the ones you don't need to take off and when you have a YAMAY Waterproof Smartwatch, you can take your watch in the shower, out in the rain, or even go for a swim as this is an IP68 Swimming Waterproof Watch. It features 9 sports modes that can track your workouts as well as your heart rate, steps, and more.
To make it even easier for you, this waterproof smartwatch is iOS, Android, and iPhone compatible and you can check all of your messages and notifications from social media, SMS, or even take phone calls. The bands are changeable so you can mix and match them to your wardrobe or activity and the battery charges for about 2 hours via magnetic charging and can last up to 10 days.
Key Features:
24 hour activity tracking
IP68 swimming waterproof watch
9 sports modes
Message & notification alerts
Changeable bands
Long battery life & magnetic charging
Specification:
Brand

YAMAY

Weight

0.399 Pounds
Blackview Waterproof Smartwatch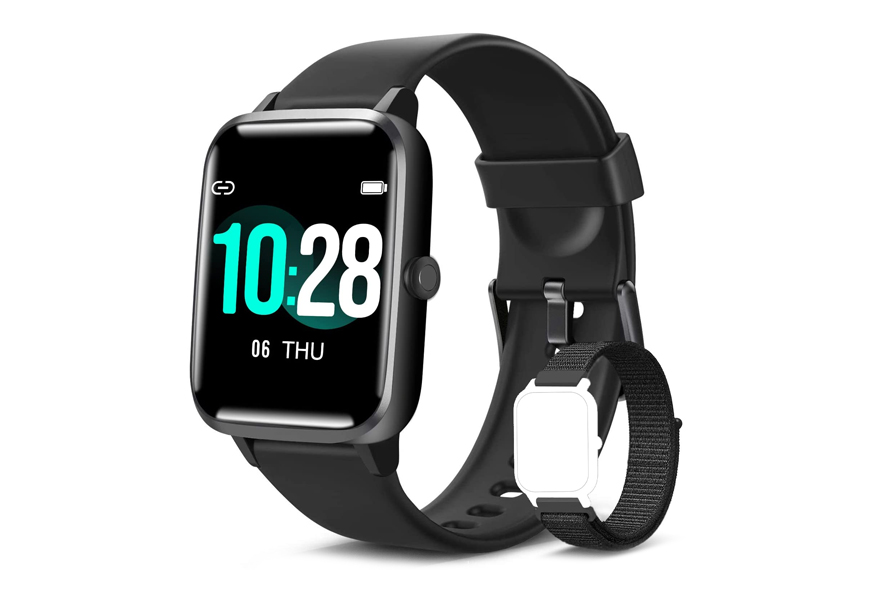 Whether you like running, walking or just need a good smartwatch for everyday use, this Blackview Waterproof Smartwatch for Android Phones and iOS Phones helps you track your all-day activities without missing a step and you won't need to take your smartwatch off to take a shower or go for a swim. This is also ideal for those who don't let a bit of rain stop them from their daily run.
This waterproof smartwatch for android phones and iOS phones also features a heart rate and sleep tracker so you can work towards a healthier and happier lifestyle. The full touch screen allows you to receive calls and notifications and also pause, stop, or adjust the volume of your music. The battery is also exceptional. Charge it once and you can work it for up to 10 days before you need to charge it again.
Key Features:
IP68 / 5 ATM waterproof rating
All-day activity tracker
Heart rate & sleep monitor
Full touch screen
Receive calls & notifications
10 days long-life battery
Specification:
Brand

Blackview

Weight

1.23 Ounces
Amokeoo Waterproof Smartwatch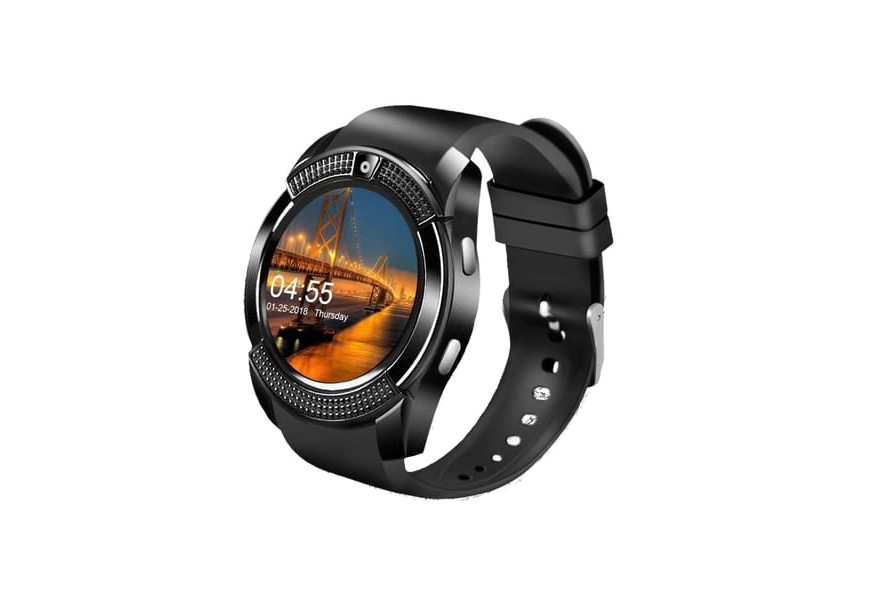 The Amokeoo Waterproof Smartwatch is as tough and durable as you are. Take it with you when you go running, walking, or just to see how many steps you actually make in a day.  It has an IP67 waterproof rating so you don't need to worry about getting your smartwatch wet.
This is a smartwatch with Bluetooth connectivity for Android phones but you can also insert a SIM card and use it without a phone. It features a strong stainless-steel frame and a long-lasting battery so you can get moving a lot more without worrying about constantly changing your smartwatch. And for more cool gadgets for active men, check out these reliable dive watches from our list.
Key Features:
IP67 waterproof rating
Bluetooth smart watch for Android phones
SIM card slot & camera
Long lasting battery
Bluetooth v4.0 technology
Stainless steel frame
Specification:
Brand

Amokeoo

Weight

5.6 Ounces
RUNDOING IP68 Waterproof Smartwatch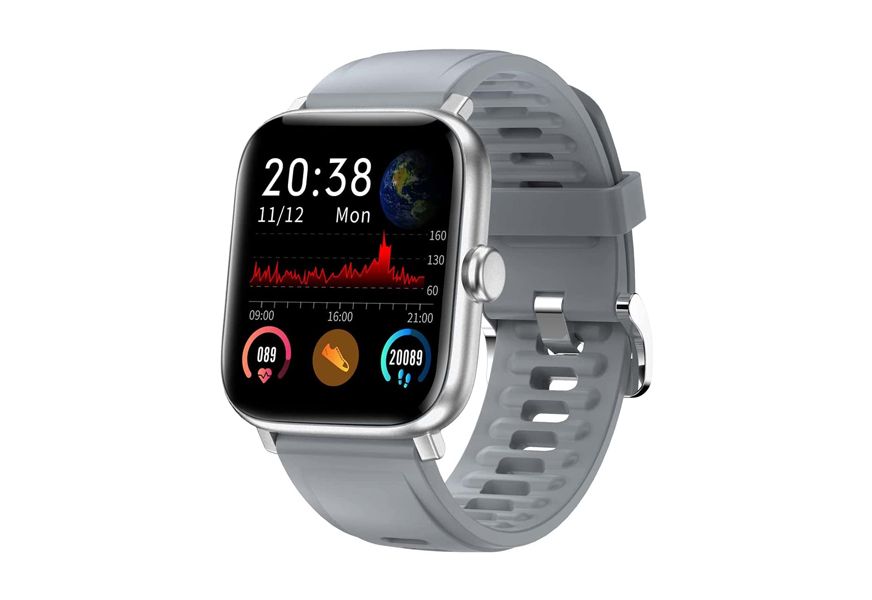 A smartwatch can look good and have all the functions you need and this RUNDOING IP68 Waterproof Smartwatch is a fantastic piece of digital equipment that also looks awesome. This is a high-quality Accurate Activity Tracker that has 10 Exercise Modes making it a functional smartwatch for those who love their physical activities. It has a 1.54-inch full touch screen that is easy to use and this waterproof smartwatch for iPhone and Android means you can also check your notifications, answer calls, and more. For the ladies who want something a little extra, this one also has a female health tracker and reminder. For your convenience, this waterproof smartwatch only needs a couple of hours to fully charge and, in most cases, the battery will last up to 7 days.
Key Features:
IP68 waterproof smartwatch
1.54-inch full touch screen
Accurate activity tracker with 10 exercise modes
Compatible with iPhone and Android phone
Female health tracker and reminder
2-hour charging time / 7-day running time
Specification:
Brand

RUNDOING

Weight

1.44 Ounces
Zeblaze Hybrid 2 Waterproof Smartwatch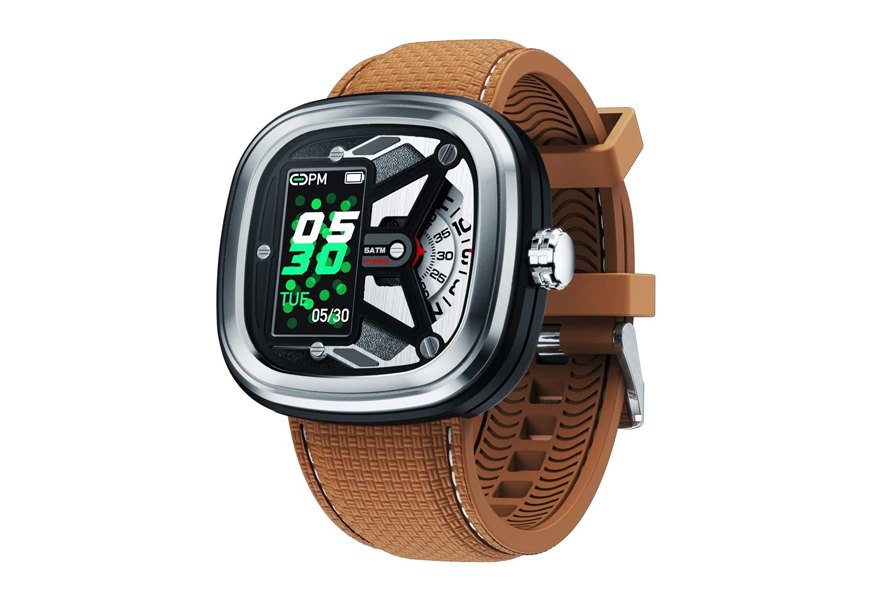 For a smartwatch with more functions you could ever dream of, the Zeblaze Hybrid 2 Waterproof Smartwatch gives you so much more when you download the "H Band" App Connection. It also has several fitness and health monitoring tools making it an exemplary smartwatch for the fitness conscious. It has a heart rate monitor, blood pressure monitor, and you can also keep tabs on your sleep tracking and even the number of calories you burn. The watch is also waterproof up to 50 meters so running on the beach is in and you can even go for a splash without taking the watch off.
What you'll also love about this waterproof smartwatch are the tough appearance and solid craftsmanship. It can withstand any activity you want to engage in and the smart bracelet modes give you up to 15 days of battery life so take it on vacation with you as well as using the features for every day.
Key Features:
50M waterproof
Heart rate monitor & activity tracker
Tough appearance & solid craftsmanship
Fitness and health monitoring tools
Automatically synchronizes via Bluetooth
Smart bracelet modes for 15 days battery life
Specification:
Brand

Zeblaze

Weight

8.3 Ounces
Waterproof Smartwatch Buying Guide & FAQ
Features to Look for in Waterproof Smartwatches
Design - Smartwatches are usually more focused on functionality rather than appearance but most people still want something on their wrist that they like to look at. Some may just look like a generic fitness band while other designs look like a traditional watch. The design you choose needs to suit your activities and your needs. Comfort is also important because if you find the watch and band irritating to wear, you'll end up throwing your watch in a drawer and forgetting about it. Fortunately, with more choices available, you can have a waterproof smartwatch that has all the features you want and looks good too.
Specs - Think of all the research you normally do when purchasing a smartphone. You probably put together a list of specs you want on the phone and will choose one that ticks all of the boxes. The same should apply to a waterproof smartwatch. Check for things like battery life, operating systems, the amount of memory, storage, and processor speed. Of course, you also need to consider your budget and how many of your preferred specs you can get in your price range.
Tracking Features - Waterproof smartwatches are fitness bands and watches in one with most of them having an impressive list of tracking features. Almost every smartwatch has things like a pedometer and heart rate monitor but these generally only track the number of steps you take throughout the day and your heart rate during these activities. Some of the more advanced smartwatches also record the distance you've walked or run, the speed you traveled, and the calories you burned. Some of the better waterproof GPS watches will accurately show the path you followed or perhaps swam, and your body's stress levels during activity and even facing stress at work. Think about the activities you intend on engaging in and try to find the tracking features that match your expectations.
Internal Storage - Like a smartphone, computer, or even a tablet, the best waterproof smartwatch must have sufficient internal storage. This is especially important for those who like to run for long periods or distances and want to play great music while they do so. Music is a mighty motivator so you want your waterproof smartwatch to have the capacity to store a hundred or so songs so you can stay motivated listening to your favorite tunes.
Apps - Smartphones give us endless options to download a variety of apps for work, study, and even play. Smartwatches, including waterproof smartwatches, give us these same options. While many waterproof smartwatches have different sport modes and fitness tracking, you may have a favorite app you like to use to track your fitness and you want your smartwatch to be able to support your favorite apps. Check the apps that are compatible or may even come with your waterproof smartwatch, but also check the specs to see how many additional apps it will be able to support.
GPS - There is no denying that GPS has made getting around a lot easier but it has also become an invaluable tool for fitness enthusiasts to want location-backed tracking. This is especially useful for runners, hikers, and cyclists. The additional benefit of a waterproof smartwatch is that you may also be able to track your swimming locations. This may not be so useful in a swimming pool, but if you like to swim at the beach or a local river or lake, GPS is an absolute winner. Best of all, if your waterproof smartwatch has GPS built-in, you won't need to take your smartphone with you when you're out jogging or swimming.
Waterproof Smartwatch FAQ
Q: Can you swim with a waterproof watch?
A: If you have a waterproof smartwatch, you can definitely go swimming. 'Waterproof' defines something immune to or impenetrable by water. If you intend to go swimming with your waterproof smartwatch, ensure that it is indeed waterproof and check the waterproof rating so that you also know the condition and depths you can swim in.
Q: What is the difference between a water-resistant and waterproof watch?
A: There are always going to be questions when it comes to water-resistant versus waterproof watches and the difference is quite simple. Water-resistant refers to a watch that can withstand moisture from humidity or accidentally being splashed by rain or when you wash your hands. However, keep in mind that water-resistant does not mean you should shower or go for a swim while wearing a water-resistant watch.
Waterproof, on the other hand, allows the wearer to take a shower or go for a swim with their watch on. Before you do this, check the waterproof rating as every waterproof watch will have limits on the length of time you can have the watch submerged and the maximum depth it can be plugged into.
Q: Are smartwatches safe?
A: There are a few factors to consider when discussing the safety of wearing a smartwatch. The first one is, are they safe to wear for your health? While they do emit low levels of radiation, smartwatches need to pass FCC standards for health. The second consideration is cyber safety. In this case, you need to see a smartwatch as a mini-computer, and if a hacker can infiltrate your computer, it can also do the same with your smartwatch. Practice the same level of PC or cybersecurity for your smartwatch as you would a PC or any other digital device.
Q: Are Apple watches waterproof?
A: In most cases, Apple watches are water resistant but not waterproof. This means it won't lose its integrity if you get it wet in the rain or while washing your hands, but it is important to try and keep it away from moisture as much as possible.
Q: Are Galaxy watches waterproof?
A: Many Galaxy smartwatches have a waterproof rating because their main purpose is for use by fitness enthusiasts. This means they can be worn during swimming. As an example, a waterproof smartwatch with a waterproof rating of 5 ATM is waterproof up to 50 meters. This means you can wear it in swimming pools and even go snorkeling or diving with your waterproof smartwatch.
Sign Up Now
GET THE VERY BEST OF GEARHUNGRY STRAIGHT TO YOUR INBOX