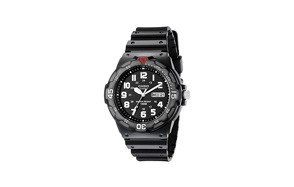 Casio Men's Analog Dive Watch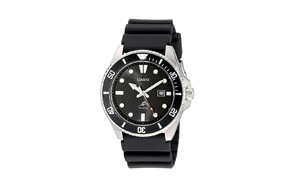 Casio Men's Black Analog Watch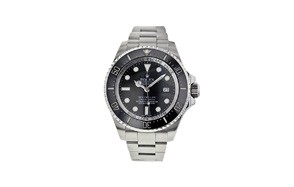 Rolex Oyster Perpetual Seadweller
People assume that dive watches are just light-up wristwatches that have a waterproof rating. While there's some truth to that, these are essential to maintaining proper timing while underwater for proper oxygen usage. It's the ultimate tool for any diver, and always at-the-ready when they need it. Style, accuracy, and capabilities are all key factors to think of when you're trying to decide which diving watch is best for you. Let's get started with the best four dive watches over $1,000, and descend down the budget scale as we go. Get ready to witness luxury at it's apex.
(Top Picks) The Best Dive Watches in 2018
1. IWC Aquatimer Chronograph
See More Reviews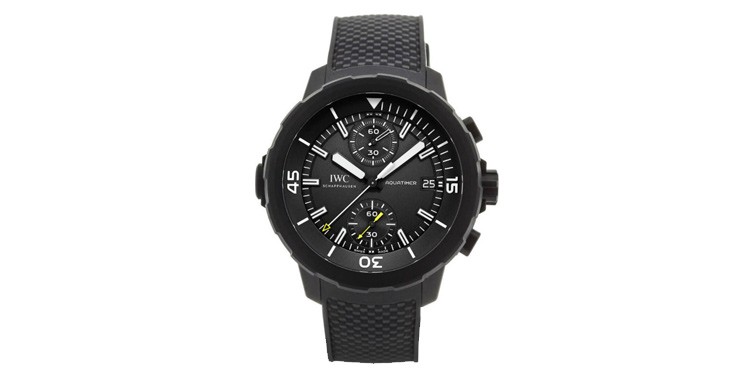 The epitome of premier diving watches: the IWC Aquatimer. You'll be able to submerge up to 1,000 feet with this dive watch from heaven, and do so with peace of mind. With sapphire crystal resisting every bit of potential scratching, you'll be able to view your watch hands clearly, and concisely, with no room for error.This premium watch is crafted of black stainless steel and encased in rubber, sporting a black rubber strap. The inner bezel rotates, and the black dial holds luminous hands to light up to the maximum depth of one thousand feet, meaning you'll be able to look at your timer no matter where you are in the water.
This watch is completely Swiss-made, and comes with a fully-functioning chronograph with the date, hour, minute and second; a luxury watch all-around.
Specification:
Brand

IWC

Model

IW379502

Weight

15.8 ounces
2. Omega Seamaster Planet Ocean
See More Reviews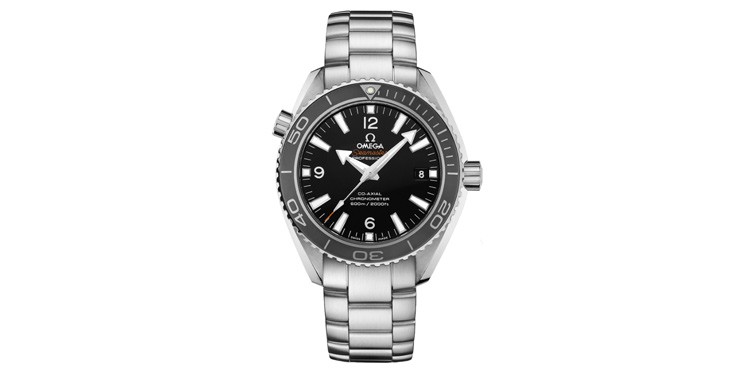 You can never go wrong with an all silver-and-black approach, and Omega does it justice. With automatic self-winding movement and a black dial watch, you get luxurious design mixed with all the proper functions you want to see in a premier dive watch. With a sapphire crystal watch face, you won't have to worry about scratches tarnishing this expensive, high-class model.
With one of the most impressive waterproof safety depths available—2,000 feet—you won't have to worry about anything damaging your dive watch. With a steel case and bracelet and helium escape valve, you're getting a plethora of features here for the money. Luminescent hands and markets are going to keep you engaged the entire way down to whichever depth you plan to delve.
Specification:
Brand

Omega

Model

23230462101001

Weight

2.35 pounds
3. Rolex Oyster Perpetual Seadweller
See More Reviews
Rolex—the big name no matter what variant of watch you're looking at. Rolex is the king of watches, and they don't disappoint with this unique dive watch, sporting one of the most luxury designs you'll ever lay your eyes on. With self-winding automatic movement and an all-black dial, you'll be able to clearly see every intricate detail, and read your dive watch under any conditions. With luminescent hands and markers to accompany the scratch-resistant sapphire crystal, you're dealing with top-of-the-line features.
Rolex is known for quality, and often times, that requires an authenticity seal. Manufacturer serial numbers are embedded within the watch, as well a guarantee, and certificate of authenticity to complete the entire package. You can submerge more than two miles underwater—what else would you expect from the most premium watch company in history?
The true mark of a gentleman in the modern world is being able to seamlessly blend style and function as if it were designed by a deity. Walk tall with your new Rolex, and you'll attract the attention that only Rolex can bring you.
4. Breitling Superocean Heritage
See More Reviews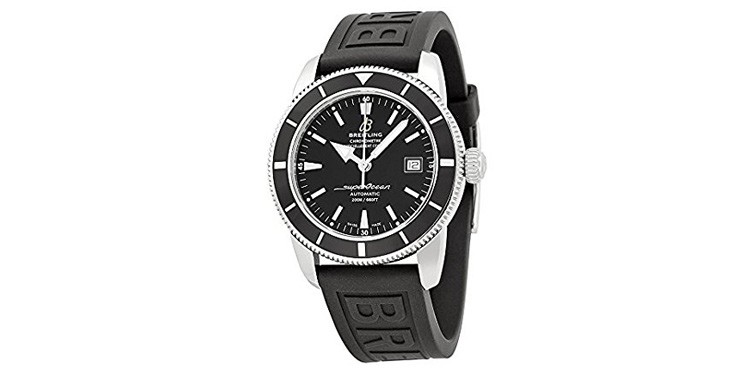 They've had some of the most compelling watch advertisements of all time, and you know the brand well. If you've never had the pleasure of owning a Breitling watch before, here's your chance to get the optimal dive watch for the stylish gentleman, doubling in function. With the all-black rubber band, appropriately imprinted with their brand name, as well as the sophisticated watch face and hands, there's absolutely nothing about this watch that you won't love.
Breitling paid close attention to the wants and needs of their customers. Divers are looking for unidirectional bezel rotation and sapphire crystal with anti-scratch stopping power. If you could wrap up your entire wish list into a single watch, it would be called the Breitling Superocean Heritage model.
This is a heavier watch that you're definitely going to feel on your wrist, but it's going to get the job done perfectly. Nearly all of the weight is focused on the watch face itself, due to the rubber wristband being extremely lightweight and airy. It affixes to where you need it to during diving, just keep in mind the weight when utilizing this stylish design with the rest of your wardrobe.
Specification:
Brand

Breitling

Weight

15.8 ounces
See More Reviews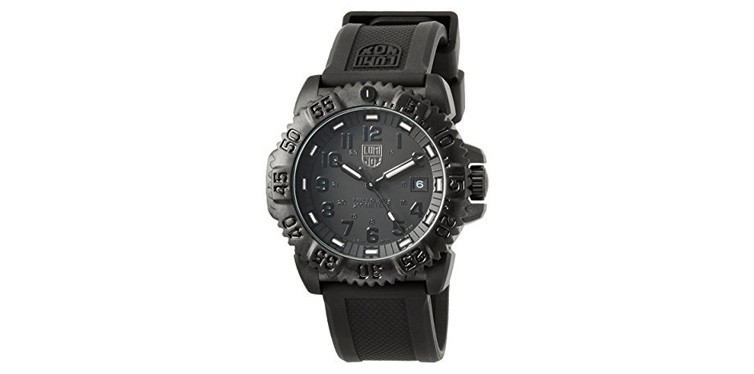 This is packing some serious power behind it. With an all-rubber band and all-black face, your watch will blend into any gear you're wearing during your dive. With Swiss quartz movement, you can expect excellence during your entire use. Water resistance keeps you high and dry up to 660 feet unwater; the perfect watch for the intermediate or new diver who isn't looking to commit to higher-grade models right off the bat.
This is also a great introductory watch to recommend to friends. With a carbon reinforced case, it's able to withstand the daily wear and tear that most watches undergo on a constant basis. You can easily pair this watch with just about anything in your wardrobe and maintain the gentleman persona.
Luminox took a bold approach by putting the numeral hour markers in Arabic. It's a design choice that flows seamlessly with the entire watch, but definitely a fun fact about this model.
Specification:
Brand

Luminox

Model

XS.3051.BO.1

Weight

6.4 ounces
6. Citizen Eco-Drive Men's Aqualand
See More Reviews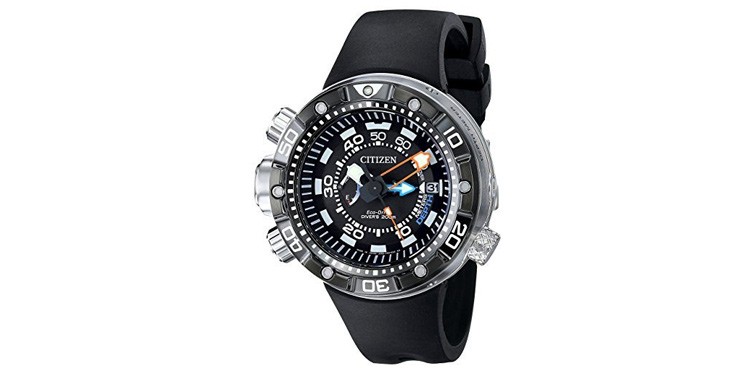 You'll feel straight out of a sci-fi movie with Citizen's take on the dive watch. The all-rubber band, synonymous with dive watch functionality, aids in the overall design, bringing the features of the watch face out in a brilliant display. Crafted out of corrosion-resistant stainless steel and sporting a unidirectional bezel, this beautiful timepiece is good down to 660 feet underwater.
The innovative part of this design—you don't have to worry about a portable power bank. This system runs fully off of light and doesn't require a battery in the least. The attractive design will leave your friends begging to know where you got your Citizen Eco-Drive from. Fully equipped with Japanese quartz movement and luminous indices, this inexpensive dive watch leave nothing to be desired.
With a built-in depth meter analog display, Citizen brings a uniqueness to the table that is often lacking in other dive watch models in the same class.
Specification:
Brand

Citizen

Model

BN2029-01E

Weight

5.6 ounces
7. Victorinox Swiss Army Black Ice Dive Master
See More Reviews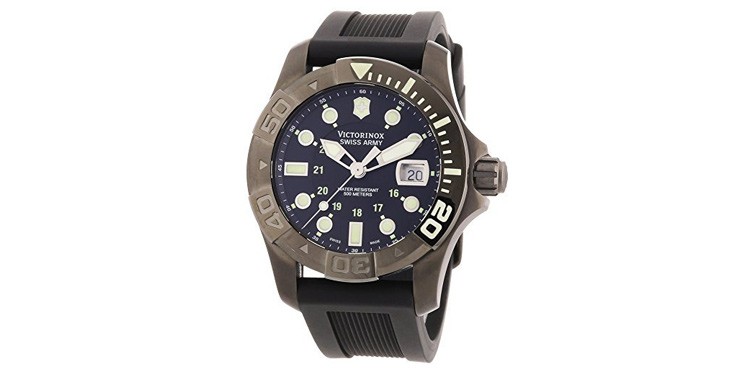 When it's Swiss Army Grade, what else do you need to be sold on? There's the lightweight and near-indestructible build of this beautiful timepiece, coupled with the ability to dive over 1,600 feet down into the waters. Even if you have a shaky entry, the sapphire crystal component isn't going to get scratched-up or damaged, leaving you with full clarity and visibility over every feature on the face of this watch.
You get luminous, silver-toned indices at every single hour position, which are marked by Arabic numerals. The face is anti-reflective, so you won't catch a blinding glare from the sun when you peer at your wrist after exiting the water. More than that, it's a watch that blends in with dark suits and a neutral-colored wardrobe with ease, as if you were born with it on your wrist.
For a sturdy build, this watch is extremely lightweight, coming in at just over a pound. It's also certified real Swiss Army Grade, meaning you'll be able to enjoy this for the rest of your life without issue. They don't slap that authentication on shoddy products, you know.
Specification:
Brand

Victorinox

Model

241426

Weight

1.5 pounds
8. Casio Men's Black Analog Watch
See More Reviews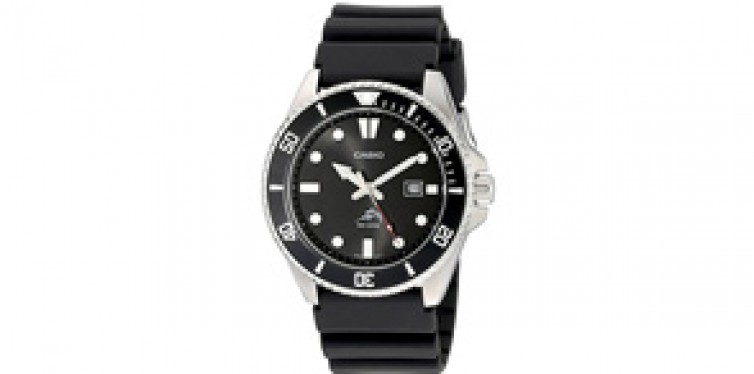 Casio generally produces inexpensive watches for the everyman, but they took a bold approach and dove forward to create a stunning, minimalist designed dive watch with impressive capabilities. Without having to wave goodbye to a single Benjamin, you get over 600 feet of depth capabilities, and mineral glass, which protects against scratches and scrapes in a similar fashion to sapphire crystal.
Casio also paid close attention to the requirement of every diver: unidirectional rotating bezel. Display the date while you snap that black rubber band around your wrist, and apply this watch to your everyday life. With a simple yet excellent design, black-and-silver will adorn your wrist and be certain to catch the attention of your friends.
Casio brought us an excellent watch for a very low price, all without skimping on the quality details. You get a full stainless steel body, with Japanese quartz for the movement piece.
Specification:
Brand

Casio

Model

MDV106-1A

Weight

10.4 ounces
9. Citizen Men's Promaster Diver Analog Watch
See More Reviews
Who can go wrong with a silver-and-black design? Citizen brings us another excellent dive watch, at an intermediate price point. If you're looking to upgrade from an introductory diver watch, or you're going to finally stop piggybacking off of your friend's watch when you two dive together, this is the best place to begin.
You're not in the sapphire crystal league with this, but with mineral crystal, you'll be able to endure a beating with this watch, and still maintain visual clarity of all its functions. You can submerge up to 660 feet with this watch, and it's driven by Citizen's Eco-Drive light power. Don't fiddle with batteries and power banks.
Citizen's Eco-Drive battery option means you won't have to switch out watch batteries. Pay close attention to the manual that comes with your watch for further information regarding charge times and extended use. It's one user manual that you'll actually want to keep handy.
Specification:
Brand

Citizen

Model

BN0150-28E

Weight

2 pounds
10. Invicta Men's Pro Diver Collection
See More Reviews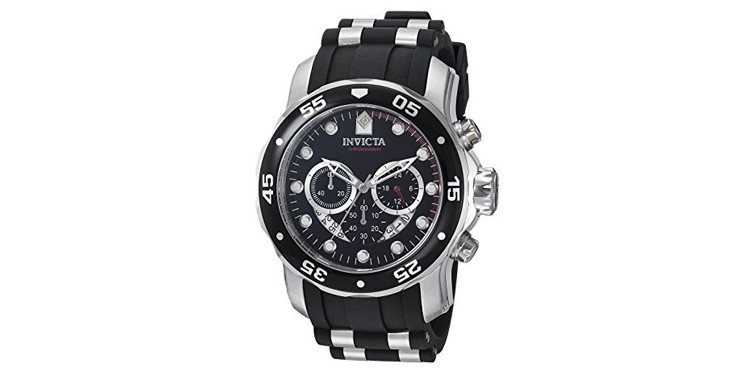 Invicta has always been that perfect middle-ground between the more expensive watch varieties, all with the cost effectivity of standard dive watches. This model is anything but standard. While your dive depth is the shortest on our list at just over 330 feet, the design and intricate face make up for the rest. This is one dive watch that will go with anything and everything you own.
The case is made of stainless steel, with stainless steel links woven in through the black polyurethane band. Invicta went with a few inexpensive components on this watch, but you still get a great deal of protection against scratches.
With a Swiss chronograph subdial, you can measure increments of time near the two, six, and ten o'clock mark with ease. The buckle clasp on the strap is extremely comfortable.
Specification:
Brand

Invicta

Model

6977

Weight

1.54 pounds
11. Seiko Divers Automatic Deep Blue Dial Watch
See More Reviews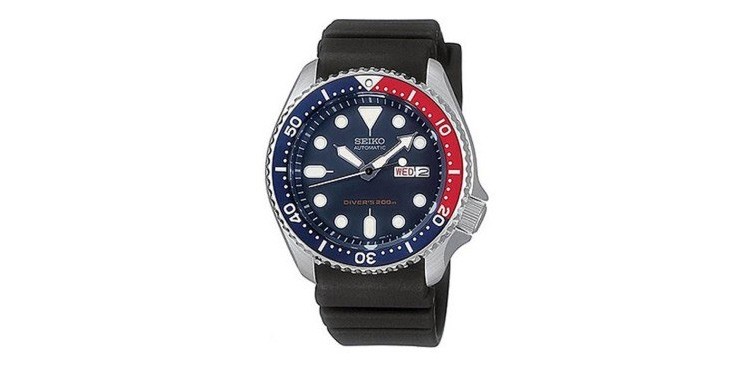 Props to the most unique design on our list. With a predominately blue watch face, you'll notice from the zero to the twenty-second time slot around the bezel, there's a red inlay that stands out in the best possible way. The unidirectional rotating bezel accompanies the silver frame beautifully, all laid on a stainless steel case for ultimate protection of the precious components. With over 600 feet of diving depth, there's nothing you'll want for with this stylish, unique dive watch.
Seiko has been known to have even their most inexpensive models of dive watches last for twenty years without any issue. With a strong build, the only thing you might need to replace is the rubber wristband every now and again.
Specification:
Brand

Seiko

Model

SKX009K1

Weight

Seiko
12. Casio Men's Analog Dive Watch
See More Reviews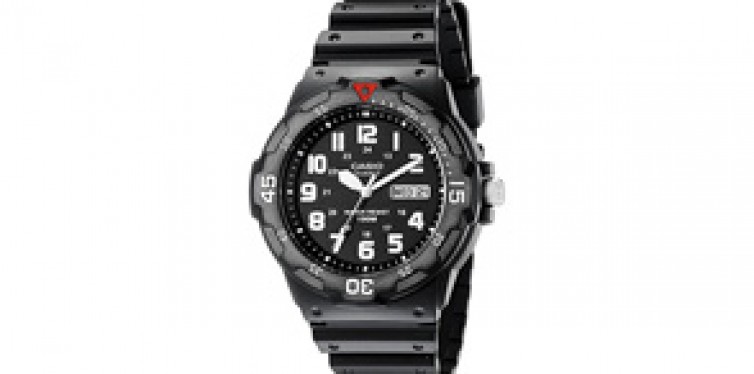 This beautiful minimalist design is perfect for anything and great for up to 300 feet of diving. Japanese quartz allows for a great spin of the unidirectional bezel. You get a date display feature right around the three o'clock hand, and a mineral crystal case for optimal damage protection. It's almost insane to believe that they can charge so low for such a premier watch.
Casio's most inexpensive dive watch to date comes with features that rival watches three times the cost. They're quickly becoming contenders in specialty watch markets.
Specification:
Brand

Casio

Model

EAW-MRW-200H-1BV

Weight

5 ounces
13. Seiko Men's Silvertone Solar Chronograph Dive Watch
See More Reviews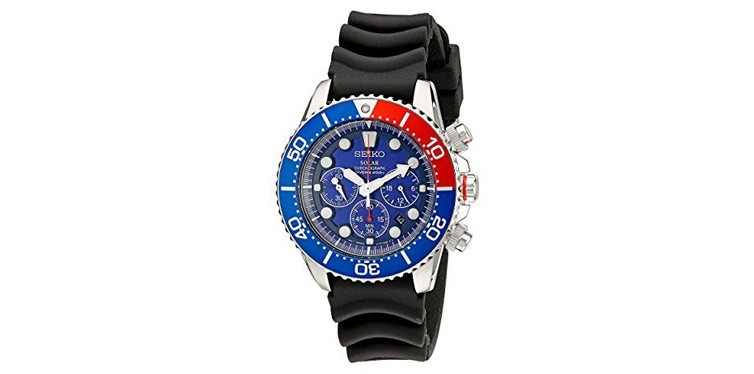 With their unique red-and-blue design on the face, Seiko brings us a vibrant and effective dive watch as an inexpensive price. With a sturdy rubber band and a unidirectional bezel surrounding the stainless steel case, you won't want for anything with this premier design. This is resistant up to 600 feet underwater, which is a great option for the intermediate diver. They recommend professional marine activity and serious surface water sports and don't condone scuba diving with this model.
You can purchase Seiko-branded rubber NATO bands that come with their red-and-blue design, so you can outfit yourself entirely in their colors.
Specification:
Brand

Seiko Watches

Model

SSC031

Weight

10.4 ounces
14. Tissot Men's Seastar 1000
See More Reviews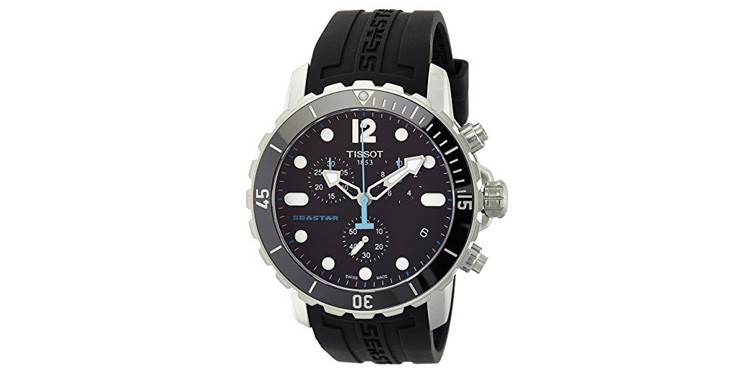 A relatively unknown brand, Tissot brings us a minimalist design with some unique features, all wrapped-up in a powerful watch. Enjoy Swiss quartz movement and a stainless steel case, complete with antireflective sapphire crystal for ultimate protection. The "1000" in the title refers to the 1,000 feet (roughly) of diving capability that you get with this premium watch.
Specification:
Brand

Tissot

Model

T0664171705700

Weight

1.72 pounds
Buyers Guide
You're going to find that dive watches have to contain a non-corrosive material. Titanium, stainless steel, silicone, and rubber are the optimal components for any good dive watch. In most cases, sapphire is considered to be the optimal crystal for dive watches, though many dive watch glass is contained of harder minerals for deeper dives. Any good dive watch is going to be a bit wide-banded to fit over bulky equipment. That being said, you know what to look for, but let's hop into more detail.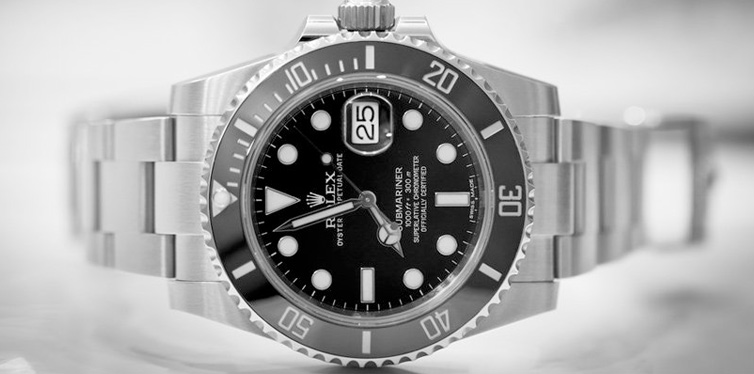 What Factors To Consider When Buying A Dive Watch
It comes down to a lot more than style (though we have to point out that James Bond rocked a dive watch, and that's always awesome). When you're considering the optimal dive watch for your needs, stop and ask yourself one question first: are you an enthusiast, or a hardcore diver? If you're going in for the long haul, you may be paying a higher price point, but your dive watch will do you for a lifetime if you maintain it properly.
ISO 6425 Standard
You know how to tell a true diver apart from amateurs? Ask them what an ISO 6425 Standard is, and if they can quip around quickly, then you're in-the-know, and in the presence of an expert. This is what's going to protect your dive watch components under water pressure and overall depth. Any good dive watch will be great for up to three-hundred feet down, and in most cases, even deeper. The waterproof rating, as you can imagine, is the most important aspect of your dive watch.
Accuracy
The whole point of a dive watch is to tell you how long you've been underwater, so you can time everything accordingly down to your oxygen usage. It's an absolutely crucial part of any diving expedition, even with all the modern technology that we're surrounded with. Pinpoint the accuracy and ensure that it's up to your standards, depending on how deep you plan to dive.
Style
Okay, so while it's more than just style, it's still an important factor to consider. Depending on what watch you're going to go with, and what price range, you should expect to be able to wear it at all times and have it match up with whatever you're wearing. Pay attention to the sleek nature and see if it's something that applies to your unique style, so you don't have to switch out watches.