Swiss Shields: Best Swiss Army Knives for EDC Reviewed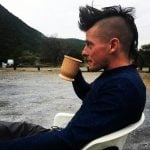 This product guide was written by Sam Anderson
Last Updated
July 6, 2021
Sam Anderson
Sam Anderson has followed a passion for well-told stories and nature's beauty from university classrooms to mountain adventures. After earning a bachelor's degree in literature, he leaned into a life fueled by road tripping, rock climbing, coffee and beer, and renegade camping. He has worked as a chainsaw operator, house carpenter, and window cleaner, at one point running his own window cleaning business. He has finally settled with his girlfriend and small zoo in the western American desert, trading his tool belt for a keyboard.
GearHungry may earn a small commission from affiliate links in this article.
Learn more
The humble Swiss Army knife may not be the sexiest choice for an EDC knife out there. But as tested and reviewed, it's certainly one of the most versatile and reliable. With an enormous range of tool kits, sizes, and utilities, users can pluck the best Swiss Army knife for EDC from a pretty broad pool. Add the steady hand in Victorinox's engineering and manufacturing, and you've got a reliable everyday carry blade that suits your purposes.
Since becoming the lone Swiss Army manufacturer in 2005, Victorinox builds each knife at its factory in Ibach, Switzerland. Materials and craftsmanship are standard across the whole lineup, but that's where the commonalities end. The top Swiss Army knives can come in a variety of sizes and shapes and perform a range of tasks. We hunted down the best Swiss Army knives for EDC so you didn't have to.
The Best Swiss Army Knife
Victorinox MiniChamp Alox Swiss Army Knife
The 1.4-ounce, 2.28-inch MiniChamp Alox made a transcendent impression on me during testing. Seriously, it transcended my expectations: I did not know a tiny knife could be so useful for so many things, so well-built, and so dependable.
The MiniChamp's most surprising quality is its range. Its 8 tools pack 15 functions. During the review period, I got especially attached to the orange peeler. I'm not a rip-and-tear orange person; I prefer a tool. So, the orange peeler accomplished that, but it also worked great as a package opener. Because it's gauged for a shallow depth, I was never in any danger of slicing my packaged goodies.
Elsewhere, the bottle opener worked surprisingly well for being so diminutive. I won't say it was my favorite bottle opener; but in a pinch, it got the job done. The blade was big enough to accomplish light- or medium-duty EDC tasks. Victorinox claims the Phillips head driver is magnetic, but if it is, the magnetism is quite weak.
Still, the MiniChamp was an amazingly useful multi tool during testing. Because I always had it on me, I always ended up using it. And because it has so many functions, it could usually do what I wanted it to do. I also liked the textured grip. It doesn't seem like a big deal, but any help with grip goes a long way on a tool with a small handle.
The MiniChamp Alox is the most useful Swiss Army knife I've ever owned. Coincidentally, it's also become the most useful knife in my EDC array. Read the in-depth review here.
Key Features:
8 tools, 15 functions
Keychain size
Textured grip
Specification:
Brand

Victorinox

Weight

1.4 oz.

Tools

8

Functions

15

Length

2.25
Easy to carry at all times
Long list of functions for such a small tool
Don't forget to take it off your keychain before you go through TSA
Victorinox Nail Clip 580 Swiss Army Knife
The Swiss Army Nail Clip 580 takes the Swiss Army classic and adds a nail clipper. As a rock climber, the ingenious addition caught my eye — I'm often trimming my nails right before a session. The clippers tested very well, and their action was ingenious and pleasing. I liked the plastic locking mechanism, but I wish I was more convinced of its long-term function. Serrated scissors complete the 580's differentiation.
The 580 is essentially a wide-body Swiss Army classic with the addition of the nail clipper. Seven tools propagate its eight functions. The usual suspects are the blade, file and nail cleaner, toothpick, tweezers, and scissors. The serrations on the scissors were an interesting touch. The texture is of course minuscule, so I wouldn't have noticed it without Victorinox directing my attention to it. But serrated edges always work better than plain edges when dull, so it makes sense.
I came for the nail clipper. A novel plastic lock holds the clipper in place. Press up on a thumb-slide to free the clipper. It folds out with the lever in a neutral position on the back of the tool, so rotating it 180 degrees engages it. This struck me as ingenious; it keeps the tool's spring neutral during storage but conserves space and material. The clipper was sharp, and the leverage was positive during my review.
The 580 is surprisingly lightweight, more than likely due to the plastic spacer behind the clipper. I somewhat wish Victorinox would have opted for a steel spacer to ensure longevity. But after two weeks of testing, the plastic lock had not failed, and it still felt convincing.
Overall, the 580 would be ideal for anyone who wants an EDC nail clipper. It only makes sense to attach it to the Swiss Army classic.
Key Features:
Nail clipper added to SAK classic tool kit
Serrated scissors
Plastic spacer/lock for clipper
Available in many colors
Specification:
Brand

Victorinox

Weight

1.3 oz.

Tools

7

Functions

8

Length

2.5
Clipper worked very well during testing
Lightweight
Plastic spacer/lock is a possible weak point
Victorinox Swiss Champ Swiss Army Knife
The Swiss Champ is the workhorse of the Victorinox Swiss Army lineup. With 22 implements executing 33 functions, it's hard to be more prepared by carrying a less than a 4-inch tool. With its rugged and diverse kit, the Swiss Champ earns the best Swiss Army knife for camping honors hands down.
What do you want? A saw? A magnifying glass? A wire crimper? A pressurized ballpoint pen? The Swiss Champ's got it. With all the tools deployed, the thing looks like Edward Scissorhands' mitts. I might be most excited about the corkscrew and most curious about the metal saw. What kind of metal are we talking about? Anybody down for a little trespass-and-chill?
The tool kit includes a chisel. Contrary to what it sounds like, I would highly discourage hitting the knife with a hammer to drive the chisel. That just can't be a good idea.
But from there, the sky's the limit. Victorinox equips the Swiss Champ heavily and issues a proud caveat: "[w]herever you are and whatever happens if it can be fixed, it can be fixed with the Swiss Champ." Note that all those tools take up some horizontal space: the knife is 1.3 inches thick. But at a conservative 3.6 inches long, the carrier shouldn't feel too encumbered.
Key Features:
Wide range of utility
1.3" thick
4 colors available
Specification:
Brand

Victorinox

Model

1.6795

Weight

6.5 oz.

Tools

22

Functions

33

Length

3.6
"Always be prepared?" You got it
Victorinox Trekker Swiss Army Knife
The Swiss Army Trekker fills the bill for hikers, with a few utility and handling tweaks over typical Swiss Army entries. It's also slightly lighter than most of its peers, so carry should be easier over the long haul. And, importantly, the blade has a liner lock.
The Trekker is pretty heavy on ergonomic design. Rather than the traditional oval, the handle is contoured for grip. For hikers that like their tools to be invisible when they're in the woods, a camo version is available.
Once you start examining the tools, the differentiations really start to come out. Victorinox re-engineers the blade, with a generous thumb slot and gentle serrations. The implications are obvious: the thumb slot helps locate and deploy the blade comfortably in any light or weather conditions, and the serrations help the blade cut even when it's dull. It's a more aggressive blade shape than we're used to from the most popular Swiss Army knives. It looks ideal for users with tired, cold fingers or who lack the time to sharpen the blade. And the liner lock minimizes accidents.
Eleven other familiar functions complete the knife. It's a generous 4.4 inches long, which means two things: 1) every user should feel comfortable with it in hand, and 2) the blades are longer. All in all, the Trekker looks like a helpful tool to bring along in the backcountry. In fact, it may be the best Swiss Army knife for survival.
Key Features:
Gently serrated blade with thumb slot and liner lock
Contoured handle
12 heavy-duty functions
Specification:
Brand

Victorinox

Weight

4.6 oz.

Tools

9

Functions

12

Length

4.4
Long contoured handle for easier handling
Serrations help blade work when dull
Somewhat limited functionality for the size
Victorinox Classic Swiss Army Knife
The most ubiquitous Swiss Army knife in use is likely the tiny Swiss Army Classic. It easily outsells most of the other best Victorinox knives on Amazon. And why not? If you use any keychain, you might as well carry the Classic. It's about the same size and weight as most baubles, and it's far more functional for everyday purposes.
Quick manicure? Got it. Package to open? Yup. Need to trim a loose thread? Scissor time! The greatest thing about the Classic is that it's good for exactly what it's good for. There's no point in comparing it to more robust or capable knives because it excels at being itself. Tiny, at 2.3 inches long and just 0.7 ounces, it can help you in an EDC capacity without you even noticing it's on your keyring until you want it. The Swiss Army Classic is also by far the cheapest Swiss Army knife in Victorinox's catalog. What's not to like? Cheap, functional, easy to carry. And with the Victorinox stamp, it's built to last. For more quality blades, check out our list of the best automatic knives on the market.
Key Features:
Cheapest, lightest, smallest Swiss Army knife
6 tools, 7 functions
Specification:
Brand

Victorinox

Weight

0.7 oz.

Tools

6

Functions

7

Length

2.3
Easy to carry anywhere (except through TSA)
Cheap but functional
Small; disproportionately heavy use could break it
Victorinox Ranger Grip 74 Swiss Army Knife
I don't know how else to put it: the Ranger Grip 74 has wine tools, a pair of pliers, and wire cutters. I can only think of so many reasons to use all those tools at once, and they all include either emergency repair or trespass that requires disabling electronic security equipment. While getting wine drunk, of course.
This unusual Victorinox entry looks specifically built for folks with questionable intentions. It's geared more toward capability than the traditional Swiss Army variants, with the contoured grip and locking blade with a jumped thumb rise. The pliers look substantial — the handle is long, and the teeth are aggressive. And then there's the matter of the burly wire cutter.
Why you would need to use all these implements and a corkscrew at the same time, I can only imagine. So maybe I will….
Dawn. You're sleeping against a rock somewhere. Suddenly a bird shits on your shirt, rousing you from your incapacitation. In a daze, you stare at your comrades, sprawled around your campsite in various states of undress among empty wine bottles. You try to lick your lips, but discover that your tongue is deplorably withered; a wad of parched leather. Thinking fast, you decide wine. But an investigatory stumble 'round the campfire reveals that every bottle is empty. Sighing heavily, you take stock of the situation. In the distance, there's a warehouse bearing the signage of a wine distribution company. All you'll have to do is get through that fence, disable that security camera, and….
Next stop, wine country. What more appropriate tool for your scenario than the Ranger Grip 74? What you're a "ranger" of, exactly, is up to you. But after a good look at this oddly equipped Victorinox tool, my mind is made up.
Key Features:
Locking blade
Pliers with wire cutter
Corkscrew and openers
Specification:
Brand

Victorinox

Weight

8.1 oz.

Tools

7

Functions

14

Length

5.1
Substantial pliers
Oddly compiled but a burly tool kit
Could encourage deviant behavior
Why Trust Us
EDC knives are our jam, as a group of outdoor enthusiasts and general troublemakers. When you rely on a knife a lot in your daily process, you start to weed out the good from the bad from the meh.
I personally have been torture-testing knives for years, during a rough-and-ready lifestyle of low-budget road-tripping and rock climbing. Victorinox Swiss Army is one of the most reliable and available brands out there. And here at GearHungry, we've seen a lot of knives come and go. 
Who This is For
Anybody can use a cool Swiss Army knife, right? Some of my earliest memories involve my mom's keychain Swiss Army knife. At first, I was just attracted to the distinct bright red oval. Then it was the little emblem, and finally, I became aware of the knife's fascinating miniature modularity.
Swiss Army both captures imaginations and addresses real consumer needs with its simple yet distinct characteristics and its highly mutable platform.
How We Picked
For EDC, I didn't pick the biggest Swiss Army knives. That would get ridiculous pretty fast — there are some monsters out there.
Instead, I opted for everyday functionality. That said, there are a lot of different "everydays" out there. Good thing the Swiss Army is so adaptable. With a massive array of tools, it's easy to pick out the best EDC Swiss Army knife for your lifestyle.
If I had one priority, it was to make sure each knife had a reasonable form factor and plenty of versatility.
How We Tested
It may seem inviting to look down on Swiss Army knives as toylike or trifling but look here: these knives are functional workhorses. They can handle a lot of tasks and they don't need a lot of maintenance or babying.
I chose keychain varieties, and I would estimate I used each one twice as much as any other knife in my kit during testing. And I can report they came out none the worse for wear.
Features to Look for in Swiss Army Knives for EDC
Style — One reason Swiss Army knives are cool is for their unmistakable style. Whipping out the red oval with the silver cross is an iconic move.
As far as which style of Swiss Army knife you pack, it's a choose your own adventure thing. Most of the specific tools are pretty similar across entries, but of course, no two entries are alike. If you want the saw, for instance, you're gonna get the usual saw — but it's up to you whether you get a corkscrew and a wine cutter or an awl and a screwdriver with it.
Size — The smallest Swiss Army knives are so miniature, the first word that comes to mind is "cute" (speaking for myself). But once you've learned the consistent function of a Swiss Army keychain knife, you'll never go back.
The biggest Swiss Army knife ever made was the 16999 Giant. The tool (built by Wenger, which got absorbed by Victorinox in the mid-2000s) featured 87 tools for 141 functions and was as long as a workboot. It had a mineral crystal magnifier and a locking needle nose plier.
Essential Tools — What are your essential tools? Can anyone name one purpose of the "multi-purpose hook?" Does anyone use the ruler, and if so, to measure what? (If you have an answer to either of these questions, please let us know on social media!)
Practically speaking, the most useful Swiss Army knife for EDC has tools that you'll actually use. My personal favorite new discoveries have been the nail clipper and the orange peeler. Just go through it tool by tool and evaluate your need.
Blade — Most Victorinox Swiss Army knife blades are straightforward: a drop point with a plain edge. Most have a thumbnail groove for opening. There are iterations with gentle serrations or thumb slots.
Nobody cares what kind of steel Victorinox uses for Swiss Army knives. "Inox" is an English language bastardization of the French word for "stainless steel."
For what it's worth, proper Inox steel can be identified by a high percentage of chromium. Chromium does aid in corrosion resistance. The choice does make sense for Swiss Army knives, which tend to get abused. 
Screwdriver — Flat head, Phillips head. Twist fastener around a central axis. Repeat until satisfactorily loosened or tightened.
Scissors — I find the Swiss Army scissors quaint. They're on the verge of romantic, but they're too cute to really get your blood pumping.
During testing, they were good for making paper snowflakes. Be advised: the points on my test units were sharper than I thought! My girlfriend jabbed her finger once, and it bled.
Openers — Of course heavily used by anyone in the journalist trade. During testing, the smaller Swiss Army openers weren't quite as easy to operate as the beefier versions on the bigger knives. But I did manage to persevere, and, to my great relief, beers were opened.
Corkscrew — Let's say you're a roustabout or a rapscallion. You often imbibe in many cups and carry on into the wee hours. Your notorious visage is known to the townspeople. You don't always know where you're going to wake up tomorrow.
Actually, maybe you're just a wino. Instead of re-evaluating your life, double down and get a Swiss Army EDC knife with a corkscrew.
Tweezers — The tweezers were always among the coolest Swiss Army features to me. The decision to utilize the otherwise idle space inside the handle scale is a stroke of undeniable genius.
Chisel — I have no idea why you'd get a knife with a chisel. No knife is meant to be hit with a hammer. End of discussion.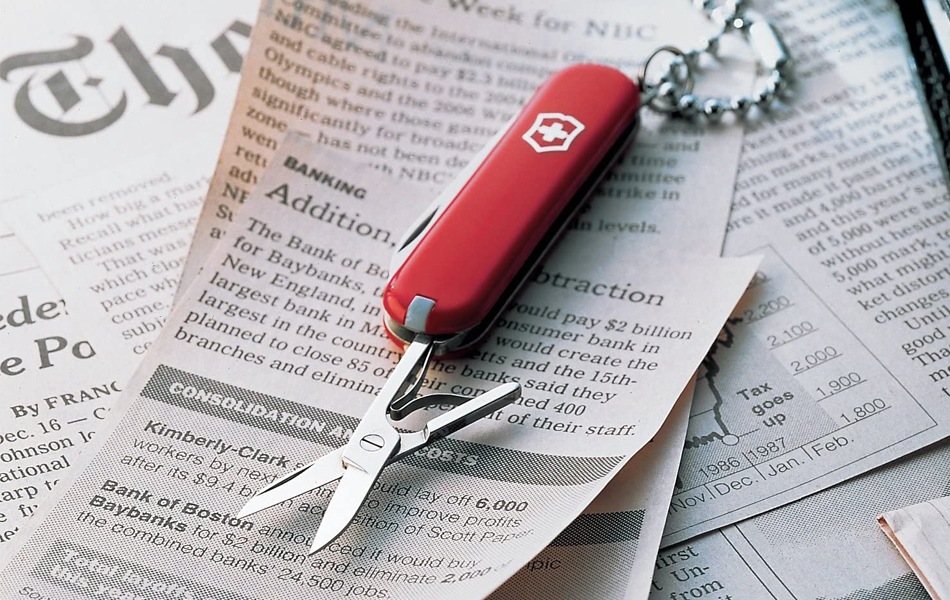 Swiss Army Knife FAQ
Q: What are the laws on carrying a Swiss Army knife?
A: Knife laws vary widely depending on the municipality. For the most part, it's permissible to carry a multi-tool or a blade under 2.5 inches. Most, if not all, Swiss Army knives should meet these conditions.
For detailed, state-by-state knife legality information, visit Archives: State Knife Laws - American Knife and Tool Institute.
Q: How should you care for and maintain your Swiss Army knife?
A: Cleaning Swiss Army knives can be a little tricky because you can't always take them apart. But if in doubt, just fill a cup with hot water and dish soap (I use Dawn), swish it around and let it sit for a few hours. That should break up the gunk.
Then, you can rinse it and either toothpick or toothbrush out the remaining grime.
Then let it dry thoroughly, with all the tools deployed.
As always, try not to store any knife dirty or wet.
Q: Are Swiss Army knives actually Swiss?
A: Yes. A German manufacturer did deliver the first run of Swiss Army knives in 1891 — albeit for the Army of Switzerland. From there, two Swiss companies took over. In the mid-2000's, Victorinox absorbed Wenger, effectively consolidating manufacturing and sales of Swiss Army knives.
Q: Where are swiss army knives made?
A: In fact, Victorinox makes all Swiss Army knives at its factory in Ibach, Switzerland. The factory cranks out an estimated 45,000 knives per day. Most get exported. (Switzerland is small.)
Q: Can you carry a Swiss knife on the plane?
A: You're not gonna make it through TSA with any blade except a butter knife — literally. The current guideline for blades on planes as of this writing was "no except for plastic or round bladed butter knives."
You can pack a Swiss Army knife in a checked bag.
Q: What is the hook for on a Swiss Army Knife?
A: Ah, the multi-purpose hook. The Swiss Army hook's first intended purpose is to attach to one of the many zippered seams that are present, all around us, near the edges of our perceptible reality. They're not easy to see until you get used to it. But once you start to figure out where the zippers can most often be found, you'll want to carry a Swiss Army knife with a hook at all times. With the hook equipped, you can open these zippers to transcend spatial reality and the laws of consciousness. Once you're on the other side, the hook's utility becomes harder to quantify — despite my efforts, it was impossible to contact Swiss Army customer service from there during the review period. Presumably, this was because the membrane of space-time had sealed behind me.
It's unknown why the Swiss Army knife multi-purpose hook is the only tool that works to open these portals. But I don't make the rules; I just test the gear.
The brand says the hook is for carrying heavy objects with narrow string or fiber handles. But again, the claim did not make it to the other side of the event horizon. 
Q: Why do Swiss Army knives have toothpicks?
A: Well, why wouldn't they? The decision to utilize the negative space inside the handle scale is a master stroke in knife making. Note that you can also use the toothpick to clean the knife; it should fit in each groove.
Q: Is swiss army knife good for whittling?
A: The mid-sized Swiss Army knives might be good for whittling. Ideally, I'd prefer a blade with slightly more belly. A clip point would be better for fine tooling. And if you were doing stippling or making indentations, a locking blade would be far safer. Then again, your Swiss Army knife might have various blades and tools you could deploy to make your whittling even more intricate.
In the end, whittling's supposed to be fun — so go have some fun with it!
Sources:
Archives: State Knife Laws - American Knife and Tool Institute
Swiss Army Knife Factory Makes 45,000 Pocket Knives Per Day - Business Insider
Sign Up Now
GET THE VERY BEST OF GEARHUNGRY STRAIGHT TO YOUR INBOX