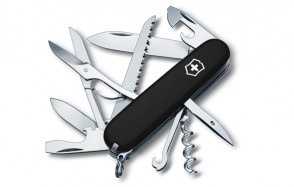 Victorinox Swiss Army Knife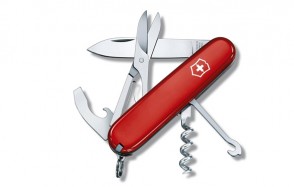 Victorinox Compact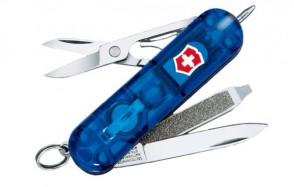 Victorinox Signature Lite
The Swiss Army Knife has achieved something close to iconic stature in modern Western Culture. By that we mean that virtually everyone will know what you're talking about when you say the words "Swiss Army Knife". Like all true iconic items the Swiss Army Knife has also generated a slew of imitators. Not only that but it's almost single-handedly inspired the entire multi-tool industry.
Today the true Swiss Army Knife is manufactured by a company called Victorinox which is committed to retaining the standard of excellence laid down by the first SAKs nearly 130 years ago. Below we're going to take a look at what our product experts have determined to be the 12 best Swiss Army Knives. These are knives that emphasize practicality and versatility over brute force considerations. Let's get started.
Our Top Picks For The Best Swiss Army Knives
Victorinox Swiss Army Knife
See More Reviews

The Huntsman boasts the classic Swiss Army Knife profile and offers a slew of features any tradesman or do-it-yourselfer will appreciate. As the name states it's also an outstanding choice to bring with you into the wild and, in our opinion, there should be one permanently stashed in your bug out bag as well. The Huntsman boasts 15 useful tools including a large and a small blade, standard and Phillips head screwdrivers, scissors, can opener, tweezers, wood saw and more. Whether you're an electrician, handyman, fisherman or hunter you'll want the Huntsman in your pocket at all times.
Specification:
Brand

Victorinox

Model

53203

Weight

3.52 oz
Victorinox Executive Swiss Army Knife
See More Reviews

The Executive from Victorinox is the Swiss Army Knife for the other half. Sleek, refined, sporting a well thought out minimal complement of high quality tools and matte black to go with your business suit the Executive is proof positive that practicality is a transcendent principle. While it's a tad longer than you might expect from the classic SAK it is also slimmer which makes it easier to carry in your pants pocket without attracting attention. It also sports 10 well considered tools including a large and small blade, scissors, nail file and orange peeler.
Specification:
Brand

Victorinox

Model

53403

Weight

1.6 oz
Victorinox 54874 Trekker Swiss Army Knife
See More Reviews

The molded handle of the Trekker allows you to get a nice tight grip so can lean into the task and achieve the best possible results. This is one of only a handful of Swiss Army Knives that feature a serrated locking blade as well so you can see they've designed this knife with outdoor activities in mind. The blade is longer than most EDC Swiss Army Knive blades but not more than the 4" length that will get the attention of officialdom. The thumb notch also allows for one-handed opening. Beyond the blades there are also screwdrivers, a can opener, bottle opener and toothpick.
Specification:
Brand

Victorinox

Model

54874

Weight

4.8 oz
See More Reviews

The Pioneer Swiss Army Knife from Victorinox is a sleek, stylish looking SAK that makes a great addition to your everyday carry and won't cost you an arm and a leg. This is one of the more compact Swiss Army Knives intended to fit neatly into your pants pocket and the silver Alox shell is both attractive and aids in your ability to get a nice firm grip. It's light so it's not going to tear through the bottom of your pocket or tire you out if you need to hold it above your head for a time. You'll find myriad uses for the Pioneer EDC Swiss Army Knive around the house, at the campsite or on the job.
Specification:
Brand

Victorinox

Model

0823126US2

Weight

0.8 oz
See More Reviews

The Cadet Swiss Army Knife is another of Victorinox's compact offerings. But what it lacks in size it makes up for in utility. The Cadet has a full complement of tools including 2" main blade, a smaller secondary blade, a screwdriver, bottle opener, wire stripper and more. All are forged from high quality 1.4110 Victorinox stainless steel that guarantees strength and durability. Scales on the Cadet Swiss Army Knife are ribbed black Alox which provides an attractive look and a firm grip in any conditions. A great looking small Swiss Army Knife with a classic look and plenty of EDC features.
Specification:
Brand

Victorinox

Model

53044

Weight

1.6 oz
See More Reviews

The EvoGrip is the product of a collaboration between Victorinox and Wenger that resulted in a line of SAKs Victorinox is calling the Delemont Collection. The grip has a gentle forward curve that allows you to bring a bit more force to bear on the task at hand. That handle also features rubber inlays that allow you to get a firm grip regardless of conditions. Go beyond the handle and you'll find 9 features including large and small blades, reamer, openers, standard and Phillips screwdrivers and more. This is a forward looking Swiss Army Knife that should satisfy those in search of contemporary styling.
Specification:
Brand

Victorinox

Model

2.4803.CUS2

Weight

1.6 oz
See More Reviews

The Explorer is the Swiss Army Knife most people are probably expecting when they think they're going to buy Swiss Army Knives. It features a slew of the typical, useful attachments you expect from a SAK like the large and small blades, screwdrivers, openers, tweezers, toothpick and more. And there are also some of the unexpected like the hook for carrying parcels and a magnifying glass. The magnifying glass has an array of possible applications from examining machinery for defects, to getting a good look at a splinter, to reading fine print and more.
Specification:
Brand

Victorinox

Model

53793

Weight

2.2 lb
Victorinox Signature Lite
See More Reviews

A beautiful Swiss Army Knife with a translucent blue handle that takes another big step in bringing the SAK into the 21st century. The Signature Lite Swiss Army Knife is unlike any other you're likely to see. On top of the impressive array of standard features like a blade, nail file and scissors you'll also find a retractable ballpoint pen and a surprisingly effective LED flashlight. Victorinox makes a lot of attractive Swiss Army Knives these days but this may be the handsomest of their creations. It's amazing this Swiss Army Knife doesn't cost 2 or 3 times as much.
Specification:
Brand

Victorinox

Model

53188

Weight

1.6 oz
See More Reviews

The Victorinox Small Swiss Army Knife is all of that and more with 15 functions all packed into a shell that's only 3.5" long and just over half an inch thick. You have all the usual suspects here and more including a pressurized ballpoint pen that will write at just about any angle. It's an impressive feat of engineering and an even more impressive feat of manufacturing considering the low cost. There's nothing compact about the possibilities inherent in this Swiss Army Knife and whether you have it on your belt loop or carry it in your pocket you'll be glad to have it.
Specification:
Brand

Victorinox

Model

54941

Weight

2.6 lb
Victorinox Swiss 53481 Deluxe Tinker
See More Reviews

Here's another classic Victorinox Swiss Army Knife design complete with red handle that will have traditionalists – as well as anyone else who values versatility in their everyday carry – smiling. Among the 16 hardened-steel tools are large and small blades, nail file, wire stripper, screwdriver, can opener, bottle opener, pliers (!), Phillips head screwdriver and much more. For all intents and purposes when you're considering a Swiss Army Knife you should probably start by looking at this one and then working down the versatility scale if it's not to your liking.
Specification:
Brand

Victorinox

Model

53481

Weight

0.64 oz
See More Reviews

Another entry into the Victorinox Delemont Collection the EvoGrip 18 provides both the boundless versatility you expect from a Swiss Army Knife and leading edge design and ergonomics that let you get more from your SAK experience. This is a beautiful piece of everyday carry with the trademark forward thrust to the handle that's oh-so-subtle but oh-so-effective in letting you bring more force to bear without greater effort. Available tools include 2.5" blade, smaller secondary blade, full length saw blade, scissors with serrated edges, Phillips head screwdriver, reamer, openers and more.
Specification:
Brand

Victorinox

Model

2.4913.C8US2

Weight

2.1 oz
See More Reviews

The final Swiss Army Knife on our list is the RangerGrip 58 Hunter from Victorinox. This is yet another of the company's Delemont Collection entries and tips its cap ever so slightly to multi-tool design without forfeiting what makes the SAK so distinctive and enduring. It's longer than most SAKs but won't get you in trouble with the 4" blade rule imposed by most municipalities. Beyond that it's just a beautiful piece of everyday kit that includes a full length saw blade, rubber inlays on the handle for outstanding grip, openers and 2 screwdrivers.
Specification:
Brand

Victorinox

Model

0.9683.MCUS2

Weight

6.4 oz
Buyers Guide
Although they've been around for well over a century people still have questions about the Swiss Army Knife. Below are some things you'll want to look for when purchasing one.
Available Tools
Part of the fun is beyond the knife, despite it being in the title. Having a multitool for just about any occasion (use your imagination, here) can come in handy. Here are seven of the most practical uses for a SAK.
Blade – Each Victorinox Swiss Army Knife includes at least 1 blade with most featuring 2; a larger main blade and a smaller secondary blade. Because SAK blades don't surpass the 4" rule imposed by most cities and towns on "concealed" knives you won't rule afoul of the law which is one of many reasons SAKs make such excellent everyday carry items.
Screwdriver – Virtually all Swiss Army Knives have at least 1 screwdriver with most having 2; both a standard and Phillips head. Without this item, the versatility of the SAK would be seriously compromised.
Scissors – Another staple of the Swiss Army Knife scissors are typically quite sharp and able to cut many materials effectively including all types of paper, light cardboard, strings, fishing line and more. A couple of SAKs swap out their scissors for pliers.
Openers – The can opener was one of the original tools included on the earliest SAKs and it's still with us today. Bottle openers too make a regular appearance on the Swiss Army Knife.
Corkscrew – Don't let the night be ruined. Nobody ever has a corkscrew handy. One of the most searched things on Google is how to open a bottle of wine without a corkscrew—but wait, you came ready. Another point for the SAK.
Tweezers – Splinters or insect stingers out in the woods are no match for your SAK. You may want to sanitize it first with a bit of alcohol if you're going to have to dig deep.

Nail Cleaner – Sounds gross, but under your fingernails get grimy, and that can actually impact your health. The soft nerve tissue beneath the keratin of your nails absorbs the filth, and it enters your bloodstream. Skip all that noise; clean them up with your SAK.
Fish Scaler – Fishing's great and all, but nobody likes picking scales out of their teeth. Bring it with you when you go out on the lake, and you're heading back to the campfire at the site to enjoy your catch.
Chisel – Wedge something out of place, or hammer it in—use your SAK like a chisel and you'll be handling your problems superior caveman style.
Other tools – The nail file, saw blade, reamer, toothpick are some more favorites you may want on you SAK. Some of the newer versions also sport a ballpoint pen and our favorite, the magnifying glass.
Physical Considerations
Size – Since the Swiss Army Knife is the prototypical everyday carry item you won't find any that violate that intent or spirit. In other words they're typically small enough to carry in your pocket without getting in the way. You should be aware though that the more features you want the thicker the whole device is going to be.
Style – Victorinox does a good job these days coming up with new looks and feature sets for their Swiss Army Knife without compromising the fundamental style everyone is so familiar with. Where you'll find stylistic variation is in some of the new contoured or curved handles as well as in the material used for the scales.
Laws On Carrying A Swiss Army Knife
It goes without saying that you shouldn't be bringing knives across borders, but what about bringing it around while you're out and about? Many of us carry an EDC knife or a Swiss army knife (SAK) for ease of use, but also for protection. You never know what's lurking around the corner.
There's a universal rule in America—three-finger blades and below are okay, anything above that, and you run into trouble. Some territories (and all of the UK) require you to be a minimum of 18-years-old before you can purchase a knife of any kind, including kitchen cutlery. If your knife exceeds the width of three fingers, you're going to run into a problem.

History Of The Swiss Army Knife
The Swiss Army Knife originated in Ibach, Switzerland in 1891 when the Karl Elsener company received a contract to supply all-purpose knives to members of the Swiss military. Another company, Wenger, also received a contract to produce knives based on the army's preferred design. Both companies produced Swiss Army Knives until 2005 when they merged under the name Victorinox. The Swiss Army Knife remains one of the most well-known of Swiss products; right up there with discreet banking and precision timepieces.
The Swiss Army Knife has weathered 2 world wars and innumerable cultural changes somehow managing to retain both its appeal and relevance. Today the Swiss Army Knife is an integral part of most people's everyday carry and there's no doubt people will continue to buy Swiss Army Knives by the score as we move into the challenging times ahead.
Swiss Army Knives have stood the test of time, and adapted to certain parts of the future. They're still immeasurably helpful, only now, some are coming with built-in 32GB flash drives, flashlights, and laser pointers to conform to the modern necessities of the everyday man. Despite technological advances, Swiss Army Knife models from the very first batch are still in use today, showcasing that the Swiss have truly withheld their immaculate quality since the devices' inception.
Swiss Army Maintenance
With great power comes… a lot of moving parts that really need to be cleaned, my friend. Your SAK always has your back, so you need to stay on top of maintaining it. Taking it step-by-step, here's what you need to do.
Disassembly – Start by pulling the pin on your SAK and (remember where these parts all go, by the way. Maybe take a picture) handling them with care. You want to be careful with what type of material and cleaner you're going to be using, so this is the time to note which parts have rust, sticky bits, and to try and think of why. It's always best to keep your SAK in a dry place, so this could be the perfect time to look at yourself and realize that you weren't taking care of it the way you should have been.
Cleaner – A trick of the trade is to use jewelry cleaner. You want to avoid rust-removers and other harsh chemicals, but jewelry cleaner is meant to put a shine back on the metal. Gold is one of the most malleable metals, and this stuff is meant for it—imagine how amazing it's going to do against steel. Dipping a few parts of your SAK into the cleaner and letting them soak for no more than three minutes can take all the gunk off, and keep these parts moving perfectly.
Soaking The Chamber – The chamber, or the main part where all your little blade pieces come poking out of, are key to the operation of your SAK. Grab a toothpick and a dime-store toothbrush—it's time to get scrubbing. When this is sitting in your pockets (especially in jeans) you get all sorts of nasty caked-on grime that accumulates over time. It makes for pretty lousy use when you actually need to whip out the thing in a pinch. Soak this in some white distilled vinegar after you carefully scape all the gunk out of it.
Check Your Components – They're all clean, and now it's time to check them out. Is your corkscrew dull? Is the blade losing its edge? Assess each component and see how they're doing. Most often, the only thing you'll need to do is sharpen your blade. This can be done with a standard cutlery sharpening kit, or if you're hardcore about it, an electric sharpener.
Getting It Dirty Again –  All this work, and now you're going to get the thing messy again. I'm not joking. The metal is all squeaky clean, and now, you need to use a throwaway rag and some lube to get the parts all ready to go again. Yes, the lube is going to slowly attract dust, dirt, and grime over time, but it's a necessary evil to keep your SAK working efficiently. Once you've lubed all the pieces, put your knife back together, and wipe each piece down with a rag.
We hope you found these Swiss Army Knife reviews helpful and that they serve to inform your decision when you're considering the various Swiss Army Knives for sale today. Be sure to check back in regularly for more helpful review guides from Gearhungry.