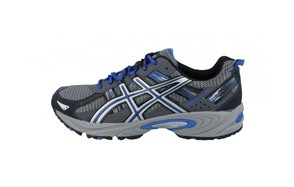 ASICS Men's Gel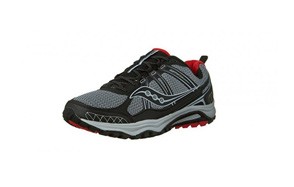 Saucony Men's Grid Excursion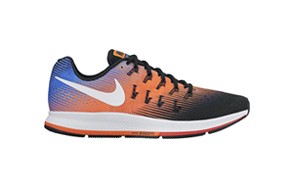 NIKE Pegasus Air Zoom
Fitness is your thing (or it isn't; not yet) and you want the very best running shoes to don your feet. It's more than a fashion statement—your running shoes impact your overall performance, and make up a great deal of how effective your workout is going to be. We've got the best running shoes, and the most comprehensive guide from our top researchers, showing you everything you could possibly look for in a pair of men's running shoes.
Top Men's Running Shoes
ASICS Men's Gel Running Shoes
See More Reviews

Hailed as some of the best jogging shoes for men, ASICS is the authority on proper running shoe etiquette, including every little detail down to what pronation is, and how you should be looking at it. They bring us one of the most versatile running shoes on the market, and earned our Gear Hungry researchers' favor. Not only does this model come in over a dozen different colors and stylistic choices, but it's got one of the most comfortable insoles out there.
We get into insoles a lot in our buying guide below. One of the misconceptions is that your comfort will decide if the shoe is a good fit for you. It doesn't work that way. Comfort does not mean function when it comes to running shoes. That being said, shoe makers do their very best at making their running shoes for men as comfortable as possible without compromising on the structural integrity of the shoes. ASICS hit this one out of the park with rubber insoles, synthetic mesh exterior, and a removeable sock liner. GH's top pick—ASICS perfect solution for your lifestyle: the top rated running shoes for men on the market.
Specification:
Brand

ASICS

Model

GEL-Venture 5-M

Weight

12 ounces
ASICS FuzeX Running Shoes
See More Reviews

We'd expect nothing less from ASICS—they bring in the optimal running shoes for men that hit the mark on style, function, and durability. ASICS makes some of the longest-lasting running shoes for men on the market today, being hailed as premier men's running sneakers above all else. If you're hard on your sneakers, you'll be pleased to know that ASICS thought of everything in the FuzeX model. Even the most durable running shoes (as later explained in our buying guide) are able to withstand up to 500 miles of wear and tear before they fade out on you: ASICS is just getting started.
Users from all over the internet talk about how long their FuzeX men's running sneakers have lasted them, and it exceeds expectations. We're not saying that yours will last forever, but there are little to no accounts of displeased FuzeX users—it lasts, it comes in a bunch of different colors, and has one of the most comfortable insoles of any sports shoes for men on the market. This is your sneaker for ultimate running durability.
Specification:
Brand

ASICS

Model

fuzeX-M

Weight

3 pounds
NIKE Revolution Running Shoes
See More Reviews

Perhaps the most minimalist logo on the planet, yet the most recognized by everyone in nearly every country—NIKE is the leader in men's running shoes, but they can end up being pretty costly. NIKEs are made out of the best material, with some of the world's most ergonomic designs to accompany those with joint pain. If you're looking at the gray-and-white design and thinking, "That's not really my style," you're about to be blown away. When you click through to the purchase page, you'll get to choose between thirty-five different colors and styles, which is perhaps one of the most wide-ranged color and style options on our list.
You get excellent support from your insoles, as well as a slightly raised heel to account for insole wear and tear. The big problem with men's running shoes in general, is that they wear through, and then you're left with nothing after the insole dies out. These shoes won't quit on you, no matter what.
Specification:
Brand

NIKE

Model

819300/819301

Weight

12 ounces
See More Reviews

Get ready for an ominous look that applies to your darker style. If you're going to aim high for style mixed with the absolute best in running shoe technology, then you've landed—welcome to Gel-Kahana. This comes with a dual-intensity support system for optimal comfort and stability. One of the biggest things about your running shoes is how balanced they are—whichever way you fall on the pronation scale, you need something to support you. ASICS knows pronation more than anyone else, and they've implemented their knowledge in this set of men's running shoes.
In three stellar designs (red-and-black are the editor's pick), you'll get the versatility to choose your optimal style to accommodate to the running attire you already have. These top rated running shoes are specifically engineered to provide you with minimal insole damage, so you'll be able to run without worry. While most top-grade running shoes for men are built to last, these go the extra mile. Actually, on average, they go an extra 500 miles. Many users have reported that their ASICS Gel-Kahana have lasted up to a thousand miles in total (way beyond the usual rating for men's running shoes), and they get more than their money's worth out of it.
Specification:
Brand

ASICS

Model

T6L0N

Weight

12.8 ounces
See More Reviews

NIKE is known for their fantastic design, iconic logo, and the top rated running shoes for men—they come second to none when it comes to style. As the first choice for most men when it comes to running shoes, they have a lot of weight to bear, yet they never disappoint. With fantastic arch support and stability beyond compare, NIKE Flex has been the top choice for many men in America when they want gym or running sneakers.
Crafted completely of mesh and outfitted with a rubber sole, you feel taller and more powerful the second you rise in these shoes—it's really quite remarkable. The way the laces are designed, you get an integrated look, like you're wearing an evolved form of sneakers from the near future. While they hit the nail on the head when it comes to style, they also fit comfortably enough to keep joint pain at bay, yet sturdy and firm enough that you're not going to fall asleep in them. You have dozens of colors to choose from, stretching the famous designs that NIKE has been famous for since the beginning.
Specification:
Brand

Nike

Model

749172-100

Weight

12 ounces
See More Reviews

ASICS knows exactly how to craft the most supportive shoes on the market. They're something of an authority figure on the science of your body's posture and structure, and they integrate their experience into every single model of men's running trainers. Breathable mesh means you won't have high-intensity odors arising from your soles when you kick these off, and seven different colors and styles give you more reasons to love these sneakers.
ASICS patented ComforDry sock liner is the only one of its kind; neighboring to that is the gel cushion system for the balls of your feet, where you make most of the impact and retain a lot of vibration from running. One problem that we all run into with running shoes is getting the right fit—we all have different types of feet, and it's a pain to figure out what works, and what doesn't. ASICS put in an exoskeleton system to contour to your feet in the best possible way, giving you a better fit.
Specification:
Brand

ASICS

Model

GT-2000 4-M

Weight

4 pounds
See More Reviews

New Balance seemed to take a backseat for a while there, but now they're coming in hot with new additions to their fitness line for men. Rocking their usual foam insole, New Balance gives you the utmost support without compromising on comfort or function. You want a tight-fitting (but not too tight) men's running shoe that's going to provide you with arch support. Slip into the 2.5" arch, boasting a synthetic sole and a killer price point.
New balance was always the brand that Americans chose second (usually to NIKE), but their time in the shadows is all over. When you compare the maximum price range with half of the men's running trainers on the market today, you'll be shocked at how much you're saving. Step into comfort, and a better fit for your workout.
Specification:
Brand

New Balance

Model

M720V3 Running Shoe-M

Weight

10.1 ounces
Saucony Men's Grid Excursion
See More Reviews

You run to get in better shape, and maintain a healthy lifestyle; nobody said you couldn't look awesome doing it. Saucony brings us one of the best men's running shoes on the market with several design choices, 3.5" measurements from the arch, and a blend of synthetic and mesh materials. Your running shoes should breathe, so you don't get left with rancid feet when you're all done. Nobody wants to smell that, even if it's just you at the end of your workout.
With the arch measurements, you get a more stable step with every single workout session. When you get into pronation (explained later in the guide), you want to ensure you won't be wearing down your shoes to an irreparable state. Going with a sturdy shoe that also has a good fit is the best way to begin. With heel-to-toe offset provided by Saucony, you're wrapped in support and proper comfort through every single workout.
Specification:
Brand

Saucony

Model

GRID EXCURSION TR10-M

Weight

12 ounces
See More Reviews

When you have speed and stability in mind, you reach for NIKE, just like the rest of us do—they outdid themselves again. Surprised? Neither were we. With a full comfort foam insole, you get bounce back with every single step. You can feel your running shoes putting up a fight against the wear-and-tear that's trying to overtake them. Along the tip of your shoes, you'll feel little pockets of air that respond on contact, helping to keep the pep in your step, and your feet cool and relaxed.
NIKE's RN distance men's running shoes stand the test of time. Like many in the mid-grade range, you can get up to 400 miles in this pair before it's time to replace them. If you're a marathon runner, then we both know one thing: you don't give up on your shoes until they give up on you. NIKE is known for long-lasting durability when you need it. Some users have reported their shoes lasting up to 600 miles—it's all about how you maintain them.
Under Armour Charged Bandit 2
See More Reviews

Yes, these shoes are a sequel—we don't get it either, but we do get one thing: the awesomeness of these shoes. Not only do these shoes offer the unique style that Under Armour is famous for, but they come in over a dozen colors and styles, allowing you to match your men's running trainers to your workout attire; not the other way around.
Under Armour doesn't just make the most durable products in the world, they also make the most functional. Structure is a crucial component in your running shoes—they went ahead and inserted an internal heel cup to lock in your feet, giving you a more sound fit. If the low-top arch, synthetic material, and rubber sole don't do it for you, the Bemis tape next to your skin (for optimal comfort and virtually no ankle chafing from your socks) might be just what you're looking for. Between comfort, style, and function that won't quit on you, Under Armour is a sound choice when looking for the best men's running shoes.
Specification:
Brand

Under Armour

Weight

1.76 pounds
Adidas Alphabounce Performance
See More Reviews

You didn't think we'd finish this list without Adidas in here, did you? Adidas has a unique style all their own, which is a difficult image to brand in this industry. Available in over twenty different colors and styles, the Alphabounce comes as an extremely lightweight solution for a quick bounce in your step. In total, this pair of shoes comes in just over ten ounces. That's lighter than your single-serve morning cup of coffee.
Engineered mesh cradles your foot while Adidas' technology bounces back from every step you take, retaining its durable build. Textile lining and a rubbery exterior gives you a unique feel and encases the sock-like fit beautifully. You'll wonder if you're even wearing shoes when you throw these on—they are so lightweight and contour to your feet so nicely that you feel an extension of your body; not just shoes. Nothing's going to break through the engineered mesh, so run without boundaries.
Specification:
Brand

Adidas

Model

alphabounce m-M

Weight

3 pounds
See More Reviews

NIKE rules the scene with decades of experience and designs that everyone can agree on, and they dropped every potential bit of wisdom into designing these shoes. Although these didn't hit the top of our list, they definitely hit the top of the mark on style. Choose from over twenty different looks, and be amazed by each and every one. Mesh exterior and a rubber sole gives you more of the same great durable quality that NIKE is famous for.
Construction contains Flyknit technology, giving you breathability when you're in the heat of your workout, and allowing optimal support so your joints won't feel a thing. Compare that against the Air Zoom insoles that give you a responsive step, minimalizing the wear-and-tear done to your shoes, and you've got a gorgeous masterpiece wrapped around your feet.
Specification:
Brand

Nike

Model

831352

Weight

2 pounds
Running Shoes Buyers Guide
There are a million models out there, and though we've narrowed down the very best, you still have to know what you're looking for in a pair of running shoes before you hit the checkout button. When you're looking to get the best pair of running shoes, there are far more factors to consider than you could have ever imagined. Thankfully, your researchers at Gear Hungry took care of the legwork for you once again.

Factors To Consider When Buying Running Shoes
You're not just buying a pair of shoes for style—you'll be exercising in them, you'll be making an investment in your fitness, and your overall health. It's a big deal. Take all of these factors into consideration, and you'll be certain to get the best fit for your feet every time.
Comfort Doesn't Mean Function – Your running shoes may not be the most comfortable, but that's okay. You want to look for the tightness of the fit, how it compliments your pronation (more on this further down in the guide), and everything in between. Function and comfort don't always go hand in hand. You want to make sure it's not hurting your feet, but don't expect to be walking in pillows.
Your Expected Use – Are you a veteran runner, or a lightweight that's just trying to shed some pounds? This goes into your decision. If you wear through your shoes often, you may be buying the wrong running shoes. Take a look at the material and the thickness—your expected use determines how quickly you're going to burn through your shoes. Consider it an investment.
Your Midsole – If you're going to run in these shoes for long stretches at a time, your midsole becomes increasingly more important. It should be supportive and comfortable (to a certain degree), but its durability matters a hell of a lot more. Once the midsole is gone, you'll be running on the treads of the bottom, so take a close look at how durable the insoles are.
Q: How Tight Should A Running Shoe Fit?
A: Many people think that the tighter the fit, the better the workout. Well, those people are wrong, and for more reasons than one. You should have about an inch of space between your big toe, and the edge of your shoe. Your running shoe should be snug up against your ankle, including room for your sock. If you take off your running shoe after a workout and you see red lines indenting your skin where your socks are, your shoes are a hare's breath too tight. In some cases, if your running shoes are new, you'll just want to break them in a bit. Having them too tight can do more than make your skin itchy when you take your socks off.
Circulation – You're doing cardio, and that's all about getting your heart pumping so you can burn those calories, and tone your body. Well, your heart's going to have a hard time getting the full workout when your circulation is all jacked up. Your shoes are too tight, and you're ruining your workout as a result.
Nerve Damage – This one takes a lot of time, but if your running shoes are too tight and you're inflaming your joints and your skin with constant running, they can surround and suffocate your nerves and cause permanent damage over time. Again, this is a very slow process, but the effects aren't reversible.
Toe Alignment – If your shoes are too tight near your toes, you can actually misalign your toes by compressing them. Not only are you going to get super stinky feet as a result of this, but it can actually permanently bend your toes in a weird way.
Q: What Are The Widths Available In Men's Running Shoes?
A: The width of your feet play into how much wear and tear you end up with on your running shoes. However, it's also going to affect potential pain from running, so you want to be extra careful when picking your running shoes. According to the ASICS, there are four widths for men's shoes in the US, and they go a little something like this: Narrow, standard, wide, and extra wide.
Q: What Is Pronation And How Does It Affect Shoe Choice?
A: It's all about pressure and the way that your body reacts when you apply that pressure. It's about your feet rolling inward for sustainable impact, and what your body does with the kinetic energy associated with that impact. Think about this: every time you take a step, it's like smashing a rock against the ground. Vibrations are going to surge through it, but it's still going to be a sturdy, strong rock when all is said and done.
There are three different kinds of pronation, and yes, they absolutely affect your running shoe choice. Choosing the right pronation type can save you a lot of stress on your feet, as well. These are the types:
Underpronators – Neutral Pronators – Overpronators
Each of these different pronation types are going to heavily play into your shoe choice—here's a quick breakdown of what they mean, and what little perks to look for in your running shoes before you purchase them.
Underpronators – You'll see a lot more wear and tear on the exterior of your shoe as opposed to the interior, and you'll notice an outward tilt to your shoes.
Neutral Pronators – You won't notice any tilt to your shoes, but you're wearing down the soles of them at a slightly faster rate.
Overpronators – Near the heel of your shoe, you'll see a lot of damage, and you'll also notice an inward tilt alongside increased overall wear and tear.
Q: How Long Will My Running Shoes Last?
A: You invest a good amount of money into your running shoes, but you know as well as we do, you're hard on them. They're shaping your body, withstanding your weight during running, and pressing between your feet and the pavement on a constant basis. They're reliable, but how long before we have to send them to the farm upstate? It depends on a few things, so let's get started.
Wide/Flat Feet vs. Normal People
Guys, having wide feet or flat feet isn't a good thing for your shoes. Sorry to say, but you're going to burn through them quicker. If you have wide or flat feet, you'll see wear and tear hit your sneakers a lot quicker. Reason being is that we stretch out the fabric and the walls more easily, even on shoes that are designed for wide feet. You can shave off a good 20% of the figures we're about to give you.
The Material
Sounds simple, and at the same time, redundant—most shoes are made out of nylon, rubber, etc., so why would the material matter? It's about where the material is. If you have nothing but rubber hitting the ground on a constant basis, you're going to wear through them a lot faster. If there's a slightly more sturdy fabric intertwined with the contact point, you'll burn through them a little slower.
Dragging Your Feet
You know when you get to the end of a run, and it's absolutely killing you? You loosen up on your form, and your feet scrape the ground a bit. That's shredding the rubber and any other materials associated with the contact point. The cure? Pick up your feet and run with a proper form, even when you don't want to anymore.
After reading some of the preventative measure (and reasons why you burn through your shoes so quickly), you're probably expecting some numbers—here they are.
Minimalist Shoe Design – 300 Miles (240/flat or wide)
Medium-Budget and Build – 400 Miles (320/flat or wide)
Thick, Durable Build – 500 Miles (400/flat or wide)