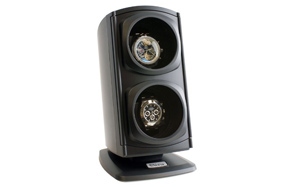 Versa Automatic Double Winder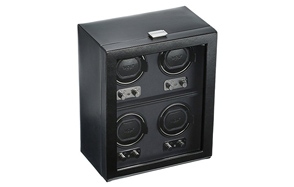 Heritage Quad Winder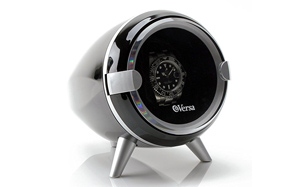 Versa Neo Single Watch Winder
Your timepiece deserves a piece of your time. Watch winders are maintenance devices that upkeep your automatic, self-winding watch moving when you're not wearing it (more on this later). True gentleman wear excellent timepieces, crafted of the best moving parts on the market, and you can't let those sit there and rot when you're not using them. Take a gander at these ten watch winders to upkeep your arsenal of bling when you're not using them.
(Top Picks) The Best Watch Winders:
1. WOLF Heritage Single Winder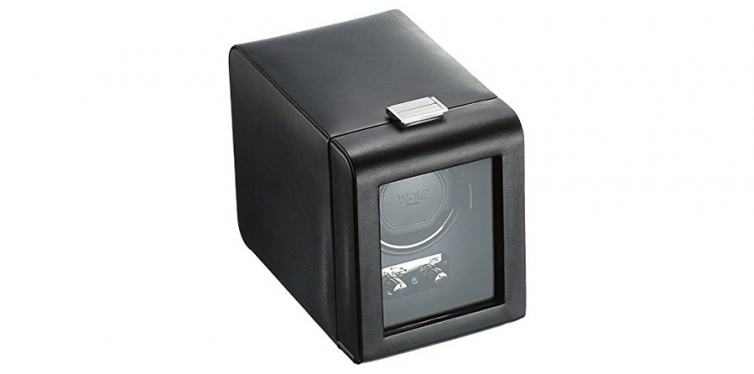 This is certain to be the classiest display item on your shelf. WOLF gives us a fabulous-looking watch winder to display a single timepiece on, while promising a precise 900 turns per day. They're dedicated to running like clockwork, and come with multiple power options. Plug this into the AC adapter or keep it battery-operated; the choice is yours.
Apart from function and versatility, you get a two-year manufacturer-backed warranty, which can be used no matter where you're purchasing this across the globe. The glass casing and chrome hardware add an elegant touch while keeping your watches ticking in perfect time. This winder weighs just under a pound, and boasts the perfect way to display and maintain your watches.
Specification:
Brand

WOLF

Model

270002

Weight

4.67 pounds
2. Heritage Double Watch Winder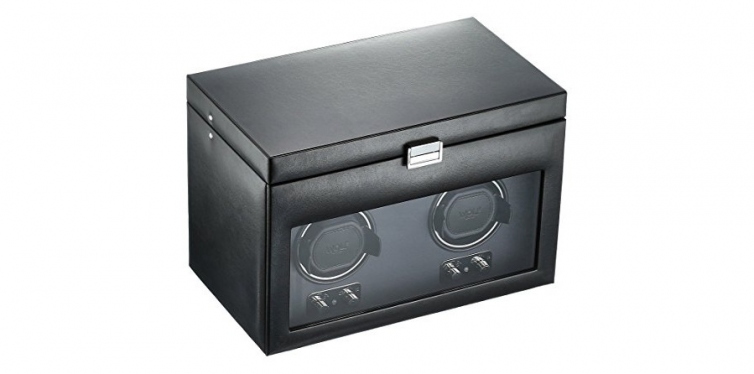 Much like it's counterpart, the Heritage also comes in a double version. You still get the same great features, such as a manufacturer-backed, two-year global warranty, as well as 900 precise turns every single day. AC and battery options mimic their single model, but we run into a fantastic shift on the display.
With this model, you also get an all-inclusive compartment along the top to store your watch bands when not in use, keeping them from cracking or fading from sun exposure through a window in your room. For display and ultimate function upkeep, WOLF's Heritage is the way to go.
Specification:
Brand

WOLF

Model

14 pounds

Weight

270402
3. JQUeen Quiet Motor Watch Winder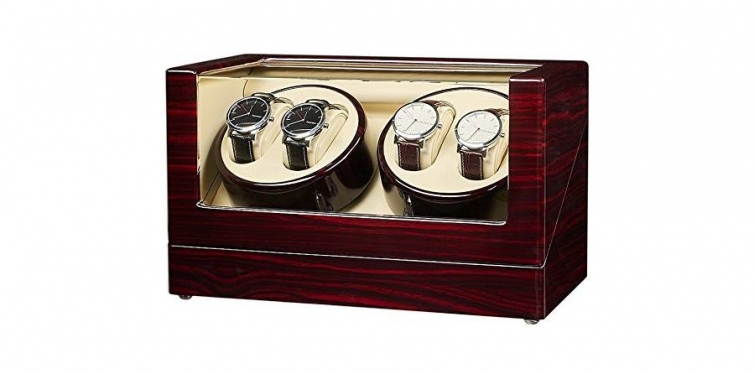 In this quadruple winder selection, you get to enjoy the sound of silence – Japanese quiet-operating motors won't disturb you from the other room, and the price tag won't kill you. This model utilizes acrylic glass and interior PU leather (while it's used for demagnetization) aid in the cost, allowing you to wind four watches at once.
This unit operates off of a dual motor, meaning that one side (holding two watches) will spin to win them up, even if there's only one watch in the placement mold, and comes with four settings for different winding speeds. You get to choose how much energy and winding is dedicated to your timepiece. Comes with AC adapter or battery operation, and looks brilliant on just about any wood type for your wardrobe or shelf.
Specification:
Brand

JQUEEN

Model

W004

Weight

4.4 Pounds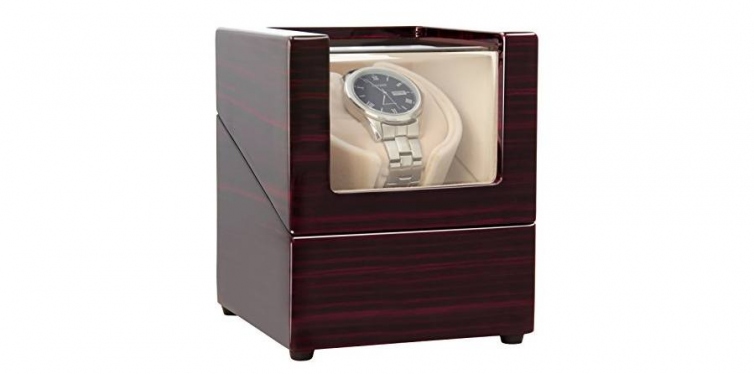 Multiple forms of engineering and style blend into one – the CHIYODA case utilizes Japanese silent motors for perfectly quiet operation, as well as ebony grain wood for a classic and regal appearance. This single watch winder is kinder on your wallet, while providing the versatility you need. This unit comes with two forms of power operation, AC and battery, and comes in a compact size for easy storage.
Any timepiece you have will look fantastic in this case. Acrylic glass keeps your watch safe, while a dual knob option along the back is set to match two different watches. If your current watch needs to be wound, simply trade places with your display watch, and use the second knob to contour to the new watch's specific needs (after you program it).
Specification:
Brand

CHIYODA

Model

SW01B

Weight

2.35 pounds
5. Versa Neo Single Watch Winder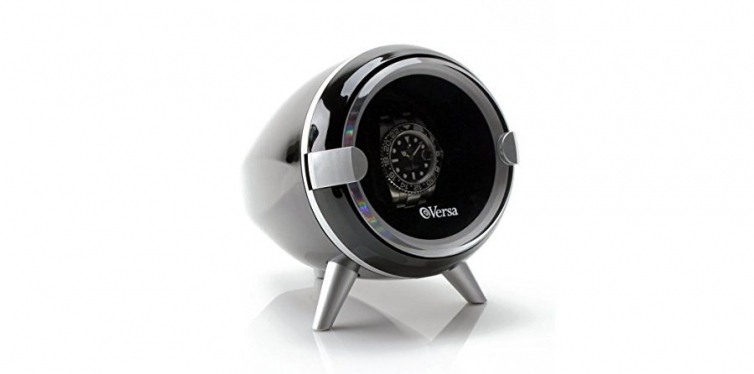 If you're a fan of anything sci-fi, you'll have a deep appreciation for this fantastic winder. This brilliant display intends to enhance the lassy look of your watch, while ensuring proper function is upkept properly. Japanese motors promise quiet operation, while your winder either turns clockwise, counter, or bidirectional depending on your preference.
You get a one-year warranty and 110/220v power adapter, as well as a spacious interior for different sized watches. Your thicker band models with larger watch faces will have no problem fitting, while still looking excellent on display. If you're planning an extended business trip, one that will require a wardrobe change from professional to black-tie event ready, the Versa Neo will be right there with you – excellent for all types of travel.
Specification:
Brand

Versa

Model

G090-BLACK

Weight

2.5 pounds
6. Versa Automatic Double Winder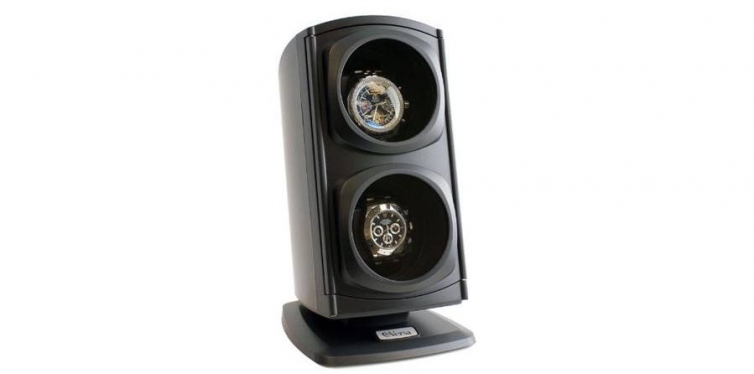 Versa has undergone a massive upgrade in their watch winder systems. A new and improved Japanese motor and gearbox ensure optimal function, allowing you to select four different options for winding at three directions, with smart technology to repeat your preferences after it's been turned back on.
This tower display saves space while looking brilliant, displaying your watches on top of one another for a unique effect that you're sparsely see on other double winder models. Additional attachments allow you to hold larger watches with no trouble, while a one-year warranty directly from Versa gives you the assurance you need.
Specification:
Brand

Versa

Weight

3 pounds
7. JQueen Black Leather Double Winder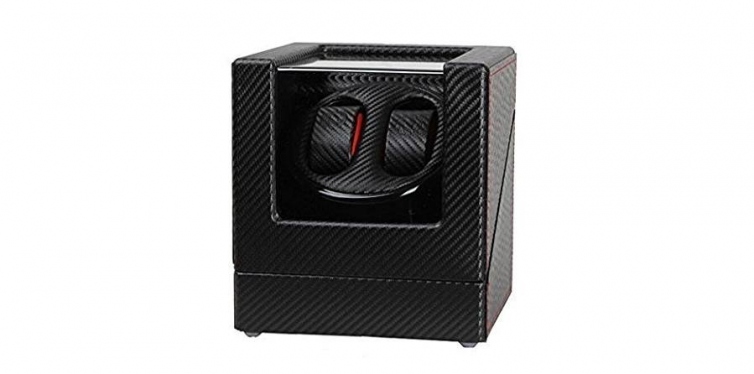 There are two truths to any gentleman's wardrobe: black goes with anything, leather goes with everything. JQueen utilizes Japanese motors for quiet operation, while textured 45-degree leather lining gives you a unique look. Acrylic glass keeps the dust off your watches, while providing durable protection. Even if a little one were to knock your watch winder off the dresser, you'll be good to go.
Four program settings put the amount of daily turns in your hand, while also selecting between three directional options. This model includes two power supply options, PU leather lining for demagnetization, and a high-grade look to wind two watches at once.
Specification:
Brand

JQUEEN

Model

W007

Weight

5.82 pounds
8. Cheopz USB Watch Winder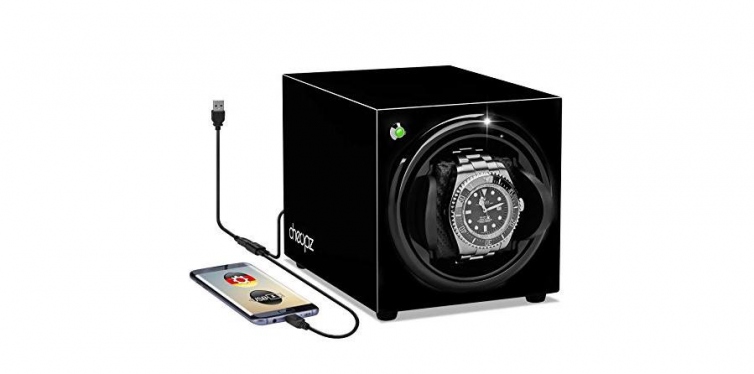 Taking a twist away from the norm, you get a few unique features that you won't find with any other model. As the title suggests, you're able to use USB power cables to run this unit (which saves you a lot on electricity), while the whole unit is backed by German motors for longevity. Five settings and three rotational options allow you to have full control over your winder.
A two-year warranty (and fantastic customer service) adds immense value, and backs their certainty that you'll fall in love with this watch winder. Angle your watch while it's in place, and utilize the specially-designed chamber to hold larger watch sizes. You can even run a USB splitter and indirectly use your watch winder to charge your cell phone.
Specification:
Brand

Cheopz

Model

4331779232

Weight

1lb 8oz
9. Evo Cube Platinum Winder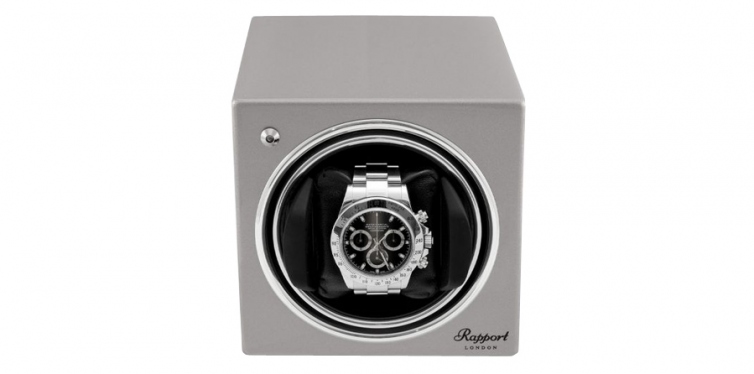 A fan of the old-school steel sae look? That's how protected your watch will be in the walls of your Evo Cube. Your virtually silent motor runs like a dream, encasing your watch in black leather for a classic and classy look. The exterior of the cube is made in lacquered wood, and available in eight different colors to match your watch (or your decor).
Rubber clips allow you to accommodate multiple watch sizes, so you won't have to worry about larger watches fitting properly. Tie it all together with Rapport London's logo on the bottom corner to showcase your taste, and you're good to go.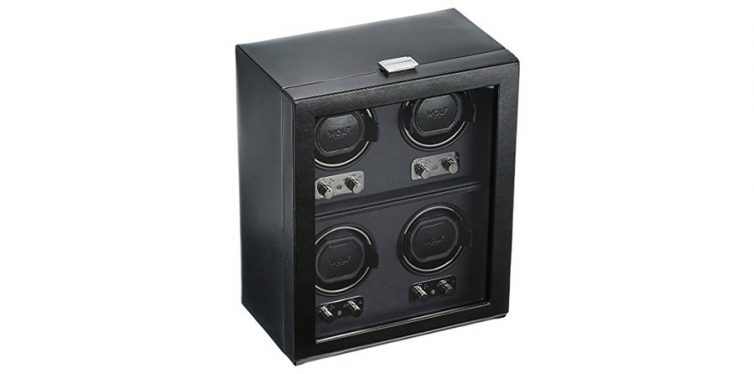 WOLF's excellent quality of our top two models comes in a quad version. Designed for the classy gentleman and optimized for excellent performance, you get a precise 900 turns per day, while utilizing your choice of two power options.
Backed by WOLF's patented innovation and two-year manufacturer-backed warranty, you'll not only get to gaze at your fantastic watches on brilliant display, but you'll get to take a deep breath knowing that hell or high water could come, and WOLF will take care of you.
Specification:
Brand

WOLF

Model

270602

Weight

17 pounds
Watch Winder Buying Guide
We've scoured the four corners of the internet to find you the very best watch winders on the market, but what really goes into them? How did we make our selection, and how should you make yours? These are the factors that should ultimately influence your purchase decision.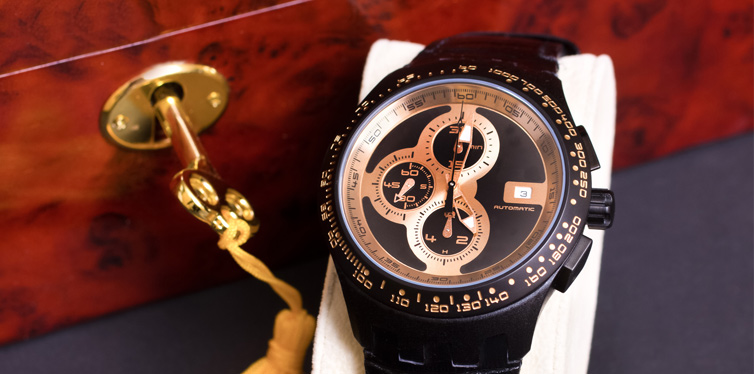 What is a Watch Winder?
When you wear automatic, self-winding watches, there isn't a care in the world. It keeps moving, the world keeps spinning - but there's a catch. It only keeps moving while you're wearing it. Your motions move parts inside of the watch to keep everything spinning, which keeps up the "self-winding" aspect.
Your watch winder is an automatic device to keep your watches wound-up when they're not in use. If you have more than one brilliant watch (and, you really should), you may notice from time to time, when you go to pull out the designated special occasion watch, that it stops moving. You have to keep everything spinning to support your watches.
You can wind them up yourself, but when they've been sitting there for ages, it can take just as long to get them going again, not to mention the noise behind resetting the time (and synchronising it properly, for that matter). Keep these on your watch while they're in their cases or in your wardrobe, and they'll be good as new when you go to pick them up. You just need to brush the dust off.
Do I Need a Watch Winder?
You can absolutely wind your watches by yourself, but who has time for that? The sophisticated gentleman is going to have a small army of watches at his disposal, and they'll all require winding again at some point. Think of the time wasted (ironically), especially when you're trying to hop out the door in a pinch. Fashionably late is one thing - arriving after the festivities is another.
If you have a Sunday afternoon to wind up your watches, more power to you, and we wish you well. If you're going to actually spend your time instead of waste it, you need a watch winder. Time saved, timepieces savored, money well spent.
Benefits of a Watch Winder
Upkeep: As mentioned, it keeps your timepieces looking fantastic. While modern watches aren't going to "clog up" (referring to the oils found within your gears), they're going to require diligent care. You bring your suit to the dry cleaner, your car to the mechanic, and your watch to the winder (much simpler than the others).
Multiple WInds (Multi-Dock Versions only): You don't just have one watch - you have a collection of swagger to compliment every suit and beloved bit of arm candy. Getting a multi-dock winder isn't just recommended; it's essential for the avid collector.
Protection: Watch winders keep your luxury watches safe. In most cases, it can prevent 99% of normal dust accumulation, while keeping your watches on display in fabulous fashion. Keeping your luxury watches safe from scratches and sun bleaching (depending on where you leave it in your home), as well as protecting it from any little ones that may be running around, is a necessary precaution.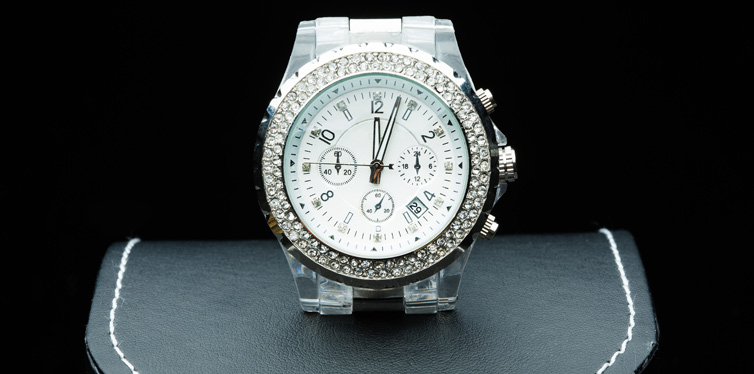 Features to Look For
As with any purchase, there are key features to keep an eye out for. Watch winders are fairly straightforward items. Despite that fact, these are still crucial components of any purchase decision.
Warranty: We're all aware of warranties. Some of us keep that information close by, some of us don't. With watch winders, it's crucial to ensure you get at least a two-year warranty. Depending on the cost and intricacy of the winder, some brands will slide by when they ensure it's a manufacturer's warranty, but as a rule of thumb, try to ensure that you have a good warranty.
Single or Dual: Now that we have the boring part out of the way, let's get to the good stuff: how many watches you'll be able to wind with your purchase. Watch winders are definitely for collectors or those who own more than two self-winding watches, so you'll need to take a hard look at your common use. How often do you switch out watches? How many do you own? If you have some designed for special occasions, some that may not see consistent use, you'll definitely want to grab a dual (or more) winding unit to keep them in top form.
Precision: Just like your watch, you want absolute precision. Your watch winder is set to a certain number of winding sessions per day. For instance, our top pick, the WOLF Heritage, comes with a precise 900 winds, better known as turns, per day. That's the precision you want to keep your timepieces perfectly synchronize
PU Leather: Depending on your environment, you could suffer magnetization, which will potentially ruin your watch's battery. PU leather aids in keeping static and other forms of electricity at bay, so you'll have nothing to worry about.
Size Attachments: Got a bigger watch? Some models are going to accommodate your larger watches with the use of additional mechanisms that can easily be placed or removed. If you own watches of varying sizes, this is an absolute must.