Best Waterproof Cameras in 2022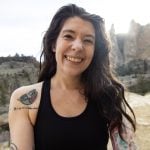 This product guide was written by Tuesday Kirby Kahl
Last Updated
January 24, 2018
Tuesday Kirby Kahl
Tuesday Kirby Kahl is a contributor at Gear Hungry. Her fierce love for the outdoors fuels everything she does. Her professional pursuits include writing, creating art, and photography. These professional passions allow her the time to live life outside as a rock climber, skier, runner, backpacker, paddle boarder, swimmer, and explorer. When Kirby is indoors, she enjoys tea, whisky, old films, cooking, and baking. Her product testing and feedback have shaped the design of everything from climbing shoes to candles.
GearHungry may earn a small commission from affiliate links in this article.
Learn more
Everyone sees those underwater scenes in movies and thinks, "Man, I'd love to do that!" Well, that's why they made waterproof cameras. Now, you can make like Bond and get a stellar view of what's going on underwater. Taking a trip to the Caribbean? Swim in the white sandy waters and get some of the more unique shots you'll ever experience with your best underwater camera.
The Best Waterproof Camera
Olympus TG-6 Waterproof Camera
Olympus Tough TG-6 Waterproof Camera is fitted with a variable macro system which is made up of a total of 4 macro shooting modes. These modes allow high definition shooting for up to a centimeter away from the end of the lens itself. There's no doubt that this feature will give birth to a range of stellar pictures and images. That's not all though, remember it was mentioned that there are more shooting modes than you'll know what to do with? Well, that was not a joke; in addition to the 4 macro modes mentioned, there are also 5 underwater shooting modes here. These include the underwater microscope mode as well as 3 underwater white balance modes.
There are a lot of things photography buffs will be looking out for and best believe that this camera has them locked in and ready. For instance, the addition of a high-resolution F2.0 lens which allows users to for up to an 8x zoom. In terms of video, the shooting happens in Ultra HD 4k which makes for the most realistic and life-like images altogether. This is some big-screen quality equipment, to be honest, and for that reason, it is worth every cent. To ensure all these features and more are safeguarded, this device has an incredibly sturdy construction. It happens to be waterproof for up to 50 feet while being dust and shockproof for up to 7 feet. That's not all, it equally happens to be crush and freeze proof and as such makes for a great companion on all sorts of adventures. All in all, this is a highly functional waterproof camera and it's easy on the pockets too. You may also be interested in some of the best Canon-compatible lenses from our list, so check them out.
Key Features:
Waterproof up to 15 meters
Has 4 macro shooting modes
Fitted with an F2.0 lens
Has 5 underwater shooting modes
Specification:
Brand

Olympus

Model

V104210RU000

Weight

2.08 ounces
Panasonic Lumix Waterproof Digital Camera
When did Panasonic hit the waterproof scene? Who knows, but thank goodness that they did. The Panasonic Lumix brings us every sleek design aspect that we could possibly ask for in a camera. You want an underwater still image, but you also don't want your camera to look kiddish with odd colors and funky chassis shapes. The Lumix looks like a sharp-featured digital camera, and it packs all the bells and whistles. Take it into the ocean, or into the city.
This is only waterproof down to 26ft, which is more than enough space for you to get a stellar shot of anything you need. Capture HD video 720p stills, all packed by the power of the Lumix. It's extremely durable to shock, and freeze-proof for as low as 14F. Taking pictures of your children playing in the snow? Your camera should hold up. Fortunately, Panasonic has you covered.
Key Features:
Comes with in-built creative effects
Waterproof up to 8 meters
Shock, freeze and dustproof
Fitted with a Mega O.I.S. camera lens
Specification:
Brand

Panasonic

Model

DMC-TS30R

Weight

5.1 ounces
Fujifilm FinePix XP140 Waterproof Digital Camera
It goes without saying, Fujifilm FinePix XP140 Waterproof Digital Camera is one of the best options out there for the 21st-century individual. The ISO here ranges from Is 100 all the way up to 12800. So, if one thing is certain, it's that the images produced are as sharp as can be. This further ensures that a whole lot of light is let in and the result is the stellar shutter speed that no one can seem to stop talking about. In addition to this, there is a handy new feature that is sure to make life a whole lot easier. It is called Smile Shutter and it automatically takes pictures once selected. Say goodbye to those moments where a stellar picture was missed and hello to the era of getting all those shots in with as little effort as possible.
The video quality here is not a letdown either, it allows users to capture the world, not just as they see it, but even better. And with the 4k movie capability here, you are automatically in the realm of ultra-high-definition at a whopping 15 frames per second. Then, of course, there is the brand new Bluetooth low energy technology at play here. This allows users to automatically (or at will) transfer images to all sorts of smart devices through the simple process of pairing registration. Even better is the fact that it's even more functional as the same technology goes on to sync information pertaining to time and location and further attaches the time/ date stamp to your images. Last, but not least, it would be a crime to leave out the fact that this device is waterproof for up to 24 meters and is equally shock, freeze and dustproof to an extent.
Key Features:
Waterproof for up to 24 meters
Stellar Bluetooth capabilities
Smile shutter for automatic photos
Fast shutter speed
Specification:
Brand

Fujifilm

Model

XP140 Yellow

Weight

7.4 ounces
Nikon W300 Waterproof Underwater Digital Camera
Now, every single feature on here is designed to ensure that the images and videos reproduced are of the topmost quality. So, let's start on the outside and work our way in. This device is as sturdy as they come and is perfect for anyone who lives their life on the edge. Not only is it incredibly durable, but there are layers to the durability. So, it's a given that this is a waterproof camera, but in addition to that, it is also shockproof, freezeproof and dustproof. This ensures that regardless of the operation being carried out, and no matter the environmental conditions, this camera is up to the task.
In addition to all that, the Nikon W300 waterproof underwater camera is equipped with a 16 MP low-light sensor as well as a speedy f/2.8 NIKKOR zoom lens. These two contribute greatly to its ability to get right in there and capture every detail vividly and perfectly even when the light is waning. Even better is the highly functional autofocus as well as the continuous shooting speed seeing as these enable users to land those near-impossible shots. Take it up a notch by activating Macro mode, this reveals all those tiny details that even the naked eye could never dream of beholding on its own. With all these features and more, this is a pretty decent piece of equipment to own and operate. There's also the addition of Bluetooth, Wi-Fi, an eCompass, an altimeter, GPS among other handy additions that really make this a functional piece of equipment.
Key Features:
Waterproof for up to 30 meters
Freeze, shock and dustproof
Fitted with a 5x optical zoom NIKKOR lens
Stellar connectivity
Specification:
Brand

Nikon

Model

26525

Weight

8.2 ounces
GoPro HERO5 Waterproof Camera
We all know and love GoPro and their line of amazing cameras, as well as GoPro accessories. You don't have to fiddle with a standard camera in awkward angles, no more risking dropping it or being off-balance in whatever trick you're trying. They've brought their eccentric brand style to the underwater camera scene for watersports wipeouts and diving. Without an enclosure, you'll be able to go down to 33ft underwater, preview and playback footage, all from your GoPro.
You can take stunning 4K video like a professional cameraman, and up to 12-megapixel stills. Don't miss a minute from your trip—take your GoPro HERO5 along for the ride, and bring back mementos that you could never dream of. High-speed videos from the back of a jet ski, taking the dip off the high-dive—it's all possible… if you're pro enough.
FujiFilm FinePix XP80 Waterproof Camera
Looking to get an amazing photo underwater? You're found your perfect camera. One of the hardest parts when you're prospecting about a new waterproof camera, is ensuring that the same picture you get above water can be snapped underwater. Your lens adjusts to the water ever so slightly to allow for a great photograph, and this one takes the cake on transition. You know whe your focus has to zone-in on a person in a photo, and the background is slightly blurred? You don't want that when you're looking to snap the perfect photograph of an underwater sea turtle or a passing school of fish.
16.2 megapixels gives you one of the best still images that you can possible imagine. You get to connect to your tablet or smartphone directly through the camera's Wi-Fi capabilities, so even if you were to drop your camera underwater and watch it sink down to the murky depths below, your photos would stream to your smartphone above water on the boat (the range on this depends on the different water levels). If you're going on vacation and looking to get excellent photographs of the family out on the beach, FujiFilm FinePix XP80 is your match.
FujiFilm FinePix XP12 Waterproof Camera
Much like our other premiered FujiFilm camera, this one comes with many of the pros. You get an increased photograph quality of 16.4 megapixels, and the Wi-Fi capabilities to stream photos to your smartphone or tablet immediately after taking them. You don't have to carry around old cameras anymore—if you have one for your professional photography business, and one for your leisure play, then you may forget where you've stored a certain photo. Stream it all the second they're taken to your device. You can link up, and keep those memories forever.
At an attractive price point, this is the perfect gift to get if your guy is interested in photography. If you're out here looking for a Christmas or birthday present for an aspiring filmmaker, you've found the right product. Inexpensive enough to satiate your wallet, durable enough that any age group is going to be okay using it without shattering the thing on the first day. We hate that—buying a gift for someone, and they wreck it. Fujifilm puts up a fight and is great under any circumstance. Be sure to also check out our list of the best travel cameras for more great items like this.
SeaLife Micro HD+ Underwater Digital Camera
This camera hits a lot of nails right on the head. We all want more storage built internally into our camera, and with SeaLife, you get up to 32GB (the OS on a digital camera is minimal, so you can enjoy close to the full storage capacity). Snap 13 megapixel photographs confidently, and utilize the rapid fire mode to capture amazing photos one after another, all with a single click. This model also comes with everything you'll need to affix your new camera to your gear, such as a snorkel or the side of your boat if you're taking diving videos.
With a 140" fisheye lens, you won't miss a beat no matter where you're using this. With waterproof USB contact areas, every individual component of this camera comes ready to fight against every drop of water, allowing you to maintain your fun, and take excellent photographs to cherish for decades to come. For peace of mind, high internal capacity, and sharp photos, you've got SeaLife. If you love good and interesting photos, make sure you check our selection of the best drones and drone accessories as well. 
SouthStarDigital 4K Sport Camera
Wi-Fi capability and 4K video capture, all at an introductory price. SouthStarDigital revamped what an inexpensive 4K camera could be, adding in the ability to flip, rotate, and spin your angles to your liking. This super compact camera can easily be stored in your shirt or jacket pocket, and looks professional when you go to snap a quick photograph at lunch or at a once in a lifetime event. The biggest issue with inexpensive underwater cameras is the design; they look childish when they come in crazy colors. All black, sleek design—you're set.
With a 170 degree angle design and built-in 2.5 inch touchscreen display, you couldn't want for anything else. Pop in a 64GB MicroSD card, and capture video with no remorse—take photographs without having to worry about your limit. With a long-lasting battery life, and the capability to dive down 100ft underwater (which is more than you get with a lot of models), you've just found the ultimate budget-friendly solution to your underwater 4K camera needs.
YISENCE Underwater Camera
The YISENCE Underwater Camera comes with a 2.7K 48MP video resolution and a Full HD shooting quality. Given that this works seamlessly underwater, this is definitely some premium stuff. Combine that with a 16X digital zoom, and you'll find that there's just about nothing you won't be able to snap while taking a dip. The camera is able to stay waterproof for up to 10 feet, thus making it a great option for swimming, watersports, snorkeling, and other aquatic activities. The front screen measures 2.7 inches, while the screen at the rear also hits 1.8 inches in length – for premium recordings and selfies.
The YISENCE Underwater Camera also comes with some premium functionality, including six continuous shooting, exposure, a self-timer, and white balance. There's even a humanized operation interface that ensures convenient parameter settings with support for several languages. In addition, there's a flashlight feature that allows you to take pictures in low light situations – perhaps if you go skinny dipping at night and you need a few snaps for the gram
Moving on, you get electronic image stabilization on this product – a feature that will allow you to take steady and smooth pictures and videos. The presence of a compact structure design also ensures that you can make effective adjustments when the playback sound is a little low.
If there's any dross on this product, it will have to be the memory capacity. The camera supports a maximum of 128 GB, although you'll need to get an SD Card separately as well.
The YINDIA Waterproof Camera is another waterproof camera that will undoubtedly provide enough bang for your buck. You get all you need from a camera, and you don't need to sacrifice much in terms of cash either. On this product, you get 2.7K super high-quality video, as well as 48MP Full HD video resolution. You also get a flash, thus allowing you to take pictures and capture videos in areas where the light quality is pretty low. 
The waterproof rating lasts for just 10 feet, so you might want to be cautious and not take the camera too low into a lake if you don't want to be calling the manufacturers for a new one soon. It also comes with a sealed battery door that keeps the most important internal components safe while you have fun in the water.
Moving on, you'll find that a lot of features available here are similar to those of the previous camera.  There's a front camera that measures 2.7 inches in length and comes with high-quality color, and there's also a 1.8-inch self-timer screen. However, you get the added benefit of facial recognition technology and side-by-side recording too.
Like the previous call, you get six continuous shooting and 16x digital zoom, as well as an anti-shake function that ensures stability and improves picture quality.
Like the previous camera, this option also supports memory cards up to just 128 GB. The manufacturers also explain that you could face a bit of difficulty when you try to open the battery slot.
Waterproof Cameras Buyers Guide
Wondering what makes a waterproof camera tick? So were we. That's why we went ahead with our research experts and found out all the little details that you've been dying to know about waterproof cameras. Let us take the reigns, and come along for the ride—it's all here.
Q: Can Waterproof Cameras Go Underwater?
A: It is most likely the point that you're looking for one, yeah? Most waterproof cameras can go underwater, but it's still a valid question. We know, as consumers, that we have to look at every little detail about every product we intend to buy. When you look at the waterproof rating, you're going to see a varied level of depth. This doesn't always mean that it's built to go underwater, though.
The less amount of feet that the camera description says that it can go underwater, the more likely it is that the camera is just okay to use in the rain, and can withstand light splashes of water from time to time. You want to ensure that your waterproof rating is good enough to go snorkeling, so when you're on vacation, you'll be able to take it into the shallow, white sandy beach waters, or into the pool at the hotel at the very least.
Q: Can Waterproof Cameras Take Good Photos Above Water?
A: A camera is a camera—you're essentially getting a waterproof rating on your camera, and a lens that's going to acclimate to the new condition, and still allow great photos. Getting a waterproof camera doesn't mean that you'll be diving with this thing, but it does mean that you should be able to get great photographs above the water, and underwater.
If you're going to submerge yourself with your camera, then you can expect to see a seamless and flawless transition when you raise from the water. Think of any film where the panoramic is slowing coming out of the ocean to display a city—we now have the technology at our fingertips to do the same thing.
Q: Do Waterproof Cameras Float?
A: Here's where it gets a wee bit tricky. If you're looking to have your camera operate like a buoy, it's not going to work like that without the right gear. Cameras themselves don't come with flotation devices built inside because then the manufacturer is selling you air with camera parts, wrapped in extra plastic. The chassis would be bigger, the packaging would be bigger, the sticker shock would be bigger.
You can purchase floating straps or enclosures for your camera. This is going to ensure that even if you lose your grip (you're underwater, it happens), that you're not going to lose your camera. Dropping your camera underwater means that a fish is going to get your piece of tech, and it will just rot on the seafloor for the rest of time. You don't want that. You want it to float, so either purchase a floating strap (we recommend this), or an enclosure. Keep in mind that the enclosures take a little longer to get used to.
Q: Can I Use A Waterproof Camera To Shoot A Movie?
A: Indie filmmaking has become an explosive category in cinema today. You want to get the best little effects, like rising from the water, but without dropping a large amount of your budget on a camera. That's where a waterproof camera comes in. If you're a filmmaker, then you already know where to look for the proper specs to see if your camera is going to match your expectations. With a waterproof camera, you won't notice a change in performance even if you rise from the water in a single shot.
Q: Can I Wear Gloves When Operating The Camera Underwater?
A: You'll want to look for the configuration and take a glance at the size of the buttons. Cameras are difficult to operate underwater, especially if you go all-in and get a fantastic camera that can withstand greater depths. Depending on the specs, you may run into difficulty with gloves or if you have larger hands. (If you're in the shallows, you'll be able to use your hands with no problem.)
Sign Up Now
GET THE VERY BEST OF GEARHUNGRY STRAIGHT TO YOUR INBOX