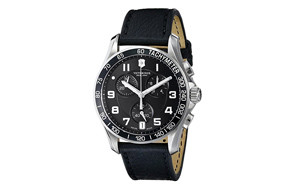 Chrono Classic Chronograph Watch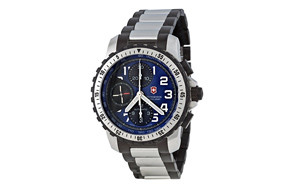 Alpnach Automatic Chrono Watch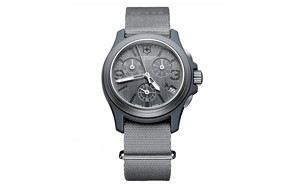 Original Chronograph in Grey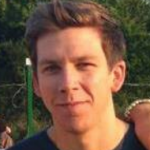 Durability, reliance, and eye-catching designs—if you've ever wanted to own the best brand of watches in the world, you've found the leading brand. Victorinox are the makers of the original Swiss Army Knife, a tool we all still use today (Lookin' at you, EDC lovers). Their same passion and quality spill over into every other product they manufacture. Whether it's to compliment your casual attire, business wear, or you're just looking for the best gift for the guy who thinks he has everything, Victorinox Swiss Army watches is the sound choice for anyone that's looking for a gift that will last.
Quick Answer: Best Victorinox Swiss Army Watch
Victorinox Swiss Army Watch Buying Guide and FAQs
There are plenty of amazing features for all the Victorinox watches on our list. Many speak for themselves, but we still find a few buyers questions popping up from time to time. Your buds at Gear Hungry took to those questions (I mean, what consumer product has more gears than a watch?) with gusto to bring you every tidbit of information we could find that's probably rattling around in your head when it comes to Victorinox watches.
Q: Weren't There Two Swiss Army Product Suppliers?
A: Yes—Wenger and Victorinox both provided Swiss Army knives to the French military in the late 1800's, and Wenger also manufactures watches. Both brands are so superiorly awesome in the timepiece industry that we had to make an entire list for one brand. Wenger's watches are also pretty amazing.
Q: What Should I Look For In Victorinox Watches?
A: There are a lot of things that go into a watch, apart from just gears and dials. There are certain standards set by nearly every Victorinox product, so in short, it would be better to describe the standard features and why they're better than most leading watch manufacturers. In case you haven't been able to tell until now, we're kind of fanboys over Victorinox watches —here's why:
Style Is Key
Nobody buys an ugly watch, or anything they plan on wearing for that matter. (Ugly sweater parties are an exception—we'll let you slide this time.) Victorinox watches come with a bunch of different styles to contour to your unique look. Different variables like height, weight, skin pigmentation and your body language all make up your style—it's not just what you wear, but plopping one of these awesome watches on your wrist isn't going to harm it.
They're Fitted
While these aren't custom-tailored to your wrist, you do get a snug fit that's not going to wane. Whether it's tri-link steel bracelets, or leather straps, Victorinox watches are adjustable to a tee, so you're able to wear them no matter what. It's extremely rare that, for some reason, a Victorinox Swiss Army watch isn't going to fit you. Very similiar to tag heuer watches for men.
They'll Withstand Rain, Sleet, and Snow
We're all in different corners of the Earth—if you're going to endure the icy winds of winter, or it rains every other day, the last thing you want to worry about is your watch getting damaged. With such high dive resistance, rain splatter isn't going to bother your watch in the slightest, and neither will snow. You could chip ice off of this after your walk, and it's still going to be ticking, completely unharmed.
Q: Are Victorinox Watches Good For Diving?
A: Yes and no. If you're leisurely diving, you're good to rock and roll. Jumping in the lake with your friends in the middle of summer isn't going to harm your watch. However, when you go with an awesome diving watch, you can actually scuba dive with it and not risk any harm. Timepieces can be sensitive, so even when you see 330ft of water resistance, there are a lot of measures that go into play. If you're serious about keeping your watch alive and well, we don't recommend going deeper than ½ of what the description states. Just because they will still work after that point, doesn't mean that it hasn't undergone some level of stress.

Q: Can I Get Replacement Steel Bracelets For Victorinox Watches?
A: Absolutely. Victorinox sells many of their watch editions' replacement bracelets on Amazon. You'll need to pay attention to your specific make to get the right band. Not only do the stainless steel mm sizes come into play, but most of them are branded with the specific name of your watch. If you purchase the Officer's Mecha watch, for instance, you would want to look for an Officer's Mecha title in the replacement bracelet, or information within the description stating which models it's going to work for.